Advertising on TikTok is now one of the most effective ways to boost brand awareness, stay connected with massive audiences and win sales. Unlike other platforms, TikTok makes your ad feel like native content so it attracts more engagement and thereby drives higher conversions.
In this article, we will guide you on how to run ads on TikTok with 4 simple steps and how to make the most out of it. Let's dive right into it now!
Introducing TikTok Ads
TikTok Ad is a powerful, yet easy-to-use platform to help businesses of all sizes advertise their products or services to over a billion users worldwide. It has all you need to make a successful ad campaign – from targeting, ad creation, insight reports, and ad management tools.
Whether you want to sell something or drive targeted traffic to your website, TikTok advertising can give you good returns on your ad spend.
Highlight TikTok Statitics
Numbers don't tell lies. Here're some important TikTok statistics that you should know.
TikTok
TikTok hit 1 billion active users from more than 150 countries in the world.
According to Statista, 52.38% of TikTok users globally are between the ages of 18 and 24.
An average TikTok user spends approximately 90 minutes per day on the app.
68% of TikTok users say videos using popular songs help them remember brands better.
2 out of 3 users are likely to make a purchase while using TikTok.
TikTok Advertising
In 2021, TikTok got 4 billion dollars in advertising revenue and is expected to double by 2024 and more than triple by 2026.
In-feed Ad is the most used ad format in TikTok.
43% of heavy TikTok users feel that the 'advertising' on TikTok blends in with the content.
The use of a product in a TikTok ad leads to a 23% increase in ad likeability.
Even three weeks after exposure to an ad on TikTok, 62% of users accurately recalled the brand when aided. Conducted partially in an in-person setting.
TikTok Ad Formats
TikTok provides plenty of ad types that brands can choose from. Take a closer look at every TikTok ad format and how they work to find out the best match for your brand.
1. In-feed Ad
In-feed Ad is an embedded video ad that auto-plays within a user's For You page. This ad format is most used as it looks like native content and allows users to like, comment, share and follow.
What makes In-feed Ad convert is the clickable call to action button (CTA). You can use the CTA button to drive traffic to your website, increase app installs, drive sales, and much more. After the video ad is displayed for 9 seconds, the CTA button will appear.
In-feed Ad is best for
Newbies who want to try advertising on TikTok (Because this is the most common ad format and the easiest to create).
Brands want to make their ads look and feel like native content
2. Top View
Top View Ads capture user attention by appearing at the top of the For You feed when users first open TikTok app. This ad video can be up to 60-seconds long and provide an immersive viewing experience with no other competing content.
Top View Ad is suitable to increase brand awareness on TikTok due to its wide reach and high impressions. It is literally a "must-see" since it takes over the user's entire screen and can't be quickly skipped.
Top View is best for
Brands that already have existing ad creatives they want to repurpose.
Brands with big ad budgets want to maximize their reach and drive conversion.
Brands have many experiences with TikTok ads (or know that their engagement on the platform justifies the ad spend).
3. Spark Ads
Spark Ads is a native ad format that allows brands to promote their organic TikTok post or posts made by other creators with their authorization.
With Spark Ads, you can add a CTA button and direct users to a landing page or product page where they can proceed to checkout. All of the video views, comments, shares, likes, and follows of Spark Ads are attributed to the original organic post.
TikTok research shows that Spark Ads have a 24% higher completion rate and a 142% higher engagement rate than standard In-Feed Ads.
Spark Ad is best for
Brands that already have a viral video and want to turn it into a TikTok ad.
Brands want to boost social proof by partnering with a KOL/ Influencer on TikTok.
Brands are interested in expanding their audience and brand awareness versus direct sales.
4. Branded Hashtag Challenge
Branded Hashtag Challenge is a great ad format to increase brand awareness and drive engagement. It involves encouraging users to videotape themselves performing something like a dance or doing something in line with the product and posting it with the branded hashtag.
Hashtag Challenges often appear at the top of the discovery page. When users click on the hashtags, it directs them to a landing page in TikTok and a collection of other videos from the same hashtag challenges.
Branded Hashtag Challenge is best for
Brands that want to boost more user-generated content and social proof.
Well-known brands that want to drive traffic and engagement via hashtags
5. Brand Takeover
Similar to Top View Ads, Brand Takeover is a full-screen ad that is shown on the For You feed right after users open TikTok app. This ad format is commonly a photo or video lasting 3 to 5 seconds and directs users to a landing page or a hashtag challenge.
Brand Takeover ad is suitable for delivering mass awareness. TikTok users only see one Branded Takeover ad per day and can not like or comment on it.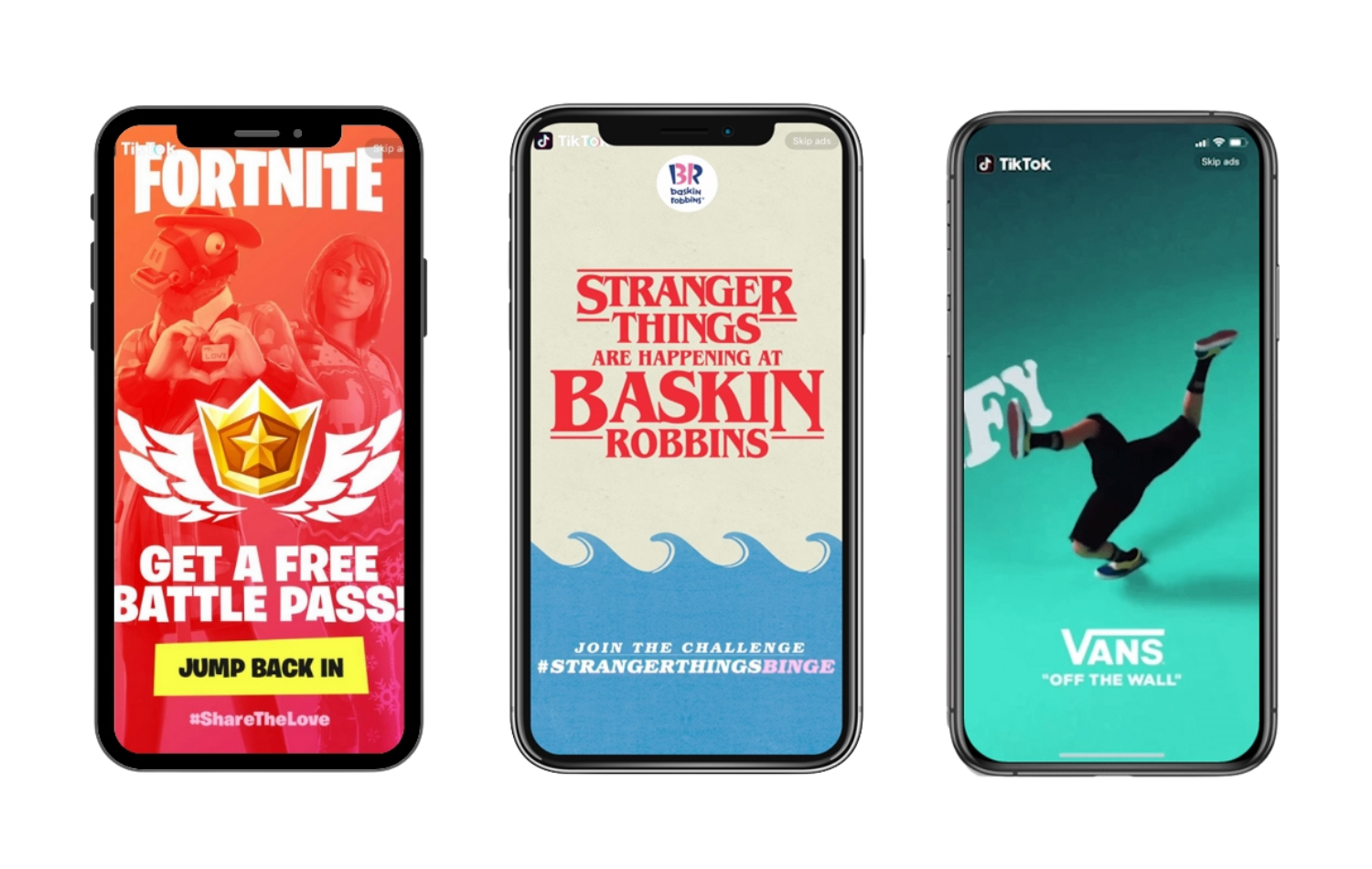 Brand Takeover is best for
Brands aim to build buzz for events or a TikTok hashtag trending.
Product launches where brands attempt to drive large impressions and traffic.
Brands with big budgets want to broaden their reach with less competition.
6. Branded Effects
Branded Effects enable brands to create stickers, filters, and effects for self-promotion. What's interesting is that it encourages more people to interact directly with your brand. TikTok users can use these effects in their videos which leverage engagement and user-generated content (UGC).
Branded Effects can be a standalone campaign or used with a hashtag challenge for a more rich ad experience. They often live for up to 10 days at a time.
Branded Effects Ad is best for
Brands that want to boost engagement and user-generated content (UGC).
Brands that want to maximize the exposure of their existing TikTok viral trends or branded hashtags.
How much do TikTok ads cost?
Budget is an important criterion that you should consider to control the cost of your TikTok ad. It is the total amount of money you are willing to spend for running ads which is equivalent to overall costs.
With TikTok Ads, users can set budgets for both campaigns and ad groups. There are 2 types of the budget that you can choose from, including daily budget and lifetime budget.
No matter whichever budget type, you have to set a minimum budget to ensure the continuous delivery of your ad.
Campaign level minimum budget
Both daily budgets and lifetime budgets must exceed 50 USD.
Ad group level minimum budget
Daily budgets must be over 20 USD.
Lifetime budgets will be calculated as the minimum daily budget (20 USD) × scheduled days.
For example: If delivery is scheduled for 20 days, the minimum budget for the ad group would be 20 USD × 20 days = 400 USD.
How to create your first TikTok Ad
Before jumping right into creating your TikTok Ad, make sure you've understood the structure of this platform and how it works.
Like other advertising platforms, ads run on TikTok Ads Manager are structured into 3 parts: "Campaigns", "Ad Groups", and "Ads".
An ad campaign can include one or multiple ad groups, which will enable you to optimize your ads and measure performance.
An ad group can contain a single ad or multiple ads (Maximum is 20), which helps to compare the delivery of different ads and optimize them based on their performance.
Step 1: Create a TikTok Ad Manager account
First off, you need to sign up for a TikTok Ad Manager account. It's a place where you can set up your TikTok ad, manage ad campaigns and measure ad performances with insightful reports. 
Enter some basic information such as your email address, password, and a verification code sent to your email. If you choose to sign up with your phone number, then the verification code will be sent to your phone.
Confirm that you agree to the terms and conditions and hit on "Sign Up" button.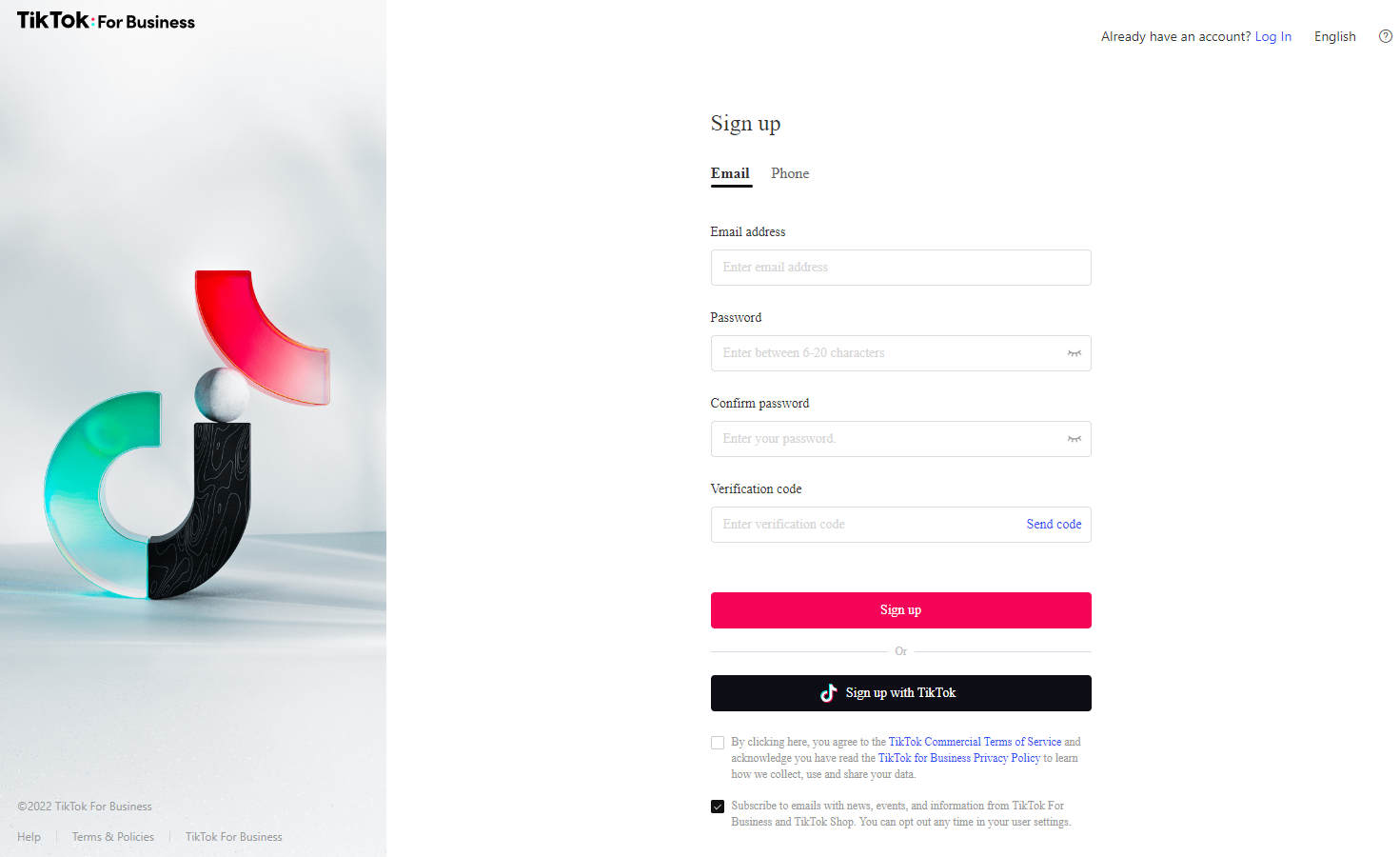 Step 2: Create ad campaign
Once logged in TikTok Ad Manager, you will be directed to the campaign setup. Each TikTok Ad account can create 999 ad campaigns at maximum. Below are some important elements of an ad campaign.
Choose ad objective
Everything happens for a reason and so does your advertising campaign.
Before running an ad, you have to choose the ad objective. It is what you want people to do when they see your ads, so make sure you select the right objective for your campaign.
TikTok ad objective breaks down into 3 main categories: awareness, consideration, and conversion. Remember that you can select only 1 objective per ad campaign.
If you're still wondering which objective best match your goals, you can take a look at the below table for reference.
Set up Campaign Name & Budget
After choosing the ad objective, it's time to set up Campaign Name & Budget.
TikTok will auto-generate a campaign name right after you choose the ad objective. However, you can edit that name as you want within 512 characters.
Regarding Campaign Budget, it is a specific amount that you are willing to spend for running ads. Based on the budget you set, your campaign will stop running when it hits that amount. Below are 2 types of budget you can choose from.
Daily budget: The maximum money you are willing to spend on this ad campaign.
Lifetime budget: The maximum amount you are willing to spend on this ad campaign during the entire defined period you run an ad.

Step 3: Create an ad group
The next step is to create ad group within your ad campaign. You can create one or multiple ad groups in a campaign. Maximum is 999 ad groups per campaign.
Below are some elements that you need to define at the ad group level.
Set up Ad Group name
Give your ad group a name to easily distinguish between different ad groups within an ad campaign. Ad group name is limited to 512 characters so keep it short and clear is the best.
Set up TikTok Pixel
If you choose to your ad objective is App Promotion or Website Conversion, you will need to set up TikTok Pixel to better track the ad impacts on your app/website. 
TikTok Pixel is a snippet of code on your website that gathers information about site events (such as which section they interact on your site, what device they're using and where they're located, etc).
Choose placements
Placements determine where your ads appear on TikTok and its partner platforms. Note that placement setting cannot be changed after an ad group is created.
Automatic placement: If you select Automatic Placement, TikTok will optimize delivery across all placements under TikTok Ads Manager.
Select placement: If you choose Select Placement, you can manually choose where your ads appear across the TikTok apps family that includes TikTok, News Feed Apps (TopBuzz, BuzzVideo, etc), and Pangle (TikTok Audience Network)
Block list (Pangle): To ensure Brand Safety, undesired media placements of Pangle can be added to Block List to help prevent your ads from appearing. However, this will decrease the reach of your ads as well.
If you're new to TikTok ads, you should choose "Automatic placement" and let TikTok optimize your ad delivery across all placements to reach more people and drive more traffic.
Turn on/off Creative Type
If you turn on Automated Creative Optimization, TikTok will automatically generate variants of your creative assets (images, videos and ad texts) for testing, and deliver only the high-performing one. You can turn on or turn off this feature anytime you want.
Define Target Audience (Targeting)
Targeting is the place you specify target audience who will see your ads. TikTok enables you to select one out of 2 targeting modes: Custom targeting and Automatic targeting.
For Custom targeting, you narrow your audience by Demographics, Include/Exclude Audience, Interests & Behaviors and Devices.
For Automatic targeting, you enter Location and Language of target audience. Then TikTok will help you optimize your targeting
Set up Budget & Schedule
Now you need to set up budget and choose the period of time for running ads.
​Budget: Your ad spend for the ad group will not exceed the budget whether you set a Daily Budget (Minimum is $20) or a Lifetime Budget (Minimum is $20)
​Schedule: Set the start and end time for your ads. You can select a date range to run your ad or continuously run your ad after the start date.
​Dayparting: This enables you to select certain time periods within the day. The selected time period lasts from half an hour to 24 hours.
​All day means your ads will run throughout the day during the scheduled campaign time.
​Select Specific Time means your ads will run at specific time periods during the scheduled campaign time.
Set up Bidding Method & Optimization
Here you can select a bidding method and optimize your ad spends for efficient results.
Optimization goal: Choose from one out of three types of optimization goals: "Conversion", "Click" and "Reach". Some campaign objectives will set this by default and unchangeable.
​Bid Strategy: This helps you control your cost per result so that it stays within your bid throughout the delivery process. Depending on your ad objective, you can select one out of three bidding strategies below.

Bid cap: Keep the average cost per result below the bid threshold set by you
Cost cap: Keeping your average cost around or lower than your bid, regardless of your budget.
Lowest Cost: Use the available ad group budget to generate as many results as possible at the lowest cost per result
Step 4: Create an ad
After setting up ad group, you start creating ad creative. Each ad group can contain one or many ads (Maximum is 20 ads/ ad group). Follow some stages below to create your ad
Enter Ad name
Enter your ad name to distinguish between ads within your ad group. Keep in mind that the ad name is only for your reference and is not part of your ad. Ad names support 512 characters in maximum.
Select Ad Format
TikTok Ads Manager currently supports three ad formats: images, videos and collection ads. Ads format and specifications will also vary depending on your placement.
Enter Ad Details
Creating your ad is super easy, upload your own videos or images, or design eye-catching ads in minutes using TikTok Ads Manager's creative tools.
Once you've added the media to your ad, you'll enter your the following elements that will be displayed with your ad, including:
Text: This text will display as part of your ad creative and will be shown to your audience to clearly tell them what you are promoting
​Call to Action: Tell your audience what you'd like them to do when they see your ad
​URL: Enter the URL of the website you want your ad to drive traffic. This will only be available with certain objectives.
Add Tracking Links (Optional)
Add TikTok Pixel or third-party tracking URLs to measure your ad performance data.
After you've created your ads, hit on Submit button to complete the process. Your TikTok ad will go through a review process before going live.
Successful TikTok Ads example
Slate & Tell is a personalized jewelry brand that sells custom rings, charms, necklaces, and bracelets based on your own story.
Promoting the holiday season with a series of In-Feed Ads, Slate & Tell has got great results in return with 4M followers, 1,000 add-to-carts and 2x return on ad spend. This brand has successfully increased its brand awareness and increased sales revenue thanks to TikTok Ads.
Learn more: 6 Small Business TikTok Success Stories to Get Inspired
It's time to run your first TikTok ad
No more guessing, create your first TikTok ad campaign now to see how it broadens your brand reach and drives fantastic results. Hope that this article has helped you with how to run ads on TikTok.
If you have any questions or need help, feel free to contact us via live chat or email at [email protected].