TikTok ad creative is the key element that can make or break the success of your advertising campaign. Unlike other platforms, TikTok allows brands to reach massive audiences without too much ad spending. However, if your ad creative is not captivating, users are likely to skip out in a blink of an eye.
So, how can you keep viewers engaged with your ad content until the end and entice them to take action? Keep reading to learn more about how to create engaging TikTok ad creative that converts!
What is TikTok Ad Creative?
TikTok ad creative is the image, video or other media formats featuring specific products or services. TikTok users can interact with ad creative when they open the app or scroll through For you feed.
To better understand TikTok ad creative, let's take a look at the breakdown of TikTok ad structure below.
TikTok Ads Manager is the advertising account where you set up new ad campaigns, manage campaign lists and monitor ad performance. When it comes to TikTok ad structure, it includes 3 main criteria.
Ad campaign: This is the foundation of your ad where you set up ad objective and campaign name. An ad campaign may include one or multiple ad groups.
Ad group: This is where you define target audience, ad placements, budget & bidding. An ad group may include one or multiple ad creatives.
Ad creative: This is the image or video advertisement about your product or service. It may include a call to action button (CTA) that directs users to a website or landing page.
>>> Read more: TikTok Ads Creative: Every Element and Spec to Win the Audience
Why does TikTok Creative matter?
People come to TikTok for entertaining, creative, and authentic content which lies at the heart of this platform. Therefore, it's important to make your ad creatives native and resonate with your target audience on TikTok.
When it comes to advertising on TikTok, keep in mind that "Don't make ads, make TikTok". It means successful TikTok ad requires content that embraces the creativity, positivity, and realness of TikTok. Your content should be delivered like an ad but loved like organic, real content.
No need for a big budget, a great TikTok ad creative can cut through the noise and drive impact on users. TikTok's UI is designed for discovery and prioritizes quality content over all else so it results in long session times and high engagement.
Common TikTok Ad Types
TikTok provides a variety of ad formats for you to select from. As every ad type serves different objectives, you need to modify your ad creative to best match the chosen ad type.
In-feed Ad
In-feed Ad is a native ad format that allows you to create up to 60 seconds advertisement video. This ad is placed within the user's For you feed and has the vibe of an organic post.
In-feed Ad is a suitable choice for beginners who run ads on TikTok for the very first time as this format is simple and easy to set up. It is also mostly used for driving traffic and conversion using call to action button (CTA).
With In-feed Ad, you should make your ad creative as authentic as possible.
Let's take Princess Polly – a popular Australian online fashion brand. It used a TikTok In-feed ad to reach a wider audience and increase online traffic to its e-commerce site. This ad received over nine million impressions, a 1.05% click-through rate, and a 15X return on ad spend.
Top View
Top View is a full-screen and immersive video ad that lasts up to 60 seconds. This ad format often appears at the top of users' For you feed once they open the TikTok app.
TikTok research shows that 71% of users say TopView grabs their attention and it generates 67% higher sales effectiveness for the consumer-packed goods industry compared to the total paid TikTok.
Top View is suitable to showcase your brand on TikTok's most premium real estate. As such, you should make your brand name prominent and highlight your products' unique features clearly in your ad creative. Below is an example of Balenciaga's Top View ad.
Branded Hashtag Challenge
Branded Hashtag Challenge is an engagement ad format that taps into user passion for creation and expression. It helps you deliver strong brand awareness with a high level of engagement that goes far beyond a simple click.
With Branded Hashtag Challenge, you can invite users to participate and create content around your campaign theme which leverage more user-generated content (UGC). So make sure your branded hashtag challenge sounds interesting, drives storytelling and is easy to follow for every TikTok user.
The #EyesLipsFace challenge of e.l.f. Cosmetics entice users to show their best makeup looks (and win $250 worth of e.l.f. products). This challenge has gained more than 6 billion views.
Branded Effects
Branded Effects refer to tailor-made sharable stickers, filters, and special effects. Brands can encourage users to use these effects in their videos which leverage engagement and user-generated content (UGC).
For example, PUMA created a Branded Effect (along with a hashtag challenge) to promote their Future Flash collection using the #FlashOfFuture tag. This campaign got 587.5 million views at that time.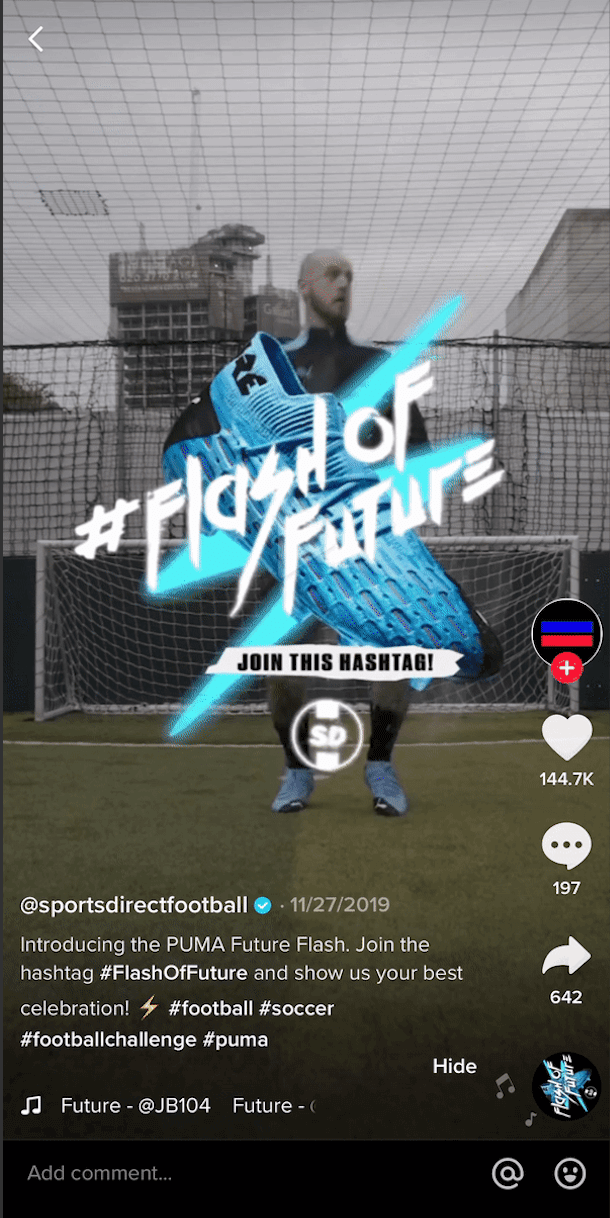 Brand Takeover
Brand Takeover is typically an image, video or GIF taking over the screen for a few seconds. It's shown in full-screen mode and placed at the top of the For You page. This ad format often comes with clickable links that lead to landing pages within TikTok. Therefore, it effectively increases massive awareness and drives sales.
Because only a single brand can run a Brand Takeover ad per day, it is among the most high-performing and expensive ads available. If you intend to choose brand takeover for advertising on TikTok, make sure your ad creative is outstanding with clear message, logo included and highlight products.
Here's the Brand Takeover ad of Too Faced – a beauty cosmetic brand. The ad hit 7.6 million impressions and 1.3 million clicks, delivering a staggering 18.38% clickthrough rate.
7 tips to create winning TikTok Ad Creative
Be authentic
Do you wonder why user-generated content (UGC) gets so high engagement and drives impactful action on TikTok? That's because TikTok users love authentic content.
If you want to create a TikTok ad creative that converts, make sure it's authentic, genuine, creative and entertaining. Customers are more interested in the real-life benefits of products and getting information from a trusted source, than they are about studio-quality effects and high production costs.
To create impactful organic content for advertising on TikTok, you can follow some tips below.
Capitalize on hot trends, hashtags and effects
Leverage collaborative features like TikTok Duet, Stitch and Reply to Comments to connect with a wider audience
Express yourself in a genuine way (Explore new ways of shooting and editing, and showcase the unique points related to your brand)
Post frequently
A good ad creative can help you reach your target audience, drive engagement and conversion for a period of time. But to captivate new audiences, you need to continuously share fresh and diverse content. The suggested frequency is from 1 to 4 times per day.
If you are new at running TikTok ads, try using diverse creative in the beginning stages to test which type of content performs better. This comes into handy during the ad group's exploration stage.
TikTok advises using Automated Creative Optimization (ACO), a great tool for finding effective creatives that automate the process and saves you time. When you are running more than ten different creatives in one ad group, ACO is extremely helpful.
Focus on immersive, full-screen, and sound-on experience
TikTok provides an immersive full-screen experience, and more than 98% of top-performing videos on TikTok use that. Therefore, you should get the most out of TikTok's vertical full-screen experience and capture 100% of that screen space by shooting in 9:16.
One of the key points TikTok differs from other platforms is the sound-on environment. By adding sound, your TikTok ad can emotionally connect with audiences and grab more attention. In particular, TikTok's sound includes everything from popular songs and movie quotes to monologues from TikTok users and remixes of famous speeches.
An example of leveraging the power of sound is the beauty brand – e.l.f. Cosmetics. It dropped their original hit "Eyes, Lips, Face" in association with Grammy-winning producer iLL WAYNO featuring Holla FyeSixWun.
This catchy song inspired many celebrities and influencers to participate in the #eyeslipsface challenge. The song is currently featured in over 5 million videos, and the videos with the hashtag #eyeslipsface have received close to 7 billion views.
Short and focused
There's a massive number of new TikTok videos for users to watch. Therefore, to draw viewers' attention and keep them watching until the end, ensure your TikTok ad is short, focused, and engaging.
TikTok recommends that your ads should be between 21 and 24 seconds long, so get right to the point and keep your main message brief and direct. According to TikTok, more than 63% of all videos with the greatest CTR spotlight their main message or product within the first three seconds.
High quality
Quality matters to viewers' experience on TikTok. No one stays long with a low-resolution image or video. Therefore, your resolution should be at least 720p to ensure people have a good experience watching your ad video.
Switch up your scenes
TikTok with various scenes receives a 40.6% increase in impressions when compared to videos that feature one person on screen selling the goods with no or little transition footage. Therefore, you should show your products from different angles in your TikTok ad creative. This helps users easily envision that product for themselves in reality.
Make the most of TikTok creative solutions
TikTok provides you with a lot of useful tools to make winning ad creative that drives impacts on users. Find out more in the following.
TikTok Creative Center: The Creative Center is a free resource that helps businesses discover top-performing ads, user trends across regions, and success stories.
TikTok Video Editor: Here's the necessary tool to edit your ad creative (Add music, text in a variety of fonts and colors, creative effects, transitions, and more).
Smart Video Soundtrack: This tool helps you find pitch-perfect audio for your content, all from within TikTok.
TikTok Creator Marketplace: This is the place where you can find creators that best match your brand and help you gain traction within their communities.
Video Template: With Video Template, you can simply create a video ad by selecting a template and uploading your photos, text, and logos.
Smart Text: Smart Text helps you beat writer's block and automatically generates and translates text for your ads in multiple different languages.
Bring your brand to life via TikTok Ad Creative
TikTok ads give brands a lot of opportunities to broaden their reach and drive conversions. Hope that some tips above have helped you on creating engaging TikTok Ad Creative that converts.
A successful TikTok ad campaign requires a smart strategy for selecting ad objectives, allocating budget, defining target audience, choosing suitable ad creative, and much more. So if you need an easy-to-use tool that helps to simplify TikTok ad setup and maximize return on ad spends, contact our expert or try NestAds app for free now!