Have you ever been confused about TikTok advertising objectives you need to choose when setting your campaign? It's the first step but also the most challenging part of making a successful ad campaign on TikTok.
Advertising objectives will determine what actions you optimize for, how much you have to pay, and even what type of video you make. Many brands have failed on TikTok due to the wrong goal. To assist you in making informed decisions, we've created the ultimate guide to selecting the right TikTok advertising objectives for your business. Keep reading for more interesting information!
What are TikTok advertising objectives?
Advertising objectives refer to a specific goal or intention of an advertisement. For example, through TikTok Ads, you can create content like a pro without a high editing level, gain new customers and increase sales.
Knowing the important role of the objectives while running ads, TikTok Ads Manager allows you to choose between three categories:
Awareness
Consideration
Conversion
Awareness
You can use the Reach objective when you want to increase your brand's visibility and reach as many people as possible with your ads. This objective is great for branding campaigns and can help raise awareness, increase recognition, and build trust with potential customers.
However, here are 3 main factors you need to consider before creating a campaign with a reach objective:
Main goal of marketing: Your must-meet goal needs to align with the campaign objectives.
Ad frequency: It's always better to manage exposure to your message. Let's think about how often you want your audiences to see your ad.
Bidding method: If you choose the reach objective for your campaign, the bidding method will be CPM. It means the price you are willing to pay for one thousand impressions.
Consideration
Consideration is the second stage of the customer buying journey. It's an important stage where your customers consider if your product or service is a good option for their problem.
The consideration objective is suitable when you aim to make the viewer remember your brand and request more information. Here are the 3 different goals to know if you select consideration as your campaign objectives:
Traffic
Video views
Community interaction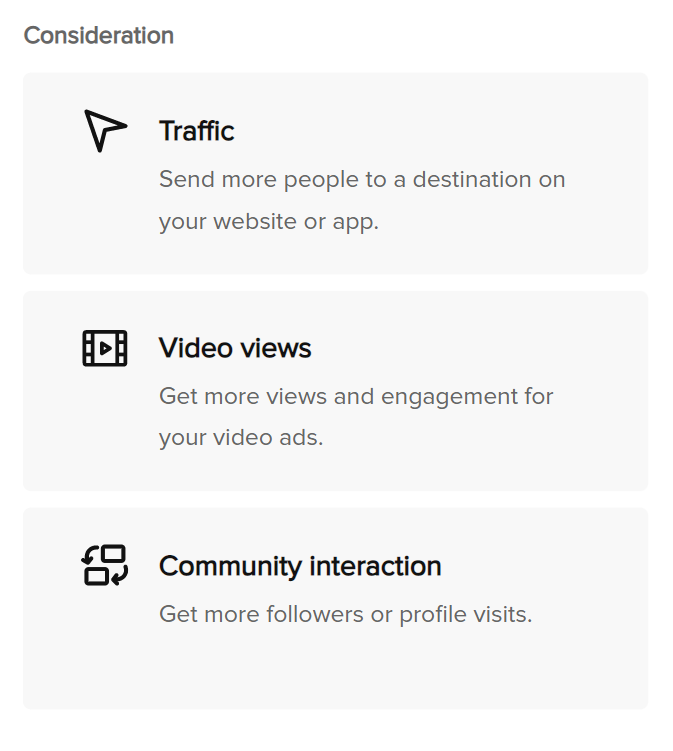 Traffic
The Traffic objective is used for a slightly different business goal than Reach. With Traffic, your ad is not just shown to a wide audience, but it also leads them to your website or landing page.
This means that you can use Traffic ads to drive potential customers directly to your ecommerce store where you can showcase your products, highlight their benefits, and address any potential objections they may have.
While Reach may be a better option for some businesses, the best way to find out which objective is right for you is to split test them and see which one drives the best results.
Here are some key things to consider when setting up a TikTok campaign using the Traffic objective:
The direct destination: You can direct viewers to your website or app, depending on your specific goals and objectives.
The target audience: If you have an app, you can target people who have already downloaded it. This can be done by selecting the Custom Audience option in the Audience Section of your ad group creation.
Video views
When you choose the Video Views objective, TikTok will show your ad to users who are most likely to watch a video ad. This can be a good choice for larger businesses who want to focus on getting more views for their ads, instead of just reaching a wide audience.
It's important to note that the bidding method is different for this objective, using a CPV model where you pay for every 1000 views of a 6-second or 2-second video. This means that the cost will depend on how many people watch your ad, rather than how many times it's shown.
When creating a campaign with a Video Views goal, there are a few factors you should consider:
What is your marketing goal? Longer video views can help you better position your product or service to your target audience.
How much are you willing to pay for a video view? With the Video Views objective, you pay for 1000 of 6-second or 2-second video views using the CPV bidding method.
What is your video view optimization goal? You can choose to deliver ads for either 2 or 6 seconds depending on your objective to get the most video views.
Community interaction
The community interaction objective aims to get more users to engage with your TikTok account. It will help brands to increase traffic by driving more followers to your profile page.
Here are some tips to optimize your campaign if you intend to choose the community interaction objective.
Use a TikTok Business Account: This account gives you access to advanced features and also analytics tools.
Leverage both organic and paid best practices for big business results.
Focus to increase the number of followers: More followers means more impact on TikTok. Brand accounts with 1M followers or more show a 15% higher average engagement rate than usual.
Gain experience from the testing period: It's necessary to know your performance and check on your expectations.
Boost your creativity: Try many different creative methods to create the best content. Remember to make TikToks, don't make ads.
Conversion
The Conversion objectives are dedicated to brands that want to encourage people to perform an action. You can choose between website conversions and app promotion.
Website conversions
If you focus on making people complete a real action on your website, then Website conversions objective is the right one for you. You can easily increase sales if TikTok users download your app, sign up for your website, add items to their cart or purchase your product.
Here are some benefits of using this ad objective:
Increasing website traffic and directing more people to your TikTok Instant Page.
Improving the ad delivery optimization process based on conversion events that occur on your website or TikTok Instant Page.
Utilizing web measurement solutions like TikTok Pixel, Events Web API, and Advanced Matching to optimize ad delivery and track performance.
Enhancing ad delivery optimization against Clicks, Conversion, and Value.
Lead generation
If you want to gather information about potential customers, the lead generation ad objective can help you. This objective lets you create a video ad that's connected to an Instant Form, which is a form that collects basic user information like name and email.
You can also customize the form to ask questions that are relevant to your business, such as what products they're interested in or how often they shop online.
Using the Lead Generation objective can help you:
Create a higher conversion rate with incredible instant forms including pre-populating fields.
Tailor your messages uniquely to your audience with your own messaging and layout.
Drive more traffic to your website.
Automate the next steps.
App promotion
If you want to promote your mobile app on TikTok, the App Promotion ad objective is what you need. This objective is designed to help you get more people to download and use your app.
When you choose the App Promotion objective, TikTok's algorithm will find people who are most likely to install your app, not just click on the link. You can choose to either promote App Install or App Retargeting.
If you choose App installs, the TikTok algorithm will try its best to send users to your app's download page in the Google Play or Apple App Store, while choosing App Retargeting can be use to re-engage your current app users.
Based on your marketing goals, you can determine the way that TikTok improves ad delivery:
Click: TikTok users tap yo your ad's call to action button.
Install: TikTok users install your app from the App or Play store.
In-app event (AEO): TikTok users take a specific in-app event such as completing a purchase or registering their app.
Install with in-app events: TikTok users install your app and complete a specific in-app event.
Value: TikTok will discover the audiences that show the highest value and generate the best return on ad spend.
You can also choose how the TikTok system optimizes your ad delivery:
In-app event (AEO): TikTok users take a specific in-app event.
Install with in-app event: TikTok users install your app and perform a specific in-app event.
Value: TikTok will find people that show the highest value and generate the best return on ad spend.
Manage your TikTok ads campaigns better with TRR funnel
Advertising on TikTok will definitely be different from advertising on other social media platforms like Facebook, Instagram or Twitter. That's why we built NestAds, a TikTok Advertising Management Software, to help e-commerce businesses to make money from their campaign.
Here, we have three types of advertising campaigns that totally align with the customer journey and also the e-commerce sales funnel including:
Targeting campaign: The first campaign is all about acquiring new audiences who are likely to show an interest in your products.
Retargeting campaign: Passing to the next step of the TRR funnel, the Retargeting campaign aims to generate more leads who are interested in your products or service and convert them into paying customers. If you want to run targeted ads to the audience who visited your website but didn't complete a conversion, this one's for you!
Retention campaign: It's designed to target existing customers with new special offers. It will increase your repeat purchase rate, customer lifetime value and also maintain real customer loyalty.
NestAds's advertising objectives
One thing that makes NestAds outstanding from its competitors is all about how to choose the right TikTok Ads objectives. No matter which campaign you choose, we provide the same set of three objectives across all of them.
Reach
If you select Reach, NestAds will try its best to maximize the number of people who saw your ad video. Reach objective is created due to the need to want to raise brand awareness and create a memorable image from the audience's perspective.
However, you need to closely set the right target audience, you won't get great results if you target a too large audience.
Traffic
For Traffic objective, it's all about boosting traffic to your chosen destination and especially your brand's website. People often follow Traffic objective when their goal is to send their target audience to a destination outside of TikTok.
For example, you can link your video to your website, landing page, blog post, etc.
Conversions
The last one but the most interesting objective is Conversions. Conversions objective is used to get the audiences to take a specific action like purchasing your product or service.
This TikTok ad objective is the last destination for all businesses from big to small brands. Every single ad video serves one last goal: gain new customers and encourage people to make a purchase.
But, why would you need the same objectives in different campaigns?
You all definitely realize the difference between ad objectives from TikTok Ads Manager and the ones provided by NestAds. We offer the same objectives in different campaigns but TikTok doesn't do the same thing.
For three campaigns (Awareness, Consideration and Conversion), TikTok sets unique objectives to choose from. For example, if you want to increase traffic, you have to choose the Consideration campaign.
But, we recognize that there is no clear limit between all these objectives. They complete each other and you can achieve the second goal while choosing another one as the main goal.
With NestAds, no matter what type of campaign you are running, you can choose the objectives you want. You can even stay focused on the conversion objective at your first targeting campaign to highly increase sales.
Want to see how you can benefit from all these objectives from NestAds? Check out this TikTok Ads tutorial and you will find the answer!
Ready to try our game-changer TikTok advertising objective-setting method?
Now that you know the different TikTok advertising objectives and how to choose the right one for your campaign, it's time to get started. Remember, selecting the right objective is crucial for a successful TikTok Ad campaign, and our guide can help you make informed decisions.
Remember, whether you want to increase brand awareness, drive traffic to your website, get more video views, or boost community interaction, NestAds can help you achieve it all. So, give it a try and see how NestAds can take your TikTok Ad campaigns to the next level!