When it comes to advertising on TikTok, many brands are concerned about "How much do TikTok ads cost?". Knowing how this platform charges on every type of ad can help them to better allocate their budget and make smart investments.
So this post will be all about how much it costs to advertise on TikTok and whether is it truly worthwhile. Without further ado, let's get started now!
What is TikTok Ad?
TikTok ad is a solution designed exclusively for businesses to broaden their reach and drive conversions.
It provides businesses with powerful, yet easy-to-use tools to promote their products to millions of global users. After creating a TikTok ad account, you can get access to targeting, ad creation, insight reports, and ad management tool.
TikTok enables you to select from various ad options with different targeting. Below is the breakdown of TikTok ad types.
In-Feed ads
Top View
Brand Takeover
Branded Effect
Branded Hashtag Challenge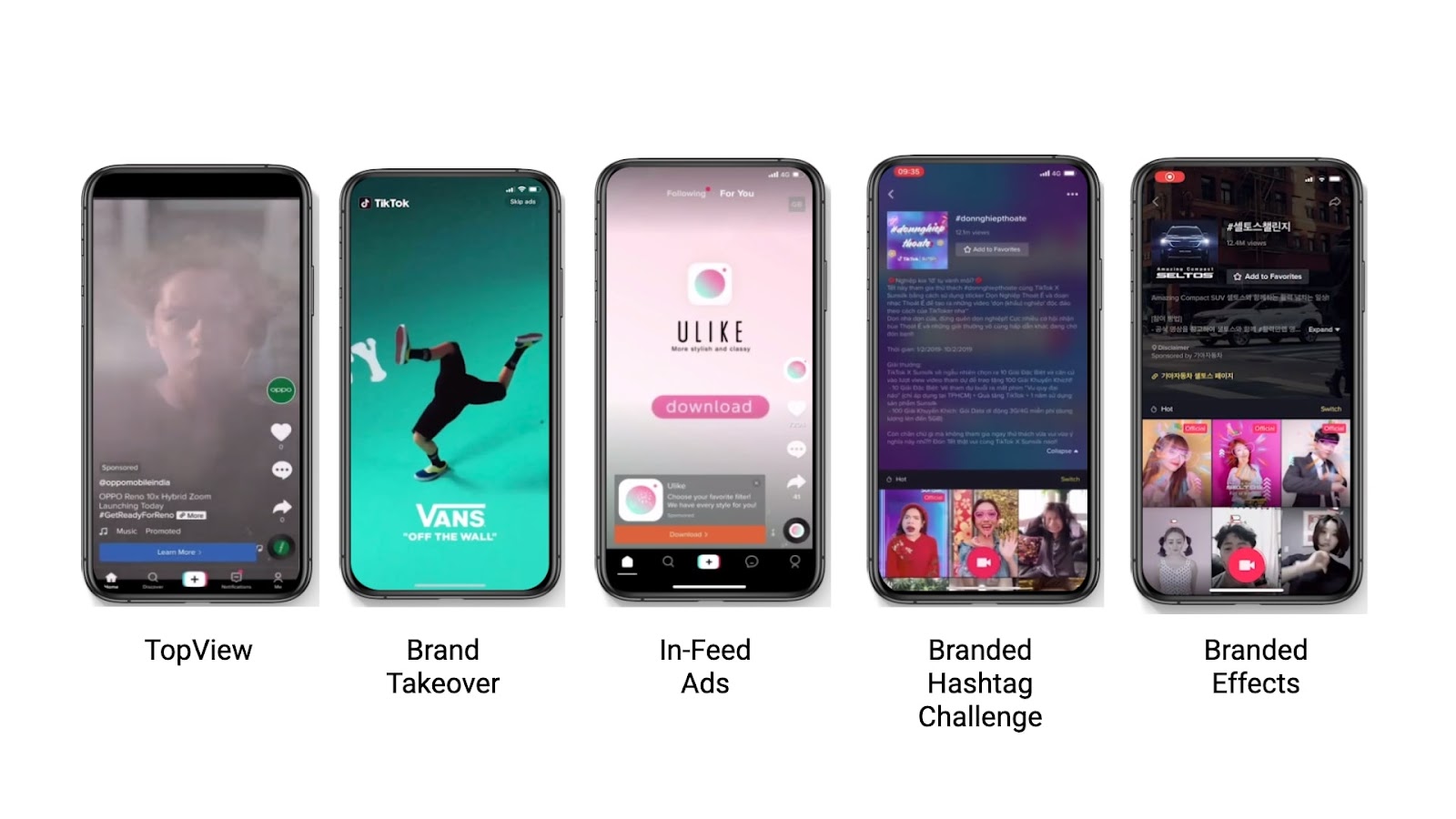 Why should you run TikTok Ads?
Today's businesses have a variety of choices on which platforms they will promote their products like Google, Facebook, Instagram, etc. So why should they choose TikTok ads?
If you also have the same concern as above, read on some reasons below to make more informed decisions.
1. Broaden brand reach and engagement
As one of the most downloaded apps in recent years, TikTok got over one billion active users from more than 150 countries. The average usage time of a TikTok user is up to 1.5 hours per day which enables your brands to increase exposure and drive high engagement.
2. Diverse ad formats & tools
In TikTok Ads, you can find various ad formats and available editor tool that help you transform your images and videos into engaging ads. Enjoy tailoring your ad target, audience, budget, and more as you want.
3. Transparent Tracking & Trusted Data Partners
TikTok Ad Manager makes it easy for you to monitor the performance of your ad campaigns and get insights in return. It partnered with trustworthy, third-party tracking companies to help track your ad conversions, users' in-app actions, impressions, and click attribution data.
How much do TikTok Ads cost?

With TikTok Ads, you select a daily or lifetime budget which can be modified anytime throughout your ad campaign.
The TikTok advertising cost begins at $0.50 per 1000 views (CPM) and $0.02 per click (CPC). The minimum budget for a TikTok ad campaign is at least $500.
Bidding is a crucial part that can make or break the effectiveness of an ad campaign. Therefore, make sure you have a smart bidding strategy to optimize the ad cost and maximize return on investment.
How to optimize your TikTok Ads
Every penny matters, especially for businesses with a tight budget. When it comes to advertising, pouring out a lot of money on it doesn't ensure your good ad performance. What you need is to know how to bid and allocate resources smartly.
So here're some bidding strategies that you can apply to optimize your TikTok Ads cost but still get good results.
Bid Cap: By choosing Bid Cap, you can keep the average cost per result below the price ceiling you've set. The system will automatically optimize delivery based on the highest cost per result you enter.
Cost Cap: This bidding strategy gives the system an average cost per result that it tries to achieve. As a result, the cost per result sometimes will fluctuate higher or lower than the bid amount.
Lowest Cap: Instead of requiring a bid, the Lowest Cost will use the existing ad group budget to generate as many results as possible at the lowest cost per result. No matter how competitive the auction environment is, Lowest Cost is always able to stay within budget.

Bonus tips
Choose Bid Cap or Cost Cap as your bid strategy if you prioritize controlling your daily cost per result.
For Conversion Ad campaign with Conversion as your optimization goal, choose Lowest Cost as your bid strategy is the best to optimize the daily budget.
If Bid Cap or Cost Cap is your bid strategy, you should set your bid as your target cost per acquisition (CPA).
If you are running an App Install campaign and want to optimize it based on users taking a specific action in your app, use App Event Optimization (AEO). For AEO and set your bid as your target CPA.
TikTok Ads examples to get inspired
1. Guess
Guess is an innovative clothing brand for women, men, and kids. To promote their Fall'18 Denim Fit Collection on TikTok, this brand used the hashtag challenge #InMyDenim to increase awareness and engagement
During the 6-day campaign period, #InMyDenim realized over 5,550 user-generated videos, 10.5 million video views, 14.3% engagement rate, and over 12,000 additional followers for Guess's Business Account on TikTok. The promotion resonated with consumers and considerably boosted brand affinity.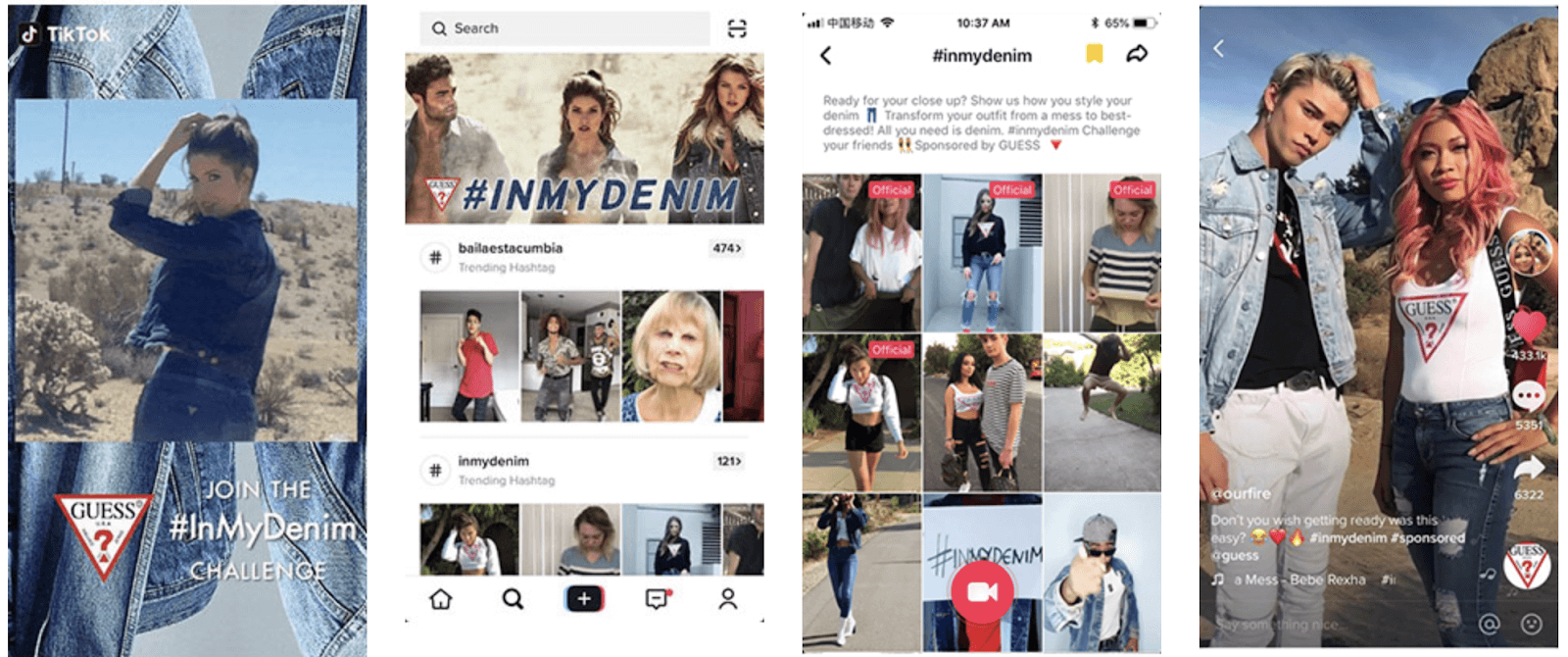 2. Garnier
Garnier is a haircare and skincare brand founded in France. It made a TikTok challenge with a 2D Branded Effect featuring a Hair Food shampoo bottle on the screen which users could employ as a transition, showing their hair and outfits before and after to highlight the benefits of Hair Food.
During the first month of the campaign, over 250 million video views were recorded. And there arre 109,000+ videos created by over 48,000 TikTok users (of which 2,320 videos using the 2D branded effect).
3. Stella McCartney
TikTok users began posting videos with the tagline "Tell me it's summer without telling me it's summer" as the Northern Hemisphere's climate warmed up. Stella McCartney took advantage of this trend to promote its 2021 summer collection.
The brand launched an in-feed ad campaign featuring clips of typical summer activities like drinking cold drinks, eating melting ice cream, and wearing sunglasses — all while wearing pieces from the summer collection in the background. In a short period of time, this ad campaign received more than 3 million views and 20,000 clicks.
Is it worth to run TikTok ads?
From huge user base, high level of engagement, unique discovery algorithm, and much more. TikTok gives brands a lot of opportunities to increase their exposure, drive engagement and sales through various ad formats. Therefore, it is worth a try to experiment if TikTok Ads is the right way to go.
If you need any help in launching a cost-effective TikTok ad campaign, feel free to contact our experts via live chat or try our NestAds app. NestAds is an advertising platform that helps marketers simplify their TikTok ad setup, reach out to the right audience and maximize conversion.