For any advertising campaign, success hinges on identifying the target audience, and TikTok Ads are no exception. TikTok Ads Targeting options are effective tools to ensure your TikTok ads reach the ideal audiences.
So, what are the TikTok Ads Targeting options? How to make the best of targeting options to maximize your TikTok ads revenue? All of your concerns will be answered below!
What is TikTok Ad Targeting?
Ad targeting is a series of targeting options such as demographics, interests, and behaviors to identify what your potential customers look like for your advertising objectives. As a result, you're more likely to reach consumers who are interested in your products and services. Particularly, not only can you lower the chance of reaching uninterested users, but you can also minimize the marketing costs for your brand.
To gain access to ad targeting in the Ad group when creating a TikTok ad campaign, you have to sign up for a TikTok Ad Manager account first, then select an ad group after having set up your campaign.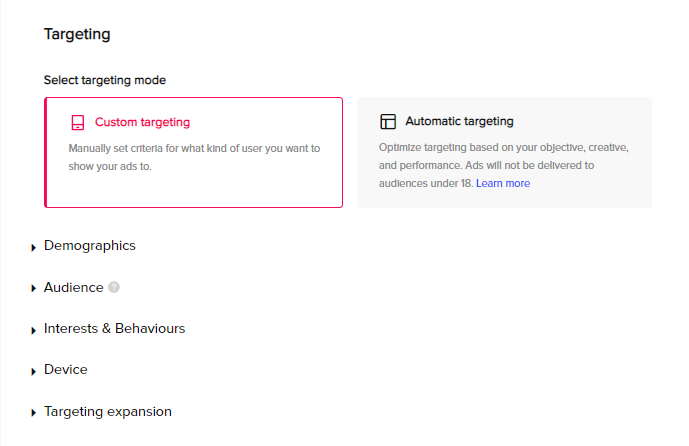 TikTok offers two mode of targeting: Custom targeting and Automatic targeting. While Custom targeting allows you to set criteria for your targeted users, Automatic targeting will based on your objectives, creative and performance to decide on the ad targeting option itself. Hence, for this article, we will focus mainly on how you can utilize TikTok ad targeting options in the Custom targeting mode.
There are 5 ad targeting options available: Demographic, Audience, Interest & Behavior, Device, and Smart options.
Demographics targeting
Since 2023, TikTok has updated 2 more options in demographics targeting, making a total of 6 demographics targeting options: gender, language, age, location, household income, and spending power. Each targeting filter has a more specific range of categorization options for brands to choose exactly the types of demographics they need.
Gender: Male/Female
Language: Based on the audience's app language.
Age: 13-17, 18-24, 25-34, 35-44, 45-54, 55+
Location: Target potential customers in specific locations including cities, countries, regions, counties, departments, districts, DMA Regions, oblast, provinces, states, and urban communities.
Keep in mind that some targeting options are not available in all countries. For example, only US citizens can have the option of selecting Country/Region, State/Province, City, and Designated Market Area/DMA.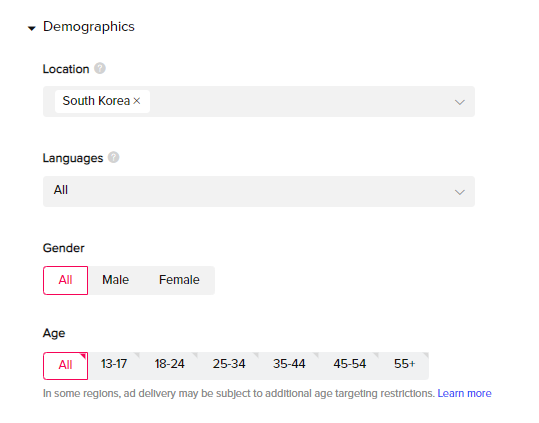 These 4 filters are the building blocks of the demographic targeting. Remember to assess your products and target market first before filling in the details to ensure the chosen demographics are suitable.
However, if your target market is more niche or high-end, the last 2 targeitng options can be extremely helpful:
Household income: A US-only option that allow brands to deliver ads to users based on household income.
Spending power: Deliver ads to users based on the user's purchase behavior through TikTok ads
For example, if you are running an ad campaign for your high-end jewellery products, you can target users whose spending power and income are higher than average.
Audience targeting
Among various targeting options, TikTok ads audience targeting remains a crucial factor to your ads campaign success because it can help you improve your ads' performance. TikTok provides 2 ways to approach your audiences: Narrow targeting and Broad targeting 
Narrow targeting
It is a feature that helps you reach your ideal customers by using specific targeting settings such as demographics, interests, behavior, location, and more. The system then finds the best customers and displays your ads to them. Narrow targeting offers two options: Custom Audience and Lookalike Audience.
Custom Audience
This type of targeting is beneficial for re-targeting purposes, particularly when you wish to re-engage similar customer profiles that have watched your ad or have clicked your landing page link. Furthermore, it allows you to increase your following, increase app engagement, or create lookalike audiences.
There are six ways to create a Custom Audience: Customer file, Engagement, App activity, Website traffic, Lead generation, and Business account audience. You can watch the instructions from TikTok Business Center to understand how it operates: 
Lookalike Audience
Lookalike Audience is a powerful tool that helps businesses find potential customers with similar attributes to their existing customer base. Particularly, by analyzing data like age, location, and interests, the tool can expand your audience reach and increase your chances of finding interested buyers.
However, to generate accurate results, you need to have a source audience of at least 10,000 people and provide precise information about your audience. It's also essential to choose the right audience size option, which can be Specific, Balanced, or Broad.
Choose the Specific option if you want the tool to find people who are very similar to your existing customers,
Choose the Broad option if you want to cast a wider net and find more people who might be interested in your product.
Here is a complete guide from TikTok Business Center to help you get started with this feature: 
Broad Targeting
If you are having trouble identifying your target audience, it's okay! TikTok's algorithm allows you to find potential customers beyond any pre-defined parameters. By leaving the targeting options blank, its system will identify the most relevant and valuable audience for your brand, increasing the reach and impact of your campaigns.
Interest & Behaviour targeting
Since August 2022, TikTok has changed its Interest & Behaviour interface in order to optimize the selection process. Hence, in the Interest & Behaviour targeting dashboard, you will find 3 main targeting options: Interest, Purchase Intention, and Behaviors/Interactions (Video interactions, Creator interactions, Hashtag interactions)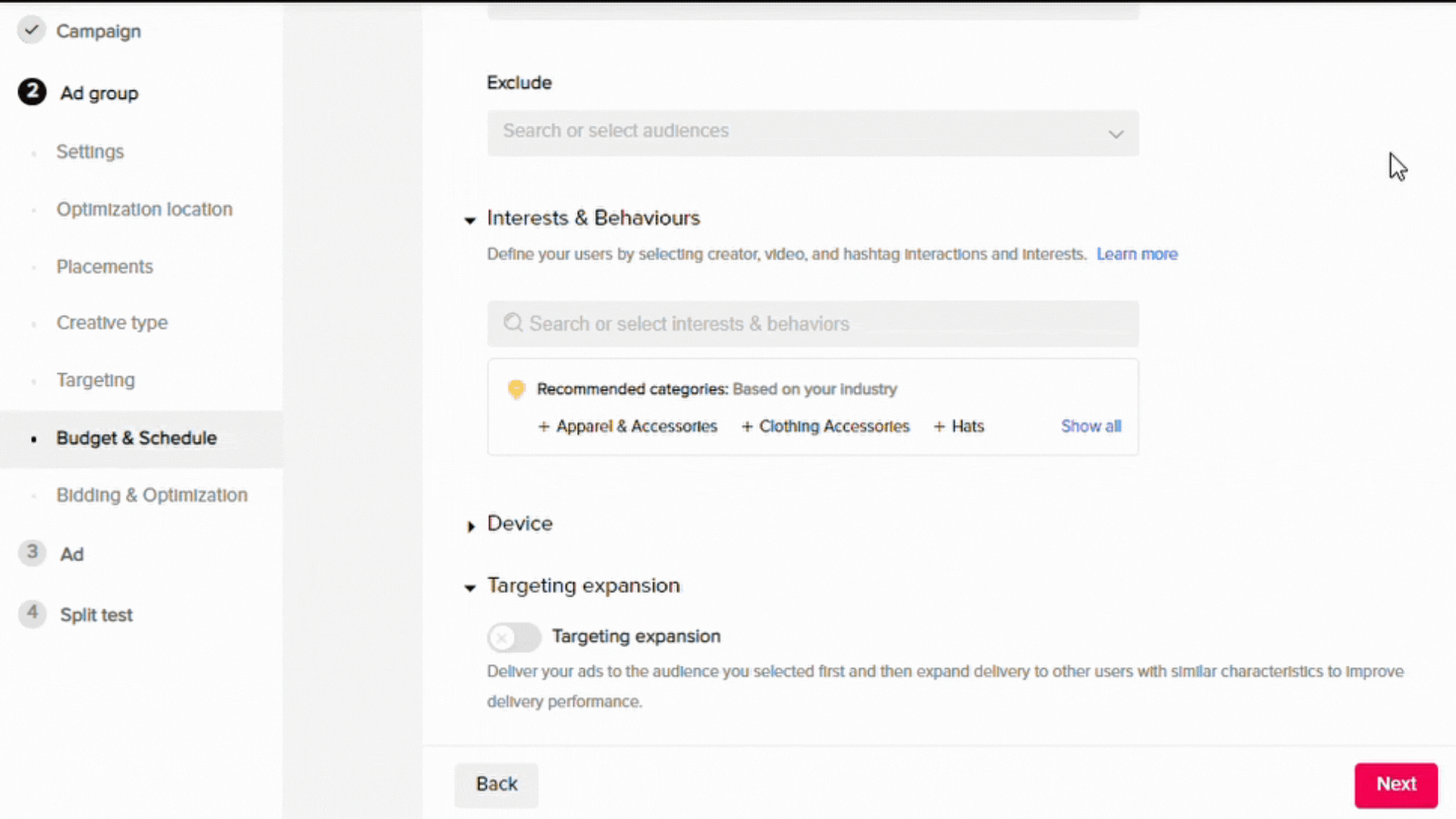 Interest Targeting
With the Interest Targeting section, you can find your potential customers depending on what they are most interested in and how they interact with your TikTok content.
There are 2 categories of Interest Targeting: Interest Categories and Additional Interest. For further details, we will show you how to use both of them in TikTok Ads Manager:
Interest Categories
Interest Categories is a list of interests that TikTok provide so that you can select which one to target in your next ad campaign. So, if you've already had a clear audience portrait in mind, you should find no difficulties using this feature!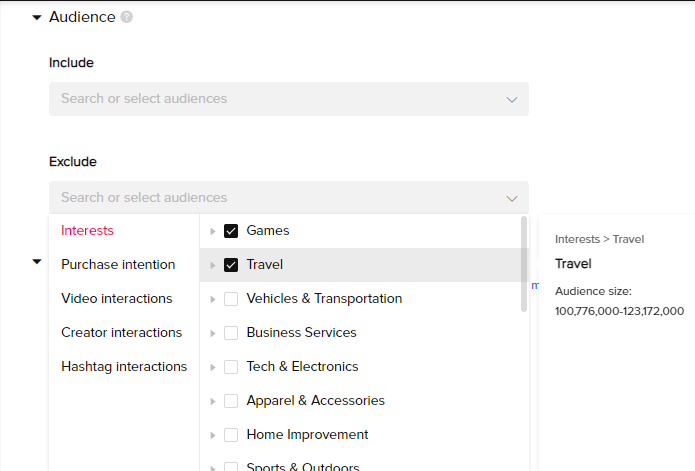 For example, if you want to advertise your adventure-themed online game, "Games" and "Travels" can be the two interests to choose for your ad campaign. When moving the cursor to each specific interest, TikTok will even display the audience size for you to see the potential audience you can reach.
Search additional interests
However, even if you're unable to locate your viewers' preferences in the Interest Categories, don't worry. TikTok has got you covered with its additional interests suggestions.
You can type your desired interests into the search bar, then additional interests that share similarities with the original one will be displayed on the screen.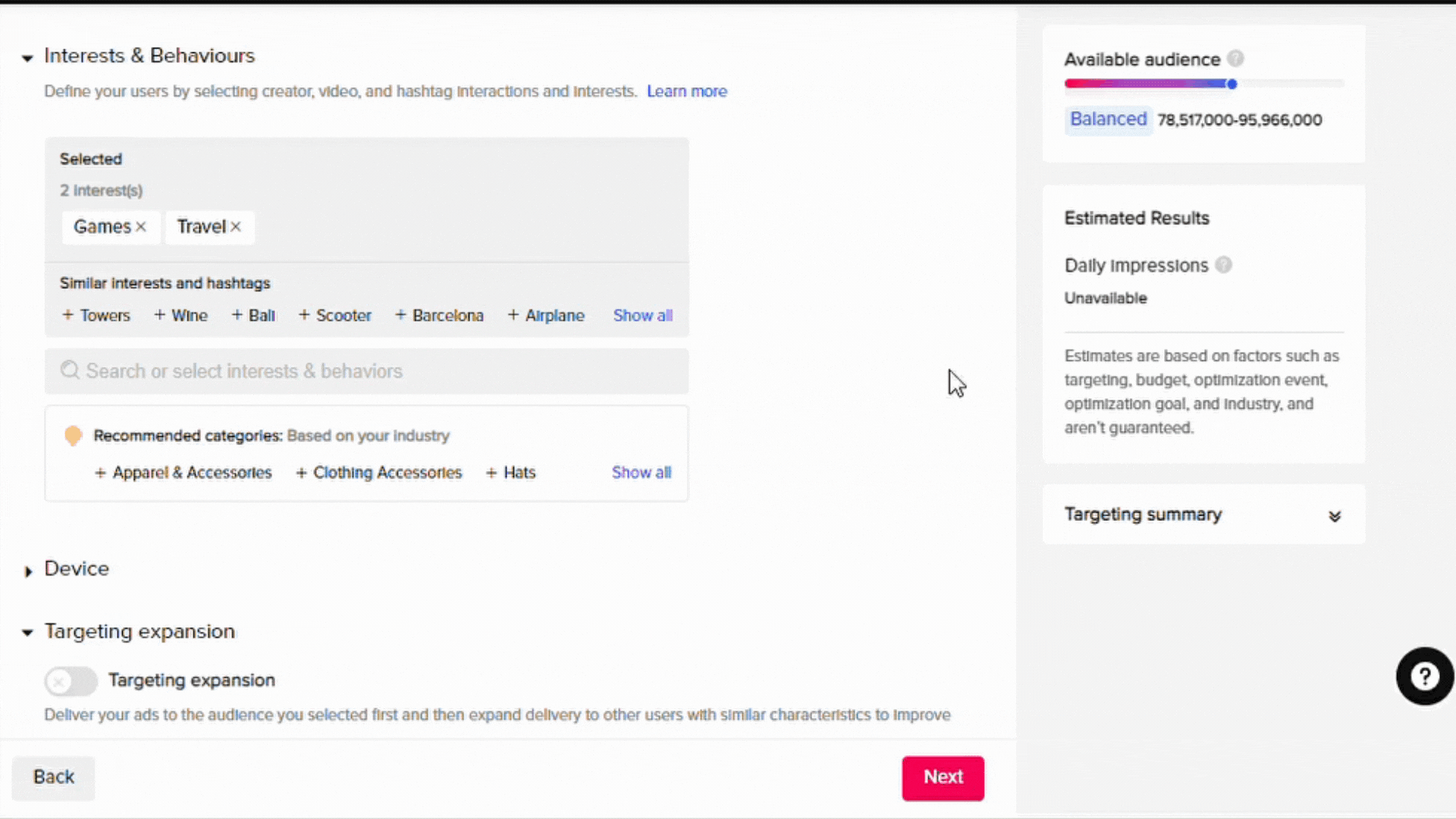 In this case, as I type the word "Jump", a number of related interests such as "Jump rope" or "Bungee jumping" are suggested. This helps me to easily choose more relevant interests for my audience.
Note: Pangel doesn't allow Interest Targeting so you can't find out any users from it.
Purchase Intent targeting
Purchase Intent targeting displays content to audiences on For You Page who are "in-market," i.e., users actively researching or buying a specific category of product or service. For marketers, this type of targeting can be beneficial to drive lower-funnel marketing success, as it can help brands optimize both purchase conversions and set up cost.
Since this feature is conversion-focused, you will have to undergo extra steps to activate it:
After creating a new ad campaign, choose "Auction" as the buying type.
Select either "Conversion" or "Catalog Sales" as the advertising objective, then click "Continue".
In "Placements", choose "Select placement" and make sure only TikTok is selected by checking the box.
Under "Interests & Behaviors", select "Purchase intention".
Choose the purchase intent that you want to target.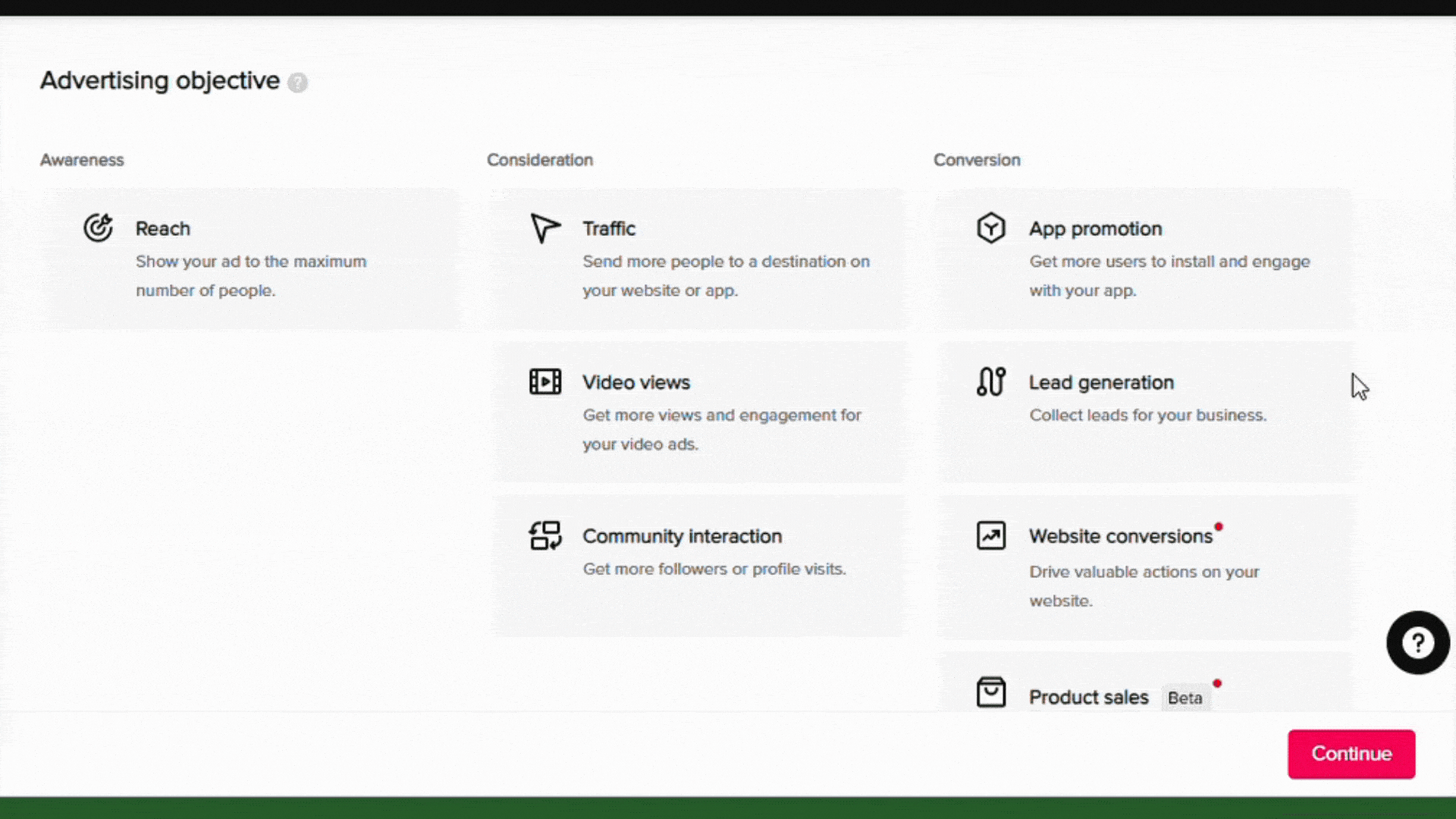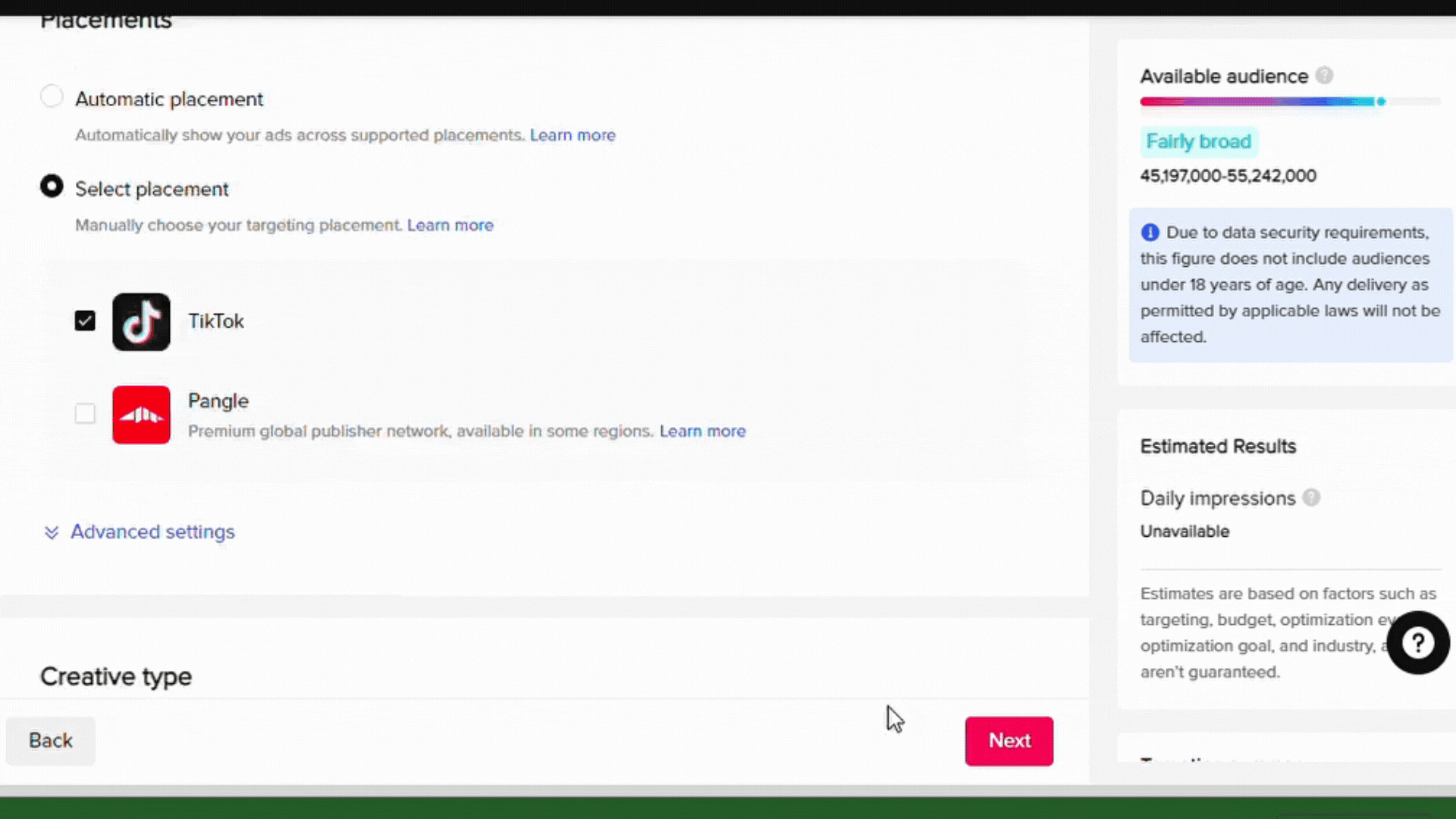 Note: It is recommended to only choose the category that your product belongs to and/or its parent category if the audience is not broad enough.
An extra tip: Toggle on "Targeting expansion" to help expand the targeting audience and optimize ad performance. 
Behavior/Interactions targeting
With the support of behavior targeting, you can define the audience based on their recent interaction in the platform through organic and paid content. It's quite different from Interest Targeting which concentrates on long-term content consumption.
There are three types of behavior: Video-related interactions, Creator interactions, and Hashtag interactions.
Video Interactions
With video interactions, you can only record users' interactions with organic video content from the last 7 or 15 days (video completion, likes, comments, and shares). In addition, uou can select users who have recently watched, liked, commented on your post, or shared a certain genre of material.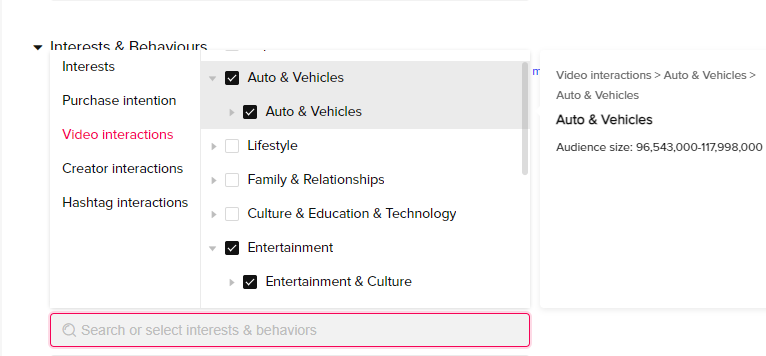 Creator Interactions
This feature lets you filter users who have followed or viewed profiles in a specific category, giving you a better chance to connect with a relevant audience for your business.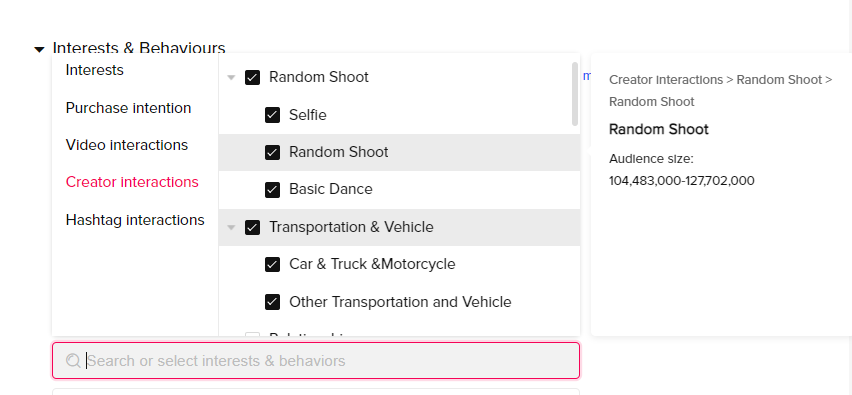 Hashtag Interactions
Using hashtags is an easy way for the audience to find content that fits their tastes. With hashtag interactions, TikTok users can easily find your brand based on specific hashtags.
When clicking on "Hashtag interactions", you can see that TikTok already provides users with popular, holiday-related hashtag bundles for you to target. However, you can always search and find more hashtags in the search bar.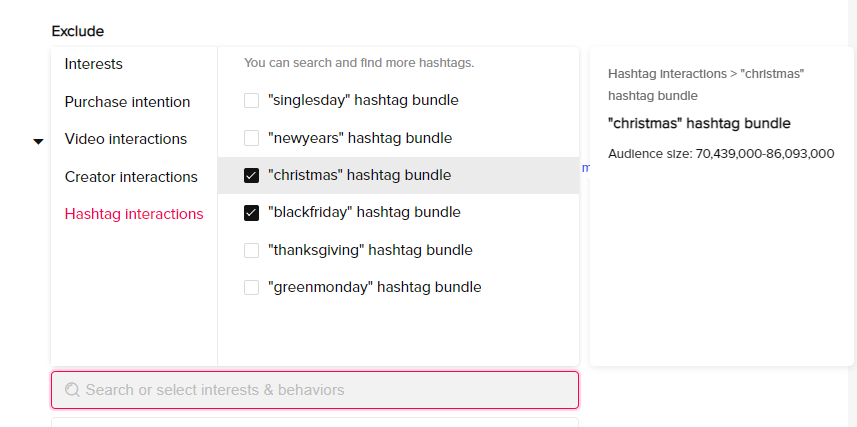 Device targeting
If most, or all of your target audience happens to be using special device or device setting, you can also adjust the Device targeting option to serve your needs. TikTok provides 7 device targeting options that cover most of the device settings:
Operating system: iOS & Android
Operating system (OS) versions: As the name suggests, it is a list of versions based on your selected operating system.
Device model: This option also varies based on your OS options. For example, if you choose Android, TikTok will suggest a list of Android-software devices for you, such as Google, HUAWEI, Lenovo, LG, etc.
Connection type: WIFI, 2G, 3G, 4G, 5G
Carriers: Deliver ads to users based on their mobile phone carriers. As each countries have their own mobile phone carriers, the suggested options will differ from country to country.
Internet service provider (ISP): Deliver ads to users based on their most frequently used ISPs in the past 30 days. Similar to the carriers targeting, the ISP targeting option will also differ from country to country.
Device price: You can also target users based on the price of their devices. You can either select Any price, or go with a specific range of your choice.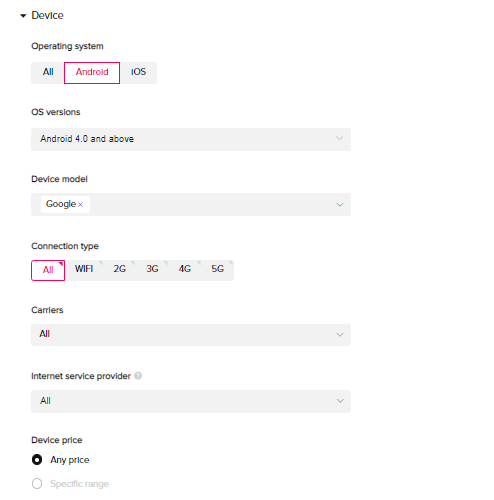 Smart Targeting
Targeting recommendation
Targeting recommendations are an effective tool for advertisers to reach their desired audience through ads.
By evaluating and analyzing the performance of similar ad groups and your current ads, you can identify suggested Interest & Behavior categories that are relevant to your brand and apply them accordingly.
Setting up this feature is super easy, let's follow the simple steps below:
Step 1: Under "Recommended categories", click "Show all" to reveal all of TikTok's interest suggestion based on your industry. It's important to note that the first recommendation will have the widest reach with a large available audience, and the audience size will decrease as the choices become more specific.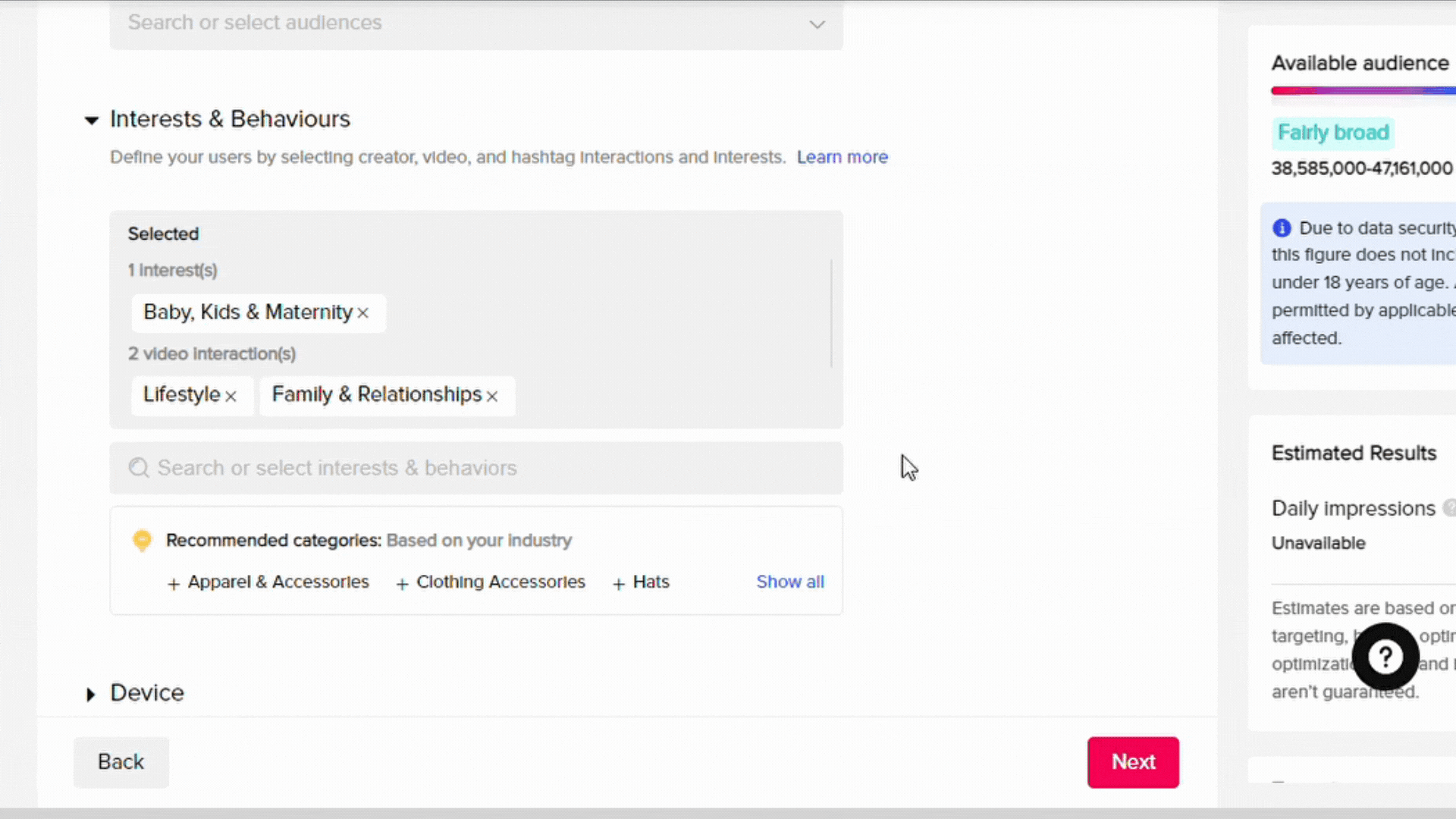 Step 2: Choose more similar interests and hashtags of your choice if you wish to expand your target.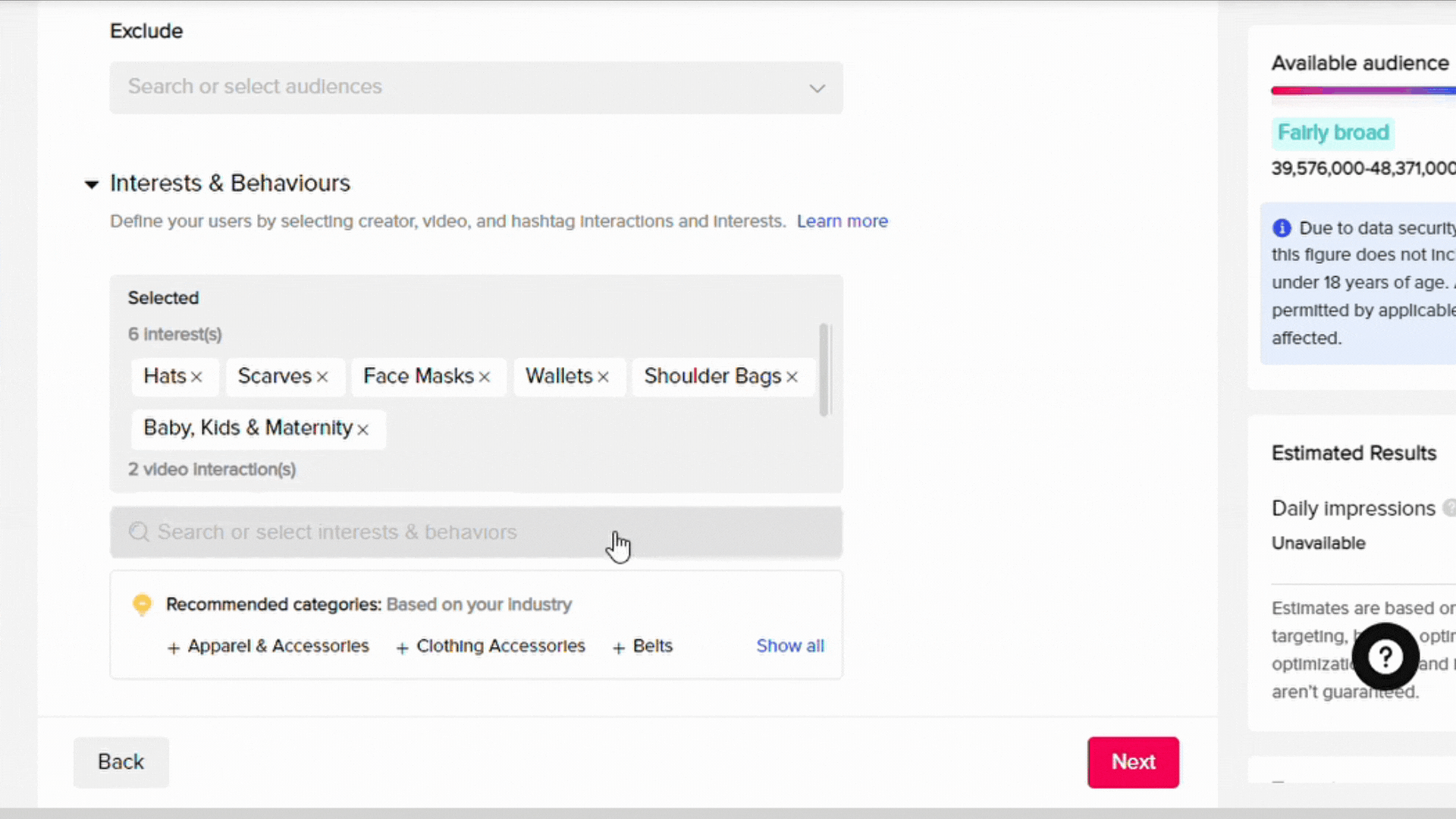 Targeting expansion
When the system predicts that it will be difficult to deliver ads to your intended audience based on your initial targeting selections, turning on Targeting expansion is a way to broaden your targeting settings to reach a larger audience This can help to extend your delivery cycle.
How to enable the targeting expansion
Step 1: Select the information from the Demographics, Audience, Interests, and Behaviors
Step 2: Turn on the Targeting Expansion toggle under Device. Targeting expansion has been set up for your account!
Note: Pangle does not support Targeting Expansion.
There is no set time as the system will automatically implement Targeting Expansion.
Automatic targeting
Automatic targeting is a feature that will automatically target the right audience for a marketing campaign without needing much involvement from advertisers.
Specifically, it will optimize the targeting settings based on some factors such as marketing goals, ad delivery, ad content, and previous campaign information.
How to make use of most of this function for your campaign? Let's take a look at some steps below to set up Automatic Targeting:
Step 1: Campaign > Choose advertising objectives
It's important to note that just some objectives that support Automatic Targeting: Traffic, App, Lead Gen, Community Interaction, and Conversion Web.
Step 2: Go Ad group > Targeting > Automatic Targeting.

Ads targeting options: Common issues & How to solve
My audience is too narrow and is generating zero revenue
Solution #1: Aim broad by expanding your Location options
Start broad (Location Targeting only) to allow the platform to explore the audiences that would work best for your campaigns

When TikTok determines that your audience is wide-ranging, it will show its assessment on the screen so you can be aware.
Solution #2: Analyze the segments by identifying the trending interest and behavior.
Understanding the trend behind the users' interest and behavior can help you execute Interest & Behaviour targeting more efficiently. It is also recommended that at least 15 interest and/or behavior categories are added to make sure your ad can reach a large audience.
Solution #3: Finetune your targeting if necessary
To optimize your advertising campaign, consider creating a separate ad group for your best-performing interest/behavior tags. You can allocate a higher budget to this ad group to increase the chances of reaching your target audience effectively.
Otherwise, if you are still in doubt, you can consider campaign budget optimization (CBO) to automatically optimize toward the best-performing ad group.
I failed to retarget my audience from older campaigns
Solution: Make sure your custom audience is made relevant and current, and rebuild if necessary
TikTok's audience collection is limited to 180 days, after which the audience will gradually decay and become ineffective for campaign targeting purposes.
That's why you need to ensure that any custom audiences are created and activated after the campaign ends, within 180 days (6 months) with auto refresh switched off.
I am uncertain about the performance of my ad
Solution: Split Test
If you are a small business with a limited budget, targeting a broad audience can be a costly and worrisome approach since there is no guarantee that the ad will be relevant to such a large group of audience.
This is when a split test comes to save you! Split test, or A/B testing, lets you test two ad versions and optimize future campaigns by identifying the better performing ad. To utilize this feature, there are some notices that you should keep in mind:
To ensure effective testing, you should establish a proper framework and clearly define the hypothesis or question you intend to answer through the test.
When a winning ad group is identified with a confidence level of 90% or higher, it means that the chances of obtaining the same results in a repeated test are also at 90%. Hence, you can use this result for future campaign targeting.
You can watch the video down below to understand the process behind setting up a split test:
It's time to find the right audiences on TikTok
Finding your target audience for your TikTok Ads is easier than ever with the support of Ad Targeting. If used properly, it can deliver your products and services to the right users as fast as possible. In addition, including this function in your marketing campaign will broaden your brand reach and drive fantastic results.
Want to run your TikTok ads campaign effectively with smart audiences recommendation, the right strategy, and dedicated support from experts? It's time to try NestAds – all-in-one TikTok ads management software, tailored-made for your e-commerce.