Well known as the world's leading social media app for short-form mobile videos, TikTok shows its great potential to unlock all the magic of different business types. It's not a story, this shoppertainment platform has proved its power through real TikTok statistics, from the application and marketing strategy to customer behaviors statistics.
In order to help businesses and marketers get a better view of TikTok and make well-informed decisions, we've compiled all essential TikTok statistics for 2023. Keep reading for more key statistics to boost your brand!
TikTok users demographics
Age
Here is a breakdown of the age demographics of all TikTok users.
| | |
| --- | --- |
| Age bracket | Percentage of users |
| 18-24 | 43.7 |
| 25-34 | 31.9 |
| 35-44 | 13 |
| 45-54 | 6.4 |
| 55+ | 3.4 |
Source: App Ape
Just as millennials fueled the rise of earlier social media platforms, like Facebook and Instagram, Generation Z is fueling the rise of TikTok. To be more specific, the majority of TikTok users are between 18 and 24 years old, and they account for a staggering 43.7 percent of all platform users globally. The second-largest age group using TikTok are in 25 to 34, which makes up 282 million TikTok users, or 31.9 percent of the total.
The statistics for the remaining groups were considerably less, it shows that people aged 40 or over are less interested in social networking sites such as TikTok. Particularly, the number of middle-aged users is approximately one out of six times when compared to the young generation.
Genders
It might be surprising when the gap between the number of female users and male users is significant. To be more specific, around 55% of TikTok users worldwide were female, whereas men made up about 43% of all users on this popular social video platform.
Regions
While TikTok is widely used in various countries around the world, the majority of its user base resides in China, where the platform is known as Douyin. China accounts for approximately 780 million daily active users on the platform. Outside of Asia, however, North America dominates the TikTok market with nearly 150 million users, followed closely by Europe with more than 98 million.
Looking at particular countries here are the top 5 countries with the most users of TikTok:
#1 – United States: 131 million users
#2 – Indonesia: 92.1 million users
#3 – Brazil: 74.1 million users
#4 – Russia: 54.9 million
#5 – Mexico: 46 million
As you can see, The US is the leading country in terms of TikTok users with a figure of 131 million, followed by the only Asia countries, Indonesia and Brazil are in third place.
Userbase
TikTok hits one billion active users, with 142.2 million of those being in North America. This number will still increase and is expected to reach 1.8 billion by the end of 2022.
In terms of the dramatic growth of TikTok, it is currently available in 141 countries with a choice of 75 languages in the settings section so that everyone can access it. Moreover, the increase in users over the course of four years really says it all. Let's take a look below:
| | |
| --- | --- |
| Date | Users (million) |
| 2018 | 133 |
| 2019 | 381 |
| 2020 | 700 |
| 2021 | 902 |
| 2022 | 1466 |
Source: TikTok Report
The rapid rise is very impressive in the sense that in less than four years, it was able to increase the number of users by more than 18 times. In comparison, Facebook, considered as the dominant social media platform, increased slightly more than 0,6 times in the same time.
TikTok downloads
Here is the breakdown of TikTok downloads cumulative from 2017 to 2022:
| | |
| --- | --- |
| Year | Downloads (million) |
| 2017 | 68 |
| 2018 | 200 |
| 2019 | 857 |
| 2020 | 1579 |
| 2021 | 2560 |
| 2022 | 3301 |
Source: TikTok Report
These figures are nothing short of impressive. Between 2018 and the end of 2021, the social video platform's annual installs increased sharply by more than 10 times and its growth is showing no signs of stopping in the future. In contrast, Facebook, the king of social media platforms, has a downward tendency in terms of the number of downloads in the same period.
More impressively, TikTok is the most downloaded app on the App Store in Q2 2022, with over 60 million downloads in a single quarter on iPhone and iPad devices. By comparison, TikTok is the third-most downloaded app on Google Play with 125 million installs, behind Facebook and Instagram.
TikTok consumer behavior statistics
37% of users started shopping right away after finding something on TikTok.
35% of TikTok users make an online purchase after seeing anything there.
29% of users said that because a product they found on TikTok was sold out, they were unable to purchase it.
39% of TikTok users say that "lifting spirits" is a major consideration when making a purchasing decision.
44% of TikTok consumers find products through videos that a brand posts.
44% of TikTok users find products through feed advertisements.
38% of TikTok viewers engaged with a brand's video while actively searching for products.
When TikTok is involved in the purchasing process, users tend to spend 14% more.
TikTok users under 35 are 2.3 times more likely to create a post and tag a brand compared to other platforms
TikTok marketing statistics
Interested in using TikTok as a social media marketing channel? Here are some TikTok statistics you should take notice of:
TikTok users embrace ads the most
A most recent report by Statista (2023) reveals that 38% of the surveyed TikTok users are willing to see ads in exchange for accessing certain services for free. This is 4% higher than the overall percentage of adults surveyed. Additionally, nearly 15% of TikTok users can not differentiate between advertising and normal content.
Nevertheless, in order to make users welcome these ads, marketers need to create campaigns that seamlessly blend in with the overall user experience.
TikTok ads deliver their message immediately
The truth is users' attention spans are short, therefore, brands need to hook their audiences within the first 3 seconds in order not to lose their interest. TikTok's 63% success ads get straight to their point. By grabbing their attention early on, you increase the chances of viewers watching your ads.
TikTok is an influencer channel
For a long time, Instagram was the leader in influencer marketing, but TikTok is now giving the Meta-owned app some tough competition. Let's look at TikTok influencer statistics
In 2021, TikTok influencers with 1,000 to 5,000 followers made up 50.51 percent of TikTok influencer accounts worldwide. The second and third largest groups were micro-influencers with 5,000 to 20,000 followers and mid-tier influencers with 20,000 to 100,000 followers, accounting respectively for 29.93 percent and 15.2 percent.
TikTok has the highest engagement rates
Recent Upfluence research reveals higher engagement rates for Instagram, YouTube, and TikTok across all follower levels. In comparison to the other two networks, TikTok has significantly higher engagement across all follower levels.
Specifically, Upfluence found micro-influencers had engagement rates of 17.96% on TikTok, 3.86% on Instagram, and 1.63% on YouTube. Mega-influencers, on the other hand, had engagement rates of 4 on TikTok, 1.21% on Instagram, and 0.37% on YouTube.
Overall, advertisers on TikTok can anticipate receiving more followers, likes, shares, and comments. This is fantastic news for brands to grow their communities and increase brand awareness.
What's more, brands have a huge chance of reaching their target audience with TikTok ads since the possible number of people seeing ads on TikTok can be over 1 billion, which is equivalent to 13,1% of the total world population. In the same report by We Are Social (2023), users aged 18 to 24 are the main advertising audience, accounting for 21,5% (for females) and 17,4% (for males) of the total viewers. This is a great sign for brands that have customers around this age range.
TikTok for Business statistics
On TikTok, people love to spend money. More than Youtube, TikTok was the most popular app for consumer spending in 2022.
Working with creators pays off: TikTok advertising featuring creators led to a 26% boost in user favorability for the brands
65% of TikTok users claim to base their online purchasing decisions on creator recommendations and online reviews.
The hashtag #TikTokmademebuyit has gained 31.8 billion lifetime views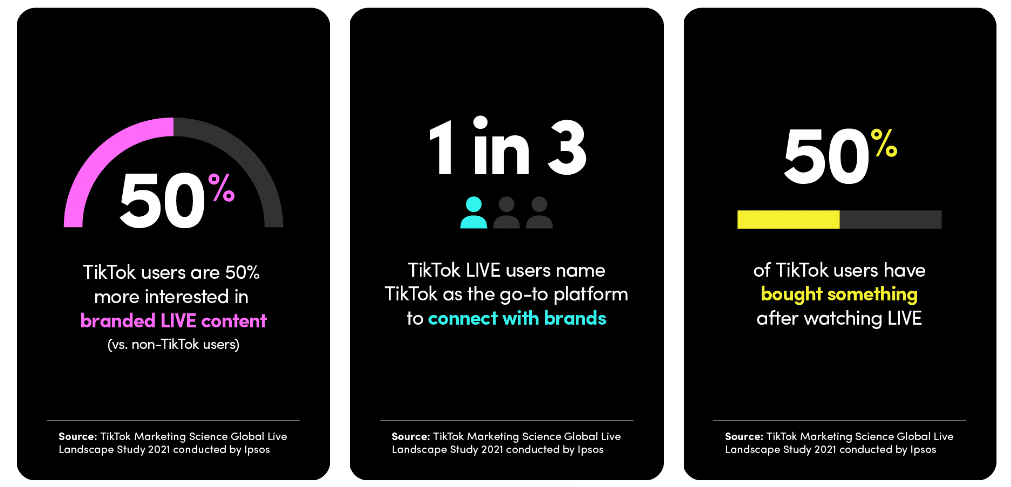 Ready to grow your business with TikTok?
With over one billion monthly active users all over the world, TikTok is now not only the leading entertainment video-sharing platform but also a product recommendation engine driving e-commerce. There are so many rooms for new brands to enter and start selling on TikTok.