TikTok is definitely a game-changer in the marketing landscape with the advent of avant-garde ad creative tools that enhance every business campaign. Branded Hashtag Challenge, one of the latest features on TikTok, is not an exception.
Undeniably, TikTok Branded Hashtag Challenge (HTC) is one of the most preferable tool on TikTok to drive engagement and encourage people to participate in the brand's activities. So in this article, we'll figure out the definition of HTC and how to make an outstanding HTC that can take over TikTok.
What is TikTok Branded Hashtag Challenge?
On TikTok, hashtags can play an important role in supporting users to discover videos they're interested in, participate in whatever topic they love, and create communities centered around their passions. Furthermore, relevant and popular hashtags can help increase a video's visibility on the For You Page.
Hashtags are even more powerful when used in challenges that encourage TikTok users to participate in brand activities, such as dancing, singing, or performing specific actions. This is where Branded Hashtag Challenges come in – they are those challenges that have sponsored TikTok hashtags by brands. On TikTok, they're often displayed as ad banners on TikTok's Discover Page or shown on a challenge page.
Brands using HTCs whill have a huge chance of boosting awareness, sparking interactivity, and forming a big fanbase. By simply including branded hashtags, users can enter to win sponsored prizes from brands. But it's not all about winning – these challenges are also a fun way to build connections and have a good time!
TikTok Branded Hashtag Challenge vs Standard Hashtag Challenge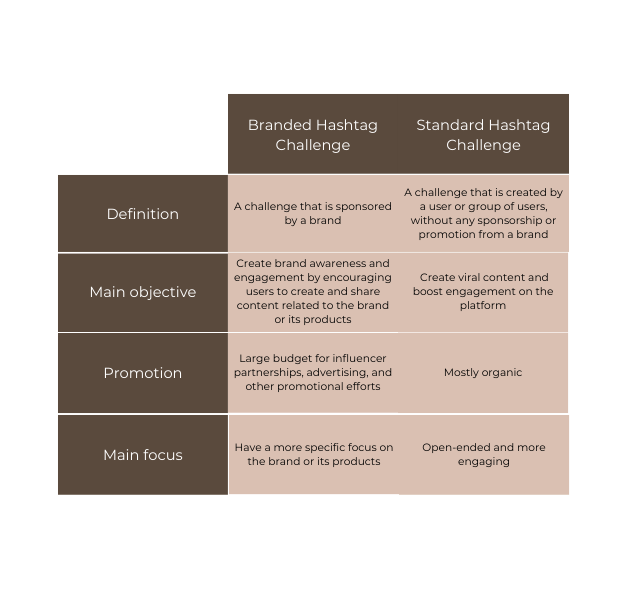 TikTok offers two types of hashtag challenges: Branded Hashtag Challenges and Standard Hashtag Challenges. While both types of challenges involve creating and participating in challenges using specific hashtags, there are some key differences between them.
Definitions & Objectives
A branded hashtag challenge is a challenge that is sponsored by a brand. In this type of challenge, the brand creates a unique hashtag and works with influencers or TikTok to promote the challenge to a wider audience. Its main goal is to create brand awareness and engagement by encouraging users to create and share content related to the brand or its products.
On the other hand, a standard hashtag challenge is a challenge that is created by a user or group of users, without any sponsorship or promotion from a brand. These challenges can be related to a specific topic, theme, or trend and can be started by anyone. The goal of a standard hashtag challenge is to create viral content and increase engagement on the platform.
Promotion
Branded hashtag challenges tend to have more resources and promotion behind them. Because they are sponsored by a brand, they often have a larger budget for influencer partnerships, advertising, and other promotional efforts. This can lead to a wider audience and more engagement for the challenge.
Main focus
Another difference is that branded hashtag challenges tend to have a more specific focus on the brand or its products. These challenges are often designed to promote a specific product or service. Also, the content created by users is usually related to that product or service. Standard hashtag challenges, on the other hand, can be more open-ended and flexible, allowing users to create content on a wide range of topics.
Why are TikTok Branded Hashtag Challenges important?
Branded Hashtag Challenge is an amusing way for brands to tap into trends and create unique branded moments. When equipped with the best-in-class editing tools, any brand can become the smartest storyteller, capable of interpreting their brand and product from their user's perspective in a way that resonates with the TikTok community.
The crowdsourced creativity achieves a win-win situation by inviting the audience to become part of the marketing campaign. This allows advertisers to amass unparalleled engagement, spark organic visibility and generate full-funnel impact.
To sum up, we recommend you to use Branded Hashtag Challenge for these specific reasons:
Branded HTCs are designed to be fun, interactive, and deliver a powerful message that brands want to convey. By using a branded HTC, brands can boost engagement and gather user-generated content that can be repurposed for other marketing initiatives, making it easier to promote their brand.
Which is why Branded Hashtag Challenges have an outstanding median engagement rate of 17.5%, much higher than any other platforms.
Full funnel impact with complementary ad solutions
While Branded Hashtag Challenges (HTCs) are primarily used for building awareness and engagement, research indicates that they can be effective at every stage of the marketing funnel when combined with other marketing solutions.
Especially, when combined with other marketing solutions, a Branded Hashtag Challenge can greatly boost engagement with your brand, leading to deeper connections and more significant impact.
Amplification through paid and organic exposure
Survey shows that over half of the return on investment for HTC campaigns comes from organic video views that continue to drive value for months after the campaign ends. This means that the creator content generated by a HTC can actually double the return on investment for the campaign. So if you're looking to supercharge your marketing efforts, look no further than the power of HTCs!
3 winning TikTok Branded Hashtag Challenges case studies
Walmart – #IYWYK (If you Walmart, You Know) (2022)
Concept: Letting Walmart Shoppers share exclusive tips, tricks and hacks
Walmart is a multinational retail corporation that operates a chain of hypermarkets, discount department stores, and grocery stores. In 2022, it aims to leverage its competitive advantage with a branded hashtag challenge that will increase the emotional attachment between Walmart and its customers.
Titled #IYWYK with the phrase "If You Walmart, You Know," Walmart rallied the TikTok community to share their best Walmart experiences and create on-message content for the brand. This challenge not only amplified shoppers' POVs, but also gave them a platform to connect with other brand fans and show their love for Walmart.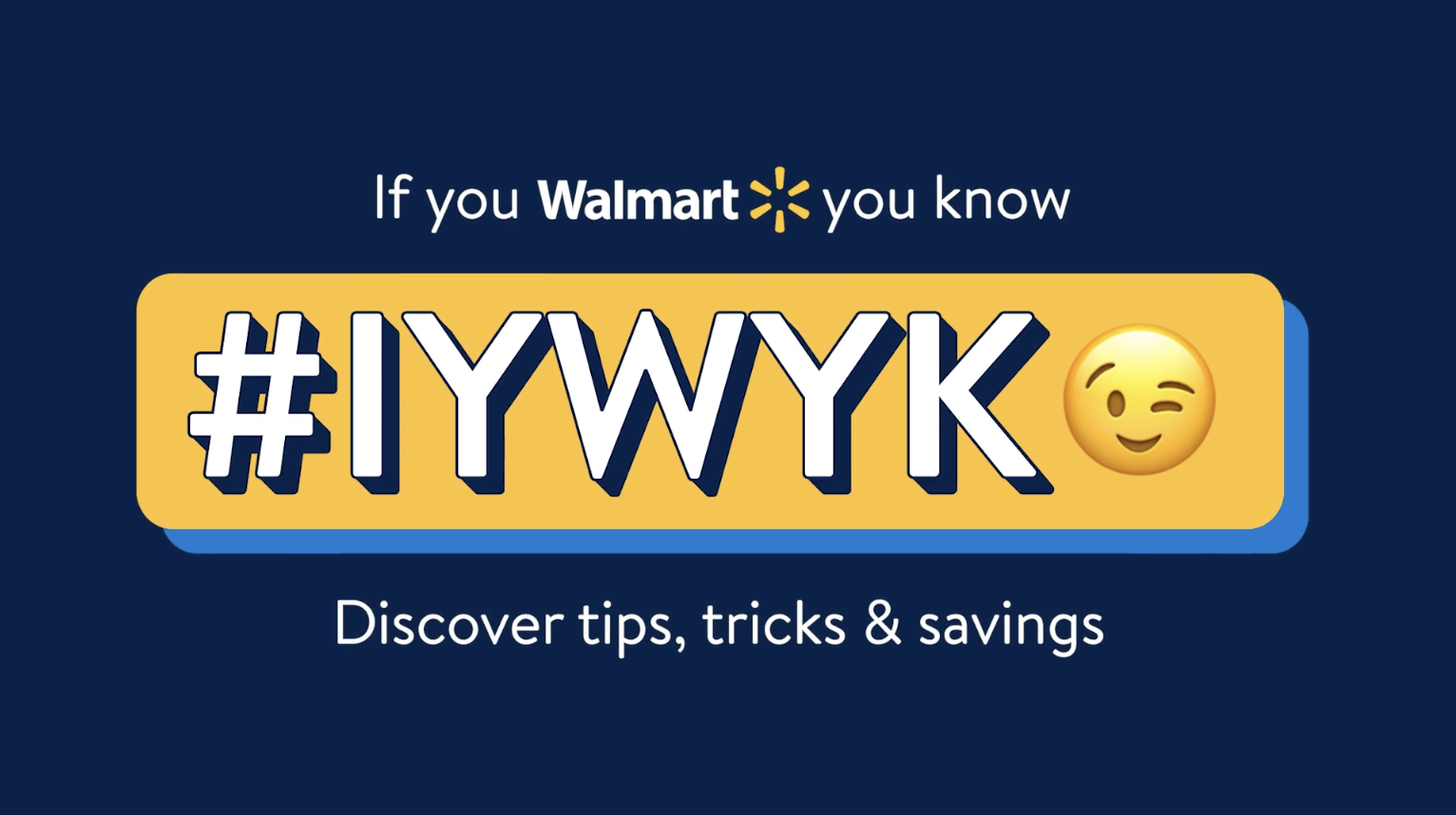 What worked:
Employed and leveraged co-creation solutions (TopView, Branded Mission) to help amplify the campaign
Partnered with various TikTok creators to create an overall authentic, engaging vibe
Reinforce their brand image as an ultimate solution for high-quality, low-price shopping
The results:
Over 700 engaging creator-produced videos
20% engagement rate
30 million impressions
2 million HTC clicks
6% lift in ad recall
9.2 lift in awareness
Samsung: #MakeMomEpic (2021)
Concept: Showcase the greatness of the mother by using the great Samsung Galaxy camera.
In 2021, the global leading smartphone brand Samsung launched its TikTok Hashtag Challenge #MakeMomEpic around the time of Mother's Day to promote its brand new Samsung Galaxy.
To highlight the world-class camera and at the same time honor all the hero moms out there, Samsung HTC urged users to show their mother's greatness and use the branded hashtag to participate in the challenge.
What worked:
Catchy branded music track by rapper Missy Elliot
Collaborated with great TikTok creators (Even BTS joined the challenge!)
Launched an ad series (One Day Max TopView, In-feed Ads) to amplify the campaign
Visible placement on the Discovery page
The results:
4.7 million videos created
1.4 billion engagements
12.4 billion views
Guess: #InMyDenim (2018)
Concept: Use Denim for an epic transformation
In 2018, Guess, a famous American clothing brand and retailer, wanted to promote their Fall Denim Fit Collection aiming to portray a confident, sexy and adventurous brand image and drive awareness of millennials and Gen Z consumers.
To achieve this goal, Guess launched the #InMyDenim TikTok HTC to let consumers transform their looks with the slogan "Transform your outfit from a mess to best-dressed! All you need is denim!"
What worked:
Chose Bebe Rexha's song "I'm a Mess" in their videos that matched the theme of the challenge
Combined with a Brand Takeover to increase awareness of the challenge
Released 4 influencer-performed videos to demo the idea
The results:
5,550 user-generated videos with a total of
10.5 million views.
Engagement rate reached 14.3% while the
CTR of Brand Takeover was 16.5% and
Guess's TikTok Business Account grew by 12,000 additional followers.
TikTok Branded Hashtag Challenge best practice
What can we learn from those amazing case studies? Since big brands all have tricks up their sleeves when it comes to creating a successful TikTok Branded HTC, here are some tips that you should keep in mind for your next campaign.
Collaborate with the right people
To increase interaction and strengthen your ties to the community, TikTok brand collaboration can be a good tactic. You can team together with a variety of different TikTok creators to appeal to more audiences and hit multiple niches at once. Fortunately, TikTok has provided us some amazing tips to find and work with influencers and creators!
Tips to find the right creators:
Tips from working with influencers and creators
Present clear goals and visions for the campaign as well as have a good brief
Give creators straightforward expectations and requirements for content but allow them creative freedom
Be clear on timelines from the beginning
Maintain good communication with creators
Be authentic with your brand
Choose add-ons to amplify the campaign
Do you know that using add-ons is one of the simplest ways to give your HTC an extra spark? If you are unfamiliar with the magic of add-ons, here are some awesome ideas for your next ad challenge.
HTC + Top View ads
You can maximize your visibility by making the most of open-screen products like Top View ads that fill the entire screen when users first open the TikTok app. Adding Top View to a Branded HTC can increase the likelihood that users will upload a related video by 5 times.
HTC + Branded Effect
Create more relevant and brand-consistent videos by using a distinctive 2D or 3D effect, such as an animated background or responsive mask.
HTC + Hashtag Emoji
Make a stand by utilizing a unique brand emoji that is shown next to the hashtag anywhere it appears, including in videos, search results, and the official hashtag website. According to an analysis by TikTok, the hashtag emoji had a 43% increase in clicks, which encouraged more organic engagement.
HTC + Contest
Invite people to participate in a creative contest with a desirable prize to start the Branded Hashtag Challenge. The official guidelines will be visible on your HTC main page to help participants stay on track and keep UGC relevant.
HTC + Explore Page
Including a "Explore" option on your official challenge page will lead to a TikTok app landing page that can be customized. This is ideal for increasing awareness of your products, brand, or offline store. To get feedback from your clients, you can even put up a user survey here.
Develop a catchy HTC sound
In many cases, a catchy audio can be a powerful tool to pique your audience's interest and make them feel more compelled to join your challenge. Here are some key takeaways from TikTok Business Center to help you make your own catchy HTC sound.
Utilize available brand asset
Custom your own music
License an existing track
Improve offline traffic
Sharing your HTC's unique QR code everywhere you can is a way to boost offline traffic. Furthermore, including your brand name in the hashtag will provide the views on videos created for the challenge an extra layer of brand identification as well as encourage the TikTok community to support your brand more strongly and foster a bond.
Other tips from TikTok
Invite TikTok users to engage with your content by responding with their own videos.
Build a strong strategy starting with setting a goal and leveraging hashtags.
Remember to give a cue or introduce your product early in the video.
Make sure the challenge aligns with your brand. Keep it fun and simple.
Remember to use the TikTok Auction Ads to keep the challenge going and attract more audiences.
How much is a branded hashtag challenge on TikTok?
If you are starting your branded hashtag challenge and want it to appear on TikTok's Discovery banner, you might have to pay as much as $150,000 or £123,000. Not to mention the price of add-ons (e.g. Branded Effects) or influencers, the final cost can be pretty overwhelming for a small business.
However, it is all up to your ambition with your marketing strategy. We suggest you try out this feature if you want to discover new ways to engage with your audience or refresh your brand image.
One thing to note here: Since Branded HTCs belong to TikTok's premium ad category, you will need support from a TikTok-partnered agency to set up the campaign. In that case, you can contact TikTok agency experts to help you begin!
However, if you're a small to medium business owner with limited financial resources, we suggest beginning with regular ads such as In-feed ads. This approach can help you maintain a balance between your ad spending and your ad coverage. If you are interested, our app NestAds is beginner-friendly and can assist you to create, optimize and scale your winning TikTok ads campaign!