Most advertisers are concerned about how to make ads that don't look like an ad, and TikTok Spark Ads come for this reason. This ad is actually an authentic path to delivering brand value to life through native and engaging content.
In this article, we will walk you through step by step to have a deeper understanding of this ad format.
What are TikTok Spark Ads?
Spark ads is a native ad format that enables brands to create ads from organic TikTok content. This ad is designed to bring brands to their community on a deeper and more authentic level.
So what is the difference between Spark Ads and normal Ads?
In particular, Spark Ads let you publish ads using your existing TikTok post or organic posts made by other creators with their authorization. Users can interact directly with ads as like, sharing, and leaving a comment on your post.
Not only that, they can visit your brand's profile by swiping left, clicking the handle name or profile photo, or following your brand's account by hitting the plus button on the profile picture.
Why do we need to use Spark Ads?
Bring authenticity to the customer journey
When it comes to using social networks for promotion, users subconsciously ignore and skip all the ad content. Based on this insight, the introduction of Spark Ads is the ideal option to fulfill the needs of brand promotion and the tastes of TikTok users as well.
"Don't make ads, make TikTok" is a reminder for brands to create native content that truly speaks to people. So, is your ad need to be flashy on TikTok? Of course not, just be yourself and shine in your own way. Being authentic is a great way to get closer to your audience and also let them be part of your brand story.
Boost ad performance
When it comes to tracking ad performance, there are some metrics that you need to take into account as video views, engagement rate, CVR, and CPM.
Compared to non-spark ads, the marketing campaign results we collected from using Spark ads were nothing short of impressive.
Take an example from James Allen, an online jewelry store. By leveraging Spark Ads, the ad performance actually was unexpected with higher CTR (+ 25%) and higher CVR (+ 24%) compared to In-feed Ads.
Innovative features
TikTok offers brands a wide range of fantastic features for creating engaging and creative posts like TikTok Duet, TikTok Stitch, and Sticker. More importantly, TikTok spark ads support all kinds of content to grow real connections with views while advertising your products.
Improve customer retention and loyalty
In fact, TikTok lovers seem interested in real stories from real people. So, to keep and retain customers, you have to create something that resonates with them.
With Spark Ads, brands can create long-lasting relationships that are genuine and rooted in the community, also delivering educational and impactful business value.
How to create Spark Ads for TikTok?
Option 1: Use your own TikTok organic content
Step 1: Turn on "Use TikTok account to deliver Spark Ads"
After completing the Campaign and Ad group, click Ad and choose Use TikTok account to deliver Spark Ads.
Step 2: Click "Use account owned by you"
You can use any available posts from your linked Business Account directly, or you can send videos from Ads Manager to your linked Business Account without using the in-app operations.
Step 3: Choose a TikTok post
If you pick the existing post under your linked account:
Click +TikTok post and select the post that you want to use in Spark Ads
After selecting, tap Confirm
3. Complete the rest of the ad settings, then click Submit to publish your Spark Ad.
If you create/upload/add a new Spark Ads video
Under Ad creative, click +Video
You can choose from one of these options: upload, add from the library or create
After choosing your video, click Confirm
After uploading your vid, turn on Only show as ad
If necessary, you can enable it; it will make your published video only appear as an ad and prevent it from being displayed on your profile page or suggested to other users.
Finish the rest of the ad settings, and your Spark Ads are ready
Note: When the ad passed ad approval, you can manually change this video from private mode to public mode.
Step 1: Ensure that authorized posts are allowed
Before you can use authorized posts to create Spark Ads, the posts' creators must first turn on the ad authorization toggle in their TikTok app. To authorize a post, please follow the instructions below.
1. Click Profile to go to your personal profile page, then tap the 3 dots in the top-right corner
2. Choose Creator Tools
3. Turn on the Ad settings toggle
Step 2: Authorize video for promotional use
1. Select a TikTok video
2. Tap the three dots, then tap Ad settings
3. Turn on Only show in ads and Ad authorization
4. Click Generate code, then select the authorization duration
5. Next, tap Copy Code to share the code with the advertiser.
If you want the chosen authorized post to show up only in TikTok ads and not in the For You Feed, Follow Feed, Account Profile Page, Search Result Page, or Playlist, turn on the Only show in ads under Ad settings.
Note: Only showing in ads requires TikTok version 21.3 or higher.
Step 3: Enter the video code on TikTok Ads Manager
Once you get a video code from a creator, you will need to enter that code into TikTok Ads Manager. In TikTok Ads Manager:
1. Go to Assets > Creative > Spark ads posts, and click Apply for Authorization.
2. Paste the video code in the search bar and click Search
3. Click Confirm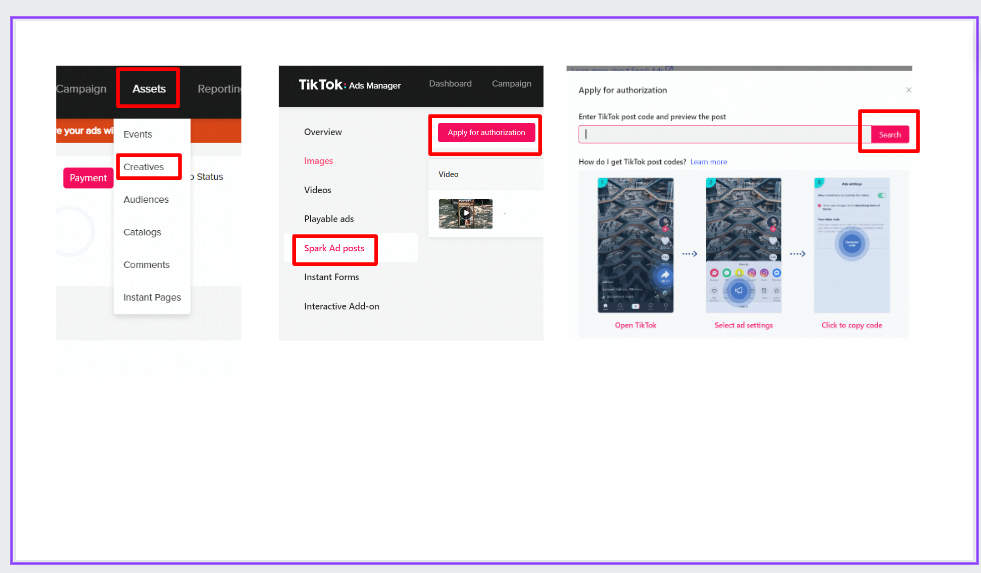 Step 4: Create a Spark Ad
From TikTok Ads Manager:
1. Go to Campaign> Create
2. Next, complete the Campaign and Ad Group settings
3. At the Ad Level, under Identity, turn on Use TikTok account to deliver Spark Ads
4. Choose "Use other authorized account or post"
5. Under Ad creative, click TikTok post to select your video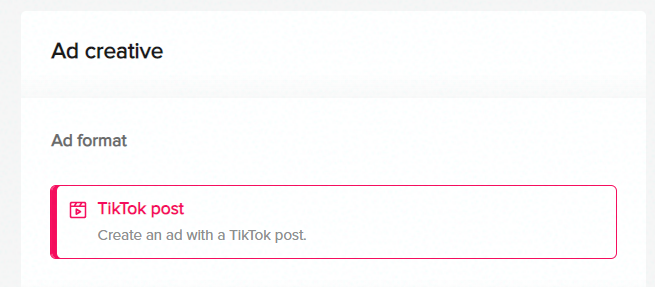 6. Complete the rest of the Ad Settings and click Submit
That's how to set up TikTok Spark Ads
To apply for a new post-authorization:
1. Click +Authorize TikTok Post
2. Enter the video code of the new authorized post
3. Select the TikTok account that authorized the post
Note:
You cannot change the caption of a post after it has been approved as an ad. When creating Spark Ads, please ensure that the ad caption is the final version.
Once a private video is used in a campaign, it becomes public, and the video privacy status cannot be changed during promotion (however, you can turn on the TikTok Ads Only Mode).
Video code can be removed only after all of the ads in which this video appears have been removed from TikTok Ads Manager.
What are TikTok Spark Ads specs?
For the best performance TikTok Spark Ads, you should follow these necessary specifications:
Aspect ratio: 16:9, 9:16, or 1:1
Video resolution: 540 x 960 px, 640 x 640 px, 960 x 540 px.
Caption requirement: can be empty or contain account mentions, emojis, and hashtags.
3 Tips for TikTok Sparks Ads campaign and practical examples
Be authentic
TikTok is a place where people feel free to be themselves. It's true not only for TikTok users but also for brands and businesses. The truth is in TikTok, brands are not advertisers, they are part of the community to bring true value to the audiences.
Recognizing the value of realness on this platform, that's why TikTok highlights the authenticity in the TikTok Spark Ads. Don't make it flashy, just be genuine and be yourself!
Schwarzkopf, a prominent hair care brand, utilizes TikTok Spark Ads to promote its LIVE Colour hair dye range. They partner with Sam, a lifestyle creator to create organic content by sharing her hair-dying experiences.
As a result, this doesn't look like an ad, it is just educational and informed content about dying hair.
TikTok Spark Ads drove better results with an average view-through rate of 10.11%, the native and trendy creator-led LIVE Colour campaign generated more than 20 million impressions and 18 million video views.
Keep up with the latest trends
Looking for trends? You've come to the right place since TikTok draws the audience's attention by always updating the newest trends. They could be sound, TikTok hashtag, dance, or challenge. So getting hang of what people are interested in the most would be a great TikTok insight for your ad campaign.
Let's take a look at the excellent example below to see how they combine trends on their TikTok Spark Ads.
Monnalisa, a designer clothing brand for kids, collaborate with Italian creators to boost their brand awareness. They leverage TikTok spark ads with the dancing trends to create native content. Specifically, the brand asks them to dance in a new Monnalisa outfit and post to their existing following.
The native ad format drove 912,000 video views, leading to more than 30,000 clicks to Monnalisa's e-commerce pages.
One tip for you to make use of the most available TikTok sources is to visit the Trend discovery tool to keep track of what's trending now for your band and industry.
Bring joy
As TikTok's mission is to inspire creativity and bring joy, most users say they feel entertained by being on this platform. Understanding this, the launch of TikTok Sparks ads totally changed the way brands promote their products on social media. To be particular, they bring every moment of real life into the community in an authentic and entertaining way.
Vessi, known for its stylish waterproof sneaker collection, teamed up with Kris Collins. They ask her to shoot a playful 50-second "lo-fi" story centered around Vessi's waterproof sneakers.
Advertising their products by using TikTok spark ads combined with joyful moments in each content has actually driven higher engagement. The results were more impressive than they expected, with higher ROI and higher clicks to the official website.
So, with this amazing ad platform, brands not only grow their business but also take part in the mission of bringing joy to reach people further.
Spark Ads FAQ(s)
Will my organic video views drop as a result of Spark Ads?
The ad product and Spark ads work independently so that using spark ads won't affect the number of views on your organic posts.
Additionally, the main causes that impact the video performance as content quality and the favourability of TikTok users.
What kind of content should I choose to use for Spark Ads?
You should select posts that already have a significant volume of organic likes and views. Content that works well organically is more likely to generate positive results, especially in View Through Rate.
Branding ads or performance ads? Which one is the best fit for Sparks Ads?
Spark Ads is an ad display format that can fulfill the needs of both branding ads and performance ads.
Got overwhelmed with TikTok Spark Ads? Here is how to solve it!
If you're a newcomer to TikTok ads and are struggling to implement TikTok Spark Ads, NestAds is here to help! NestAds is specifically designed to help newcomers navigate the world of TikTok ads and make the most out of their advertising campaigns.
You'll be able to create ads in no time, and our experts will guide you through the process step-by-step. So, if you're looking for a helping hand with your TikTok Spark Ads, try NestAds today and see how we can make a difference!