TikTok advertising is now one of the most effective ways to boost brand awareness, stay connected with massive audiences and win sales. Unlike other platforms, TikTok makes your ad feel like native content and attracts more engagement, thereby driving higher conversions.
In this article, we will give you a comprehensive guide on how to advertise on TikTok in just 5 steps. Let's dive into it now!
Introducing TikTok Ads
TikTok Ad is a powerful, yet easy-to-use platform to help businesses of all sizes advertise their products or services to over a billion users worldwide. It has all you need to make a successful ad campaign – from targeting, ad creation, insight reports, and ad management tools.
Whether you want to sell something or drive targeted traffic to your website, TikTok advertising can give you good returns on your ad spend.
TikTok Ads structure
Before jumping right into creating your TikTok Ad, make sure you've understood the structure of TikTok and how it works. Like other advertising platforms, ads run on TikTok are structured into 3 parts: "Campaigns", "Ad Groups", and "Ads".
An ad campaign can include one or multiple ad groups, which will enable you to optimize your ads and measure performance.
An ad group can contain a single ad or multiple ads (maximum is 20), which helps to compare the delivery of different ads and optimize them based on their performance.
TikTok Ads Types
Based on different buying types, TikTok advertising can be divided into three categories below:
Reservation Ads: TopView, Branded Hashtag Challange, Branded Effect
Auction Ads: In-Feed, Shopping Ads, Deeplink
Reach & Frequency: Top Feed
Note: Dynamic Showcase Ads and Collection Ads have been incorporated into Video Shopping Ads
Highlight TikTok statistics
Numbers don't tell lies. Here're some important TikTok statistics that you should know.
TikTok overview
TikTok hit 1 billion active users from more than 150 countries in the world.
According to Statista, 52.38% of TikTok users globally are between the ages of 18 and 24.
An average TikTok user spends approximately 90 minutes per day on the app.
68% of TikTok users say videos using popular songs help them remember brands better.
2 out of 3 users are likely to make a purchase while using TikTok.
TikTok advertising
In 2021, TikTok got 4 billion dollars in advertising revenue and is expected to double by 2024 and more than triple by 2026.
In-feed Ad is the most used ad format in TikTok.
TikTok ads can reach up to 1 billion audiences over 18 years old, which is equivalent to 13.1% of the total world population.
43% of heavy TikTok users feel that the 'advertising' on TikTok blends in with the content.
The use of a product in a TikTok ad leads to a 23% increase in ad likeability.
Even three weeks after exposure to an ad on TikTok, 62% of users accurately recalled the brand when aided.
How to advertise on TikTok in 5 simple steps
Step 1. Create a TikTok Ad Manager account
1.1. Sign up for a TikTok Ad Manager account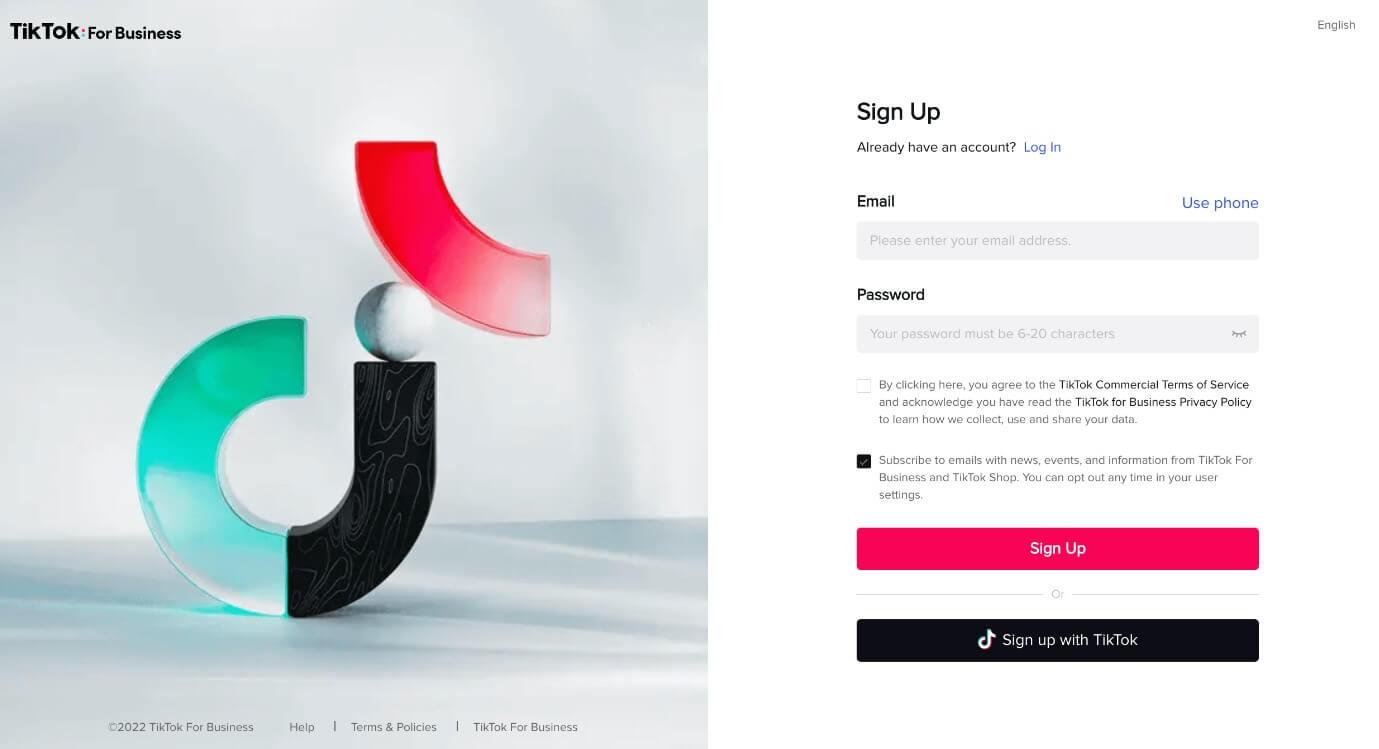 First things first, go to https://ads.tiktok.com/i18n/signup/ and create a login using your email address or phone number. Then you need to verify your login information, click "Agree" to the terms and conditions of TikTok Ads, and click "Sign Up".
1.2. Open your account
Once done creating your login, you need to open your account by filling in some basic details about your business, such as Country/ Region, Time Zone, Business Name, and Currency.
Once you've finished all this information and checked it carefully, click "Register".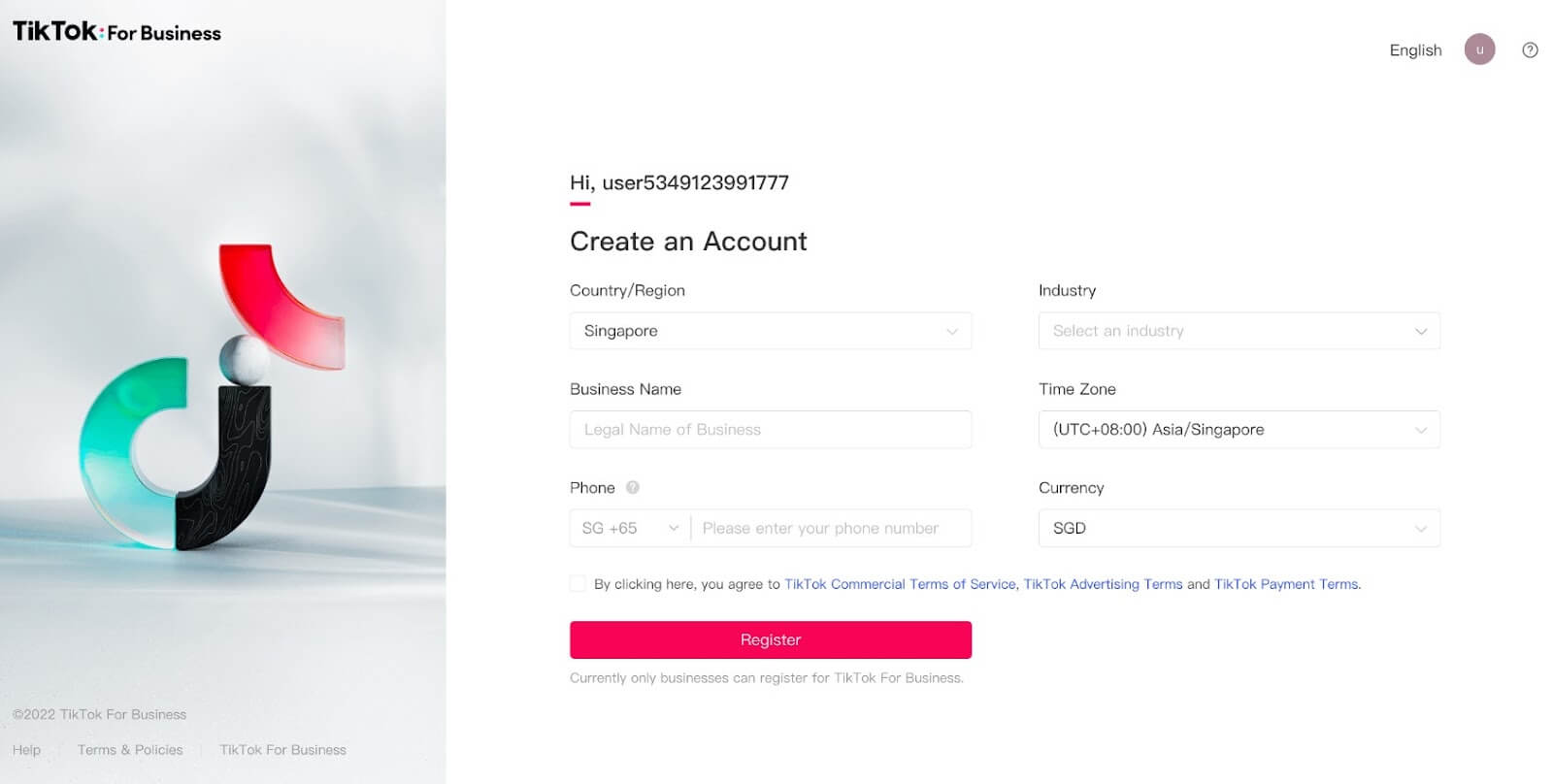 1.3. Set up your TikTok Ad account
Next, you need to access your account setup. To do that, from the Dashboard, go to Account Settings > Account Info.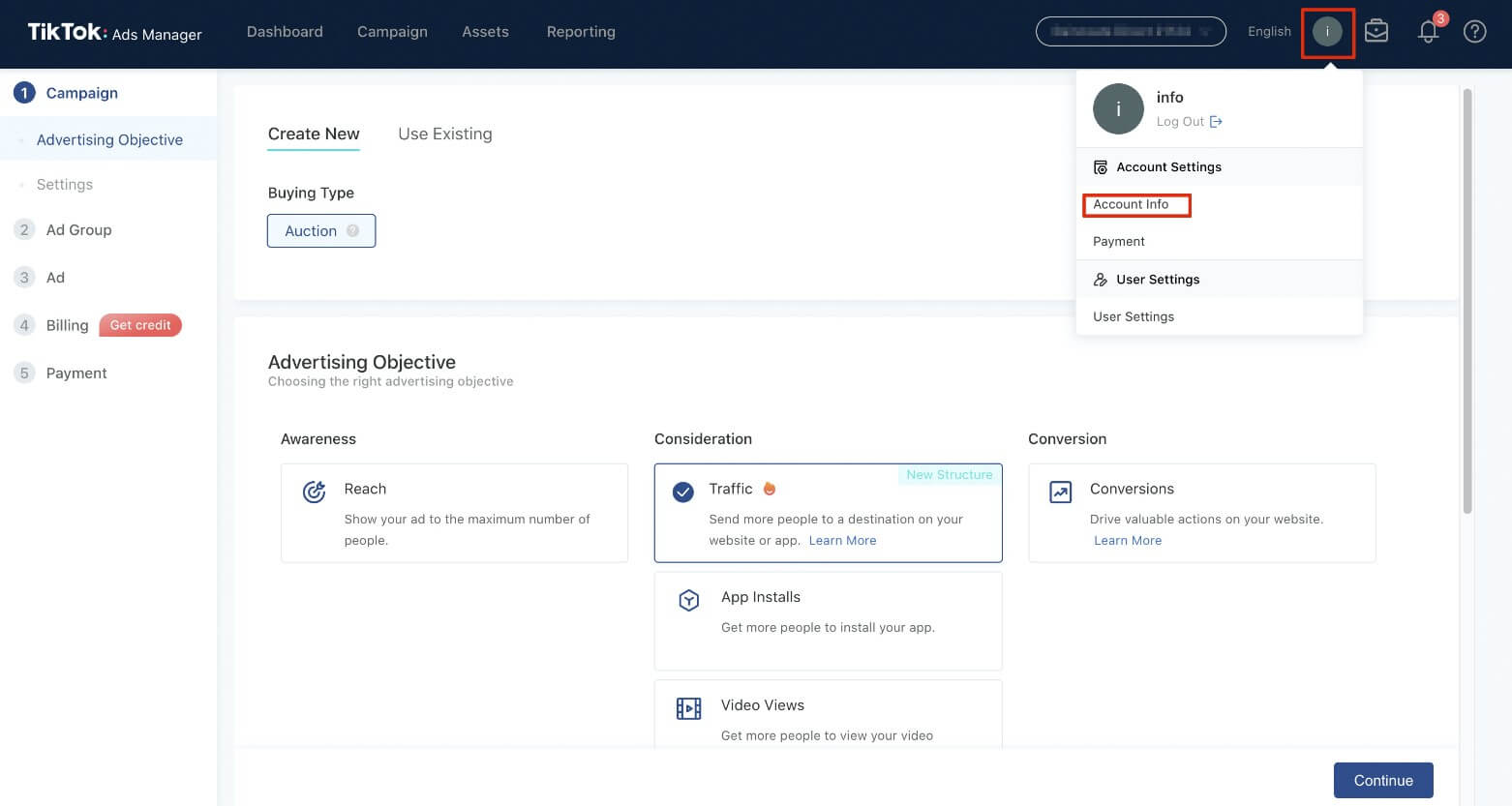 1.4. Fill in business details
Now that you're on the "Account Setup" page, you have to complete the "Business Information" module, which includes: Company website, Industry, Street Address, State/ Province, Postal code, and Business verification.
Although it is not necessary to do the business verification to complete your account, doing so will enable you to apply for ad credit programs and use extra TikTok For Business features like the TikTok Creator Marketplace.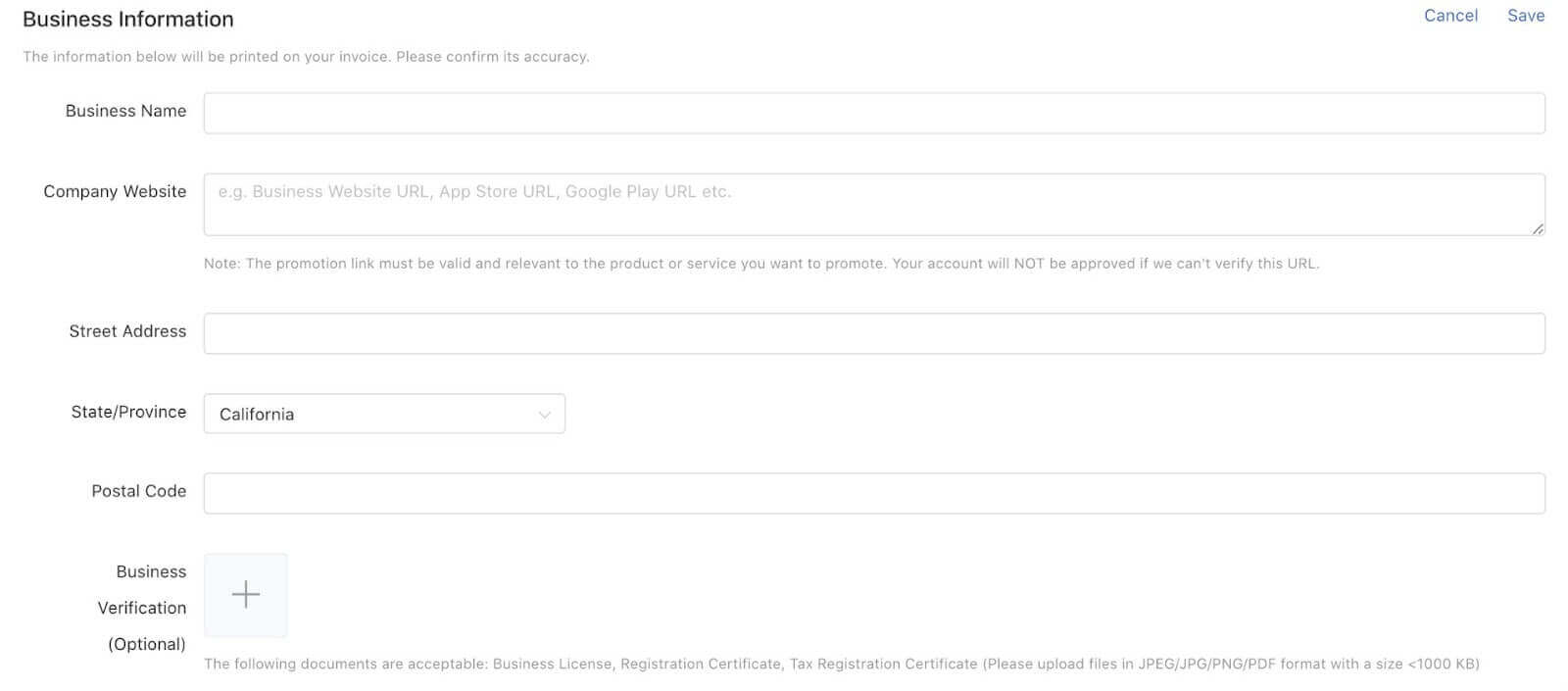 1.5. Choose your payment method
There are 2 payment methods that you can choose from:
Manual Payment
Automatic Payment.
Please take note that not all markets currently support automatic payment.

1.6. Submit your account information
Once you have filled out all the necessary details on the "Account Setup" page, just simply click "Submit" at the bottom of the page. After receiving your submitted information, TikTok will review your account. It may take up to 24 hours for the account review to be completed since TikTok has to carefully check your information with its industry and account-related policies.
And that's how you create your TikTok ad account step by step.
Step 2. Create an ad campaign
Now it's time to actually start creating your ad campaign. To do that, simply go to the "Campaigns" tab, you need to click on the "Create" button.

2.1. Choose the right TikTok advertising objective
Everything happens for a reason and so does your advertising campaign.
Before running an ad, you have to choose the ad objective – whether you want to boost reach, drive traffic, increase video views, collect more leads or drive conversions.
TikTok ad objective breaks down into 3 main categories: awareness, consideration, and conversion. Remember that you can select only 1 objective per ad campaign.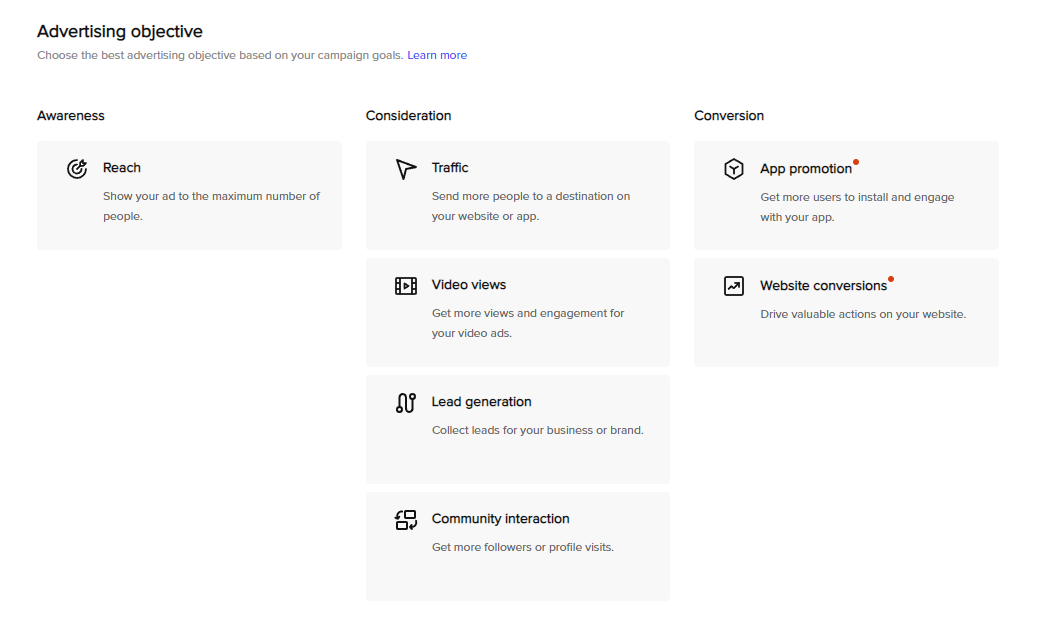 If you're still wondering which objective best matches your goals, you can take a look at the below table for reference.
2.2. Set up campaign name & budget
After choosing the ad objective, it's time to set up Campaign Name & Budget.
TikTok will auto-generate a campaign name right after you choose the ad objective. However, you can edit that name as you want within 512 characters.
Regarding Campaign Budget, it is a specific amount that you are willing to spend for running ads. Based on the budget you set, your campaign will stop running when it hits that amount. Below are 2 types of budget you can choose from.
Daily budget: The maximum money you are willing to spend on this ad campaign.
Lifetime budget: The maximum amount you are willing to spend on this ad campaign during the entire defined period you run an ad.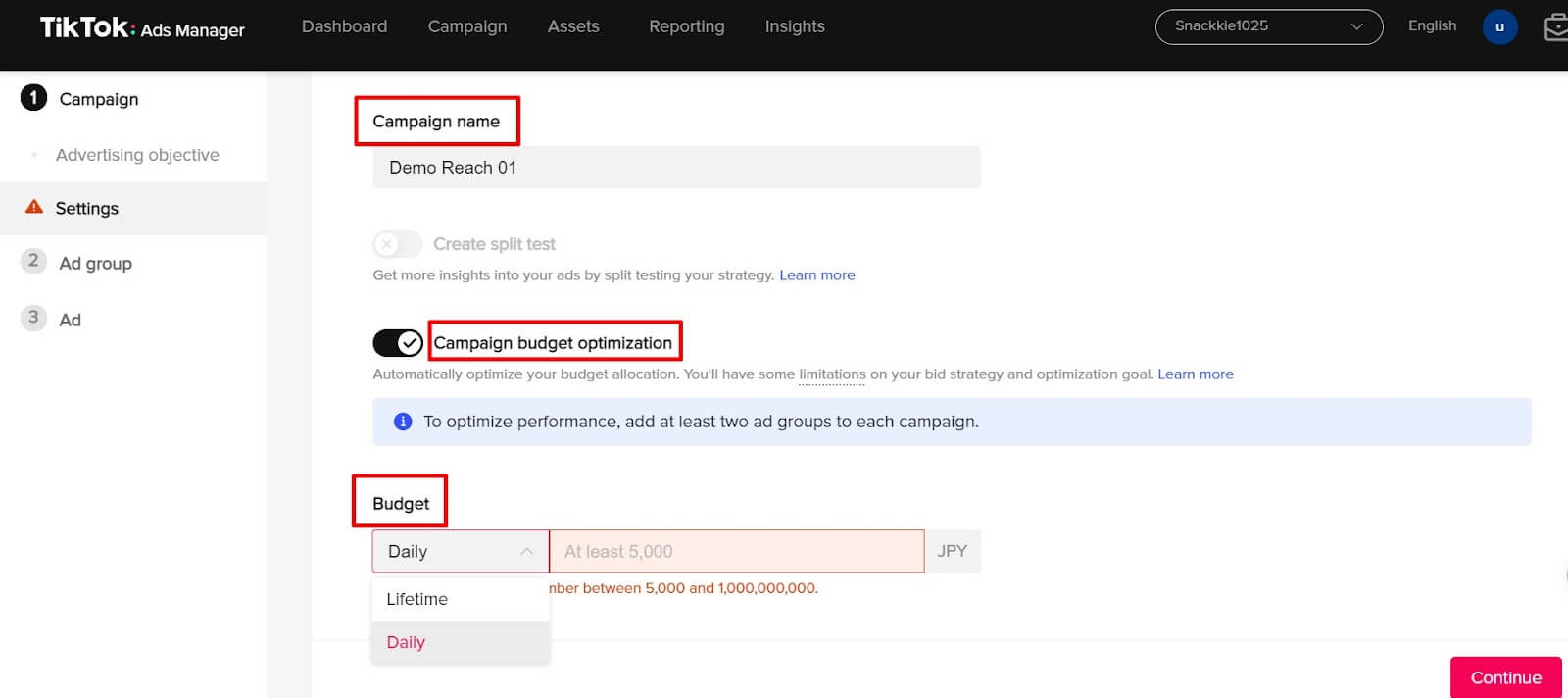 Besides, TikTok offers "Campaign budget optimization", which automatically and smartly optimizes your budget allocation.
Once done naming and setting campaign budget, click "Continue" for the next step.
Step 3. Create an ad group
The next step is to create an ad group within your ad campaign. You can create one or multiple ad groups in a campaign. Please keep in mind that the number of ad groups per campaign is limited to 999.
Below are some elements that you need to define at the ad group level.
3.1. Name your ad group
Give your ad group a name to easily distinguish between different ad groups within an ad campaign. Ad group name is limited to 512 characters so keeping it short and clear is the best.

3.2. Set up TikTok Pixel (optional)
If you choose your TikTok advertising objective is App Promotion or Website Conversion, you will need to set up TikTok Pixel to better track the ad impacts on your app/website.
Basically, TikTok Pixel is a snippet of code on your website that gathers information about site events (such as which section they interact with on your site, what device they're using and where they're located, etc).
3.3. Choose placements
Placements determine where your ads appear on TikTok and its partner platforms. Note that the placement setting cannot be changed after an ad group is created.
Automatic placement: If you select Automatic Placement, TikTok will optimize delivery across all placements under TikTok Ads Manager.
Select placement: If you choose Select Placement, you can manually choose where your ads appear across the TikTok apps family that includes TikTok, News Feed Apps (TopBuzz, BuzzVideo, etc), and Pangle (TikTok Audience Network)
Block list (Pangle): To ensure Brand Safety, undesired media placements of Pangle can be added to Block List to help prevent your ads from appearing. However, this will decrease the reach of your ads as well.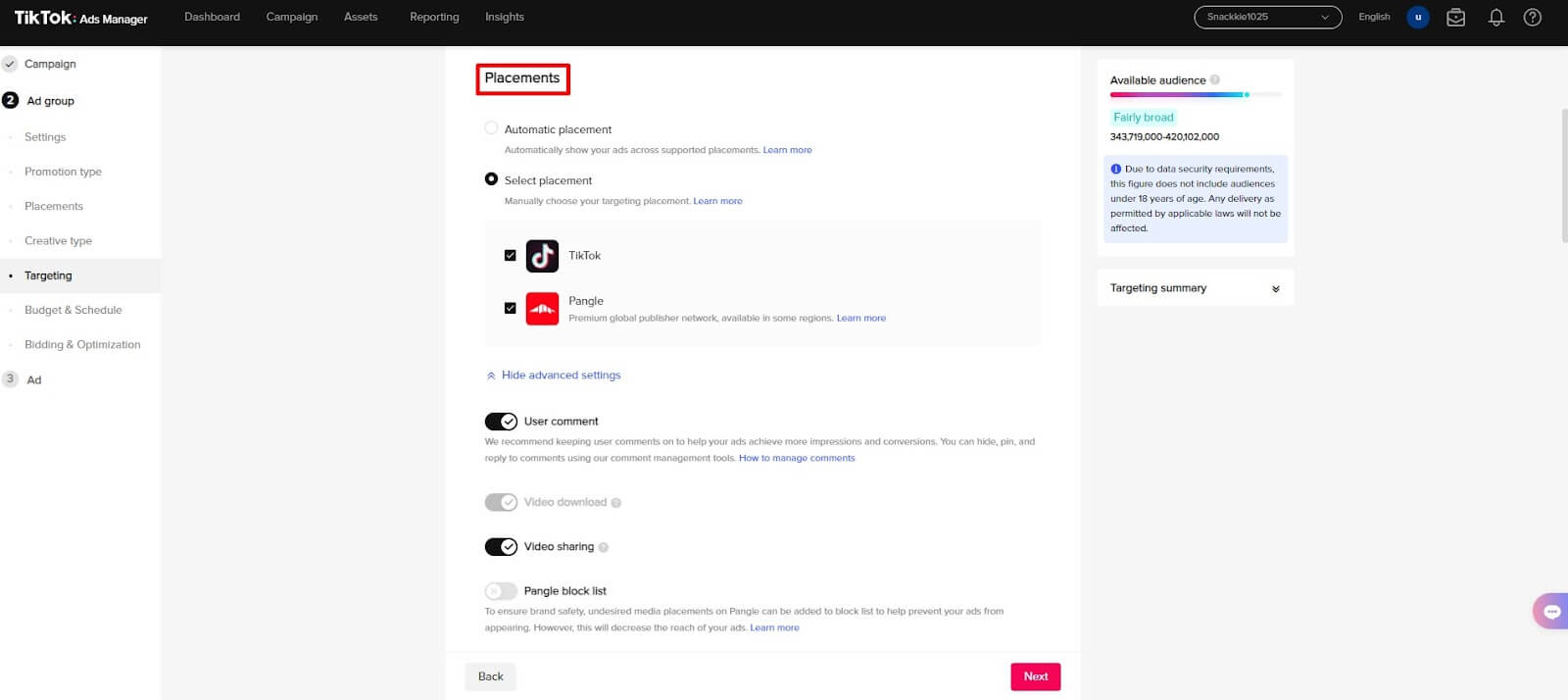 If you're new to TikTok ads, you should choose "Automatic placement" and let TikTok optimize your ad delivery across all placements to reach more people and drive more traffic.
3.4. Turn on/off creative type
Next, you need to decide whether to turn on/ off the function "Automated creative optimization". If this function is enabled, TikTok will automatically generate variants of your creative assets (images, videos, and ad texts) for testing, and deliver only the high-performing one. You can turn on or turn off this feature anytime you want and even upload your creative assets while creating your ad.

3.5. Define target audience (Targeting)
Identifying the target audience is the key to the success of any advertising campaign. So here you need to specify the target audience who will see your ads. There are two targeting modes you can choose from: custom targeting and automatic targeting.
For Custom targeting, you narrow your audience by Demographics, Include/Exclude Audience, Interests & Behaviors and Devices.
For Automatic targeting, you enter Location and Language of target audience. Then TikTok will help you optimize your targeting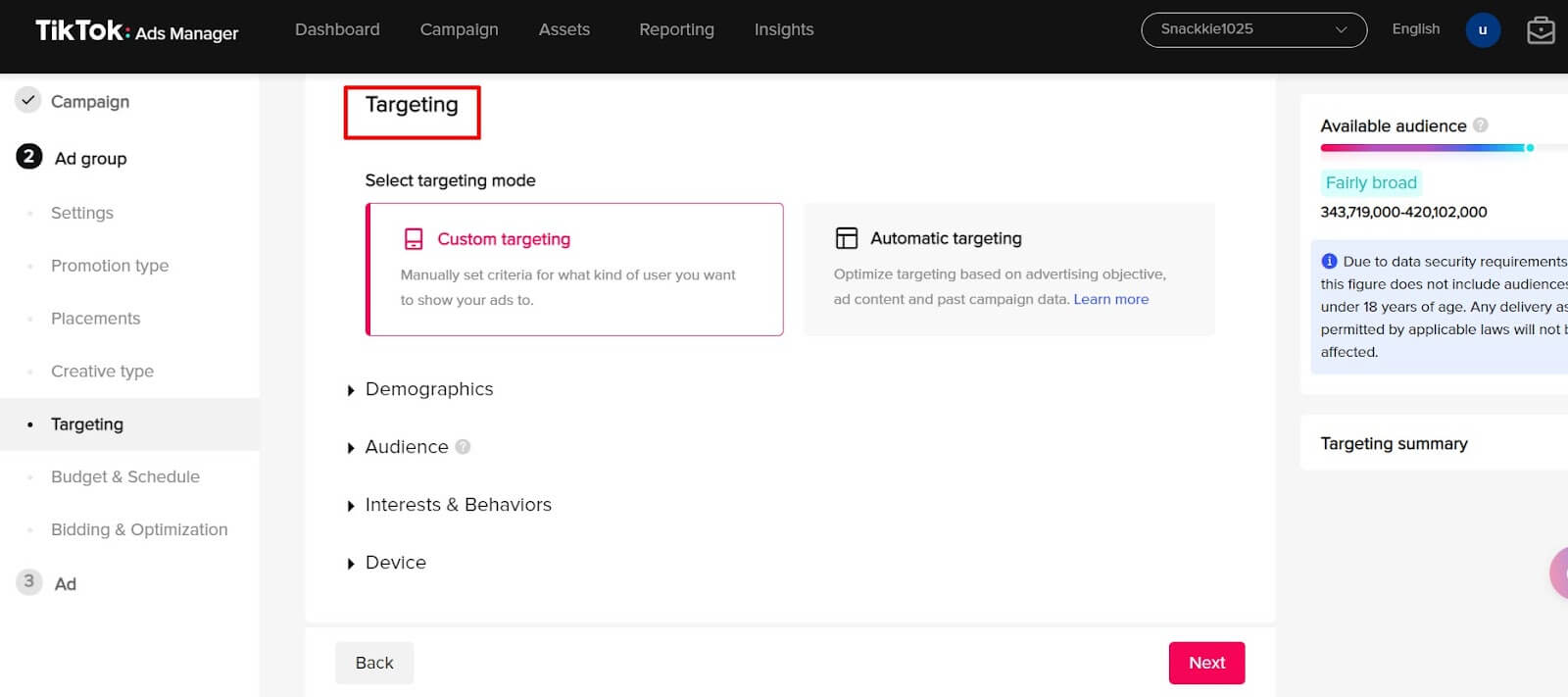 3.6. Set up budget & schedule
Now you need to set up budget and choose the period of time for running ads.
​Budget: Your ad spend for the ad group will not exceed the budget whether you set a Daily Budget (Minimum is $20) or a Lifetime Budget (Minimum is $20)
​Schedule: Set the start and end time for your ads. You can select a date range to run your ad or continuously run your ad after the start date.
​Dayparting: This enables you to select certain time periods within the day. The selected time period lasts from half an hour to 24 hours. (*) All day means your ads will run throughout the day during the scheduled campaign time. (*) ​Select Specific Time means your ads will run at specific time periods during the scheduled campaign time.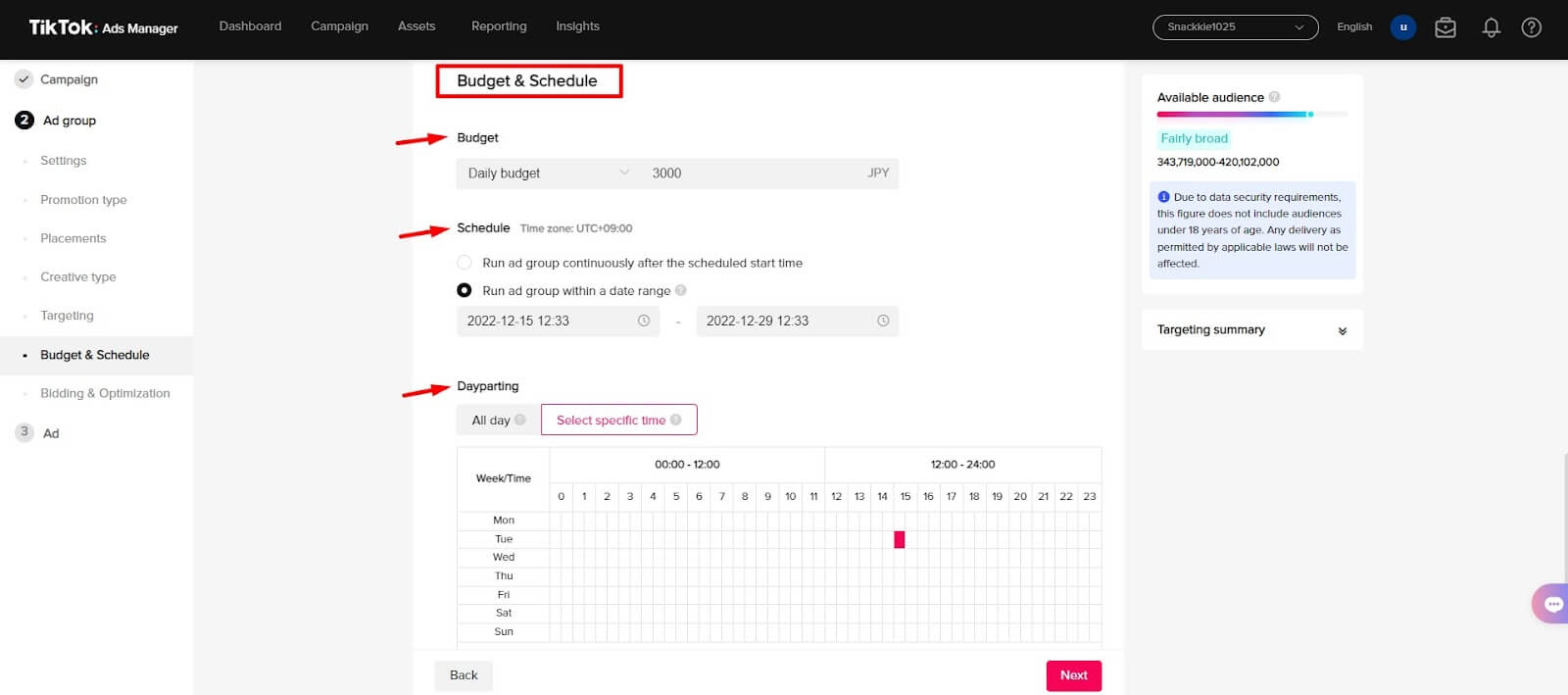 Budget is always one of the most important parts to maximize your return on ad spend. So how to allocate your budget effectively? Let's find out the answer in our tutorial about TikTok Ads low budget strategy!
3.7. Set up bidding method & optimization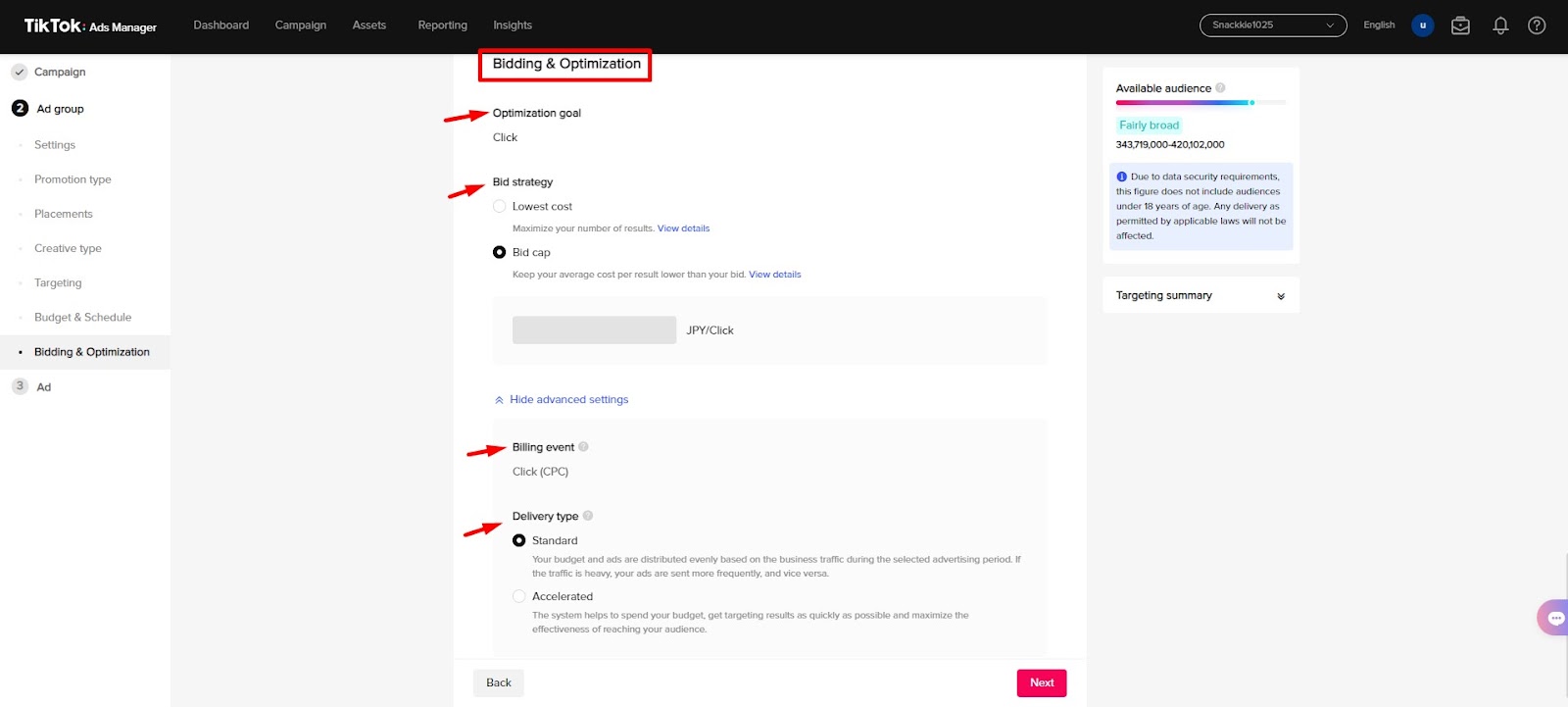 This is the last step of the ad group creation process. Here you need to select your bidding methods and ad optimization options for the best results:
Optimization Goals: There are three options to choose from for optimization goals: "Conversion," "Click," and "Reach." Some campaign goals will automatically set this.
Bid Strategy: You can pick between two bid strategies: lowest cost (maximize the number of results you get) and bid cap (keep the average cost per result below your bid).
Billing Event: Billing event determines when you pay for your ads. Based on the "Optimization Goal," the system automatically sets the billing event.
​If your optimization goal is "Reach", your ads will be billed as CPM (Cost Per Mille).
​If your optimization goal is to "Click", your ads will be billed as CPC (Cost Per Click).
​If your optimization goal is "Conversions", your bidding method is oCPM (optimization Cost Per Mile) and the payment method is CPM.
​Delivery Type: There are two different ad delivery strategies to determine how your budget and ad will be spent and distributed within 24 hours. You can choose either "Standard" or "Accelerated".
Standard: During the campaign period, your advertising spending will be distributed equally.
Accelerated: The type assists you in making the most use of your ad budget while maximizing the effectiveness of reaching your audience.
Please note that the Start Date, Optimization Goal, Conversion Event and Smart Optimization cannot be changed after your ad group is created.
When you've completed all the steps above, simply click "Next" to move to the ad creation page.
Step 4. Create an ad
After setting up ad group, you start creating ad creative. Each ad group can contain one or many ads (Maximum is 20 ads/ ad group). Follow some stages below to create your ad
4.1. Enter ad name
Enter your ad name to distinguish between ads within your ad group. Keep in mind that the ad name is only for your reference and is not part of your ad. Ad names support 512 characters at maximum.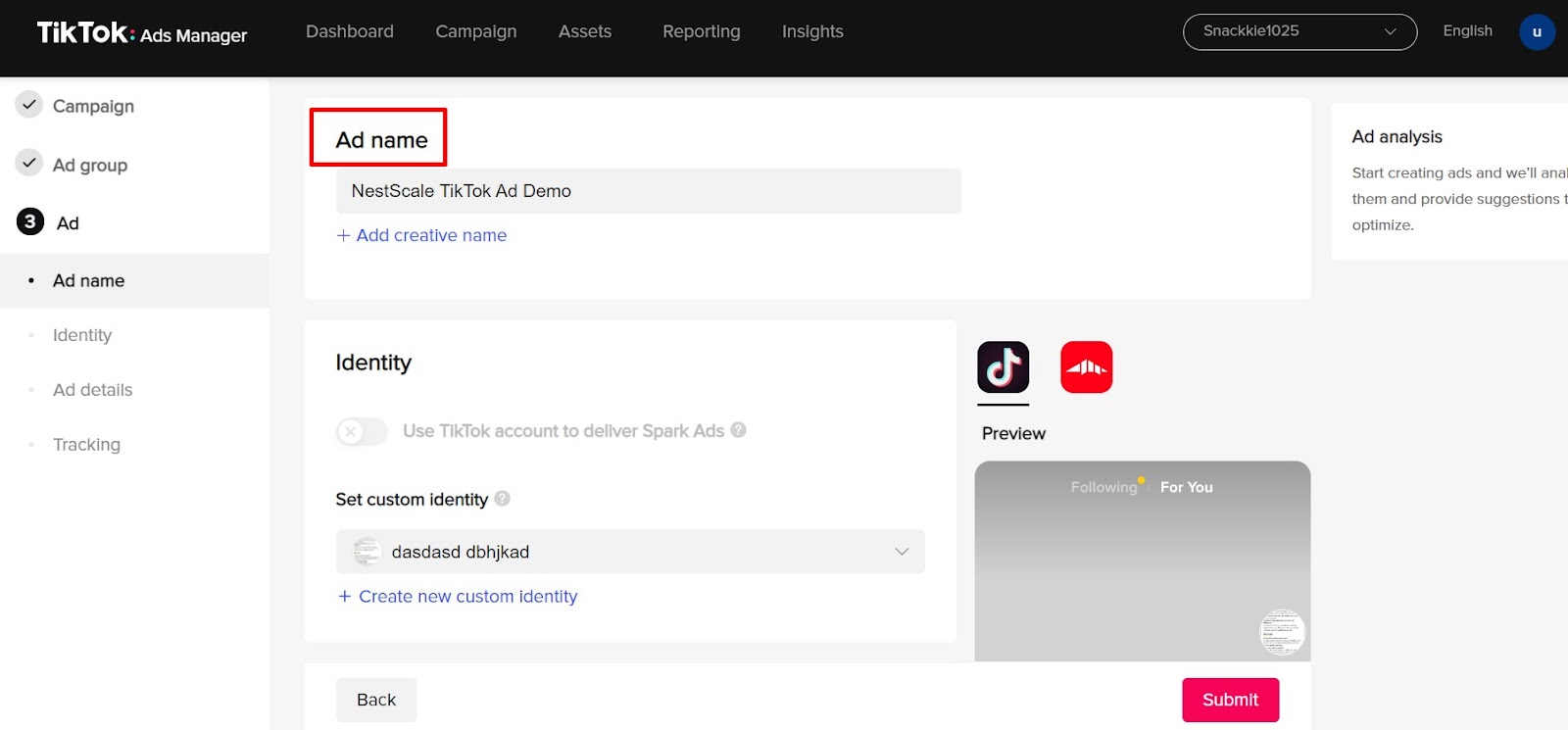 4.2. Select ad format
Here you need to choose your ad format. TikTok Ads Manager currently supports three ad formats: single video, single image, and collection ads.
If you want to experience all kinds of TikTok ad formats, you can consider renting an agency ad account to enjoy appealing ad types.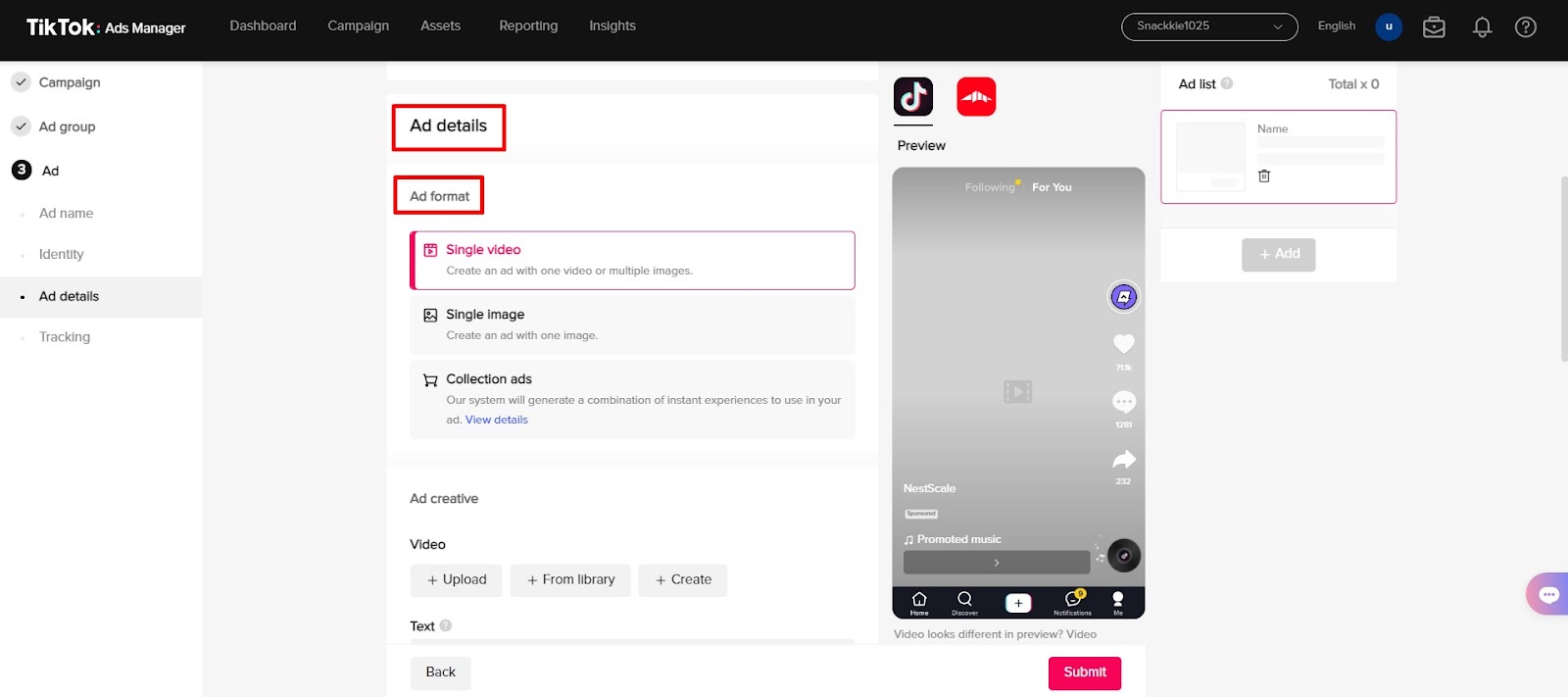 4.3. Enter ad details
Add media
First, you need to prepare your ads creative. There are 3 options to choose from:
Upload from your own computer
Add from your creative library
Create a video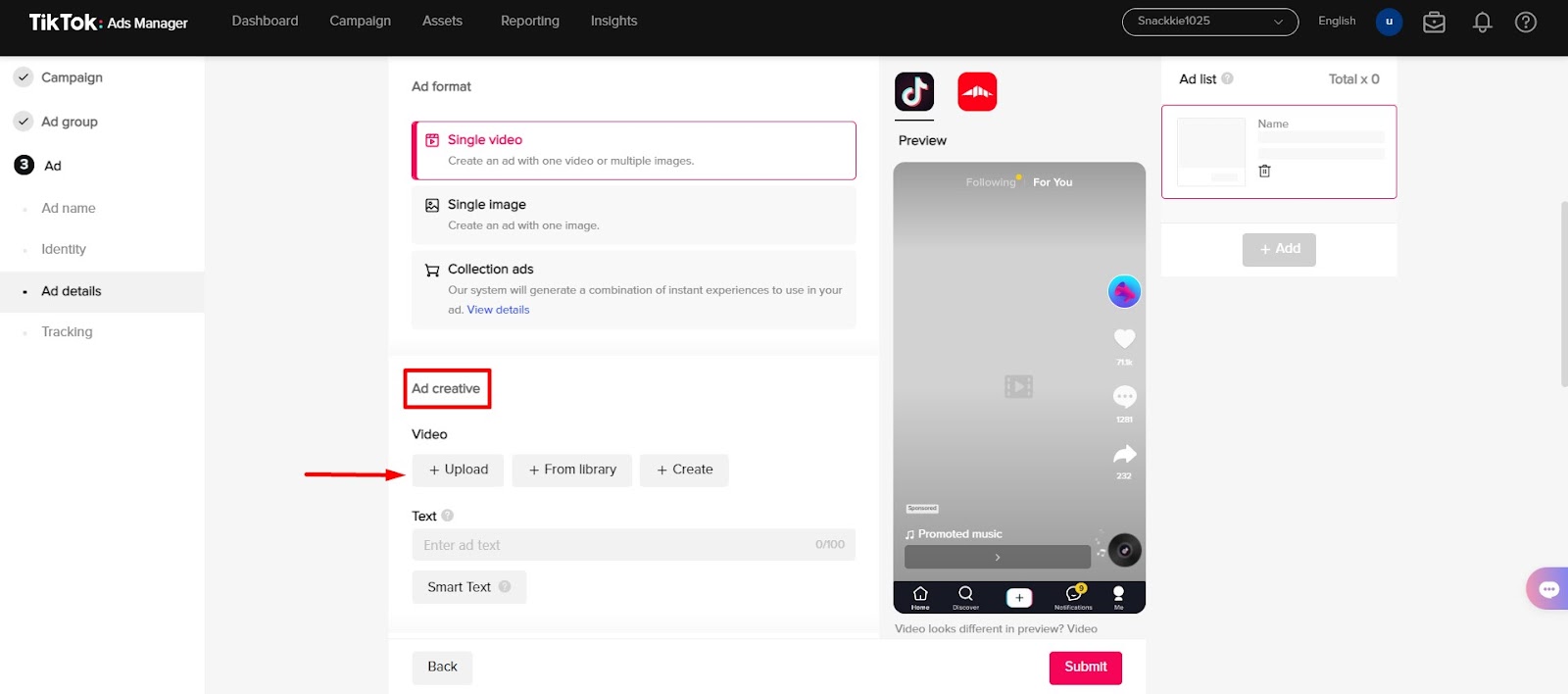 Choose a thumbnail
Once done choosing/ creating your video, you need to choose a cover photo for your TikTok ad. Choosing a thumbnail is crucial for drawing attention. You have the option of uploading a custom cover photo or selecting one of the pre-selected images from your video. Up to 8 keyframes will be provided for you to choose from, depending on how long your video is.
Click "Save" to finish.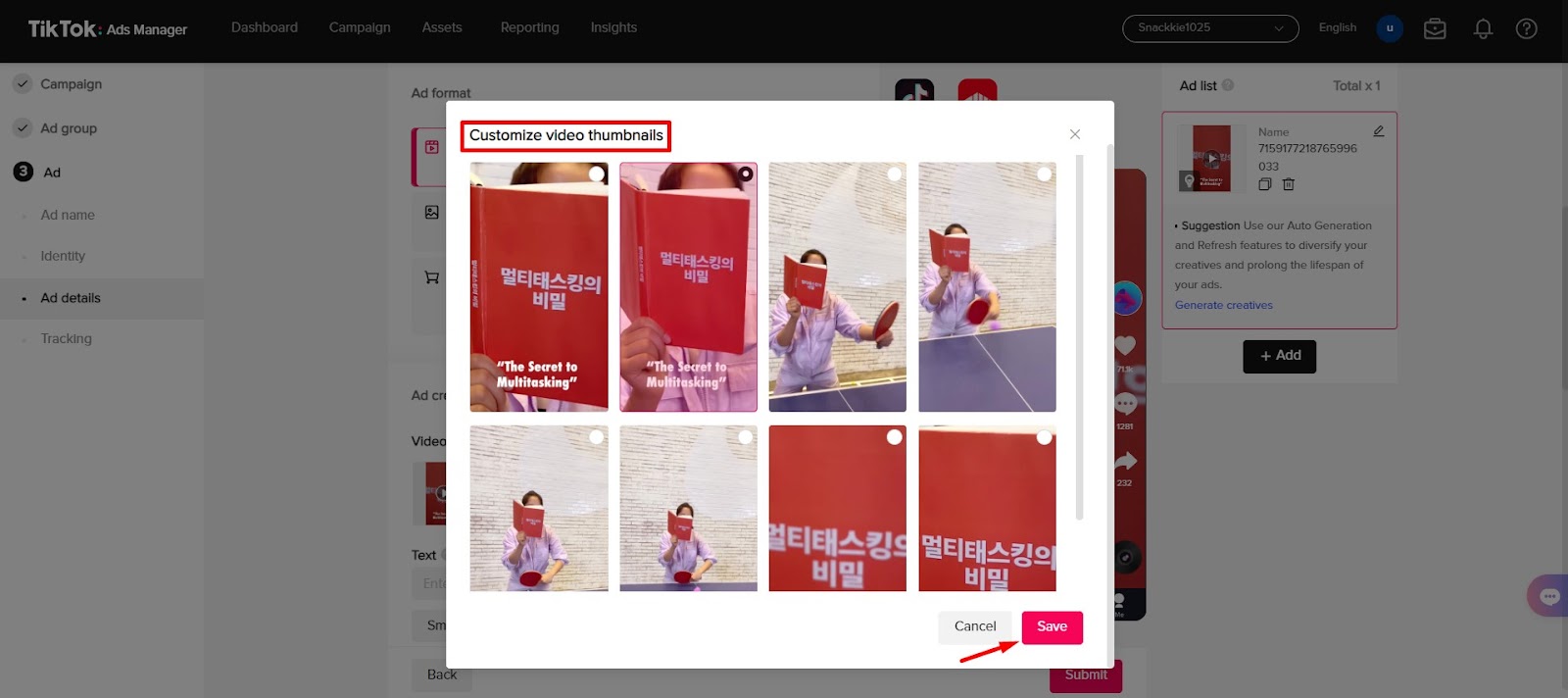 Creating your ad is super easy, upload your own videos or images, or design eye-catching ads in minutes using TikTok Ads Manager's creative tools.
Enter your text & destination page
Once you've added the media to your ad, you need to enter the following elements that will be displayed with your ad, including:
Display name: This will serve as the identity of your brand. This needs to be in line with the name of the company, brand, or other elements of the website or app that is being promoted.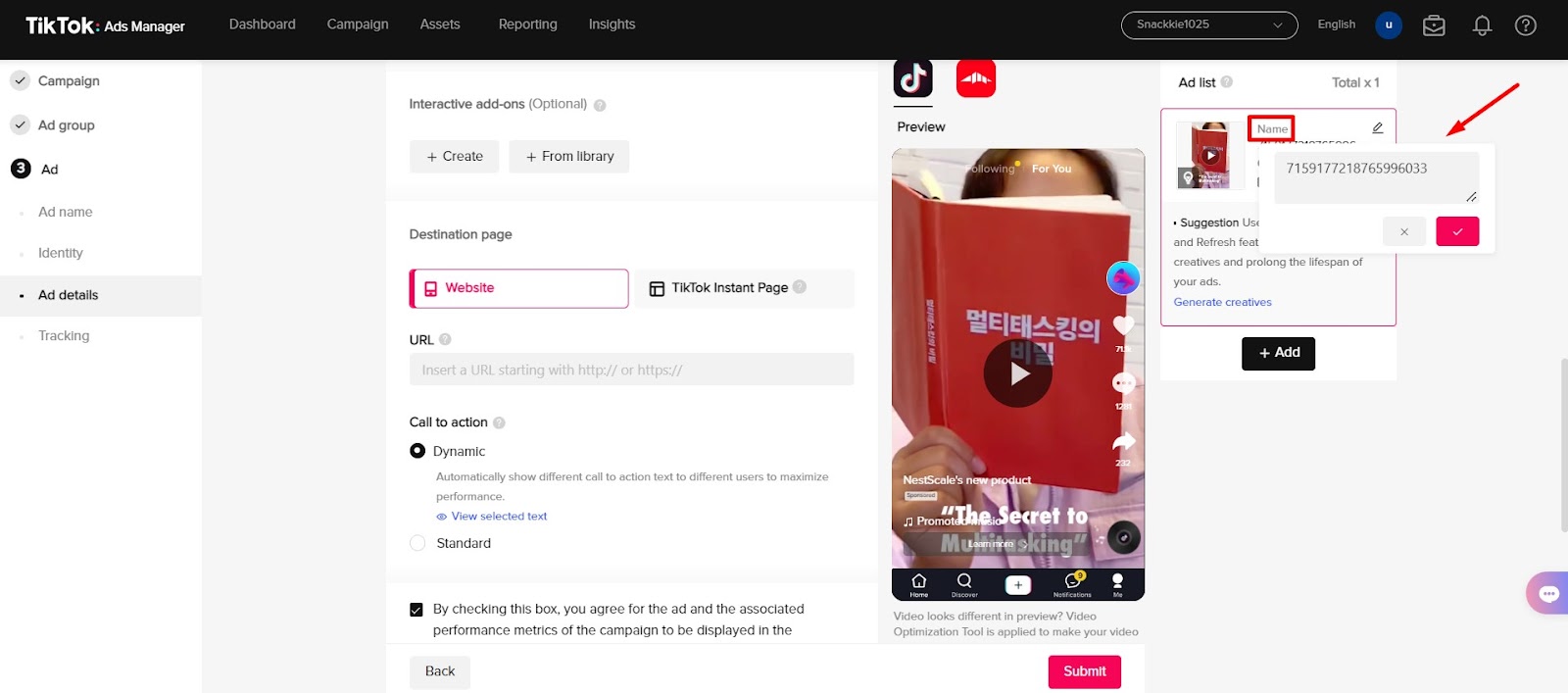 Text: This text will be displayed to your audience as part of your ad creative to clearly explain to them what you are promoting.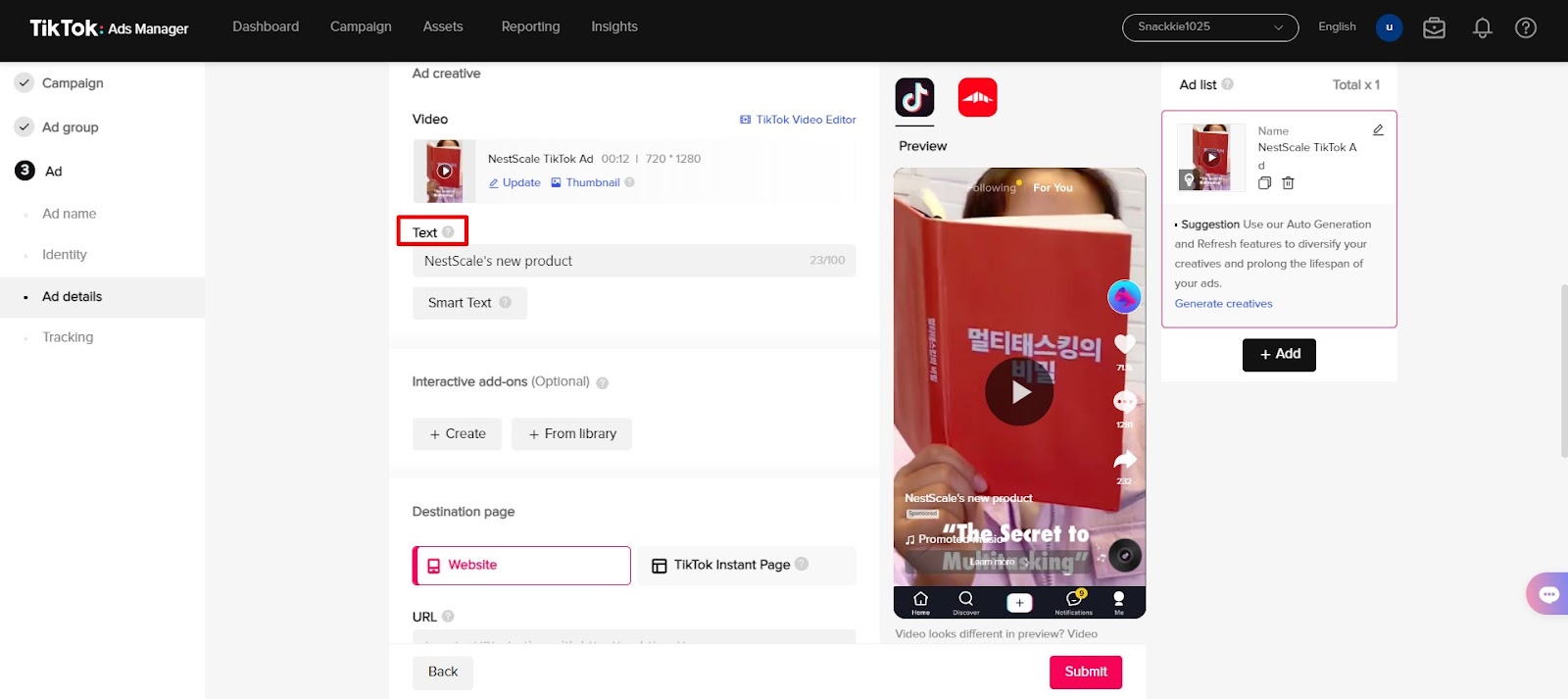 ​Call to Action: This is where you tell your target audience what you want them to do after seeing your ad. Some available CTAs are shown in the image below.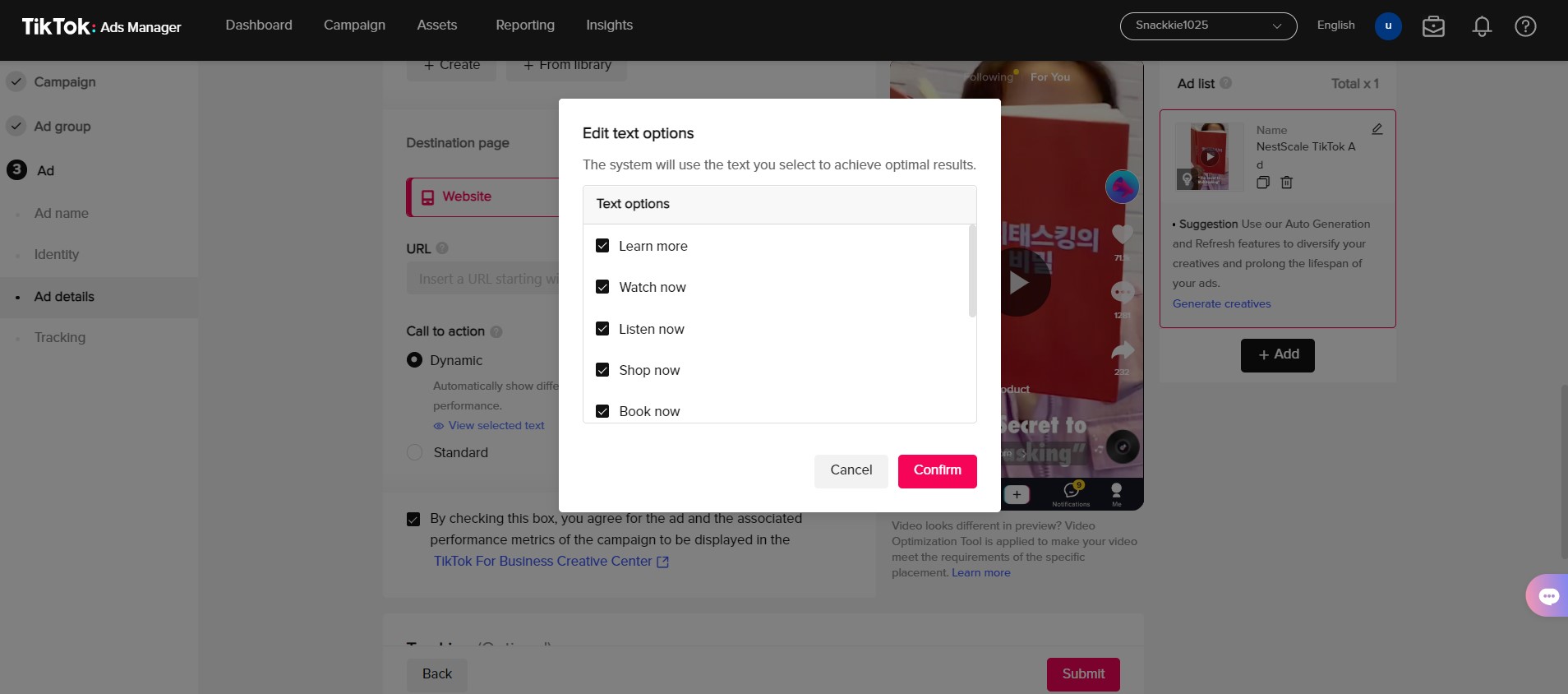 ​URL: Enter the URL of the website you want your ad to drive traffic. This will only be available with certain objectives. Also, you could try using interactive add-ons, which are excellent at driving deeper engagement from the audience in an innovative way.
Preview your creative
It is now time to preview your ad. The actual ads will be modified depending on the user's device and the network settings; please be aware that these ad previews are not device-specific.
We suggest you preview all ads on your actual device to get a better idea of how they will appear after being published
Add tracking links (optional)
This is an optional step, which allows you to add TikTok events tracking or third-party tracking URLs to keep track of your ad performance data.
After you've finished creating your ad, click the "Submit" button to finish the process.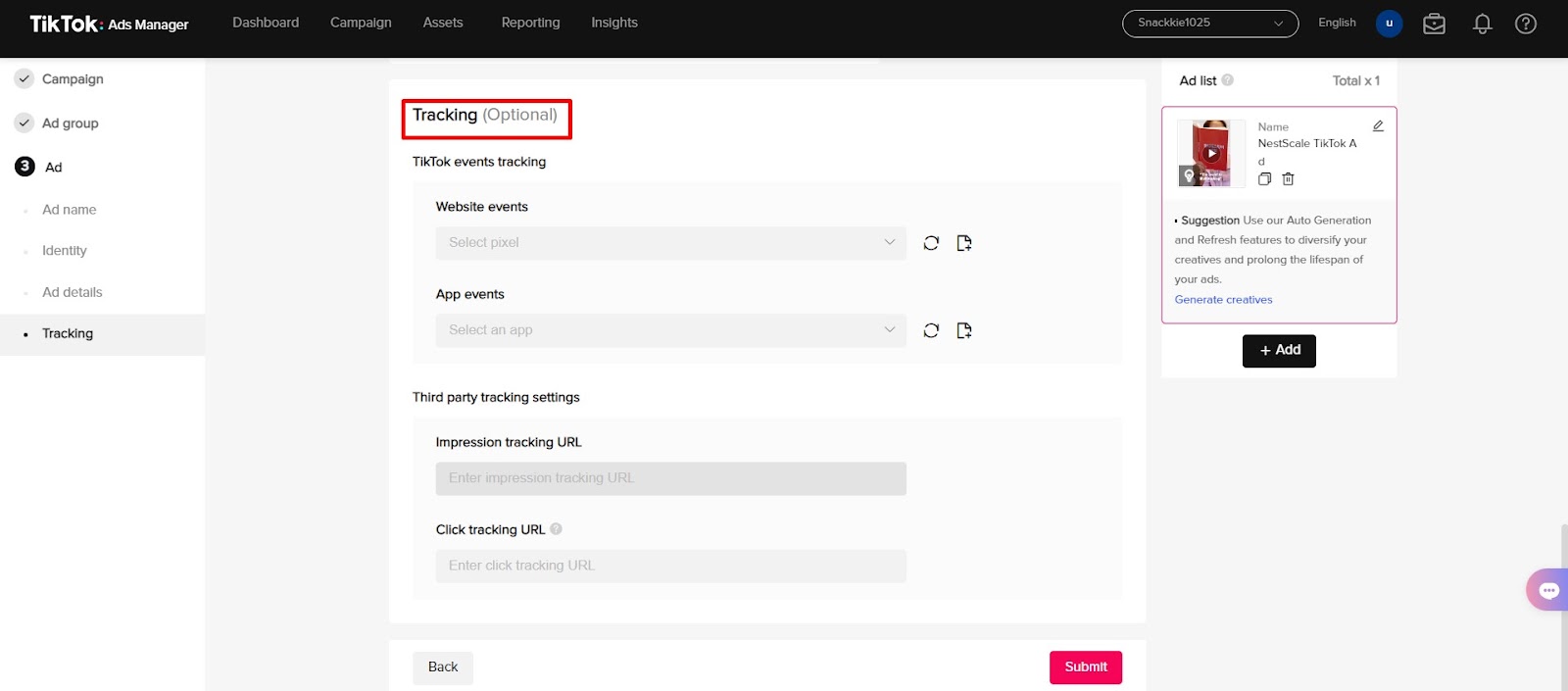 Then, your TikTok ad will go through a review process before going live.
If you want to see how to create the 1st TikTok Ads campaign in action, welcome to our ultimate video for beginners about running ads from scratch. From choosing the right objective, the target audience to setting ad creatives, you will find all in one video!
Step 5. Measure your ad performance
Well, the process of running TikTok ads is not over yet. You also need to measure your ad performance to determine the effectiveness of the campaign.
TikTok offers native statistics so you can see how your ad is performing regarding impressions, clicks, conversions, etc. But more importantly, you need to know how to evaluate TikTok Ads performance and what metrics you should base on to maximize the results.
Let's explore the best way to optimize and scale TikTok Ads in our tutorial! Whether your campaign performs well or not, you will also find the way to improve!
TikTok Ad specs
While making video ads on TikTok, you should notice a few requirements about ad appearances. So let's break down these TikTok ad specs to optimize your ad and drive better results.
Ad composition: Video creative + ad display image + brand or app name (logo) + ad description + CTA button
Aspect ratio: 9:16, 1:1, or 16:9
Video resolution: at least 540*960px, 640*640px, or 960*540px
File type: .mp4, .mov, .mpeg, .3gp, or .avi
Video duration: Videos can be between 5-60s. TikTok suggests short videos of 9-15s.
Bitrate: ≥516 kbps
File Size: within 500MB
App or Brand Name: 4-40 Latin alphabet letters for app names and 2-20 Latin alphabet letters for brand names.
Ad Description: 1-100 Latin alphabet letters and 1-50 Asian characters.
How much do TikTok Ads cost?
The cost of TikTok ads often varies depending on each ad format, group of target audience, bidding strategy and geographical location. Advertisers can adjust TikTok ads pricing by using daily or lifetime budget.
For the campaign level, the daily and lifetime budget must exceed $50.
For the ad group, the daily budget must exceed $20 while the lifetime budget is calculated by multiplying $20 by the total number of days you run the ad.
Overall, you need to pay a minimum budget of $500 for a whole campaign and no less than $50 for the daily budget. For beginners, try using Lowest Cap strategy to optimize your TikTok Ads cost but still get good results. Apparently, knowing how to bid and allocate resources would assist you to run an effective TikTok ad campaign.
TikTok Ads Examples
Decathlon – Leverage TikTok Creator Marketplace
Decathlon is the world's leading sports equipment based in the US. To increase their reach and spread product awareness among TikTok sports enthusiasts in the UAE, Kuwait, and Qatar, Decathlon turned to creator collaborations with the help of TikTok Creator Marketplace.
By using this platform along with Spark Ads, Decathlon was able to attract a wide range of sporty creators, which allows the brand to attract various groups of audiences: from occasional exercisers to fitness lovers.
As a result, this sports retailer saw a fall in ad costs while witnessing higher engagement and ad recall. Specifically, Decathlon had a 55% lower CPM yet gained a 4% increase in ad recall and a 71% increase in view-through rate. This proved the power of selecting the right creators for relevant, high-quality authentic content.
Cornetto – Utilize Branded TikTok Livestream
Cornetto is an Italian frozen dessert brand that is well-known for its ice cream cone. In 2022 summer, Conertto Ask Atesi made a huge impression on TikTok with its first integrated and full-funnel campaign in Turkey.
Cornetto's campaign started with the in-feed ad which featured a macro TikTok creator in the brand's original song and TVC. During the same period, a Hashtag Challenge was also launched to encourage UGC content around the new product.
Above all, the highlight of this campaign was the Branded Livestream within the FMCG industry. The 45-minute live session gathered various creators and Aleyna Tilki – a famous singer who performed Cornetto's own song.
The brand campaign was a huge success. In comparison to TV campaigns, TikTok generated 8 times more ROI in driving Saliency and 2.4 times more ROI in driving Consideration. The in-feed ads which using Top Feed increased 6" VTR by 2x compared to TikTok benchmarks, and interactive add-on campaigns boosted CTR levels by 1.6x. The Tiktok Live session overall attracted 78.000 unique users, making the greatest turnout for a Tiktok Live event in the FMCG sector in 2022.
Hisense – Launch Gamified Branded Effect
Hisense is a multinational appliance and electronics manufacturer based in China. Being an official sponsor of the 2022 World Cup, Hisense adopted an omnichannel, full-cycle strategy to enhance its international brand image and promote its global influence.
Thereby, a series of marketing activities around the theme of "Perfect Match" was executed in Qatar, the UAE, and Mexico. First, Hisense in partnership with Nanjing Sky Rocket launched the #HisensePerfectMatch Branded Hashtag Challenge. The team also take advantage of the Branded Effect and developed a virtual reality football game that elevated 3D stickers to better enhance user interaction and engagement.
To further raise awareness, Hisense placed a number of advertisements on TikTok, including TopView, Reach & Frequency, and Top Feed ads, and collaborated with Kaká, a Brazilian football icon, as the brand ambassador.
The #HisensePerfectMatch Hashtag Challenge was a massive hit, attracting celebrities and creators to join the campaign. Within just five days, the challenge garnered 830 million, 500 million, and 550 million video views in Mexico, the United Arab Emirates, and Qatar, respectively. The number of both engagements and videos created was over 380,000, exceeding expectations and boosting Hisense's brand recognition in the targeted regions.
It's time to start your TikTok advertising
No more guessing, create your first TikTok Ad campaign now to see how it broadens your brand reach and drives fantastic results. Start running ads on TikTok and gaining tremendous sales on TikTok today!
If you are new to TikTok Ads and having difficulties in advertising on this platform without wasting time and money, we're here to give you a hand. With our NestAds, you can launch, optimize & scale winning TikTok Ad campaigns faster & easier. You don't need to be an expert to run TikTok Ads successfully, let NestAds make it happen.
Discover NestAds Now