TikTok hits more than 1 billion users worldwide. With such a huge potential audience at its fingertips, it's no surprise that every business is able to make use of this platform for building audiences in millions of followers.
However, finding out your community in TikTok is never easy as users' tastes on different platforms are not the same. Thus, we will come up with tips and tricks that might help you increase your followers. Let's dive in!
Top creative ideas to grow TikTok followers
1. Team up with creators
Everyone has their own influencer whom they trust and find inspiration through whatever they share and tell.
Thus, Influencer marketing is a strategy in any marketing campaign to grow the audience. Significantly, it's very important to work with relevant creators whose audiences have in common with your targeted customers.
Theinkeylist, a skincare brand, collaborated with one of the most well-known dermatologists, Dr. Zion in this video:
This video not only highlights the products but also builds trust. In terms of skincare routine, is there anyone more trustworthy than a dermatologist?
2. Create a hashtag challenge
More and more people come to this platform with the desire to showcase their creativity. The TikTok hashtag challenge is an incredibly effective way to satisfy their needs.
By inviting users to join specific tasks such as dances, displaying a talent, or tutorial product videos. Users are more interested and curious about the products.
Simmons, a mattress brand launched the #Snoozzzapalooza Branded Hashtag Challenge. They aim for encouraging TikTok users to dive into a bed and enjoy a festival experience in the comfort of their own rooms.
The result is nothing short of impressive with more than 1 million participants including those who are not their followers. Moreover, it amassed six billion total views and an engagement rate of 20%.
3. Post-TikTok video at the right time
TikTok users are not online 24/24 so it's imperative to find out when they are active most.
You can check out TikTok analytics tools in your business account to get this information.
In the Followers tab, scroll down to see the Followers activity which will notify you what days and times your followers are most active. Thus, try to publish your post before this time to ensure the number of viewers seeing your content as many as possible.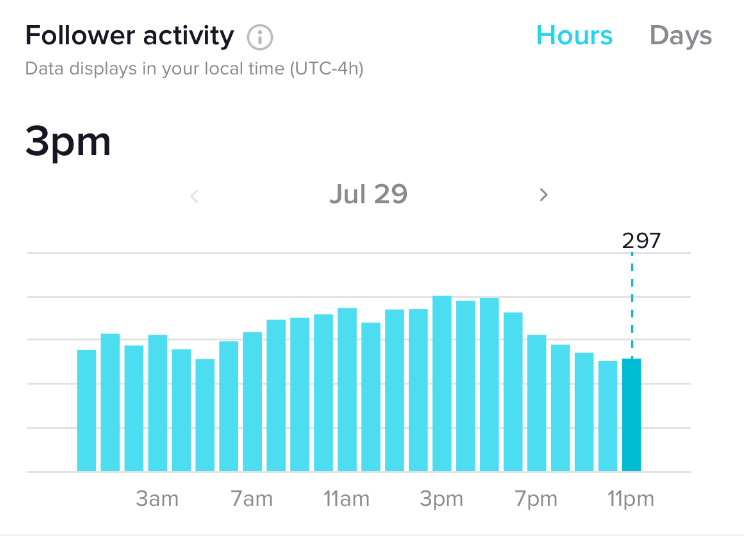 You must include hashtags in all captions to ensure that users can easily find your brands. TikTok users often search hashtags that are relevant to their needs so that your content might be likely shown in front of viewers.
This indicates that hashtags can increase their visibility to more people who don't know about your business and then turn into followers.
Start typing in relevant hashtags when you write post captions to determine how many views these hashtags are getting. Keep in mind to add the popular #fyp or #foryou hashtags to increase the chance of being shown on the For You page.
5. Duet and Stitch TikTok
If you want to get more eyes on your TikTok profile, one of the best ways to make use of existing content as stitch/duet other users' videos.
TikTok's Duet and Stitch features can be found in the Effects menu, allowing you to collaborate with other TikTok users.
Duets allow you to create split-screen TikToks to record your response to an already-existing TikTok, while Stitches allow you to combine part of another creator's TikTok with some video content of your own.
Let's see a duet example:
These tools will drive more engagement by encouraging them to share and interact with your brand's content. As a result, it increases the chances of being displayed for more users who have not previously known your brand.
6. Use the 'Promote' tool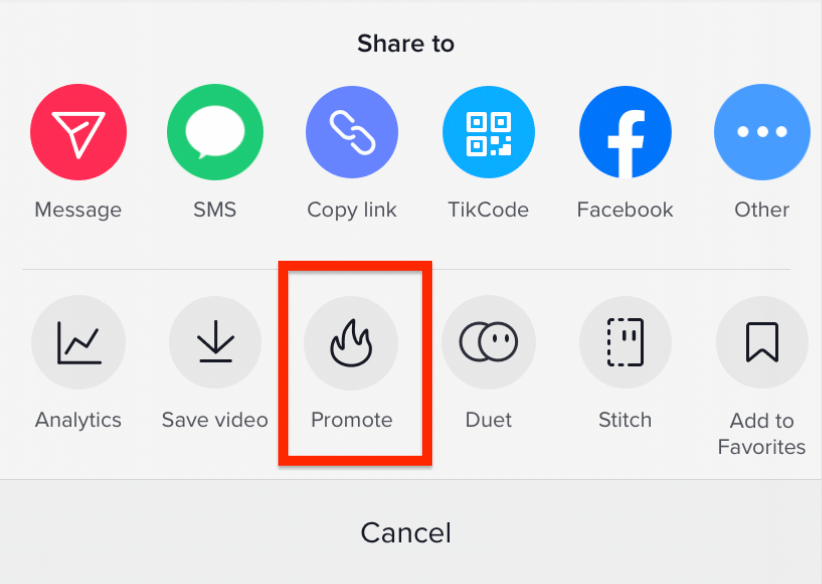 It's an advertising tool within the TikTok app to gain more followers by turning any organic video into an ad. Thus, it's definitely the fastest way for businesses to reach new audiences and expand their following.
When Promote feature is activated, TikTok's algorithm tries to show your content to the right users. However, the level of engagement from this group will depend on the quality of your content. Thus, the content you choose to promote should be the best-performing organic videos.
Keep in mind it's a paid advertising tool, so you need to consider how to allocate your marketing budget effectively or whether it is worth investing in or not. For example, you can reach up to ~1000 views for as little as 10 dollars.
POST Inc. Ad Agency, a digital marketing agency, utilized the Promote feature to promote one of the best-performing videos. With spent a maximum of $30 for each video that received great feedback from her ideal audience to increase the number of followers and video views.
The result is fantastic, specifically Alana's video received an additional 5,200 views and 114 new followers.
7. Launching TikTok Ads
TikTok is rapidly gaining popularity in a wide variety of industries. So, if your brand is indenting to promote its products, let's give TikTok Ads a try.
Are TikTok Ads similar to Facebook Ads or Instagram Ads? Of course not. This platform's authenticity and engagement are set apart from other competitors.
As TikTok's own messaging reminds brands to "be more creative, more authentic, and to create content that truly speaks to people.
This means your business doesn't have to focus on highly produced and polished video content to approach your ideal customers. It's just about filming your video from your phone with down-to-earth production styles and a bit of creativity.
TikTok offers a wide variety of TikTok Ads formats that will grab more eyeballs for your business. You can choose one or more from the list below:
Brand Takeover
Branded Hashtag challenge
Branded Effect
TikTok Dynamic Showcase Ads (DSAs)
Shopping Ads
Carousel Ads
8. Sneak Peak
If you're gonna introduce a new product there's no better than to arouse curiosity in TikTok viewers than by giving a first peek.
Give followers the first look at new products, colors, or anything else exciting your brand is working on. Offering sneak peeks also encourages your followers to come back for more.
Elyse Breanne Design makes use of trending songs to produce a clip that reveals her latest product to the whole TikTok audience.
Ready to grow the strong community of TikTok followers
TikTok from the newest social media platform to become mainstream has been a promising place for your business to build large audiences.
Don't rush to increase followers immediately, just step-by-step focus on researching what TikTok users want to watch and how this platform works. Then, the business will have a strategic marketing campaign with the support of TikTok tools, especially TikTok ad formats.
If you need any guidance in running an ad campaign, feel free to try out our new product NestAds for audience expansion through TikTok Ads.