TikTok has proved to be the world's leading entertainment platform and gradually takes over the e-commerce industry as well. Instead of making ads, brands are shifting to TikTok videos that capture people's attention and at the same time promote their products.
Duet then appeared to be a fascinating solution for business when its amusement can go insanely viral. So why don't we dive into Duet and how to Duet on TikTok to leverage your brand performance?
What is Duet on TikTok?
Duet is a TikTok creative tool that enables you to post your videos side-by-side with other creators' videos on TikTok. A duet contains a split-screen video that features two videos playing at once.
With the TikTok Duet, people can share their own videos on their TikTok profile as a 'reply' to other creators' content. It's a great way to be found and get in front of a wider range of audience. Your account must be public for people to Duet with your videos.
Why should brands use TikTok Duet?
Like TikTok Stitch, Duet encourages viral content and elevates sharing to a new level. As brands embrace features like TikTok Duet, they are gaining an advantage over the competition and developing their profile on a platform that is growing rapidly.
Consider your ad videos or ad campaigns goal which can achieve by using TikTok Duet, it can't be denied that Duet can strengthen your connection with your audience, drive engagement, increase your visibility on the platform and diversify your content format.
With Duet, you are up to date with the latest trends and are able to get ideas from them, then apply them to your own brand. Based on existing viral videos on TikTok, you can create new and fresh content and stay relevant with your audience.
How to create a widespread video by using TikTok Duet
How to Duet a video on TikTok
Step 1. Open the TikTok app, on the side of the video you'd like to Duet, tap the Share button.
Step 2. Find and tap Duet at the bottom of the screen.
Step 3. From the side panel, choose the Duet options such as filters, timer, layouts, etc.
Step 4. Tap the Record button to record your response and then tap the check mark when you finish recording.
Step 5. Edit your video by adding effects, stickers, texts, etc., and then tap Next to move on to the next part.
Step 6. Adjust your Duet settings and tap Post to watch your video.
How to Duet on TikTok with a saved video?
Similar to TikTok Stitch, you're not able to Duet on TikTok with a pre-recorded video. However, you can try it in another way.
Step 1. Download the TikTok video you want to duet.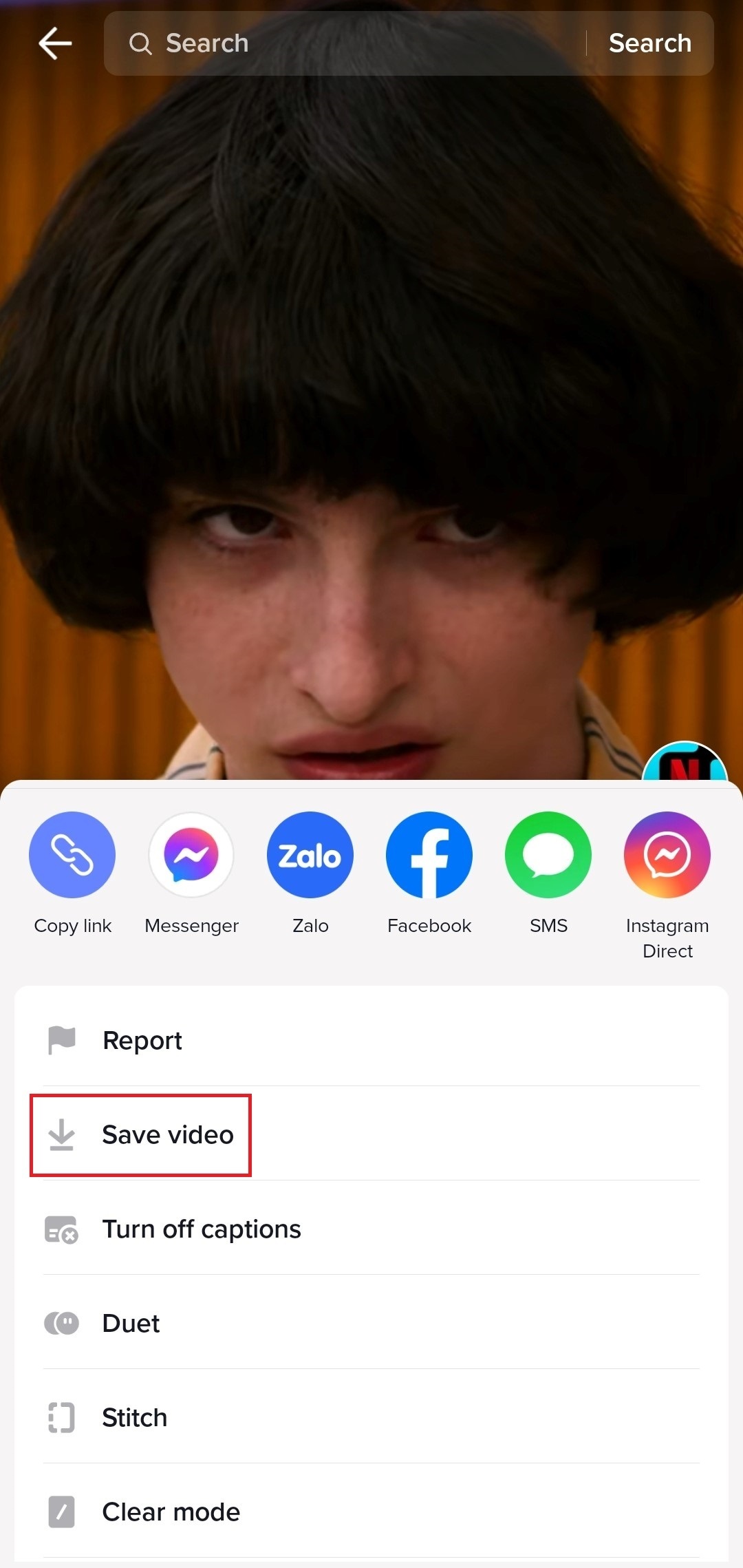 Step 2. Use a third-party app that supports video collage and import your downloaded video and your own video.
Step 3. Choose the layout you want that fits the two videos in the Duet. Edit and export your video as.mp4.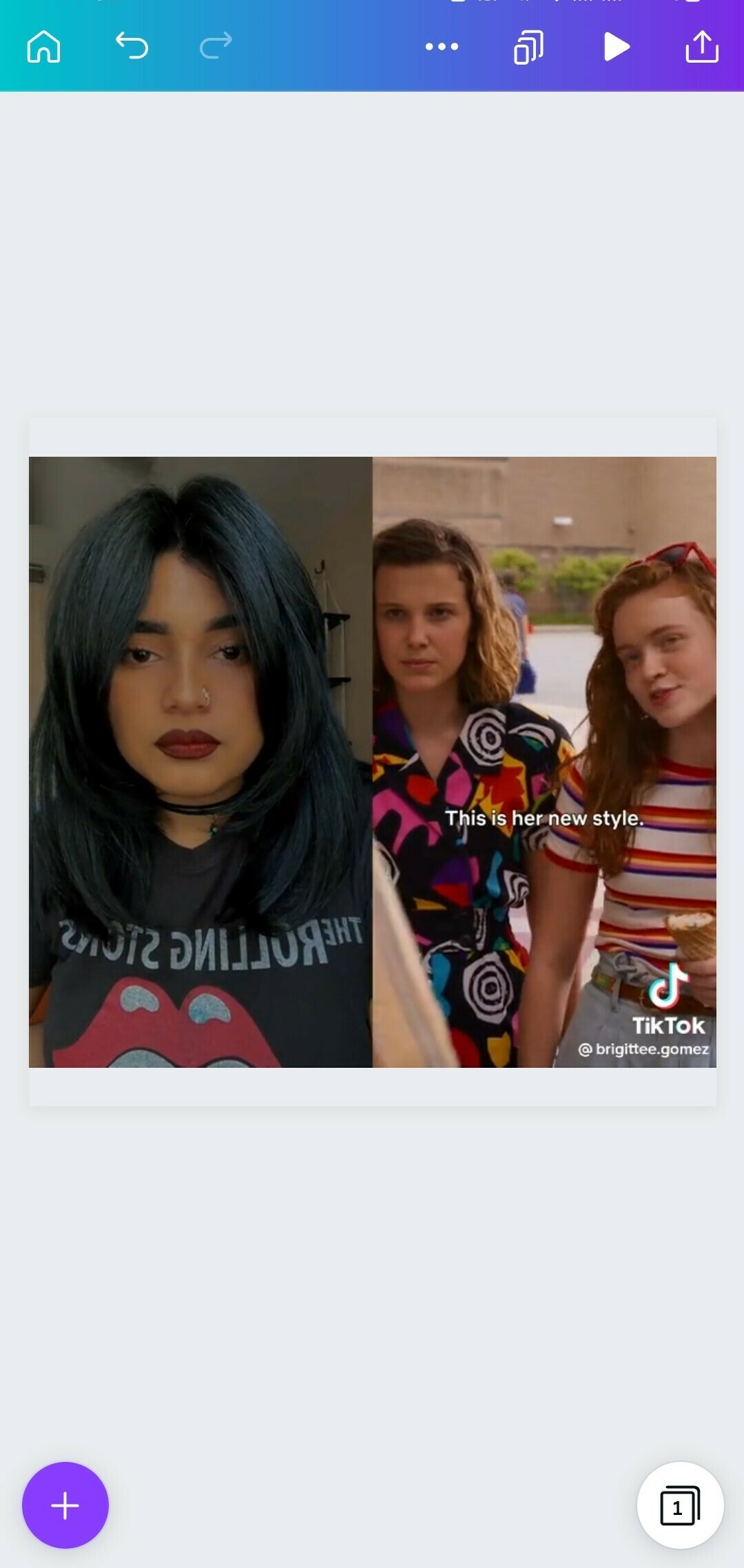 Step 4. Open the TikTok app and hit the (+) button to create a new video. Select the video you edited with Duet format and tap Next. Write a caption and tag the creator of the original video, then Post your video.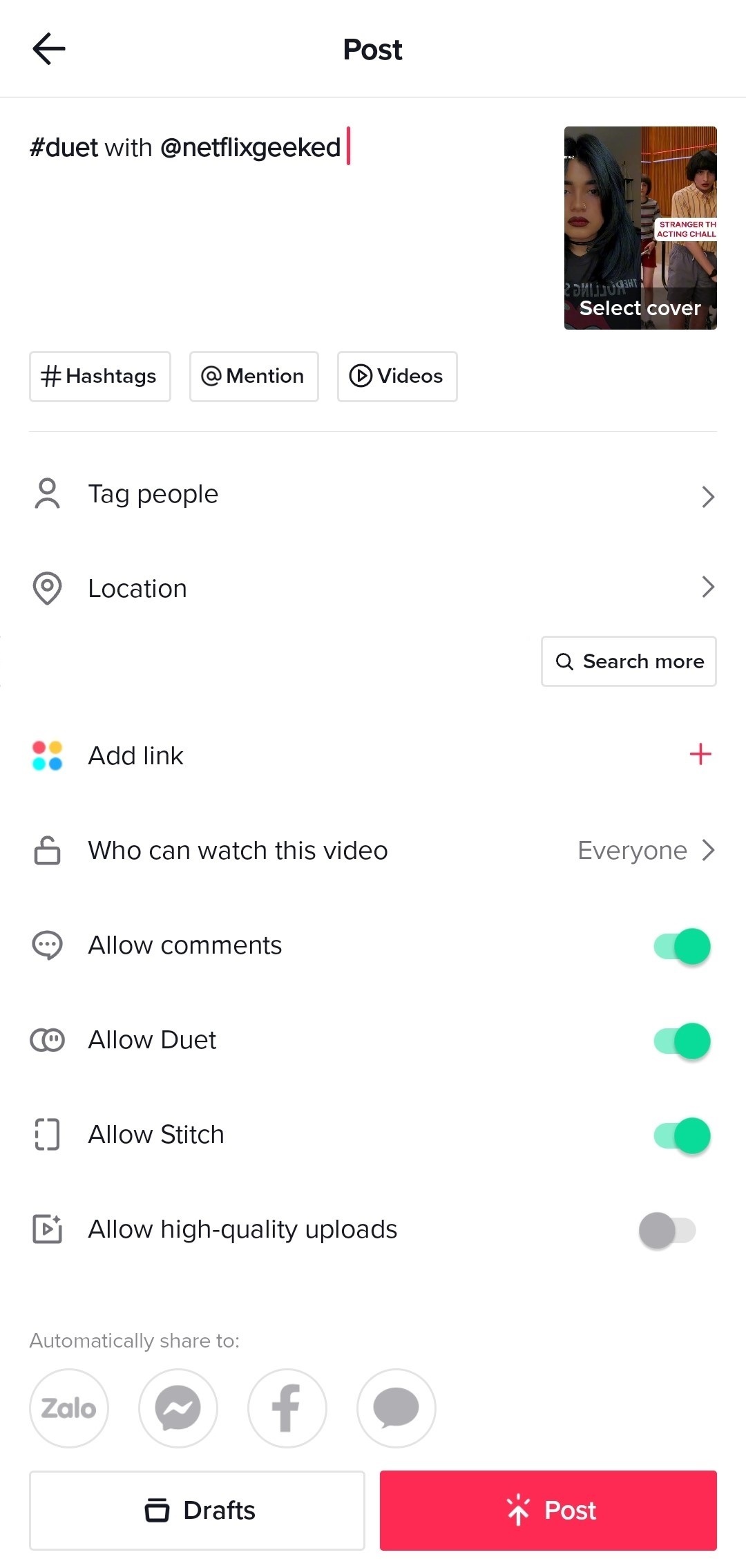 4 Different TikTok Duet formats
TikTok Duets now allows users to Duet in four video formats:
Left and right layout (side-by-side)
React layout
Top and bottom layout (up and down)
Three screens layout (more than two videos)
With these formats, TikTok users have more options to interact with published content and create new exciting videos. For brands, using a various range of layouts will elaborate their content diversity and keep their content appealing in the eyes of the audience.
Manage TikTok Duet settings
Not all videos enable Duet. It's up to you to set its permission. To choose who can Duet with your video, follow these instructions:
Tap Profile at the bottom to visit your page
Select the Menu button at the top right corner and tap Settings and privacy
Under the Account tab, tap Privacy, then find Duet
Choose who you'd like to enable Duet (everyone, your followers, or only you)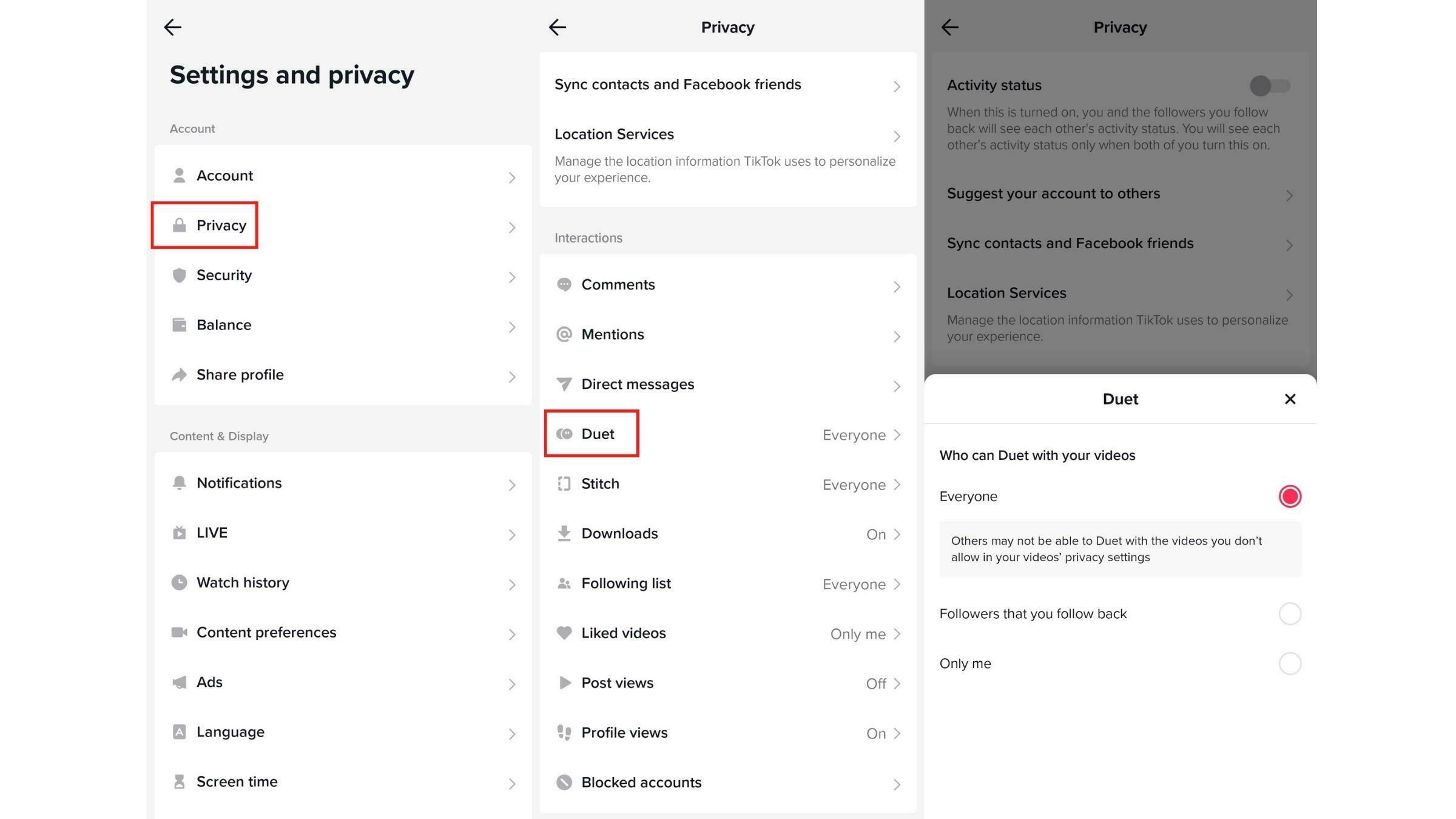 5 ideas & examples for brands to benefit from TikTok Duet
Duet is a great way to reach your audience since it helps TikTok users create content. Successful TikTok Duets are the entertaining ones. More importantly, Duets are capable of empowering your followers.
TikTok Duets certainly can lead to incredible results and that's why brands should embrace TikTok as soon as possible. If you need some inspiration to start creating TikTok Duets for your business, here're some amazing custom-made ideas you can get.
Promote your product
Using TikTok Duet to introduce your product, explain its benefit and build trust from your audience. Allow people to Duet with your video to make a product review video or product try-on video. Those kinds of videos have recently has gone popular and captured a lot of users' attention, so keep in mind to take advantage of TikTok Duet in the case of advertising your product.
Engage your audience through a brand challenge
What can arouse people's interest in TikTok better than a challenge? This is a great approach to your audience as it can establish a reaction chain and increase your brand presence. If you want your brand to become top-of-mind, you should consider executing a brand challenge now.
Connect with the audience via influencers collaboration
Influencer marketing is taking over the advertising industry. People love to see their favorite celebrities or influencers on social media and follow them closely. Working with a famous person can form an association between your brand/product with the influencer, and users are likely to take an action if the person they love joins your ads campaign.
TikTok Duet is the perfect creative tool for finding and joining what's trending on TikTok. By taking part in such trends, your chance of getting noticed will rise. Furthermore, from the user's perspective, your brand will be up-to-date and compatible with their interests.
Show your recognition to your audience
Another tactic, which is basic but highly effective, is doing a giveaway to show your recognition to your audience. Your TikTok users only need to make a duet highlighting your products for a chance to win free ones. As your followers will probably win free gifts, you will have the opportunity to widen your reach and showcase your incredible products.
FAQS
Q: How to see Duets on TikTok?
A: Type in the keyword Duet into the search bar or use hashtags #duet. If you want to be more specific, you can type in #duet @username to find all the TikTok Duets that the creator made.
Q: How to find Duets on TikTok?
A: Play the video you like to Duet with, tap Share/Send to button then find the Duet option.
Q: How to Duet on TikTok with sound?
A: Normally, the sound from the original video will be kept in your Duet video and your mic will automatically be turned off. However, TikTok has options including adding sound or voice-over from your microphone. Turn on your mic and try recording music or your own audio when you Duet with other videos.
Q: How to enable Duet on TikTok?
A: Visit your Profile, and tap Settings and privacy in the Menu button. Tap Privacy, then find Duet to choose who you'd like to enable Duet.
Q: Why can't I Duet on TikTok?
A: It is likely that the creator has disabled the Duet feature so you cannot duet with their videos. When the Duet button is gray, it means you're not able to duet with the original video.
Let's make a Duet on TikTok
Ready to create an awesome TikTok Duet that can go viral? You got all the ingredients and all you have to do now is to follow our instructions. TikTok Duet can be confusing at first but you can get familiar with it gradually.
On the other hand, TikTok Duet is beneficial even when you're running an ad campaign, so think about applying Duet to your ads strategy. If you want to bring your ads to the next level, feel free to connect with our experts at NestAds to have more precious advice.