TikTok has proved to be the world's leading entertainment platform and gradually takes over the e-commerce industry as well. Instead of making ads, brands are shifting to TikTok videos that capture people's attention and at the same time promote their products.
Duet then appeared to be a fascinating solution for business when its amusement can go insanely viral. So why not utilize this feature to leverage your brand performance? Let's dive into Duet and explore 12 best TikTok duet ideas that make your video go viral!
What is Duet on TikTok?
Duet is a TikTok creative tool that enables you to post your videos side-by-side with other creators' videos on TikTok. A duet contains a split-screen video that features two videos playing at once.
With the TikTok Duet, people can share their own videos on their TikTok profile as a 'reply' to other creators' content. It's a great way to be found and get in front of a wider range of audience. Your account must be public for people to Duet with your videos.
Why should brands use TikTok Duet?
Like TikTok Stitch, Duet encourages viral content and elevates sharing to a new level. As brands embrace features like TikTok Duet, they are gaining an advantage over the competition and developing their profile on a platform that is growing rapidly.
Consider your ad videos or ad campaigns goal which can achieve by using TikTok Duet, it can't be denied that Duet can strengthen your connection with your audience, drive engagement, increase your visibility on the platform and diversify your content format.
With Duet, you are up to date with the latest trends and are able to get ideas from them, then apply them to your own brand. Based on existing viral videos on TikTok, you can create new and fresh content and stay relevant with your audience.
How to Duet a video on TikTok
Step 1: Find a TikTok video to duet
Open the TikTok app, on the side of the video you'd like to Duet, tap the Share button. Choose the "Duet" icon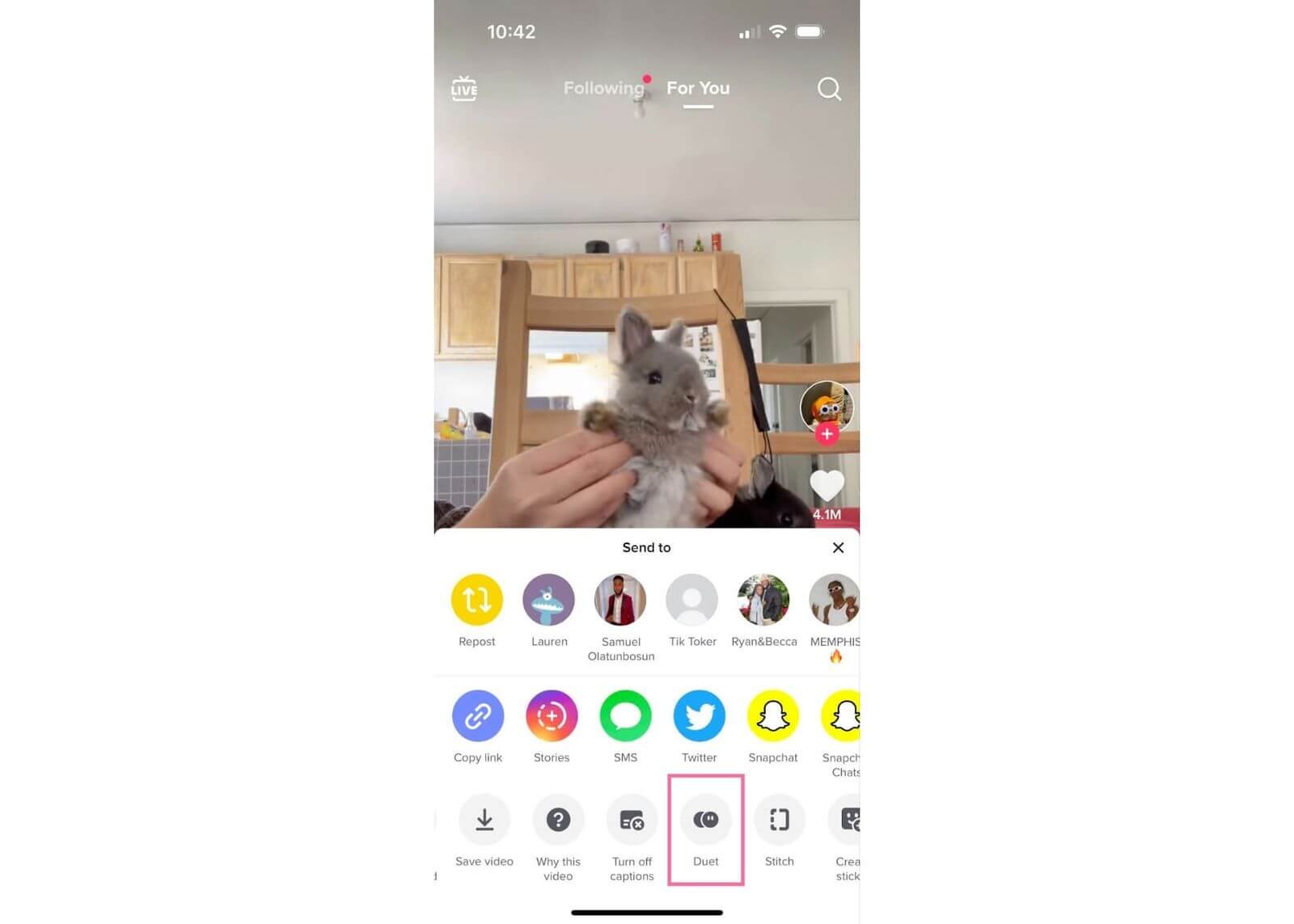 Step 2. Choose a layout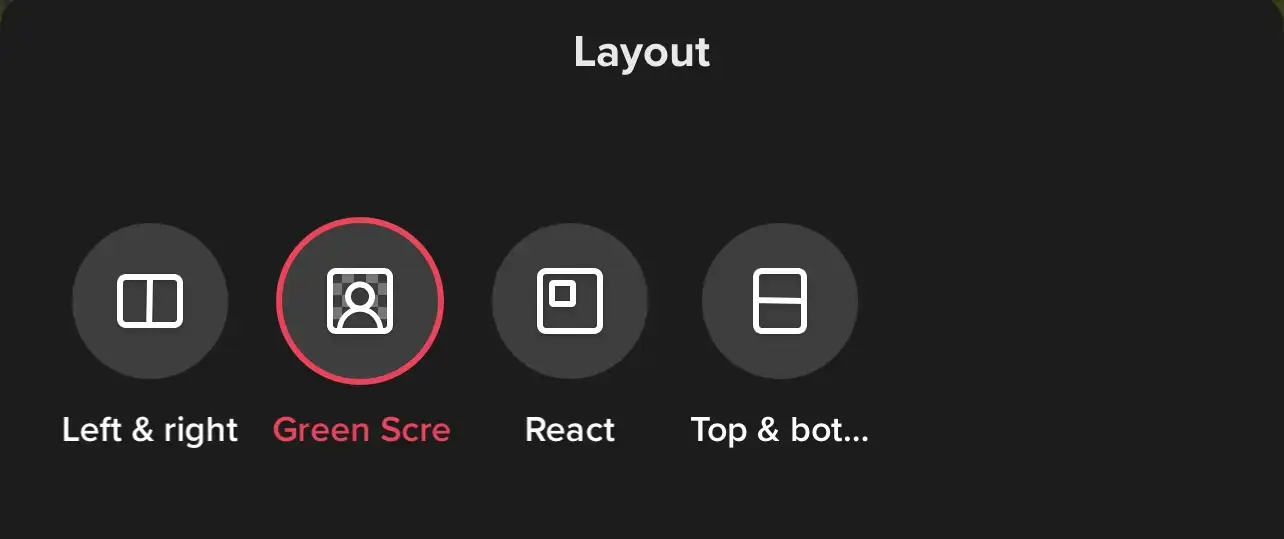 There are 4 different layouts, which are:
Left & right
Greenscreen
React
Top & bottom
Step 3. Add filter
TikTok will automatically add filters to your duet of the original video if the TikTok you are duetting with utilized them. To remove the filter or add a new one, tap the filter button in the bottom left corner.
Step 4. Record
Tap the circle red button to start your duet.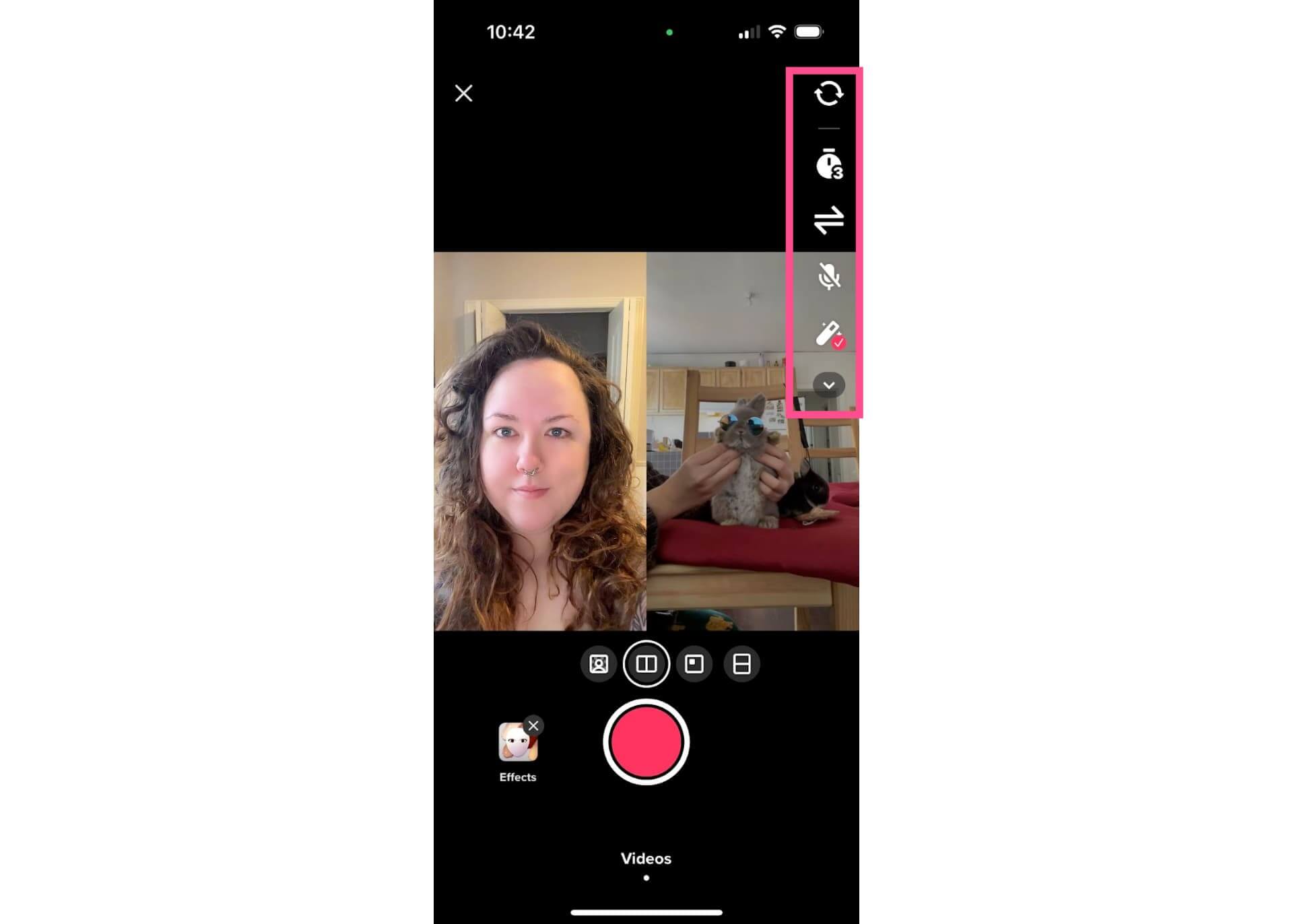 Step 5. Edit the Duet
After finishing the record, you can add:
Text
Stickers
Effects
Color filter
Voiceover
Change sound volume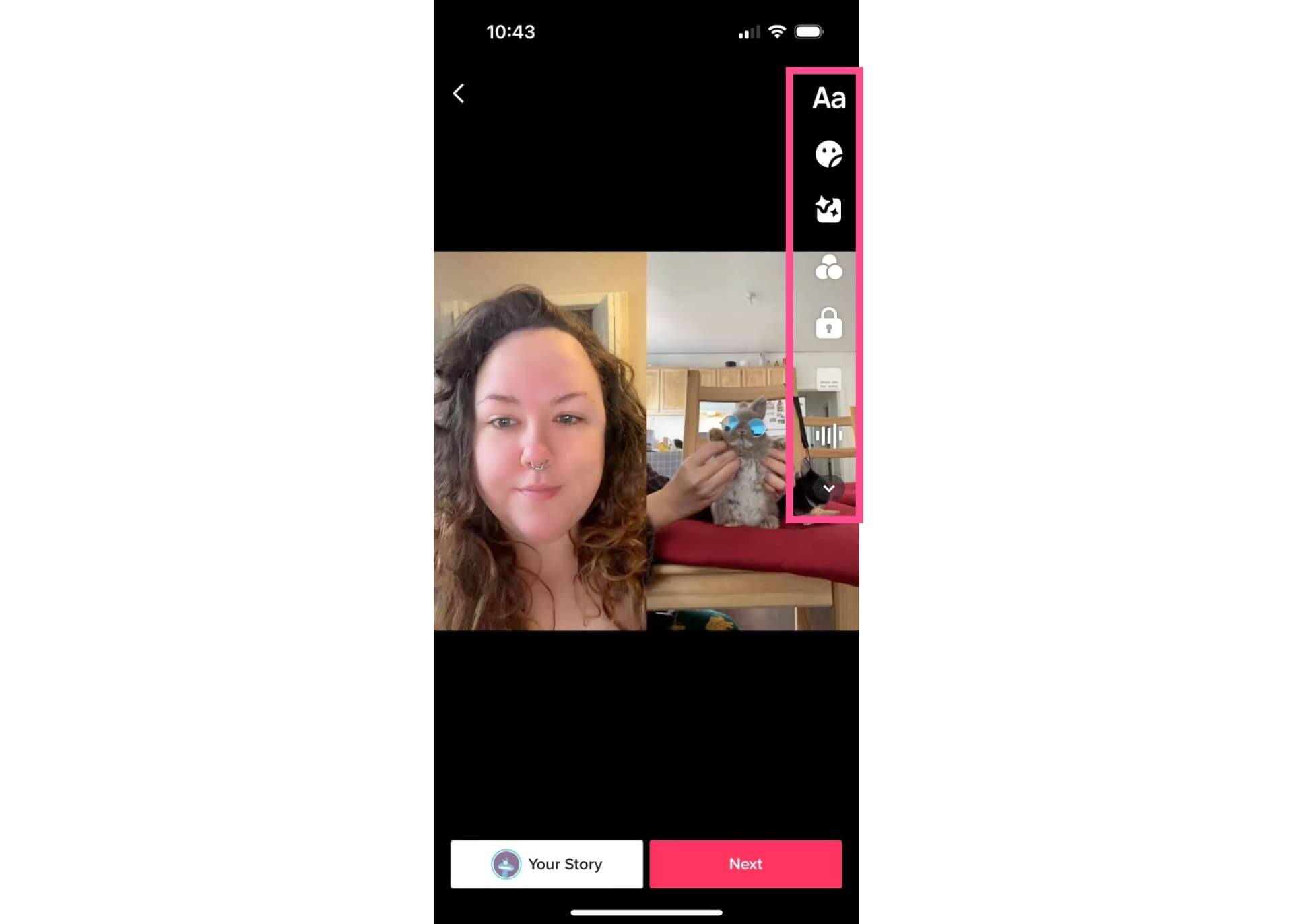 Tap the red button after finishing editing, then you can add a caption, mention, or trending hashtags. Tap Post to post your video.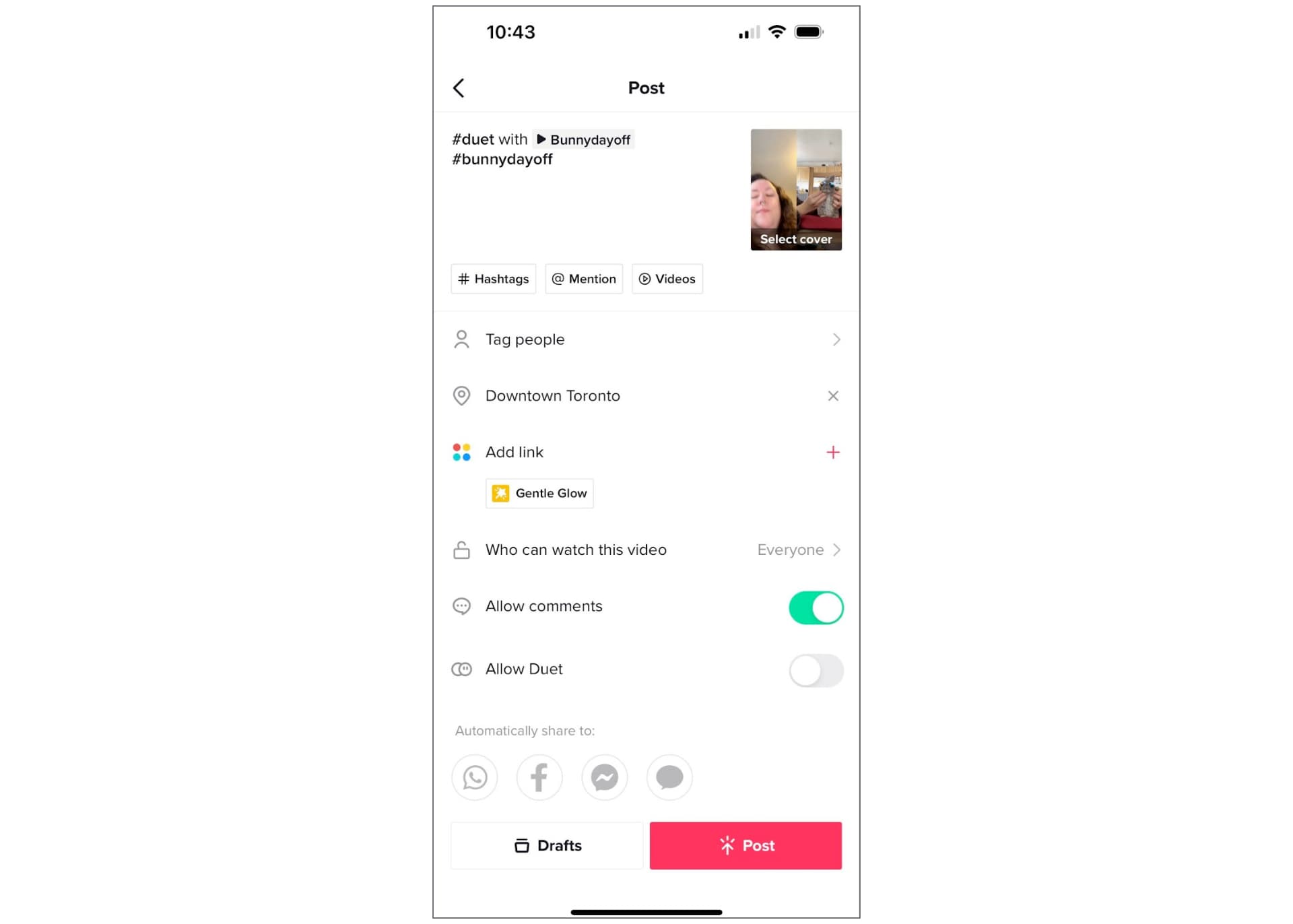 How to Add a Sound to a Duet
Your Duet video's audio wil be taken from the original recording by default, and your microphone will be muted. However, you are able to alter this. Turn on your microphone on the right-hand panel to record your audio and your own audio will be added.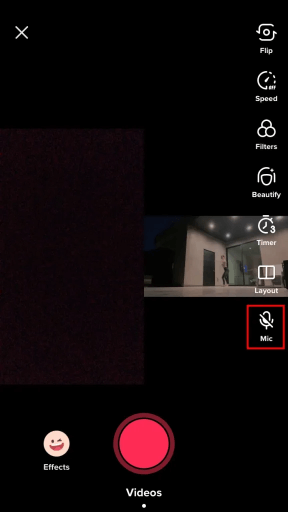 How to Duet on TikTok with a saved video?
Similar to TikTok Stitch, you're not able to Duet on TikTok with a pre-recorded video. However, you can try it in another way.
Step 1. Download the TikTok video you want to duet.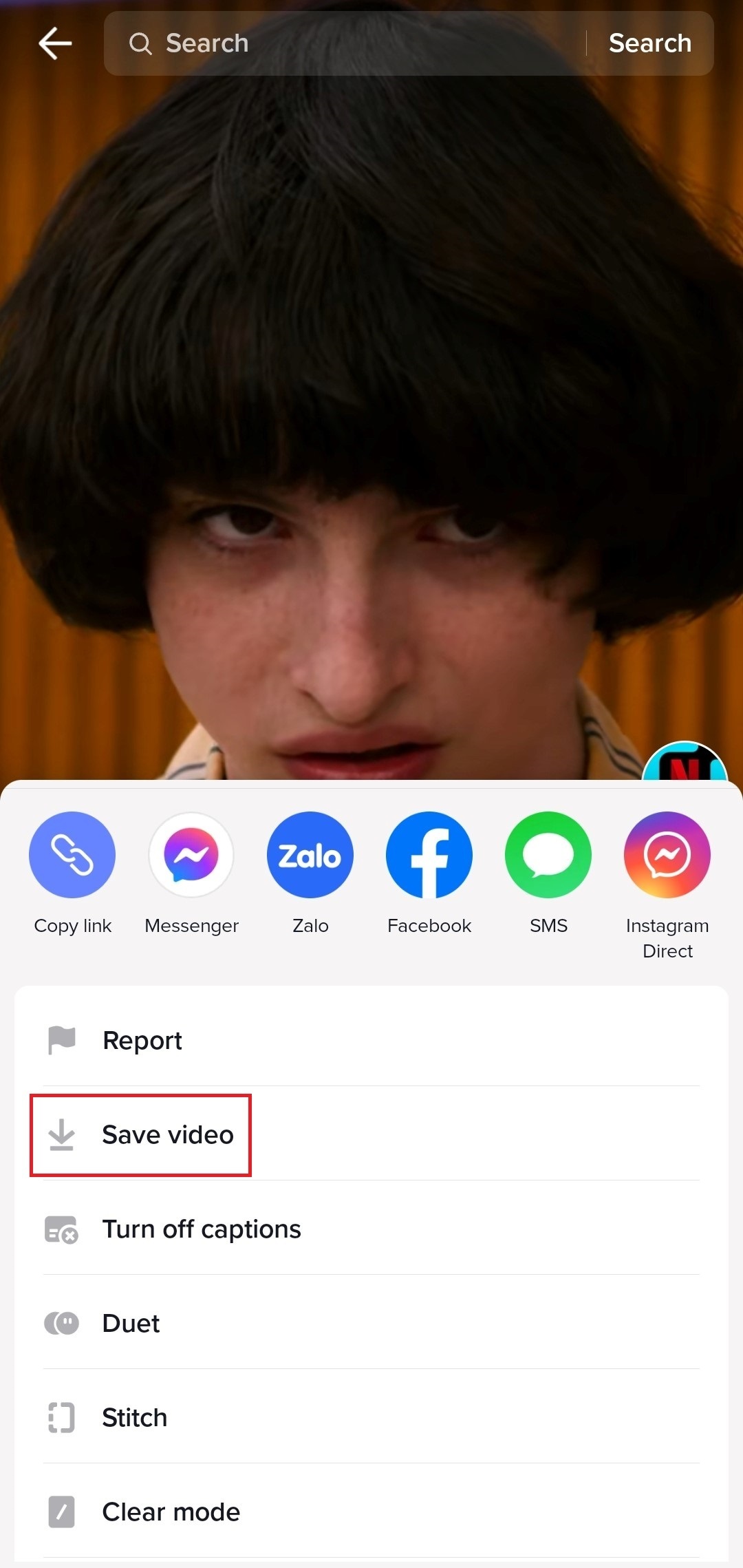 Step 2. Use a third-party app that supports video collage and import your downloaded video and your own video.
Step 3. Choose the layout you want that fits the two videos in the Duet. Edit and export your video as.mp4.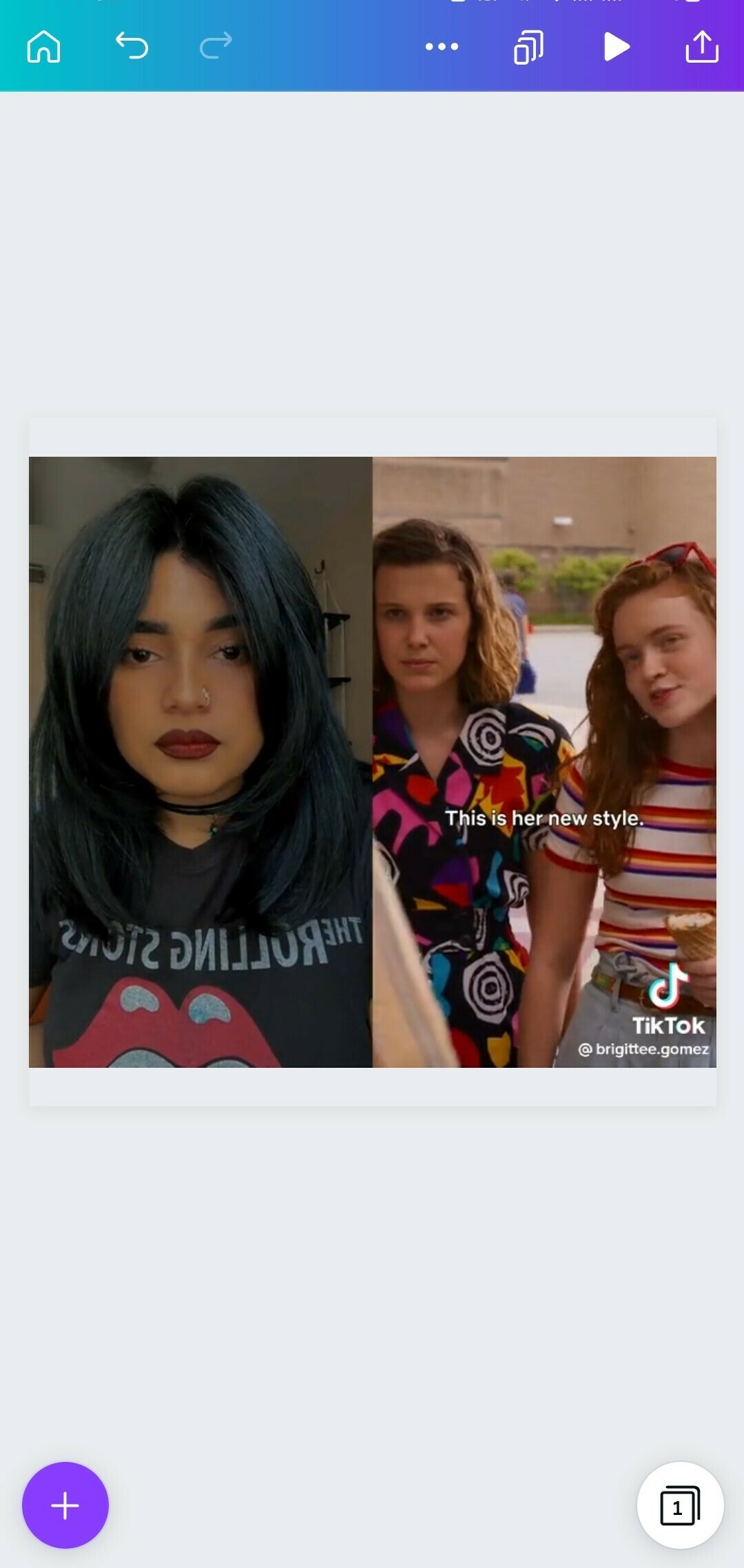 Step 4. Open the TikTok app and hit the (+) button to create a new video. Select the video you edited with Duet format and tap Next. Write a caption and tag the creator of the original video, then Post your video.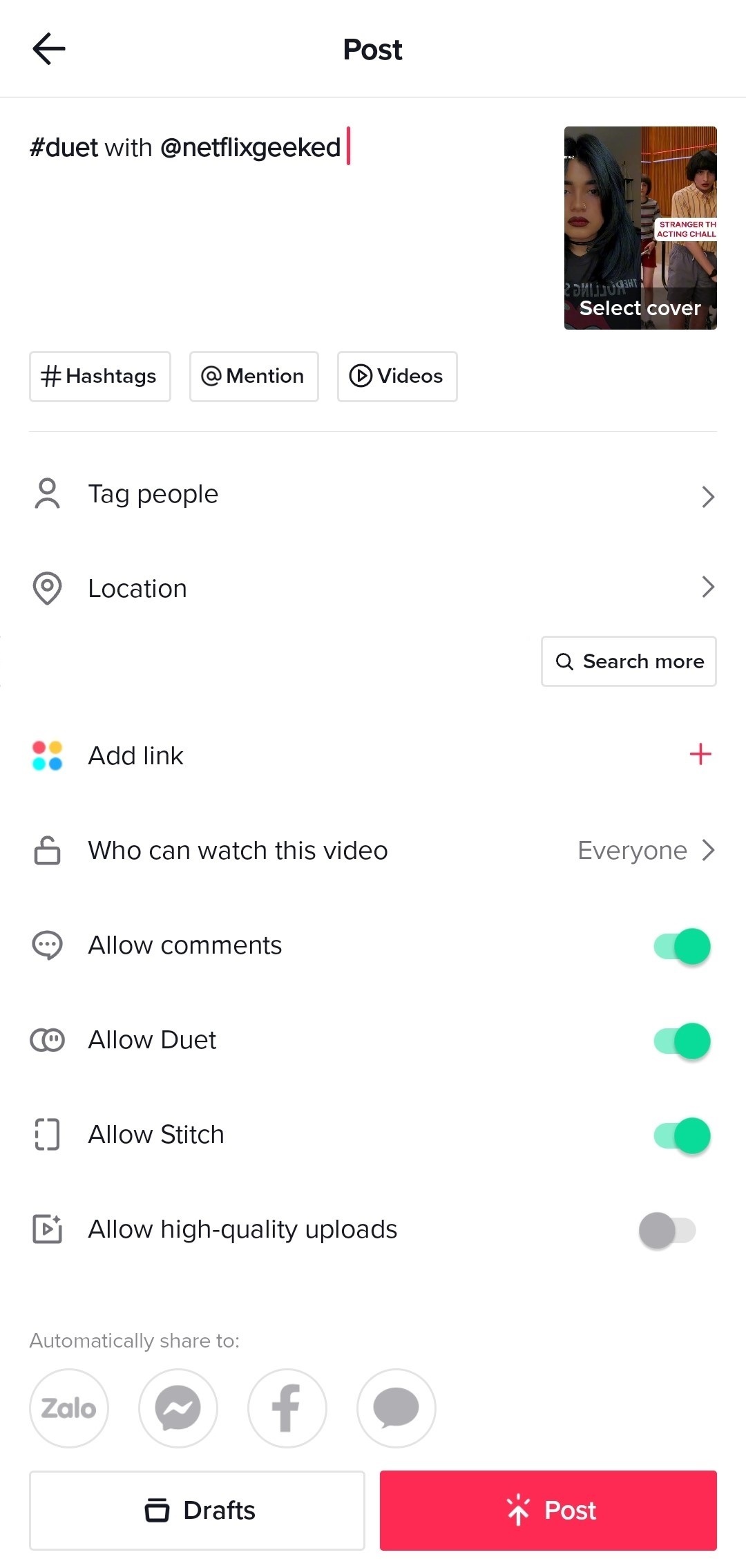 How to manage TikTok Duet privacy settings
Not all videos enable Duet. It's up to you to set its permission. To choose who can Duet with your video, follow these instructions:
Tap Profile at the bottom to visit your page
Select the Menu button at the top right corner and tap Settings and privacy
Under the Account tab, tap Privacy, then find Duet
Choose who you'd like to enable Duet (everyone, your followers, or only you)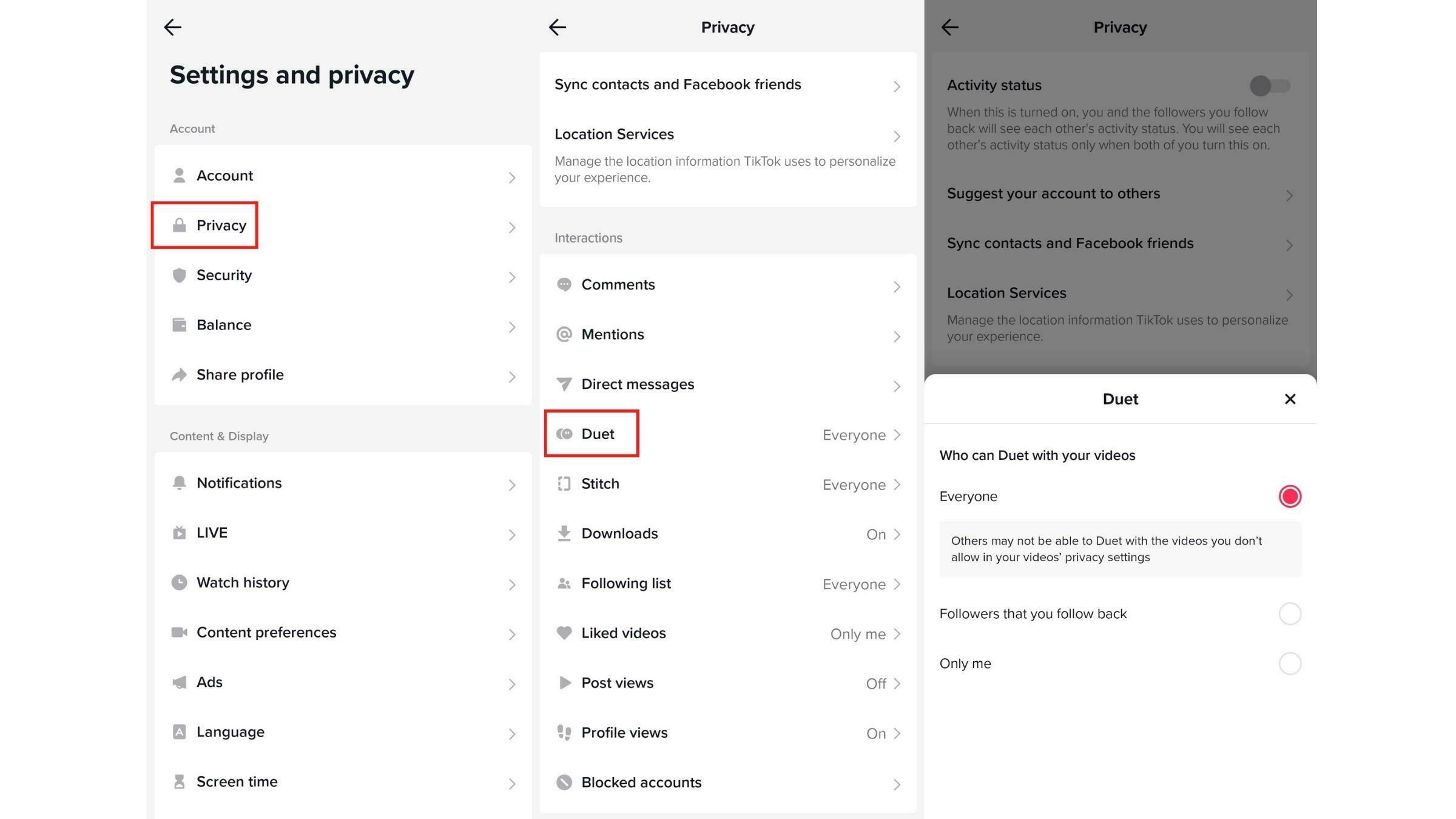 Best ideas & examples to duet on TikTok
Duet is a great way to reach your audience since it helps TikTok users create content. Successful TikTok Duets are the entertaining ones. More importantly, Duets are capable of empowering your followers.
TikTok Duets certainly can lead to incredible results and that's why brands should embrace TikTok as soon as possible. If you need some inspiration to start creating TikTok Duets for your business, here're some amazing custom-made ideas you can get.
Comment or respond to other TikTok videos
This option is particularly beneficial if you possess expertise in a specific niche or field, allowing you to provide professional insights, fact-check information, or share expert tips. You should select a video that is already gaining significant attention on TikTok, as this increases the chance of attracting viewers and encouraging engagement.
For instance, Dr. Shah, widely recognized as @dermdoctor with 13.6 million TikTok followers, frequently utilizes Duet videos to provide his professional input on viral skincare "tips," aiding users in making well-informed decisions. As an example, he created a "DermDoctor Warns" Duet to caution users against attempting a viral "pimple hack" that circulated on TikTok.
Reaction videos
Reacting to videos is still a thriving trend, especially with the convenience of the Duet feature on TikTok, which simplifies the process. You can create a Duet video where you react to a viral video or a video showcasing people trying your products, following your tips, or participating in your challenges. This approach effectively engages your audience while consistently delivering fresh and entertaining content.
For instance, Hyram, a renowned influencer recognized for his skincare advice, crafted a Duet video in response to a fan's video. The fan originally shared a before-and-after transformation of her skin after implementing the influencer's recommendations. Hyram expressed his reaction in the video, conveying his joy upon witnessing the remarkable transformation.
Do you know that you can also duet with your old videos? This means you can utilize this feature to give a new purpose to a video that has already gained popularity. By leveraging the success of your previous video, you can deliver new content to your audience and stimulate further engagement. In addition, you could provide commentary, attempt a remake, or incorporate new ideas and tips to enhance the existing content.
For instance, TikTok influencer Bella Poarch, who has over 88 million followers, produced the following duet using one of her most popular TikTok videos. She attempted to recreate the original video and used the chance to express her gratitude to her supporters, gaining 20.3 million likes in this video.
Replicate other creators
TikTok was originally designed to provide entertainment, and the Duet feature enhances this aspect by enabling users to create amusing parodies and funny reenactments of videos made by other content creators. Take a look at how TikTok creator @jsmittyy hilariously imitated Charli D'Amelio in the following Duet.
Guess the result of other videos
A creative method to add excitement and interactivity to your TikTok videos is by transforming them into a game. You can transform your Duet into an entertaining game by attempting to predict the outcome of the original video. Seek out videos that have enough buildup to enable you to make guesses about what will happen at the end.
For example, TikTok creator @mycolordad participated in a Duet with a video featuring another user mixing paint. In this Duet, the creator's dad engages in a guessing game, attempting to predict the eventual color that will result from the mixture by considering the colors added to it.
Provide an explanation for a TikTok trend
Duets on TikTok provide an excellent platform to share educational content that relates to popular videos. You can utilize this feature to create tutorial videos or explanatory content that assists others in comprehending specific trends and their mechanics.
For instance, @tonyyoumd, a medical influencer on TikTok, shared an informative explainer video that delves into the functionality of hydrocolloid patches. As these patches gained popularity on the platform, this plastic surgeon's video played a crucial role in helping users understand the effectiveness and usage of these patches.
Behind the scenes
Create a captivating video showcasing your most extraordinary videography, providing a glimpse of what happens behind the scenes as seen through your eyes.
Bonus ideas for brands to benefit from TikTok Duet
TikTok Duet is the perfect creative tool for finding and joining what's trending on TikTok. By taking part in such trends, your chance of getting noticed will rise. Furthermore, from the user's perspective, your brand will be up-to-date and compatible with their interests.
Giveaway
Another tactic, which is basic but highly effective, is doing a giveaway to show your recognition to your audience. Your TikTok users only need to make a duet highlighting your products for a chance to win free ones. As your followers will probably win free gifts, you will have the opportunity to widen your reach and showcase your incredible products.
Engage your audience through a brand challenge
What can arouse people's interest in TikTok better than a challenge? This is a great approach to your audience as it can establish a reaction chain and increase your brand presence. If you want your brand to become top-of-mind, you should consider executing a TikTok branded effect now.
Promote your product
Using TikTok Duet to introduce your product, explain its benefit and build trust from your audience. Allow people to Duet with your video to make a product review video or product try-on video. Those kinds of videos have recently has gone popular and captured a lot of users' attention, so keep in mind to take advantage of TikTok Duet in the case of advertising your product.
Influencers collaboration
Influencer marketing is taking over the advertising industry. People love to see their favorite celebrities or influencers on social media and follow them closely. Collaborating with a famous person can form an association between your brand/product with the influencer, and users are likely to take action if the person they love joins your ads campaign.
FAQS
Q: How to see Duets on TikTok?
A: Type in the keyword Duet into the search bar or use hashtags #duet. If you want to be more specific, you can type in #duet @username to find all the TikTok Duets that the creator made.
Q: How to find Duets on TikTok?
A: Play the video you like to Duet with, tap Share/Send to button then find the Duet option.
Q: How to enable Duet on TikTok?
A: Visit your Profile, and tap Settings and Privacy in the Menu button. Tap Privacy, then find Duet to choose who you'd like to enable Duet.
Q: Why can't I Duet on TikTok?
A: It is likely that the creator has disabled the Duet feature so you cannot duet with their videos. When the Duet button is gray, it means you're not able to duet with the original video.
Let's make a Duet on TikTok
Ready to create an awesome TikTok Duet that can go viral? You got all the ingredients and all you have to do now is to follow our instructions. TikTok Duet can be confusing at first but you can get familiar with it gradually.
On the other hand, TikTok Duet is beneficial even when you're running an ad campaign, so think about applying Duet to your TikTok ads strategy. If you want to get started with TiokTok ads or bring your ads to the next level, feel free to connect with our experts at NestAds to have more precious advice.