TikTok Stitch allows brands to tap into the creativity and viral nature of user-generated content (UGC). Through TikTok Stitch feature, you can integrate your original content with another user's post, resulting in a longer video. Your videos can be responded to, remixed, and shared by anyone, allowing for ongoing engagement and interaction.
If you're new to posting videos on TikTok, creating stitch videos might be overwhelming. Don't worry, we are here to help! In this article, we will provide you with the ultimate guide on how to stitch on TikTok, as well as some helpful stitch ideas for your brands to follow. Let's get started!
What is Stitch on TikTok?
Stitch is a TikTok creative feature that allows you to edit videos from other TikTok creators with your own content. With TikTok Stitch, you can trim and use a part of people's videos and incorporate them with yours.
Since one of the ultimate goals for social media content is going viral, which is normally achieved by people sharing your posts and possibly leaving comments, Stitch is the perfect way to mix and match viral video snippets into your posts and enable them to be widespread.
To let other users Stitch your video, your account must be public and turn on the Stitch for each video.
Why should brands use TikTok Stitch?
TikTok's mantra for brands is "Don't Make Ads, Make TikToks" and it is certainly true in the case of TikTok Stitch when entertainment can lead to conversion. If you want to reach as many people as possible, get them engaged with your content, and encourage them to take a desired action, then you can rely on TikTok Stitch.
Features like Stitch are extremely welcome as it boosts engagement and increases your reach. What supposes to bring people together better than collaboration? With TikTok Stitch, people can get closer to their influencers and celebrities as well as brands, and make the videos more viral.
Reach, engagement and action are the ultimate goal of your ad campaign, therefore, TikTok Stitch opens another opportunity for users to connect with your content in a different way. In return, you get the credit and the free brand exposure at the same time.
How to create a Stitch video on TikTok (step-by-step)
Stitch a video on TikTok
When you watch an interesting video on TikTok and want to make your own version, you can Stitch that video by following these steps:
Step 1. Tap the Share/Send to button on the side of the video you intend to Stitch in the TikTok app.
Step 2. Find and tap Stitch at the bottom of the screen.
Step 3. Trim the part of the video you'd like to Stitch then tap the Next button at the top right corner. TikTok allows you to select up to 5s from the original video.
Step 4. Record your response by tapping the Record button. Your video must be longer than 3s. The filming options are available on the side panel.
Step 5. Tap the check mark to move on to the Edit stage. Tap Next after you finish editing the video.
Step 6. Finally, adjust your video settings and tap Post. Now your Stitch is ready to watch.
Stitch video on TikTok from cameral roll
You may wonder if it is possible to stitch on TikTok with a pre-recorded or saved video. Unfortunately, this option isn't available on the app, but you can do it in a different way.
Step 1. Download the TikTok video you want to stitch.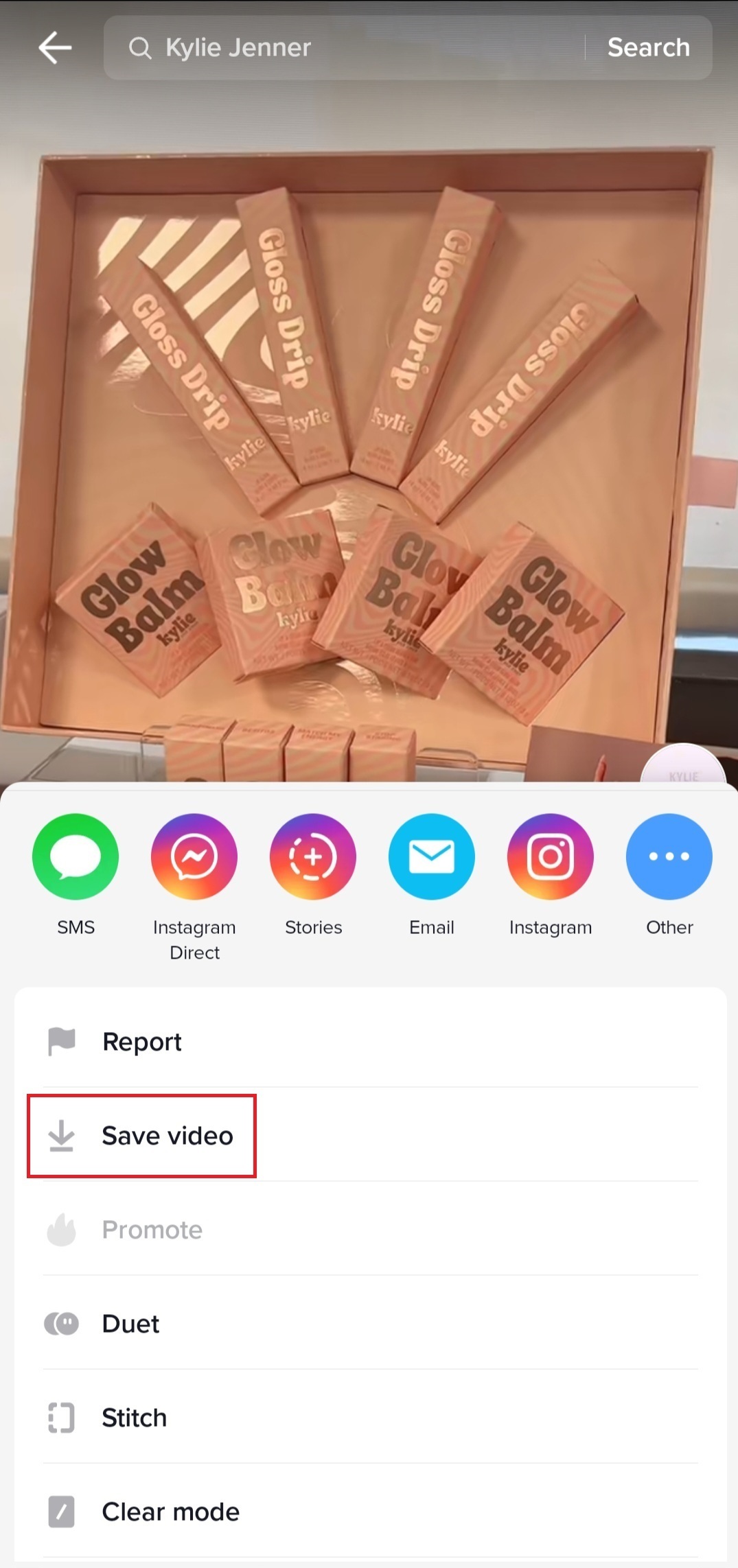 Step 2. Open the TikTok app and hit the (+) button to create a new video. Tick Select multiple then choose the video you'd like to Stitch and the video you want to incorporate with it.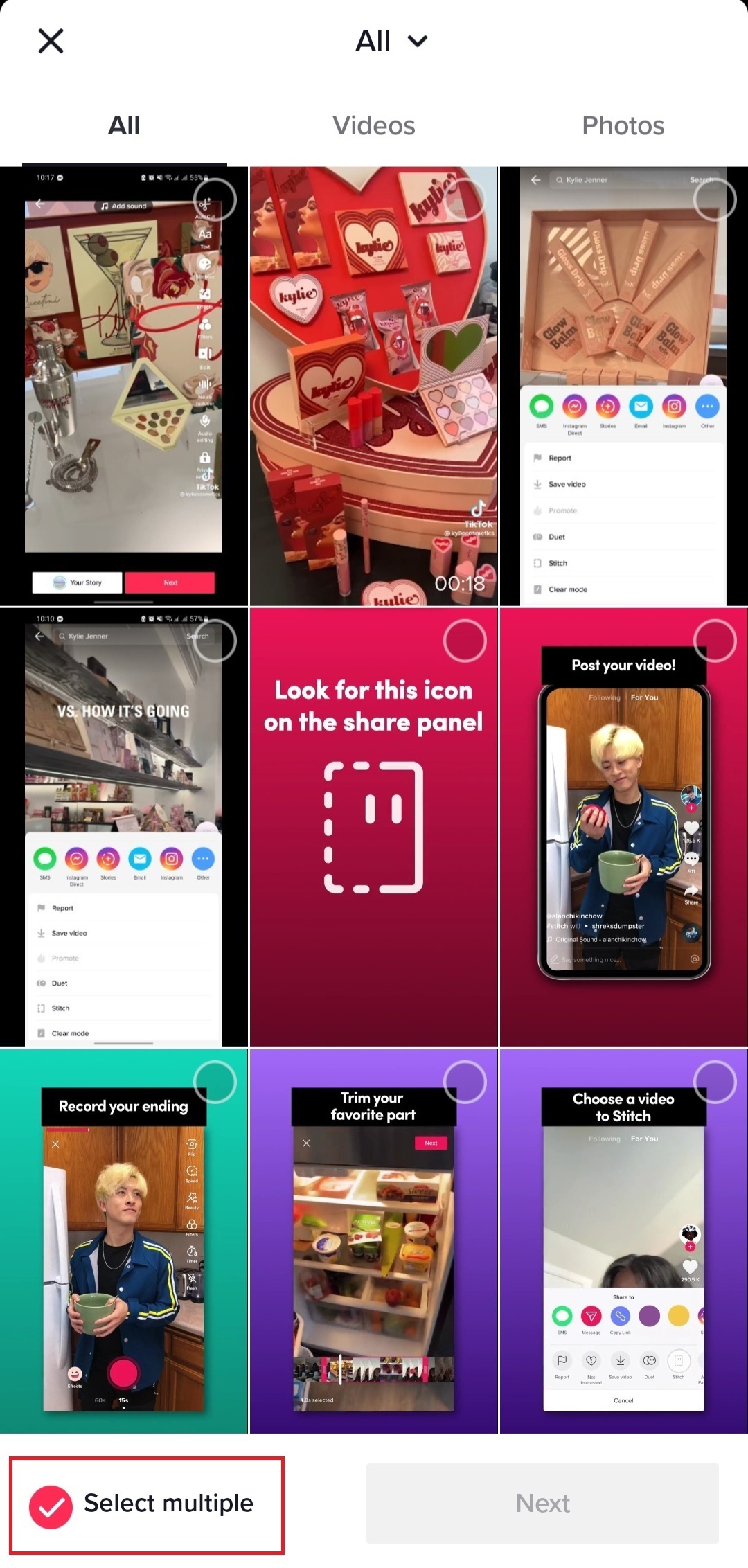 Step 3. Click Edit from the right menu bar and trim the video you want to stitch video to 5s. When you are done editing, tap Save then Next to upload your video. Tag the creator of the initial video.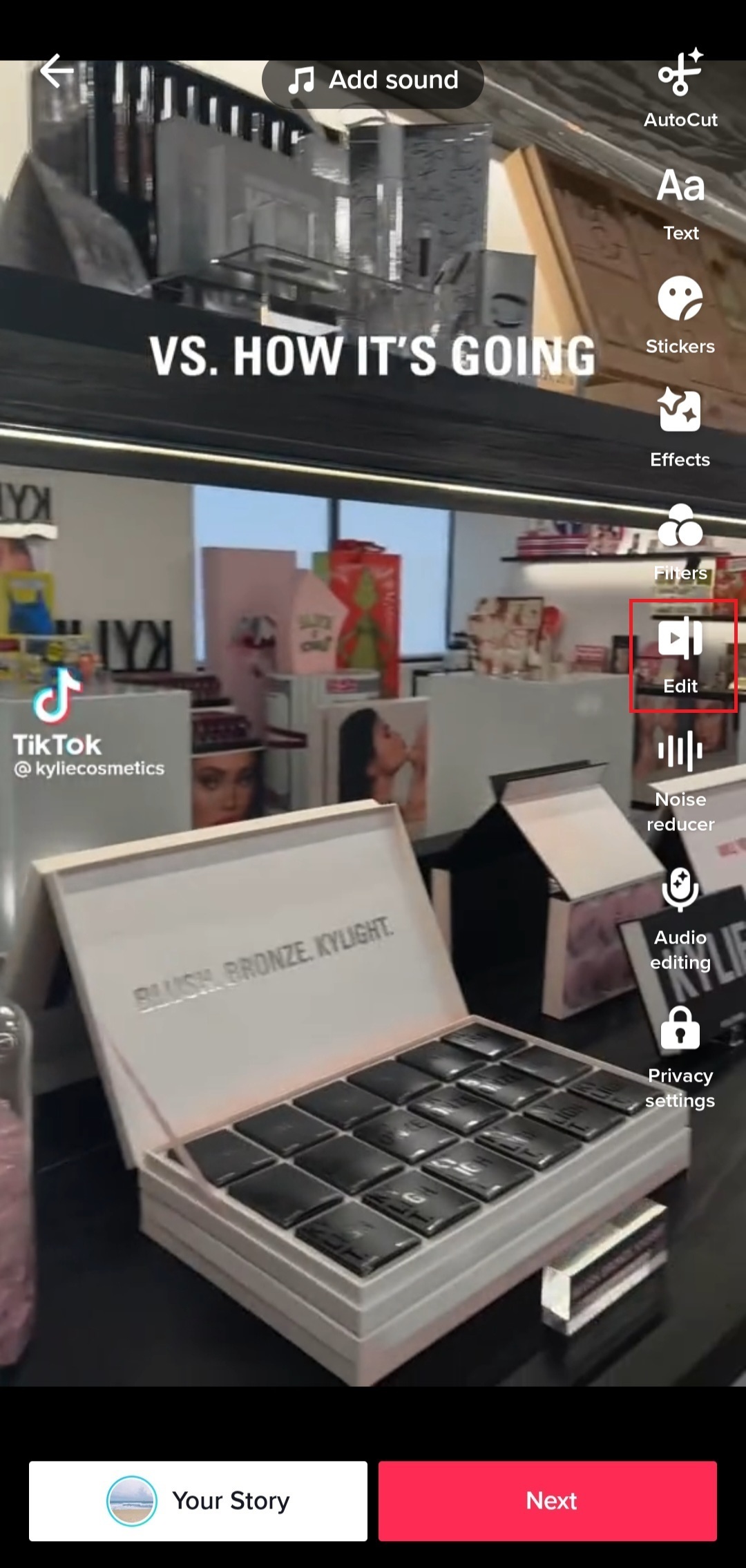 Adjust your Stitch options
Allowing people to Stitch your videos will undoubtedly benefit your brand as it broadens the reach, engagement, and direct response to your videos. However, when you invite collaboration, you are also inviting possible criticism.
Luckily, you can adjust the Stitch setting on the Privacy page. Here's how to enable and disable TikTok Stitch:
Go to your profile and tap the three dots in the top right corner and tap Setting and privacy
Under the Account tab, choose Privacy
In the Interactions tab, tap Stitch and set the permission for who can Stitch with your videos ("Everyone", "Friends", or "No one")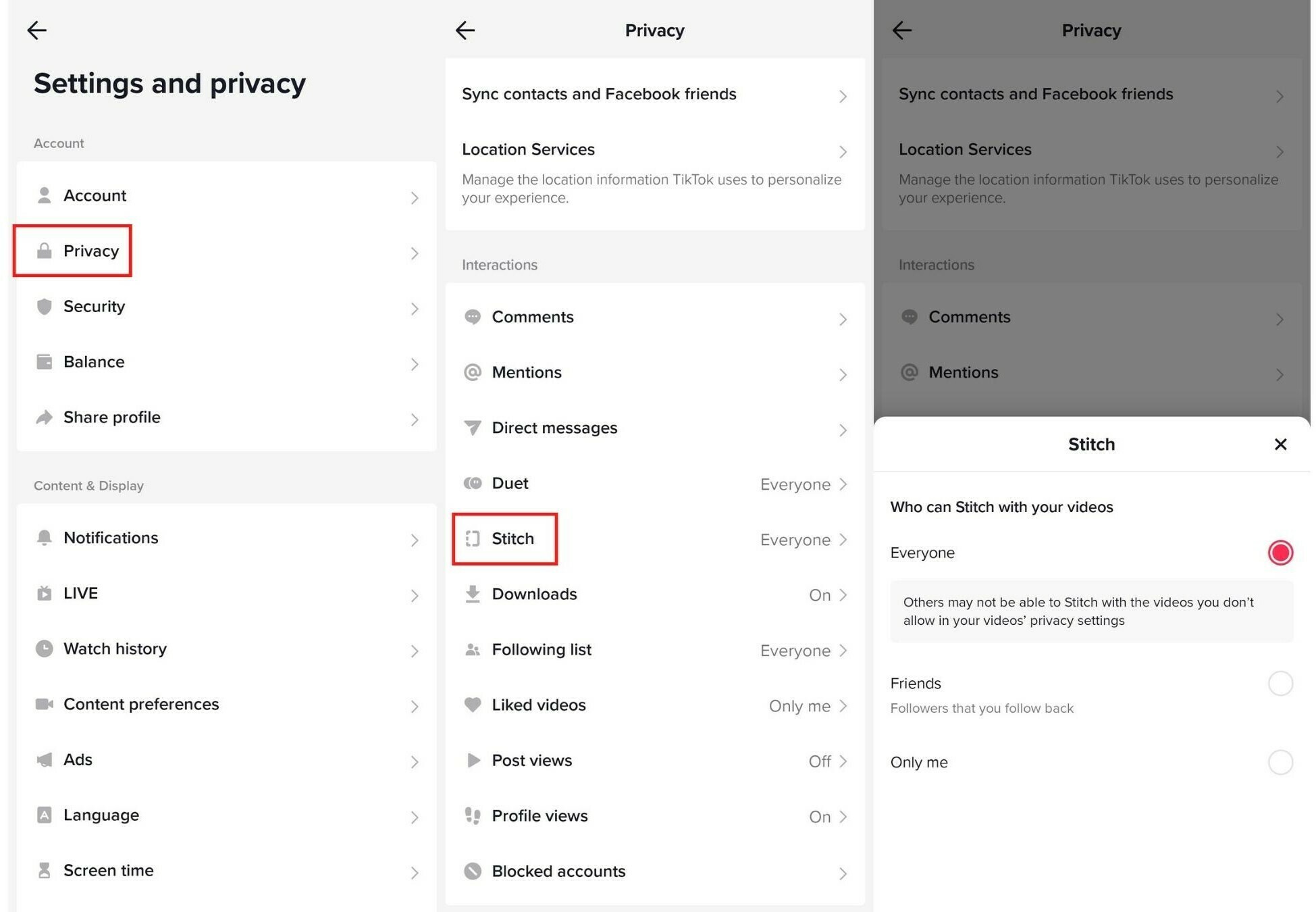 6 top ideas for brands to make excellent TikTok Stitch
Stitch is a wonderful way to make your TikTok and TikTok ads more attractive, so embracing its creative power would give your brand a fresh look. With this new format of videos, you can get some inspiration for your next content strategy from the ideas and examples below.
Introduce your product
With TikTok Stitch, your products can go insanely viral when users start to try your products and create a chain reaction through the Stitch. Videos about product reviews now gain a lot of user interest and attention, so make a gorgeous product introduction video and let your audience do the rest of the job.
Answer your audience's questions
In a Stitch video, TikTok automatically gives the original content creator credit, so answering open-ended questions from your audience is a great way to keep your brand's presence to your users.
Also, when you give an answer and solve your user's problem, it makes the connection between the creator and the viewer deeper. Remember to maintain interaction with your audience and win their hearts with your dedicated responses.
Collaborate with influencers
While Stitch may appear to be a creative tool designed for individual content creators, brands may use it too, particularly when working with TikTok influencers. In this way, your brand can expand its reach and leverage the performance of your videos.
In the end, it's all about making people aware of your product and purchasing it, so their first impressions of your brand are paramount important. As a result, collaborating with popular TikTok creators or influencers can raise your credibility as well as your chance of getting noticed.
Execute a brand challenge
Thanks to the potential of amplifying the popularity of the video, TikTok Stitch is tailor-made for brands to promote a brand challenge. As long as people participate in it, your chance of going viral is very high. This is a fantastic approach to your audience and it allows people to join in on the fun that your brand created.
TikTok is where viral internet trends are found, whether they involve a dance challenge or the sharing of personal experiences. And Stitch is a great creative tool for anyone who wants to take on these challenges or join the excitement by giving it their own personal interpretations.
Ask open-ended questions
Open-ended questions encourage user engagement and interaction. By posing a question that requires more than a simple yes or no answer, brands can stimulate meaningful conversations with their audience. Moreover, open-ended questions provide valuable insights and feedback from users. When users respond to open-ended questions in their Stitched videos, brands can gain a deeper understanding of their audience's preferences, opinions, and experiences. This feedback can be invaluable for market research, product development, and refining brand strategies.
TikTok Stitch: Best examples that inspire
Stitch will impact brands significantly because it promotes user-generated content (UGC). In a survey, 79% of respondents agree that they are highly impacted by UGC content. Therefore, your brand should take advantage of this new feature to encourage consumers to make content around you. How can you do that? We have found the best TikTok Stitch videos that might give your brand inspiration!
Adidas
TikTok challenges are widely popular, and brands have the opportunity to take advantage of this trend through TikTok Stitch. Adidas has effectively utilized this feature with their #madepossiblewithadidas challenge. In each video, a person starts by asking the question: "Can you show me something you believed was impossible until you accomplished it?". Users then stitched their own videos, showcasing an achievement they initially thought was beyond their capabilities. At the end of their video, they repeated the same question. This created a chain of stitched videos that reach 513,000 views and continues to grow.
This campaign is an excellent example of proactively encouraging TikTokers to use the stitch tool. Consider the type of conversation you would like to engage in with your TikTok community. How can TikTok Stitch inspire your audiences?
Bartleby
Bartleby, a company specializing in study tools, came across a TikTok video by Asher (@stinkyasher) that showcased a humorous skit related to homework. The brand then collaborated with Asher to create a supplementary 'postscript' for his original video using TikTok Stitch:
This is another notable aspect of Stitch, as you can use your own previous content as a source. This means you can relaunch content, add humourous elements and provide informative additions. It's a good way to encourage conversation directly with young people about your brand
Moira Beauty
If your brand awareness is still lesser-known, TikTok Stitch would be so suitable. Let's consider this video by Mikayla Nogueira (@mikaylanogueira) as an example.
In a makeup video, Mikayla provides a review of Moira Beauty cosmetics products. She took another creator's review and put it to the test herself, resulting in a unique "review within a review" format. Through this process, she affirms the exceptional quality of the products. By introducing your products to the world and enabling creators to stitch your videos, you open the door for more reviews and unboxing experiences. This not only enhances visibility but also builds trust among consumers.
Mypheme
Mypheme, a clothing brand, discovered TikTok user Roxanne Olaru (@roxanna.roxi) sharing a hack to style a dress resembling their own. In response, Mypheme decided to try out Roxanne's idea themselves, specifically with their 'Artemis' dress.
TikTokers always love to engage in trends, so pay attention to people posting things relevant to you. Responding with a TikTok Stitch not only earns you appreciation but also garners recognition from TikTokers who appreciate being credited by brands for their work.
Amazon Prime
TikTok Stitch proves to be highly effective when it comes to creating memes. Initially, it was used for funny skits, reactions, and other meme-like content. This is great for brands since a clever TikTok Stitch doesn't come as a typical advertisement. By collaborating with influencers, brands can develop humorous content that generates excitement, entertainment, and inspiration and aligns with viral challenges. Consider this video from Leenda Dong (@yoleendadong) as an example:
Amazon Prime successfully engaged creators in stitching scenes from their extensive collection of movies. This approach is a fantastic method to optimize the potential of your existing video assets. By sharing these scenes on TikTok and collaborating with influencers to stitch with them, you can attract a wide audience and even inspire organic user-generated content as others create their own memes in response.
Stitch represents a significant advancement for the influencer marketing industry, as it provides creators and brands with an efficient, fast, and innovative platform to collaborate
TikTok Stitch vs. TikTok Duet: What is the difference?
TikTok Stitch and TikTok Duet work on the same principle as they allow you to use other people's videos on your own. The difference is, with TikTok Stitch, you incorporate clips from other TikTok videos and repost them as part of your own video while with Duet, the two videos play in a split-screen format.
Unlike Duet which requires you to use the entirety of the original video, a Stitch video is limited to five seconds of the original video.
Get ready to Stitch on TikTok
You're well prepared to rock this with the essential understanding of TikTok Stitch. Remember to use Stitch to increase the audience's interaction with your business and drive engagement towards your brand.
It would be great to apply TikTok Stitch to your TikTok ads campaign since it can boost your ads performance in an organic way. TikTok ads might seem complex at first, so if you still need a hand, feel free to contact our TikTok experts at NestAds to enhance your performance on TikTok.