Have you ever wondered why your TikTok videos are amazing but struggle to reach a wider audience on the For You Page? If so, you're not alone. Understanding the TikTok algorithm is crucial to achieving viral success and expanding your reach on this platform. In this article, we will delve into the fundamentals of the TikTok algorithm and provide you with secret tips to make it work in your favor.
What is TikTok algorithm?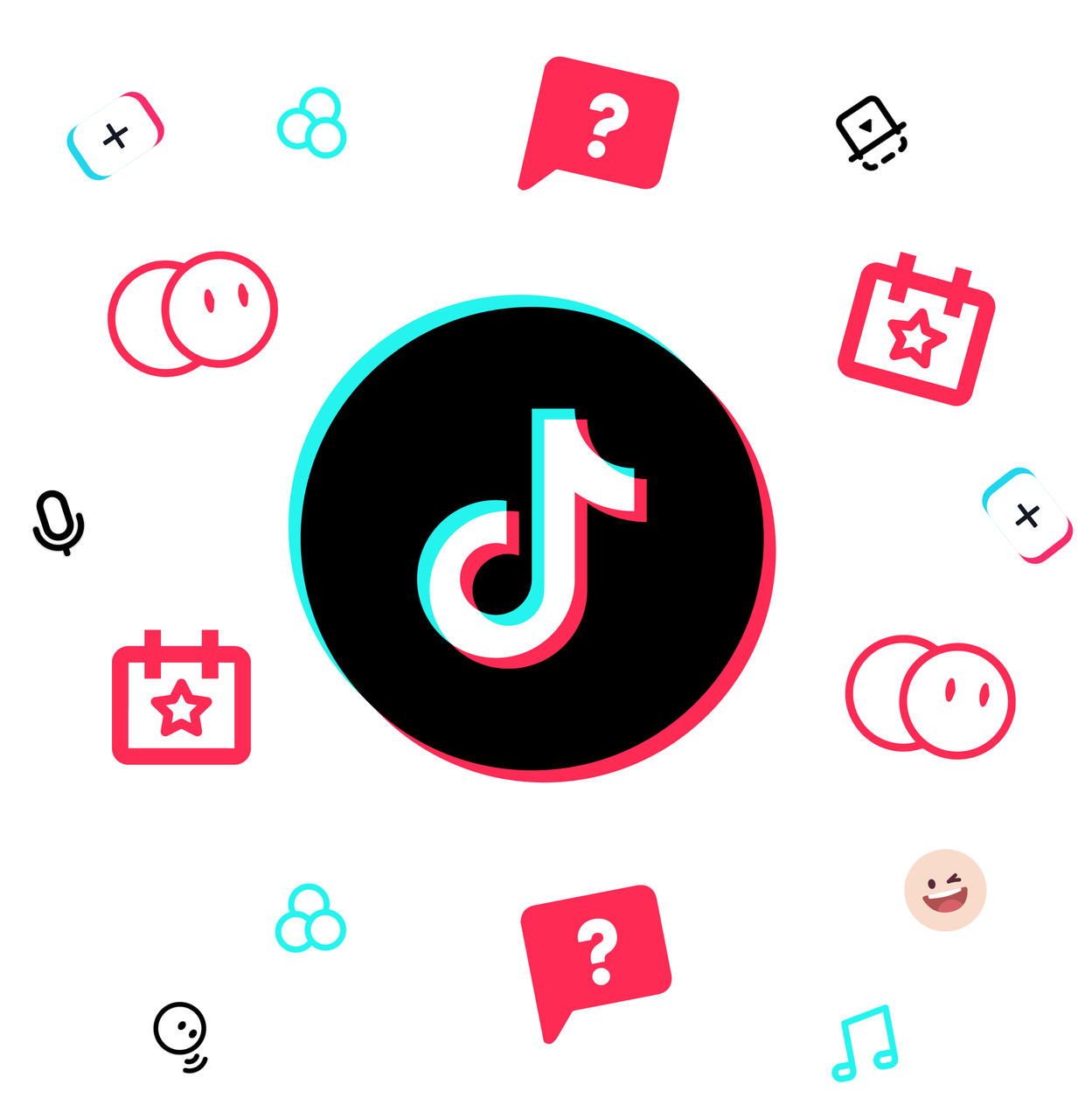 TikTok algorithm is a recommendation system that determines which videos would appear on your For You page. Like any other good algorithm, it brings content that matches users' interests. The main goal of a recommendation system is to distribute content that aligns with users' preferences and the preferences of individuals in similar demographic groups.
The core of TikTok's recommendation system and algorithm revolves around the "For You" page.
TikTok For You page (FYP) is a personalized collection of videos specifically curated to match the user's interests. In a simple way, your friend and you will see different videos on each For You Page due to different viewing behaviors. For example, it makes sense that someone who shows a high interest in beauty and makeup products may get more suggestions for related videos.
As a result, the types of video content will change over time since the audience's interest doesn't always stick to a specific subject. Thanks to this algorithm, TikTok offers a great user experience for the audience by helping them to reach their desired video.
How does TikTok algorithm work?
TikTok has recently revealed its secretive algorithm which was a hot topic since the beginning. TikTok users and especially businesses are always concerned about what factors affect the For You Page. According to TikTok, the TikTok algorithm is created by following three main factors:
User interactions
Video information
Device and account settings
User interactions
TikTok is a shoppertainment platform that always puts the user's behavior in the center. All the information about behavioral signals allows TikTok to get a better view of the unique interests of each user and how they change over time. Thanks to this data, TikTok will choose the video that matches the user's preferences.
Here are the five key data signals that TikTok is based on:
Video likes and shares
Accounts followed
TikTok comments
Content created
Videos users marked as "Not interested"
Videos users add to their "Favorites"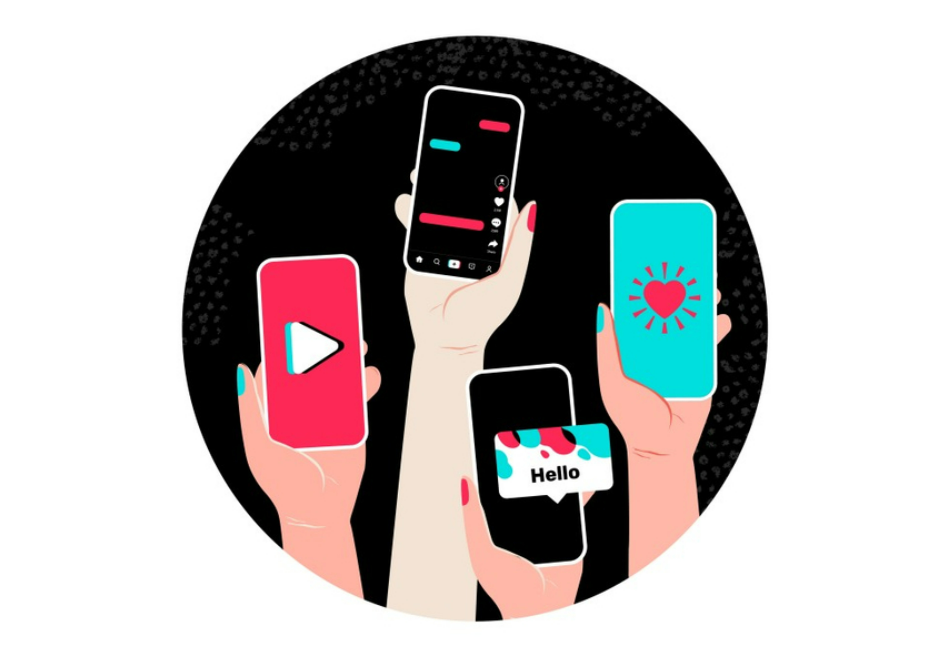 Otherwise, the algorithm also considered whether or not TikTok users watched a video until the end. Sticking with a video from beginning to end is specific data showing a high interest in this topic, compared to other factors. It also means that they want to watch similar types of content. Due to the huge number of TikTok videos created each day, keeping a viewer staying until the end is really difficult.
TikTok leverages the information from four factors presented to understand the types of content you prefer to watch and the creators whose content you enjoy. Therefore, it's easier to show videos related to the ones you have watched and interacted with before.
User interaction in reality
User interactions undeniably influence the algorithm, and TikTokers are well aware of this fact.
The TikTok algorithm accurately identified the potential of the following viral video, which appeared on my 'For You Page' a few weeks ago. While I don't frequently engage with TikTok videos, I did express my appreciation for the content by liking the video and leaving a comment about its heartwarming nature. Although I chose not to follow the creator, I genuinely enjoyed the brief and pleasant interaction."
The video garnered an impressive 785,200 likes, 9060 comments, 76,900 saves, and 5,579 shares. Particularly noteworthy is its astounding 6,000,000 views. Due to my engagement through a like and comment, the creator's second, follow-up video, appeared on my 'For You Page' (FYP).
Video information
Apart from behavioral signals, all the things that help to identify a video are definitely considered:
Captions
Sounds
Hashtags
Trending topics
Effects
TikTok hashtags play a major role in discovering what content video is more likely to appear on each user's For You Page. It's a word or keyword phrase preceded by a hash symbol (#) that helps to categorize TikTok content. Otherwise, the video length and stickers used also help TikTok to rank the content in a better way.
Video information in reality
TikTok has gained significant popularity for its affiliation with trending sounds. By utilizing these trending sounds, the TikTok algorithm can accurately pinpoint a specific audience likely to interact with a video based on their past engagement patterns. If a user consistently watches a video until the end whenever a particular sound is featured, it indicates their enjoyment of the content and their desire to view similar content in the future.
It is essential to note that trending sounds encompass more than just viral dances. Brands can leverage these sounds to quickly gain visibility among a broader audience. Take Skinnician, a skincare product Irish brand, for example. By promptly embracing a trending sound, Skincian's most viral video achieved 50,900 views, 2,142 likes, and received 40 engaged comments. This video served as an introduction of the brand to its TikTok audience.
Tips for using video information effectively
TikTok experts highly recommend conducting keyword research within the TikTok app and incorporating those keywords into your video, captions, and hashtags.
Device and account settings
Device and account settings such as language preference, country setting, and device type are also regarded as an indicator of the TikTok recommendation system. TikTok uses these factors to optimize the system performance, but they show a lower weight in the algorithm compared to other data measures.
TikTok's algorithm also takes into account the type of device you are using. It may prioritize showing you videos that your device can play smoothly, particularly to enhance the user experience for those using older phones or smaller screens.
Types of content TikTok algorithm won't show
To ensure that your video will be recommended by TikTok, you should know some content the algorithm prevents from appearing in users' For You Page including
Content flagged as "Not interested" or spam
Inauthentic content
Content that has the potential to compromise safety.
Overtly sexualized content
Tobacco and alcohol products
Violent and graphic content
Content that lacks originality, poor quality, or consists of QR codes.
Although these kinds of content may be allowed, searchable, and viewed on TikTok, they are not eligible for TikTok recommendation.
How to beat TikTok algorithm with 9 best practices
Focus on your own community
The first thing you need to be concerned about is choosing the right community to focus on. Users spend time on TikTok not only to entertain but also to get inspired by the TikTok community. The more you share valuable videos related to your niche, the more TikTok will recognize your content and begin to serve it to the right audience.
Keep in mind that your video needs to align with your community preferences. Depending on each user's personal interest, both TikTok and TikTok users may want to avoid certain categories of content. For example, the TikTok algorithm won't approve nature content or complex themes for the teenage community.
Attract the audience from the very first seconds
Hooking your audience within three seconds is considered an important part to make your video recommended by the TikTok algorithm. With over 1 million content creators active on TikTok, users want to be entertained immediately, if not they will skip to the next video.
It's highly recommended to grab their attention within the first few seconds and keep them watching the entire video. Being a fast-moving platform, TikTok won't give any space for slow build-ups that can lose viewers' interest.
Keep in mind that the TikTok algorithm prefers videos that are easy to digest and have a seamless loop. When your video has a catching hook, users will most likely watch till the end or even on repeat. It will be a good point to make the TikTok algorithm boost your video.
Make shorter videos
TikTok has recently extended the maximum length of the video to 10 minutes, however, the ideal one is still between 21 to 34 seconds. Therefore, it's better to lean toward a short video because short is the key to the TikTok algorithm.
However, it doesn't mean that long-form videos are not dedicated to TikTok and you should avoid them. Don't hesitate to give them a try and consider whether or not they are aligned with your brand identity, your must-meet goals, and especially your audience on TikTok.
Hashtags allow the TikTok algorithm to find, understand and therefore categorize the content. Relevant and trending hashtags are merited to use because they are a great way to extend your reach beyond your followers.
Without a doubt, most content creators and marketers know the value of TikTok hashtags. They are even prioritized more than trending sounds and effects.
Use trending sounds
It's obvious that TikTok and trending sounds go together extremely well.
Because the TikTok algorithm tends to prefer videos that use trendy sounds, it's a good idea to join in on trends while they are still popular. Jumping on these trends can increase your chances of getting more attention and engagement on the platform. Here are some common ways to find trending sounds on TikTok:
1. Browse through TikTok and pay attention to any songs or audio clips that you come across repeatedly. If you notice a particular clip gaining popularity, click on the audio to see how many people have used it to create their own videos.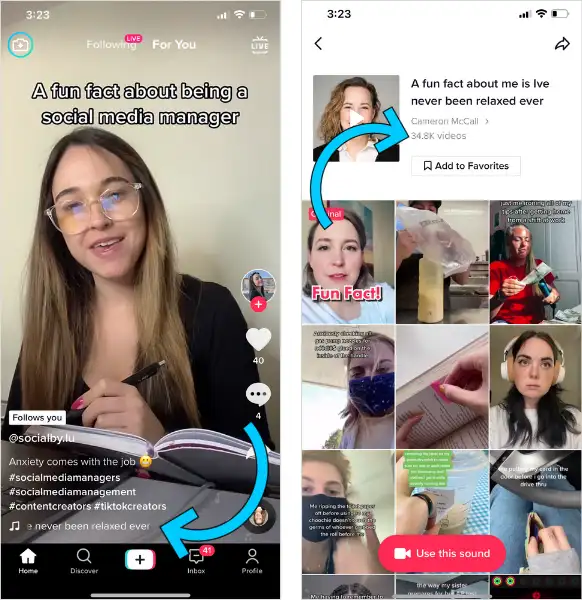 2. Go to the video editor and access the "TikTok Viral" tab. From there, choose the "Sounds" option to explore the most recent trending audio tracks.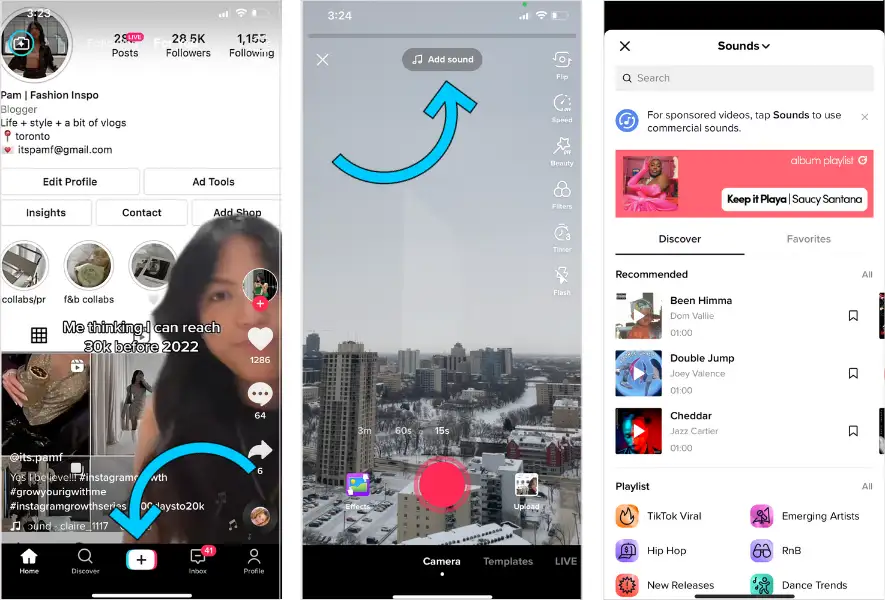 Improve your TikTok SEO
Captions and hashtags serve as textual elements that provide context to videos. If captions play a role in the algorithm, it implies that words, or keywords, indeed have an impact on the TikTok algorithm.
While it's possible to keep your captions short or even leave them blank on TikTok, it's more beneficial to use them wisely. Here are some tips you can utilize to improve your TikTok SEO:
Writing captions that relate to your video: This helps the TikTok algorithm understand the content and present it to the appropriate users
Sharing your videos to other platforms: This helps increase the visibility of your videos on Google
Post at the right time
Try to publish your video when your target customers are most active. It is regarded as one of the main factors that increase your chances of going viral on TikTok. By checking your Followers tab, you can get a better view of your audience's activity to find the most optimal time to post on TikTok.
The universal perfect time doesn't exist because it depends on audience-specific points. In general, the best time to publish is from 6 am to 10 am and 7 pm to 11 pm. However, the best approach is to check your TikTok analytics. This will show you when your followers are most active and engaged, helping you determine the ideal time to reach out to your audience.
Experiment with new features
TikTok is a platform that always fills up with "hot news" and amazing updates that brands can leverage to gain more visibility. It always tries its best to build more winning features to meet the demand of different types of businesses. Keep an eye on every latest feature to reach more users and get deeper engagement with your audience.
Almost all TikTok new features stick with specific events – a perfect way to keep your brands up to date. For example, for the TikTok holiday shopping season, this platform has recently launched Shopping Ads to create unique experiences for customers.
If you aim to master all the latest TikTok Ad types, don't hesitate to try our new product NestAds – TikTok Advertising Management Software!
Collaborate with other content creators
Last but not least, engaging with other TikTok creators is another best practice to take advantage of the TikTok algorithm. Appearing in other brands' videos or simply liking and commenting will make TikTok appreciate your efforts and bring you a favor when you publish your new video.
TikTok, after all, is still a social media platform, a place to connect brands from different sectors and different cultures.
FAQs
What are the most important TikTok ranking factors that affect which videos show up on FYP?
1. User interaction
Video likes and shares
Accounts followed
TikTok comments
Content created
Videos users marked as "Not interested"
Videos users add to their "Favorites"
2. Video information
Captions
Sounds
Hashtags
Trending topics
Effects
3. Device and account settings
How to reset TikTok algorithm?
On March 16, 2023, TikTok introduced a new feature "Refresh your For You Page" aiming to improve users' experience. This feature allows users to reset their FYP algorithm if they find the content irrelevant. The process is straightforward: users need to access their own profile, click on settings, navigate to content preferences, and refresh their For You Feed. By utilizing this feature, users will see their For You feed as it appeared when they initially joined the platform.
How to increase views on TikTok?
Attract the audience in the first three seconds
Make shorter videos
Use relevant hashtags
Use trending sounds
Write a caption that is full of keywords
Focus on the TikTok community
Post at the right time
Experiment with new features
Collaborate with other content creators
Start to make the TikTok algorithm work for you
A truth for all brands is that there is no perfect way to totally win the TikTok algorithm because it always changes over time. However, understanding how it works and following our tips can help you to beat the TikTok algorithm. In this way, you can build buzz and sell more on TikTok.