If you intend to broaden your brand reach and drive more sales, TikTok will be a great marketing channel that you should not miss out. Even though TikTok is a growing platform with a lot of changes and updates, the basic things of a TikTok marketing strategy still remain with some keywords: high quality, user-generated content, regular posting and TikTok community. 
In this article, we will let you through all of the necessary things to create a successful TikTok marketing strategy for 2023. 
What is TikTok marketing strategy?
TikTok marketing strategy is the practice of promoting a brand, product, or service through TikTok features. Known as one of the most popular social apps with enormous success, TikTok marketing is considered a perfect tool to achieve all your goals through short-form videos: from raising brand awareness, and gaining more revenue to attracting new targeting customers, and much more. TikTok marketing strategy includes different methods including paid, organic, and influencer marketing.
Why your business should use TikTok marketing?
Let's take a look at some of the latest statistics about TikTok:
TikTok has acquired more than 1.7 billion monthly active users globally.
The United States had the largest TikTok audience of any country in the world with around 150 million users.
TikTok has the most average time spent of any other social media app or platform at 55.8 minutes.
As a shoppertainment based on creative short videos with billions of active users worldwide, TikTok offers promising opportunities for brands, especially a huge chance for small businesses that haven't reached their wide audience. 
When it comes to efficiency in marketing, TikTok left other social media platforms far behind. Thanks to TikTok, brands have a chance to show their dominant value in a different way – More captivating and easier to understand.
The ability to go viral is one of the most powerful opportunities that TikTok gives to users. Even if you don't have a huge budget or resources, you can still succeed with a good TikTok marketing strategy.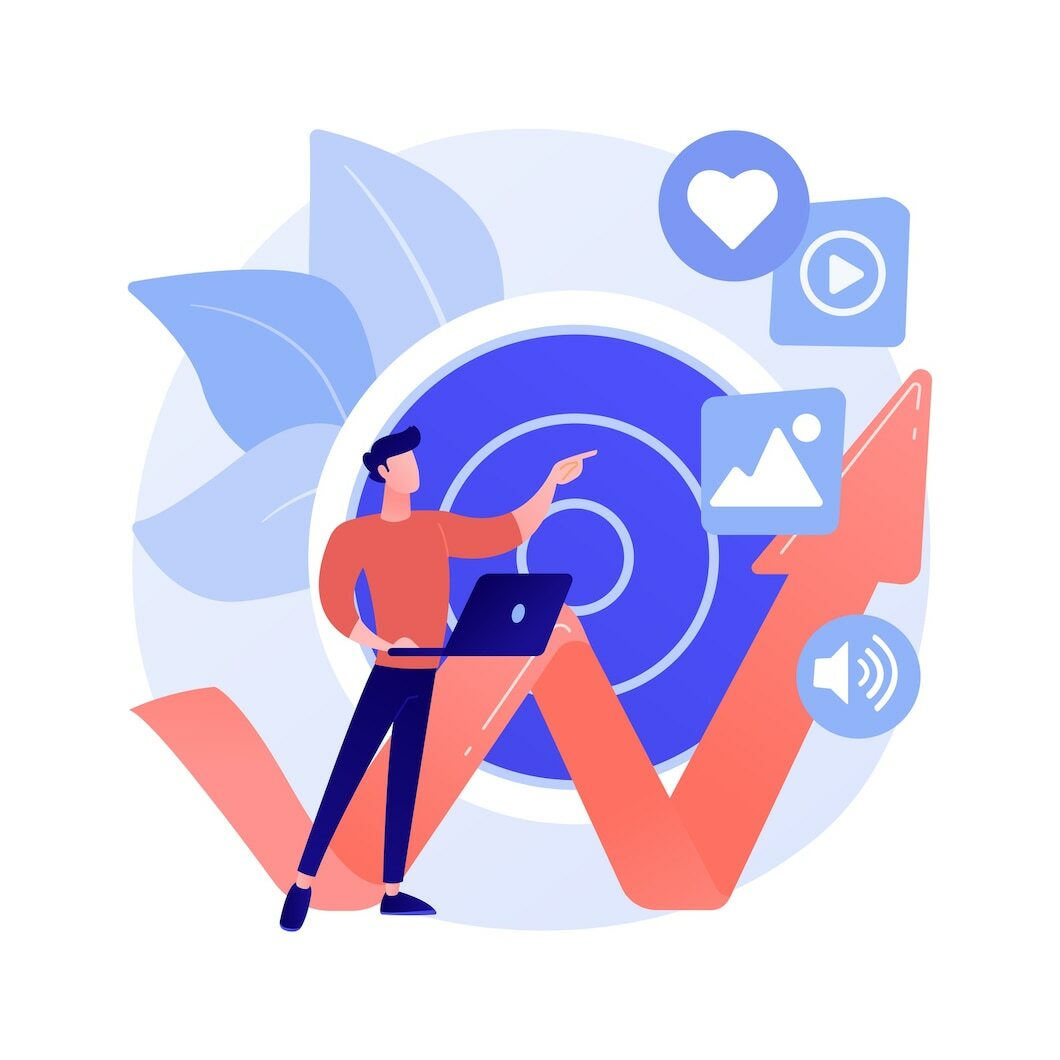 How to create a TikTok marketing strategy
Understanding the power of TikTok, you shouldn't underestimate the potential of a TikTok marketing strategy. The 6 steps below are important to develop a marketing strategy on TikTok.
Discover TikTok
TikTok is obviously different from other social platforms such as Facebook or Instagram. Getting familiar with TikTok gives you based knowledge about the TikTok algorithm, diverse features, unique tools, and also user behaviors. You can only master this platform if you entirely know about it.
To do that, spending some time watching TikTok videos and keeping an eye on the latest trends will be a perfect choice to get a picture of TikTok. Otherwise, during your research, don't forget to note anything that gives you an idea about your campaigns such as filters, effects or songs, etc.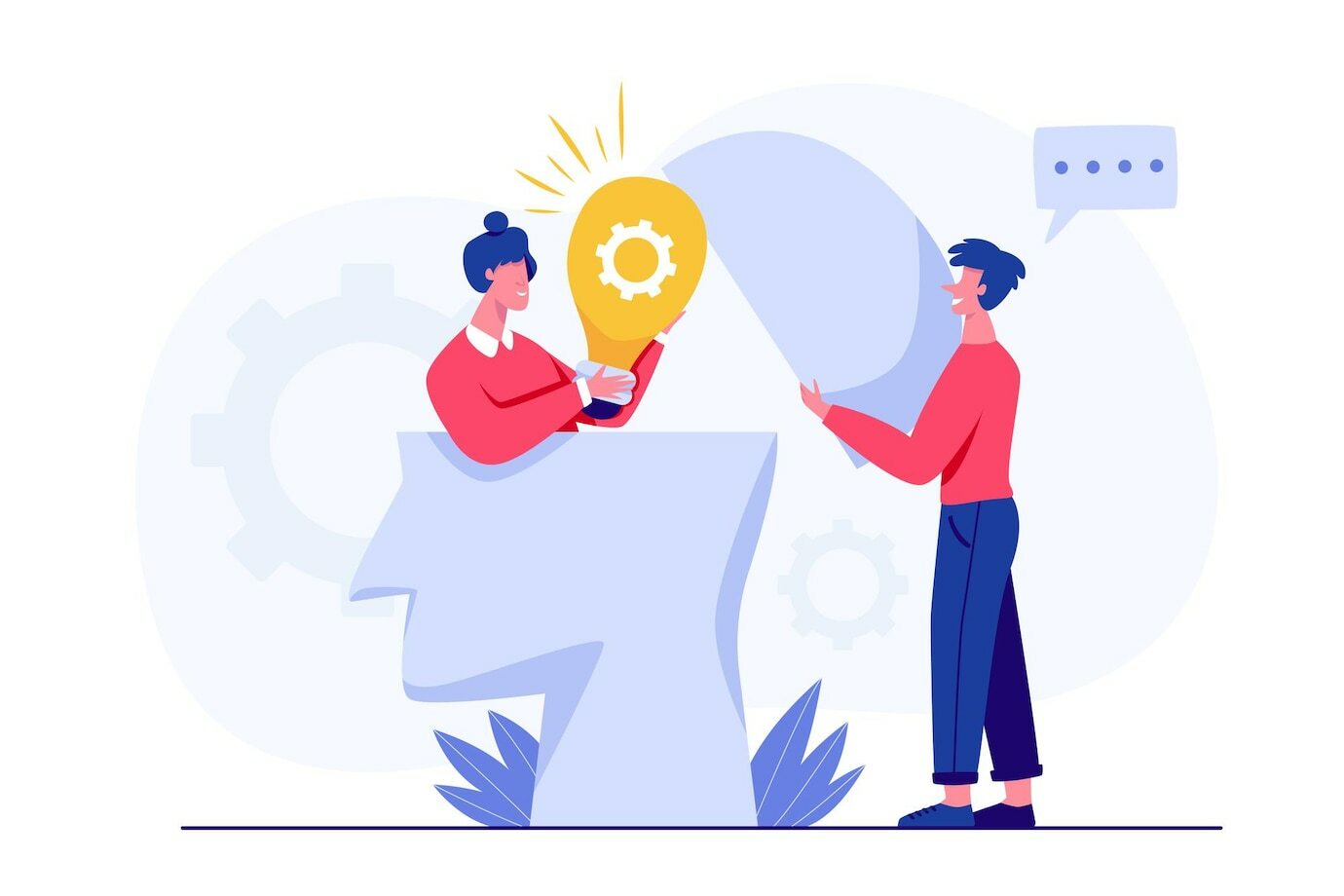 Define your target audience
Before you start creating TikTok content, you should know your target audience. It refers to a specific group of users most likely to have an interest in your content, your product, or your service. Depending on your business, your target audience will be niche or broader. You can determine your target audience by following:
Location: You should try to answer the question "Where do your targeting customers physically live?"
Age: You discover the age range of your audience.
Gender: Depending on your type of business, customer gender might be necessary or important.
Interest: Understanding customers' interests helps you to create suitable content.
Income level: Users with different revenue levels show different buying behaviors. Are they price-conscious or are they willing to spend more money (even a lot of money) on your product?
Career/ Industry: If you are working as a marketing executive, you will have different buying concerns from a teacher. Therefore, it is important to filter your audience by career.
Other information: Education, events they attend, etc. might be essential depending on your brand.
Otherwise, TikTok is a recommendation system that determines which videos appear on your For You Page based on your viewing preferences. Discovering what kind of video users used to watch will be a great choice to define your target audience.
Understand your competitors
Like other social media platforms such as Facebook, Instagram or Twitter. TikTok with unique features is evidently never missing out by a lot of brands and users. You should not only consider your business competitor but also your content creator competitor.
Find at least three to five brand competitors and take a deep look at their TikTok presence. Try to analyze their TikTok marketing strategy using the SWOT framework to identify each competitor's strengths, weaknesses, opportunities, and threats. Then spend time looking at what your competitors have done on TikTok and how their engagement is. This might give you some wonderful ideas for your TikTok business account.
Set SMART goals
It is really necessary to set specific goals that align with your overall business objectives. Being an important part of making a business successful, well-defined goals can give a clear guideline and endless motivation for you and also your team. Otherwise, once you stick with your goals, you will not put yourself in the wrong place and lose track.
If you are new on TikTok, make sure to look at your competitors to decide yourself a "SMART" goal, which means a goal that is specific, measurable, attainable, relevant, and time-bound!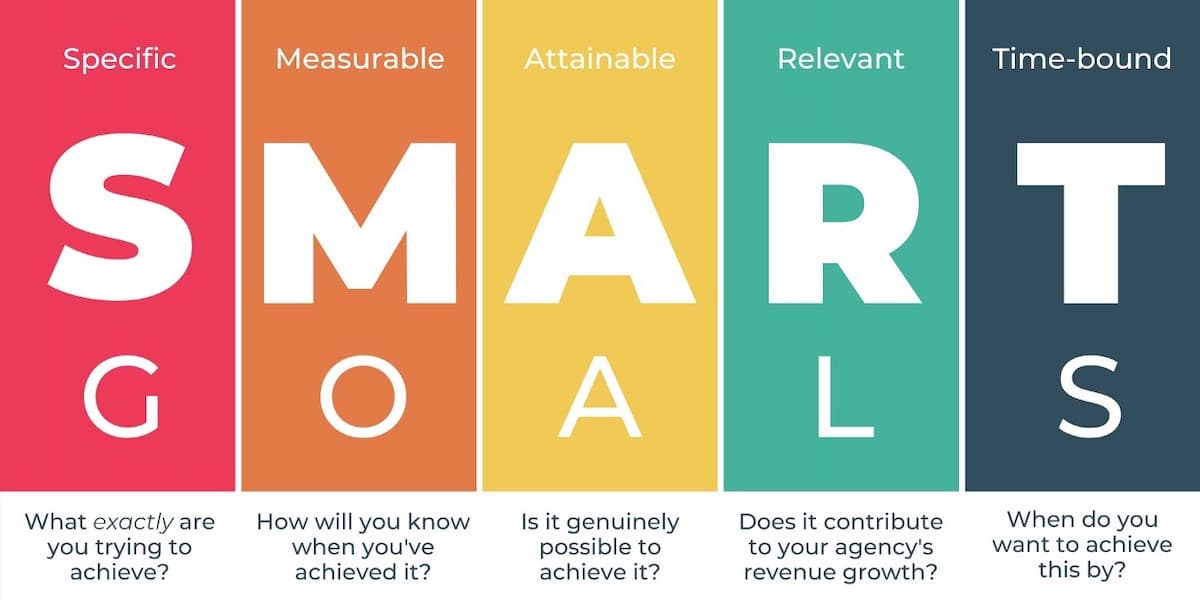 Create a content plan and post videos regularly
Creating a content calendar and posting regularly is key to running a business blooming and giving you a general overview of your TikTok marketing strategy. You'll be able to check your work and align your video topics with your goals and also your strategy.
However, it is also worth mentioning that TikTok content is ever-changing. You can't make a fixed content calendar like you do on other platforms, but instead you will need an adaptive & flexible mindset to judge for yourself which is the best content to post at a specific time. Hence, here are some of the content pillars we suggest for you to juggle between when deciding what's the next thing to post:
.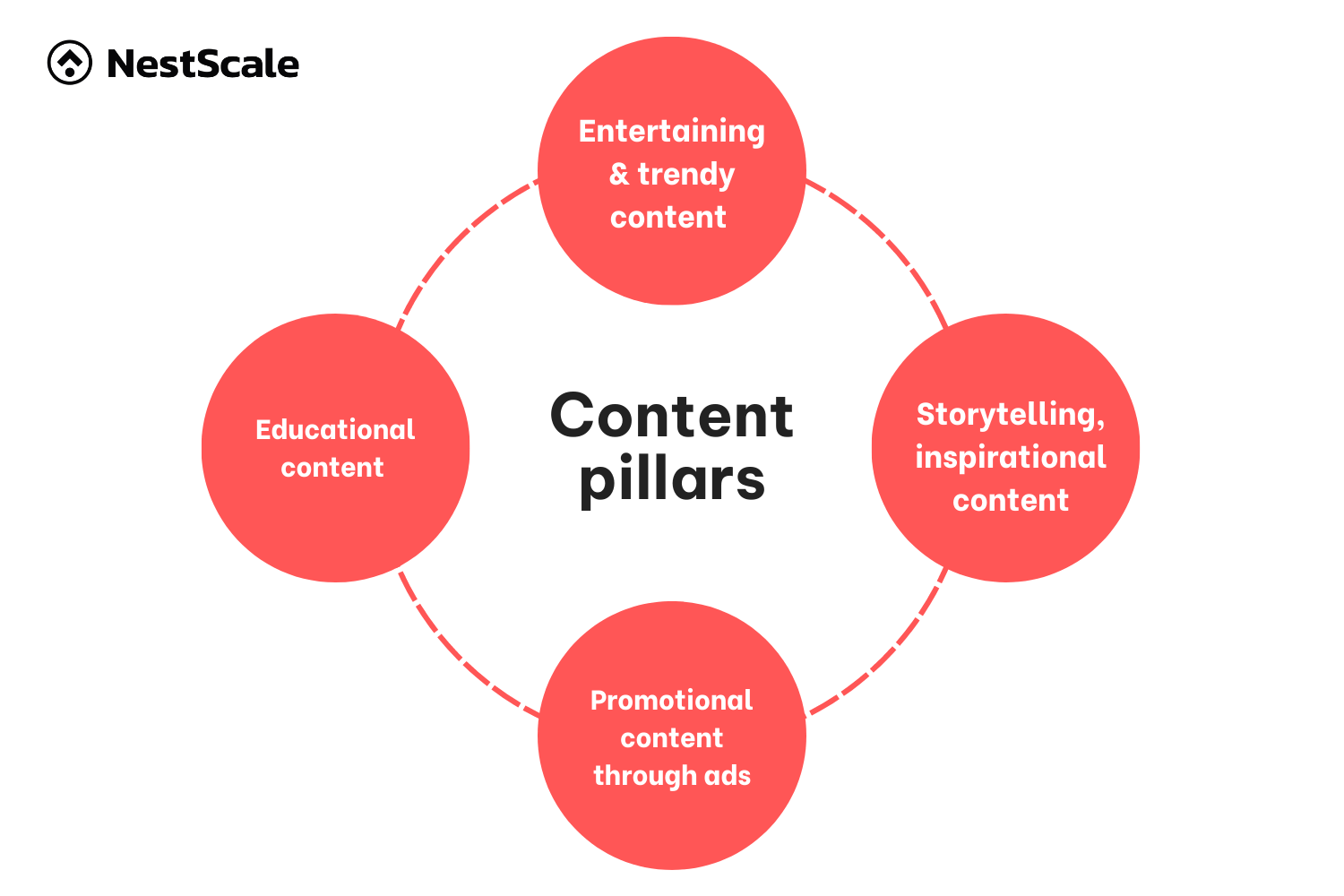 Keep in mind that you should post videos on a daily basis, especially when you just jumped into TikTok. Posting videos regularly, with the assistance of an online video editor, gives you a high chance to gain more followers and reach your desired goals sooner.
An online video editor empowers you to edit and enhance your videos, allowing you to add transitions, filters, effects, and captions, ensuring your content stands out. It enables you to unleash your creativity and produce captivating videos that resonate with your audience.
Monitor & Improve
Keep your progress under control: Making and following your content calendar is not the last step in the TikTok marketing strategy. It is advised to track your progress by checking TikTok analytics at least once a month. Therefore, you can estimate your plan efficiency and make some changes in case necessary.
Improve your strategy: After analyzing your audience, building your content calendar and posting videos, you need to improve your TikTok marketing strategy. If some post topics flop, you should learn from it, get some experience and you will definitely find the ways to go viral on TikTok.
6 tips for successful TikTok marketing strategy
Create a TikTok business account
To make your business bloom with a marketing strategy on TikTok, a TikTok business account is one of the key components. It provides advanced marketing tools and metrics that will make you say "wow" including TikTok shop, Business Creative Hub, commercial music library, etc.
Hashtags are really important on social media platforms and TikTok is no exception. TikTok uses hashtags for two main purposes: to categorize videos and identify users who have an interest in this type of content. Using TikTok hashtags strategically will help you to promote your videos to a larger number of users, especially more potential customers.
Master the latest TikTok trends
Being on top of the current TikTok trends enables brands to catch TikTok users' insight and satisfy their demands. Otherwise, TikTok trends are also a place for content creators to show their creativity, boost their views, and gain more followers.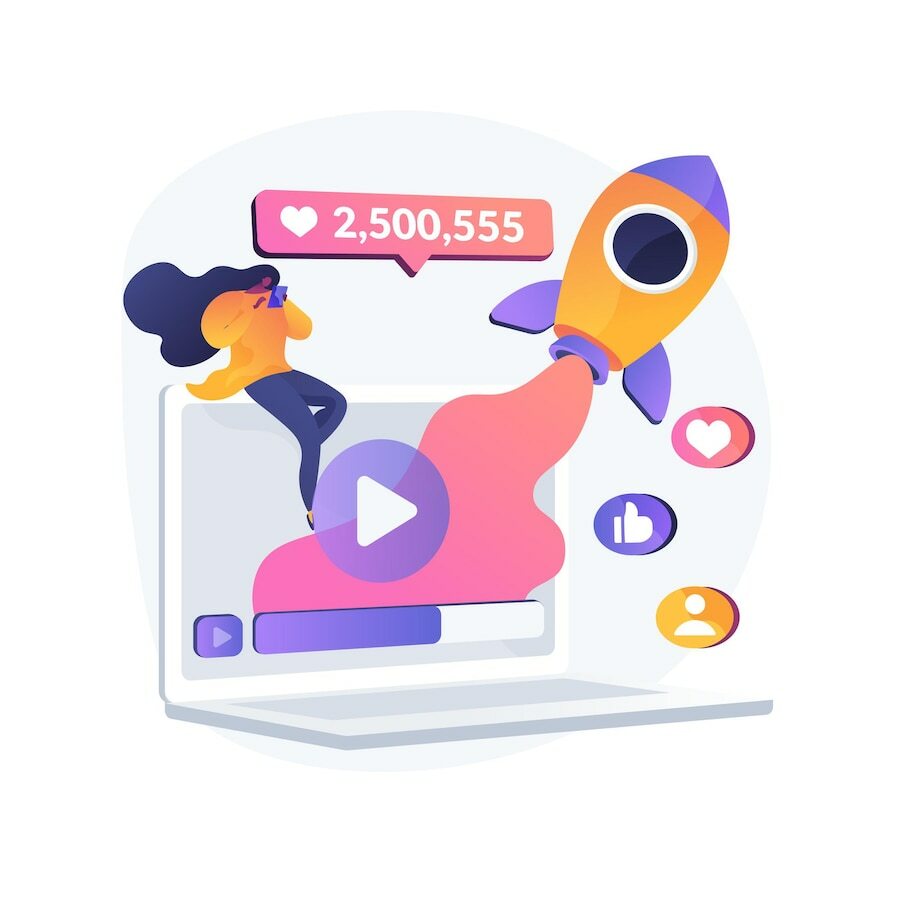 However, do note that trends move really fast on TikTok so you need to have your finger on the pulse if you want to get involved. And if you intend to create your version of a TikTok trend, try to make your video unique instead of copying other videos. In that case, your target audience can remember your brand's name and your identity.
Partner with TikTok Influencers
TikTok influencers are the star of TikTok who have hundreds of thousands or millions of loyal followers. Brands love working with influencers on TikTok due to their power to raise popularity and affect viewers' purchasing decisions. TikTok influencers don't only help to promote your product and service but also make the audience trust your brand.
To maximize the efficiency of your TikTok marketing strategy, you need to choose and collaborate with the right influencers. You should research an endless list of TikTok influencers to find out who is a good match. The number of followers, post topics, content performance, etc. are all things that need to be considered. It's also vital for brands to make sure that their target users will be receptive to influencer marketing.
Engage with your TikTok post
Replying to TikTok viewers' comments allows brands to directly interact with their audience and therefore create a sense of community – a key to gaining customers' trust. Otherwise, brands can easily discover their audience's interests and create content based on all the comments received.
Run TikTok Ads
TikTok provides different types of advertising that serve different purposes: branding and e-commerce. Depending on your TikTok marketing strategy, you can choose between 8 types of TikTok Ads:
Brand Takeover
TikTok Dynamic Showcase Ads (DSAs)
Shopping Ads
Carousel Ads
The biggest difference between TikTok and other social media platforms that makes a lot of enterprises invest their money is the ability to use user-generated content (UGC) for ads.
In TikTok marketing strategy, UGC is content about a brand that's created by its users, rather than the brand itself. This advertising method helps your brand harness the power of word-of-mouth marketing and also builds trust and loyalty. Well-edited adverts are not required and can be less effective than expected. There are several types of UGC creative types you can consider such as before & after, how-to, reactions, etc.
We have just released our new TikTok Ads course 100% designed for beginners. Give it a try in case you want to master TikTok Ads and grow your business on TikTok!
TikTok marketing examples to get inspired
So what effect does a successful TikTok marketing strategy create for your brand? Here you'll discover three examples of e-commerce businesses that have dominated TikTok.
Book of the Month
Book of the Month is a United States online book subscription service that provides its members with a list of five or seven hardcover books every month. With the aim of spreading the importance of reading books and raising platform awareness, Book of the Month decided to tap into the #booktok community and launch a Lead Generation campaign. During this campaign, Book of the Month hoped to capture and generate customers' interest and retarget them with different objectives.
Lead Generation is an advertising objective that allows brands to engage leads and cultivate prospects on TikTok. You can use it to collect information about your customers and then grow any part of your marketing funnel. Through this campaign, Book of the Month encouraged TikTokers to read more books, especially the books mentioned in their subscription.
To achieve all the goals, this brand has spent time learning creative best practices on TikTok and took advantage of Spark Ads. Regarding the results, Book of the Month decreased by 22.88% in CPA and gained more brand leads.
Crew Supply Co.
Crew Supply Co. is a barware brand that encourages bartenders, baristas and at-home mixologists to pursue their passion and archive their dream. After posting organically on TikTok, Crew Supply realized the potential of TikTok – a growing shoppertainment platform.
Using trending hashtags and following the latest trends, Ali Velas – Crew Supply Co.'s marketing lead posted a video with the hashtag #asmr with their Old Fashioned Infusion Kit. This video reached up to 1.5M views and helped the brand to go viral. And after one month of posting this kind of video, Crew Supply Co, still drove traffic from this content.
Not only created ASMR videos, but Crew Supply Co. also connected the TikTok app to the Shopify store to achieve more add-to-cart sessions, data insights, and also conversions. Otherwise, they uploaded and optimized their product catalog to their TikTok profile. During this period, #asmr video was always the key to their TikTok marketing strategy.
This strategy helped Crew Supply Co. to reach a higher demand and engagement on all their platforms, for example, with more than 84.4K followers and 861K likes on TikTok. In addition, their revenue increased and peaked at more than $100,000.
The Farmer's Dog
The Farmer's Dog is an e-commerce business providing a fresh and convenient pet food service by using quality and safety standards in the industry with over 300 people. It aims to deliver fresh and healthy food to dogs and peace of mind to their humans about what they are feeding.
The Farmer's Dog marketing strategy led the company to develop the scale each year. Investing in TikTok, this brand wants to find new customers that would convert into subscribers. Following The Farmer's Dog TikTok strategy, they targeted all adults 25 years old and older in the US who had a keen interest in the Pets category.
To grow their brand awareness to the primary customers and subscriber conversion rate, they choose to collaborate with other creators and also run Spark Ads. Creators helped The Farmer's Dog to spread its message of being the perfect choice of healthy food for dogs.
With a great TikTok marketing strategy, The Farmer's Dog has achieved lower CPAs (cost per acquisition or action) by 62% and increased its conversion rate by 5% in just two months. 33M video views and 31% CTR (Click-Through Rate) are also significant results from The Farmer's Dog campaign.
Start developing your TikTok marketing strategy
TikTok is a social media platform that allows you to make your business profitable by following a great TikTok marketing strategy. The sky is no limit, don't hesitate to create a creative TikTok marketing strategy by following these steps and tips mentioned.
Keep in mind that running TikTok Ads is a perfect choice to capitalize on brand virality and bring super-strong engagement. Discover our new product NestAds for free to optimize your TikTok Ads for a promising TikTok marketing strategy.