TikTok has succeeded in attracting billions of active users thanks to its interesting content and creative trends, but there's another factor that makes it even more fascinating: TikTok comments. The TikTok comment section is becoming a playground for many brands to show their image in a funnier way and therefore earn authentic engagements.
While some TikTok comments are encouraging and helpful, others could be harsh or unkind. This blog shows you top tips to utilize TikTok comments to boost brand engagement and ways to manage comments on your account. Keep reading till the end to make the most of this feature!
What are TikTok comments?
TikTok comments are a sign of engagement in which users reply to your TikTok video. Through comments, they can express their personal opinion (praise or even disagreement), ask a question, and create an online conversation with others. Comments can include text, TikTok hashtags, mentions, and emojis.
When it comes to engagement rate, comments always show great potential that encourages the TikTok algorithm to boost your video. Leaving a comment requires as much effort as viewing or liking a TikTok video. It involves more action from spending a few seconds thinking of something to say, accessing the comment section to typing the comment.
If your video gains a lot more comments than expected, it means that your audience shows a deep interest in this topic.
TikTok comments not showing: How to solve?
If your TikTok comments are not showing, don't be so worried because you aren't alone. Let's discover some quick fixes to solve this annoying problem!
Check your comment
First of all, it's highly recommended to check if your comment is considered spam and offensive content or not. Or in case your comment contains keywords filtered by the TikTok video's owner, you just need to wait for it to be approved.
Restart TikTok
The first thing you should try is to restart the TikTok application. It may be due to a temporary error occurring on TikTok which makes some features disappear.
Improve your network connectivity
If there isn't a problem with your TikTok application, your network connection is definitely a culprit! Ensure that your internet speed and stability are optimal!
Update TikTok application
TikTok is well-known as a fast-moving platform with several new features. Running the latest version of TikTok can help you to solve your problem.
How to manage TikTok comments
Delete a comment on TikTok
Here are the three easy steps to delete a comment on a TikTok video:
Select the comment icon in the right corner.
Press and hold on to the comment you want to delete.
Choose Delete.
If you want to delete comments in bulk, just follow five steps including:
Select the comment icon on the right corner.
Tap the pencil in the top left corner or press and hold a comment.
Select "Manage multiple comments" option
Click next to the comments you want to remove. Up to 100 comments can be chosen.
Tap "Delete" and then "Delete to confirm".
Filter a comment on TikTok
To filter all comments, you should:
Click the "Profile" icon in the bottom right corner
To reach your settings, tap the three-line icon situated at the top right corner
Select Settings and Privacy, then Privacy, and tap Comments.
In the "Comment filters" section, tap Filter all comments to turn on or off.
In case you turn on Filter all comments, your video comments appear only when you approve them.
To filter spam and offensive comments, you should:
In the bottom right corner, select Profile
Tap the 3-line icon in the top right to access Settings.
Select Settings and Privacy, then Privacy and tap Comments.
Below Comment filters, tap to the right of Filter spam and offensive comments to turn on or off.
To filter comments with keywords, you should:
In the bottom right corner, click Profile option
Tap the 3-line icon in the top right to access Settings section
Select Settings and Privacy, then Privacy and tap Comments.
Toggle Filter keywords on or off by tapping to the right of Comment filters below.
Choose to Add keywords, then enter your desired keywords to filter.
If you turn on the keywords feature, all the comments including those keywords will be hidden unless you approve them.
To review your filtered comments, you should:
In the bottom right, tap "Profile"
Choose the 3-line icon in the top right to access your settings.
Select Settings and Privacy, then Privacy and tap Comments.
In "Comment management" section, tap Review filtered comments.
Tap Approve or Delete below the comment you want to review.
Turn on/off a comment on TikTok?
Here's the way to turn on or turn off a comment on your TikTok video
Choose the 3-line icon on your profile page.
Access to Settings and Privacy, then Privacy and scroll down to Comments.
Choose the audience who can leave comments on your videos.
Everyone (only for public accounts): If you choose Everyone and you have comments turned on, then anyone can comment on your video.
Followers (only for private accounts): If you choose Followers and you have comments turned on, only people following your TikTok account can comment on your videos.
Friends: By choosing the Friends option and enabling comments, only individuals in your friend list will have the ability to leave comments on your video. Friends are TikTok users who you follow and who follow you back.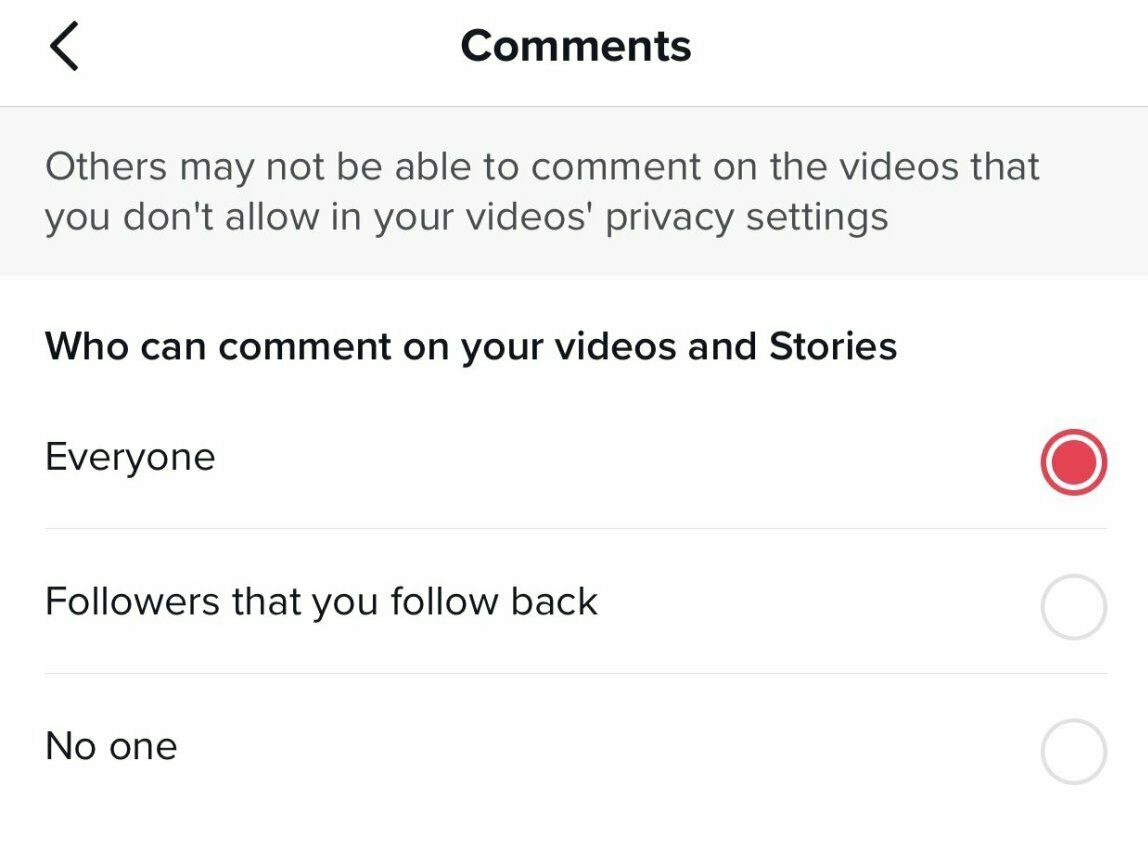 You can also follow these steps in your privacy settings to turn off comments on all of your existing videos.
Limit a comment on TikTok on a specific video
To disable comments on a specific video, follow these steps:
On the video you want to limit comments, tap the three-dot icon to access a bunch of options
Click "Privacy setting" on the bottom roll
Turn off "Allow comment"
After disabling the comments, any previously posted comments on the video will become invisible unless you re-enable the comments.
Link a video in the comment sector
Tap on the comment that you want to reply to on your video
Click the red video icon on the left
Film your video and edit it
Post it and TikTok will automatically tag whom you reply
Nice TikTok comments that actually work
You're a legend
This was made for dueting
You're like a ninja, but you make TikTok videos instead of fighting
Could not agree more
Keep this spirit and continue growing
Came for the vid, but stayed because of the comments
TikTok isn't a competition but you won
I saw a video of yours randomly but now I am here to watch you daily
Your content lives rent-free in my brain
This video deserves to go viral
TikTok comments best practices
TikTok comments are a helpful tool to boost organic growth and therefore drive stronger brand engagement. Here are the four best tips ever to help you spread your brand's image through TikTok comments.
As previously mentioned, it is common for brands to leave comments on viral videos as it is easy to gain significant attention for their brand. Any brand can leave a comment on a viral video, but obtaining the top comment generates more engagement and reach.
McDonald's successfully secured the top comment on a TikTok video showing a unique version of Ronald McDonald found in Enterprise, AL.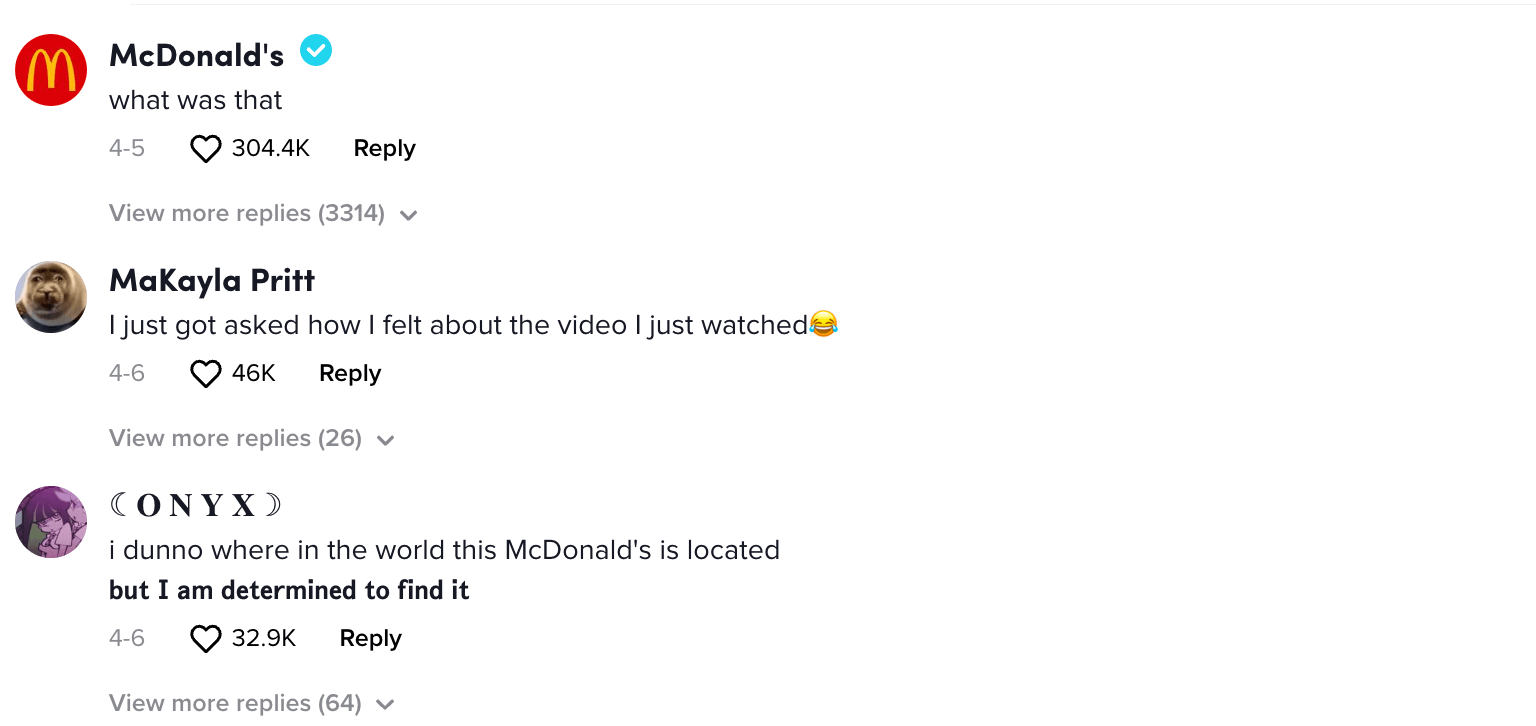 Use a call to action in the comment to generate engagement
Numerous brands encourage audience participation and interaction in the comments section by incorporating calls to action within their videos or captions. Some common strategies involve requesting viewers to tag a friend, use emojis, or respond to a question.
Milk Makeup consistently employs calls to action in their TikTok comments to initiate conversations. In a particular TikTok, the beauty brand prompts viewers to imagine their reaction upon discovering a multitude of Milk products in their bathroom cabinet. They also encourage commenters to express their thoughts through emoji reactions and directly engage with several comments.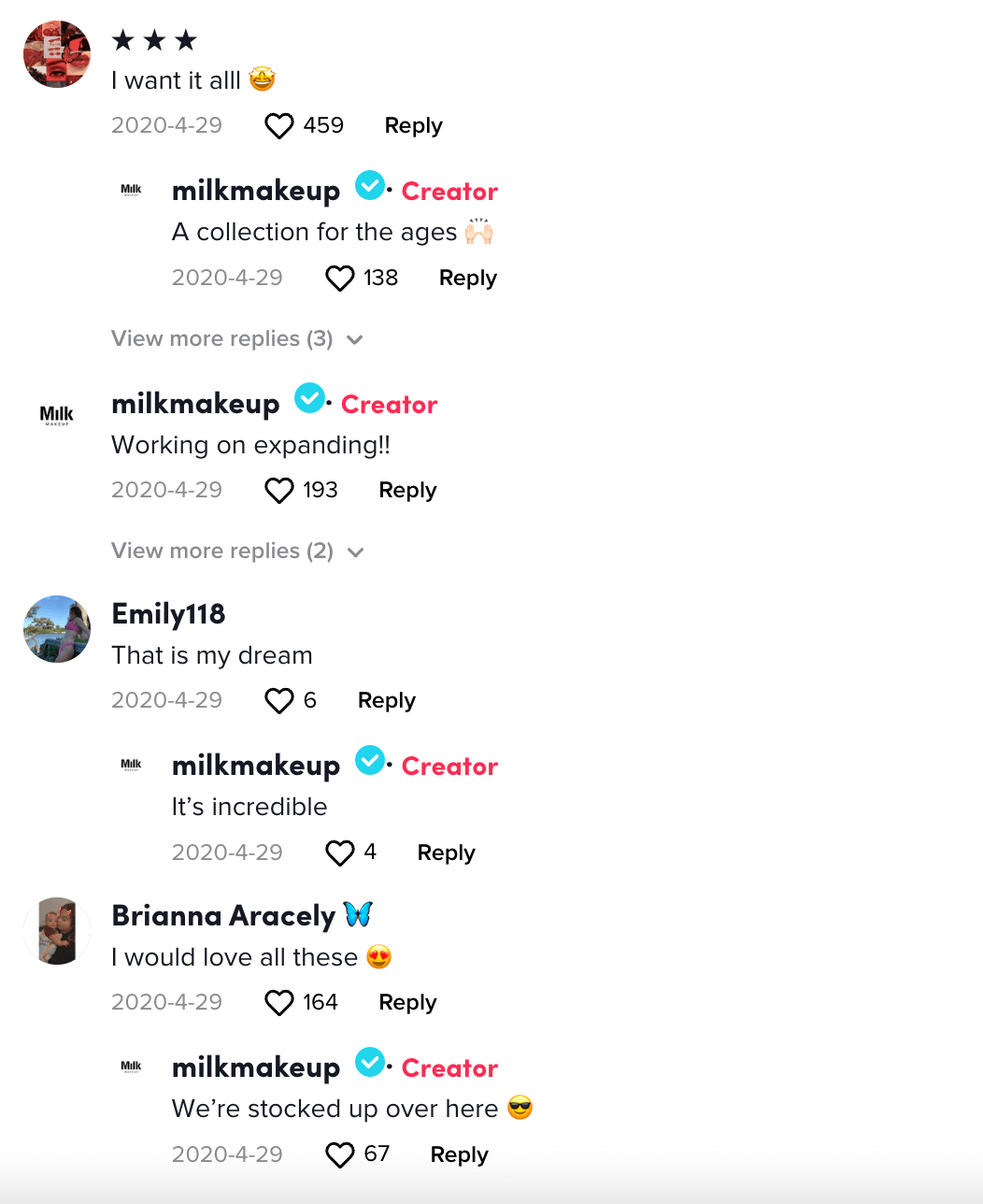 Unlock customers insights
TikTok users express their opinions freely in the comments section, and this candid honesty can assist marketers in gathering more valuable insights from the voice of customers (VoC). The genuine nature of the comments section mirrors face-to-face feedback, encompassing both positive and negative sentiments.
Sani, a clothing line inspired by Indian and South Asian culture and established by two sisters, effectively manages VoC discussions within their comment section. Upon recognizing customers' desire for more inclusive sizing, the brand took action and expanded its range of sizes.

Ask relevant questions
Relatable questions are a perfect engagement strategy to make users interact with your video. It is regarded as a guide for the audience to get inspired about what to comment. Therefore, you will save time for your viewers and give them more ideas.
Otherwise, brands can leverage questions as a call to action for users who have never thought of commenting. They may feel hustled to answer your questions.
Use the shocking story
Surprising video content is really useful to capture your audience's attention, make your video viral and keep them watching until the end. Therefore, it leads to a higher chance that users will deliver an opinion and share their feelings.
However, keep in mind that you should leverage the shock factor in a smart way even if TikTok is almost taken by this factor.
Engage with amazing comments
Replying with genuine comments is another recommended method to drive more awareness about your brand. The comments section is a creative place where viewers express their thoughts about your content, your video, your products or services, or even your entire brand. Showing and Interacting with a lot of positive comments will bring a different image about your business. So make sure that you choose the right comment to engage with.
Otherwise, remember that humor is your best friend on social media platforms and laughter is the best medicine. If you fancy yourself a bit of a comedian, replying to a funny comment in a unique way can make your audience chuckle and also make you a hit on TikTok.
You can also pin effective comments that you want others to see. It is a TikTok marketing strategy to make users feel acknowledged and more welcome, therefore driving more traffic to your video.
Comment on other videos
​​Leave witty, funny and informative on other TikTok videos will bring your brand in front of a new audience. In this way, you have more chances to gain new followers or even potential customers.
Another tip for you is to choose and concentrate on accounts that align with your brand's identity. You don't have to only focus on the most followed TikTok accounts, even micro (10,000 – 50,000 followers) or mid-tiers (50,000 – 500,000) influencers can bring a huge benefit.
Moreover, if you manage to get the comment in the video, that will increase your reach and call action to your page. A viewer who sees and likes your video is more likely to access your TikTok account and check out your content. 
TikTok allows users to create videos responding to specific comments from your previous video. So it will be missing if you don't use the comments section to uncover new customer insight and get inspired for your next video.
Unveiling something that a part of the audience has come up with will make TikTok users stay focused on your video and keep watching until the end. It might be a topic more relatable that captures the audience's attention and encourages them to leave their own comments with the aim of getting a response from you.
Let's spread your brand story through TikTok comments
The TikTok comment section serves as the best place for brands to connect with their audience and their potential customers. It's time for you to leverage this amazing feature to make your video viral, and drive more traffic using TikTok comments. By interacting through comments, you can optimize your business performance and sell more on TikTok.