The latest data show that 73% feel a deeper connection to brands they interact with on TikTok, compared to other social media platforms. That's why so many business owners utilize this platform to advertise their products.
How does your business gets started on TikTok? The first thing you need to do is set up a TikTok account for your business. Below we break down step-by-step guides to help you get your business account easily and quickly.
What is a TikTok business account?
TikTok business account is considered a home base for your brand. Business accounts are public profiles that allow brands and businesses to use marketing tools to build a cohesive marketing strategy on TikTok. A little bit different from TikTok personal account, using a TikTok business account will help you access many amazing TikTok features.
Should I get a TikTok business account?
Once you have your business account, you're accessible to a wide range of exclusive features as shown below.
Analytics
It's a place to track the performance of your videos by providing useful data about your account's growth as the number of views, and followers, and also have an overview of your customers' demographic.
To get into more detail, the analytics page covers four main categories: Followers, Content, Overview, and Live. Each one displays the specific information that is helpful for your marketing strategy.
Like as in the Followers tab displays information about the TikTok community you have developed, such as the locations of your followers and the days and times of the week when they are most active.
Exclusive access to the commercial music library
For any brand, sourcing and licensing music for branded content can be challenging. Therefore, TikTok has provided the best solutions with a massive Commercial Music Library including high-quality and free-to-use songs, music, and sounds.
The creative hub
If you are getting stuck with new content ideas for the next post or don't know what's trending, Creative Hub's here for you. It makes the process of turning your ideas into TikTok videos quicker and easier by offering two handy resources: Business Content Guide and Video Showcase.
The former aims to give pieces useful tips on content strategy, storyline ideation, and video shooting and it also highlights success stories – excellent examples from other business accounts. While the latter will help you discover what is the latest trend on TikTok in your country from the past 30 days.
Therefore, with no charge for an amazing tool to put your creativity into practice, why not get out there and create your own story?
Access many TikTok Ads types
By creating a TikTok business account, you can run high-converting ads on TikTok to spread your own stories and reach your right target audiences. TikTok Ads have shown great potential and have been regarded as an incredible marketing tool to go viral on TikTok and gain new followers.
Thanks to diverse advertising types such as Top-view Ads, In-feed Ads, etc., many brands, even small businesses found their home on TikTok and shared many success stories. However, with a variety of different options to choose from, it's hard to know which ad format is best for your brand. So don't hesitate to try our new products NestAds to master all these advertising features!
Is the TikTok business account free?
The answer is yes. Rest assured that TikTok Business account is totally free and you can make use of the most amazing features that TikTok business accounts have to offer.
How to create a business TikTok account?
If you have not set up accounts in TikTok, follow these quick and easy instructions below:
Step 1: Download TikTok app
Visit the Apple App Store and Google Play Store to download TikTok. Once the app is opened and installed, click 'Sign Up' to register in the bottom menu bar.
Step 2: Log in or sign up for an account
Create a new personal account by using your email, phone number, or log in with any social media platforms listed.
Step 3: Select birthday
If you select a date that is younger than the age of 18 years old, you may have some things that are limited. For example, you are not able to live stream, get restricted to certain videos, etc.
Step 4: Create a password
Step 5: Create a username
Note: To make it easy for people to find your brand on TikTok, your username should be the same as it is on other social media sites. If your username isn't available, you can try using a TikTok Name generator.
Step 6: Edit profile
Tap 'Me' in the lower right corner, then click Edit Profile to upload a profile photo, add a bio, and link your social media accounts.
Note: Your profile picture should include your brand's logo to raise your brand awareness
In terms of bio, you try to make sure that the words that are in there are keywords that are searchable and people are looking for.
Step 7: Switch to the pro account
Your account has been successfully created, but in order to utilize all of TikTok's features, you'll need to upgrade to a Pro Account.
To do this, select three dots in the upper right-hand corner, then select Setting and Privacy, click Manage Account and Switch to Pro Account.
Step 8: Switch to the business account
To do this, select three dots in the upper right-hand corner, choose Setting and Privacy, then click Manage Account and select Switch to Business Account
Step 9: Choose the category that best fits your business
Selecting a suitable category will bring you in front of customized content, events, and solutions
Step 10: Edit profile
After clicking Next, go back to the homepage and tap Edit Profile:
Step 11: Add bio and your email address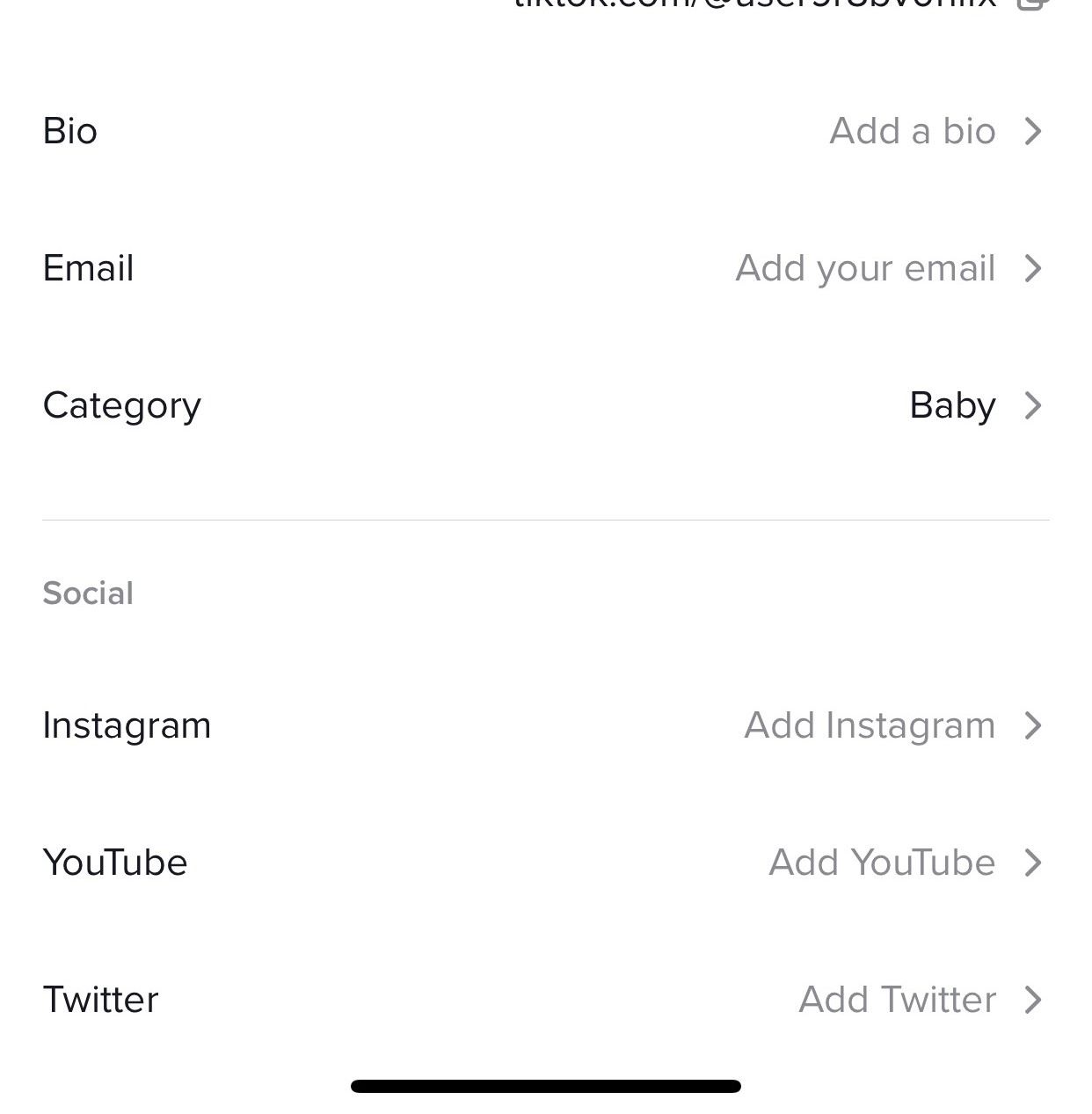 And that's it! Congrats on your new TikTok Business Account!
Ready to set up a TikTok account for your business?
With a TikTok Business Account, you can gain valuable insights into your audience and how they interact with your content. You can also boost the awareness of your products and services by directing traffic to your TikTok profile.
Why not hesitate to have one account and start to be creative storytellers and meaningfully engage with the TikTok community?