The holiday shopping season is just around the corner and it's the best time of the year to boost sales and grow your business. If you're wondering how to promote and sell your products this holiday, give TikTok Ads a try.
Advertising on TikTok enables you to reach out to massive potential customers, drive engagement, and leverage sales. In this article, you'll find the ultimate TikTok Ads guide for the holiday shopping season. Keep reading to discover more!
Why you should jump into TikTok Ads this holiday season?
Users' holiday behaviors
The holiday season is the best time of the year for a reunion, connection, and engagement with beloved ones. So, they tend to spend more and shop more to enjoy this day to the fullest, and TikTok users are no exception.
When compared to other social platforms, we witness significant demand for shopping on this platform. Take a look at some holiday statistics about users' plans shown below:
Users prefer TikTok to other platforms
TikTok is ultimately a shopping destination for every holiday enthusiast. To be more specific, 82% of TikTok users feel motivated & excited about the winter holidays; more than 90% of them celebrate the holidays.
They choose TikTok to relish their holiday moments but other social sites because the unique point of this platform is the combination of joy, engagement, and connection, which users desire in each of their holiday moments.
Furthermore, it takes too much time and effort for the festive session plan, so brands utilize the shortest video platform to facilitate their shopping experience from planning, researching, preparing, and celebrating with tons of useful tips and advice.
TikTok holiday inspirations
According to TikTok research, holiday hashtags got massive engagement from the community. Users coming from all walks of life gather on this platform to spread and share holiday spirit across the community.
Take note of these key holidays
The holiday season is the busiest day for both brands and customers. People often shop more, which encourages brands to take advantage of this season peak to boost sales more than other periods of the year.
To help every brand have meticulous preparation before running an ad festive campaign, we mark calendars below to notify you when the holiday's gonna come.
For each holiday, brands should invest time and effort in researching and analyzing users' behaviors and traditions to tailor the holiday campaign. Thus, you can get more TikTok users to immerse in the holiday spirit and vibe during their shopping experience.
TikTok Ads holiday checklist to get your brand ready
Bobby Unser, a prominent racer, quoted 'success is where preparation and opportunity meet', the holiday is the opportunity, so the success will depend on how well you prepare. Hence, when you know which holiday is going to be around the corner, start drafting out to-do tasks to get the best performance.
Because of supply chain and inventory issues, users often get ready for their holiday shopping season sooner than later. As a result, brands should make a detailed plan for the seasonal campaign ahead of time. We recommend beginning 3-4 months prior to the holiday.
Below are the sample timelines that every brand can apply. Now, let's get started!
10-12 weeks out
Idea planning
Before jumping out into the holiday marketing campaign, planning strategies for content ideas would be the first step. Thus, you have an overview of what will happen in the festive season, and we suggest you start in advance. Here are some instructions to get started:
Determine your goals for this season
Setting marketing goals should not be a miss to start an ad campaign. It provides a clear vision of what your brand wants to accomplish and how you will plan to reach this goal (boosting conversions, raising brand awareness, driving traffic). Keep in mind to make it specific as much as possible. For example, through this campaign, it must reach 1000 new audiences, not including current customers.
Start planning content
Once you're clear about the campaign objectives, it's time to map out a list of content ideas that will be included in the campaign. If you are getting stuck for TikTok video ideas that fit the holiday spirit, for whatever type of content might be, try to keep it engaging and authentic by customizing based on TikTok users' interests.
Operational planning
Setting up TikTok pixel
Whatever the goal of your campaign could be, creating a TikTok pixel for your business account would be the best option for tracking conversion, optimizing ads, and enriching the audience for retargeting.
Set up the product catalog
Creating a catalog is a great way for the brand to display various products in front of interested users. They can find out key product information such as descriptions, images, videos, links, and sizes.
TikTok gives you two 2 options to facilitate the process of creating a product catalog.
Option 1: From one of our partner sites (like Shopify, BigCommerce, Square, or Ecwid), you may easily establish a catalog and connect your products.
Option 2: You can manually add products, connect your catalog to a data feed via a Data Feed Schedule, or just upload a template with entries for each of the items in your catalog.
Master holiday ad formats
With the introduction of some creative advertising solutions to maximize the campaigns, TikTok's always the priority of every brand in terms of running an ad campaign. More importantly, for every TikTok newcomer, it's a must to get used to the diverse range of ad formats. Let's dive in to discover more:
Lead Generation
Lead Generation enables you to reach and convert potential customers by encouraging them to share their information through an instant contact form (Including name, company, and email). After completing the form, it directs them immediately to the landing page to discover more about brands.
This tool allows you to customize the contact form by asking customers whatever you want. Thus, it provides a valuable source of insights into analyzing customer behavior.
TikTok always guaranteed the security of data privacy so that all of the information given can only be accessible to advertisers. Not only that, TikTok doesn't force users to fill in the form, so it depends on their choice.
Spark Ads
Spark Ad is a new TikTok ad format that highlights the authenticity and engagement of the ad when compared to other traditional promotion ads. The launch of Spark Ads has solved the concerns of any advertiser about how to make ads that don't look like ads.
Thus, instead of exaggerating products' benefits to promote, brands should strive to produce a set of ad content that truly inspires, entertain and empower TikTok lovers.
Collection Ads
Collection Ad is a type of in-feed ad format that streamline the purchasing process for every shopaholic TikTokers. When users click on an interactive element from the ad, it will direct them immediately to an Instant Gallery page where a list of products collection is displayed.
This ad format actually creates an entire shopping experience for TikTok users from awareness, consideration, researching, and purchasing without leaving the app. Moreover, users can enjoy and discover the products on full-screen mobile and speedy loading time of the Gallery page.
Thus, customers feel satisfied and excited because of the smooth and easy shopping experience that they only find on this platform.
Display Cards
A display card is a clickable card that appeared in the video of the in-feed ad. This card functions as a CTA button to push the user's desired actions, and then drive traffic to the landing page. We highly recommend setting up this tool if your brand wants to improve conversion rate metrics.
TikTok Display Cards allows brands to customize the design and image of the card base on their goals. For example, within the card, you can emphasize the brand's value and mission or announce a discount code. As a result, it will draw the user's attention to click the card for discovering more about brands.
Gift code stickers
A gift code sticker is an interactive product to share a discount code and is shown until the end of the video ads. Users can copy this code to their phone's clipboard, then redeem it in-app or on the official page.
Shopping Ads
TikTok paves the way for the leading shoppable entertainment where users find the joy of discovery and the seamless purchasing process. TikTok launched one of the most innovative advertising solutions, Shopping ads, that will make the brand to be the best partner during their customer's journeys.
Shopping ads are the newest e-commerce ad solution where brands have the opportunity to get involved in their customers' shopping process from the beginning until the end. It's a three-in-one ad format with a combination of video shopping ads, catalog listing ads, and live shopping ads.
It is a shoppable video ad that enables TikTok users to make a purchase directly from the ad. With an excellent target setting, this feature can deliver your products or services to users who are more likely to turn into converted ones.
It is a new ad format that doesn't require video assets and is shown on For you page to reach more interested users. When you click the ad, it will show you a list of relevant product collections that you might find your favorite one. TikTok users might find it exciting to indulge in the new shoppable experiences.
It's considered live-streamed events that allow users to interact with brands in a real way. Through the Live Shopping, customers can discover their favorite products while interacting one to one with sellers. Not only that they also determine to make a purchase right away within the app. Hence, it totally facilitates their online shopping experience.
BARDI Smart Home's 11.11 Mega Sales Live Shopping Livestream leverages TikTok's Live Shopping events, which generated the majority of the sales within 24 hours.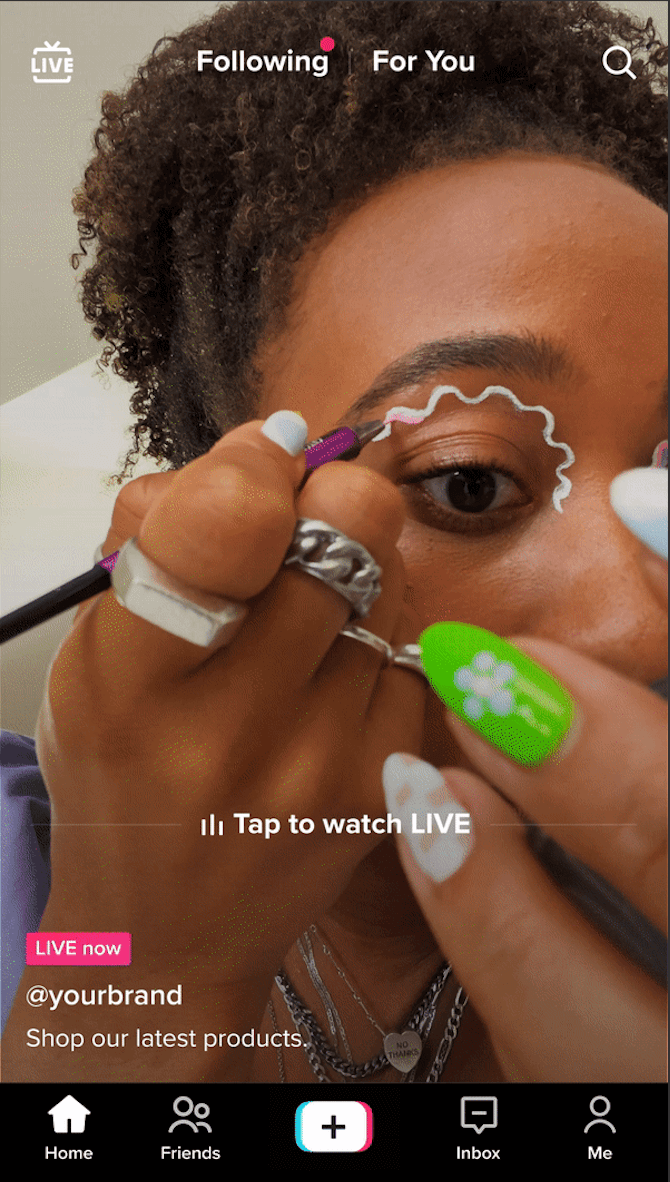 As TikTok prioritizes the authenticity of each video, so don't make it as any promotional ads with much more promising product benefits. Instead of that, the brand should try to create intimate conversations with users as a couple of friends chatting through sharing personal and valuable experience content.
6-8 weeks out
Once you decide what kinds of content ideas to include in the holiday campaign, and TikTok pixel is set up. Now it's time to produce before publishing them to the TikTok community.
Creative production
From the list of content ideas planned last week, it's time to make some TikTok videos. You'll need a smartphone or camera to record a series of 5-10 short video clips that you want to edit together. There are a few tips that may work well during the production process.
The brand can appeal to viewers by the way they appear through the tone of voice. So, you need to determine what kind of tone makes your brand stand out, and users immediately remember after viewing the ad. The tone for the holiday should be reflective, educational, inspirational, or funny depending on your content ideas and marketing objective.
Before the holiday comes, the brand should be familiar with users to ensure that you are always their first choice when they intend to buy something. So, we suggest you set up the Reach objective when creating TikTok ads to target a massive audience who are inserted in your products.
When you finish processing TikTok ad videos, the next step would be testing to see which kind of content users engage the most.
You can post some organic videos to test the level of engagement from TikTok users. If they perform well, adding Spark ads would be the best choice to make the most use of existing content and turn it into native ads.
Operational Setup
You have to visualize who they are and what're they behaving by researching and analyzing them with TikTok tools. Specifically, brands can utilize TikTok hashtags to find out about their communities on TikTok.
>>> Read more: TikTok Ad Targeting: How to Find Your Target Audience on TikTok
Set a budget and bidding methods
In terms of advertising budget and bidding strategy, three are 3 options for selecting bidding methods for your ad campaign based on your goal. Cost cap and bid cap would be the best choice if you have particular cost-per-conversion targets. Moreover, if you're looking for volume, but can be flexible with your CPA, Lowest Cost bidding will be a suitable option.
Important to note that when choosing the lowest-cost plan, we advise using a daily budget instead of a lifetime budget to ensure that your campaign is progressing at a steady pace.
If you have available content ideas, try testing them before they're gonna go live during the holiday. This will help you measure how effective your ad contents are.
However if your creative is still in ongoing preparation you can utilize the previous materials within Ads manager, and try Split Testing to track two ads version to see which one is more effective.
1 week out
There's only one week left before the most anticipated holiday campaign of the year. All of the things in the preparation process have come to the final step and are ready to live.
Finalize Creative and Launch
You should review how your ads will be shown at least once before uploading to the TikTok Ads manager. If you can't do it yourself, adding relevant 3rd party tracking URLs to your ads in Ads Manager would be the best solution to track ad performance.
Double-check your campaign setup, and publish your creative for the upcoming holiday campaign!
5 Tips to optimize ad performance
From the results of some previous campaigns conducted, we have some tips and tricks for you to keep in mind during setting up the campaign process.
Improve targeting by reaching more audience
You should launch your campaign with broad, interest-based audiences to reach a sizable target group of interested people. Moreover, the brand can start another conversions campaign with the aim of targeting a group of custom audiences or lookalike audiences.
Optimize higher funnel
Funnel events are a list of actions in the customer's journey from seeing the ad, to researching, considering, and purchasing. So brand should take care of each stage to offer the best experience for customers during the whole process. That is why we recommend you start by optimizing specific events as add-to-cart or view content before completing payment.
Limit making changes in the ad group
You should adjust the target, bid, budget, and track at least every two days. Moreover, if your ad is still in the ad-tracking process, try to not make any adjustments as much as possible. So, the TikTok team review will have more time to reassess between modifications.
Update your creativity frequently
TikTok is the world of creativity and that's also the reason users come to this platform. Thus, to keep users instead and excited during their product discovery, we highly recommend refreshing your content ideas every 7 days during the campaign. This also encourages and inspires more and more users to jump into the shopping holiday season.
Adjust your bid and budget regularly
The budget shouldn't be altered by more than 30% from the initial budget setting.
Don't increase or decrease the bid by more than 20% from the last bid setting.
Get started for running ads the holiday campaign
TikTok provides a full-funnel marketing suite that hits every stage of the consumer experience and has limitless creative potential. These help brands make the most of the platform during the shopping season peaks.
We hope this article covers all of the information and material you need to create a festive ad campaign. Keep in mind to bring meaningful and special holiday moments into their shopping experience instead of trying to promote your products.
If you need any help in launching a TikTok ad campaign, feel free to contact our experts via live chat or try our NestAds app.