As TikTok has turned into a shoppertainment platform, businesses of all scales have recognized the potential of TikTok Ads and started to unlock the platform's magic capabilities. Therefore, a TikTok Ads Manager account is the starting point for spreading your creativity, establishing meaningful connections with new customers, and driving increased traffic to your website.
With TikTok Ads, the possibilities for expanding your business are endless. And we are here to show you the ropes. Let's discover how to create a TikTok Ads Manager Account (TikTok Ads Account) in this article!
What is TikTok Ads Manager?
TikTok Ads Manager is the one-stop solution for creating and managing paid ad campaigns on TikTok. With this tool, you have access to all the necessary features for launching impactful advertisements, achieving conversions, and evaluating results. Furthermore, it's user-friendly and affordable.
By using TikTok Ads Manager, you can access some extended features to take full control of your advertising including:
Detailed account dashboard: Gain a comprehensive perspective of all your campaigns, metrics, and budgeting tools on TikTok.
Creative tools & ad formats: Discover advertising formats that align with your marketing objectives and utilize tools that will enable you to present your story in entertaining and captivating ways.
Advanced targeting: Tailor your audience based on gender, location, age, interests, and other unique variables.
Comprehensive measurement solutions: Understand the impact TikTok has in your campaign, no matter your objective.
One note for you is that TikTok Ads Manager isn't open for personal accounts. You'll need a TikTok for Business account to access it and run ads. A TikTok for Business account has tons of advantages tailored for business use. Switching to it can give your business more support.
6 simple steps to create a TikTok Ads Manager Account (TikTok Ads Account)
Now that you've got the basics of TikTok Ads Manager, let's dive in and create your own account. It's super easy. Just follow these 6 simple steps:
Step 1. Sign up for your account
Firstly, you need to access TikTok Ads Manager's sign up page to create your account. You can register an account by using your email address or phone number.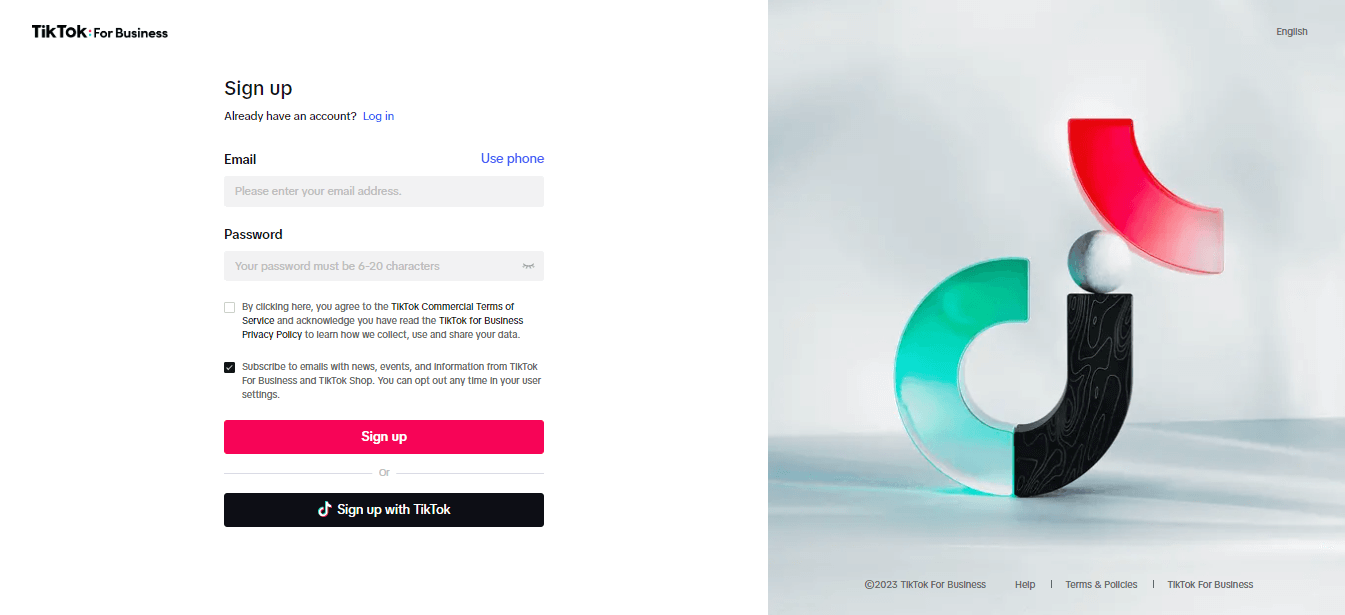 After completing your email and password, you need to accept TikTok Ads terms and conditions, and then click "Sign Up". Then TikTok will automatically send a verification code to your email address, find and enter your code to verify your email.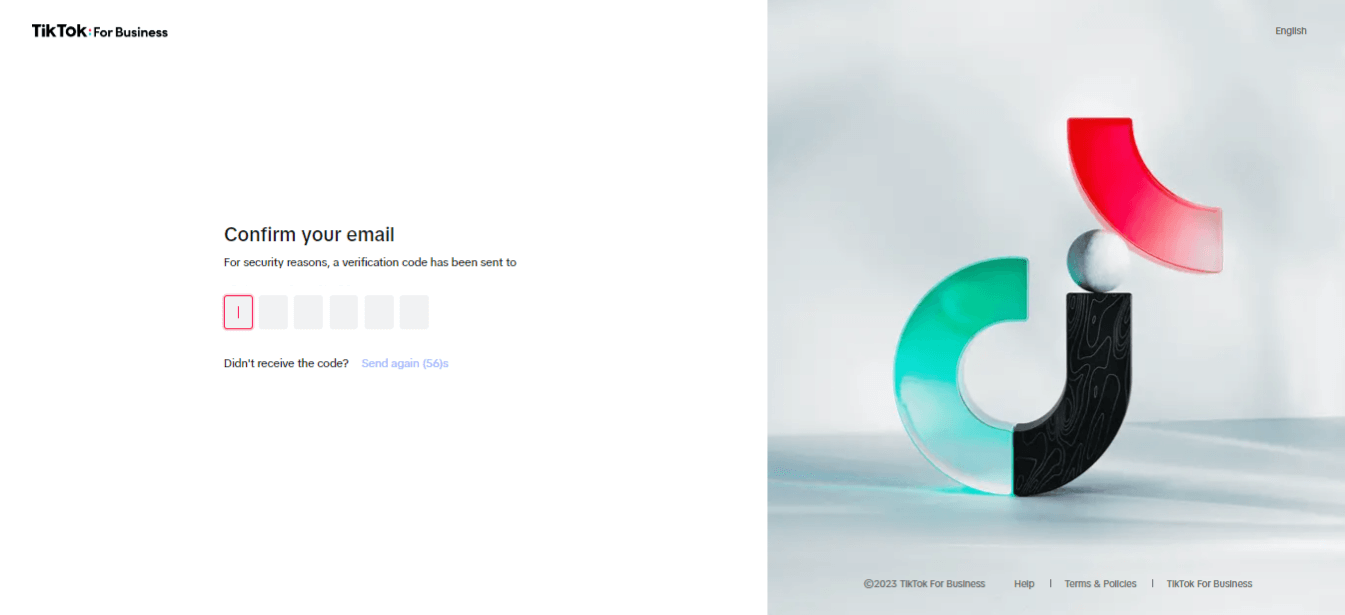 Step 2. Complete basic information
To create a TikTok ads account, you will need to fill in some basic information related to your business, including:
Business name: You must enter a name that is the same as, or closely connected to your company's legal name.
Industry: Choose one industry that your business is currently operating in within the drop-down list of TikTok.
Country/Region: Where your business is located.
Currency: Select the currency you prefer and want to use in your billing.
Time Zone: Make sure to choose your right time zone, you are not allowed to change it later.
Phone: Fill in your personal or business phone number.
Click "Continue" when you complete this page, check your information carefully, and accept TikTok terms.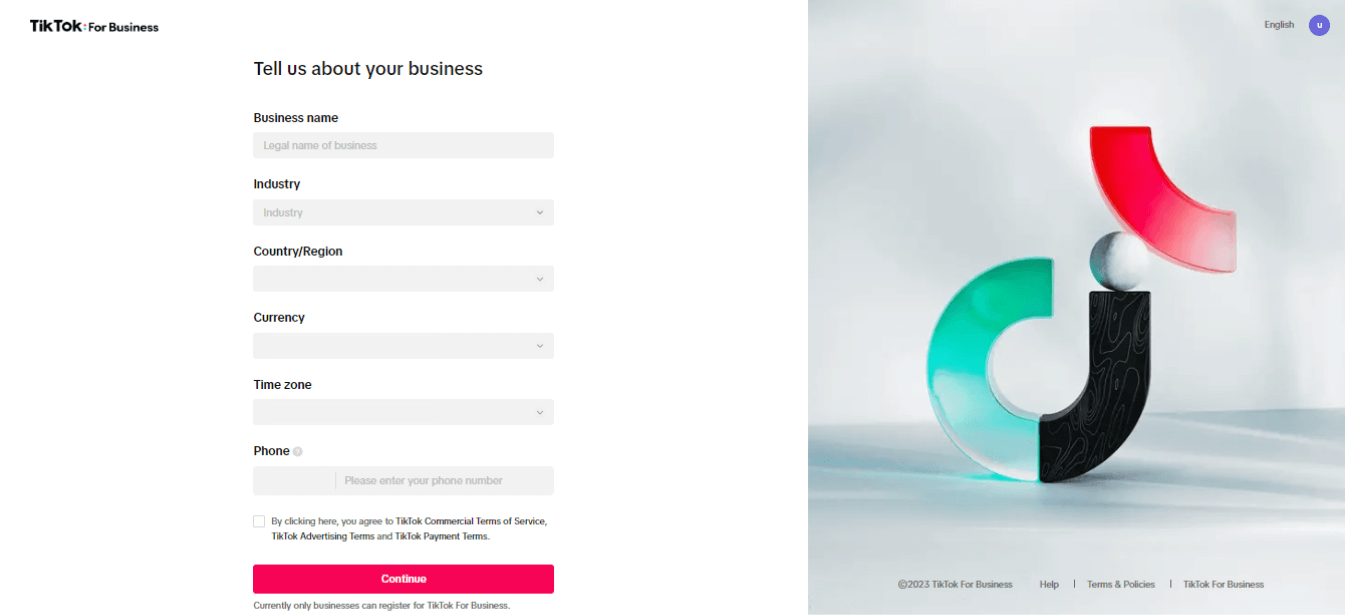 After having filled in all of the basic information for your TikTok ads account, TikTok will send you a verification code to your phone number. Use that code to finish verifying.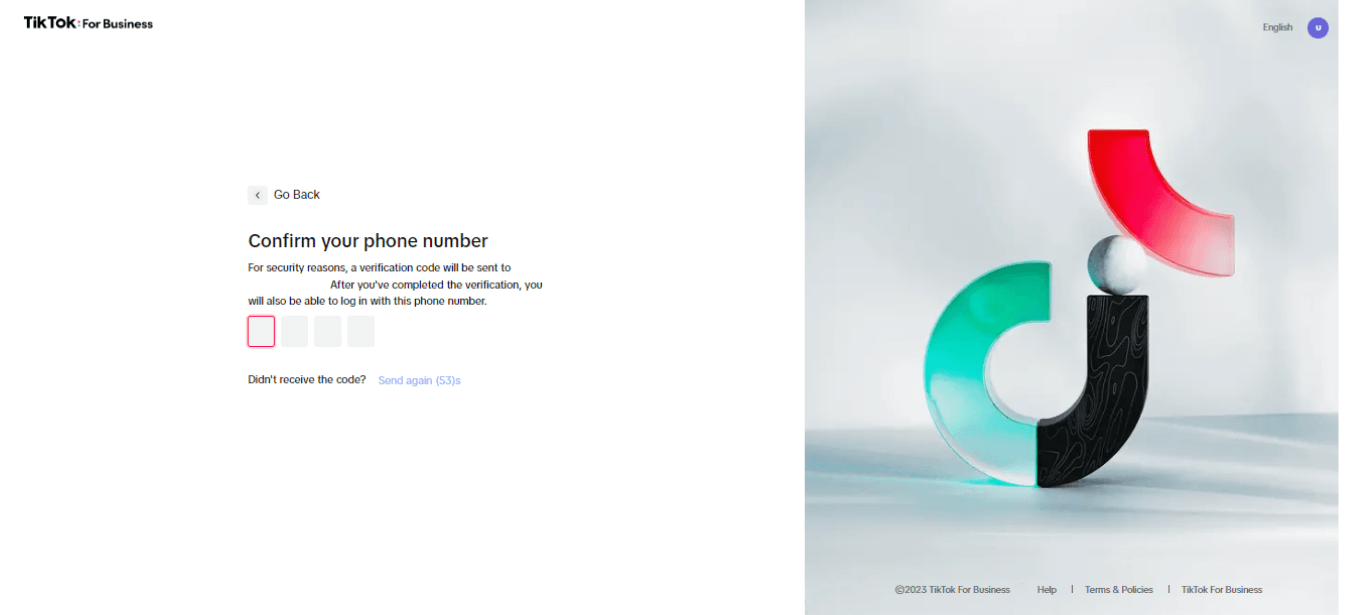 Step 3. Select a payment method
After the verification, TikTok will ask you to set up your billing information. You can choose between 2 payment types: Manual Payment and Automatic Payment. However, make sure to choose the most suitable billing method right at this point, as you can't change it later.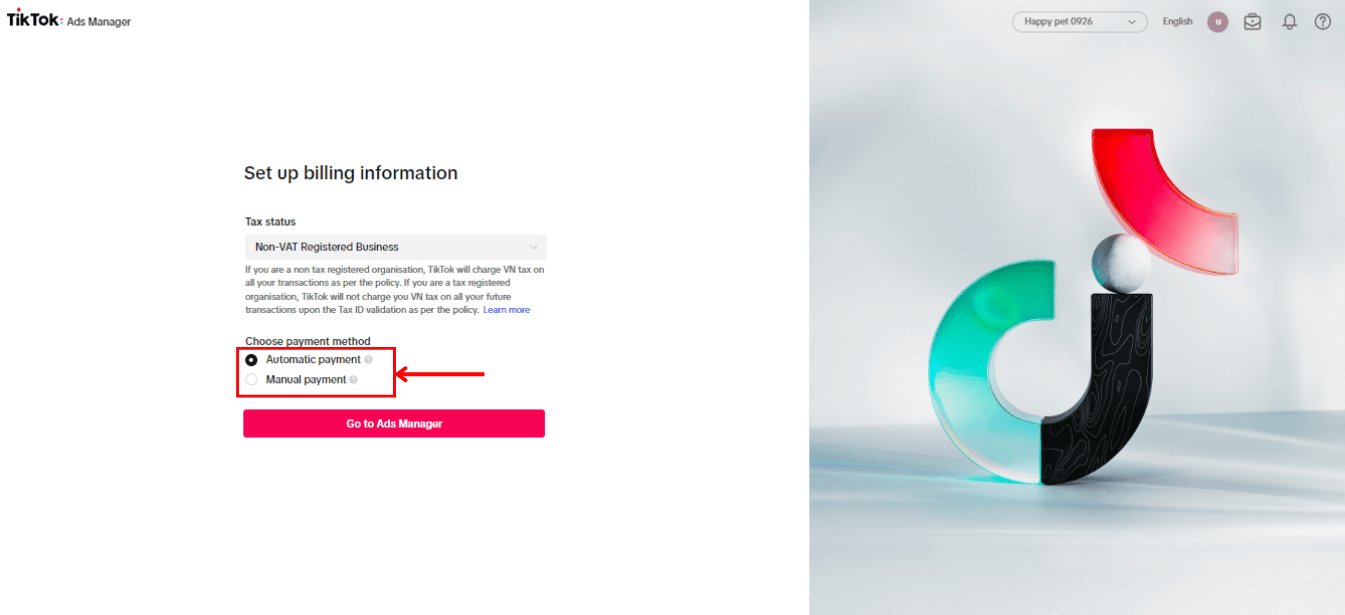 Step 4. Set up your TikTok Ads Manager account
After finishing the registration, it's time to add more info to your account and wait for TikTok to review it. To do this, go to Tools > Account setup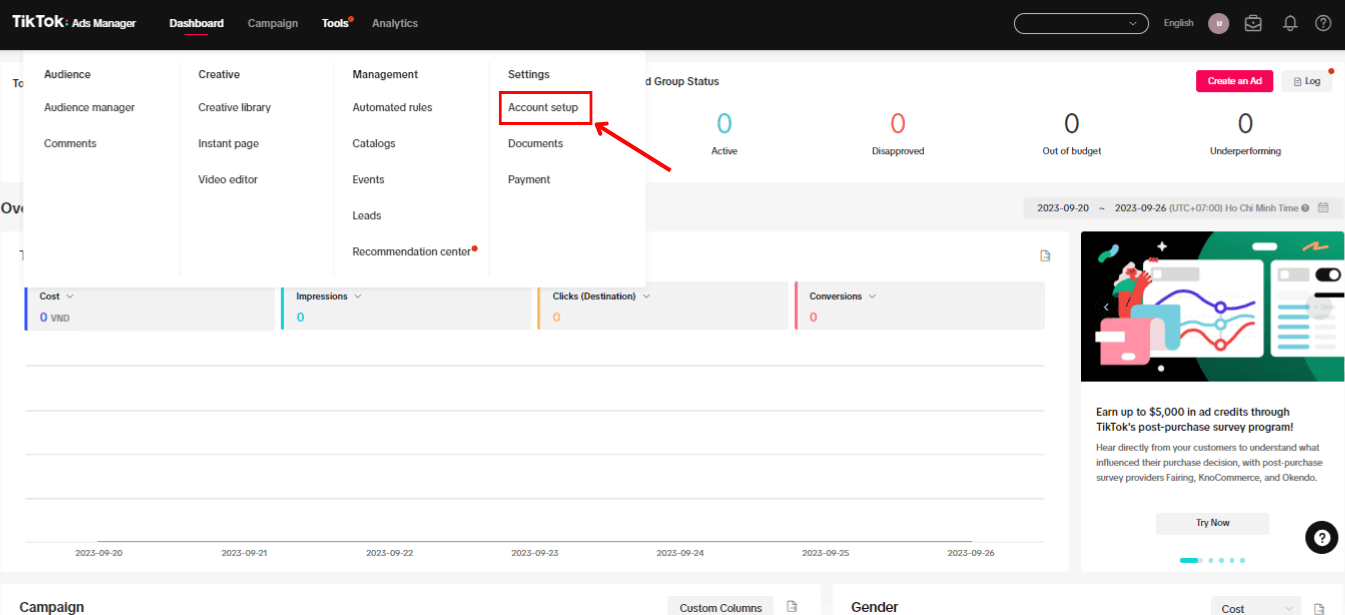 Step 5. Enter detailed business information
After step 3, you will be directed to the Account Setup dashboard. Then, scroll down until you see the Business Information section. Click Edit. In this step, there is some specific information about your business that you need to complete, including
Company Website: Enter your company website URL following this format: https://www.tiktok.com/.
Industry: Choose the industry belonging to your company's products and services.
State/Province
Postal code
Street Address
Business Verification (Optional): Although this information is not necessary to finish creating a TikTok Ads Manager account, it will let you apply for ad credit programs and use extra TikTok for Business features, for example, TikTok Creator Marketplace.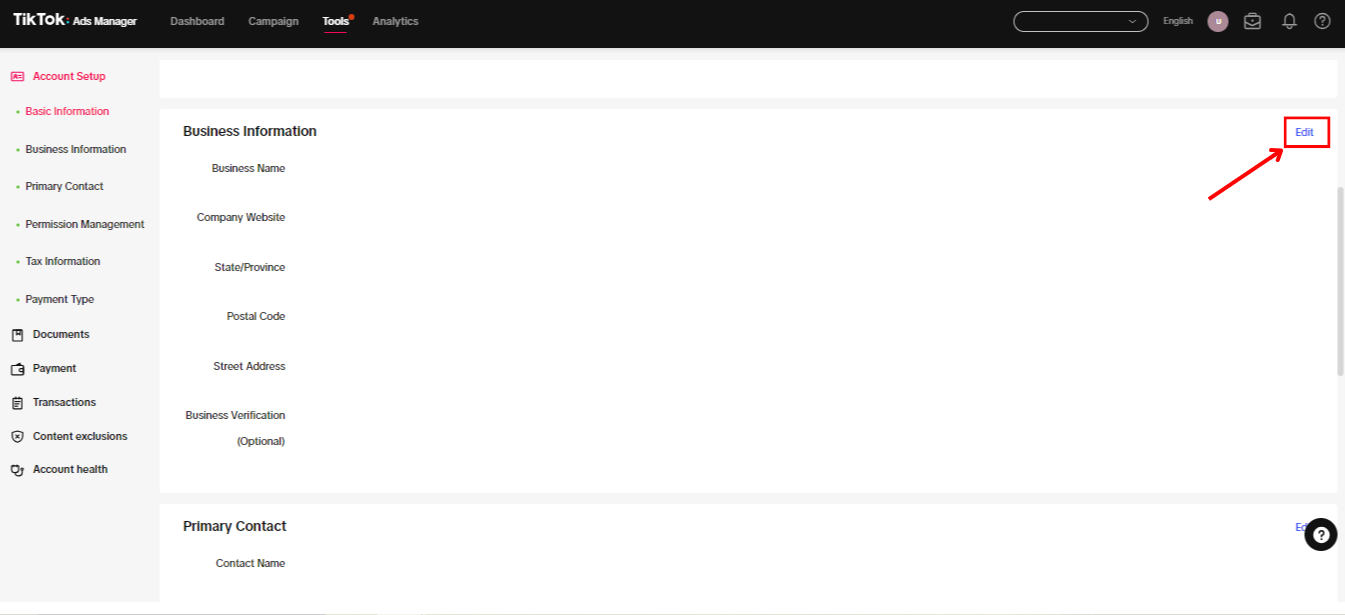 Step 6. Submit account information
After filling in all the information on the Account Setup page, just click Submit at the bottom of the page. TikTok will review your account information and you have to wait up to 24 hours.
Connect TikTok Ads Manager Account to TikTok Business Center
If you want to manage multiple TikTok Ads Manager accounts in one place, our recommendation is to connect them to the TikTok Business Center. It's like a hub where you can handle all your ads in a single platform.
If you don't have a TikTok Business Center account yet, start by creating one. Just click the Business Center icon in the top-left corner of your TikTok Ads Manager dashboard, fill in the necessary info, and you're good to go.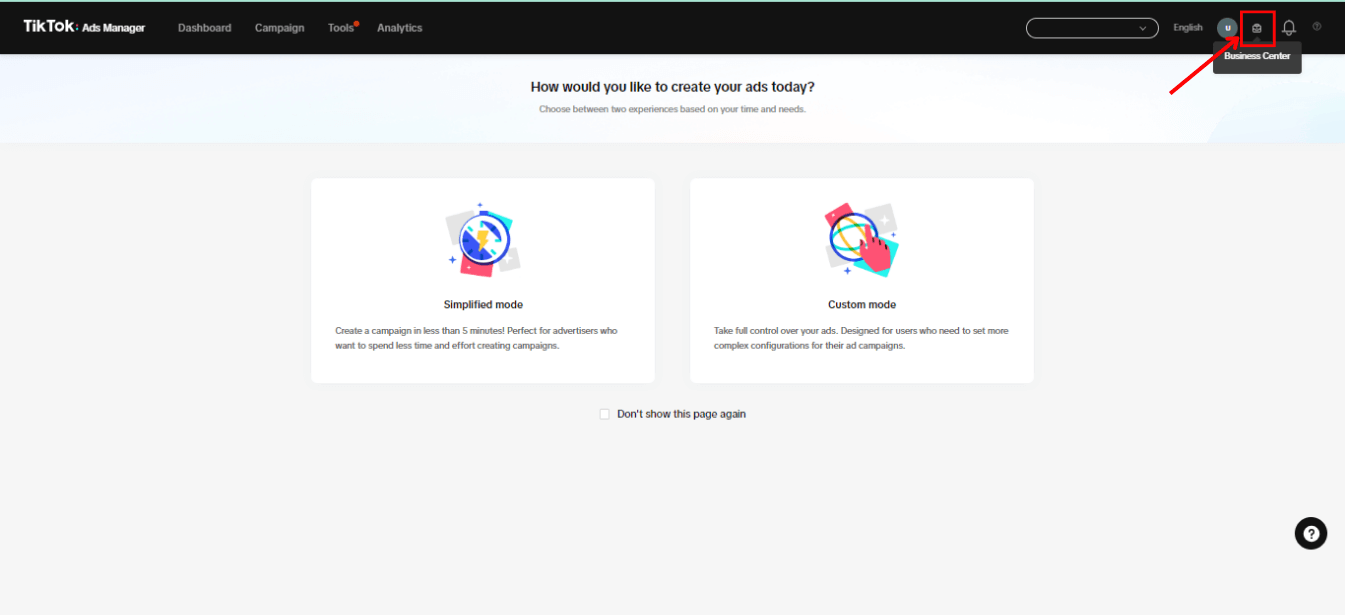 On the other hand, if you've already had a TikTok Business Center account, here is what you need to do:
Step 1. In your TikTok Business Center dashboard, go to Advertiser accounts. Then, click on Request Access to connect to your current TikTok Ads Manager Account.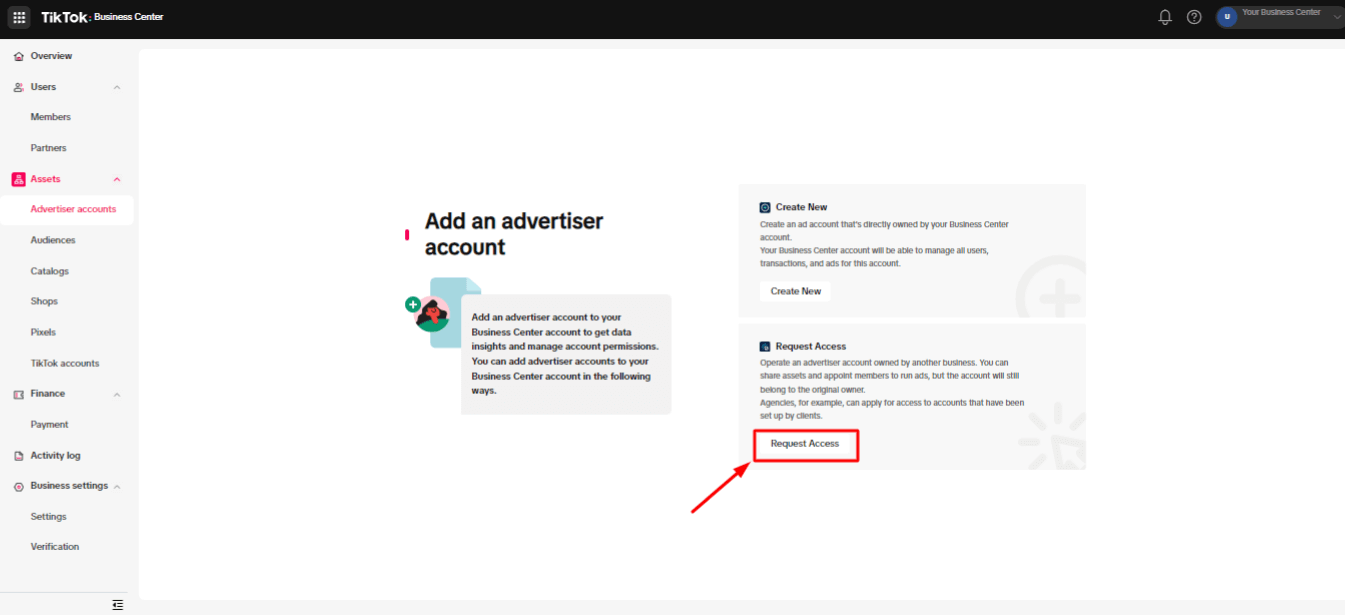 Step 2. Type in your Ads account ID. You can Take the ID by going to your TikTok Account > clicking on your Account name. After that, copy the store ID and paste it into your TikTok Business Center.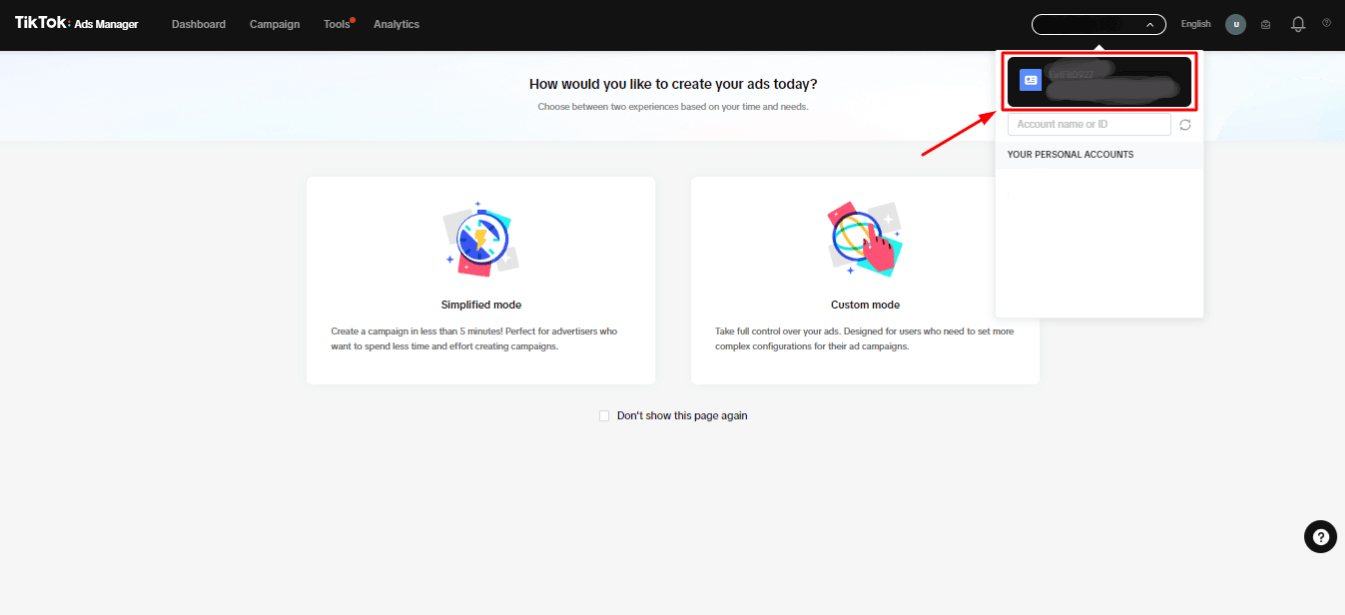 Step 3. Decide if you want to be the Admin, Operator, or just an Analyst. If you pick Admin, you will be automatically approved. But if you go for Operator or Analyst, the store's Admin has to approve your request.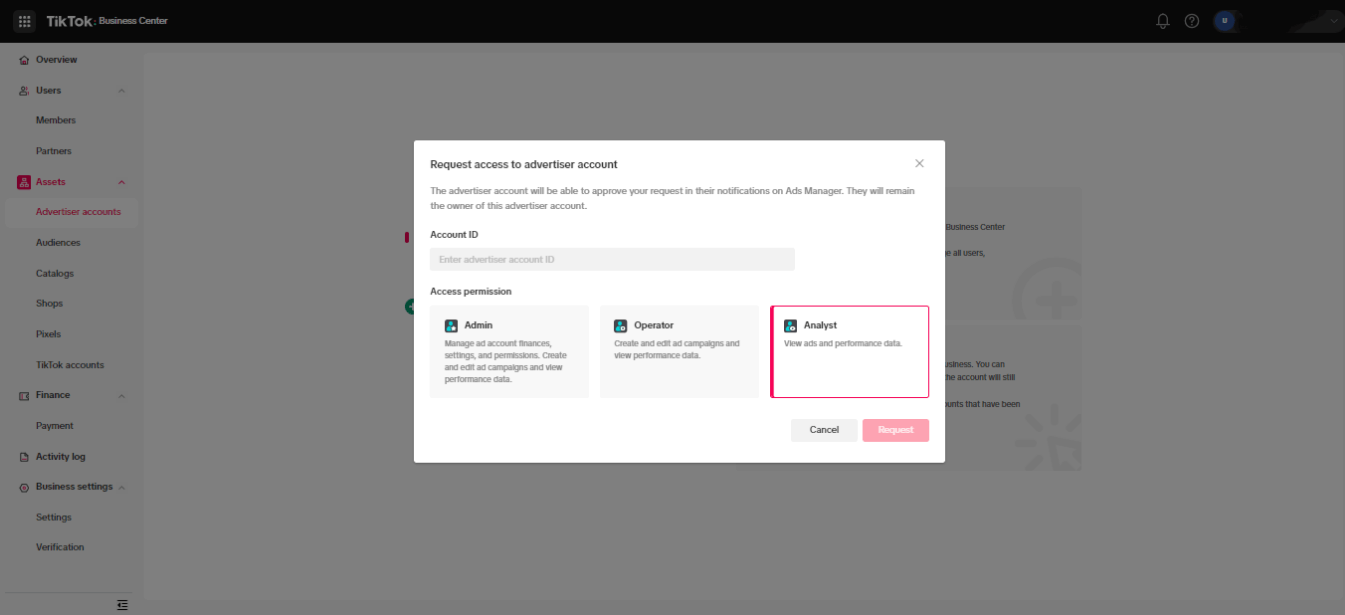 TikTok Ads Manager Account review checklist
After making your TikTok Ads Manager account, it needs to go through a review by TikTok before it's fully functional. During this phase, your TikTok account status will show as 'Under review'. You can create new ads while your account is under review, but they won't run or show any results.
To speed up the review process and prevent potential rejection, make sure that you include all of the info in this review checklist:
Location & business type
Make sure your business is located in a region supported by TikTok Ads Manager. You can check Placements and Available Locations for detailed information.
Confirm that you are allowed to advertise your business products in your market on TikTok.
Account and business name
Verify that the information you provided on your account setup page does not contain any offensive language or long, illegible text strings like "asdfghji123".
The "Business Name" you provide when you complete your business information must match your business's legal name.
Company website
TikTok checks the company website you added on your "Account Setup" page, so please keep an eye on these requirements.
The URLs of your company must follow the correct format like "https://www.tiktok.com/".
Make sure your website functions properly and is not under construction or has a 404 page. TikTok also encourages a mobile-optimized website.
Your website must promote a product, service, or brand clearly and comply with local policies regarding payment, privacy, and refunds.
Do not show any violent, pornographic, or illegal content on your website. Check section 3. Restricted Content in TikTok Advertising Polices – Ad Creatives for more detailed information.
Industry qualifications
If your local market requires it, TikTok will check your official documents like a business license or professional certification to verify that the name on your official documents matches those on your account's business name and company website.
How to request a TikTok Ads account review?
In case your TikTok Ads Manager account is not quickly approved, you definitely want to claim an account review. There are three main methods you can use to get your account accepted.
Edit your account information
This method is suitable if you've realized a mistake with your Business Information or if a new URL has been updated for your company website.
To do that, you need to:
Access your Account Setup page and click Edit in the section you want to change, just like when you edit your information when you first created your account.
Click Save after you make any changes to your business or contact information. This will automatically request a new account review.
Request a review
Use this second method if you have resolved a problem with your company website such as fixing a 404 error or adding the necessary information.
To do that, you need to:
Find the Account Status section on your Account Setup page.
Click Request Review under the account status.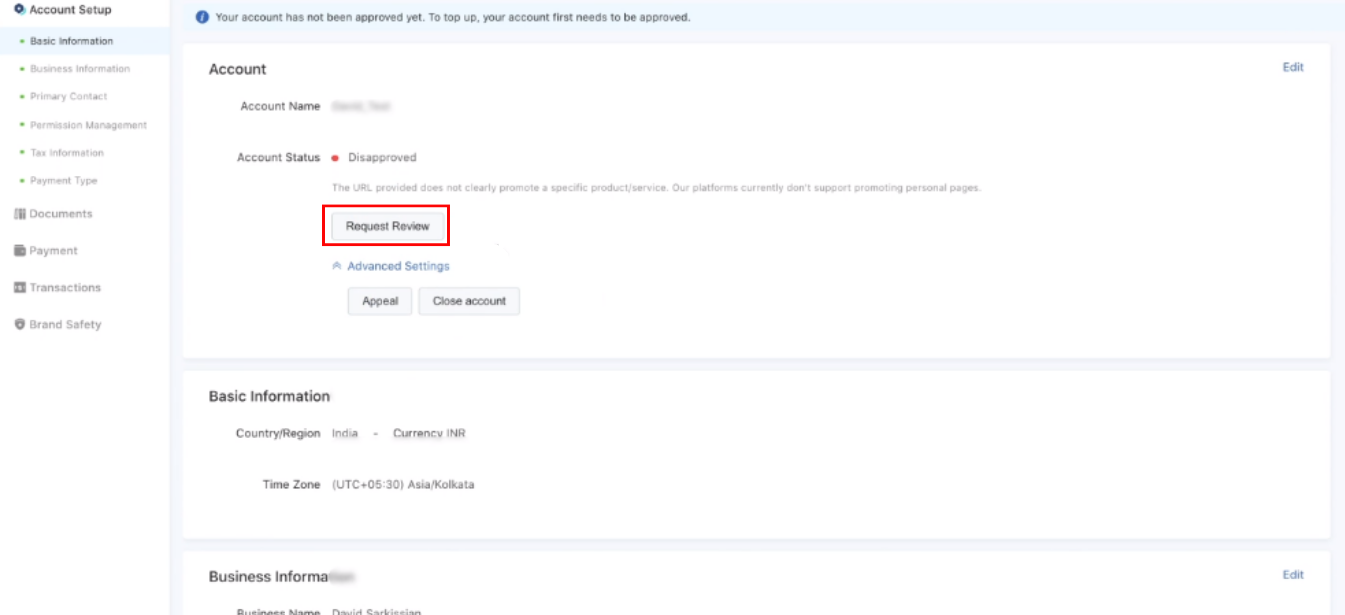 Make an appeal
If your business and landing page satisfy all TikTok requirements and you think the reason why your TikTok Ad Manager account was disapproved was unclear, don't hesitate to make an appeal.
To do that, you need to:
Find the Account Status section on your Account Setup page.
Choose Advanced Settings then click Appeal.

Ready to create your TikTok Ads Manager account?
Once your account has been approved, you have successfully set up your TikTok Ads Manager account. You can start running your TikTok Ad campaign and broaden your brand's reach to a large community of TikTok users.
New to TikTok ads? Want to launch your winning TikTok ads with no experience required? Simplify TikTok ads creation and management process now!