Since TikTok became a shoppertainment platform, businesses of all sizes have unlocked the magic of TikTok thanks to TikTok Ads. Spread your creativity, connect your new customers, and drive more traffic to your website, it all starts with TikTok Ad Manager account.
And we are here to show you the ropes. Let's discover how to create your TikTok Ad Manager Account!
Step 1: Sign up for your account
The first step is very simple. You just need to access TikTok Ads Manager's signup page to create your account. You can register an account by using your email address or phone number.
After completing your email and password, you need to accept TikTok Ads terms and conditions, and then click "Sign Up". Then TikTok will automatically send a verification code to your email address, find and enter your code to verify your email.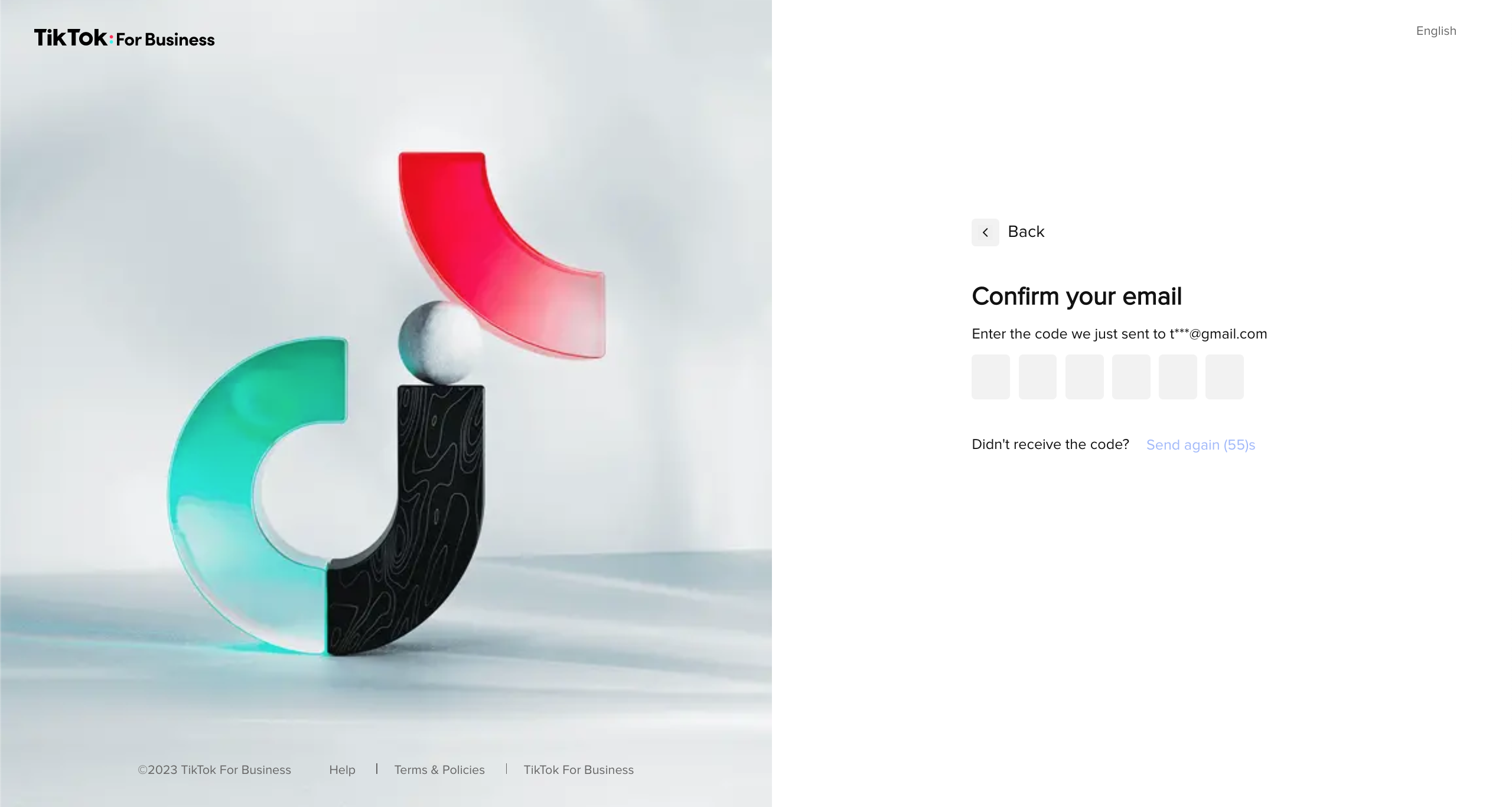 Step 2: Complete basic informations
To create an account, some basic information related to your business is required, including
Business name: You must enter a name that is the same as, or closely connected to your company's legal name. 
Industry
Country/Region: Where your business is located.
Currency: Select the currency you prefer and want to use in your billing.
Time Zone: Make sure to choose your right time zone, you are not allowed to change it later.
Phone
Click "Continue" when you complete this page, check your information carefully and accept TikTok terms.
At this step, you also need to confirm your phone number with a verification code.
Step 3: Set up your TikTok Ad account
After finishing the register step, you can access Account Info under your Account Settings from the Dashboard presented.
Step 4: Enter detailed business information
In this step, there is some specific information about your business that you need complete, including
Company Website: Enter your company website URL following this format: https://www.tiktok.com/.
Industry: Choose the industry belonging to your company's products and services.
Street Address
State/Province
Postal code
Business Verification (Optional): Although this information is not necessary to finish creating a TikTok Ad account, it will let you apply for ad credit programs and use extra TikTok for Business features, for example, TikTok Creator Marketplace.
Step 5: Select a payment method
You can choose between 2 payment types: Manual Payment and Automatic Payment. However, TikTok doesn't offer Automatic Payment for all the markets at this time.
Step 6: Submit account information
After fill all the information on the Account Setup page, you just need to click Submit at the bottom of the page. TikTok will review your account information and you have to wait up to 24 hours.
3 commons reasons why your TikTok Ad account is rejected
If you want to easily create TikTok Ad account, there are 3 things you should keep in mind:
Access to TikTok Advertising Policies – Industry Entry to check a complete list of prohibited products or services in each market. Different countries will have different products that are not allowed to advertise.
The "Business Name" you provide when you complete your business information must match your business's legal name.
The URLs of your company must follow the format "https://www.tiktok.com/". Do note that your company website must have a proper function, provide all necessary contact information and clearly promote a product or service. Check section 3.1 in TikTok Advertising Polices – Ad Creatives for more detailed information.
How to request an account review?
In case your TikTok Ad account is not quickly approved, you definitely want to claim an account review. There are three main methods you can use to get your account accepted.
Edit your account information
This method is suitable if you've realized a mistake with your Business Information or if a new URL has been updated for your company website.
To do that, you need to:
Access your Account Setup page and click Edit in the section you want to change.
Click Save after you make any changes to your business or contact information. This will automatically request a new account review.
Request a review
Use this second method if you have resolved a problem with your company website such as fixing a 404 error or adding the necessary information.
To do that, you need to:
Find the Account Status section on your Account Setup page.
Click Request Review.
Make an appeal
If your business and landing page satisfy all TikTok requirements and you think the reason why your TikTok Ad account was disapproved was unclear, don't hesitate to make an appeal.
To do that, you need to:
Find the Account Status section on your Account Setup page.
Choose Advanced Settings then click Appeal.
Ready to create your TikTok Ad account?
Once your account has been approved, you have successfully set up your TikTok Ad manager account. You can start running your TikTok Ad campaign and broaden your brand's reach to a large community of TikTok users.
If you need any help in creating your TikTok Ad account and launching your first ad campaign, feel free to contact our experts or try our new product NestAds for free now.