Are you struggling to find the right audience for your TikTok ads? Have you tried using TikTok Custom Audiences? This ad targeting option allows you to connect with people who have already engaged with your brand, making them more likely to convert.
In this blog, we'll dive into the different types of TikTok Custom Audiences and show you how to create them in just four simple steps. Plus, we'll share some tips on how to make the most out of this powerful targeting tool. So, whether you're a TikTok pro or just getting started, keep reading to learn how to reach the right audience with TikTok Custom Audiences.
What do you know about Custom Audiences on TikTok?
Custom Audience is known as an ad targeting option that helps you identify people who are familiar with or have interacted with your brand. This kind of targeting is a great tool for remarketing, contacting potential repeat buyers, growing your following, and also boosting app engagement. 
TikTok Custom Audiences allow you to use someone's information to re-engage them with an ad after they have liked or commented on one of your earlier TikTok ads. This tactic can help you connect with devoted clients, raise brand awareness (and your TikTok following), transfer app engagement to other platforms, and develop TikTok Lookalike Audiences.
Remember, to target custom audiences in an ad group, a minimum audience size of 1,000 must be present. Before starting to retarget people, you need to upload an email list with 1,000 names and email addresses or gain more information from 1,000 visitors to your site.
How to create TikTok Custom Audiences in 3 simple steps
After you've enabled retargeting on your app in TikTok Ads Manager, you'll need to build a Custom Audience to identify TikTok users who have acted on your app. Even if you use any source between the six sources mentioned, to accomplish this, let's follow our 4 steps.
Step 1: Open TikTok Ads Manager.
Step 2: Go to the Audiences section from Assets.
Step 3: Choose the source you want to make your TikTok Custom Audiences.
7 Different sources to create the best TikTok Custom Audiences ever
TikTok allows advertisers to create different types of custom audiences at ad groups level including
Customer file
App Activity
Lead Generation
Engagement
Website Traffic
Business Account
Shop Activity
Customer file
You can use TikTok Ads Manager to create a Custom Audience by uploading your own Customer File.
These might be clients who have already purchased from you, subscribers to your email list, or those who have registered for a webinar, a new product launch, etc. These people have already interacted with your brand, so trust has already been gained.
To make sure that you will be successful to create a customer file, here are some important notes:
A minimum matched audience size of 1,000 is necessary to target Custom Audiences in an ad group.
You are allowed to have up to 400 custom audiences at one time within the account.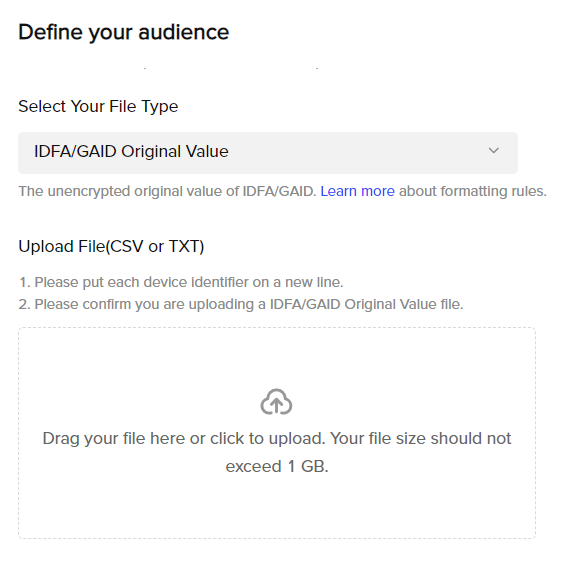 Website traffic
People who have been to your website or have engaged in a certain action there should be gathered into a customized audience. Once more, this is a fantastic approach to connecting with people who are familiar with you and have previously interacted with your business.
You can target users on TikTok who:
Clicked a particular CTA or button on your website
Bought something
Completed and delivered a form
Started a free trial
Spoke with your support staff
Visited a specific blog post or piece of material

Engagement
How about creating segments based on your TikTok engagement rate?
On any of the TikTok family of apps, build an audience of users who have expressed interest in your content. Clicks, impressions, and lists of people who have previously interacted with your content, brand, or items are examples of this.
To maintain the momentum and remain relevant, for instance, you might retarget the viewers of a video that has received a lot of likes.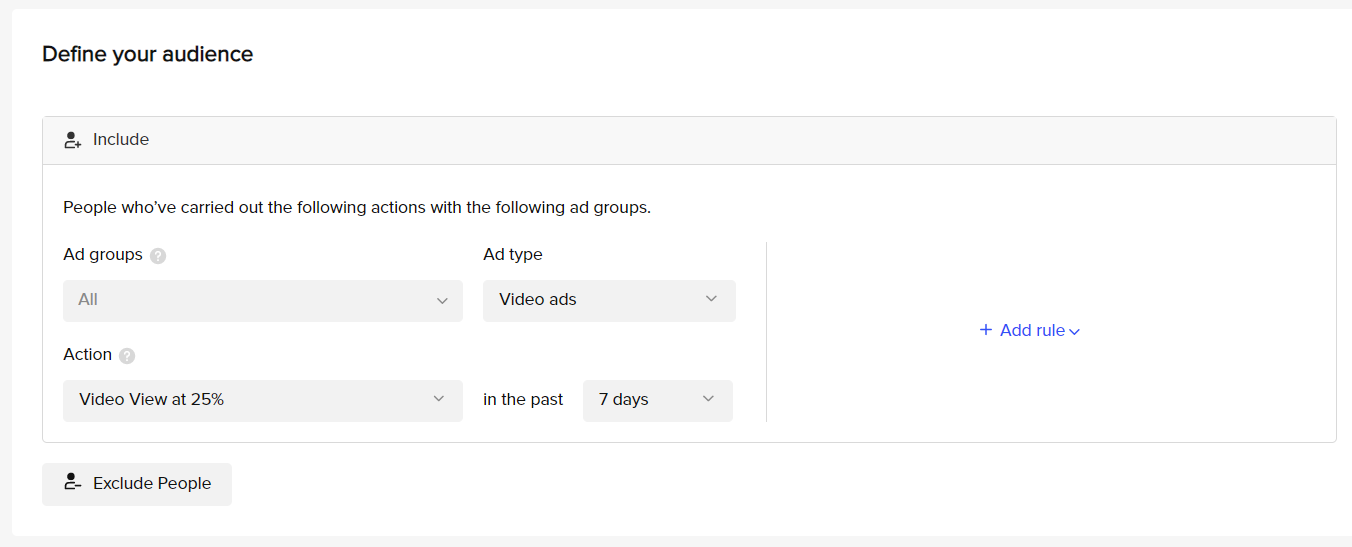 App activity
Apart from website traffic and engagement, you can also create custom segments based on certain events that happen within your company's app.
Make a customized audience out of users that have used your app and performed particular behaviors. Because they have downloaded and used your software, these leads are really interested (and maybe even bought something through it).
Here are some example app activities that are supported by TikTok:
Purchase: When someone buys a product
Register: When someone registers with your brand or creates an account
Checkout: When someone makes it to checkout
Add to Cart: When someone adds an item to their cart (even if they don't check out)
View Content: When someone views a product or service page, blog post, or other content in your app

Lead generation
Users who interacted with your lead ads (view or submit a form) can be used to create an audience. For example, to increase the efficiency of your campaign, you can retarget viewers who only saw your Lead Ads' form page.
However, please do note that
Up to 400 customized audiences can be active for one advertiser at once.
Lead Generation only permits placement on TikTok.

Business account audience
The new custom audience type known as "Business Account Audience". You are only allowed to use your TikTok Business Account to retarget audiences when your organic profile has finished one of the following activities:
Follow, visit the profile, and watch the video (2, 6, or 100% of the time).
Like, share and leave a TikTok comment.
Shop Activity
Basically, TikTok's Shop Activity Custom Audience feature helps businesses to connect with their interested and existing customers, and also expand their customer base.
With this feature, you can create a custom audience based on user actions such as Product Detail Page View, Add to Cart, Initiate Checkout, and Purchase. This audience includes both paid and organic activity.
It's recommended to start with broader audiences and monitor performance before narrowing down. Also, leaving the "Auto-Refresh" option on ensures that your audience stays updated and relevant.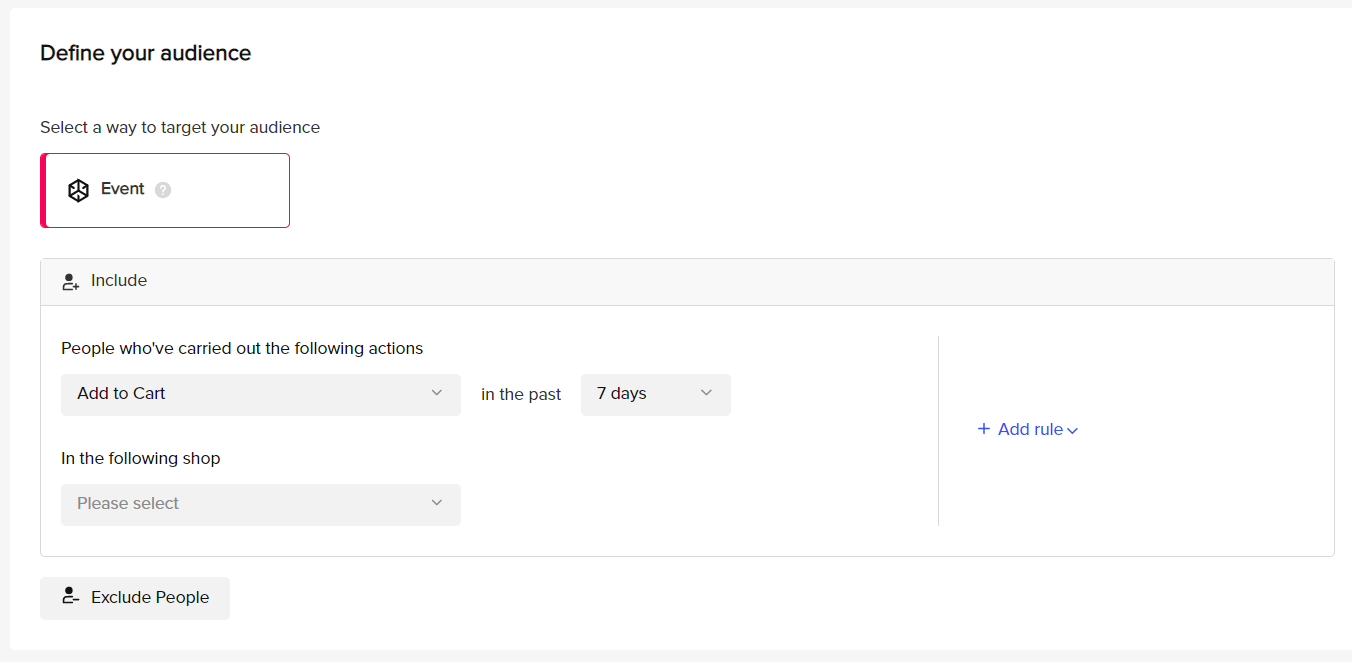 4 management activities to optimize your TikTok Custom Audiences
After reviewing the types and sources for creating a custom audience, you may want to consider four ways to manage and keep track of your custom audience database.
Apply audience
You can apply your audience to an ad group from the Audience section or from the Ad Group section.
One audience can be applied to numerous ad groups; however, it cannot be used to include and exclude at the same time.
Meanwhile, if there is an overlap between the audience in include and exclude, the audience will be excluded.
Delete audience
You can delete an audience if you've added a custom audience to an ad group but decide you no longer want to use it.
Disconnect with ad groups
If you've applied an audience to an ad group but no longer wish to use that audience, you can click on the audience detail page to disconnect ad groups.
Audience specifics
Audience Application Details: Illustrates the connection between the audience and the ad groupings.
"Disconnect Ad Groups": Disconnects the audience-specific ad groups.
Audience History: Displays the TikTok Ads Manager operation log (create or edit audience).
3 Best Practices to make an effective TikTok Custom Audience list
Don't forget the country code
Even if all the phone numbers on your list are from the same nation, always include the country code when using them.
Mention the country
Whenever you use a country on your list, make sure to include it in a separate column. (Since TikTok matches on a global level, this enables them to match as many people from your list as possible.)
Choose your proper file type
If the campaign's objective is about apps, in order to properly select the operating system when creating the campaign and prevent unnecessary data loss, we advise using a custom audience that only includes IDFA or GAID file types.
Your IDFA and GAID data ought to come from the same region that your advertisement is targeting (for example, if you want to advertise in Japan, both types of data should come from Japan).
FAQ(s)
Can TikTok Custom Audience list auto-update?
Yes, Custom Audiences can actually auto-update!
Basically, TikTok Ads Manager lets you enable auto-refresh when you create your audience, and then it will refresh the audience daily based on the lookback window you chose. This means you'll always have the most up-to-date data on your target users, which can help you reach more people and make more sales.
Just keep in mind that if you disable auto-refresh later on, you'll need to create a new audience to start auto-refreshing again. And if your audience is too small, it might become unavailable after the refresh unless it has over 1,000 users.
What's the difference between TikTok Custom Audience and TikTok Lookalike Audience?
Custom Audiences are people who have already engaged with your business, while TikTok Lookalike Audiences are people who have not interacted with your brand yet, but have similar characteristics to those who have.
What's the benefit of using TikTok Custom Audience?
This targeting option allows you to re-engage with people who have already interacted with your company, either by liking or commenting on one of your TikTok ads. By targeting these people with personalized ads, you have the opportunity to turn them into loyal customers or repeat buyers.
Custom Audiences also give you the ability to raise brand awareness, grow your TikTok following, and transfer app engagement to other platforms.
What to do if you don't have the database of your audience?
To target Custom Audiences in a TikTok ad group, your minimum audience size of 1,000 is required. So, if you're just starting out with advertising on TikTok, it may be difficult to have a base data of your audience.
Designed specifically for beginners, NestAds can help you get started with TikTok ads and reach your right target audiences faster and easier. With its user-friendly interface and helpful features, you'll be able to launch, optimize, and scale successful TikTok ads in no time.
So don't worry if you haven't run any ads before, give NestAds a try and see how it can help you achieve your advertising goals on TikTok.