Are you curious about the potential of TikTok Video Shopping Ads? These innovative ads are revolutionizing the e-commerce landscape on TikTok. Combining the strengths of TikTok's previous e-commerce offerings like Collection Ads and Dynamic Showcase Ads, TikTok Video Shopping Ads leverage advanced automation and intelligent features for unparalleled performance. Join us to discover why these ads matter and how to create them now!
What are TikTok video shopping ads?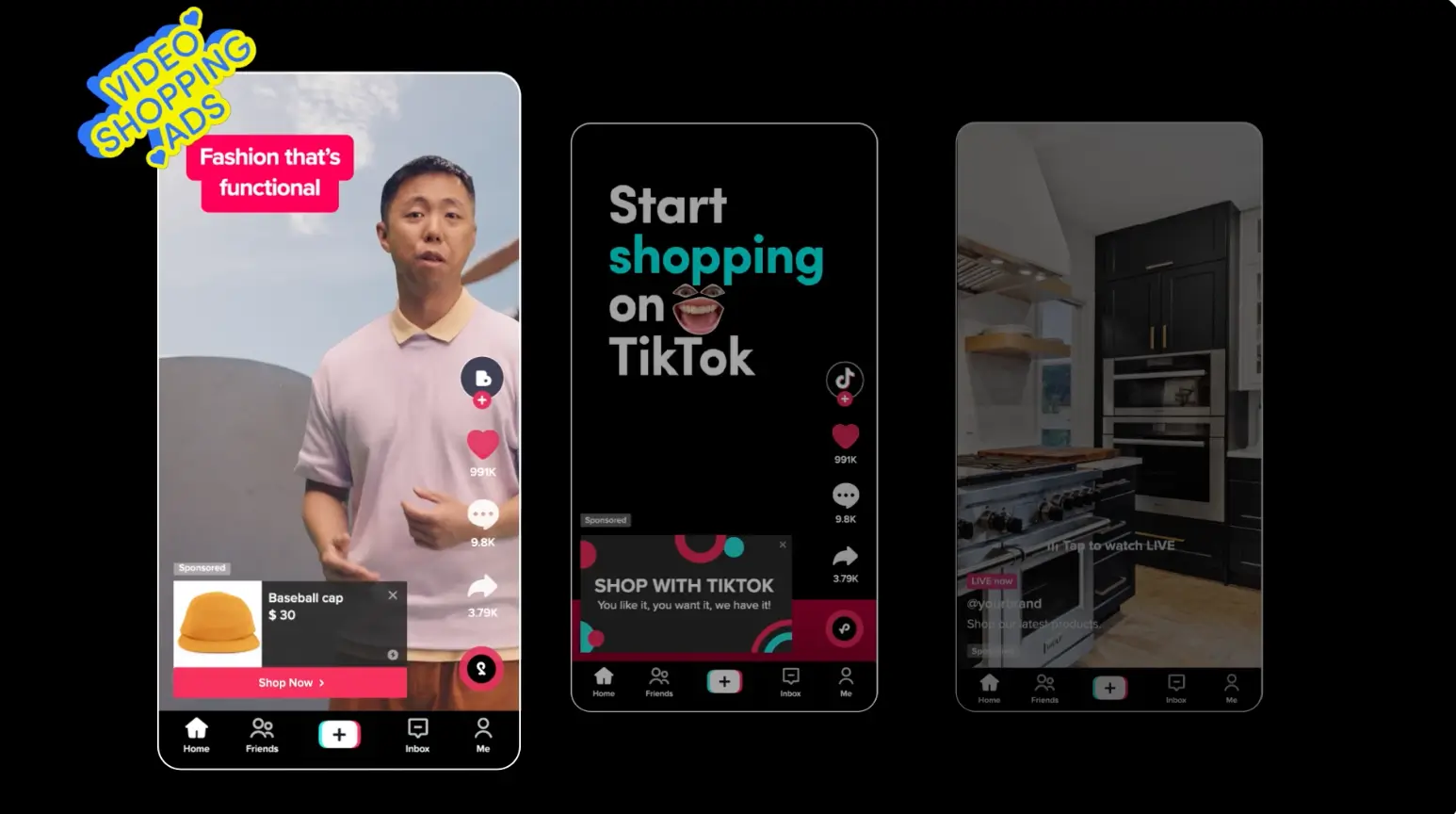 TikTok video shopping ads are one of a kind of TikTok shopping ads. They are interactive videos that smoothly guide users from the For You page to the checkout process. This innovation aims to boost sales, combining the most effective elements of TikTok's previous e-commerce products, such as Collection Ads and Dynamic Showcase Ads, with advanced automation and intelligent features to optimize overall performance.
There are two types of TikTok Video Shopping Ads: Video Shopping Ads for TikTok Shop and Video Shopping Ads for Catalog. In this article, we mainly focus on the latter and its functions.
Why do TikTok Video Shopping Ads matter?
Connect with shoppers easier
The buying process involves multiple interactions that customers have with your brand. In this instance, TikTok strategically positions relevant and purchasable videos on the For You page, allowing customers to explore products. This illustrates how Video Shopping Ads enable brands to connect with shoppers at various stages of their shopping journey, fulfilling their requirements no matter where they are.
Seamless Catalog Integrations
With various methods to add and oversee your product catalog, initiating a Video Shopping Ads campaign is only a few clicks away. You can access Video Shopping Ads via the Product Sales goal within TikTok Ads Manager.
Improve ads experience & boost sales
By utilizing Video Shopping Ads, brands can transform awareness-focused videos into an engaging format that entices shoppers and facilitates direct conversions. Whether your objective is to attract new customers or engage retargeted audiences, achieve a more tailored encounter by utilizing your product catalog and a secure, dependable data linkage.
How to create TikTok Video Shopping Ads (for Catalog)?
Note: Video Shopping Ads (for Catalog) are currently accessible to all online advertisers for open beta testing.
This guide is about creating TikTok Video Shopping Ads using a catalog of products, hence you don't need to set up TikTok Shopping for this.
Here are the 5 primary steps needed to generate Video Shopping Adsusing a product catalog:
1. Establish a catalog on TikTok Business Center.
2. Add your products to the catalog.
3. Upload or create videos showcasing the catalog's products.
4. Connect events between your catalog and a measurement partner or TikTok Pixel.
5. Launch a campaign utilizing the products from your catalog.
Step 1. Create a catalog
The initial phase of crafting Video Shopping ads involves establishing a catalog within the TikTok Business Center.
Log in to TikTok Business Center
Navigate to the Assets and then click on Catalog.
Hit the Create button.
Fill in Catalog Name
Opt for a Default Currency for the items listed in your catalog.
Pick a Targeting Location where your ads are shown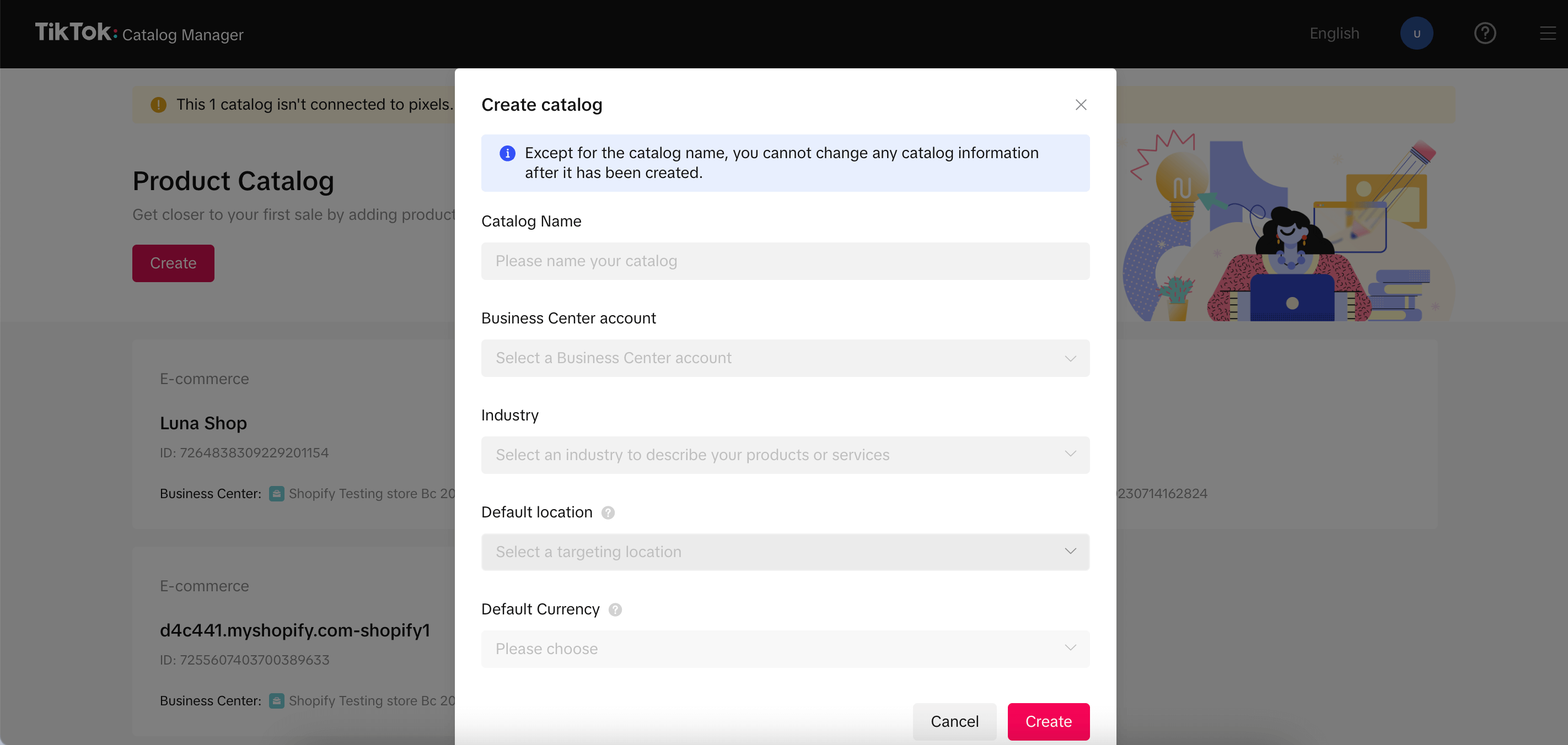 Step 2. Add products
Once you've created a catalog, the next step is to add your products to it.
Select your Catalog.
On the left-hand side of the screen, under Manage, select Products.
Click on the Add Product button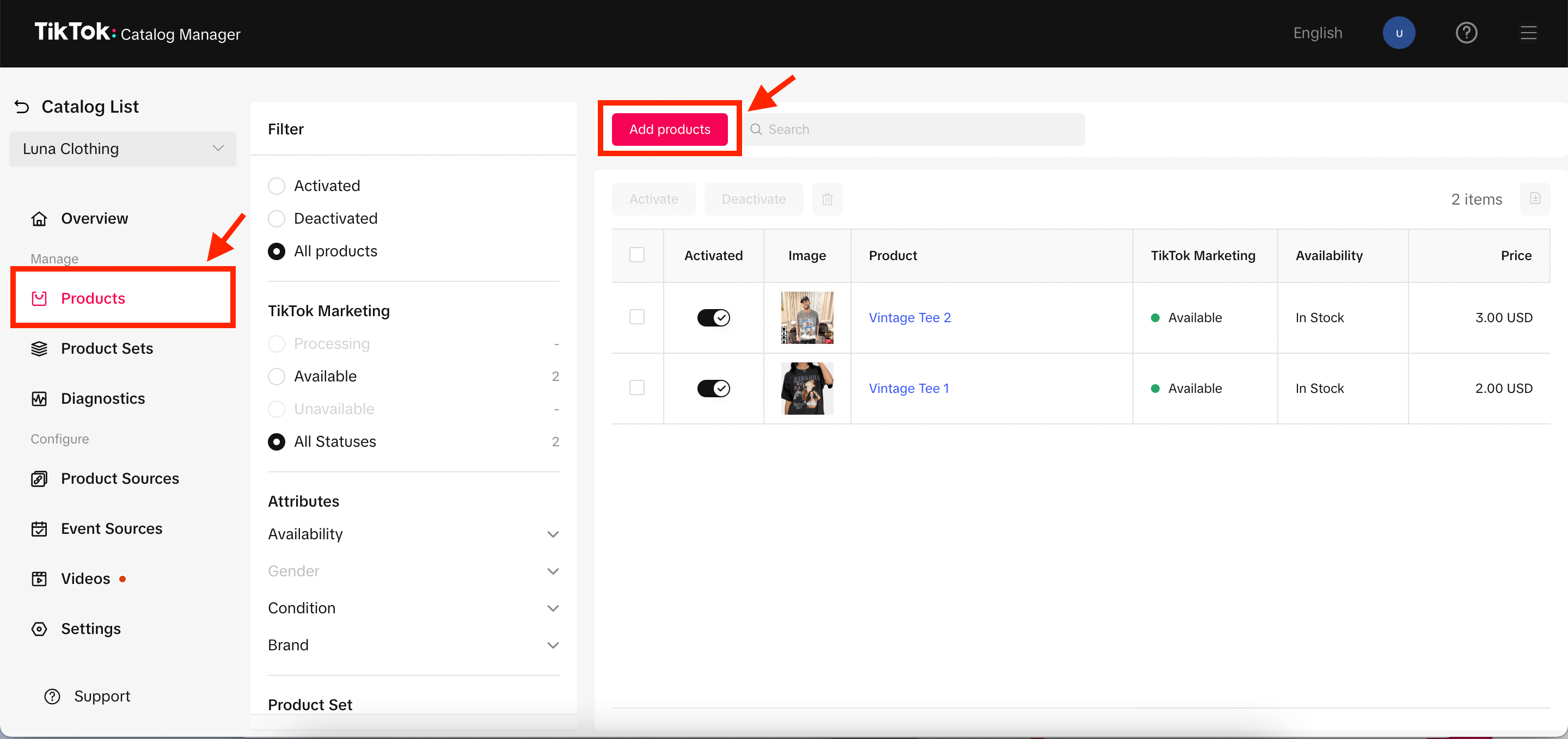 Decide how you want to add your products to the catalog. You have these options:
Manually Add: Fill out a form for each product.
Data Feed Schedule: Automatically import products from an online file.
Upload File: Add products using a template.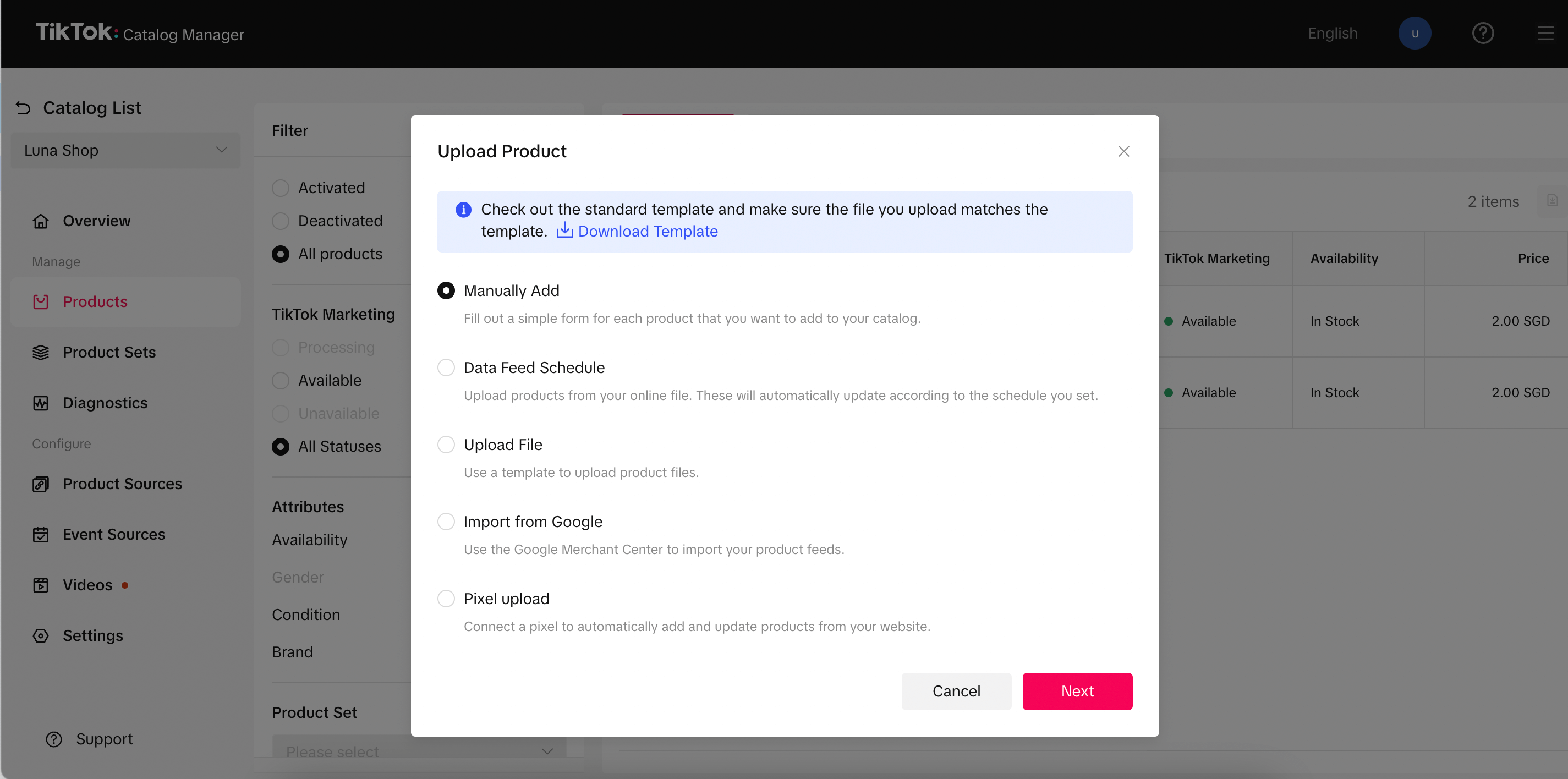 When adding your products, you need to enter a Data Feed Name. This name will help you organize the products you've added to the catalog.
Note: You'll need to have at least four products that are deliverable (in stock, approved, and activated) to run a Video Shopping Ad. If you have fewer than four products but still want to run a Video Shopping Ad campaign, please get in touch with your TikTok representative.
Step 3. Create Video
Similar to regular TikTok ads, you'll need video materials for crafting Video Shopping Ads. Nevertheless, you have the choice to utilize your product details for creating dynamic Catalog Videos, using videos that you upload, or choosing from your Asset Library.
To create your TikTok video shopping ads, you need to create your ads using a Single Video, Catalog Video, or both.
Option 1: Generate a Single Video
You can create or upload a single video on TikTok Ads Manager in two different ways:
From the Ad module:
Choose Single Video as the Ad format.
Under Video, select +Upload, +From Library, or +Create.
Upload a video, choose one from your library, or use creative tools to make one.
From the Creative page:
On TikTok Ads Manager, navigate to Assets, then Creatives, and pick Videos.
Click on Create and opt for one of the provided creative tools (like TikTok Video Editor).
Craft your video using the available tools.
Option 2: Create a Catalog Video
After including your products in the catalog, you can swiftly produce videos showcasing those products directly from the Catalog Manager.
Head to your Business Center.
Choose your catalog and open it using Catalog Manager.
Under Configure, click on Videos.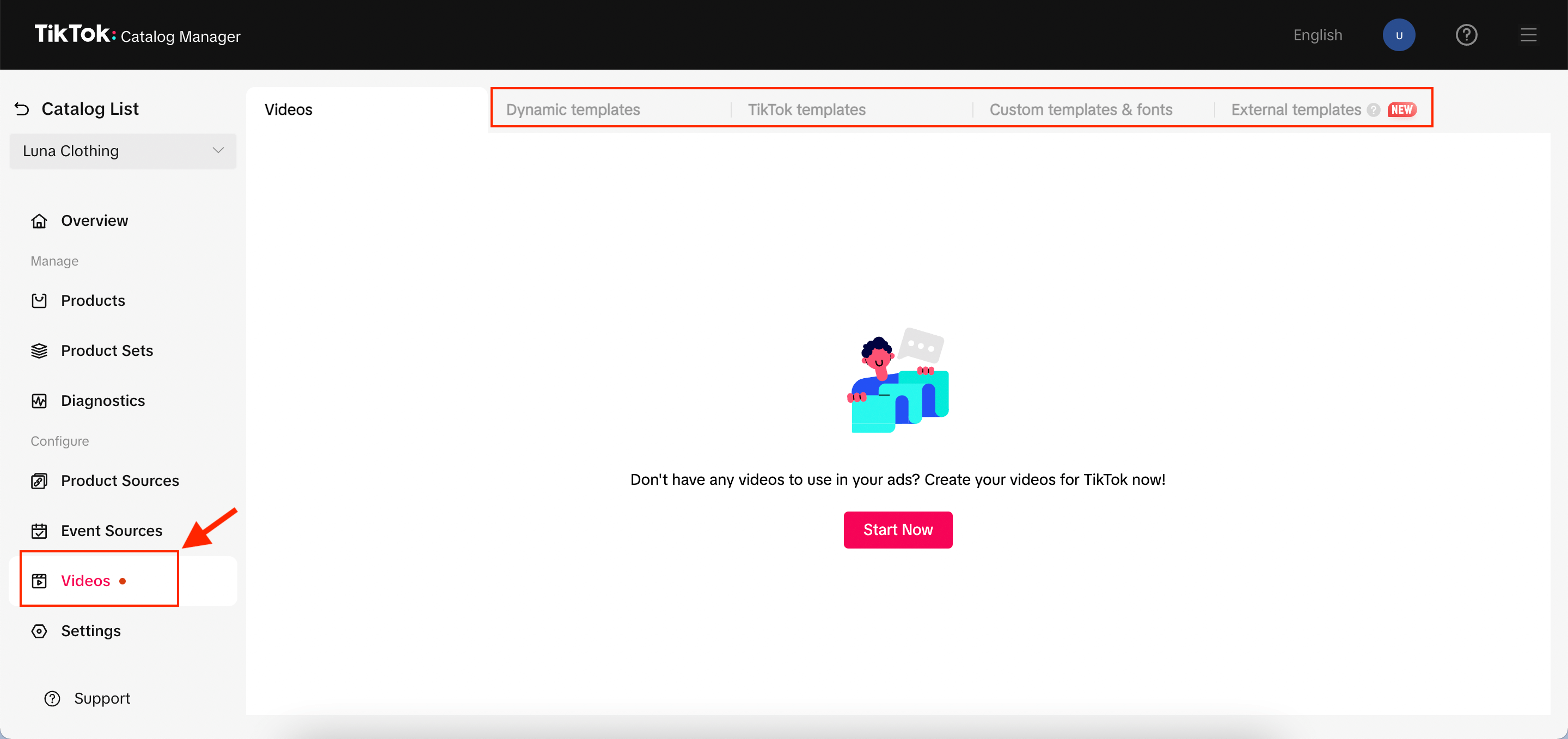 Decide on the type of video style you desire for your catalog products. Choose from: Dynamic Template, Custom Template, or Ready-to-use TikTok Templates:
Dynamic Templates: A tool that transforms your products into optimized video ads using TikTok-native templates. This shows product details like images, text, and prices from your catalog. The system blends these visuals with video effects, music, and relevant stickers, crafting an engaging video for each product.
Custom Template Video: This personalized method allows you to design a completely customized creative unit that reflects your brand's visual identity. When making a Custom Template Video, you can include your brand's unique colors, logo, visuals, messaging, and audio.
Ready-to-use TikTok Templates: Choose from 50+ TikTok Templates in our library to easily begin creating your video. This simplifies the video generation process and allows you to personalize it as you wish.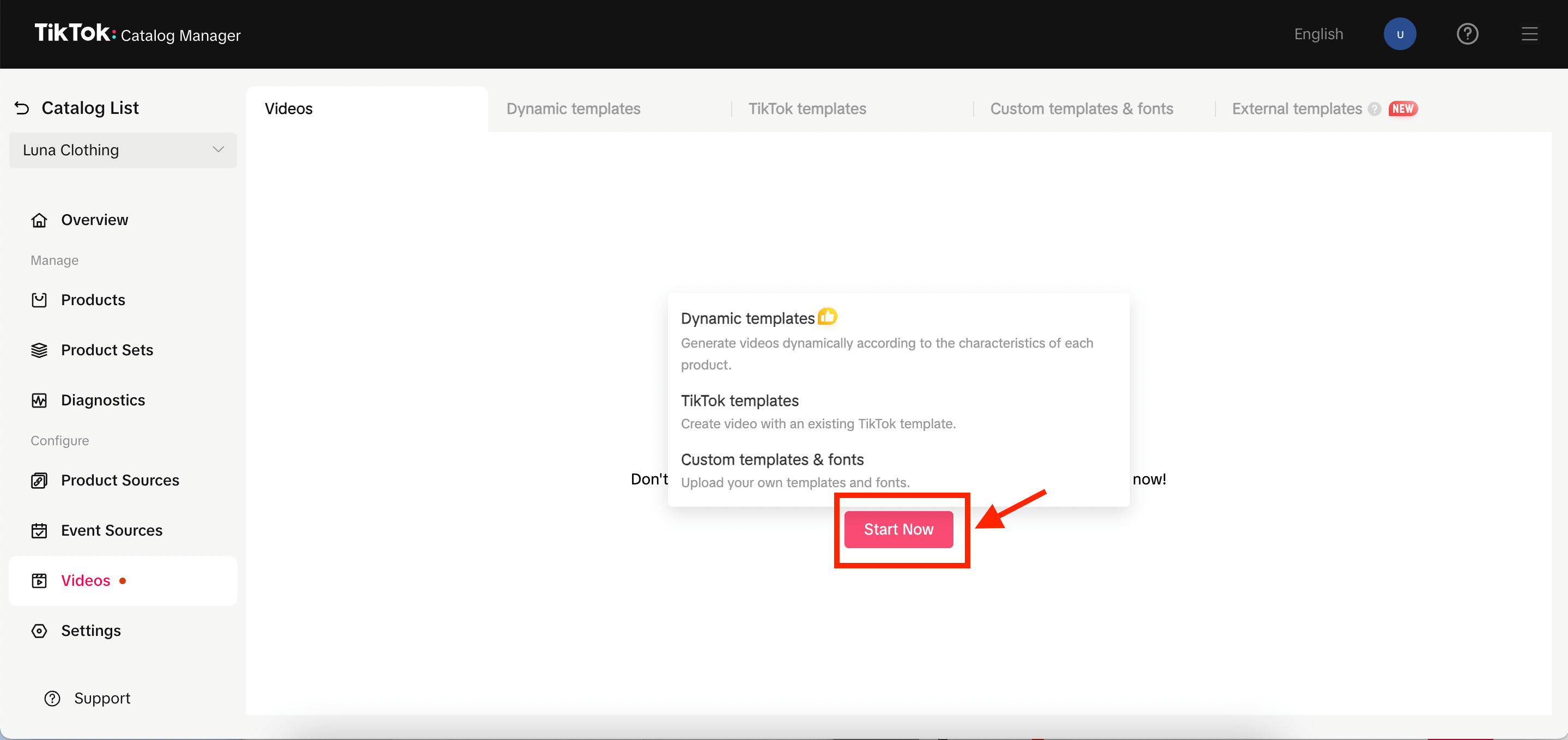 Once you've chosen a style for your Catalog Video, just follow the prompts on the screen to create your video package.
Note: Each Catalog can contain up to seven Dynamic video packages and a combined total of 20 video packages. If you intend to generate an additional video package, you'll need to delete an existing one before creating a new one.
Step 4. Connecting Event Sources
By connecting your app's measurement partner or TikTok Pixel to your Catalog, you can dynamically display ads to individuals based on their interactions with your app or website.
Access your Business Center.
Open your catalog using the Catalog Manager.
In the left-side menu, under Configure, click on Event Sources.
Decide whether you wish to connect your Catalog to:
App Event Sources: Monitor in-app activities through our measurement partners and link them with your catalog.
Pixel Event Sources: Establish a connection between your catalog and the events occurring on your website.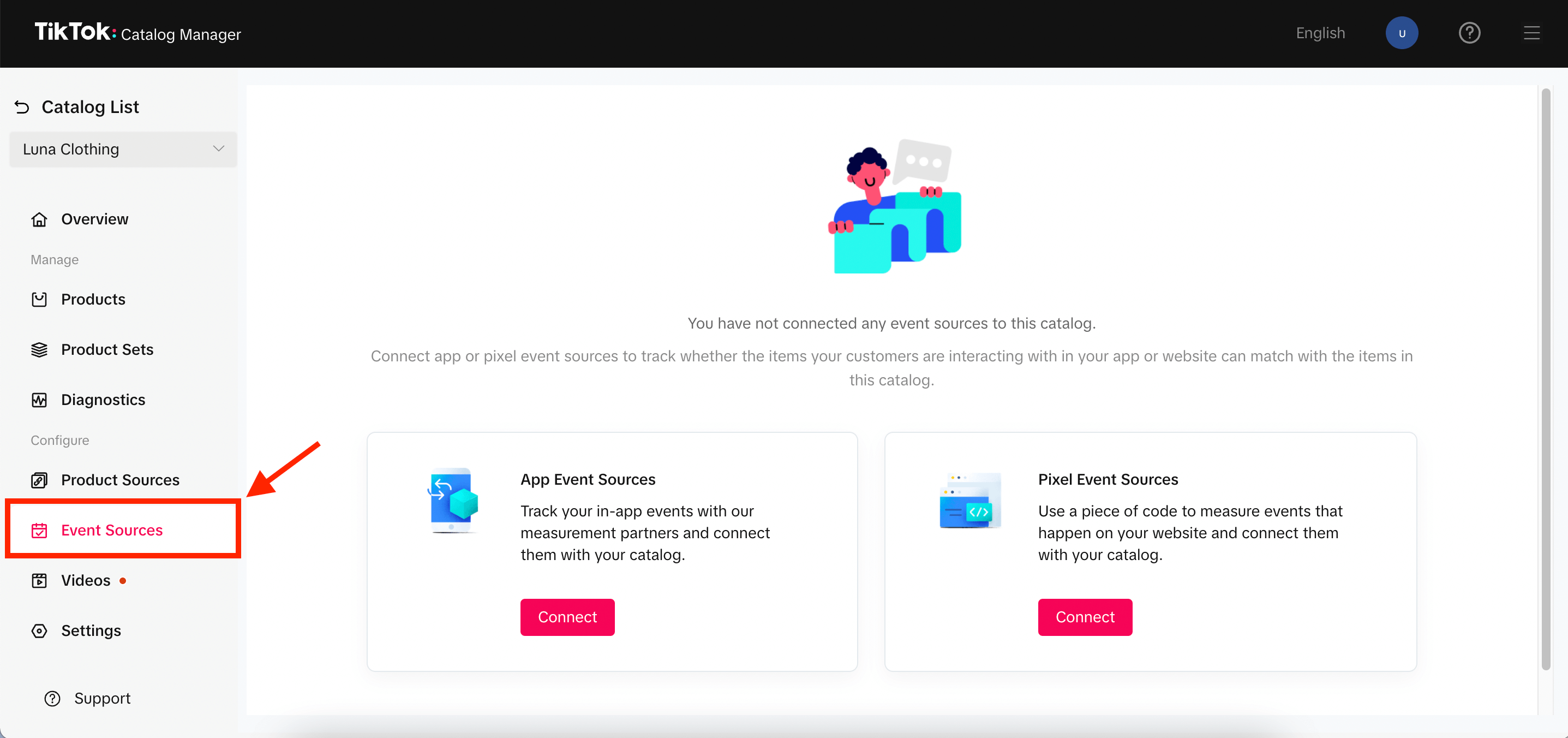 Step 5. Create Video Shopping Ads
After completing the catalog creation, product uploading, video generation, and event source connection, you're all set to initiate your campaign.
Campaign level
Begin by accessing the Campaign tab and initiating the creation process.
Choose the Advertising Objective as Product Sales.
If you plan to execute an iOS Dedicated Campaign, activate the Use iOS 14 dedicated campaign option.
Set the campaign budget.
Ad group level
Choose "Video Shopping Ads" under the "Shopping Ads Type" section.
Decide whether your product information (Product Source) is sourced from a Catalog or TikTok Shop.
Choose if your products are available for sale on an App or Website.

For App sales, pick your app from the dropdown menu.
For Website sales, select your pixel and optimize the event.

Select the ad placement from options like TikTok, Pangle, or Automatic.
Under "Targeting," choose your target audience.

Select "Retarget Audience" to display tailored product ads to users who showed interest in your app or website: When using Retarget Audience, pick specific events to include/exclude and set the event timeframe. You can also include/exclude a custom audience within your Retarget Audience.
Choose "Find Prospective Customers" to showcase your product ads to potential new customers: If using Find Prospective Customers, customize by adding/removing Custom Audiences and Lookalike Audiences. If you are selling on an app, create a Custom Audience from app-installed users and exclude them from Find Prospective Customers.

Complete other ad group settings like Budget, schedule, bidding, and optimization preference.
Ad level
1. Under the "Products" section, pick your Catalog and opt for one of these choices:
All Products – this will be the automatically chosen option.
Product set
Specify Products
2. Decide the style of video for your Video Shopping Ads campaign
Single Video: Upload an existing video, choose from your library, or make a new one.
Single Image (only available on Pangle): Upload an existing image, select from the library, or create a new image.
Catalog Video: Pick a video package you've made.

Alternatively, select "Choose all video designs": This prioritizes videos added via Video URL, then uses your catalog's video packages if none match your product.
3. For web advertisers
If you're advertising on websites, make sure you choose Dynamic Destination. This helps guide your potential customers to the right place, either your TikTok page or TikTok Instant page, whichever is best for your business.
4. If your products are being sold through an App, pick a Deeplink type:
Opt for "Product Deeplink" to utilize the provided Deeplink for each catalog product.
Choose "Custom Link" to input a Deeplink for the whole ad group.
Pick a "Fallback Type" to decide where the link goes if someone lacks your app.
5. Publish your ads campaign
FAQs
How do Video Shopping Ads work with TikTok Shop?
TikTok Shop serves as a comprehensive e-commerce platform allowing brands to directly sell via their TikTok accounts. While using Video Shopping Ads doesn't require TikTok Shop usage, their synergy enhances overall effectiveness. TikTok has optimized Video Shopping Ads to seamlessly integrate with TikTok Shop, resulting in heightened functionalities, advanced features, improved performance, and complete access to LIVE Shopping Ads.
Do Dynamic Showcase Ads and Collection Ads remain accessible?
Video Shopping Ads amalgamate the most advantageous components of both these advertising formats, creating a unified solution for optimal performance. Advertisers who previously employed Dynamic Showcase Ads and Collection Ads are advised to transition to Video Shopping Ads.
Maximize 2023 holiday sales with TikTok Video Shopping Ads
Whether you're advertising holiday gifts or reminding customers about items they left in their cart, Video Shopping Ads serves as your always-on tool to achieve various objectives in your business. In the holiday shopping period, TikTok truly shines as a shoppertainment platform, outperforming other platforms. This is especially evident when utilizing diverse TikTok shopping ads. Consumers are enthusiastic about spending and buying on TikTok, so don't miss this precious opportunity. To help you achieve a successful holiday sales season, explore our best TikTok Holiday marketing ideas now!