TikTok has been famous for its innovative advertising solutions. Branded hashtag challenges, Branded effects, TopView Ads, In-feed ads, you name it. However, do you know that TikTok also offers an awesome ad solution to get more leads as well?
Introducing TikTok Lead Generation ads! If you're seeking effective methods to generate high-quality leads on TikTok, look no further. In this article, we will explore this ad type, along with valuable tips and guides to help you leverage this powerful tool.
What are TikTok lead generation ads?
Lead generation is an ad solution that collects data from users who are more likely to turn into converted ones, directly on TikTok. Specifically, when viewers click the CTA button in the in-feed video ad, it offers two option:
TikTok will open an Instant Form where people can discover more about your business, provide their contact details, and express their interest in your product or service,Once the form is completed, users can click on a custom button at the footer, then it will direct them to the official website to continue their purchasing process.
TikTok will direct users to your own website where they can leave their contact information directly with you.
Brands should consider utilizing TikTok lead generation ads due to their wide range of practical applications in various industries, such as retail, entertainment, gaming, education, and automotive. For example, retail and e-commerce brands can consider using TikTok lead generation ads to achieve these goals:
Set up a registration form for customers to join your loyalty program.
Expand your customer base by providing samples.
Engage customers and gather valuable insights by hosting contests.
How do TikTok lead generation ads work? (Example included)
TikTok provides 2 ways to run TikTok Lead Gen Ads: creating an in-app instant form and using your current website form. Depending on your objectives, you can choose between these two methods.

In-app Instant form
Instant forms offer numerous features that make them an ideal tool for instant lead capture, building email lists, and seamlessly syncing with CRM tools.
Create a seamless integration from ads to forms
With TikTok's Lead Generation ads, brands can design their ads in a way that seamlessly guides users from the initial ad engagement to the lead capture form. This smooth transition will ensure a cohesive user experience and reduce friction in the conversion process.
Additionally, with the fast-speed loading time of Instant form, users can discover products and brands without leaving the app. This can avoid their frustration and irritation from waiting too much time for loading.
Tailor your own forms
TikTok allows you to have customizable forms with relevant questions in order to collect data from interested users. Thus, it will be a source of useful insights for your brand to visualize what the right audience looks like.
Besides some personal questions about name, company, address, or email. You can ask more about their interests and preferences that resonate with the products or services. As a result, brands can find out the similarities between their value and customers' needs.
Auto-populated information
User information is pre-populated in the form, making the submission process easier and quicker for users.
Quick and easy access to your data
Leads can be manually downloaded or immediately activated if integrated with a company's CRM system. This enables easy tracking of lead data for each campaign.
One amazing example for the Instant form lead generation ads that you can learn from is the ad campaign of Nina Ricci. They are a Spain's fragrances brand, who made use of Lead Gen ads to introduce the newest scent- Nina Rose. They designed a short form that encourages users to fill in their information ((e.g. Name, Email, Phone, Address). Then, the brand can collect and identify more target audiences who are more likely to convert into potential customers.
The result exceeded the brand's expectations with fantastic results. Specifically, the conversion rate is 41.85% with a 1.5% click-through rate and an 83% reduction in cost per lead when compared to the previous campaign.
However, Instant forms have a limitation of allowing only 10 questions per form, and you can not ask questions that are prohibited by TikTok (For more information, read section 2.16 of TikTok Advertising Policies) If this poses a problem for you, Website form can be a good alternative.
Website form
Control over the form's design and functionality
One of the key advantages of using Website forms is that they offer more flexibility and control over the form's design and functionality. Also, if you have had existing logic built in your website forms, it will be easier for you to qualify your leads.
Add more detailed qualifying questions
Another advantage compared to Instant form, is that Website forms can have more qualifying questions that Instant form don't support (which is plenty). This will in turn allow businesses to gather more specific and detailed information from their leads, enhancing their ability to qualify and target potential customers effectively.
How to set up TikTok lead generation ads
First, make sure that you have a TikTok Ad Manager account to set up your ad.
After that, in the campaign setup level, please choose the "Lead Generation" as your ad objective. Then, in the ad group level, you will see 2 options, Instant form and Website form.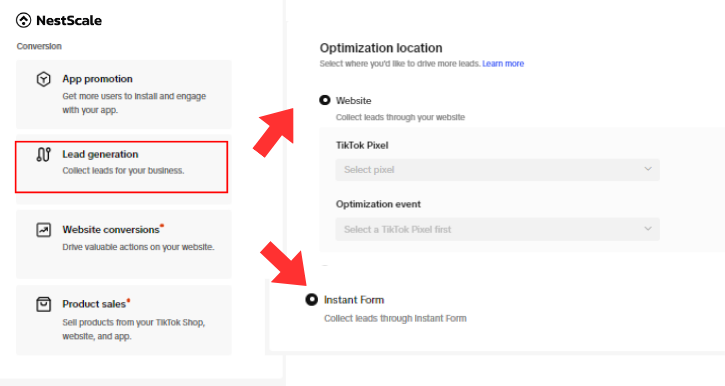 Set up with an Instant Form
When it comes to setting up a lead generation ad using Instant form, there are 7 critical steps that you need to remember:

For more detailed instruction, you can visit the guideline down below from TikTok for Business. They even provide pro tips to ensure an effective lead gen ad!
Set up with an Website Form
Here's good news for you: Setting up a lead generation ad with a website form is actually quite similar to creating a regular ad.
Hence, we would recommend you start the process by reading our complete guide to run ads on TikTok in 2023 to gain a more comprehensive understanding. Additionally, we will provide further notifications at each stage to help you set up a lead generation ad with website form.
Before running
Create TikTok pixel and events: TikTok Pixel is a TikTok tool that allows brands to track their customer's action on their website after clicking on the ad. Install Pixel and set up events to track lead gen conversions on your website.
Ad group level
Promotion Type: Select "website" as the promotion type
Pixel Settings
You need to select the optimization event and goad that would be the best option to reach Lead Generation goals. There's a diverse range of options but we give you three suggested ones:
Complete registration
Submit form
Contact
Ad level
Choose the Destination Page
Select "Website" under the destination page.
Copy and paste the URL that drives users to your landing page and lead form.
Call to action: Select a strong and clear CTA (Sign up, Learn more, etc.)
Congrats! you've successfully created the website form for the Lead Generation campaign.
Tips to optimize lead generation ad campaigns
You can further enhance your ads performance if you how to optimize them. Let's explore some optimization tips, from Form setup to Campaign setup so that you can maximize the effectiveness of your Lead Gen ad campaigns.
Form setup
1. The number of specific images should be 2 including your logo and background visual.
2. Link to the privacy policy for your form to ensure that the private data is safe and compliant with local law.
3. Use 'Thank You' CTA links to boost traffic to the official website instead of the company website or social media sites.
4. Choose a Form Type: More Volume or Higher Intent.
More Volume: It facilitates the submission information process of users.
Higher Intent: You can add a confirmation step to limit spam and submissions from users who're not interested in your products.
Campaign setup
Use more than three ad groups with various targeting settings and content ideas to see which one has the best performance.
Allocate a daily budget for each ad group with a minimum of 20-50 times your estimated cost per lead. This ensures each ad group has enough budget to get through the learning phase.
Use Zapier, LeadsBridge, or Custom APIs to integrate TikTok Leads with your CRM so that you can automate your marketing funnel and the next steps.
Target board audiences to increase conversion rate.
Drive more conversions with TikTok Lead Generation
TikTok lead generation ad is a great tool to approach and convert potential customers. Its benefits will support brands in achieving their marketing goals. Additionally, this ad format is really easy to use, and no technical skills are required. Hence, it's about time you started setting up this tool for your business to seek out potential users.
If you still have concerns about this ad type or find the set-up process overwhelming, you should opt for tools that can assist you in streamlining the process. This is where NestAds can come to help you! It is an ads management app that aims to make the ad creation simpler for ecommerce businesses. You don't have to be an advertising expert to run successful TikTok ads; let NestAds handle it for you!