Feeling confused with a wide range of TikTok Ad formats seems to be a normal thing with all newbies on TikTok. Have you ever encountered this challenge: want to run TikTok Ad but still wonder between different formats?
However, don't take it seriously! All you need to do is just follow our guide below about all the best TikTok Ad formats for different goals, you will definitely find the greatest business solution ever!
In-Feed Ads
As the name reflects, In-Feed Ads are the video ads that appear between user videos when they scroll through their For You Page. Those videos can blend naturally in with the native content feed. To put it simply, In-Feed Ads are similar to the ads you see while tapping through Instagram Story.
This TikTok Ad format is especially dedicated to a successful branding process by increasing visibility and reaching a broader audience. Marketers will have the power to include a call-to-action button that links to a landing page or other desired destinations.
Otherwise, viewers can also interact with your videos by liking, leaving a comment, sharing or using the music to create their own content.
On the downside, In-Feed Ads are skippable and difficult to boost your customer retention. So consider carefully your business goals before running TikTok In-Feed Ads!
TikTok ad specs for In-Feed Ads:
Aspect ratio: 16:9, 9:16 or 1:1
Video resolution: ≥1280 x 720 px, ≥720 x 1280 px, and ≥640 x 640 px
File types: .mov, .mp4, .3gp, .mpeg, or .avi.
Video length: between 5 and 60 seconds (9-15s are the most optimal)
Video size: within 500MB.
Bitrate: ≥516 kbps
Overall, TikTok In-Feed ads is truly ideal for business, especially small brands. Running this ad type doesn't require any special account, check out this video on how to run TikTok In-Feed Ads in the shortest and smartest way ever!
Spark Ads
Spark Ads is another TikTok Ad format that aligns with many business goals. It allows you to create advertising videos by leveraging organic TikTok posts. Such a best way to scale user-generated content and drive a higher engagement rate!
A little bit different from regular In-Feed Ads, Spark Ads enables you to publish ads by using your own post on TikTok or other organic posts created by other TikTokers. Just test this unique format, you will definitely be surprised by its amazing benefits:
Create authenticity for the customer journey.
Optimize ad performance.
Boost customer loyalty and retention.
Regarding the TikTok ad specs for Spark Ads, TikTok doesn't have any restrictions for video ratio, video resolution, file type, or file size. However, users need to choose the ad display name and text that reflects the organic post and they cannot be edited during the ad creation process.
TopView Ads
Top View Ads is a video format that offers prime visibility for your brand on TikTok. This ad format dominates the user's attention with a compelling combination of visuals, audio, and storytelling. It is strategically placed at the top of the For You page, the first thing a user sees when they open the app.
With Top View Ads, you can share a video ad up to 60 seconds long, giving your audience an immersive viewing experience free from competing content.

Top View Ads are the perfect solution for boosting brand recognition as they offer a wide-reaching audience with a substantial number of impressions. The key to an effective Top View Ads is creating a captivating and unforgettable video that will leave a lasting impact on your viewers. Additionally, you can add a Call-to-Action (CTA) within your ad to entice new users to engage with your brand.
TikTok ad specs for Top View Ads:
Video length: 60 seconds (9-15s are the most optimal)
Aspect ratio: 16:9, 9:16 or 1:1
Video resolution: ≥ 960 x 540px, ≥40 x 960px or ≥640 x 640px
File size: ≤500 MB
File types: .mov, .mp4, .3gp, .mpeg, or .avi
Bitrate: ≥516 kbps
Brand Takeover
Compared to In-Feed Ads, Brand Takeover Ads is a full-screen mode that displays as soon as users open TikTok. This format lets brands embed a three-second image or a three to five-second video and drive traffic to your choice of destination (internal & external links).
Created for delivering mass awareness, Brand Takeover Ads guarantee high reach and outstanding performance with 100% share of voice for the day they are featured. However, only one specific brand can take over a category daily due to the ad space being limited to different categories. This is why Brand Takeover Ads are less competitive but also demand a high price.
TikTok ad specs for the Brand Takeover video:
Video duration: 3-5 seconds.
Aspect ratio: 9:16
File types: .mp4, .mov, .mpeg, .3gp, or .avi
Text description: Not supported for Brand Takeover ad type.
File size: within 500 MB.
Branded Hashtag challenge
Have you ever taken part in a TikTok challenge and never gotten tired? Branded Hashtag challenge definitely doesn't miss the huge effect created by the challenge and TikTok hashtag.
It's a perfect way to encourage content co-creation and generate millions of views. This format is suitable for companies with well-known hashtags or brands focused on raising awareness and increasing engagement.
Here's the way that Branded Hashtag challenge work:
TikTokers click on the branded hashtag challenge at the top of For You Page (FYP).
A Brand Challenge page with the challenge description (rules, sponsoring brands and a link to their website) is there for users to discover.
TikTokers create their own content based on the challenge.
Branded Hashtag challenge has the power to grab attention and more importantly: turn your target audience into active participants, co-creators, followers or buyers. Otherwise, brands can easily boost massive engagement and also gain organic visibility.
TikTok ad specs for the Brand Takeover video:
Video duration: 5-60 seconds (9-15 seconds is the most optimal)
Aspect ratio: 9:16
Video resolution: ≥720x1280px
File types: .mp4, .mov, .mpeg, .3gp, or .avi.
Hashtag characters limit: Limited to 70 English characters (18 English characters is the most optimal)
File size: 100MB or less
Bitrate: > 2,500 kbps
CTA button character limit: < 16 English characters
Branded Effects
The Branded Effects feature on TikTok is an innovative advertising format that enables businesses to design their own customized filters, stickers, and augmented reality (AR) effects that users can use in their videos. These interactive and entertaining effects are an effective way for businesses to enhance their brand visibility and drive user engagement on the platform.
The Branded Effects format is particularly appealing to businesses targeting younger audiences on TikTok. It allows businesses to create a distinctive and unforgettable experience for users that accurately reflects their brand, products, or services. When users incorporate Branded Effects into their videos, they are essentially promoting the brand to their followers and potentially to a wider audience if their video goes viral.
TikTok provides marketers with an efficient method to engage their target audience. Brands can communicate with consumers through various ad formats that align with the TikTok language, easily blending with native content and generating optimal results.
And if you are a creative person with strong working knowledge of software tools, don't forget Branded Effect! It's a powerful advertising tool to promote your brand identity on TikTok.
TikTok Ad specs for branded effect
Brand exposure specs
Logo: The logo display area should be within 150x130px and must only contain one logo.
Product: The product display area must also be within 150x130px.
Promotion: The campaign theme and slogan display area must be within 300x130px.
Spokesperson and IP figure: The display area for these should be within 480x270px.
Branded effect name specs
Character limit: up to 30 English characters (10 characters is most optimal) without emojis, #, and special symbols.
Branded effect icon specs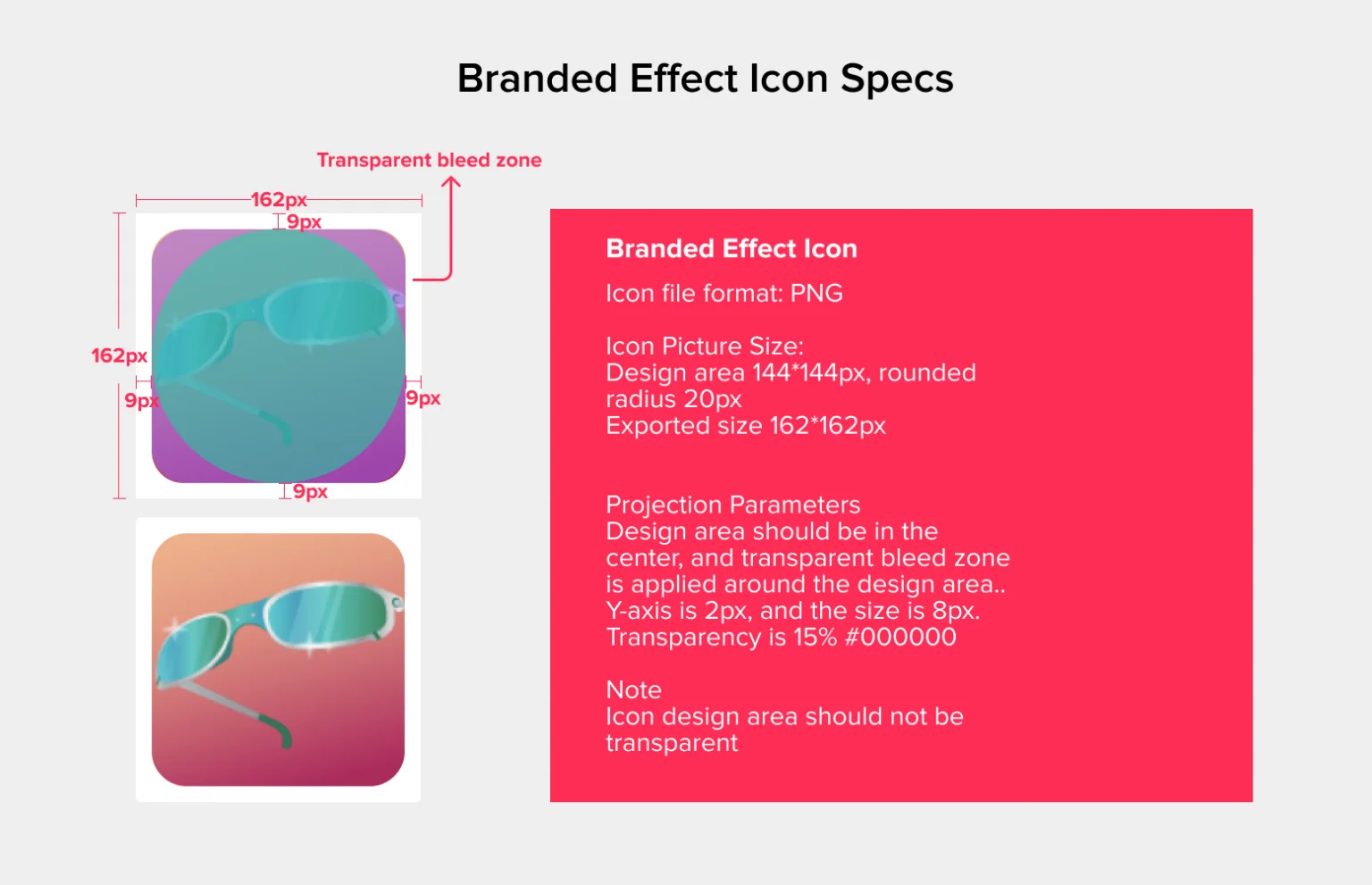 You can either use an icon provided by TikTok or provide your own.
The image of the icon must be consistent with your Branded Effect.
Icon resolution: 162x162px (equal to export size) and the icon must have rounded corners and a transparent bleed area.
Icon safe area: 144x144px with 20px round corners.
File type: .png
File size: < 60kb
Music specs
Cover image resolution: 800x800px with key brand elements placed in the center of the circle area (260px diameter).
Image file size: ≤10MB.
Music file types: .mp3 and .wav
Track length: 15 seconds to 1 minute (15 seconds is the most optimal)
Song name's character limit: ≤60 English characters, and there is no limit for the artist's name.
It is recommended to limit both the song name and artist's name to ≤12 English characters without emojis and special symbols.
Collection Ads
Created for e-commerce, TikTok Collection Ads enables users to discover and browse products in a full-screen mode without leaving the TikTok app. This format leads your customers to an Instant Gallery Page and lets them freely search for the products of their choice.
TikTok update: Starting April 3rd, 2023, users will be unable to create new Collection Ads or modify or duplicate existing ones. The core functionalities of Collection Ads will be incorporated into Video Shopping Ads.
With all these features, TikTok Collection Ads give chance to e-commerce marketers to develop their businesses:
Easier for customers to select the products that they have a keen interest in
Flexible way to promote products with personalized product recommendations (Each TikToker will see diverse products in your Instant Gallery Page)
Ideal to satisfy customers with an immersive experience
Keep in mind that all the products that are setten up in your gallery will go through a review process. Any products that don't pass this review can't be displayed in your Collection Ads. You can check the result in their catalog or in the Instant Gallery Page Editor.
TikTok Ad specs for TikTok Collection Ad:
Aspect ratio: 9:16.
Video resolution: 720 x 1280 px, 640 x 640 px or 1280 x 720 px.
File types: .mov, .mp4, .mpeg, or .avi.
Video duration: between 5 and 16 seconds.
Video size: within 500MB.
Dynamic Showcase Ads (DSAs)
Similarly to Dynamic Product Ads, TikTok Dynamic Showcase Ads are customized video ads that are created in real-time and based on an advertising template. This template contains relevant product information which is automatically updated on a regular basis. Until now, this type of social advertising is presently testing in a few markets and is yet available for all users.
TikTok update: Starting April 3rd, 2023, users will be unable to create new Dynamic Showcase Ads or modify or duplicate existing ones. The core functionalities of Dynamic Showcase Ads will be incorporated into Video Shopping Ads.
Many enterprises choose this format to promote their identity and increase sales due to these undeniable benefits:
Advertise a large and personalized product portfolio at scale
Save the cost, time management and effort due to the automatic work
High chance to target customers who interested in products via platforms and devices
If you want to run your Dynamic Showcase Ads in the fastest and most efficient way, then make sure that you keep your product feed up to date. It's considered the key with a major role in Dynamic Showcase Ads. You can create the final ad by using the ad template provided by TikTok with all the product information.
Shopping Ads
Shopping Ads is an advanced three-in-one solution that allows brands to satisfy all steps during the customer buying process. This format included 3 types: Video Shopping Ads, Catalog Listing Ads and Live Shopping Ads which are suitable for diverse demands.
Video Shopping Ads
Based on 2 existing TikTok Ads formats: Collection Ads and Dynamic Showcase Ads, Video Shopping Ads are hyper-relevant and smart videos with personalized recommendations based on audience interactions.
Those videos will display on the For You Page and allow marketers to show their unique products. Especially, a landing page will be automatically created to encourage viewers to take desired actions.
Catalog Listing Ads
Compared to Video Shopping Ads, Catalog Listing Ads features allow you to increase engagement through product catalogs across the app. Instead of video, Catalog Listing Ads advertise products via photos which will be shown in Branded content on the For You Page.
However, Catalog Listing Ads are only being tested in the U.S market.
Live Shopping Ads
Only available in the UK, Indonesia, Malaysia, the Philippines, Singapore, Thailand, and Vietnam, Live Shopping Ads is the ad type that promotes TikTok live shopping streams. This ad type enables brands to show their products in real-time via streaming events.
Designed specifically for e-merchants, Live Shopping Ads is an effective technique to improve your business scale:
Simplify the customer buying process, spark demand and boost sales for your business.
Provide different ways to present your product and then attract new customers.
Carousel Ads
Lastly, Carousel Ads is now a trending TikTok ads solution for e-commerce businesses. Via this TikTok ad, you can upload up to 10 images which will display from left to right with unique captions and a simple URL.
Otherwise, Carousel Ads give you a chance to increase your creativity by determining the photo order. However, running images can lead to a breakdown in communication lacking visual aid.
Being one of the most effective ads for e-merchants, Carousel Ads is an awesome tool for:
Tell brand stories by using images and captions.
Feature products as a virtual catalog.
Focus on important product details.
If you have the intention to master Carousel Ads, you should focus on your TikTok Ads structure to meet all the requirements. All the images and captions in a Carousel Ad must be censored in the ad review. If one element does not pass this process, your entire carousel will be rejected.
TikTok ad specs for Carousel Ads
File type: .jpg or .png
Image size: No specific requirement for image size; platform will automatically tailor image in center for square format (640 x 640 px) or horizontal format (1200 x 628 px)
File size: No specific restrictions, but suggested file size is ≤500 KB
Title text: between 12 and 40 characters
FAQ(s)
What are some TikTok Ad formats?
TikTok offers various ad formats, such as In-feed ads, Top-view ads, Spark ads, Branded Effect, Brand takeover ads, Branded Hashtag Challenges, Collection ads, Dynamic Showcase ads, Shopping ads and Carousel ads. These ad formats allow for user interaction, high visibility, and encourage content creation. As an ecommerce store, using these ad formats can help increase engagement and drive more traffic to your site.
What is the best TikTok ads size?
TikTok video ads
Aspect ratio: 9:16, 1:1, or 16:9
Video resolution: 720 x 1280 px, 640 x 640 px, and 1280 x 720 px.
File types: .mov, .mp4, .3gp, .mpeg, or .avi.
Video length: between 5 and 60 seconds (9-15s are the most optimal)
Video size: within 500MB.
Bitrate: ≥516 kbps
TikTok image ads
File types: JPG, JPEG, PNG
Image resolution: 720 x 1280
Image size: within 100MB
Are TikTok ads efficient?
According to TikTok, a lot of people find their ads entertaining – 83% of users, to be exact! And 1 in 4 TikTok users worldwide has either bought something or at least checked out a product after seeing it advertised on the app. So, it seems like there's definitely potential for your business to reach new customers and make some sales through TikTok ads.
What is the best TikTok ad length?
TikTok recommends keeping ads between 21-34 seconds long. However, you can make them up to 60 seconds long if you really need to. To keep viewers interested, make sure to grab their attention with an eye-catching intro in the first 3-10 seconds. And remember, the key message or product should be highlighted within the first 3 seconds to get the most out of your ad.
What is the most suitable TikTok ads format for you?
With so many different options to choose from, it really depends on what you're trying to achieve with your marketing campaign.
For example, as a small e-commerce store, the In-Feed ad format is probably the best bet. This type of ad appears in users' feeds as they scroll through the app, so it has the potential to reach a lot of people.
New to TikTok Ads? Want to promote your products on TikTok without wasting time & money? Give NestAds a try and see how it can help you launch, optimize and scale your TikTok ads, all in one place, with no experience required.