Undeniably, creative ideas and high performance are the key elements that elevate your TikTok Ad campaigns from good to great. However, without clear illustrations, it can be hard for brands to create an effective one themselves. Therefore, if you aim to win over big competitors, a close view of these incredible TikTok Ad examples can help you gain a better understanding of the whole TikTok landscape.
In this article, we've compiled all the best campaigns ever for you, so get ready to learn and take note!
Best In-feed TikTok Ad Examples
In-Feed Ads refer to video advertisements that appear between user-generated videos as you browse through your For You page. Because of its visibility and its seamless integration into other videos, In-feed ads is one of the most seek-for form of TikTok Ads.
Hawkers
Hawker is a Spanish sunglasses brand that devotes to creating high-quality, affordable sunglasses for men and women. Since 2013, it has become popular for its trendy designs, innovative technology, and celebrity collaborations.
To increase sales performance, Hawkers chose to promote itself by using In-Feed Ads. It aims to meet its business goal: a minimum ROAS of 2x.
What worked in this TikTok Ad Example:
Since the advertisement appeared as a visually appealing summer collection, it did not disrupt the customer browsing experience.
Displayed their product clearly so that the users had an exact clue what the ad was about, with no need to read any copy.
The results:
Overall ROAs increased to 6.46
Cost per acquisition dropped by 77%
Conversation rate increased from 0.38% to 3.68%
VIRAGE London
Virage London is a British luxury jewelry brand that takes pride in creating unique designs using high-quality materials. The brand promises to elevate individual styles, as well as make individual statements for their dear customers.
To raise its brand awareness and drive more sales, VIRAGE London chose to run an In-Feed advertising video promoting the durability of their jewelry
What worked in this TikTok Ad Example:
Gained trust from customers by testing the jewelry with multiple harsh methods without causing any damage
Had a touch of humor, which mad the video more engaging
By using this type of TikTok Ad, the brand has managed to reached men of all ages in the UK with entertaining content. The campaign went live in June and received amazing results.
The results:
1.6 Million impressions
An increase of 3,650% in the audience reached compared with the previous campaign
Bee Inspired Clothing
Bee Inspired Clothing, founded in 2013 by Steven Robb and Mark Corcoran, started as a passion project after the two Scotsmen retired from football. They aimed to revolutionize streetwear fashion and become an inspiration to others.
Bee Inspired Clothing attributes its success to its dedication and commitment to being anything but ordinary. The same thing can be noted about their TikTok channel, which has earned a strong organic presence thanks to their street styling videos. With that social media advantage, they were looking to TikTok Ads with hope to drive sales through their merchant partner, Shopify.
What worked in this TikTok Ad Example:
Numerous testing before launching the campaign to find out the most viral type of content
Consistent uploads of original Get Ready With Me (GRWM) user-generated content to keep the audience hooked.
Carefully-curated creative to match with the brand's target audience
Best Branded Hashtag Challenges TikTok Ad Examples
Hashtag challenges is a popular type of social media challenge that typically involves a specific theme, prompt, or task that participants are encouraged to follow and share with their followers. Well aware of their impact, brands tend to sponsor hashtag challenges if they aim to increase their awareness and engagement.
ASOS
ASOS (AsSeenOnScreen) is a British e-commerce retailer that specializes in menswear and womenswear. So far, the brand has acquired 850+ brands alongside its line of clothing and accessories. However, ASOS is still aiming to increase engagement and raise awareness about its business in a global scale.
As a result, ASOS created #AySauceChallenge that encouraged TikTokers to enjoy the ASOS vibe by showing off their three best outfits with a series of outfit changes over three weeks in the U.K and U.S
What worked in this TikTok Ad Example:
Creative challenge that not only showcased the brand portfolio but also attracted all fashionistas
Upbeat audio and creative transitions to capture immediate attention
Incorporate the ASOS brand vibe in fun, energetic videos
The results:
1.2 billion video views (488,000 videos created and 167,400 participants)
15,79% increase in engagement rate
25% increase in brand awareness
10% increase in brand association
50% increase in Ad recall
Colombiana Boutique
Colombiana Boutique is a fashion brand that specializes in women's clothing inspired by Colombian culture. Their goal is to celebrate and promote Colombian culture through their fashion, while also offering trendy and high-quality clothing options for women of all shapes and sizes.
Given their growing social media popularity and the #TikTokMadeMeBuyIt trend, Colombiana Boutique wanted to explore TikTok's potential as a marketing tool during the holiday season. Particularly, they aimed to drive more sales, increase add-to-cart and payment completion rates by testing TikTok as a platform.
What worked in this TikTok Ad Example:
More efficient website traffic and add-to-cart sessions tracking by using the TikTok Shopify Pixel
Used TikTok's Hashtag Targeting tool to reach users interested in holiday-related hashtags
Utilized TikTok creator pool to create 4 diverse, original video ads
Included upbeat holiday music and positive testimonials from creators to gain trust
Strong call to action to purchase and a mention of the 50% off Black Friday sale to induce buying behaviours
Despite their little budget of $500, they managed to win over many customers and enhance their impact in the clothing industry.
The results:
53K+ video views at an engagement rate of 3.70%
135 add-to-cart sessions
2.32% Click-through-rate
1 viral video that generated millions of views
Best Brand Takeover TikTok Ad Examples
A brand takeover on TikTok is a full-screen advertisement that appears when a user first opens the app. Many brands favor this type of ads as it can be linked to a brand's landing page or a hashtag challenge, and that it ensures the brand's visibility.
Magalu
Known as a digital and multichannel platform for buying and selling in Brazil, Magalu chose Brand Takeover TikTok Ads to create an explosive Black Friday Sale. Magalu aimed to generate mass awareness and increase traffic to its signature annual event.
Because Magalu was quite ambitious with their campaign goal, the brand has combined two branding TikTok solutions: Top View Ads and Brand Takeover in a week-long campaign. The common point between the two formats is that the content will appear as soon as users open the TikTok app.
What worked in this TikTok Ad Example:
Colorful and visually-striking video design that captured viewers' attention
Catchy audio, with clear and short copy that maintained audience's interest
The results:
200 million video views at an average click-through rate of 19.60%
⅘ accesses via TikTok were Magalu's new users
Too Faced
Too Faced is a cruelty free beauty brand inspiring women to "own their pretty" through the transformative power of cosmetics. It sought to capture the attention of vibrant, beauty-loving Generation Z women in the UK, to raise awareness and increase sales of their 'Lip Injection Extreme' lip gloss.
To deliver mass awareness and drive direct sales, Too Faced created a Brand Takeover ad which, upon opening TikTok, presents a full-screen video for five seconds, gaining maximum attention with precision messaging instantly.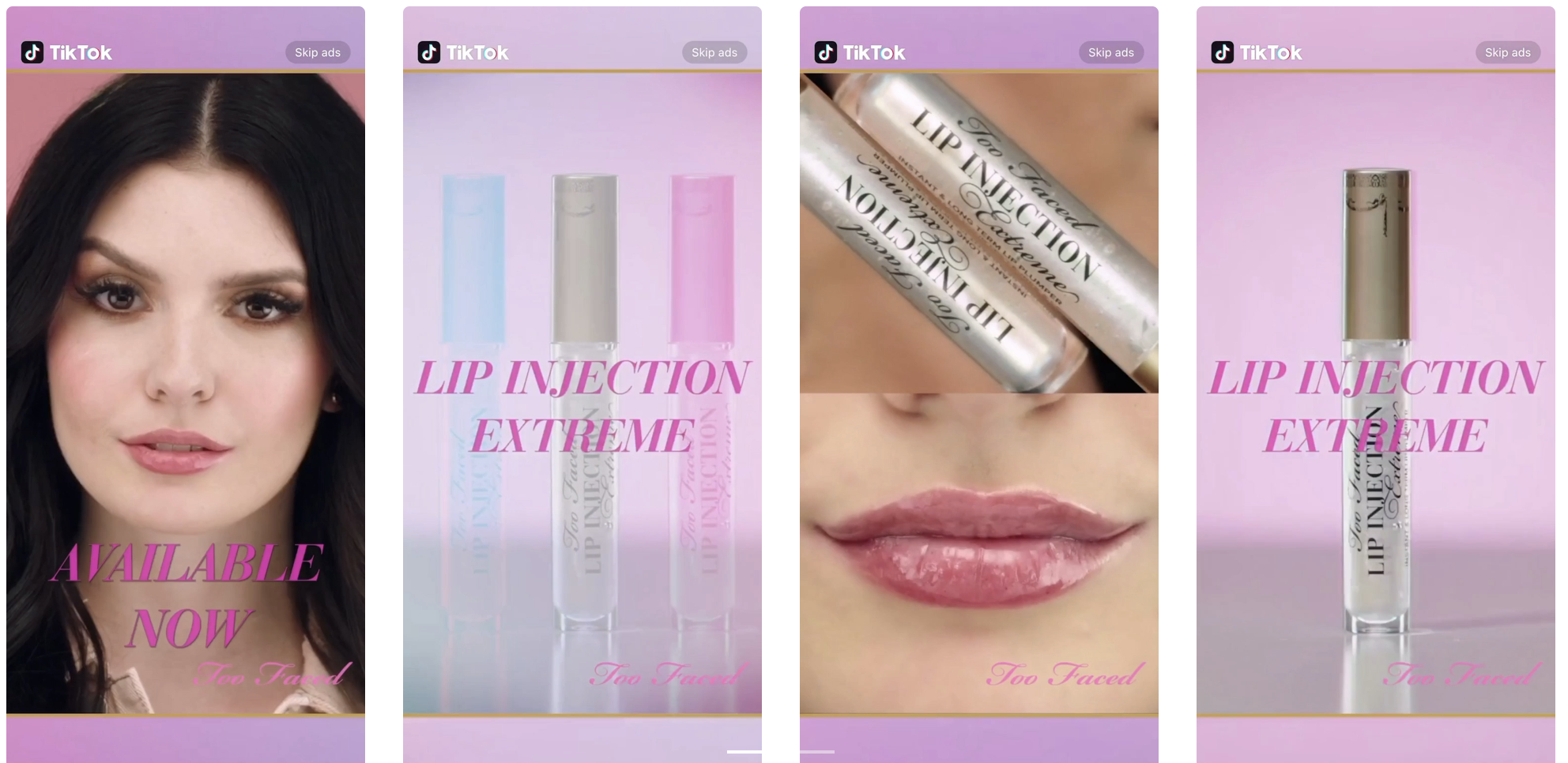 What worked in this TikTok Ad Example:
Reaffirmed the fun, engaging vibe through the ad creative
Eye-catching visual with bright colors, dynamic motion and hologram effects that instantly grabbed users' attention
Consistent product placement to cleverly showcase the product's USP
Recognisable logo and style to build brand favourability
Strong CTA with powerful action words to drive consumers
The results:
7.6 million impressions and 2.54 million unique reach in just one day
1.3 million clicks to the product page
18.38% click-through rate
Best Branded TikTok Live Examples
Branded TikTok Live is when brands utilize the live streaming section of TikTok to establish direct connections with their followers through live streaming.
Off-White™ – Traditional TikTok Live
Founded in 2013, Off-White™ is dedicated to an iconoclastic and conceptual fashion that reaches a global audience. In 2022, to celebrate Virgil Abloh's vision, Off-White™ organized an exclusive FW22 & haute couture "HIGH FASHION" collection show in Paris.
As a partner with TikTok's Creative Lab, Off-White™ has launched a Branded TikTok Live to stream the event and capture everyone's attention. With the famous DJs from London, Paris to Tokyo, The brand has unlocked the magic and also encouraged viewers to discover the behind-the-scenes through to the live catwalk.
In addition to TikTok Live, this famous brand also ran a suite of In-Feed Ads and Top View Ads to drive more audience to the streaming event.
The results:
Over 33 million video views on the TopView pre-launch campaign
Over 1 million views of the campaign's hub page
100,000 fans watched the live stream
30,000 new followers in just 3 days
Monos – Video Shopping Ad
Monos is a luggage and travel accessories brand that offers minimalist and durable products at an affordable price point. They dedicate themselves to simplicity, functionality, and sustainability. Recognizing the popularity of TikTok in North America, they have chosen this platform ad solution, more specifically Video Shopping Ad, to boost their Black Friday & Cyber Monday sales.
Monos have decided to make a big move: Activate TikTok's latest commerce solution "Video Shopping Ads". This feature promised to display shoppable video for users who have a higher likelihood to buy.
What worked in this TikTok Ad Example:
Enhanced authencity by featuring compelling product reviews, unboxing, while leveraging several platform-native features like voiceover and captions
Utilized interactive TikTok features such as Display Cards, Countdown Stickers, and Gift Code Stickers to highlight their exclusive Black Friday and Cyber Monday deals and to guide users to their website
Implemented several community interest and behavioural targeting options for effective customer connection
Combined with In-Feed Ads and Spark Ads to maximize efficiency
The results:
205% lift in ROAS compared to initial goals
45% lower complete payment CPA compared to initial goals
18% lift in click-through rate
Best TikTok Spark Ads Examples
According to TikTok, Spark Ads is a native ad format that allows advertisers to tap into authenticity by boosting organic content. As a result, this ad format allows the same user interactions as organic videos, which is why so many brands opt for it in their marketing campaign!
Cupio
Cupio is a popular Romanian beauty and cosmetics well known for its great manicure, make-up, and skin care products. Launched in 2012, this brand has already owned its community with a lot of inspirational activities on social media platforms.
With the quick rise of many beauty brands, Cupio aimed to increase interest and engage new audiences through their Tiktok campaigns. Particularly, they strived to gain more followers, profile visits, and brand interaction through organic, paid media, and partnerships with beauty micro-influencers.
They have created a wide range of In-Feed Ads and Spark Ads to spread the message of Fearless Beauty. Without a doubt, these formats were really helpful for their target audience: women aged 18-30 who showed interest in beauty, self-makeup, nail art, and skin care.
The results:
Over 100k engaged followers
15M impressions
The Farmer's Dog
The Farmer's Dog is an e-commerce business that provides fresh and healthy food to dogs by using quality, safety, and unique standards in the industry. Having discovered the power of TikTok, they hoped to reach new potential customers that will convert into subscribers at a lower cost per acquisition.
This brand aimed to communicate its convenience for dogs to its primary audience of US adults aged 25 and older, who are passionate about the pet category. Hence, the marketing team has chosen Spark Ads – a feature dedicated to creating a deeper and more authentic brand image.
Thanks to creative content and the right ad format, in 2 months, they have achieved impressive numbers.
The results:
Lower CPAs at scale
Increased the conversion rate by 5%
Best TopView TikTok Ad Examples
TopView ads are video ads that range from 5 to 60 seconds in length and automatically play as soon as users open the app. These ads can seamlessly transition into the users' For You feed, so they will not annoy viewers as much as other types of ads. The TopView Ad shares a lot of similarities with the Brand Takeover Ad, with the only difference lying in their screen coverage
eBay
eBay is a leading online marketplace that specializes in consumer-to-consumer sales. In order to reach younger audiences in the UK, they chose TikTok TopView Ad as their priority tactic to promote their campaign #StrongerAsOne.
What worked in this TikTok Ad Example:
Automatic sound-on that capture the audience's attention
Included a "Learn more" CTA button to drive viewers to their landing page with detailed information
Despite the short duration, the eBay #StrongerAsOne TopView campaign still delivered an outstanding performance.
The results:
17.8M impressions
6.1M views
An engagement rate of 17.72%
A click-through rate of 17.31%
Maybelline New York
Maybelline New York partnered with TikTok to bring to life their Break Free campaign, highlighting the importance of how the colour of a lip product can change the way you feel. The campaign promoted three of its most popular lip products, Maybelline Lifter Gloss, Maybelle Superstay Vinyl Ink and Maybelline Superstay Matte Ink, celebrating authenticity and uniqueness through fun and joyful assets.
What worked:
Leveraged TikTok CPM buying method by freedom to reserve impressions and specific targeting options
Had a native, unfiltered vibe that catered to the audience
Incorporated with Top Feed Ads and In-Feed Ads to amplify the campaign
The results:
22 million video views
5% increase in click-through-rate
2% increase in engagement rate
Best TikTok Branded Effects Examples
Branded Effects are effects that are sponsored by brands as part of their advertising campaigns. In other words, brands can use stickers, filters, and motion effects to highlight products, campaigns, and brand names.
Up
On the ground of establishing better banking for young Australians, Up dreams of reinventing the global banking industry. Like many other start-ups, Up has used TikTok to introduce its new brand platform, Easy Money, and increase the number of apps installed.
In order to impress gen Z and Millennial Aussies, Up took a fresh initiative: Gamification – a powerful technique to attract customers and drive brand love. They decided to launch a gamified Branded Effect on TikTok that filled up with a coin catch. This video encouraged TikTokers to enjoy the app by catching and munching flying coins. Finally, a lucky participant would be chosen to win $1000 in cash.
What worked in this TikTok Ad Example:
Creative gamified effect that instantly gained the users' interest.
Leveraged the effect by turning it into a competition, which encouraged everyone to participate in the event
Re-established a fun, unique brand image that set as Up's USP compared to other Australian banks
Combined with Top View Ad and numerous TikTok creators to help amplify the campaign
Indeed, mastering two TikTok Ads formats helped Up receive the best results ever!
The results:
25M views thanks to the viral hashtag #UpEasyMoney
250+ User-generated content video
An increase of 7.6% in ad recall
29% lift in brand preference
Bomb Pop
Bomb Pop is a frozen treat manufactured by Wells Enterprises (USA) is widely known as a nostalgic treat associated with summertime and Fourth of July celebrations. Partnered with GALE agency, Bomb Pop aimed to generate enthusiasm on a significant holiday, intending to reintroduce the brand to a fresher audience.
Bomb Pop, GALE, and TikTok collaborated on the #AFlavorForEveryYou campaign, which utilized the Branded Mission media solution to incentivize creators to contribute to the campaign, boost the top-performing videos into ads, and improve brand awareness and preference, all while celebrating the diverse interests and passions of TikTok users. To do that, they have made a customizable Bomb Pop filter and turned it into a TikTok challenge.
What worked:
Insightful and meaningful effect that aimed to enhance self-love and self-confidence
Utilized Reach & Frequency Top Feed ads to drive traffic
The combination of Branded Mission, Hashtag Challenge, and Branded Effect has made the campaign fun, interactive, and grow quickly in both popularity and content quality.
The results:
Over 40,600 user-generated video creations
Over 1,200 Branded Mission submissions
13.2% lift in ad recall
10.5% lift in awareness
37.4 million impressions
11% engagement rate
Best TikTok Dynamics Showcase Ads Examples
Dynamic Showcase Ads (DSAs) on TikTok are customized video ads that are created in real-time using an ad template. Specifically, these ads synchronize and update information from product catalogs, including images, features, prices, quantities, and more.
e.l.f. Cosmetics
e.l.f. Cosmetics is a beauty brand that offers affordable and high-quality makeup products. In order to drive mass awareness and to generate conversions, e.l.f has used a mixture of In-Feed Ads and Dynamic Showcase Ads.
What worked in this TikTok Ad Example:
Personalized ad targeting at scale
Delivered a curated experience automatically to e.l.f.'s most relevant audiences
They also had the opportunity to promote products from their catalog to viewers, which helped increase sales. In the end, e.l.f Cosmetics has established a high-performing campaign with significant results.
The results:
56% CPA Reduction
1.9x Conversion CTR over Benchmark
49% Conversion CPC below Benchmark
Aerie
Aerie is a clothing and lingerie brand owned by American Eagle Outfitters. It promotes body positivity and inclusivity by featuring unretouched models of various shapes, sizes, and skin tones in its advertising campaigns.
Thanks to their viral TikTok campaigns in the recent years, Aerie has witnessed a lot of significant success. In 2021, to leverage their social media marketing campaign, they took a bold step to be the first mass retailer that pilotted TikTok's Dynamic Showcase Ads. Similar to the e.l.f Cosmetics example, DSAs has allowed Aerie to deliver personalized ad targeting at scale and to automate the promotion process, therefore their ads were delivered to their most relevant audiences.
Later in the year, Aerie continued to maximize the potential of DSAs by launching their own custom DSA template. This time, they were able to incorporate their logo and brand colors, resulting in a more cohesive brand identity for their unit. Eventually, this bold move was worth the risk as it has successfully converted a lot of TikTok users to Aerie customers.
The results:
ROAS increased from 2.24 to 7.78
0.94% conversion rate in the 1st DSA campaign, then jumped 3x to 2.93% in their 2nd DSA campaign
78% more efficient CPA than initial goal
Want to take a closer look at some amazing TikTok Ads examples and discover their ad recipe? Check out our latest video to get a whole picture of the 6 high-converting ads!
What can you learn from these inspiring TikTok ad examples?
Authenticity & Creativity
To us, the success of these TikTok ad examples can be wrapped up in two keywords: Authenticity and Creativity. Most of the time, these ads do not feel like an ad, but they feel more like brands' creative take to make their products known. This is one of the qualities that bridge the gap between users and brands, which prompts the users to have genuine reactions and contents relating to the brands. They did this by harnessing the power of UGC and influencers, as well as custom content.
Budget-friendly
In addition, your available budget should be taken into serious consideration when deciding on the right type of TikTok ad. For small businesses that are limited in funding, we would recommend choosing In-Feed Ads or Top View Ads to balance between your campaign coverage and your budget.
Other key learning points
Furthermore, there are some learning points we believe you can take note to make authentic and creative TikTok ads:
Use sharp, strategic editing and audiovisual effects: The natural excitement of audiovisual media lies in its variety, which creates a sense of novelty and sustains people's interest.
Use sounds: You can either choose an existing sound (but make sure it is trending), or make a new one yourself if you are confident!
Natural acting: Unlike other social media platforms, performative contents are not very welcomed on TikTok. So, try to be natural, stay true to your brand image, and gradually build trust among your viewers.
Make content hooks: Either an intriguing title, or an appealing thumbnail can be used to trigger curiosity from TikTok users!
If you are a beginner with limited expertise, or have yet to launch your TikTok ads, our team can be your reliable support system. Our product NestAds (TikTok Advertising Management Software) aims to simplify TikTok ad processes so that anybody can be a part of the TikTok world.
So, don't hesitate to contact our experts for more advice or try NestAds!