TikTok has risen into the marketing landscape as a platform for reaching millions of people which made a new gem of 2021 & 2022 TikTok Ads, and for sure it will get even more popular amongst advertisers in 2023.
But what are the best practices with TikTok Ads? Get familiar with the best practices and attributes that make your TikTok Ads creative and engaging.
Why does your business need TikTok Ads creative best practices?
Nowadays, you can find the TikTok App on every Millennial and Gen-Zers phone. TikTok Ads became the key success factor for lots of advertising campaigns because it not only reaches a diverse audience through TikTok Ads but also is an easy and affordable way to create great campaigns.
Through TikTok, brands can effectively increase their exposure and always stay ahead of the social media marketing curve. But using TikTok Ads alone is not enough, you should know a few creative practices for them to really stand out from your competitors.
TikTok Ads creative best practices
Consider User-generated content (UGC) for ads
UGC is a term for User-Generated Content, which is the videos created by TikTok users and content creators that feature your brand in some form or the other. UGC, simply known as relatable content, gets along with the TikTok audience since relatable content is the easiest way to approach the target audience over a screen and excellently transit into a conversation. It also makes your work in creating ads become effortless: Don't make Ads – Make TikTok.
Create content hooks
The first rule to stop users scroll past your content in FYP (For You Page) is making content hooks. Because only 25% of users watch beyond the first 5 seconds, content hooks keep people's eyes unconsciously on your TikTok Ads and make them curious about your products.
Here are some amazing examples of content hooks to get inspired:
Begin your video with movement and an engaging soundtrack.
Show an intriguing title (for example, "TikTok made me buy this!").
Show a unique or appealing visual in thumbnails.
Keep your content story-rich but also short and clean
Great storytelling definitely is a must-have in attractive ads. You can create content based on a script or real experiences but authenticity is what resonates. As long as your ads contents show the real values of your product, you are good to go!
But keep in mind that no one wants to watch an entire 1-minute advertising video so make sure your TikTok Ads are short, clean but informative.
Make sure your on-camera performance is believable
A believable on-camera performance is a key to success because people will not trust performative Ads, they tend to value authenticity and relatable content. A heavily scripted TikTok Ads could come off as ingenuine, annoying and have negative impacts on your brand.
Use sharp, strategic editing and audiovisual effects
Videos on TikTok frequently use a variety of effects created by using the platform's native publishing tools. If you follow the same path, your Ads will blend in more. Variety in audiovisual media is naturally exciting. It makes things seem new, which keeps people interested.
To assist your advertising to appear more natural, combine as many audiovisual effects as you can into your content. Try to wisely use common tools such as Greenscreen, Subtitles, Robot Voice Narration, etc… to make your content as authentic as possible.
Turn your comments on
TikTok users are vocal and use the comments section to express their opinions, provide suggestions and questions about your goods. Make sure to keep the comments turned on since they can promote your ads move up in the market and get seen by more people. Positive feedback may serve as social support for potential customers. Additionally, you can always apply negative term filters to stop negative comments if you start seeing them.
Give your ads a native-feeling
Produce vertically-formatted and full-screen video
All video assets should meet the required Ads specifications to offer your advertising a native-video appearance and feel. Capture 100% of the screen area on TikTok's vertical full-screen experience by filming in 9:16.
When submitting your creative ads to TikTok, keep the majority of your content and visuals viewable inside the TikTok safe zones (areas that will not be cropped or covered up).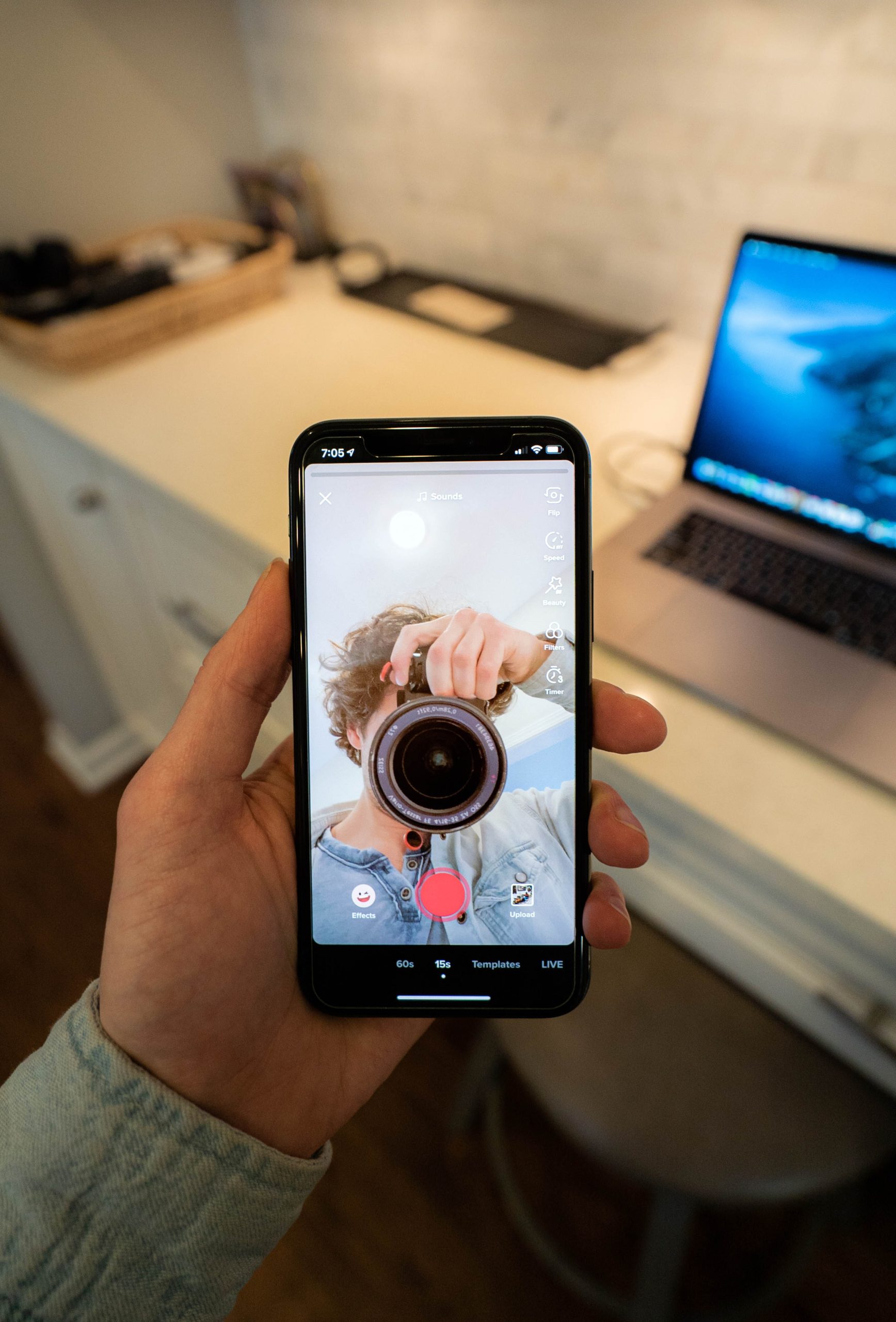 Use trending sounds
One of TikTok's key points of differentiation is its sound-on space. On TikTok, "sound" refers to more than simply people making random noises. It consists of everything, from well-known music and movie lines to user-submitted monologues and remixes of well-known speeches.
Here are 2 primary ways to use audio on your ads:
Create your own audio: With "Creating your own audio", your Ads will be seen as more professional, and your message and brand images are clearer and more specific but It can cost a lot, maybe not be suitable for SMEs.
Use existing audio: Otherwise, if you use existing audio (make sure it is trending!), your brand can be more relevant. It also provides an opportunity to interact with customers on a more personal level by using the same trendy music that they have in their own TikTok and creatively joining the larger discussion.
If you want to increase brand knowledge and public approval with your marketing effort, a branded hashtag challenge ad is another option for you. It's similar to digital marketing in that you don't have to spend any money because you're inviting TikTok users to interact with your brand. Branded hashtag works effectively since It has an average engagement rate of 17.5% according to TikTok.
Besides, you can use hashtags that are familiar to your industry to connect to specific communities or simply join viral challenges.
Collaborate with influencers
Unless you have the capacity to develop a high amount of quality content in-house, you'll need to seek exceptional creators to perform this task for you. Fortunately, recruiting talented creators is far less expensive than you would expect.
You're more likely to achieve better outcomes from lesser-known creators than from well-known influencers. But remember the most important thing: choose someone who's respected in your niche and understands what your brand has to offer.
On TikTok, buyer intent is small, yet discounts are an effective method for increasing engagement results. Make it clear if you're doing a TikTok-only campaign.
You can find TikTok influencers (creators) to represent your brand in 3 ways:
Use popular hashtags in your niche
TikTok Creator Marketplace
Alternative website for talents: Upfluence
Creative tools
TikTok Creative Center
Find more content inspiration on TikTok's Creative Center if you don't know much about current trends or popular hashtags. It also provides data driven guidance and creative insights such as video quality, aspect ratio, sound, video length, etc.
Automated Creative Optimization
TikTok creates Automated Creative Optimization to help businesses easily manage ads by automatically identifying high-performing mixes of your original content.
You may use Automated Creative Optimization to submit photos or videos, generate ad copy, and choose your call-to-action (CTA) buttons. Their technology will then mix your creative elements to create many adverts for your campaign.
These adverts are constantly analyzed, reviewed, and adjusted in order to identify the best combination of characteristics. Based on the evaluated combinations, the system will then provide the best creative to your target demographic.
Smart Video
You may use the Smart Video tool to input one or more photos and videos, and TikTok will use AI to automatically evaluate those scenes and select highlights and audio to produce nicely edited videos. This tool helps reduce time-consuming and expensive processes in editing.
Let's create a killer ad campaign that make history
To produce TikTok Ads creative, you don't need a huge media budget or a fancy creative agency; all you need is your valuable goods and some imagination. The key to a successful TikTok marketing campaign is producing outstanding creative, but you may not get it perfect the first time.
If you have some amazing TikTok ad ideas to try for your brand, our teams are always here to give you a hand. Feel free to contact us or try our new product NestAds for the best campaign ever!