TikTok is more than just a platform for dancing and lip-syncing; it's also a valuable tool for businesses. With over 1 billion active users, TikTok has the potential to reach a vast and diverse audience. Lucky is you don't have to be an expert to sell on TikTok.
In this blog, we will guide you through seven simple steps to sell on TikTok in just 10 minutes. From defining your target market to leveraging TikTok's commerce tools, we've got you covered. This guide will help you turn TikTok into your next sales powerhouse, so, let get started!
7 simple steps to sell on TikTok
Define target market and product selection
First off, you need to define your target audience. While the TikTok audience is massive, it's necessary to consider whether the people that your target are being or about to be on TikTok or not. Though TikTok is currently occupied by Gen Zers, most of the popular social media started off with a predominantly younger audience.
Besides, spend time researching what products are on trend and discover how competitors win sales on TikTok. You can look at TikTok's successful business case studies and explore the #TikTokMadeMeBuyIt hashtag for more ideas.
Create a TikTok business account
To bring your brand presence to TikTok and start selling, you need to set up a TikTok business account. If you already have a personal TikTok account, simply switch to Business account by clicking on Manage account > Switch to Business Account.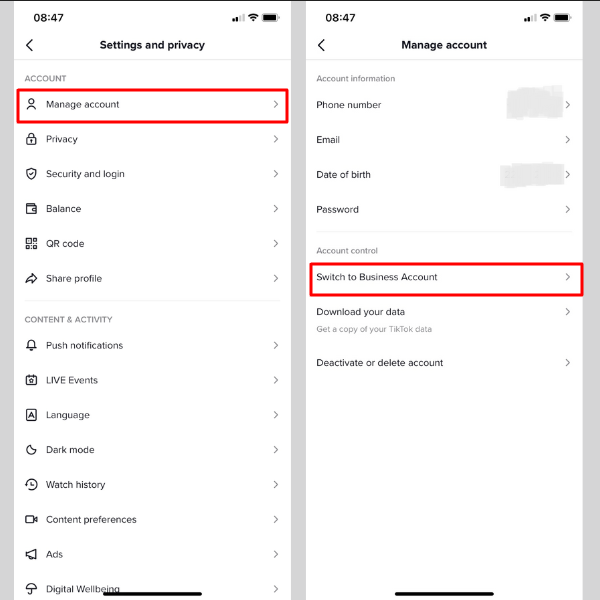 TikTok Business account gives you access to amazing TikTok marketing strategies and commercial-focused tools as shown below.
Advertising: Promote your products via various types of TikTok ads like Top View, In-Feed ads, Spark ads, etc 
Measurement: Get insights into your videos, audience behavior, TikTok campaigns, etc
Creative: Get access to the Commercial Music Library of over 1 million commercially licensed songs and sounds
Commerce: Turn entertainment into shoppable experiences via TikTok Shop, Live Shopping, Product Links, Collection Ads, etc
Having access to all of these features is a great way to promote your products, get in front of the right audience and monitor your performance.
Create creative content videos 
Once your TikTok Business account has gone active, it's time to create engaging TikTok videos to promote your products.
TikTok users are highly interactive and engaged with creative videos. Thus, you have no better way to drive engagement and conversion on TikTok than by creating great content that piques their interest.
To make your videos stay in front of the right audience, you should circle back on your niche research and participate in trends and challenges from within that realm. Keep in mind that you only have 3 minutes max to grab your viewer's attention so making your content funny and entertaining will be the best. For more ideas and inspiration, you can visit TikTok Creative Center.
Remind that your content should not too promotional even though its purpose is to promote and sell your products. This may result in a higher possibility of users skipping your video.
To encourage more people to replay your video and share it with their friends, you should make it as natural and enjoyable as you can. The more views that your video gets, the more likely it displays on many users' For You pages.
Utilize influencer marketing
Influencer marketing is nothing new on social media platforms like Instagram, Youtube, and TikTok as well. Unlike other mediums, TikTok gives you more choices of which influencers you partner with. It is because TikTok influencers are not necessarily superstars or celebrities, they might be micro influencers or creators with specific audiences. 
TikTok influencers can make branded content feel organic, rather than like obvious advertising. Plus, influencers who match your target audience help to increase your reach and drive conversion significantly.
Try searching on TikTok for words or phrases related to your products to see if any relevant influencers come up. You can also look through the top videos to discover the ones that fit your niche. Another way to find influencers is through TikTok Creator Marketplace – an in-house hub to connect influencers and brands.
Leverage UGC 
User-generated content (UGC) is an effective way to broaden your product's reach and drive sales on TikTok. It is a video created by regular people raving about a specific good or service. Compared to videos where brands market themselves, UGC is more likely to go viral and get high engagement.
To leverage UGC, you should create your branded hashtag or challenge to entice your audience to share videos of themselves using your products on TikTok. It's a great way to transform consumers from passive onlookers to active participants.
Consider The Ordinary – a beauty brand as an example. It had a TikTok user share a before and after video using their AHA 30% + BHA 2% Peeling Solution. The video went viral, garnering over 650k likes and 15k shares, as well as rumored sales of more than $1 million.
Utilize TikTok commerce tools 
User experience plays an important role in the buying decision process of consumers. And the release of TikTok Shopping has created a seamless shopping experience on TikTok with a suite of solutions designed for brands to drive sales.
People now can easily browse & purchase your products right on your brand's TikTok profile, videos, livestreams, etc – all in one place. Learn more about how TikTok commerce solutions can help you leverage sales.
TikTok Shopping: Showcase your products on a separate tab of your TikTok profile. 
Product Links: Make your videos shoppable by adding a product link that directs viewers straightly to a checkout page, without leaving TikTok account.
Live Shopping: Show off products in real-time during a TikTok LIVE and close sales in the process. 
Run TikTok Ads 
Running TikTok Ads is also a great way to increase brand awareness and drive sales you should not overlook.
TikTok offers brands an ad platform with different ad types and targeting options to choose from to get your product or service in front of the right people. There are many types of TikTok ad formats you can choose from, some example can be: Top-view ads, In-feed ads, Hashtag Challenges, Brand Takeovers, and Branded Effects.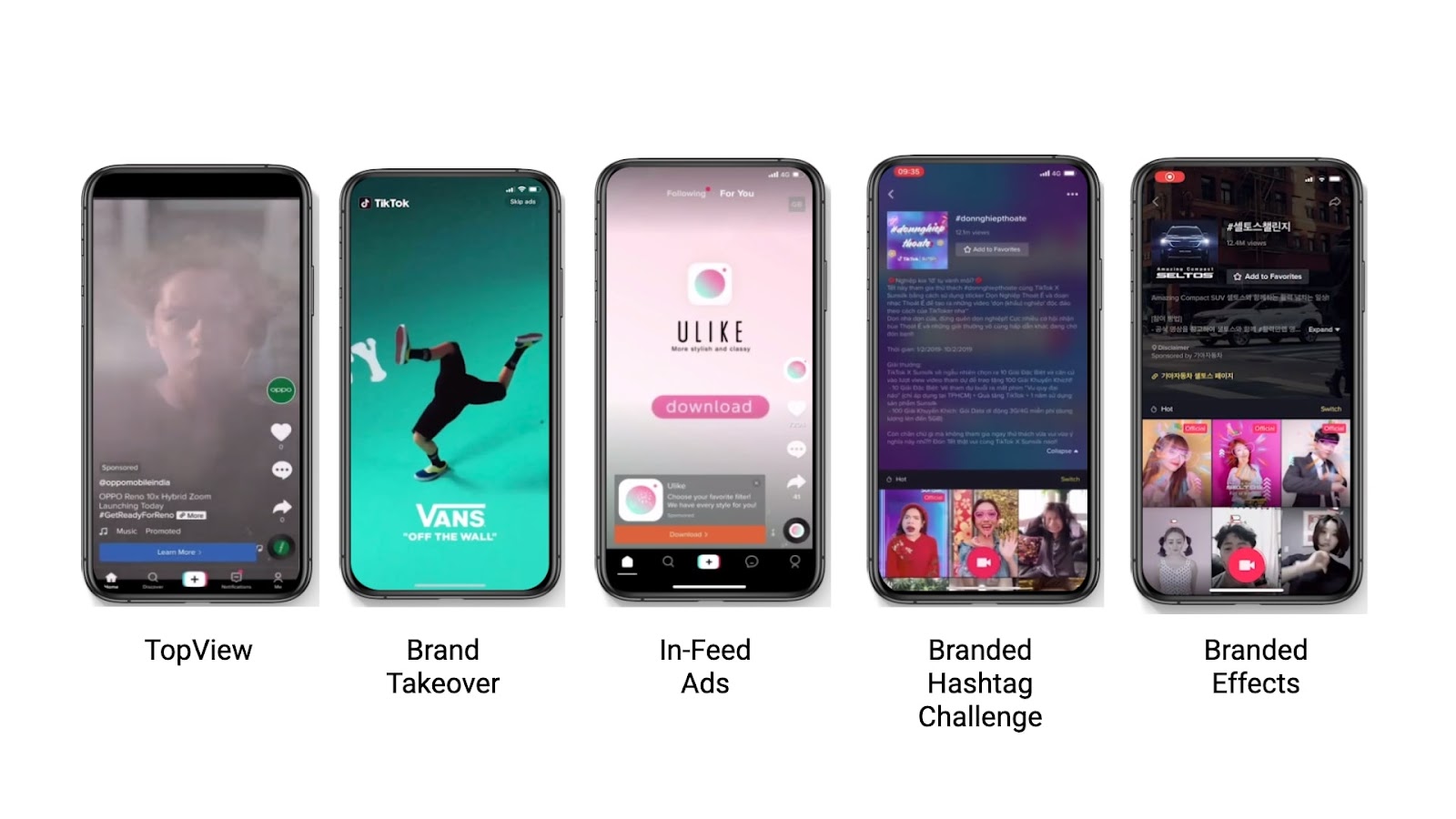 However, when it comes to small businesses, in-feed ads are the most suitable option. This format is both affordable and accessible, making it a great choice for those looking to advertise on a budget.
For those who are new to advertising on TikTok, NestAds, a TikTok ads management app, could be a helpful tool to launch a successful ad campaign. This app is designed to assist users in launching their first TikTok ad campaign by providing them with tools and guidance.
Therefore, if you are a small business looking to sell on TikTok, it may be worth considering in-feed ads and NestAds to get started.
3 best practices for an effective TikTok selling video
Don't over-promoting the product
One of the mistakes beginner often make is over-promote when they're try to sell on TikTok. Instead of just pushing your product, focus on creating valuable and engaging content that users will want to interact with. The goal is to make your content feel like it's part of the community, not just an intrusion. 
To do this, embrace the opportunity to tell a short, compelling story and encourage users to participate in campaigns and create their own TikTok for your brand. It's also important to make your content feel real and genuine, rather than overly polished.
Don't afraid to be funny
TikTok is a great platform to showcase your products and engage with your audience in a fun and creative way. By jumping on trends and creating entertaining content, you can increase your brand visibility and attract new customers.
Plus, TikTok's algorithm favors content that is engaging and trending, so it's a great way to boost your reach. So, don't be afraid to show off your personality and hop on the latest dance craze or viral challenge, just remember to keep it authentic and on-brand!
Keep your video fast-paced.
TikTok users have a short attention span and prefer watching quick videos that are exciting and engaging. If your video is too long or slow, they may lose interest and scroll away. Also, remember that TikTok videos play on a loop, so a short and snappy video will make a better impression and encourage users to watch it multiple times.
Lastly, fast-paced videos with dynamic visuals and catchy music are more likely to go viral and reach a wider audience. 
So, how to get the most sales on TikTok?
TikTok is getting very big, with so many users and so much content, it can be challenging to get your brand noticed. So, how can you make business stand out and capture more customers?The answer is simple: TikTok Ads.
By using TikTok Ads, you can reach a larger audience, increase brand awareness, and ultimately boost your sales. And the good news is, you don't need to be a marketing expert to get started.
TikTok Ads Ultimate Free Course for Beginners is an excellent resource that can help you understand the basics of TikTok Ads and how to implement them effectively. So why not check it out today and see how you can take your business to the next level?