TikTok is the perfect playground for your brand's creativity. There is no doubt that the brands we see having the most success are those that embrace creativity. However, it's not easy to create winning campaigns on TikTok.
Good news: TikTok Business creative center was born to help creators ease the stress of generating creative content! Continue reading and learn everything you need to use TikTok Creative Center and go viral in 2023!
What is the TikTok Creative Center?
Similar to Facebook's ad library, TikTok Creative Center, also known as TikTok Ad Library, is a creative hub. It is a function of the TikTok app that offers users a selection of materials and tools for making and editing videos. Users who want to produce their own material can use the templates, music, sound effects, and other resources in the Creative Center.
According to industry, advertising objectives, and audience demographics, the creative center offers consumers data-based analyses of current trends. Along with their insights, users are also presented with relevant, top-performing advertisements. This helps in expressing which advertisements are currently engaging with target consumers.
3 reasons why your business should use TikTok Creative Center
High-performing trend discovery
Finding a topic you're happy with is frequently the most difficult part of creating a viral video. This is where TikTok Trend Discovery on the TikTok Creative Center comes into play.
Let's take a quick look at the key elements that help you stay on trend on TikTok:
Popular hashtags
With Trend Discovery, you can view all of the top popular hashtags on TikTok over the past 24 hours, 30 days, or 120 days, depending on specific categories.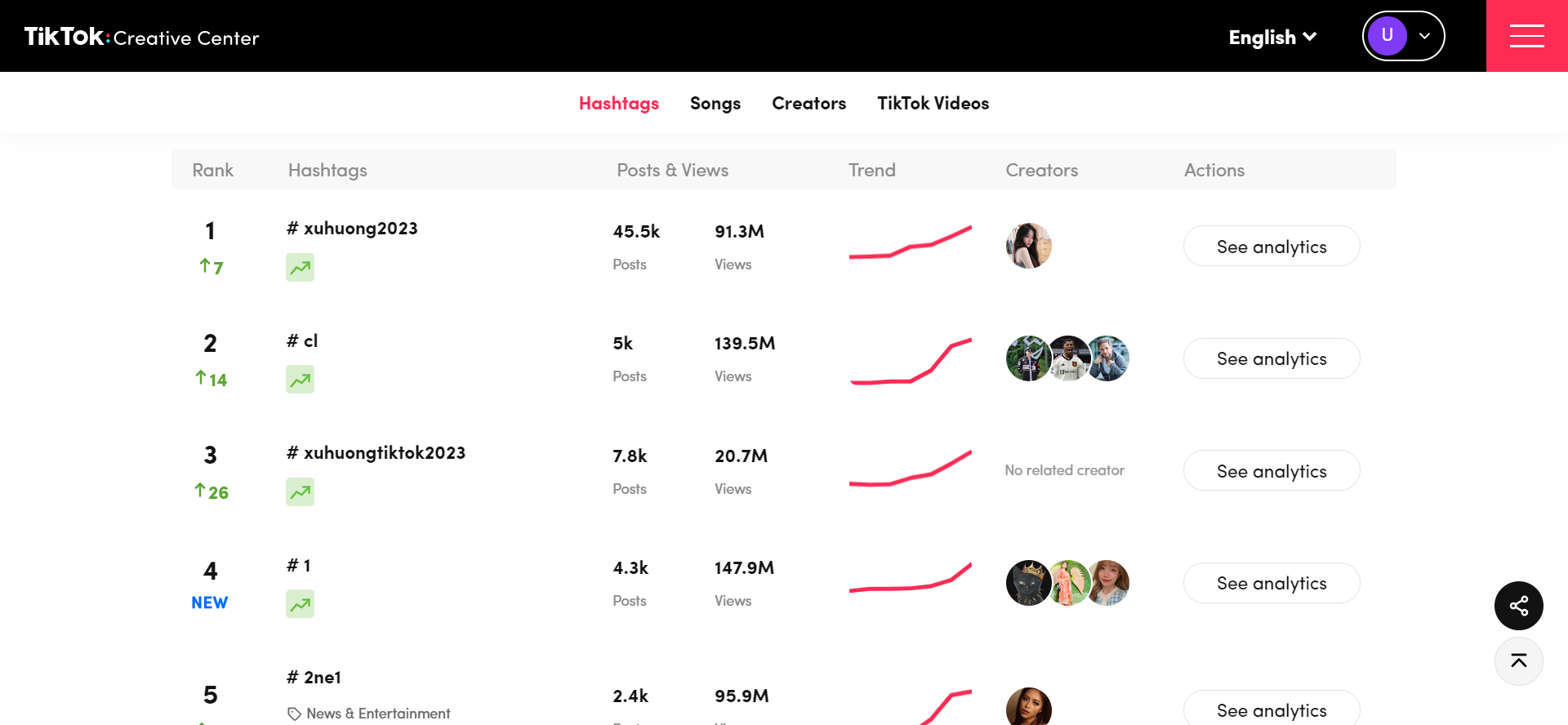 It's also amazing that you can see the metrics for each hashtag that comes up in your search, including how popular it is across age groups, and other hashtag-related hobbies.
Even better, there's a link that directs you to related videos so you can see which videos go well with the hashtag. Overall, this is a fantastic tool that gives you information on the kinds of users who interact with various hashtags.
Trending songs
TikTok is known for its extensive library of music, and many users create videos featuring popular songs or original compositions.
On TikTok Creative Center, you can discover the top trending free songs and audio as well as the number of likes, comments, and shares the videos have received, then make your own ones for your brands.
Famous creators
Another way to discover what is going viral on TikTok is to view the top content creators on the TikTok Creative Center.
With the help of the TikTok Creative Center, you can not only see the most adorable creators with followers and likes but also contact them for work with just a click of a button. Collaborating with influential creators can help expose your content to a larger audience.
TikTok videos
Only videos from the previous 30 days are displayed on Trending Discovery. Also, regardless of the filter settings, only 500 films may be shown on the Trending Discovery page.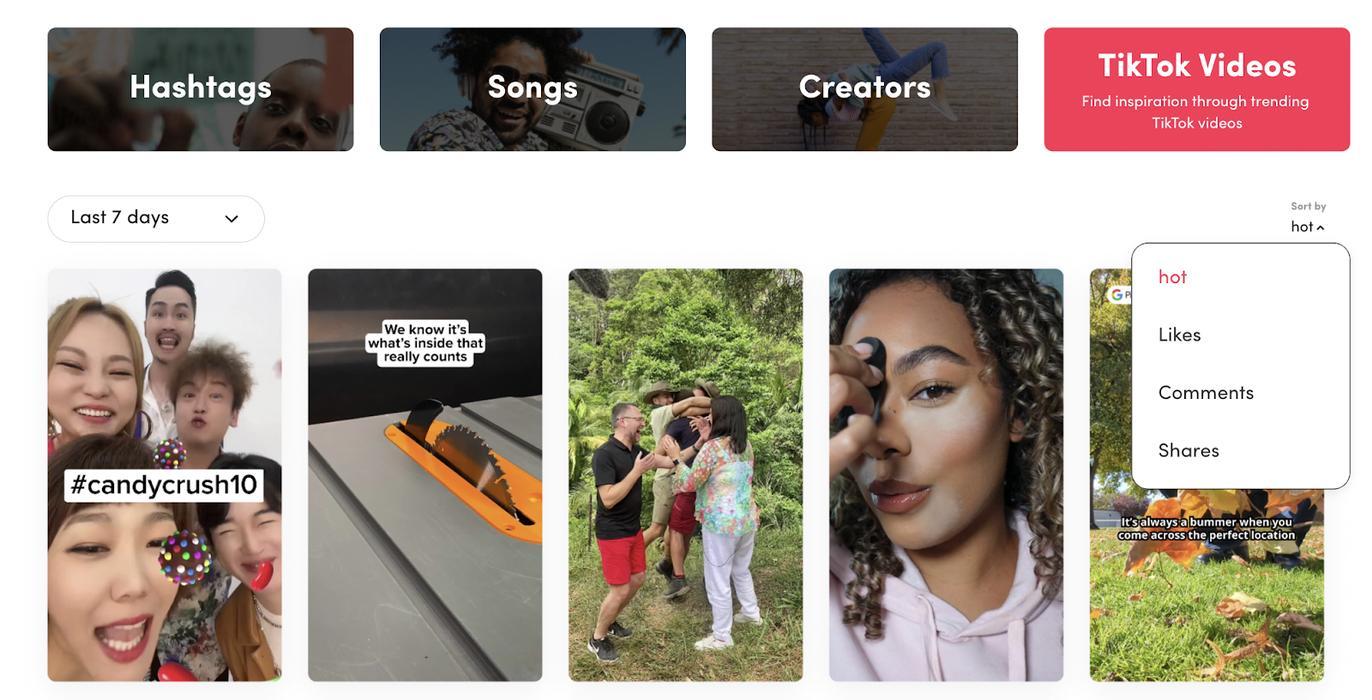 For easier access, the highest-ranking videos that match your search parameters are shown at the top of the page.
Huge inspiration from Top Ads section
The "Top Ads" section of the TikTok Creative Center displays TikTok's most successful ads right now, across all markets, industries, and advertising goals. You can access ad examples and a breakdown of the TikTok Creative Center's insights by visiting their website.
The "most valuable frame" of the advertisements is also included in these insights, which identifies the moment an ad highlighted the greatest level of viewer engagement. If you use these examples as inspiration for your campaign strategy, your brand will have a better chance to connect with your target audience and maximize your ROIs.
Amazing creative tools for your participating content
TikTok Creative Center offers you a range of creative tools that unleash your creativity, with access to:
Ready-to-go video templates
License-free audio library
Smart text – a tool that generates ad copy based on your keywords, industry, and language
How to use TikTok Creative Center
You can access the TikTok Creative Center after setting up your TikTok for Business account and start exploring all the features that TikTok Creative Center offers you:
Browse the top trending songs
Step 1: Select the tab for Trend Intelligence
On your screen, in the upper right-hand corner, is the "Trend Intelligence" tab. After selecting the tab, go to "Songs."
Step 2. Look through the most popular songs:
You'll find a highly selected list of the top 100 songs on TikTok on this page. Depending on the time period you choose in the top left drop-down menu and whether you want "Popular" or "Breakout" songs to be displayed, this list will change.
Step 3. Analyze the music metrics.
When you locate the music you like, click "See analytics" to find out more about it.

Keep in mind that any song mentioned with "Approved for business usage" beneath its title is a part of the audio library for the TikTok Creator Center.
You will see a line graph of the song's popularity over the course of a month in this tab. The duration of the song's trending status in your nation and its current performance relative to the duration of its trending status are also provided by TikTok.
You'll then be shown the song's audience insights. This includes age demographics and the top affiliated trending topics of the TikTok videos currently using the song.
Therefore, you can predict if the music will stay popular in your target markets. Additionally, it's no longer a problem to learn if it's being used for themes relevant to your brand and by your target audience.

Find video trend
Step 1. Select the tab for Trend Intelligence.
On your screen, in the upper right-hand corner, is the "Trend Intelligence" tab. Go to "TikTok Videos" by selecting the tab and then clicking on it.
Step 2. Browse and filter the trending results
The TikTok Ads Library, also known as the extensive presentation of TikTok's trending videos, can be found on this website.
To make the outcomes as pertinent to your needs as feasible, select the TikTok insight that most closely reflects the campaign's goal.
Analyze competitor ads
Reviewing your competitors is a fantastic approach to learn what is currently effective in your industry's e-commerce advertising market. Using the Top Ads Dashboard in the Creative Center, you can identify popular commercials based on a variety of key factors by following these steps:
Step 1. Go to "Campaign Inspiration"
On your screen, in the upper right-hand corner, is the "Campaign Inspiration" tab. Go to the "Top Ads Dashboard" by clicking the tab first.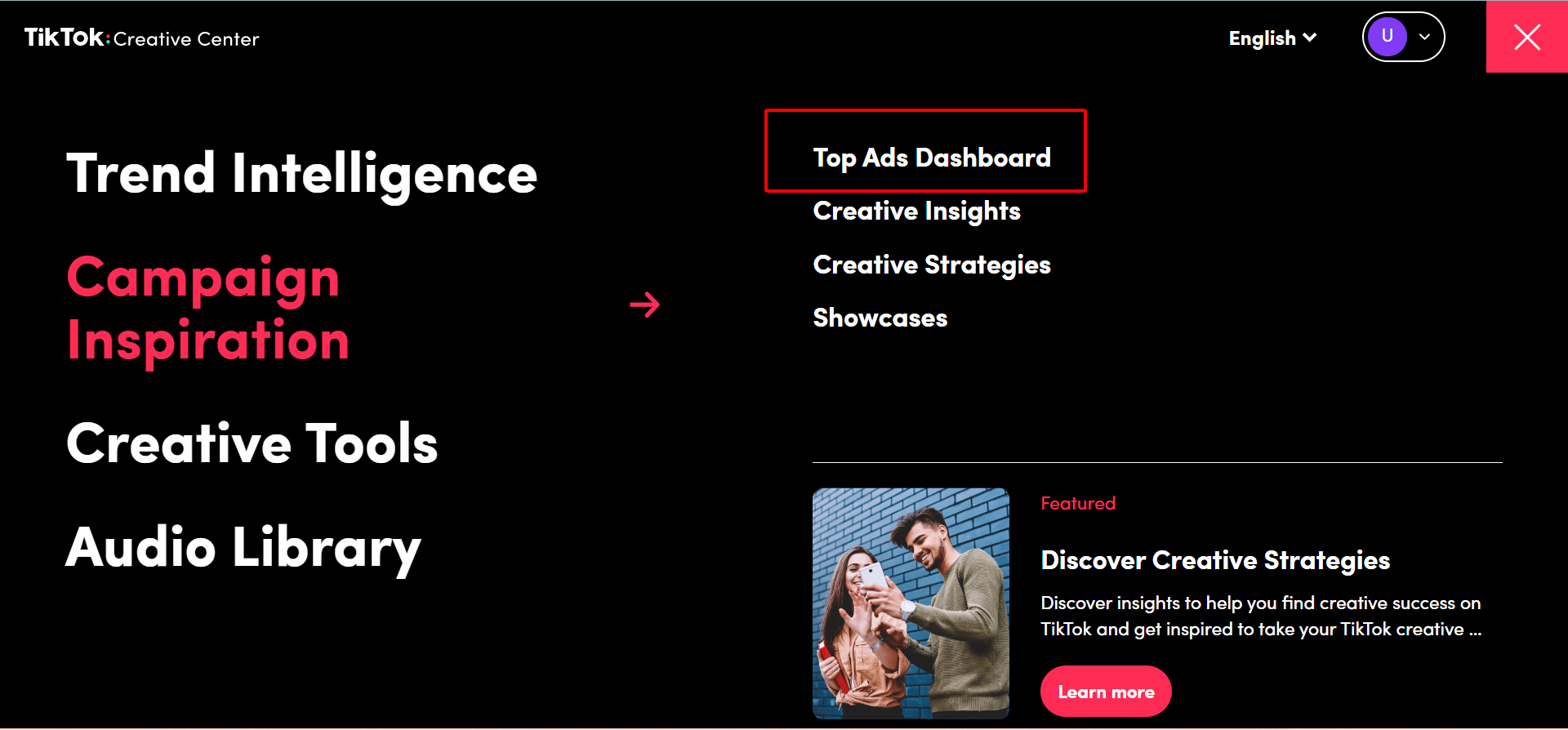 Step 2. Find Top Ads Relevant to Your Brand
On this page, you'll be shown the current highest-performing ads on TikTok. You can use the filters to search for adverts in specific:
Or, adverts that performed well according to:
Here's a case in point. Consider that you are a beauty company looking to develop a campaign to promote a fresh skincare line. Conversion optimization is your campaign's goal. What skincare advertisements are now converting best in your area is something you want to learn.
Step 4. Analyze the Top Ads' Performance
Now that you've found top ads specific to your goals, you can start identifying how competitors perform in this space. More importantly, you can view the Top Ad's analytics.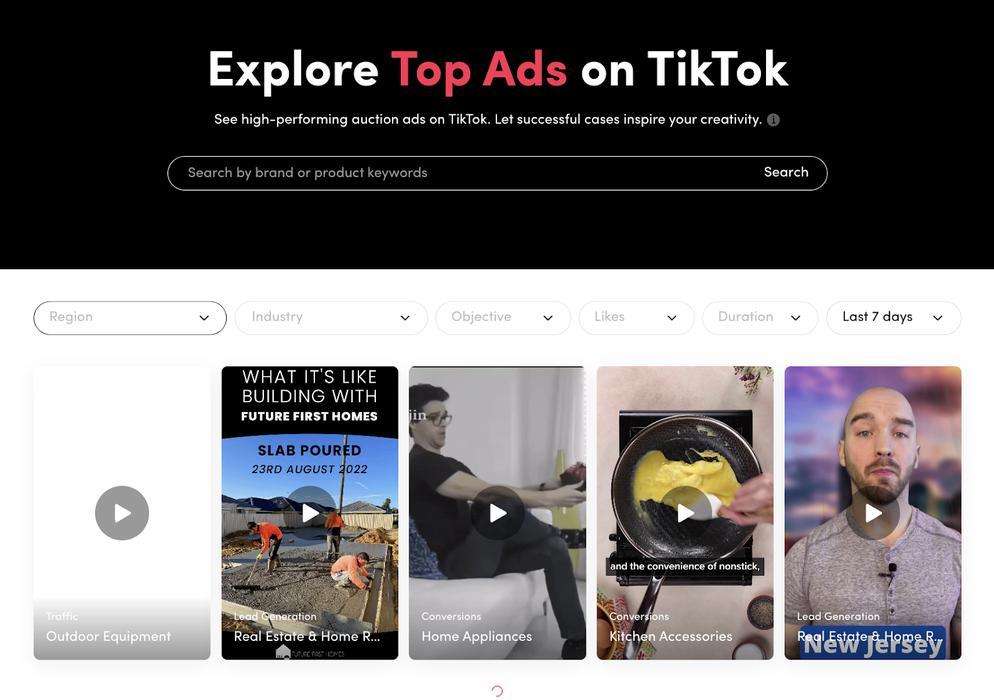 The "Most valuable frame" metric describes the points in the timeframe of the advertisement where the engagement took place. As a result, you can accurately identify the moment when viewers were most likely to decide they wanted to try the product.
Thanks to this data, your brand can get inspired and begin to shape its creative ideas for fresh ads.
Access keyword insights
Similar to popular hashtags, keywords can be a great way to reach more audiences with the right messages. Keyword Insights can be found under the Inspiration tab, from that, start discovering top trending keywords in different regions, industries, and time duration. Up to 500 keywords are shown on the page, so choose one and just let creativity spark. To take advantage of this tool, see the guidelines below:
Step 1. Click the Log in button in the top right corner of the page to access Creative Center. You'll only get a few results under Keyword Insights if you aren't logged in.
Step 2. Filter your search by region, industry, objective, keyword type, and time period. When you log in again, any choices you make will be stored.
Step 3. Click the arrows next to any metric to sort the keyword ranking.
Step 4. Click Details next to the keyword for additional information on a keyword's use in ad copy and see samples of ads where the keyword appeared.
Step 5. On the "Details" page, see the selected keywords in the context of a phrase or see how it was utilized in advertisements. Watch related videos as well, if they are available, to observe how the keyword is used.
Spark creativity with TikTok Creative Center today!
Since TikTok is a space that allows creativity to flow, there is no single path to success on TikTok! On your way to generate your success on TikTok, the TikTok Business Center is a digital assistant that helps you shorten the process.
Now, it's time for you to start your branding on TikTok today with creative and engaging content! Still wondering about creating winning campaigns on TikTok? Don't hesitate to try our product NestAds – TikTok Advertising Management Software for free and create the most effective TikTok Ads solution for your business!