TikTok is a platform that encourages users and also brands to spread their own stories and share their community culture with others. And when it comes to TikTok video content and engagement, it's not only for entertainment but it's also about driving results and increasing campaign performance.
Have you ever wondered if your video creates effective desired business outcomes or not? In the downside scenario, it's maybe because you haven't leveraged all the TikTok insights.
However, it's not such a big deal! In this article, we've compiled all TikTok new insights for marketing campaign planning. Let's discover them to spread your business to all potential audiences!
Drive business outcomes
As a shoppertainment with huge success, TikTok is always an endless market that makes businesses bloom through different dimensions:
Advertising spend
Sales efficiency
Incremental sales
In-store sales
ROAS (Return On Advertising Spend) is a marketing metric that measures the efficacy of a digital advertising campaign. According to the three separate Nielsen Media Mix Model Meta Analyses commissioned by TikTok, this platform has generated positive ROAS and sales efficiency for the CPG (Consumer Packaged Goods) brands.
Many regions like the Middle East, Europe, and Southeast Asia have seen similar increases, however, the US will definitely make you say wow. With this market, 96% higher paid media ROAS on TikTok is recorded compared with other digital platforms. Therefore, offline sales also develop with almost three times increases.
Thanks to TikTok, U.S. CPG advertisers have a winning opportunity to drive more incremental sales – a crucial KPI to guide their marketing campaign.
Otherwise, with the aim of proving TikTok Ads' amazing benefit, TikTok and NCSolutions (NSC), a consumer insights company have collaborated to conduct a Total Sales Lift study that analyzed 11 campaigns in beauty, personal care, and food and beverage categories.
Although TikTok Ads have a lower frequency than TV Ads, they still gain the same amount of incremental dollars per 1,000 impressions (DPM) as TV ads ($15.40 vs $16.80). The ROAS from TikTok Ads is nearly twice as much as TV Ads.
Encourage product discovery
Not only generate sales outcomes but TikTok is also regarded as the fastest developing platform for product discovery – an important part of a customer's buying journey. If you aim to attract your audience at first sight and drive acquisition, you should never skip TikTok!
Even the acquisition is considered the most difficult obstacle for e-marketers. you just need to let TikTok do its job. TikTok is four times more profitable than TV at attracting new customers. TikTok shows great potential to reach new-to-category buyers and tough customers, the hard audience was no longer a problem.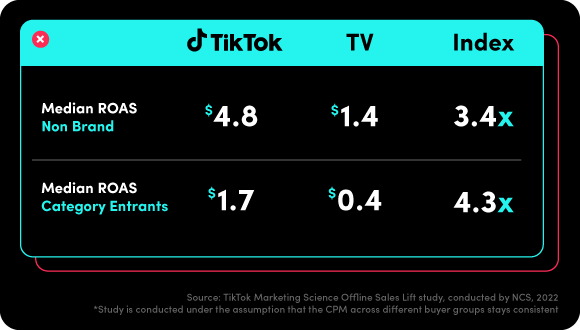 Moreover, in a survey to identify the channel where consumers first saw the items, nearly 15% of product exploration started on TikTok, compared with 4% a year ago.
Create global connection
With three billion downloaded times and over one billion active users, TikTok always tries its best to achieve its mission: inspire creativity, spread joy, and create global connections.
To deserve the position as the world's leading destination for short-form mobile videos, TikTok has recently launched new translation tools in hopes of winning the language barrier and cultural differences. Therefore, brands have a chance to bring their content to more audiences and therefore reach new potential customers.
These new features are available in several languages including English, Portuguese, German, Indonesian, Italian, Korean, Mandarin, Spanish, and Turkish. Depending on different business must-meet goals and TikTok marketing strategies, brands can choose between three options:
Auto-generated captions: TikTok users are allowed to turn on closed captions for videos.
Translations for captions and video descriptions: This feature helps viewers enjoy the videos with the original language.
Translation for text stickers: By creating translation-to-text stickers in videos, TikTok aims to spread every part of the entertaining content.
Don't hesitate to take advantage of three new TikTok tools if you want to reach global customers, and bridge your products. It's really helpful in your TikTok marketing campaign strategy.
Show effectiveness in building brand equity
TikTok is a platform that has a huge power to drive brand equity compared to TV and other digital ads. Every brand that invests in TikTok career shows a similar chance to tell their own story and spread their products or services.
Creativity is one of the most important factors that decide a marketing campaign or an advertising video's success and also reflects the TikTok culture and authenticity. TikTok Ads outdistanced their own digital and TV norms in terms of several metrics, including persuasion and enjoyment.
Endless market for the holiday season
Last but not least, TikTok shows great potential during the holiday shopping season and it will be missing if you don't invest in this ideal time for e-commerce. Taking advantage of the holiday season can increase customer engagement which will boost sales and brand awareness. Black Friday, Christmas, etc. on TikTok opens the door to endless possibilities to help you sell more.
Across holiday and shopping seasons, TikTok shoppers put their hearts into each event by spending more time scrolling TikTok videos. Otherwise, TikTok offers the audience an amazing shopping experience. 93% of TikTok users celebrate the holidays, and 35% of users say TikTok meets their high demands without any problem.
A special thing that makes TikTok outperform other social media platforms is the huge inspiration across communities. TikTok not only brings a good deal but also helps users to get more creative ideas and even their best gifts to make the perfect holiday.
In addition, TikTok Ads are even more effective during the holiday season. An ultimate advertising guide for holiday shopping will help you to get into the niche market and therefore drive more sales. TikTok has recently launched new shoppable advertising formats that help brands to achieve their business goals:
Video Shopping Ads
Catalog Listing Ads
If you still struggle with diverse TikTok Ads types, we got your back! Feel free to try out our new product NestAds or contact our experts to master this platform and expand your business.
TikTok's new insight platform
TikTok has recently launched a new interactive insights tool that allows marketers to discover key data points on their target audience and markets. Knowing about the community's behavior, their interests, their way to engage, etc. is important to optimize your brand campaign.
Accessing this platform, you will find several data filtering tools to choose from, including
Location
Audience
Insights
Industry
Holiday & Events
Year
Ready to improve your strategy with TikTok insights
TikTok is a fast-moving platform with creative updates and therefore new insights from TikTok itself and also from the TikTok audience. Keeping up to date with new TikTok insights is one of the most important steps in marketing campaign planning.
If you aim to become a winner in this competitive advertising community, it's the perfect time to optimize your strategy by following these insights mentioned! In case you are still struggling with some TikTok problems, feel free to contact us via live chat for more business advice!