If you want to know how to get verified for a TikTok Business account, you've come to the right place.
In this guide, we will walk you through step by step to apply for verification. We will also give many useful tips to help brands get the valuable blue tick in the fastest way.
What does it mean to be verified on TikTok
A verified badge means that TikTok has confirmed the account belongs to the user it represents. It appears as a clear blue check mark on the user's profile and next to their TikTok account name in search results.
Benefits of a verified TikTok business account
Gain authenticity
Can you imagine when you're looking for a business on TikTok, the search results might make you confused as there're tons of fake accounts with similar usernames? Which is real? Which is fake? It's quite hard for customers to identify an authentic account.
However, by having a verified TikTok business account, you can eliminate the user's confusion and direct them to the original account.
Boost credibility
Users will see you as more reliable and trustworthy if they know you are a brand's official business account. The verification shows you are who you say you are, not someone pretending to be you.
Reach more potential customers
A verified account will appear on the top of research results and suggested accounts so that it will reach more target audience and effectively promotes your brand recognition.
How to request verification on TikTok
You can apply for TikTok verification in two ways: through the mobile app or on TikTok's website. The best part is that neither option requires payment, so watch out for scammers who offer to verify your account for the money!
On mobile
Open the TikTok app and go to your Profile located at the bottom of the screen.
Tap the Menu button at the top.
Select "Settings and Privacy" from the options.
Tap "Account" and then choose "Verification."
Click "Start" then follow the instruction provided by TikTok
Note: Business accounts can only apply for Business Verification, while Personal accounts can apply for both Personal and Institutional Verifications.
On web
Don't worry if you can't find the Verification button – TikTok hasn't made this feature available to every user yet. But don't let that stop you from pursuing verification for your account! Instead, head over to the TikTok support website where you can submit a request for verification.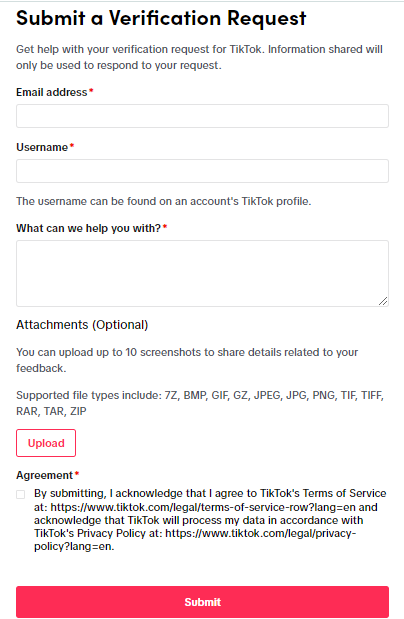 How many followers do you need to get verified on TikTok?
TikTok doesn't require exact numbers of followers to get a verified badge. TikTok's verification team will review thoroughly based on a number of factors to determine whether an account is eligible to be verified. Below we will walk you through some attributes TikTok would require before giving you the blue checkmark:
Authenticity
• Active: To be eligible, you must have logged in to your account in the last 6 months.
• Complete: Your account must be public and have a profile that includes a bio, a name, a profile photo, and at least one video.
• Authentic & Secure: Your account must represent a genuine individual, business, or entity. Additionally, it must have multi-factor authentication enabled and a verified email address.
Popularity
Unlike many other social media platforms, TikTok doesn't require users to have a certain number of followers to be eligible for verification. However, TikTok does show its favor toward popular creators by awarding the verification badge to those who consistently produce high-quality and popular content.
According to TikTok, they only evaluate accounts that have been covered by multiple news outlets. Press releases and media that are sponsored or paid for will not be taken into account; so it is important for brands to grow organically to get the blue badge
Tips to get TikTok verification quickly
Is it hard to get verified on TikTok? Well, it is clear that getting verified on TikTok is not an easy job. While it is transparent about the requirements, TikTok's secret verifying method has made it hard for a lot of creators to understand the criteria needed to get that blue badge. So, to make it more achievable for small brands and businesses, we have collected some tips and tricks:
Post contents daily
The quality of content should be your priority if you want to get verified on TikTok faster. When you consistently create engaging content, more people share your videos which can help you reach a massive following.
If you want your TikTok content to be approved swiftly and gain widespread attention, creating viral clips is the key. Specifically, going viral means your content will appear on many users' "For You" pages, garnering hundreds of thousands of likes and views.
Now, you might be wondering if it's difficult to create high-engagement videos. The answer is no; it's actually quite achievable. The secret lies in focusing on two main factors: authenticity and engagement. To help you out, here are some practical tips to consider.
Keep up with the TikTok trends
TikTok's trends and challenges offer the easiest way to go viral. So, to get yourself updated with the newest trends, just spend at least 15 minutes per day scrolling through the For You page to get a hang of what's trending. This can prove extremely helpful in sparking your creativity and giving inspirations for new content ideas. 
Recent data reveals that the hashtag #LearnOnTikTok has garnered over 571 billion views, indicating that TikTok users have a strong desire to learn new things. As a result, brands should prioritize creating educational videos to engage with their target audience and tap into this growing trend.
Let's see a top trending video about make-up tutorials from a beauty blogger and it got almost 700K views.
Keep the TikTok videos short
Does a short video provide viewers with enough time to lose interest? Absolutely not. Instead, it ignites their curiosity, prompting them to rewatch it when the autoplay feature is activated.
Hence, we suggest that TikTok videos be ideally 9 to 15 seconds in length to ensure maximum impact.
Utilize Hashtags
When you use a hashtag relevant to the content of the video, you could draw people's attention who are already interested in the topic. As a result, better visibility would translate into higher engagement rates which are one of two metrics that TikTok requires during the verification process.
Announcing a new makeup haul? Adding relevant hashtags like #makeup, #beauty, and #MUA in the caption can help boost your video to the right audience. The trending clip below is a prime example:
Furthermore, if you want to boost your brand's hashtags on your own, you can encourage viewers to join the Branded Hashtag Challenges. To understand how it works, you can get your inspiration from this #MoveLiteSG Hashtag Challenge. It has drawn thousands of viewers to join, and the results of this campaign were incredibly impressive.
Post at the right time
Viewers are not always online 24/24. To get their attention, you have to know exactly what time your audience is already online and scrolling.
You can make use of TikTok scheduling tools to know what is the best time to post on the platform. As per our research, most posts get maximum engagement rates are public at 7 am on Tuesday or 5 am on Friday (Based on Pacific time).
Interact with followers
Social networks are a great place for engagement, and TikTok's no exception.
There are many ways to get closer to followers! You can start simply by asking them to leave you a comment, share their thoughts, share your video, follow your account, or even respond with a video of their own using the TikTok Stitch or Duet features.
Collaborate with influencers
This is one tip to skyrocket your engagement, in case you have not found much luck with posting organic content. By partnering with influencers, TikTok creators can tap into their existing fanbase and reach a wider audience.
Furthermore, working with popular influencers can show that they are respected members of the community and are worthy of being verified themselves. For example, Garage Clothing, a US clothing brand for young women, hit success on TikTok with a video collaborating with the macro influencer Aisha Potter:
Nonetheless, when it comes to reaching out to influencers for partnerships, TikTok creators should take a thoughtful and strategic approach. Here are a few tips to keep in mind:
Identify relevant influencers: You can start by making a list of influencers whose content and audience align with your own brand or message. Fortunately, TikTok's search function is incredibly helpful to find creators who are active in your niche or industry. So, pay attention to factors like their follower count, engagement rate, and content style to ensure they are a good fit.
Reach out with a clear proposal: When you reach out to an influencer, be sure to have a clear proposal in mind that includes mutual benefits for both parties. Especially, you need to highlight what you can offer, for instance cross-promotion, content creation, or simply a shoutout to each other's followers.
Offer values and build a relationship: To build a purposeful partnership with an influencer, it's important to offer values and build a relationship over time. Hard as it may sound, you can actually start with small steps! Collaborating on multiple pieces of content, providing value-added services like editing or promotion, or simply staying in touch and supporting each other's work; should be good enough.
Gain media coverage
Getting publicly and newsworthy is one of the key elements to make yourself known to a wider audience and to gain credibility. But how can you be newsworthy? We come up with a few ideas that can help you get started:
Get involved in local events (for charity or otherwise)
Work with a PR agent, business, or even a journalist
Publish a white paper or other original data relevant to your target audience
Therefore, if you're seeking that elusive blue verification badge, PR may be just what you need. the TikTok team will base on various news channels to check if your brand is notable enough for a verification. 
For inspiration, you can check out this case study from SeeQ Supply – a US-based whey protein powder company. Aside from their consistent social media efforts, they've also made a name for themselves by promoting their success stories in a variety of articles and news magazines. Apparently, this approach has been one of the key factors that helped them earn a coveted blue badge on TikTok!
If you get the blue checkmark on most social media platforms such as Facebook, Instagram, or Twitter, the process of verification on TikTok would be much easier. It indicates that you are credible and trustworthy. However, every platform will have a different set of requirements that users must meet in order to be verified; for instance, getting verified on Instagram and Facebook might be easier for local businesses, companies, and organizations than personal accounts.
Keep in mind that the process of verifying your account on TikTok can take some time, usually a few days at least, depending on various factors. It may require a bit of patience on your part, but the potential benefits for your brand are certainly worth it. So why don't you do it now?
TikTok verification FAQ
How to get verified on TikTok without followers?
It can be tricky, but still feasible. Try to gain media coverage or get verified on other platforms first.
Can I ask to have my verification removed?
It's not currently possible to send a request for the removal of your verified badge. However, changing your username will lead to removal.
Do verified TikTokers earn money?
For a branded video, a TikToker may receive between $100,000 and $250,000, while celebrities making up to $500,000 per post, according to Forbes.
Ready to get TikTok verification for your business?
Social media verification is now more widely available than ever. Celebrities are no longer the only ones who can get it. As a business or personal brand, it's incredibly vital to build social proof and trust within your audience. Start by following the amazing & useful information above to quickly get verified, go viral, and sell more products on TikTok.