In 2022, TikTok ranked second in global app downloads, falling just behind Instagram. TikTok has brought about a significant shift, particularly for creators of content. TikTok's unique approach highlights its users, making it an excellent platform for content creators. With the rise of user-generated content (UGC), brands have recognized the effectiveness of this strategy over traditional advertising methods. It is with this in mind that TikTok has implemented a new advertising format "TikTok Branded Mission "
So what is TikTok Branded Mission? What are the differences between TikTok Branded Mission and other TikTok ad offerings? How can you use it to improve your brand awareness? Let's explore them all!
Introduction to TikTok Branded Mission
TikTok Branded Mission is a unique advertising solution for businesses that allows them to gather real and genuine content from creators on TikTok. This three-in-one solution not only boosts the most popular videos as advertisements but also increases media impressions. When advertisers create a Branded Mission, creators can select to take part in campaigns that inspire them. Then, using increased ad traffic, brands may pick their favorite original creative videos to promote. With Branded Mission, advertisers can promote the videos that align best with their brands while empowering creators to co-create authentic branded content.
Branded Mission makes it simpler for businesses to collaborate with TikTok influencers. Marketers can simply publish their requests, and wait for creators to pitch their ideas, saving them the time and effort of finding and handling the influencer outreach themselves.
Here are some major advantages of TikTok Branded Mission:
The chance for brands to find TikTok creators that are influential and most aligned with their marketing messaging.
An opportunity for brands to receive authentic, relevant content related to their campaigns from TikTok creators who have a track record of success.
Increased brand exposure to new communities through crowdsourcing within the TikTok ecosystem.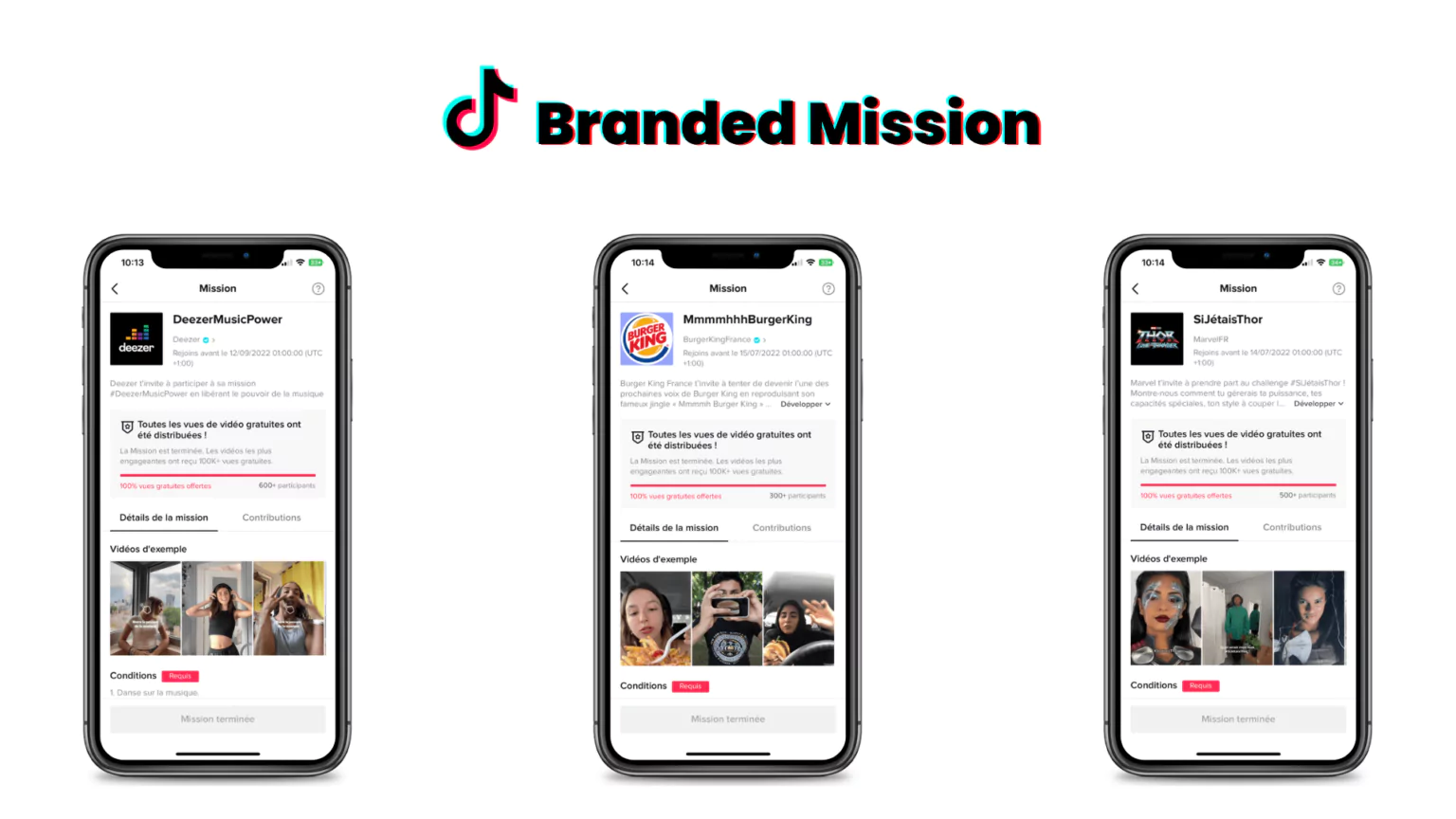 TikTok Branded Mission is a win-win situation since brands can leverage high-quality content directly from the TikTok community while creators can use boosted content to reach new viewers. According to the TikTok Newsroom: "This new form of two-way engagement between brands and creators enables the TikTok community to have a creative hand in the ads that are part of a brand campaign and helps brands discover emerging creators broadly across TikTok".
TikTok Branded Mission: How does it work?
Brands first choose the requirements for a Branded Mission
To begin, the brand will create a comprehensive brief that outlines the various requirements that creators must fulfill to participate in the Branded Mission. Typically, the brand will request that creators incorporate the following elements in their videos:
Use a sound that has been specifically created for the brand
Mention the brand in the video's description
Include a designated hashtag (e.g. for a hashtag challenge)
Incorporate a specific effect in the video
Note that if a creator's video fails to meet the conditions specified in the mission, it will not be considered for selection.
The creators participate in the mission
After the mission is created, TikTok content creators receive a notification and can choose to participate if they wish. To take part in brand missions, creators must be at least 18 years old and have a minimum of 1000 followers on TikTok. They have to adhere to the requirements outlined by the brand in the brief. Creators can submit up to three user-generated content (UGC) videos to increase their chances of being selected. The videos must be original and genuine, and the creator must submit them before the date specified by the brand.
The brand selects the best videos for the media campaign
TikTok's algorithm will highlight videos with the best potential for interaction – that are also deemed brand-safe – and add these videos to a shortlist for marketers to choose from.
Once the advertisers have picked their favorite video, the video will become a media campaign and appear as an In-Feed ad. The creator(s) whose video is chosen gets paid in cash and gets more visitors. The entries from the remaining creators will appear on the For You page as genuine TikTok videos.
TikTok Branded Mission ad specs
In order to execute a successful campaign using Branded Mission, advertisers should adhere to certain essential elements and specifications.
TikTok Branded Mission campaign elements
The Bundled Feature Page displays a brand's current Branded Mission. Its purpose is to increase the campaign's visibility and offer a platform for creators to submit their videos. The page is user-friendly, allowing visitors to easily browse and take part in the challenges, which leads to greater engagement and exposure. The page usually includes a brief explanation of the campaign, participation guidelines, and examples of successful videos. The page's design can be customized by brands to match their branding and messaging, ensuring a consistent user experience.
The Branded Mission Page serves as the main hub for advertisers to create their Branded Mission campaigns and for creators to submit their videos.
Branded Mission Details Tab: Branded Mission Details Tab is where advertisers can specify the requirements for the campaign, such as the creative briefs, guidelines, and objectives. Advertisers can also select the target audience, campaign duration, and budget.
Branded Mission Submission Tab: Branded Mission Submission Tab allows creators to submit videos that meet the campaign requirements. Creators can review the campaign details, including the brief and guidelines, and submit their videos accordingly. The Branded Mission Submission Tab also enables creators to track the status of their submissions and receive any feedback from the advertiser.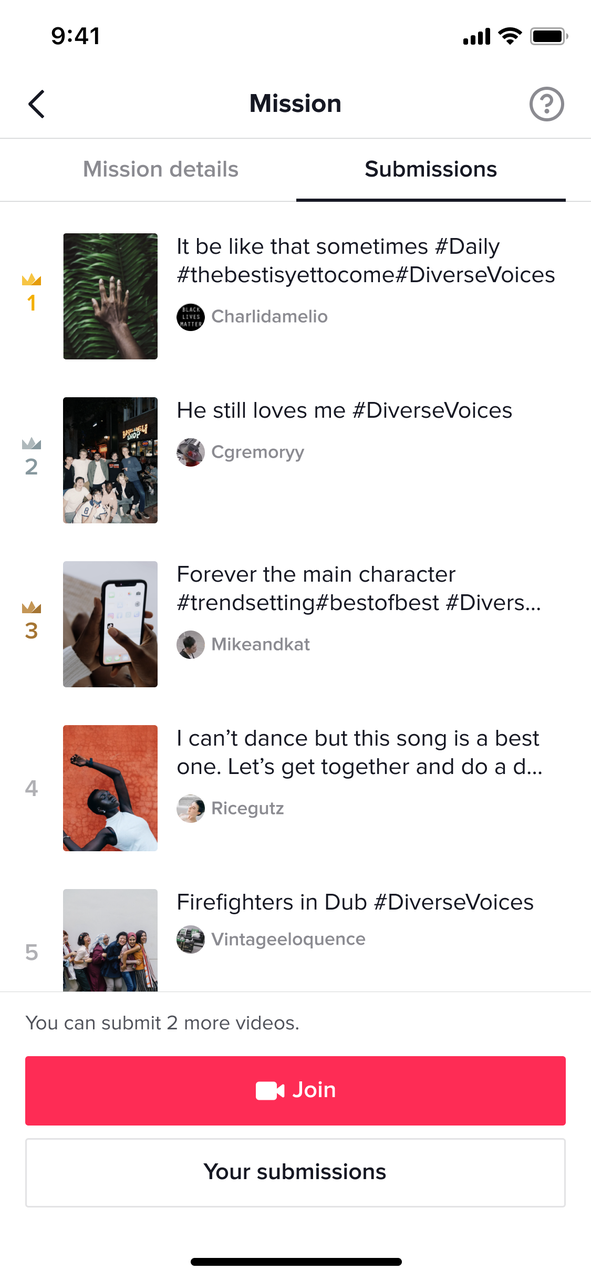 Mission Center Page is where users can see all the challenges and missions available including Branded Missions. Advertisers can create and oversee their Branded Missions by using the Branded Mission Details and Branded Mission Submission tabs found on the Branded Mission Page, which is accessible through the Mission Center. This makes it easy for users to find and engage with brand campaigns, while also giving advertisers a centralized spot to keep an eye on their campaign's progress and results.
TikTok Branded Mission creative assets
Advertiser name
Advertiser Name character: no more than 24 English characters.
Blank spaces, emojis, and special characters are not supported, ​except for "&,"
Branded Mission Name
​Branded Mission Name character is no more than 70 English characters
​Blank spaces, emojis, and special characters (< > " &) are not supported in a Branded Mission Name.
The Branded Mission names will be co-determined by the client and TikTok
Branded Mission Profile Picture
​Picture size: 240 x 240px
​File size: 500KB or less
Format: PNG, JPG, or JPEG
Branded Mission Campaign Description
Branded Mission Campaign Descriptions are recommended to be under 150 English characters
Branded Mission Requirements
When developing a Branded Mission, it is necessary to establish the Branded Mission Requirements for TikTok creators. These requirements will specify the kind of content that TikTok creators must produce in order to take part in the Branded Mission. Here are some requirements for TikTok creators:
Must use official music
Must use the official hashtag
Mention the official account
Must Use Branded Effect.
Example Video
Brands must provide at least one example video showing the type of content they want creators to make, or else, they will be unable to create a Branded Mission. Up to 10 example videos are allowed.
Top TikTok Branded Mission content examples
ASOS #ASOSAlterEgo
ASOS was the first European brand to utilize TikTok's new Branded Mission, which they implemented in their Halloween #ASOSAlterEgo campaign. The fashion brand used its Branded Mission page to encourage participants to dress up as their Halloween "alter ego" and offered branded music and an effect that split the screen into four, making it easier for users to create content and participate in the challenge.
According to TikTok's statistics, the #ASOSAlterEgo campaign saw a 219% boost in relevant engagements and a 17% increase in relevant video creations with the introduction of the Branded Mission.
Origins #ShowYourOrigins
Although this might have taken place prior to the launch of the TikTok Branded Mission, but Origins' launch into the TikTok world is a great example of the large effect that TikTok collaboration can have on branded content performance.
TikTok collaborated with the cosmetics company Origins to launch their TikTok account with the #ShowYourOrigins challenge, which invited people to share short videos celebrating their cultural heritage.
TikTok came up with the idea for the challenge that they knew would appeal to Gen Z audiences on TikTok. TikTok collaborated with a diverse group of influencers, and Origins re-posted the commissioned videos on their own account with a caption urging others to join in the trend.
Following this, TikTok asked additional influencers to post their own challenge videos and make them seem like an organic trend, and it was successful. In the first phase of the campaign, Origins' TikTok profile grew from under 100 followers to over 10,500, generated numerous user-generated content (UGC) videos from the TikTok community, and boosted brand sentiment, with each video receiving dozens of positive comments.
How to boost your brand awareness with TikTok Branded Mission?
1. Be a story-teller
Authenticity is highly valued on TikTok, where users feel comfortable being themselves. This is especially important because the majority of TikTok users belong to Gen Z, who are skeptical of traditional advertising and prefer real stories. Influencers on TikTok have gained the trust of their followers by sharing authentic content, and three out of four users follow them.
Influencers on TikTok have a natural inclination towards marketing. They possess a deep understanding of the platform's culture, their audience, and how to create a post that resonates with the masses. These influencers are skilled storytellers who can create content that resonates with your target audience. To maximize the benefits of working with an influencer, it is best to let them take the lead in crafting authentic content that represents your brand, which can help you increase engagement and brand affinity with Gen Z.
2. Be a hub
It is crucial for brands to consider their entire presence on TikTok, not just their latest campaign. This is because if the campaign becomes popular, some users may visit the brand's account page. Additionally, if the audience engages with the brand's content frequently, the TikTok algorithm may show them more of it.
Therefore, the brand's entire TikTok account, including its bio and past videos, should be designed to showcase the brand's products and expertise. By treating the TikTok account as a central hub, the brand can create an environment that attracts users to join their community. TikTok is all about community, and by showcasing the brand's community, users are more likely to follow and engage with the brand's content.
3. Go niche
TikTok has a variety of communities, both large and small, catering to various interests such as car enthusiasts and crochet masters. This is beneficial for brands because they can easily target specific audiences and communities as long as they are involved with them.
Collaborating with the right influencer on TikTok can be valuable for brands in this regard. By working with an influencer who aligns with the brand's target audience, the content created can pique their interest. Moreover, the influencer already has an established presence within the community, making them a gateway for the brand to enter the community as well.
The Branded Mission can assist brands in starting a campaign by encouraging creators to share ideas that resonate well with their audience.
Ultimately, TikTok Branded Mission sets itself apart from the hashtag challenge as it facilitates a two-way interaction between brands and content creators. This enables users to participate in creating ads for a brand's campaign, while brands can also tap into new creators through crowdsourcing. However, if you find it difficult to run TikTok ad campaign, this is exactly for you: NestAds helps you launch successful TikTok ad campaigns in an incredibly simple way, with no expertise required!