TikTok holds immense potential for reaching new audiences, which is why countless businesses are eager to join the race. However, with a sea of TikTok videos out there, how can you truly stand out and catch TikTok's attention? How do you get your content noticed faster? The first step is simple: play by the rules. And the first well-known rules you need to follow are the TikTok Brand Guidelines. By following these guidelines, you can position yourself for success and make your mark in the world of TikTok.
In this blog, we've got you covered with a brief and informal summary of the all-important TikTok Brand Guidelines. From logo usage to visual aesthetics and trendy effects, we'll spill the beans on how to create a TikTok presence that shines. So, buckle up and get ready to thrive on TikTok like a pro!
What are TikTok brand guidelines?
TikTok brand guidelines are basically a set of rules and instructions to get users gradually to become familiar with TikTok's logos, icons, and other visual stuff on the platform. These guidelines are like an introduction of TikTok to all of its brand assets, as well as guiding people to create content that matches the vibe of TikTok so that this platform can stay consistent in branding.
In these guidelines, you will also get information about the legal rules, like how to use TikTok's trademarks and logos properly and cases when you can use them. Remember, these brand guidelines work hand-in-hand with TikTok's Terms of Service, and the platform might update them occasionally. TikTok has also released its own TikTok for Business guidelines, so keep an eye on the latest changes!
Why should businesses understand TikTok brand guidelines?
TikTok brand guidelines are all about the standards that this social platform built for creating a unifying experience for the users. Following up on the guidelines will give you a positive impression on both the TikTok users community and the TikTok systems. The 3 most prominent benefits that you can get when thoroughly understanding the guidelines are:
Harmonize with the TikTok community
First of all, sticking to the brand guidelines provided by TikTok ensure that your content is suitable for the platform design and user experience. Of course, you can add your personal vibe and be creative, and TikTok does not prohibit that. However, by matching with the TikTok brand guidelines related to the logos, colors, lighting, etc., you are getting yourself to fit the platform's design, which as a result, enhances the overall experience of viewers on TikTok
Protect yourself from unwanted legal situations
Now, here's the important part: avoiding legal troubles. If you do not follow the rules, you could face some nasty legal issues, like trademark infringement. TikTok's got its intellectual property, like trademarks and logos, and can always take down your content or apply penalties on your account if they sense infringement. You sure do not want to get into trouble with TikTok police, so keep in mind the TikTok brand guidelines.
Benefit from the TikTok algorithm
TikTok's algorithm is not picky in getting your visibility on users' FYP. However, it rewards content that plays by the rules and follows those guidelines. Your content gets the chance to spread to many viewers, and your account itself becomes much more trustworthy in the algorithm's eyes. Vice versa, if you mess up, you may get less visibility, which ultimately hinders a business's growth and success on the platform.
TikTok brand guidelines for brand resource usage
Like many other brands, TikTok also has a brand resource that includes the logo, fonts, colors, and overall vibes. These elements are fundamental for creating a distinctive impression on people and for further expanding the brand's presence. As a user participating in the TikTok community, these guidelines are crucial for establishing a safe and positive presence on this social platform. Here are 4 keynotes you need to remember when using the TikTok brand:
The positioning of TikTok
TikTok has positioned itself as a platform that inspires people to have fun and unleash their creativity. As a result, it tends to prioritize videos that are casual, upbeat, and positive over those that explicitly focus on business intentions. Designed with the concept of layering vibrant colors together, TikTok successfully creates a dynamic image right off the bat.
TikTok's brand name
The most basic yet easily to be misunderstood by people probably is TikTok's name. You should keep in mind that the right way of writing this word is to make the 2 letters T into an upper case letter, and the rest of the letter is in lower case. Don't forget that between the 2 words have no space at all.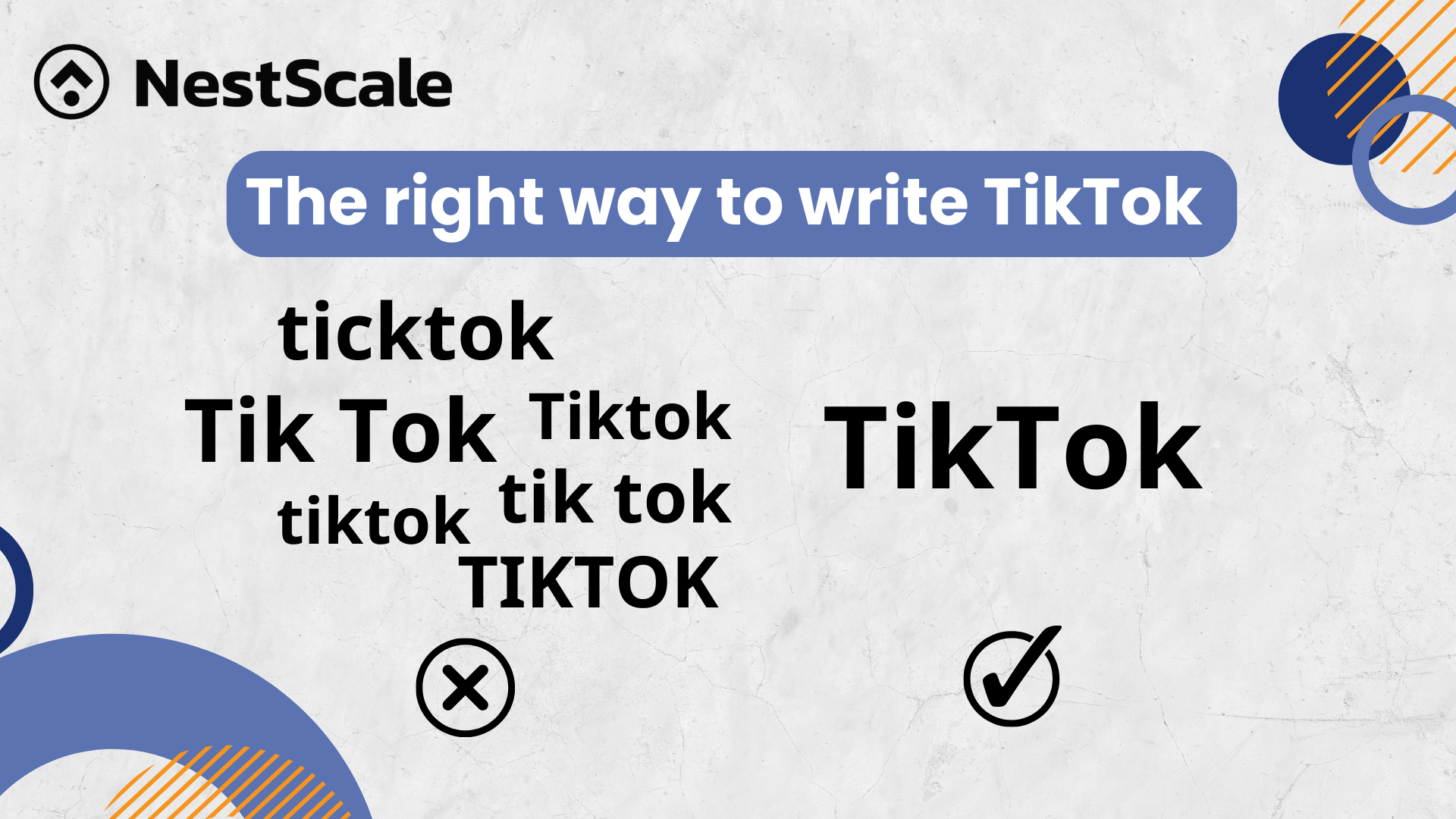 For TikTok For Business, the characteristics are basically the same. The right way to write it is to make the letters F and B capital letters. The rest should be written in lowercase.
TikTok brand logo design
When referring to branding, the logo is the one that stays in people's minds the longest, as it can be considered as an appearance of a brand. And TikTok is not outside of this. You should be familiar with 3 versions of the logo, including the primary logo, secondary logo, and tertiary logo. TikTok also uses 3 more colors for the logo, which are white, red, and blue.
TikTok For Business' logo has horizontal and vertical versions with 3 variations of color that are the signature of TikTok.
In order to use their logo in your content, it is crucial that you receive permission from this platform. Even if you have had permission to use their logo (maybe for cobranding, partnership, etc.), you must still obey the trademark rules that this platform set for you.
TikTok brand guidelines for video creation
TikTok has certain requirements for videos uploaded on the platform to ensure a unified user experience. So if you want to get yourself a more favorable place on this platform, don't forget these checklists when crafting new content on TikTok:
The conformity of the video's visual
Just like the vibe TikTok try to infuse into its platform, TikTok also has a guide on how business can do their visual to fit the whole users' experience of TikTok.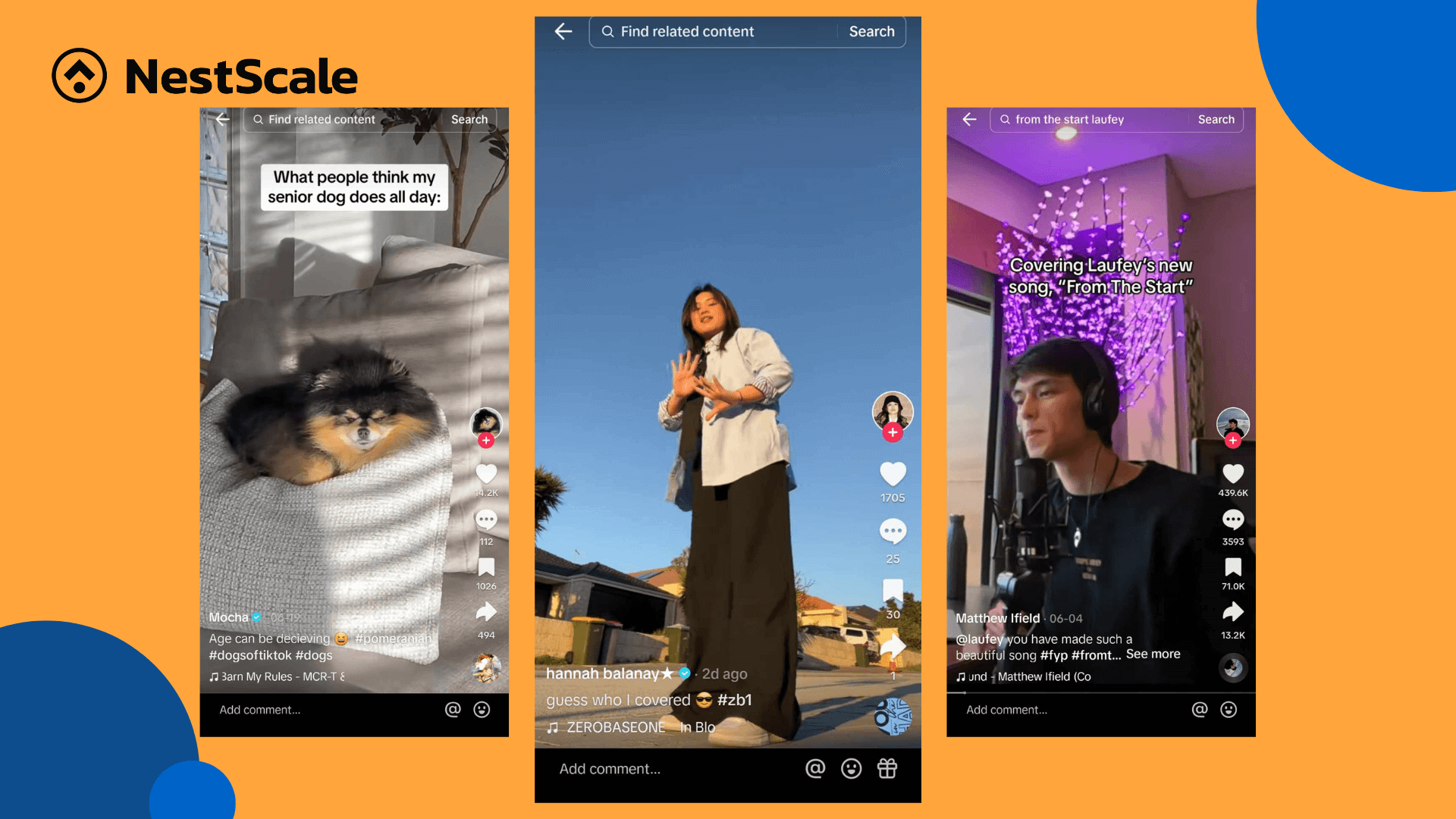 When choosing or capturing visuals, always aim for authentic, enjoyable, confident, and positive subject matter. Every scene should be lively and action-packed to captivate viewers and immerse them in each moment. Avoid anything that seems artificial, clichéd, too posed, or excessively polished.
Regarding style and properties, you should prioritize natural lighting and vibrant colors to bring out the best in the content. Keep it dynamic and diverse, featuring a variety of elements like people, animals, activities, do-it-yourself projects, art, food, gaming, creativity, and community engagement.
TikTok recommends that the orientation of your video is vertical with a 9:16 format to stay uniform to the platform.
Get the TikTok vibe into your content
TikTok recommends creators and businesses create content that is authentic and distinctive in a pool of so many videos on TikTok. A video that just merely advertises your products and brand will definitely not receive as much attention as a video talking about the journey to develop your brand. Your videos should also burst with energy and excitement right from the start to attract viewers from just a short glimpse.
Music and sound come straight from TikTok
TikTok has an enormous stock of sounds for you to use. For your TikTok video to fit in with this platform, it's necessary to use music that is viral and widely used on TikTok. In other words, try using music that sounds like your video just came straight from TikTok. Feel a bit vague, isn't it? But you can understand this explanation instantly from the first moment joining this platform. Additionally, TikTok also encourages you to include SFX (sound effects) in your video to make it more attractive.
Spice your videos with TikTok effects and filters
Last but not least, don't forget one of the signature things on TikTok: Effects and filters. You can use effects and filters to jazz up your video and add some personality to it. The effects you choose should have a distinct TikTok vibe, and you can either pick from the effects library or take inspiration from the existing effects there.
Things that your brand should do
Knowing TikTok brand guidelines is just the basic requirement to join this social platform. But in order to thrive, you need to put everything into action. Luckily, TikTok is not a complex platform, and you can simply work on planning your tactic while still enjoying all the fun. Here are the 3 tips that we recommend you should do to master the TikTok guidelines for video creation and brand usage:
Continuously explore the resources of TikTok
Even though you have known the platform and how to blend in, it will take a lot of time and experience to really become a professional on TikTok. Moreover, TikTok is a wild and creative place, so keep exploring and experimenting with your content. Try out different video styles, use cool effects, and get inspired by what others are doing. Be open to new ideas and let your creativity flow.
Discover the newest TikTok trends
In order to understand exactly how TikTok videos look, feel, and sound, the easiest way is to keep up with the trends. As we have mentioned before, TikTok will always feature things that best fit the platform and its audience, becoming new trends. So, you'll learn the fastest when you practice with popular content on TikTok.
Things that your brand should avoid
As mentioned before, understanding the TikTok brand guidelines helps you avoid problematic situations. Along with following our recommended practices, it's important to be aware of what you should avoid having a smoother experience on this social platform:
Violate the TikTok trademark rules
Lastly, please bear in mind the TikTok brand guidelines and the rules set by TikTok when using their brand resources. Any violation can cost you a lot and even lose your chance to have greater opportunities working with this platform in the future. Therefore, you should avoid any violations of trademark rules and ensure a seamless and trouble-free TikTok journey.
Here are the rules that you should not infringe on when your business needs to use the TikTok brand resources:
You should not create a brand identity that contains the TikTok logo
Your brand logo should not use color combinations that resemble the TikTok logo
You also should not use the TikTok logo in combination with other brands
Using TikTok trademarks on merchandise or other promotional products is not allowed
Lastly, you should avoid using the TikTok Trademarks in a manner that might be seen as disrespectful, harmful, or critical of the TikTok brand.
Redesign the TikTok logo
"The TikTok logo alone is powerful enough to leave a lasting impression on the audience. Making any alterations to the original TikTok logo could potentially create a negative and untrustworthy perception of your brand. Therefore, it is essential not to rotate, change the font, or add any other effects to the original logo
Get ready to thrive on TikTok!
TikTok Brand Guidelines seem like they have nothing in relation to your business, but in fact, they exist everywhere on the platform. By knowing how to utilize the imagery standards, music, and filter, combined with your own creativity, you can always have a chance to stand out. The more information you gain, the better you can take advantage of the functions of TikTok.
Understanding the TikTok algorithm plus the TikTok brand guidelines will make your TikTok account gain better prestige in the platform. So, be ahead of the game to increase your chances of getting discovered and building your brand presence on TikTok.