Have you ever wondered how some businesses can deliver such jaw-dropping ads that went crazily viral? Well, it's not magic or mere luck – It's all about knowing your audience like the back of your hand! And to assist you with this important audience understanding, TikTok has a great tool for you to use. And that is TikTok Audience Insights.
In this blog, we'll provide you with everything you need to know about TikTok Audience Insights, from its capabilities to step-by-step instructions for all functions within this tool. So, if you're prepared to unleash the power of targeted marketing, get ready for this guide!
Introducing TikTok Audience Insights
TikTok is stepping up to help advertisers really get to know their audience. In order to do that, they made something called Audience Insights, and it's now live all over TikTok Ads Manager. Here's the deal: Audience Insights takes in all kinds of TikTok data, both paid and organic. Then, it makes educated guesses about the users who are watching your content – things like where they are, what they like, what gadgets they're using, and how they're using them.
With Audience Insights, you can:
Explore the big trends within the audience
Get the information of your audience
Plan a strategy that fits your target audience and reach to them
This tool gives you the lowdown on all the users who've been active in the 30 days. Just so you know, it's not all about the details of your campaigns. It's more about the bigger picture – who's hanging out on TikTok lately?
What you can do with TikTok Audience Insights
With TikTok audience insights, there are a plethora of possibilities that you can explore for your businesses. However, here are some of the basic functions that you can utilize TikTok audience insights for:
Gain knowledge about your target audience
Audience Insights is the secret weapon for figuring out who's in your online store. Picture this: you've got an online store selling fitness gear. Therefore, you're wondering who's really interested in your stuff – are they mostly gym enthusiasts or outdoor adventurers? That's where Audience Insights swoops in. It shows you the potential customers' information, like their ages, where they live, and what they're into. This means you can plan your ads to speak right to them, showing off gear that's perfect for their adventures
Discover ideas for more focused and innovative approaches
TikTok Audience Insights provides valuable data about your audience's interests, behaviors, and demographics. This information can be leveraged to uncover new targeting options and craft creative strategies that deeply connect with your audience. For instance, you might discover that a significant portion of your fitness gear customers are also passionate about outdoor activities. Recognizing this overlap opens up an exciting avenue for your business to explore and develop in the future.
With Audience Insights, you get the scoop on the top 10 hashtags and interests that your crowd is all about. When you're making a campaign or crafting ideas, you can use these hashtags or interests to make your stuff pop. Say you're into fitness gear and your audience is all about outdoor adventures – you can use those top hashtags to catch their attention.
How to use TikTok Audience Insights
Yes, TikTok Audience Insights offers numerous valuable insights that can benefit your business. However, you can only get the benefit if you know how to utilize them correctly. If you're still uncertain about the steps to use these TikTok tools, let us provide you with an overview of all the features it offers.
Gain access to TikTok Audience Insights
In your TikTok Ads Manager window, select Analytics. Then, choose Audience Insights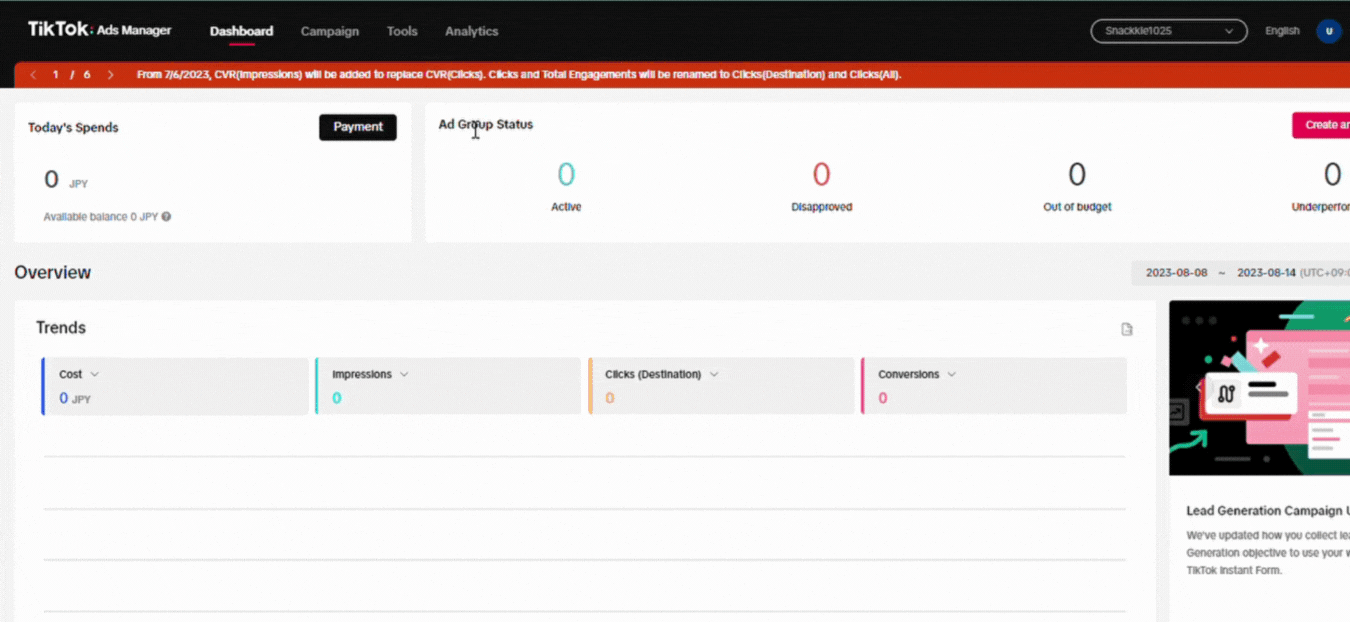 Inside Audience Insights, you will see 2 tabs: Potential Audience and Reached Audience:
Potential Audience: A sneak peek at the people who might be interested in your stuff before you even start your campaign on TikTok. It's like checking out the crowd before the show begins.
Reached Audience: A snapshot of the actual audience who ended up seeing your stuff after your campaign is done.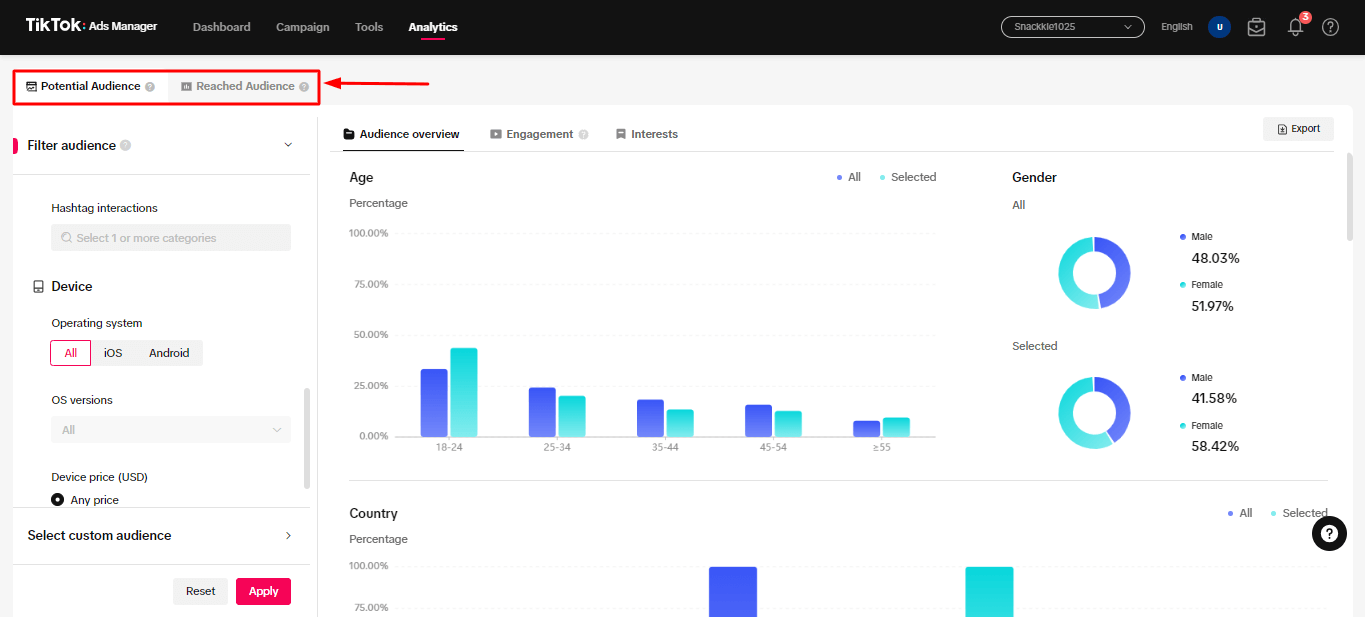 Specify your audience by filter
Locations: Specify the countries/regions where your potential audience is based. Just a small note, is that you must always choose a location in the Filter Audience section. TikTok Audience Insights allows you to choose a maximum of 5 countries/regions for filtering.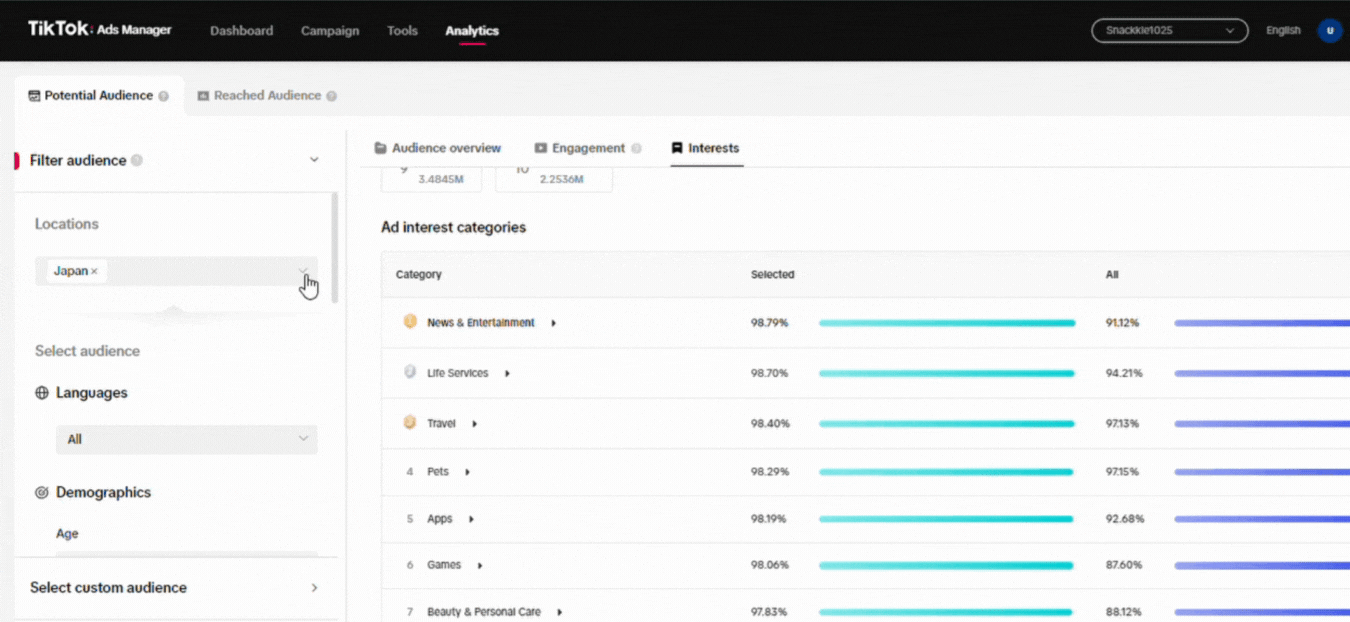 Language: TikTok Audience Insights will automatically choose all available languages as the default setting if you don't need to target an audience with a specific language. You can always change it based on your needs.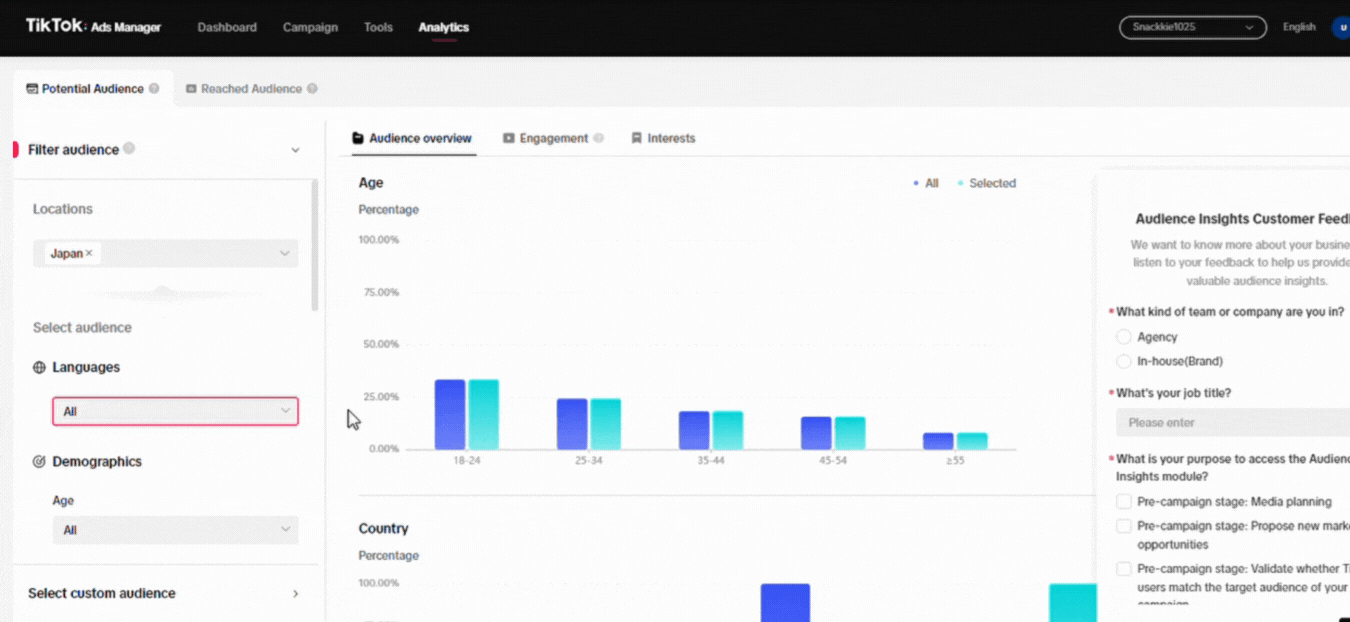 Demographics: This is where you can provide more specific information for your audience persona. It includes:
Age: You can choose from 5 options: 18 – 24, 25 – 34, 35 – 44, 45 – 55, and 55+.
Gender: There are 3 options for you to choose from: All, Male, and Female. "All" is the default option if you don't need to select a specific gender for your audience.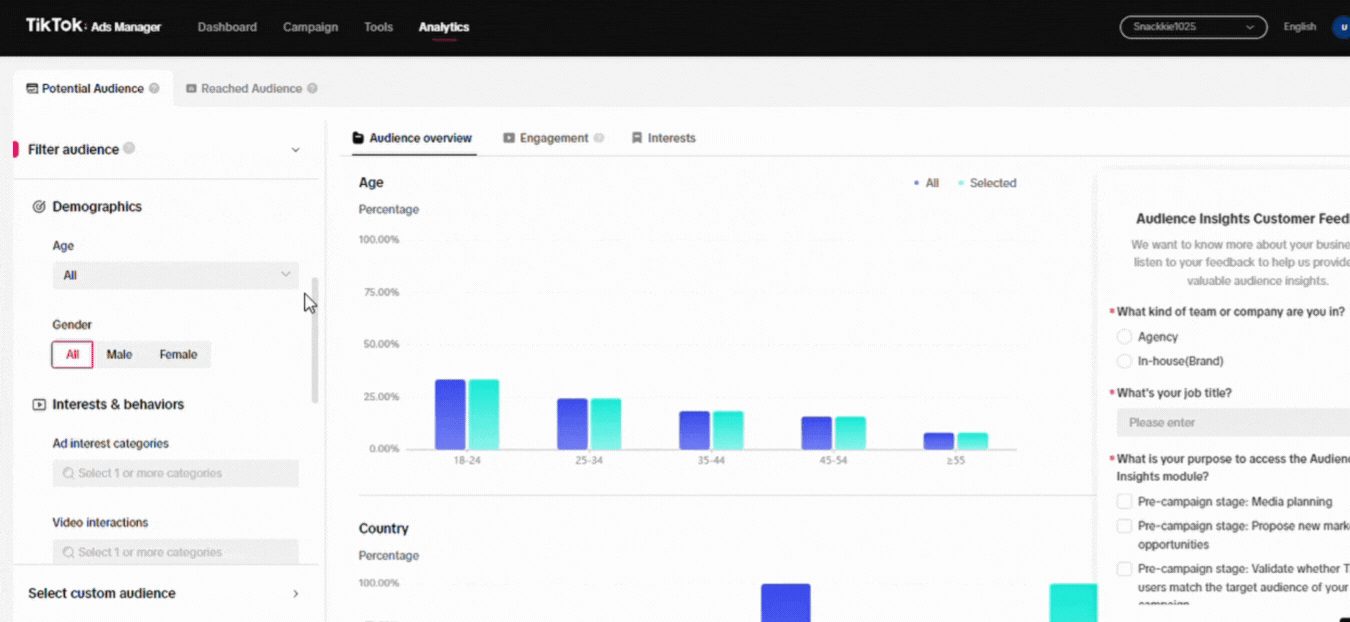 Interests & Behaviors: This category allows you to narrow down the potential audience based on their interaction preferences. With proper utilization, this section can provide valuable insights into the audience that aligns with your business tactics. It includes:
Ad interest categories: Determine your audience by observing interactions with specific ad categories.
Video interactions: Filter the audience who have interacted with specific videos.
Creator interactions: Identify the audience interacting with particular types of creators.
Hashtag interactions: Refine the audience who have watched videos containing specific hashtags.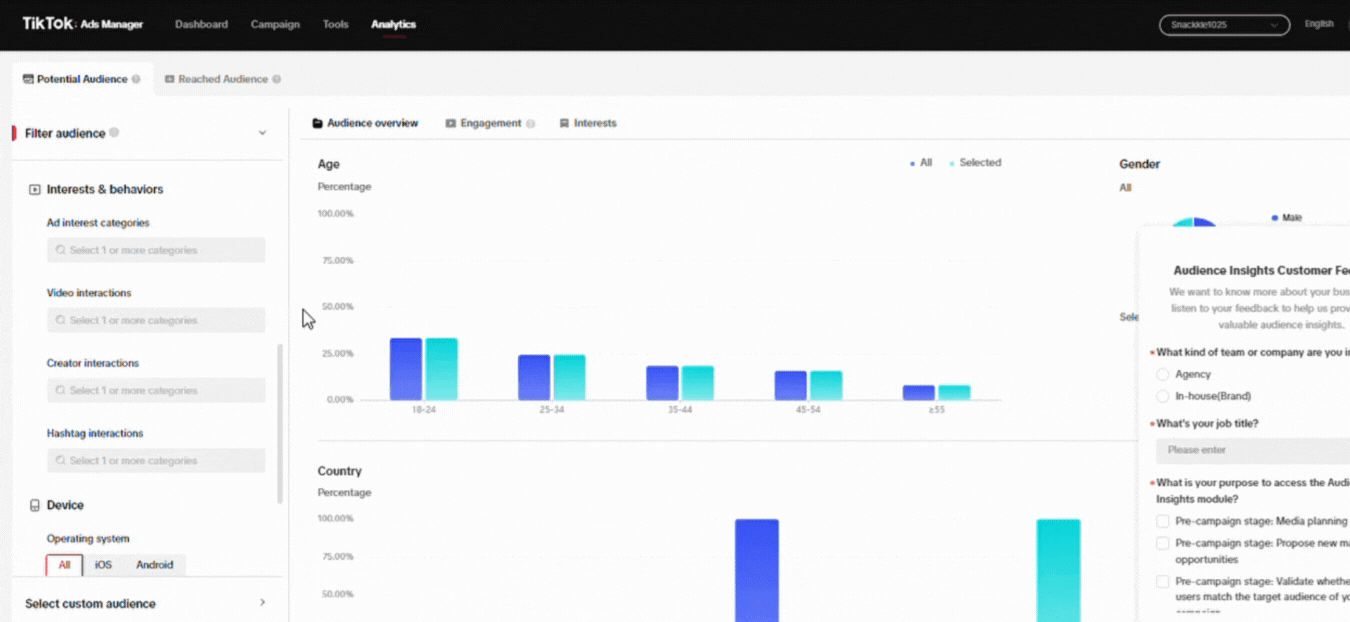 Devices: Lastly, TikTok Audience Insights allows you to specifically target the type of devices you want. You can choose the operating system, OS version, and device price.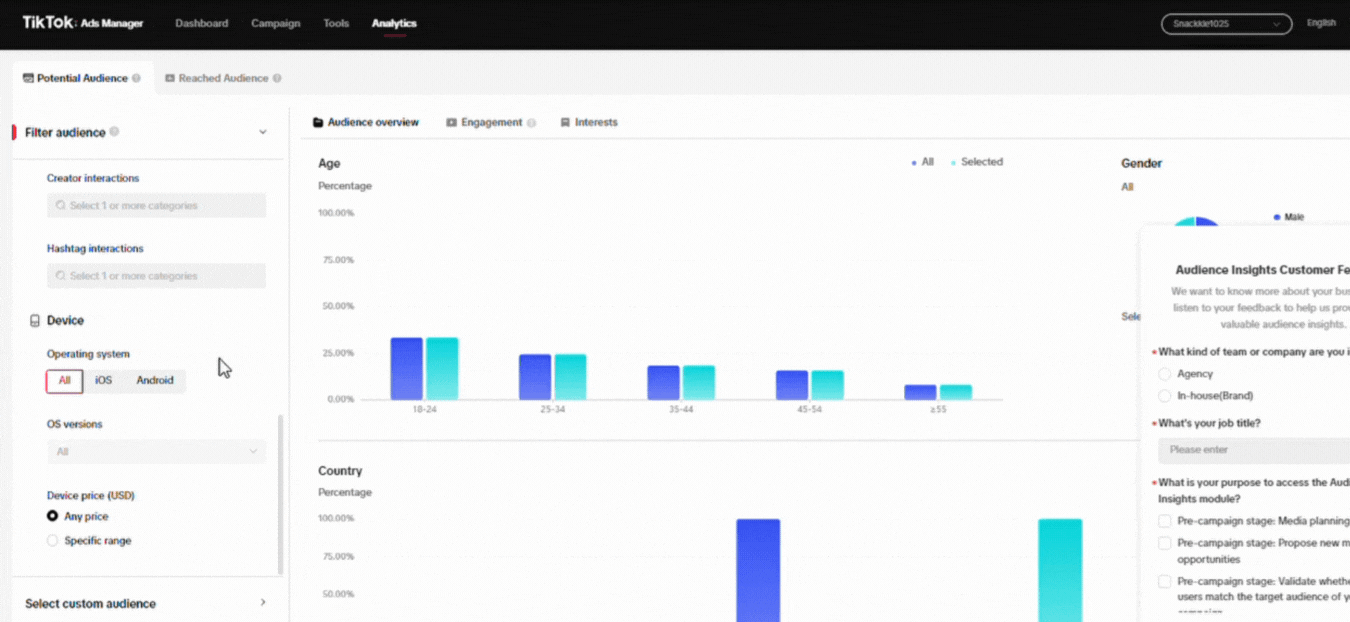 Choose custom audience
Custom audience is an option that helps you find insights about those who have already taken specific interacting actions with your business. However, in order to use this feature, you must have a custom audience with a size of 1000 people or more.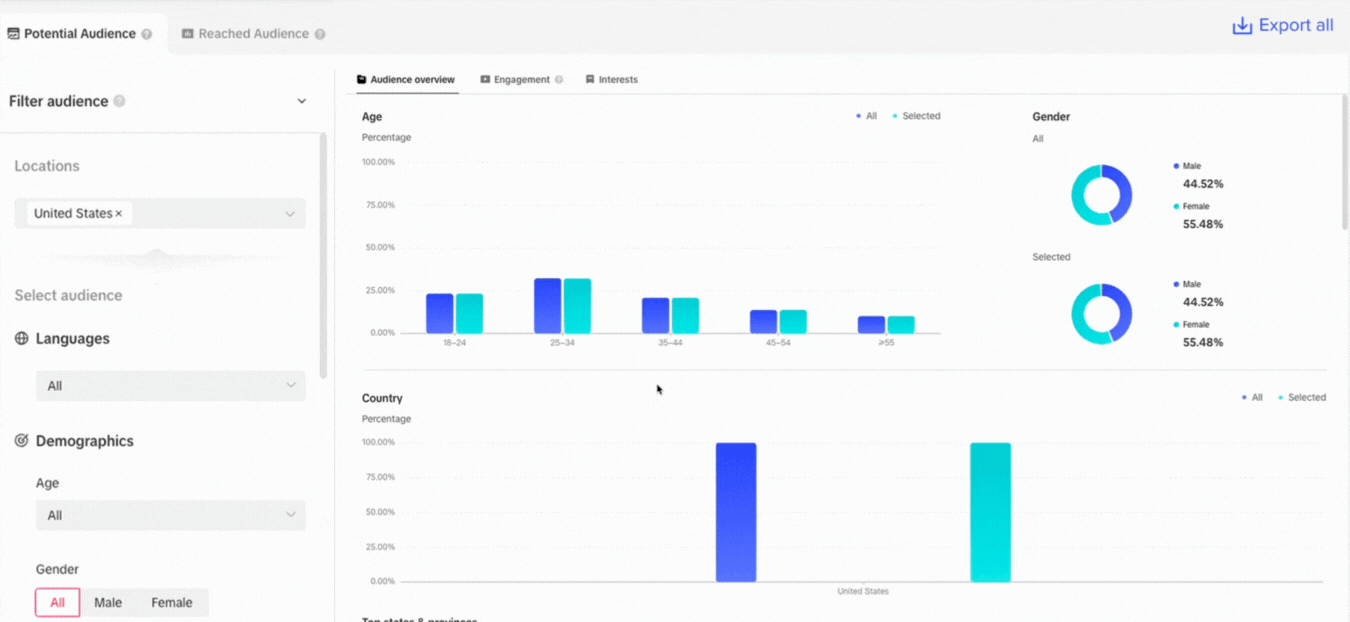 To check this requirement, navigate to Tools > Audience Manager and review the size of your audience in the Availability column. You can choose from various types for your custom audience: Engagement, App Activity, Website Traffic, Lead Generation, and Business Account. Keep in mind that once you select Custom Audience, other filters will be disabled.
Gain various insights through overview tabs
Just like the name, the overview tabs within the Audience Insights will give the most general look at different insights. You can see that there are 4 tabs in total:
Audience Overview tab: Obtain a swift, comprehensive overview of your audience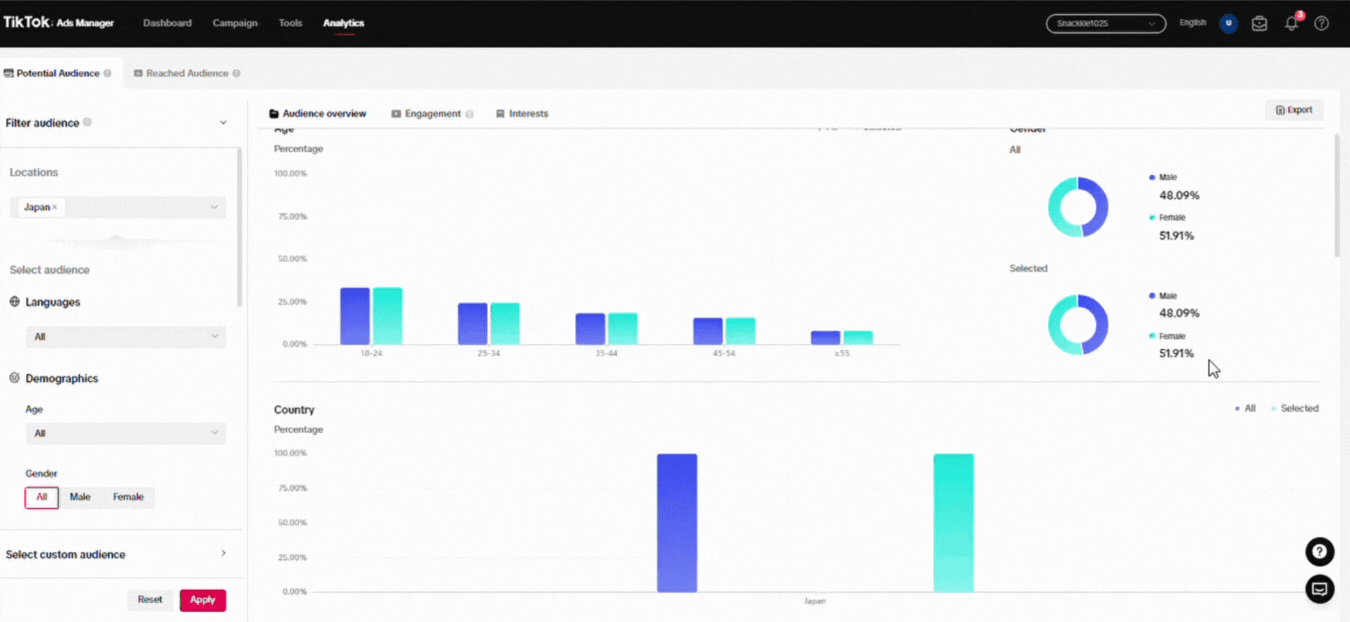 Engagement: Gain insights into the level of engagement and frequency of TikTok app usage among your audience.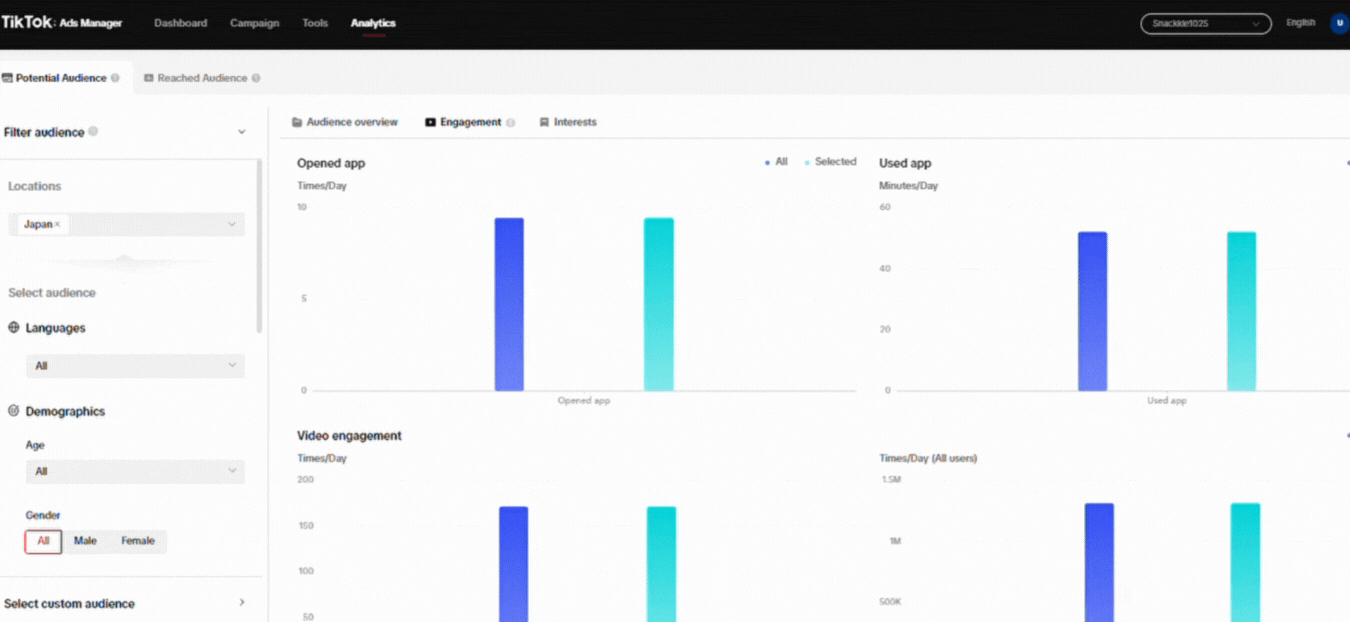 Interests tab: Acquire a more profound understanding of your audience's areas of interest.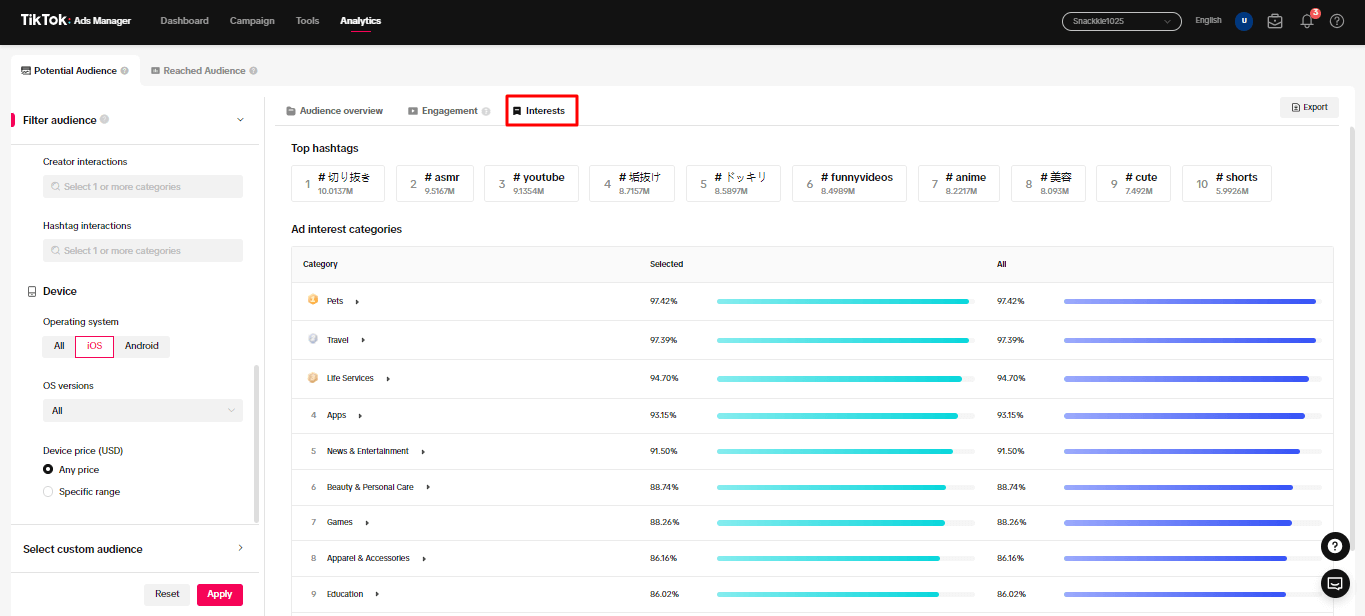 Audience overlap tab: Gauge the extent of overlap between your chosen TikTok Custom Audience benchmark group and up to four additional TikTok Custom Audience segments.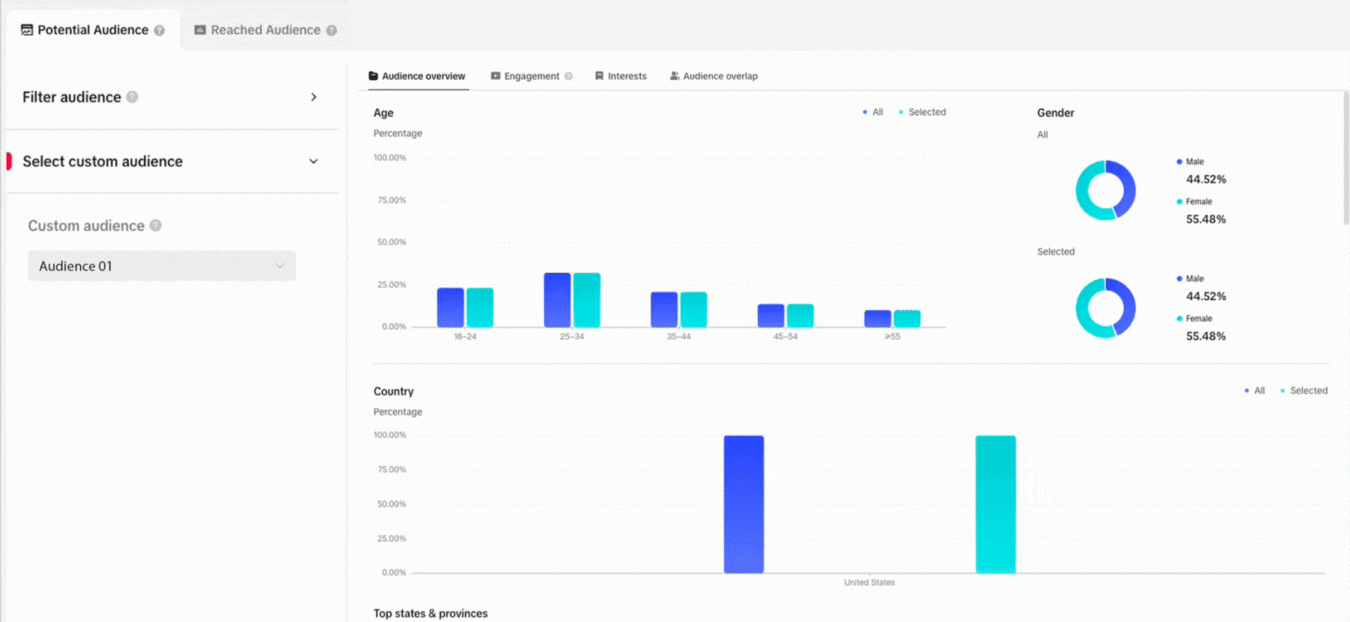 Evaluate post-campaign audience insight
The Reach Audience tab is the right place for you to analyze the insights of your audience that have interacted with your ad campaign. You can use Filters to select the aspects you want to see, such as Placement, Targeting, and Buying Type.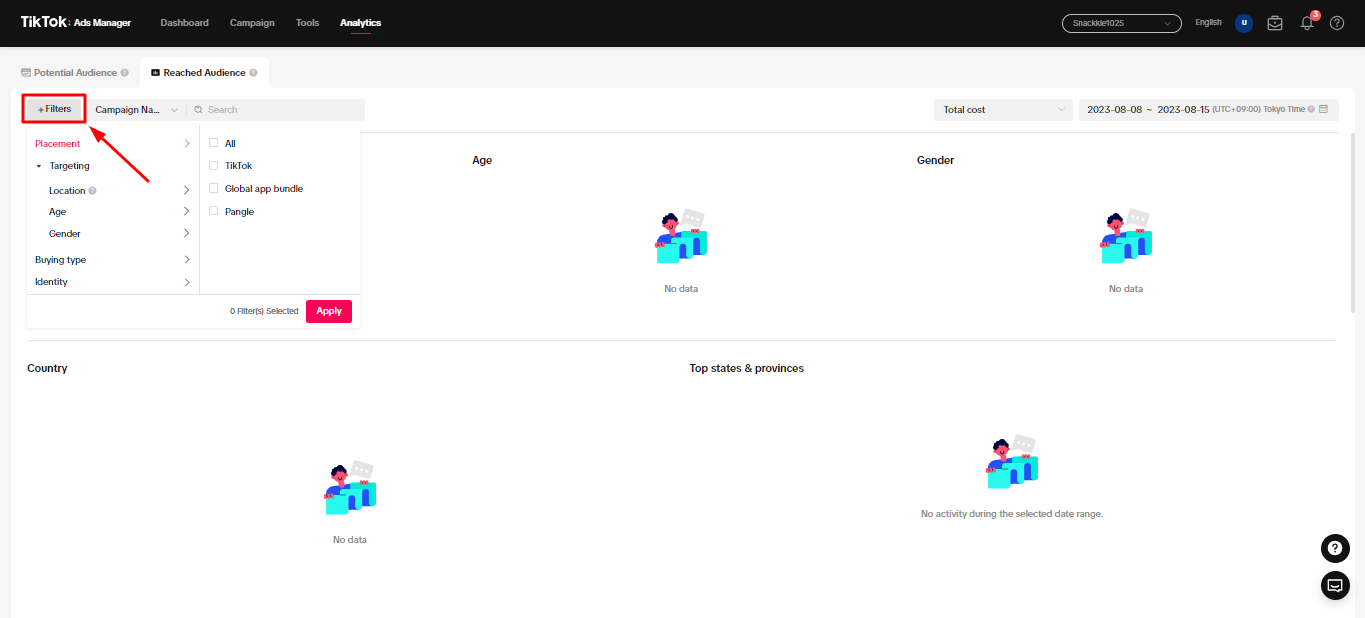 In the Campaign Name search box, choose the drop-down menu to search and select the campaign name/ID, ad group name/ID, or ad name/ID that you want to filter and view the insights.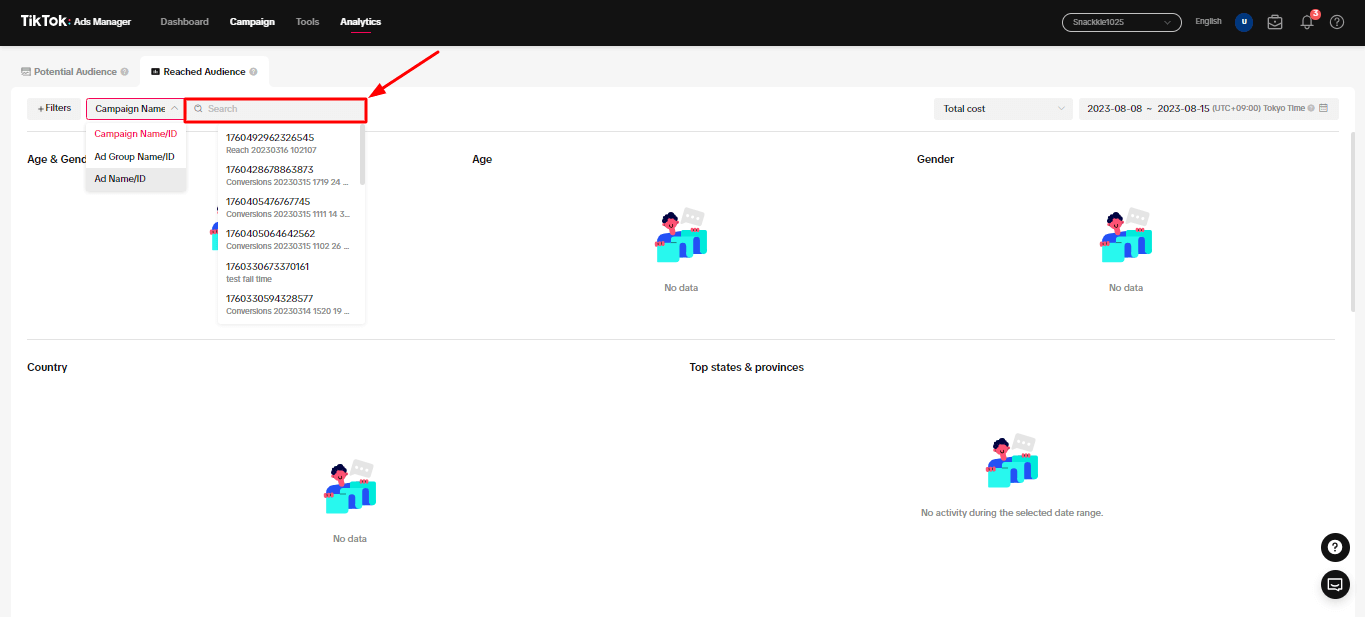 You can see on your right-hand side a box named "Total Cost". Click there, and a dropdown of metrics will appear for you to choose from. Just select to view Impressions, Clicks (Destination), Conversions, CTR, CVR, CPC, and CPM.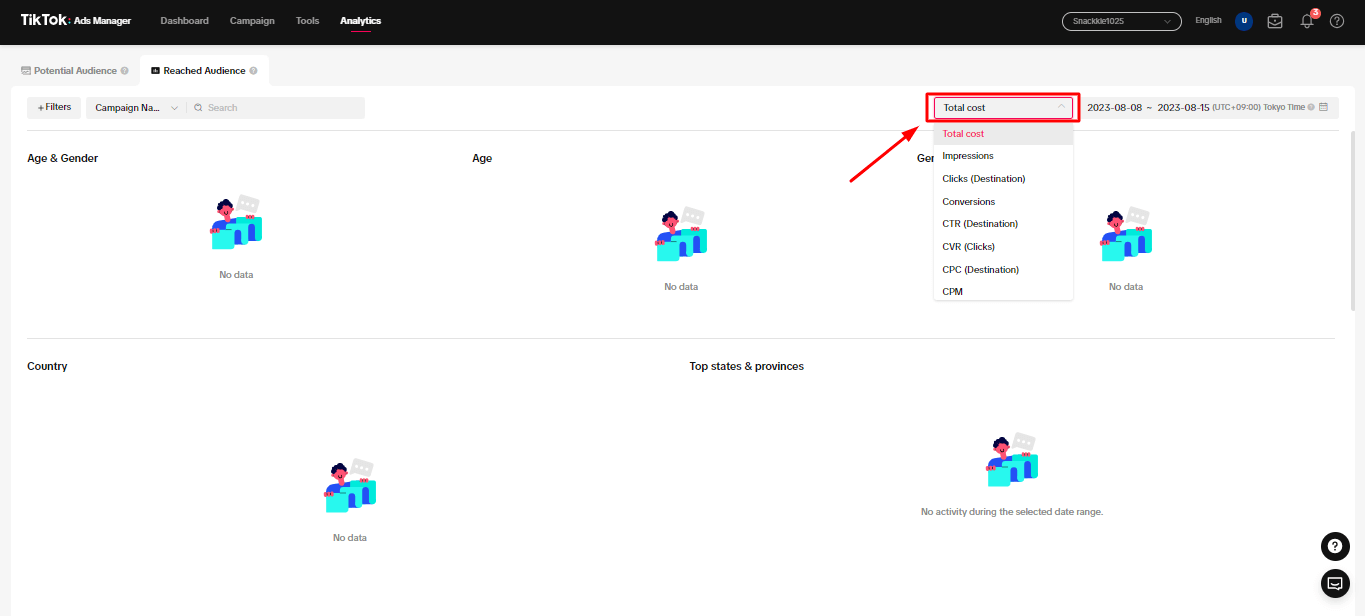 Additionally, you can choose the time span to limit the data and make it easier to find the insights.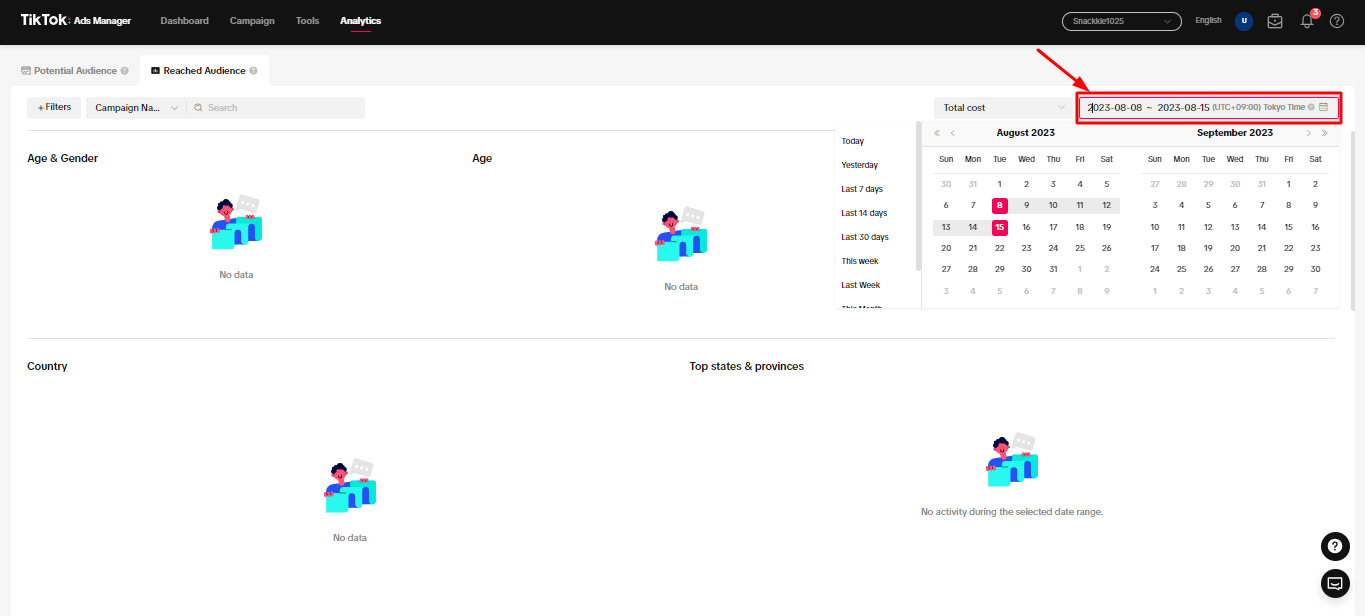 Explore your audience and enhance your performance now!
Getting a comprehensive view of customer insights is extremely helpful in creating inspiring content that matches your potential customers and saves your resources. Using such insights in planning your TikTok ads can help you maximize results and find new ways to scale.
Want to launch and optimize your TikTok advertising campaign with smart business intelligence, no experience is required, explore NestAds – our ad management platform. Simplify ads creation and management process and target the right audiences at the right time now!