TikTok creative is the most important factor that can make or break the success of your advertising campaign. In contrast to other platforms, TikTok enables marketers to reach huge audiences without spending too much on advertising. However, if your TikTok creative is not attractive from the first three seconds, users would leave your videos in the blink of an eye. So how to keep your target audience's attention on your ads until the very end? In other words, how to make winning TikTok ads creative that convert?
No worry, we are here to help. This article provides you with 10 must-know TikTok creative best practices that will work very well on your ads (especially useful for e-commerce), as well as some creative tools that help you produce TikTok creatives easily. Let's explore now!
TikTok Creative: Definition & Creative Elements
TikTok creative comprises the ad caption, text, images, videos, and call-to-action (CTA) that showcase specific products or services. Users of TikTok have the ability to engage with TikTok ad creative by opening the app or scrolling through their personalized "For You" feed. 

As TikTok continues to dominate the realm of social media with its short-form, vertical video content, the undeniable influence of TikTok creative elements plays a significant role in its success. In general, there are five key TikTok creative elements, which are sound, text/caption, calls to action (CTA), and creators/talent.
Nowadays, you can find the TikTok App on every Millennial and Gen-Zers phone. TikTok ads became the key success factor for lots of advertising campaigns because it not only reaches a diverse audience through TikTok ads but also are an easy and affordable way to create great campaigns.
Through TikTok, brands can effectively increase their exposure and always stay ahead of the social media marketing curve. But using TikTok Ads alone is not enough, you should know a few creative practices for them to really stand out from your competitors.
TikTok creative best practices
Authenticity is key
Successful businesses on TikTok thrive by producing genuine content that closely resonates with the TikTok community and embraces the platform's authentic experience. On TikTok, anyone can become a content creator by embracing trends, engaging in conversations, and expressing themselves in an authentic manner. A heavily scripted TikTok ad could come off as ingenuine, and annoying, and have negative impacts on your brand. As a result, try to be natural, stay true to your brand image, and cultivate trust among your viewers.
Create content hooks
The first rule to stop users scroll past your content in FYP (For You Page) is making content hooks. Because only 25% of users watch beyond the first 5 seconds, content hooks keep people's eyes unconsciously on your TikTok Ads and make them curious about your products.
Here are some amazing examples of content hooks to get inspired:
Begin your video with movement and an engaging soundtrack.
Show an intriguing title (for example, "TikTok made me buy this!").
Show a unique or appealing visual in thumbnails.
Catchy CTAs
CTAs are designed to motivate viewers to take action, often taking the form of a clickable button or textual message on a landing page, prompting them to make a purchase or download a particular item immediately.
Some interested CTAs you should include in your ads: Shop Now, Learn More, Sign up, Contact Us, View Now, etc.
Keep your sound on

Sound proves to be a potent tool for grabbing attention on TikTok, as 93% of users prefer to have the sound on while engaging with the platform. Music stands out as the most prevalent audio element in TikTok ads, with approximately 3 out of 5 ads (63%) incorporating at least one musical component. Voiceovers, on the other hand, are less frequently utilized, appearing in only 39% of ads. Text-to-speech is also employed, albeit less frequently, in around 20% of the analyzed ads.
Here are 2 primary ways to use audio in your ads:
Create your own audio: With "Creating your own audio", your Ads will be seen as more professional, and your message and brand images are clearer and more specific but it can cost a lot and maybe not be suitable for SMEs.
Use existing audio: Otherwise, if you use existing audio (make sure it is trending!), your brand can be more relevant. It also provides an opportunity to interact with customers on a more personal level by using the same trendy music that they have in their own TikTok and creatively joining the larger discussion.
Keep your content story-rich but also short and clean
Great storytelling definitely is a must-have in attractive ads. You can create content based on a script or real experiences but authenticity is what resonates. As long as your ad's contents show the real values of your product, you are good to go!
But keep in mind that no one wants to watch an entire 1-minute advertising video so make sure your TikTok Ads are short, clean but informative.
Utilize either brand-led or creator-led content
While brand-led and creator-led content each hold its own strengths, combining them within the same campaign maximizes the impact on ad recall. Furthermore, the inclusion of local creators elevates the effectiveness even further.
Include a song
Remember TikTok is a sound – on In terms of TikTok creative, songs with lyrics rather than just instrumental music or jingles lead to a 2% increase in ad recall. This impact is amplified when songs are accompanied by voice-overs. Additionally, a customized combination of song and voice-over yields a significant 8% boost in brand linkage compared to using an established song and voice-over combination.
Include a character

Creative assets that feature characters, whether they are animated or real individuals, generate stronger brand impact compared to those lacking such elements.
Do not leave branding until the end
When the branding is placed towards the end of a creative asset, it results in a significant 17% decline in brand linkage. On the contrary, the optimal range for the number of brand cues within a creative asset is between 3 and 5. This means that incorporating 3 to 5 distinct elements that reinforce the brand throughout the content leads to a stronger association with the brand and enhances overall brand linkage. By strategically placing brand cues throughout the creative asset, marketers can ensure that the brand is effectively communicated and remembered by the audience.
Use sharp, strategic editing and audio-visual effects
Videos on TikTok frequently use a variety of effects created by using the platform's native publishing tools. If you follow the same path, your ads will blend in more. Variety in audiovisual media is naturally exciting. It makes things seem new, which keeps people interested.
To assist your advertising to appear more natural, combine as many audiovisual effects as you can into your content. Try to wisely use common tools such as Greenscreen, Subtitles, Robot Voice Narration, etc… to make your content as authentic as possible.
Bonus tips: TikTok creative best practices for E-commerce
Switch up your scenes
The placement of your products holds significance on TikTok. Users value a diverse range of settings and perspectives when it comes to showcasing your products. This is why nearly all successful e-commerce videos (99%) incorporate a mix of different scenes. TikTok which features multiple scenes experiences a substantial 40.6% increase in impressions compared to videos that solely focus on one person selling the product without any additional footage or transitions.
Captivate with captions
Enhance your call to action by utilizing captions or on-screen text. TikTok which incorporates closed captioning or text displaying a call to action (CTA) experiences a significant 55.7% increase in impressions compared to videos that lack any additional on-screen elements.
Emphasize the offer
Don't let your special offers like seasonal deals or discount codes go unnoticed when sharing them with your TikTok audience. TikTok features someone highlighting at least one offer experience a substantial 67.4% increase in impressions!
TikTok Creative tools
Content diversity and creativity are rewarded on TikTok, making it important to constantly iterate creative combinations. TikTok for business ad manager offers various tools advertisers can use more easily and efficiently to produce TikTok ads creative. These include: Creative Center, Video template, Smart Video Soundtrack, Video Editor, and Smart text 
TikTok Creative Center
Find more content inspiration on TikTok Creative Center if you don't know much about current trends or popular hashtags. It provides data-driven guidance and creative insights such as video quality, aspect ratio, sound, video length, etc. TikTok Creative Center is also a source to find success stories and learn from all the latest updates on TikTok.
Video template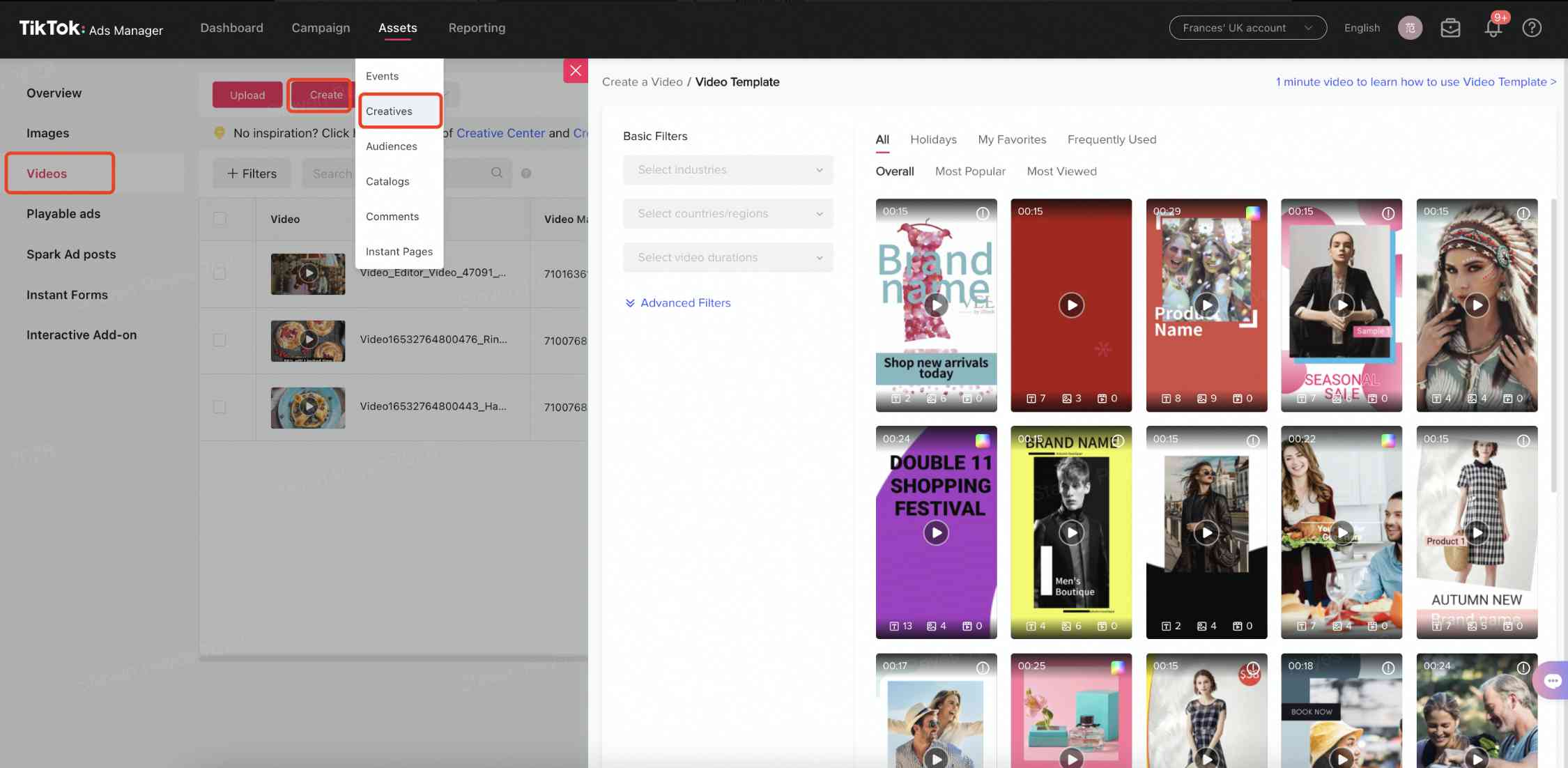 TikTok revolves around the concept of remixing and recreating, eliminating the need to start from scratch. With TikTok Video Template, you have access to a vast collection of more than 100 customizable templates to create high-quality ad creatives. Utilize advanced search filters to discover the perfect template for your brand, and effortlessly personalize them by adding your own photos, text, and logos. Additionally, the tool provides an extensive library of over 4,000 free background music options, allowing you to choose the ideal sound that aligns with your brand.
Smart Video Soundtrack
Utilizing the Smart Video Soundtrack feature on TikTok, you can discover impeccable audio options directly within the platform. The chosen track's rhythm, melody, style, and mood can effectively communicate essential information to your specific audience, be it your brand values or product details. Music holds the power to create a lasting brand impression and has the potential to attract a larger audience of potential customers.
Video Editor
For authentic content creation, personalize your content directly within TikTok. TikTok Video Editor enables you to create seamlessly and flexibly, all in one convenient location. Enhance your content by incorporating music, text with various fonts and colors, creative effects, transitions, and more, ensuring your content stands out while maintaining the genuine essence of the platform.
Smart Text
Crafting ad copy can be a time-intensive process. To overcome writer's block and streamline the task, our Smart Text tool offers automatic generation and translation of text for your ads in various languages. Just provide your industry, language, and keyword, and Smart Text will generate 10 text phrases at a time for you to select from, customize, and make your own.
Let's create TikTok ads that convert
Still finding it tough running your TikTok ads? Your concern ends here with NestAds! NestAds is a user-friendly solution that simplifies the process of launching TikTok ad campaigns, even for those without prior experience. No more complicated to use and difficult to advertise products on TikTok, now welcome a trouble-free experience with us.