Have you ever intended to make a TikTok advertising video without any sign of advertising? It seems to be an unrealistic goal that can make your brand no longer on the right track. However, UGC TikTok Ads have that power, the one you've never expected.
Create unique content, establish greater trust, and drive more traffic and sales, you will have it all in one. Do you feel interested now? Keep reading our article to discover more UGC TikTok Ads!
What are UGC TikTok Ads?
User-generated content (UGC) TikTok Ads is promoting your products or service through a UGC video. User-generated content is original, creative, and brand-specific content created by users for users that brands can publish on TikTok to engage with their audiences in a perfect way.
Moreover, UGC TikTok Ads come in different forms including images, reviews, tutorial videos, or even a podcast. Compared to other social media platforms, TikTok shows great potential to develop this type of content thanks to its relatability and authenticity.
One special fact is that UGC videos on TikTok had a 22% higher score than brand videos. UGC videos have the power to capture all the viewer's attention and keep them watching until the end. Otherwise, UGC TikTok videos can create emotion 22% better than brand videos. It's really outstanding than other TikTok competitors.
Common types of UGC TikTok ads
Depending on your must-meet goals and your audience, you need to decide the type of UGC that will be most effective for your brand. A clear idea about the content will help you to stay on the right track and drive big results.
Before starting to make a UGC TikTok video, let's discover 8 commons types of UGC TikTok ads:
Before & After
A before & after video demonstrates how significantly your product has changed your consumer since they first used it. Before and after videos create a connection with your audience by demonstrating to them where their peers came from and where they are currently as evidence that this solution can work for them as well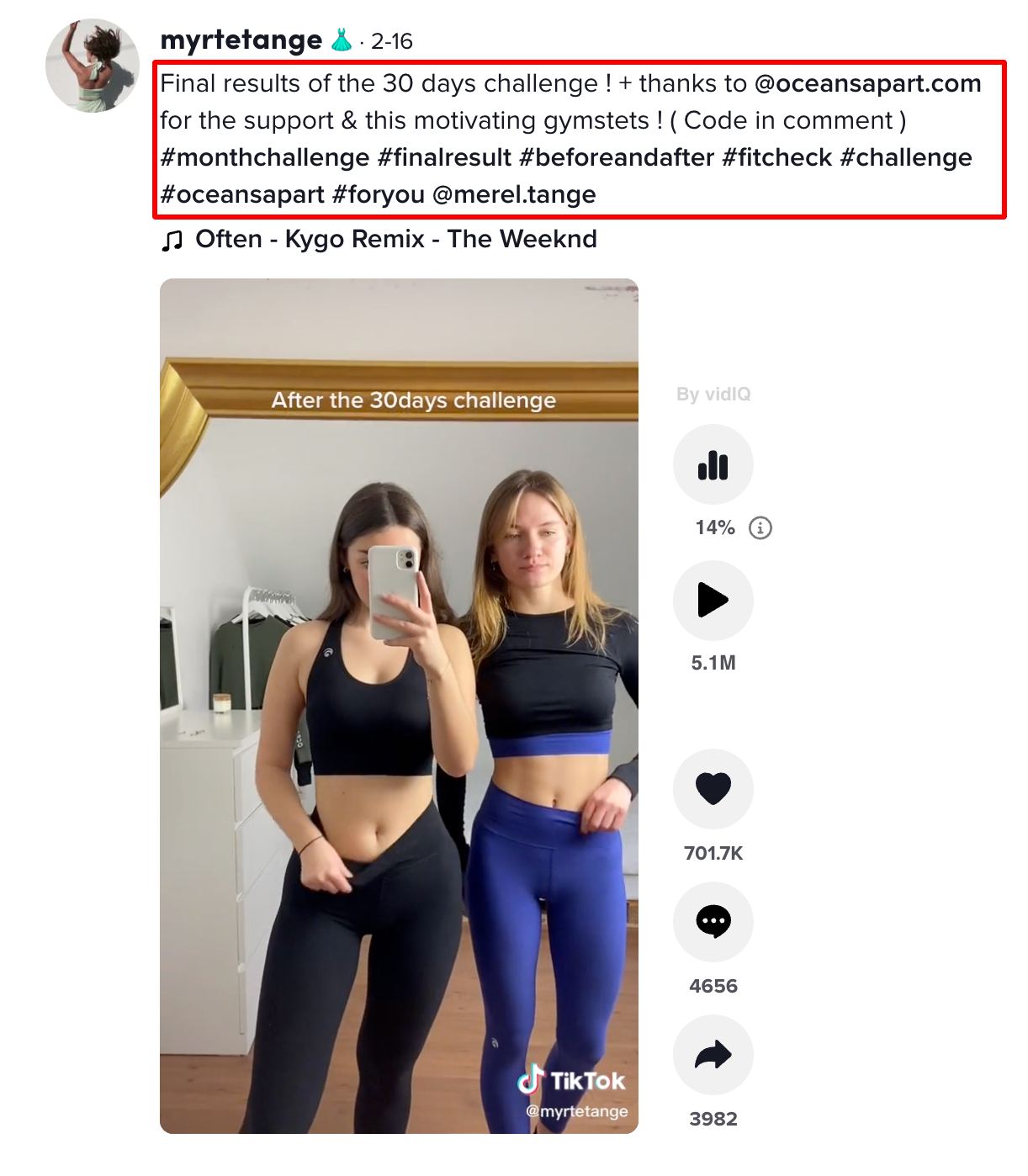 Review
Other TikTok creators offer an authentic review of your product or service. It's an excellent method to build brand trust and reach a large audience.
Challenges
A video that showcases a specific action or a dance and challenges others to copy you or make their own version.
Contest
A TikTok contest is created by a brand or business and gives audiences to win a prize by following the rules.
Tutorial video
A video that guides viewers on the right way of using a product or a service.
Reaction
A reaction video is a type of video where individuals express their reactions to various things like a series of films, music videos, games, and in this instance, a product. Essentially, people watch reaction videos because they find pleasure in the emotional bond formed by witnessing creators react to content in a relatable manner. These videos are intentionally created to captivate viewers and evoke surprise.
Us vs. Them
The Us vs. Them videos entail a light comparison between your brand and similar counterparts. The intention is not to create hostility, but rather to foster friendly engagement with your audience. These videos highlight the distinctive features that set your product apart from the competition, emphasizing the advantages in favor of your brand.
The right type of UGC that aligns with your TikTok marketing strategy can help you to optimize ad performance and bring business results. And no matter what kind of content you choose, you shouldn't underestimate the power of TikTok hashtags. They can work well in any video!
TikTok UGC Ads recipe from experts
If you create a UGC video by yourself or collaborate with other UGC creators, you should always focus on the TikTok UGC Ads module to maximize your ad campaign results. There are five key elements that you should never miss out:
Content hook
Problem agitator
Product intro
Benefits and features of products
Catchy call-to-action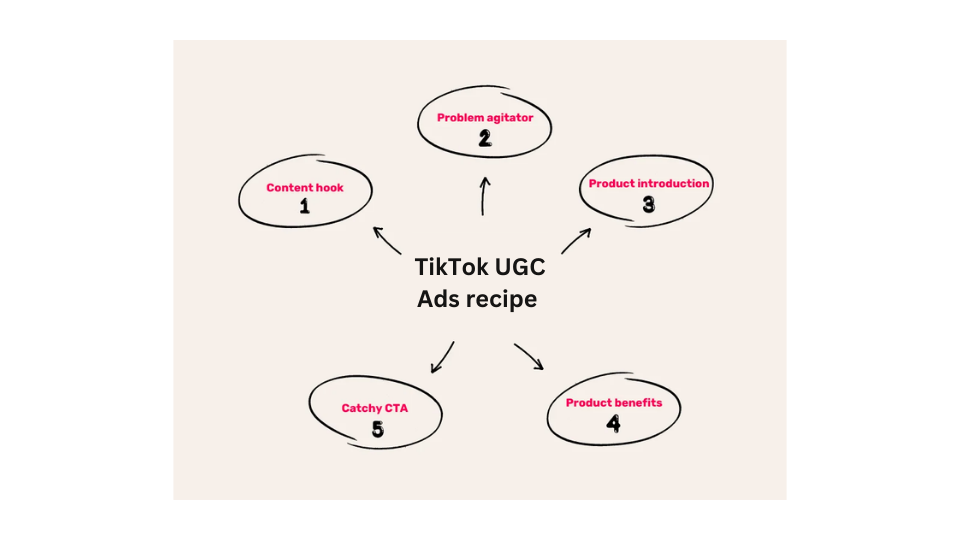 Content hook
The video content hook comes to the most important part of TikTok UGC Ads creative guide. It's the first few seconds in your video and is well known as the attention-grabber to keep your audience invested in your video.
By setting the tone of the entire video, a hook will decide whether viewers stay and watch your ad video or not. With UGC Ads, you always need to make it casual but also attractive. Remember that we don't make ads, we make TikToks!
Here are some amazing ideas for your hook in the next video:
Questions and promises: Adding questions and promises to your UGC video is a winning way to deeply engage with your audience and also build brand trust.
Reverse loop: It's a segment of the clip in reverse within the duration of the behavior.
Social proof: As a powerful ingredient of video marketing, social proof shows the great sides of your product from external sources like customers, influencers, etc.
Competitor's comparison: Use this hook to promote the unique benefits of your product compared to other big competitors.
TikTok trend: By hopping on popular trends, you will create a relatable video hook and therefore capture all the attention in the first three seconds.
Oddly satisfying video: It's a kind of video that shows repetitive events or actions that viewers find pleasing. It can create the release of chemicals in the brain that bring about happiness and positivity.
So keep in mind that video hook is 50% of your success! Try your best to make an amazing and creative hook!
Problem agitator
After the video hook, you definitely don't want to mention your product right away because you need to become more relatable in the eyes of your audience. So how about identifying their pain points, meaning what problem they are facing? It's really necessary before officially introducing your products.
It will be more attractive to start off as a kind of serious and then end up being a little funny. All the TikTok viewers definitely feel surprised about what you guys have brought to them!
Product introduction
After mentioning the problem, let's introduce your products or services as the solution to the problem. It seems to be the smartest way to show your brand in front of many users.
By taking this approach, you will embrace the authenticity, creativity and joy of UGC videos and especially of the TikTok community. Immerse in TikTok is all about discovery and being discovered.
Product unique benefits
In the next part of the UGC module, we highly recommend showing the unique benefits or features of your product. However, don't forget to highlight the most significant one that totally matches your customer's insights. Know your target audience and provide them with what they want, you will get your clients to remember your brand.
Catchy CTA
Last but not least, call-to-action is one of the greatest ways to close up your video and TikTok UGC Ads video is no exception. A CTA encourages users to engage more with your videos and guides them through the sale funnel with desired actions.
Let's go over some best practices for a killer CTA
Timing: Think about during the entire video where and when you will put your CTA.
Design: Your CTA should be easy to read and noticeably clickable with the right color and size.
Tone of voice: Based on your video and also your business goal, you should consider the right way to create your CTA. Strong verbs will be very helpful to drive more traffic and sales.
Here are some examples of catchy CTA in your TikTok UGC Ads video
Start free trial
Buy now or cry later
Swipe up
See link in bio
Follow for more interesting video
UGC TikTok Ads Best Practices
Knowing the module to focus on, now it's time for some awesome tips to make your best TikTok UGC Ads video ever. Put our tips into practice and you will never regret!
Hook
A TikTok hook refers to the part of a video that quickly captures the audience's attention in the very first moments, aiming to enhance the time of their viewing.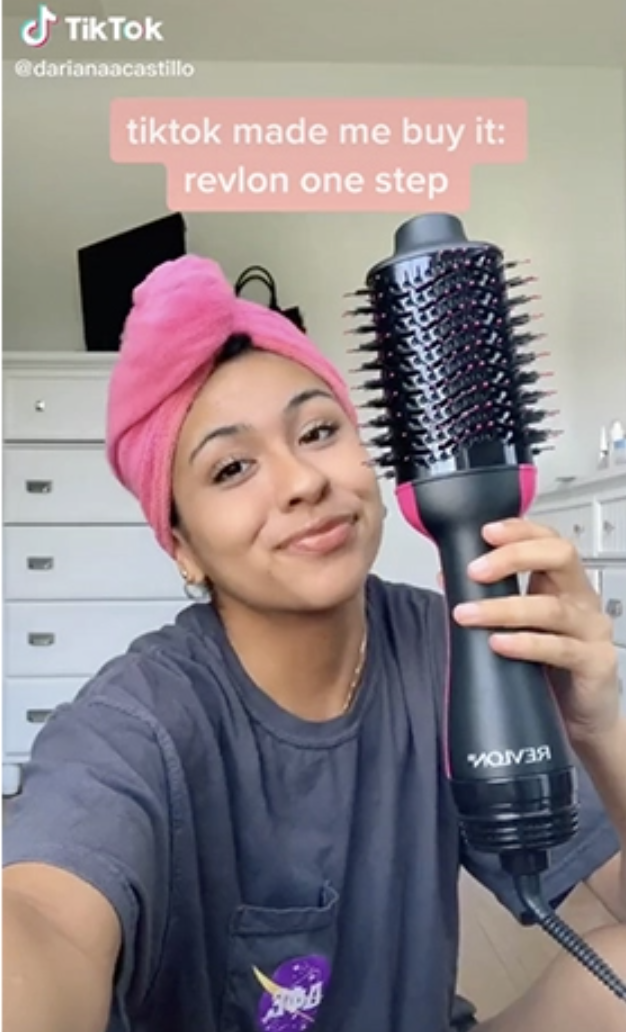 So, how to create an attractive hook for your TikTok ads?
Begin with a fascinating fact: A excellent method to keep your audience's interest is to pique their curiosity. Every time, it works like magic!
For instance: "Fed up with pimples and skin bumps?… And this is how I got from this to this!"
Identify the issue first, then propose the fix:
For instance: "If you do X as I do, this is for you"
Ask a question regarding the issue:
"Do you wish to learn the [solution's] secret?"
Angle
Choosing a creative angle is another technique to make sure your advertisement is successful. In a nutshell, the creative perspective responds to some of these questions:
What issue does your product address?
Does it make life easier for people?
What benefits could your target market expect from using your offering?
How does it affect people's emotions?
So how can you come up with creative angles for your TikTok ads? Follow this route:
Pain point: Describe the problem your customer is having; for example, "I wish to get rid of my eczema"
Unique selling point (USP): The advantage your product has over the competition and in resolving customer issues, such as skincare being reasonably priced and ideal for my skin.
Hook: The hook of the advertisement would be something like, "I'm no longer self-conscious about my skin"
Call to action (CTA): What course of action would you like the viewers to take? For instance "Show off my skin"
Angle: Emphasize the USP and the hook, such as "Cheap and effective skincare"
Collaborate with the right UGC creator
When it comes to the first tip for professional UGC Ads, TikTok brand collaboration in UGC Ads always stays on top. Partnering with TikTok creators will spread your brand awareness and expand your reached audience.
However, remember to provide an effective content brief to your partners so that everything will run smoothly. They just need to make the video by focusing on this document with all the necessary information.
Consider the aesthetics of your UGC
It's always important to closely plan your video in advance. Its means to consider the way that all things can be looked and edited. Here are some good ways that you can apply on the next TikTok UGC Ads video:
Clean up your background
Use some props
Do your hair, put on your favorite outfit, and get ready
Use golden hour lighting
By creating the best aesthetics for your video, you have already succeeded to build a totally different brand image. The more professional your videos look, the more your brand will benefit from them.
Moreover, through the customer's eyes and perspective, a good video means that you took a lot of time to prepare and how much you cared about the content. It's the best way to earn and build real customer loyalty.
So try to put yourself in your customer's shoes to know their demand and the way they really think about your video.
Choose the right type of UGC
Depending on your must-meet goals and your audience, you need to decide the type of UGC that will be most effective for your brand. A clear idea about the content will help you to stay on the right track and drive big results.
The right type of UGC that aligns with your TikTok marketing strategy can help you to optimize ad performance and bring business results. And no matter what kind of content you choose, you shouldn't underestimate the power of TikTok hashtags. They can work well in any video!
5 best TikTok UGC Ads examples to get inspired
If you are a newbie in a highly competitive community like TikTok, don't hesitate to explore some high-performing TikTok UGC Ads examples to get some precious lessons!
Laura Mercier
Inspired by the energy of New York City and also the classic French aesthetic, Laura Mercier aims to highlight your natural features and make you look beautiful without covering your skin. The team tries its best to create high-performing and natural products that are easy to apply.
Laura Mercier decided to use UGC by launching #ReadySetGo – a TikTok challenge to reach and attract TikTok audiences. Through this UGC advertising video, Laura Mercier asked viewers to show all the changes after using Laura Mercier products. This kind of content truly accentuated the benefits of their items.
In addition, Laura Mercier collaborated with well-known beauty influencers on TikTok to take part in this challenge and share it with their followers. The campaign has gained 2,500 UGC videos with 8.6 billion views.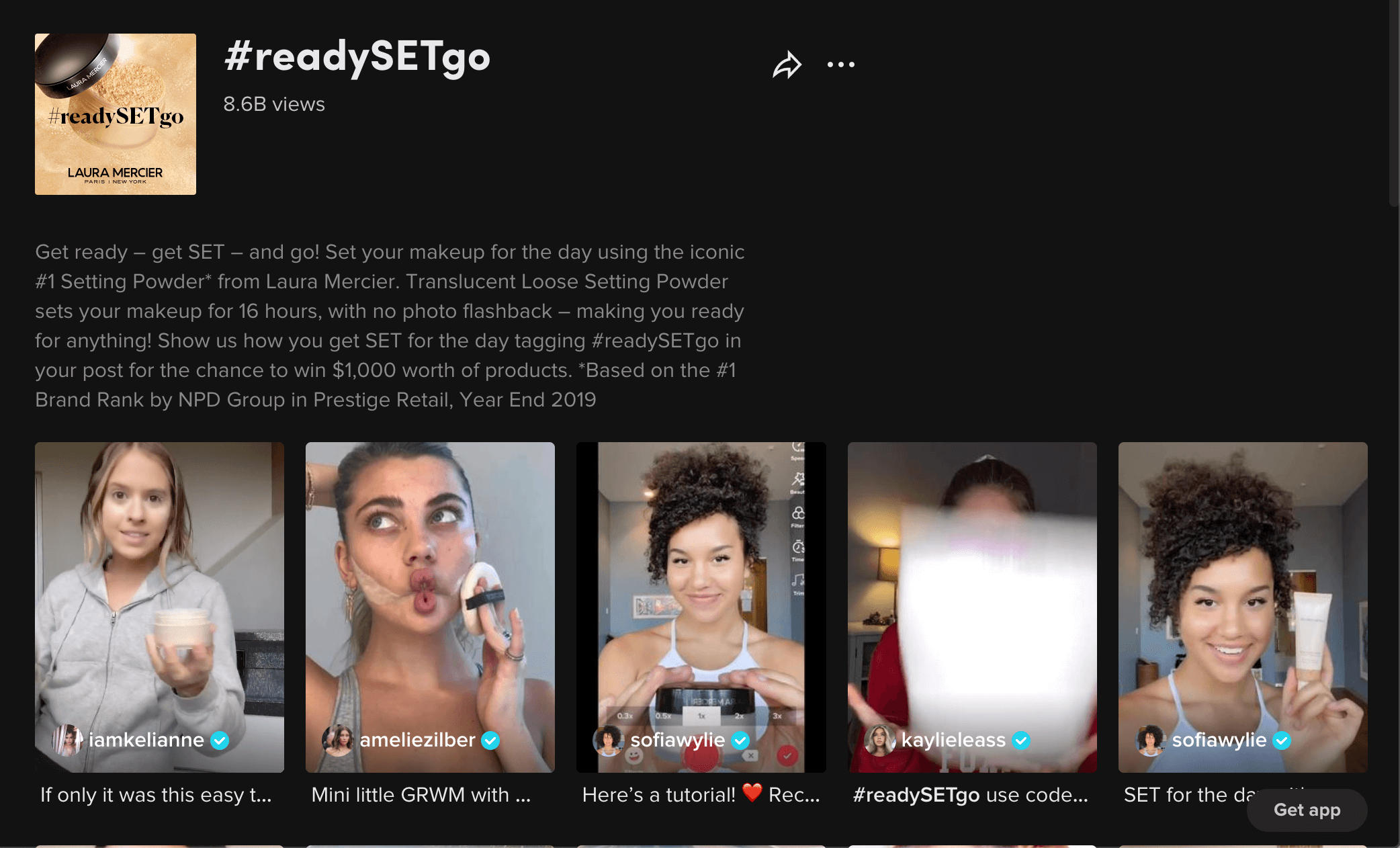 Have you ever heard about hair care products that use natural ingredients to naturally stimulate hair growth? It's all about Hollywood Hair Bar's mission. Founded by Tiffany Rose, this brand has succeeded to fill the huge void in the beauty market.
Hollywood Hair Bar
With the aim of generating more sales, Hollywood Hair Bar leveraged great UGC from TikTok creators that matched its target audience. They used UGC videos as the priority marketing channel to spread the brand image.
Thanks to their huge efforts, this brand has earned an impressive number of views. Especially, there were 1.4M TikTok videos created with the hashtag #hollywoodhairbar.
GoPro
If you are an expert or even an amateur in the camera industry, you have definitely heard about GoPro – an American technology company founded in 2002 by Nick Woodman. It produces action cameras and builds its own mobile apps and video-editing software.
Although GoPro has got a community of 2.3 million followers on TikTok, this brand still invested in TikTok UGC Ads to reach a new younger audience and strengthen the brand position in the marketplace.
The video was originally made by base jumper Jeb Crollis using the GoPro Max to film while flying through the cracks. It gained a lot of views and generated a high engagement rate.
GoPro also partnered with many TikTok creators to highlight all the unique benefits of its product.
JVN Hair
JVN Hair has gained a substantial following on TikTok by showcasing its range of products through tutorial videos, before & after videos, and entertaining skits that resonate with the audience.
On their TikTok, you can observe a wide range of customers using JVN products, each showcasing their unique approach. The brand's bio states "Come as you are" which beautifully captures the diverse individuals featured in their content. JVN Hair embraces inclusivity and creates a welcoming environment on its platform, free from discrimination based on age, gender, ethnicity, or sexuality, making it a space for everyone to feel accepted.
Chubbies
Chubbies exude an air of authenticity and avoid appearing excessively planned or manufactured. Positioned as "the official outfitters of Friday at 5 pm," this laid-back menswear brand extends the vibrant personality of their colorful shorts to UGC TikTok ads. Collaborating with a lot of popular and emerging content creators, Chubbies diversifies their feed by incorporating a variety of styles, showcasing a lifestyle that is both enjoyable and stylish.
Make winning TikTok ads with UGC
TikTok UGC Ads is a gift from TikTok that you should never miss, especially if you are a beginner and aim to build a strong brand for your business through TikTok. Want to launch, optimize and scale your TikTok ads to increase your reach and drive more store sales? Try NestAds – a simple yet powerful TikTok ads management software, exclusively built for ecommerce.