Hey there! Halloween is creeping up fast, and we're sure you don't want to miss out on any chances to make the most out of this season's sales. And what could be the best and most efficient way to do it? Well, our answer is reaching your target customers through email. And the essence of a great email campaign is a creative and catchy Halloween email template!
Our latest blog is your ultimate guide to crafting the coolest Halloween email templates that'll fill your subscribers with excitement. We'll provide you with the best Halloween email templates, covering designs, subjects, and even the Halloween email signature. As a bonus, we're ready to share some tips to optimize your email campaign along with examples from famous brands that you can refer to. So, get ready for our Halloween ride!
Halloween email templates for your business
Creating a great email template that matches your goals and suits the Halloween season takes time and effort. Everything, from the design and subject to the content and signature, needs careful preparation to provide recipients with the best experience. If you still have no idea how to craft your own sales-boosting email templates, check out some of the suggestions we give you below:
Playful and fun Halloween email template
This template is all about the simplest Halloween elements you can think of. With spooky fonts, a dark color scheme, and Halloween icons like bats, pumpkins, and black cats, this email template is sure to catch your subscribers' attention. Plus, there's a small section where you can easily insert images of your product offers. It's designed to be convenient and user-friendly, making it a great choice for promoting your products through email.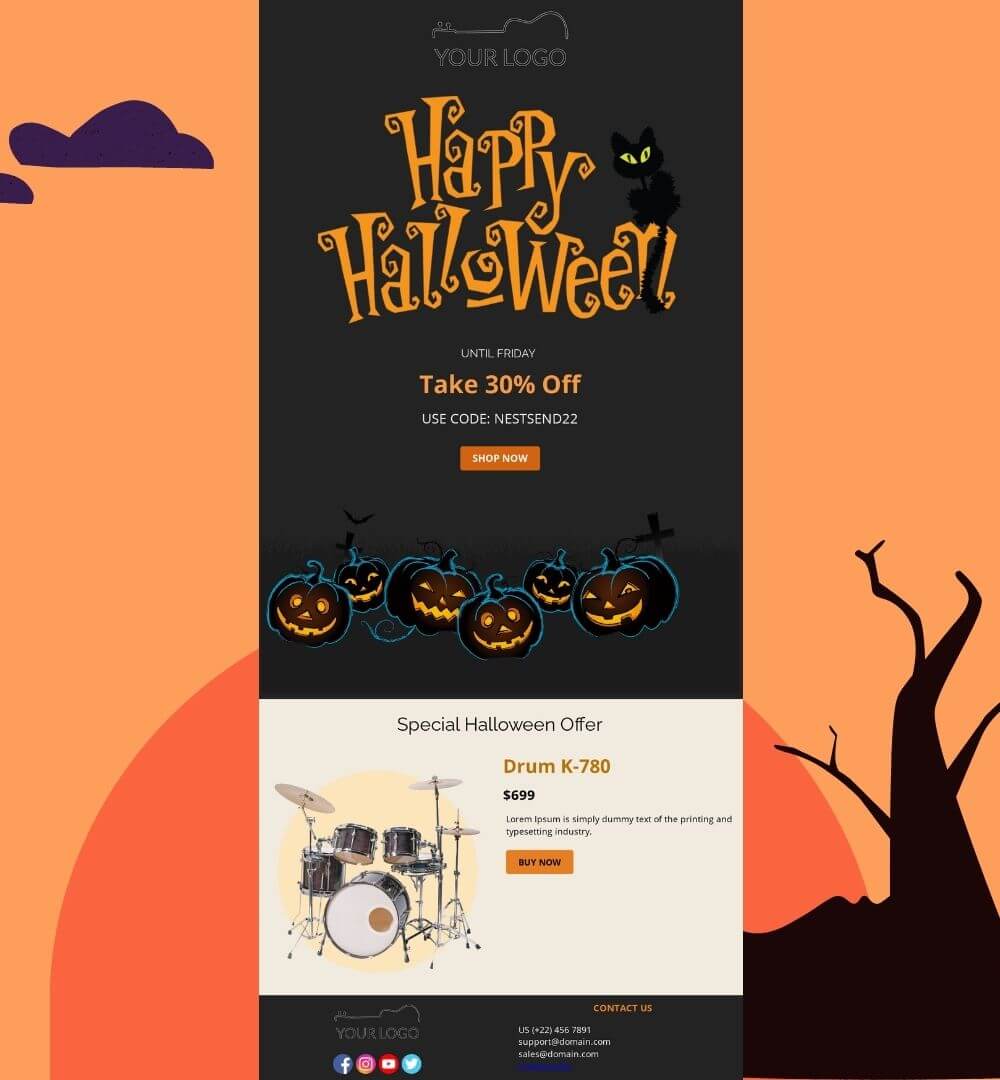 Black and white Halloween email template
No need to fuss over complicated color combinations – the simplicity of black and white creates a powerful impact that resonates with the Halloween spirit. Not only do the colors give your email a sleek and elegant look, but it also ensures that your content remains crystal clear and easy to read. So, if you're aiming for a refined and captivating Halloween vibe that doesn't sacrifice clarity, our second template is the right choice for you!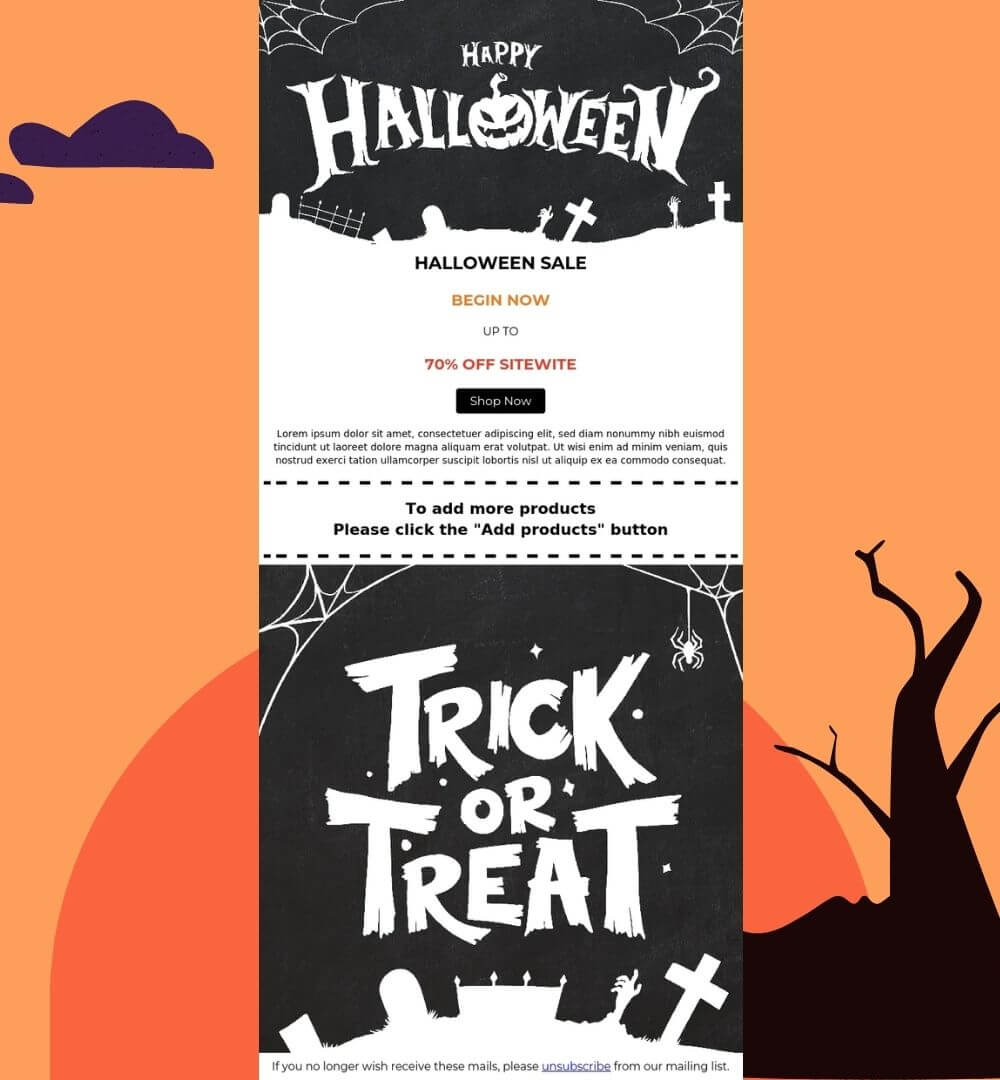 Creepy vibe Halloween email template
The final design is perfect for adding a mystery surprise at the end of your email. It shares all the important info right at the top. And to top it off, you can throw in a slightly spooky picture at the end (just a little BOO for that Halloween touch). This template keeps that Halloween vibe alive while helping you share all you want with your audience. If you want to recreate it, just make sure that the picture you use isn't too creepy which scares people out!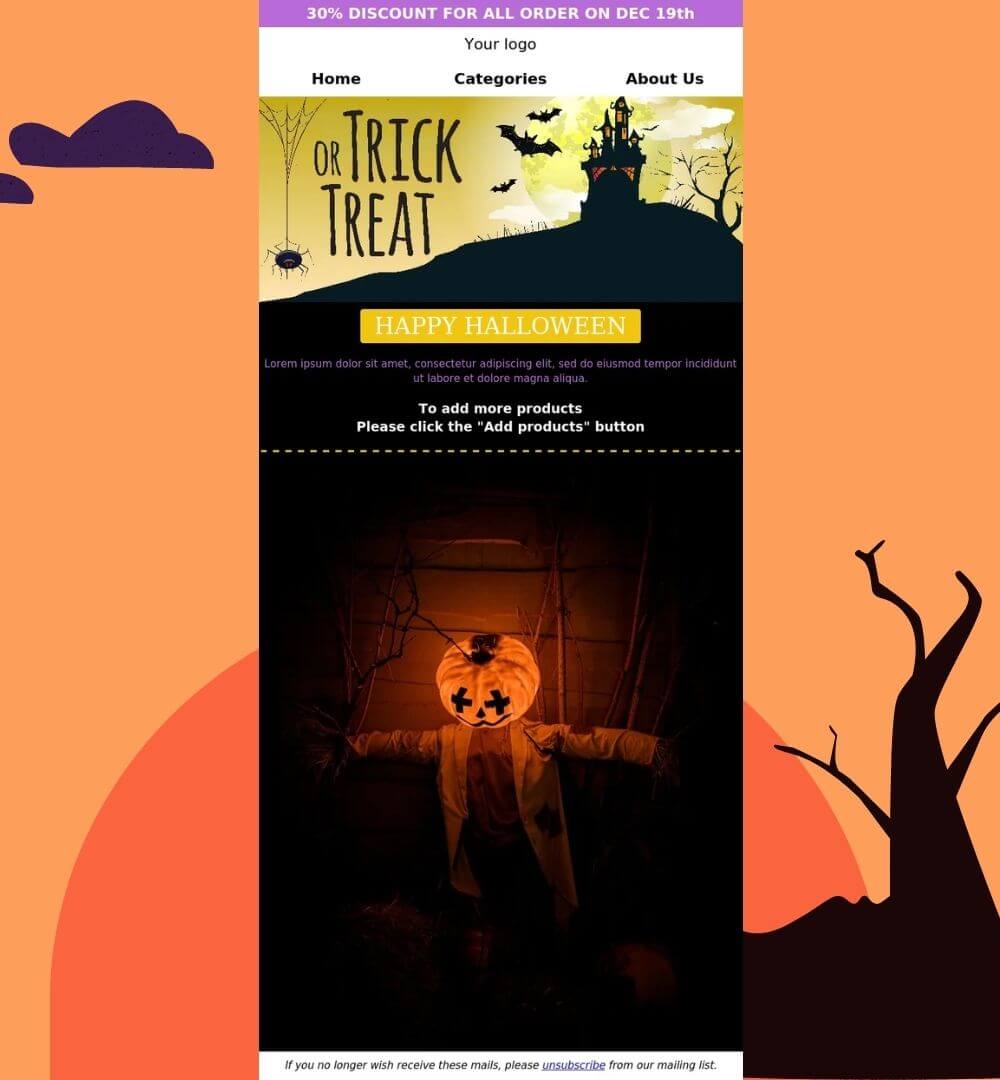 If you want to try out these templates for your own Halloween email marketing campaign, then here is the good news! All the templates we just introduced to you are free to use on NestSend, so check them out and enjoy the magic of Halloween pretty email templates!
Halloween email subject lines to boost engagement
The email subject is like a superhero cape that grabs customers' attention. Imagine this: your email arrives in their inbox during the Halloween buzz. Guess what's the first thing they spot? Yep, your subject line! If you jazz it up with catchy Halloween phrases, you're in for an open-email victory.
This season, ace those subjects with cool Halloween ideas. The cooler it sounds, the more people rush to see what's inside. Here are some ideas for your email:
Halloween Sale! Spooky Savings Await You
Final Hours: Grab Spooky Savings Before They're Gone!
UnBOO-lievable Halloween Savings Inside!
Eerie-sistible Halloween Offers Just for You!
Halloween Howls: Dive into Our Spooktacular Savings!
Don't Be Afraid – Our Halloween Specials Are Here!
Halloween Countdown: Get Ready for a Spooky Surprise!
Ghoulishly Great Halloween Treats for You!
Fun Halloween email copy to grab subscribers' attention
Now, it's time to create engaging content that encourages your subscribers to connect with your store's activities. Similar to the Halloween-themed design, you should consider adding a touch of Halloween flair to your email content. Remember that your primary objective is to effectively convey the main message to the target customers. Hence, try your best to be balanced by incorporating Halloween elements modestly. Here are some of the email copies that you can look through:
Copy 1: Hint for the upcoming big deal
Hey [Subscriber's Name],
Something wicked is coming! Get ready for spine-chilling surprises as Halloween draws near. We're preparing something special just for you. Stay tuned for the big reveal – it's going to be a Halloween treat you won't want to miss!
Stay spooktastic,
[Your Brand]
Copy 2: Officially release your Halloween deals
Hey [Subscriber's Name],
Trick or treat? We've got a spine-tingling treat for you! Our Halloween Sale is here, and it's full of spook-tacular savings. From eerie discounts to ghostly deals, we've got something for every Halloween lover. Don't wait – these savings vanish at midnight on [End Date]!
Shop now and haunt your Halloween in style,
[Your Brand]
Copy 3: Quick Halloween email reminder to subscribers
Hey [Subscriber's Name],
Just a quick heads up – our Halloween Sale is disappearing faster than a ghost in the night! If you haven't grabbed your favorite spooky treats yet, now's your chance. Hurry, the sale vanishes at midnight on [End Date]. So don't let this opportunity to save pass you by!
Shop now and get all the greatest deals this Halloween!
[Your Brand]
Copy 4: Last chance to grab the deals
Hey [Subscriber's Name],
It's now or never! Our Halloween Sale is fading away, and this is your last chance to grab spine-chilling savings. Whether it's a bewitching costume or eerie decor, don't miss out on the treats before the clock strikes midnight tonight!
Shop now and haunt your Halloween,
[Your Brand]
Creative Halloween email signature ideas for your agents
Lastly, your email wouldn't be complete without an email signature. So, to match the Halloween-themed vibe, you should give your signature a fresh look. You don't have to go all out: Just simply retain your current email signature and inject a touch of Halloween flair. You can do this by adjusting the colors and adding subtle Halloween elements. Here are some design recommendations that you can explore to give your email signature a delightful makeover:
A simple and professional signature
The first template we'd like to introduce is straightforward and doesn't need extensive design work. It features a basic background in Halloween colors and includes some popular Halloween elements. This will give your signature a Halloween vibe while keeping a professional touch. This template works well if you need to maintain the formality but still want a touch of excitement for your customers.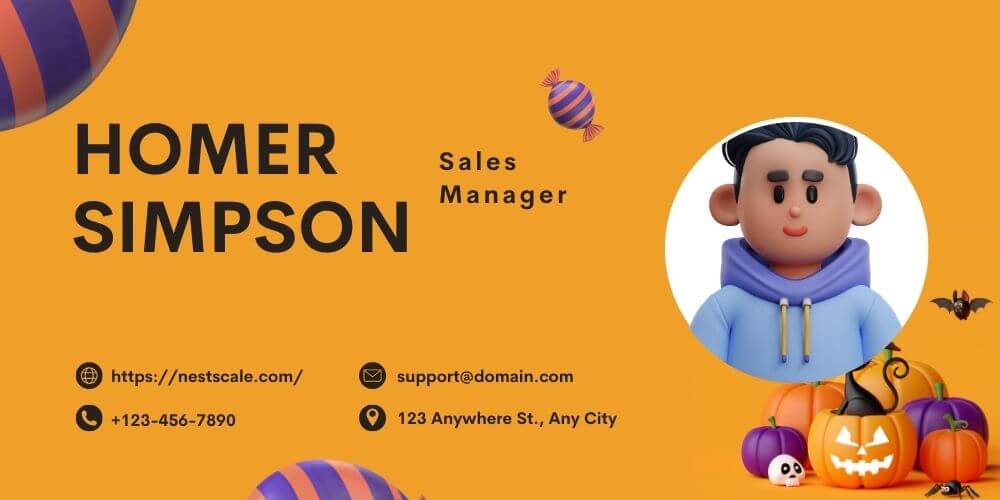 A fun and happy Halloween vibe signature
Halloween isn't just about being scary and spooky; it can also bring a cheerful feeling if you know how to express it. That's why we're sharing a second template with you – a fun and joyful Halloween signature. It still features the recognizable orange Halloween color, but in a more vibrant shade to create an energetic mood. You can also include well-known Halloween symbols like pumpkins, spider webs, and more.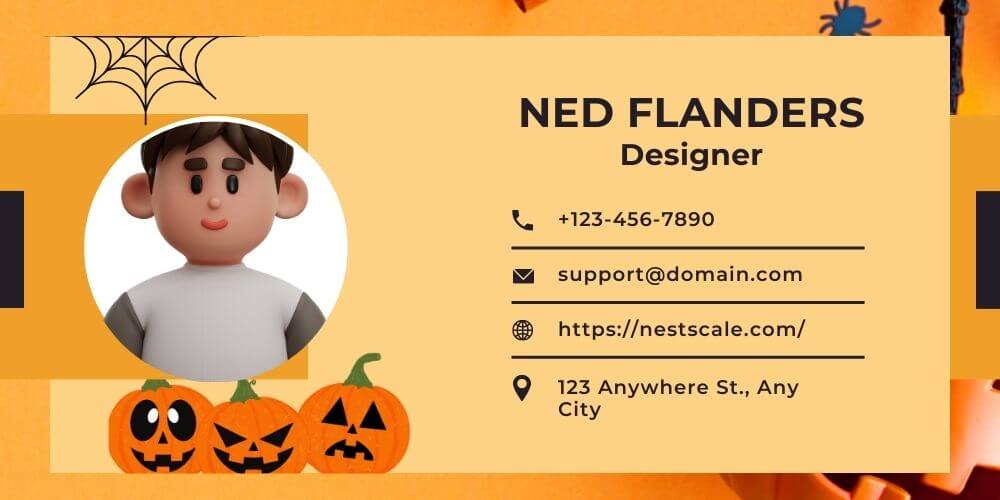 A mystic and magical signature
If you're aiming to give your profile a mysterious touch, this template might be just what you're looking for. It's simple to recreate and includes all the essential personal information. Despite its simplicity, it still effectively captures the Halloween vibe. To design your signature in this style, you can use black elements throughout your signature. Then, to add a touch of intrigue, change the background to a gradient with deep tones.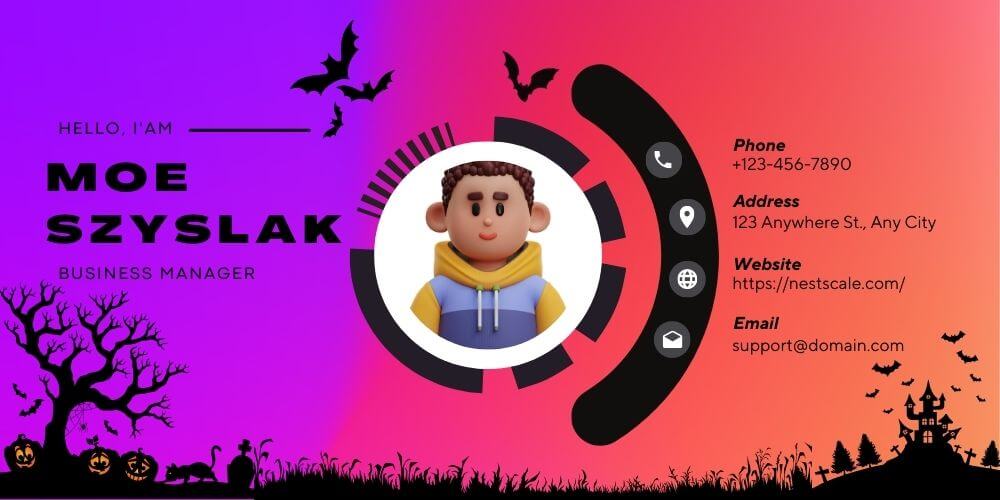 3 best Halloween email examples to get inspired
It can be challenging to envision how your business should begin with the email template. So, to provide you with inspiration, check out these brand examples of campaign templates. And don't forget to extract key takeaways that you can learn from each:
Dunkin' Donuts
Dunkin's Halloween marketing strategy is really easy to understand for their subscribers: they give people a variety of offers to pick from. This makes people feel valued and like the brand cares about their preferences. This approach is smart and improves their marketing by making it simple for people to make purchases right from their emails.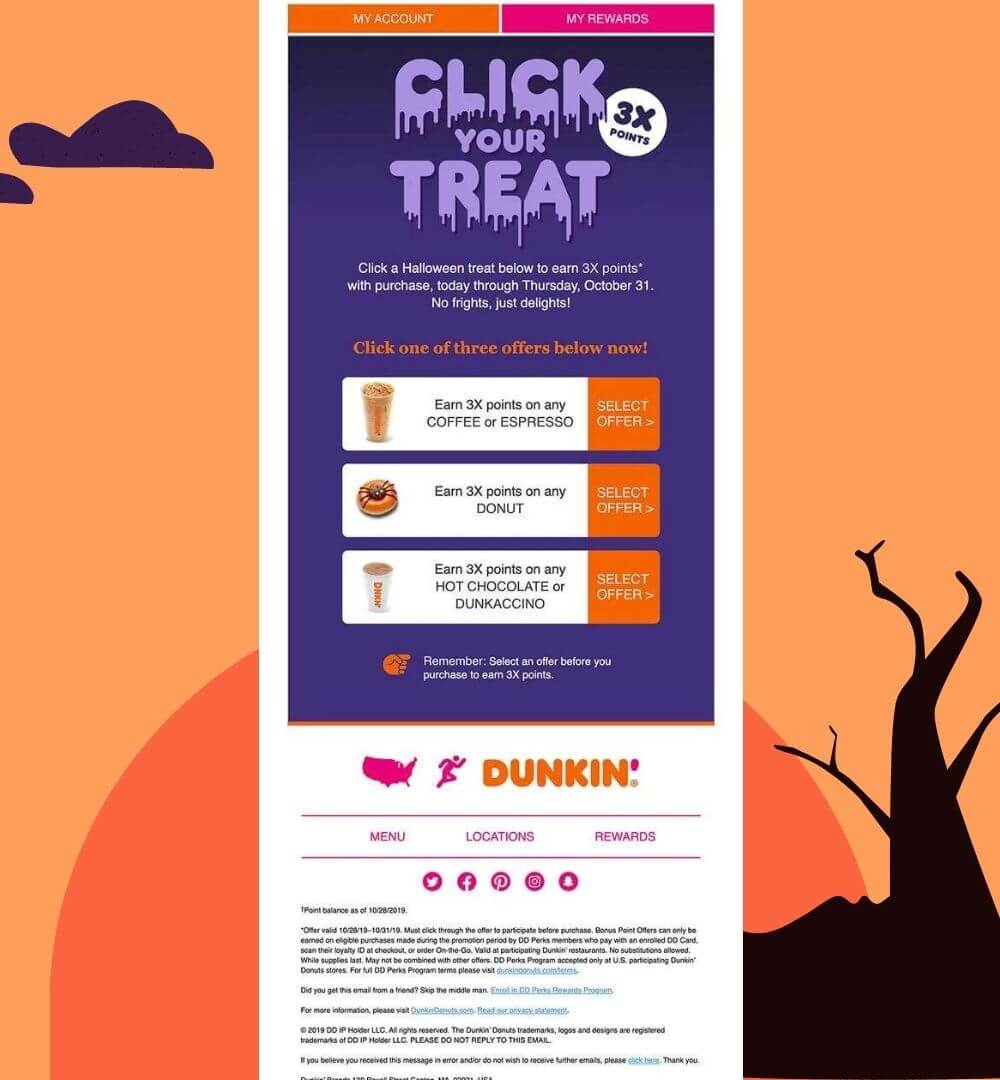 Lush
Being a cosmetic brand, Lush truly excels at creating marketing designs that incorporate Halloween elements effectively while maintaining the brand's overall vibe. In their emails, Lush goes beyond just presenting text offers to the customers; they also include images of their products. This approach is fantastic because it not only showcases their bath bomb designs but also gives the recipients a firsthand look at their products. This visual introduction fosters a sense of trust when customers consider purchasing new bathing products from Lush.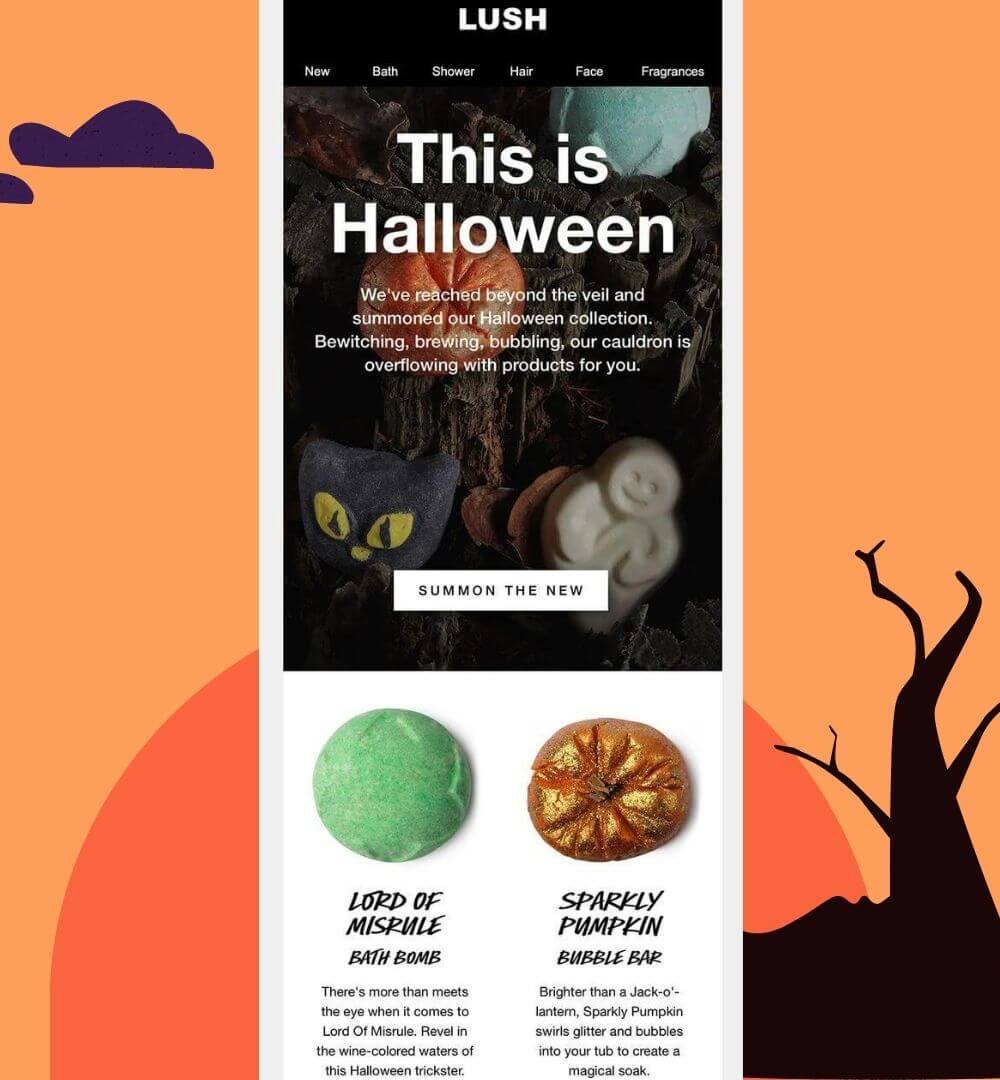 Too Faced
Too Faced has done a great job of catching its subscribers' attention right away. The sparkles, colors, and sale prices all make their email so appealing that it's tough to resist scrolling down, especially for those who love glamour. They've also placed a shopping section at the bottom of the email with a clear "Shop Now" button. This makes their email a wonderful example of a great Halloween season design.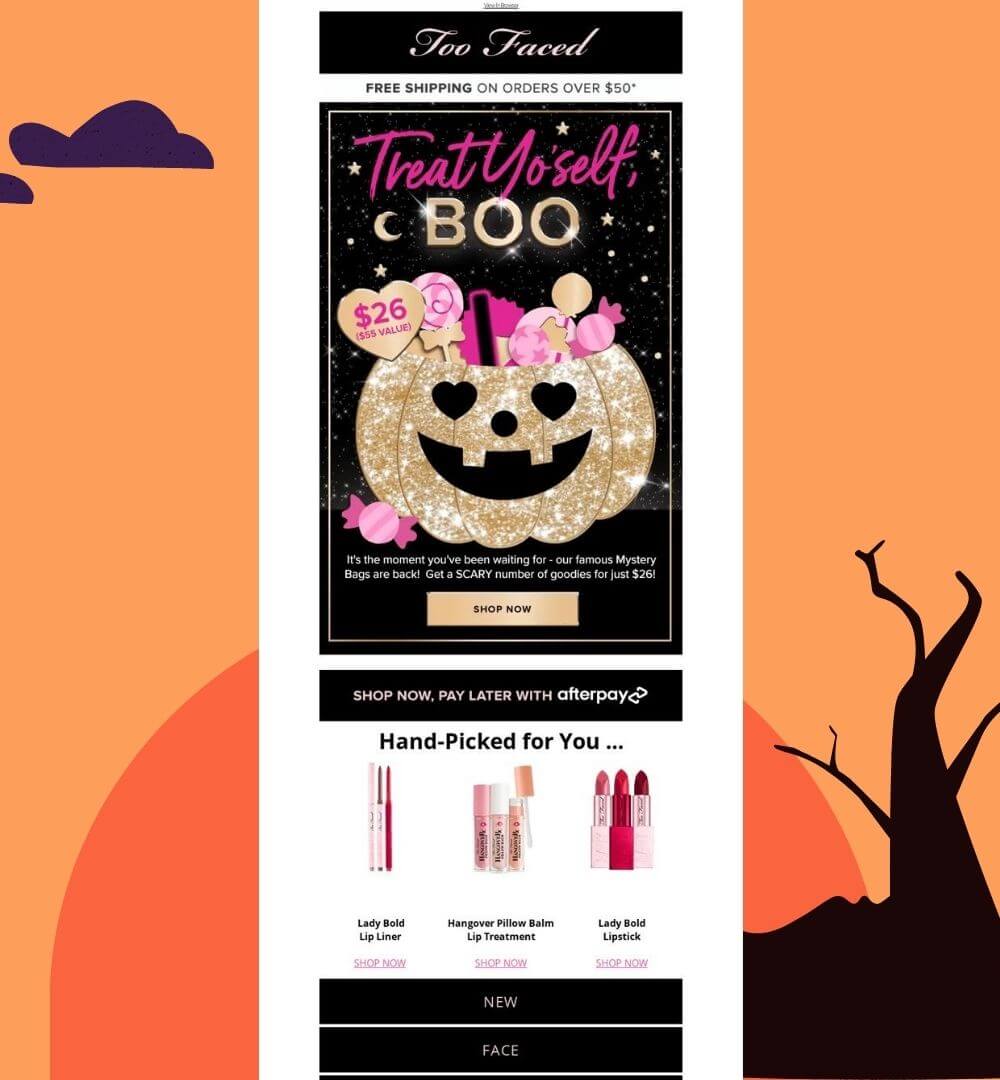 3 Halloween email strategies for your business this season
Lastly, ensure that your emails reach people's mailboxes efficiently by planning smart campaign strategies. We suggest you refer to some of these classic yet effective ones recommended by professionals: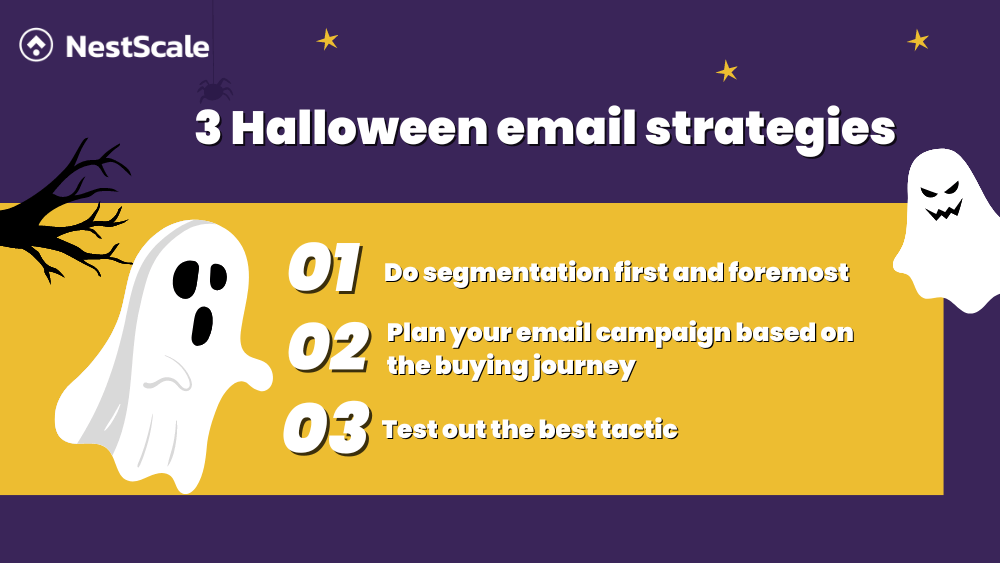 Do segmentation first and foremost
Segmentation is the first step you always need to take when planning a Halloween email strategy. Each customer segment will want different content to hear, and they even have different active hours. So, make sure you segment your receivers well based on the info you have, like age, gender, and order history.
Plan your email campaign based on the buying journey
The final purpose of your email should be to encourage your audience to buy your products during the holiday season. So your emails need to be able to accompany customers during their buying journey. This is our recommendation for the most basic plan for email content:
First announcement: This one's a sneak peek, where you tell your customers that you're getting ready to have awesome sales or special discounts. It's like saying, "Hey, get ready for something exciting!"
Sales email: Right before the holiday starts, you send out an email showing off all the great deals and cool stuff they can buy. You might even give them secret codes to get extra discounts. It's like the big reveal before the party begins.
Small reminder: Sometimes people forget stuff, right? So, after a while, you should send a little nudge to those who haven't opened your emails or bought anything yet.
Last chance email: This is the last shot that will give those who haven't bought anything from your brand feel the urge to get the deal. You should send this email about 24 hours before your sales end.
Test out the best tactic
You want your email marketing campaign to be a big hit and super successful, right? Well, you can run a test to verify which content is working better. A common method for testing your email campaign is to use something called A/B testing. Here's how it works: You make two slightly different versions of the same email and send them to different groups on your email list to see which one does better.
This approach helps you figure out what your subscribers like and what excites them. Once the test is done, you'll know which version is the real winner, like the best Halloween treat, and you can use that knowledge to make your email strategy even better.
Start leveraging your email marketing this Halloween season!
With this article, you've got all you need for a fantastic email marketing campaign this season: templates, a complete strategy, and the best examples of successful Halloween email campaigns. Now, it's your opportunity to put your knowledge into action!
You can explore some helpful email marketing tools to make things simple and more efficient for your business. We offer NestSend – our email marketing solution that's integrated directly into your online store. It assists you in everything from crafting engaging emails that sell to delivering email campaigns to win customers and drive sales. The best part? It's completely FREE! With a little assistance from NestSend and your smart decisions, we're confident your Halloween sales will soar.