If you're anything like us, you probably start counting down the days to Halloween as soon as the leaves begin to change. And guess what? The spooky season is creeping up on us once again! It's a great opportunity for online businesses to boost sales and attract more customers to your store. And what else is more effective than giving people the most trendy Halloween products? So, get ready to unearth the 17 Best Halloween Dropshipping Products – a definitive guide to bewitchingly awesome items that will make this year's Halloween the most spooktacular one yet. So grab your cauldron, and let's dive in!
4 Halloween dropshipping products for a full outfit
Halloween is all about dressing up and transforming into your favorite characters. Whether it's full-fledged costumes, costume accessories, or wigs, there are lots of products that can make your Halloween business successful. So, if you're considering dropshipping for Halloween, stocking up on costume products can attract many eager customers.
Full-fledged costumes
Halloween is the perfect time to go all out with costumes, and everyone's on the lookout for the coolest ones. According to Statista, around 3.6 billion dollars could be spent on costumes this Halloween! Then, imagine the possibilities for your online store. It's a massive market you definitely wouldn't want to miss out on this season.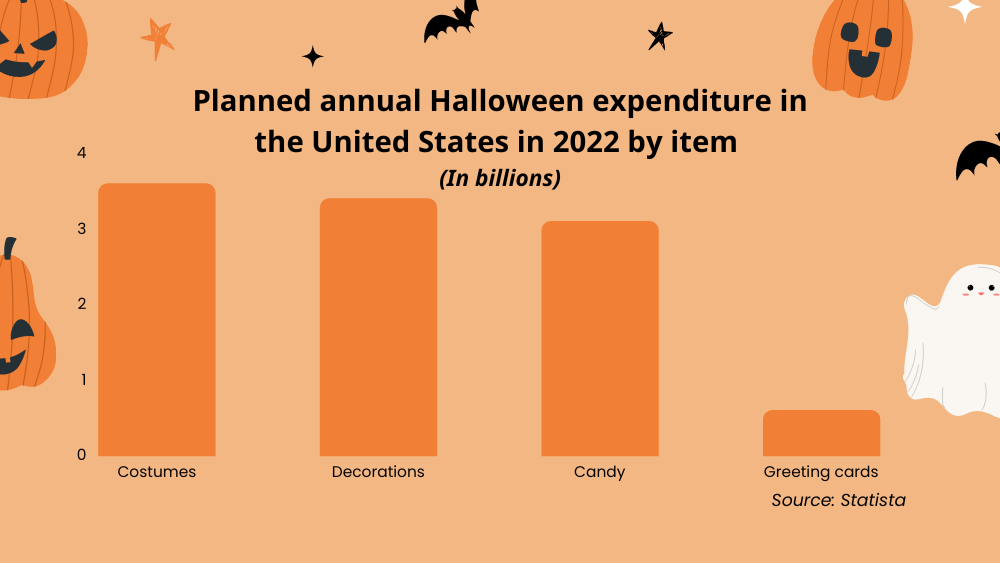 2023 is shaping up to be an exciting year with a slew of new blockbuster movies, including Barbie, Spiderman, Guardian of the Galaxy, and Oppenheimer. As a result, this Halloween will be brimming with ideas that will capture people's imagination. Let's look at some of the costumes that will be a hit this Halloween:
Barbie: Barbie has always been the ultimate icon and is a sure bet for Halloween parties. Also, this famous girl has made a big comeback in the movies, causing a lot of excitement this year!
Guardian of the Galaxy: The Guardian of the Galaxy craze has been scorching throughout this year. This is also one of the affordable options that customers usually choose when they want a simple look for themselves during Halloween.
Spiderman: This year, we've got the newly released Spiderman in the mix too! It's fresh off the screen and ready to swing its way into the hearts of Halloween-goers. Also, Spiderman has always been an iconic look on Halloween. The traditional and trendy factors make this costume design a promising option that will boost your sales this Halloween.
Besides the above options, there are many more fantastic best-selling costume ideas that we're thrilled to share with you. To save you time, take a look at the list we've provided below. Your customers will be amazed by the variety of great costumes you offer!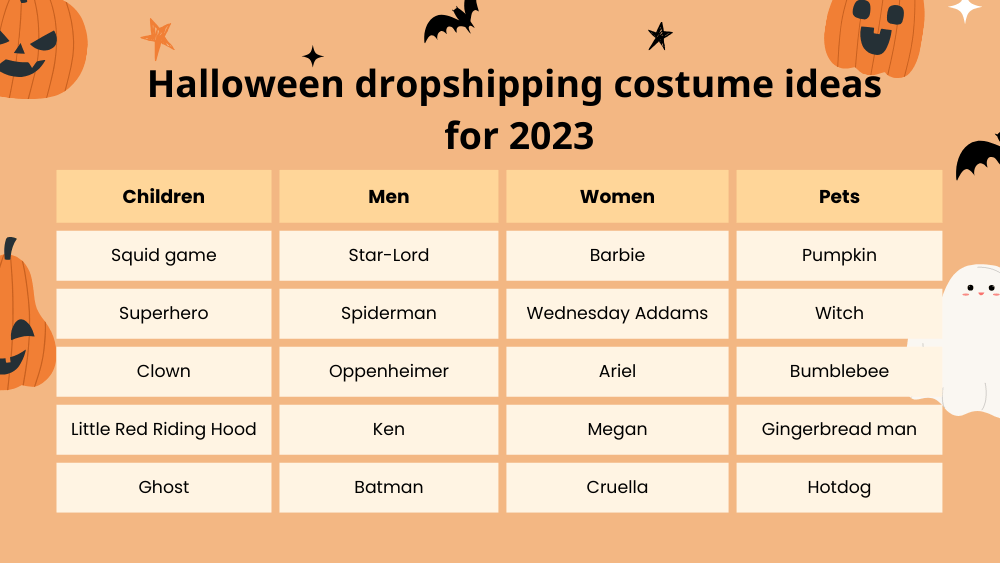 Halloween headbands and wigs
Headbands and wigs are fantastic dropshipping products that shine during the Halloween season. They're the simplest ways for people to dive into the Halloween spirit. Themed headbands with designs like devil horns, cat ears, or witches' hats can effortlessly turn an outfit into a Halloween costume. These accessories cater to both kids and adults, making them versatile choices that appeal to a wide customer base.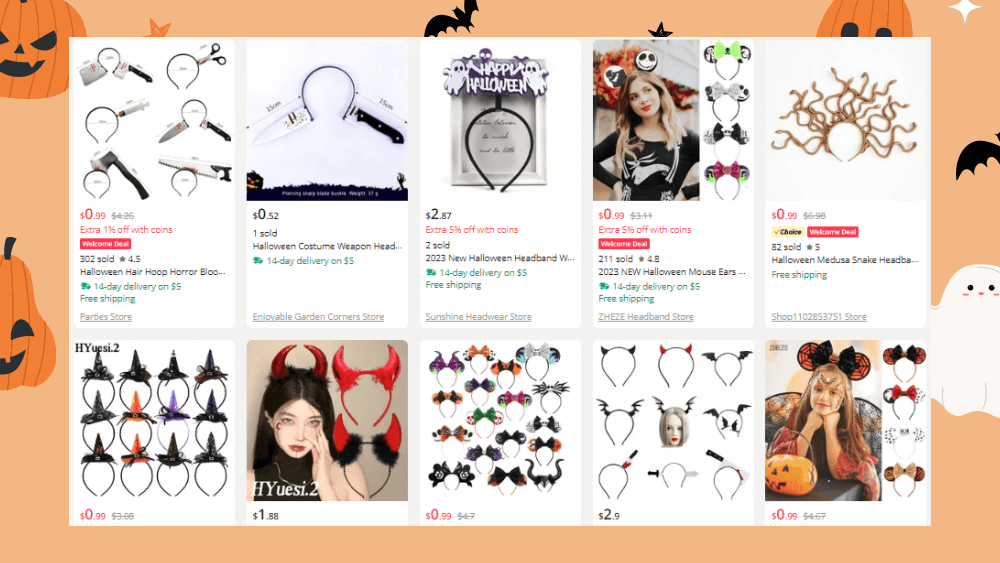 Character masks
Masks are a big hit, right up there with costumes, and they're especially great for sellers It's a crucial part of any costume – they add that mysterious touch and really complete the whole look. Some masks are even so vibrant that they can even stand on their own without a full costume. They're popular because they're more affordable than full outfits, and people tend to buy them in larger quantities. So, if you're looking to make a solid profit during Halloween, considering adding masks to your offerings is a smart move.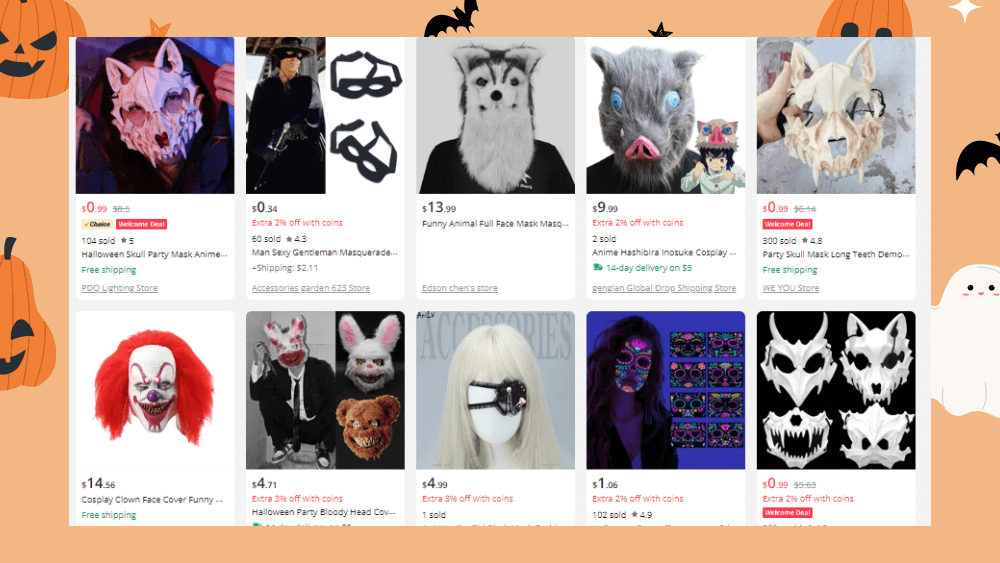 Candy bucket for trick & treat
Let's talk about a Halloween essential: trick-or-treat buckets and candy bowls. They play a crucial role in the traditional trick-or-treating experience, and their eye-catching Halloween designs make them highly sought after. As dropshippers, we can tap into this demand by offering a diverse range of sizes, colors, and spooky designs.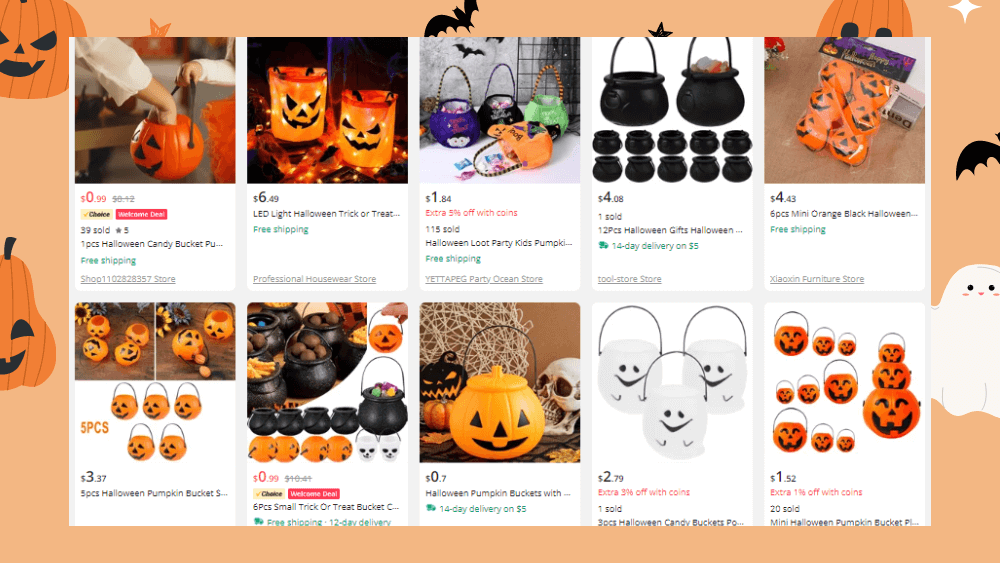 Given the continued popularity of trick-or-treating, we're in a great position to benefit from these products and make the most of the Halloween season. Most of the time, These buckets are used to fill in candy for children, so if you want to create even more options for customers, you can sell these buckets in bundles with candy so that customers can buy everything all in one.
3 Halloween dropshipping products for beauty care
Halloween is more than just costumes and decorations; it's a season when people unleash their creativity through their appearances. Whether it's spooky makeup or distinctive jewelry, beauty products help people create their desired Halloween personas. Here, We have a list of dropshipping products that have consistently strong sales during Halloween – perfect options for you to consider adding to your store:
Halloween-themed jewelry
Jewelry is a great fit for mixing and matching with different costumes. Whether someone is aiming for an enigmatic witch look or a captivating vampire vibe, the right jewelry can genuinely enhance the overall effect. Moreover, some designs are timeless and always stylish. These products can also be used throughout the year, so there's no need to worry about leftover stock.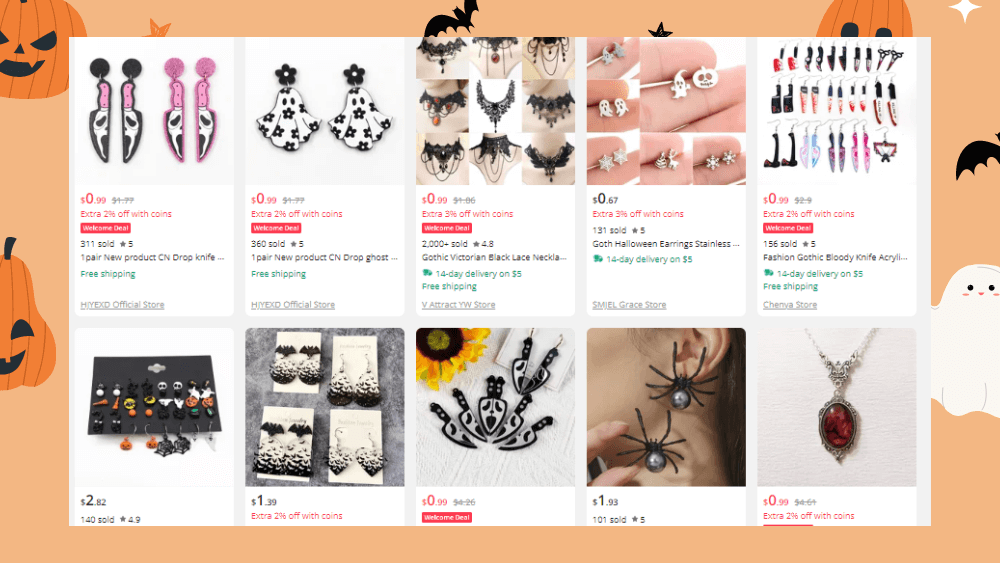 Makeup products for Halloween
Halloween is the time for people to turn themselves into their favorite characters, or create a new character for themselves. And how can they do it without the makeup products? Hence, makeup products during Halloween will definitely sell during this time and give you a lot of profit.
Some of the popular makeup products during Halloween can be: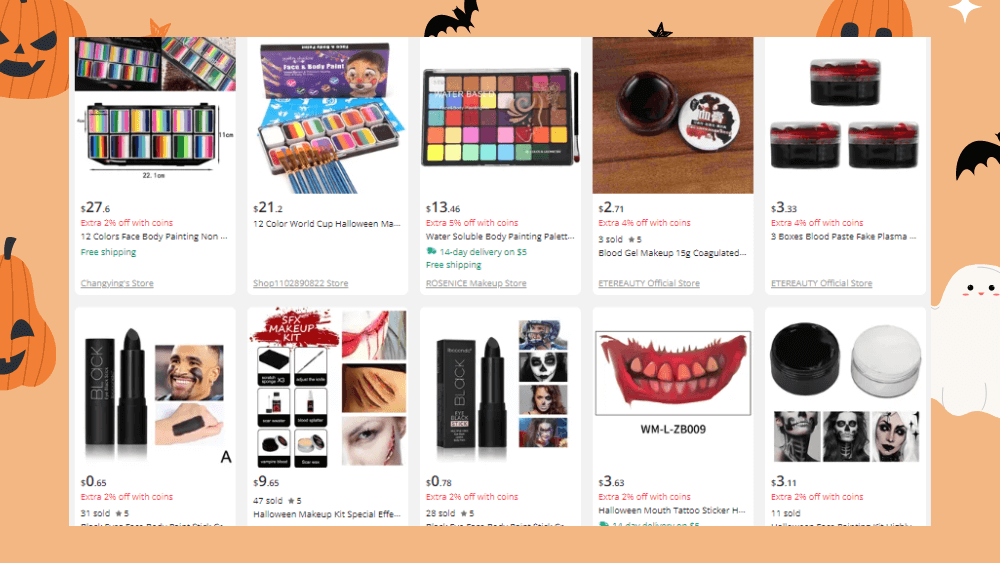 Makeup Kits: They're like the ultimate Halloween artist's palette, helping customers transform into anything from spooky specters to glam ghouls. It's all about getting that perfect Halloween vibe!
Face Paints: For those aiming for a more sophisticated Halloween makeup look, face paints are the perfect choice. Typically, people will need to purchase an enormous amount of cosmetic paints at once (People don't want their face to have a different color from their body, right?). Hence, it will ensure the sales for your store during this season.
Contact Lenses: Contact lenses are also super popular during the Halloween season. To boost sales and make things efficient, think about dropshipping popular lens colors like red, blue, green, and more. This way, you can save resources and ensure a strong demand for your products.
Temporary Tattoos: Looking for that instant "wow" factor? These tattoos are your ultimate secret weapon. Think of them as enchanted stickers that breathe life into scars, wounds, or cool designs. People are sure to adore these for crafting their spooky Halloween look.
Cute Halloween bath bomb
Enhance your Halloween collection with a touch of luxury – introducing bath bombs! These captivating treats bring the Halloween spirit to your bath time, featuring shapes like pumpkins and scents like cinnamon. Plus, they're not just about relaxation; they also make thoughtful gifts. Make this Halloween truly memorable with these charming additions.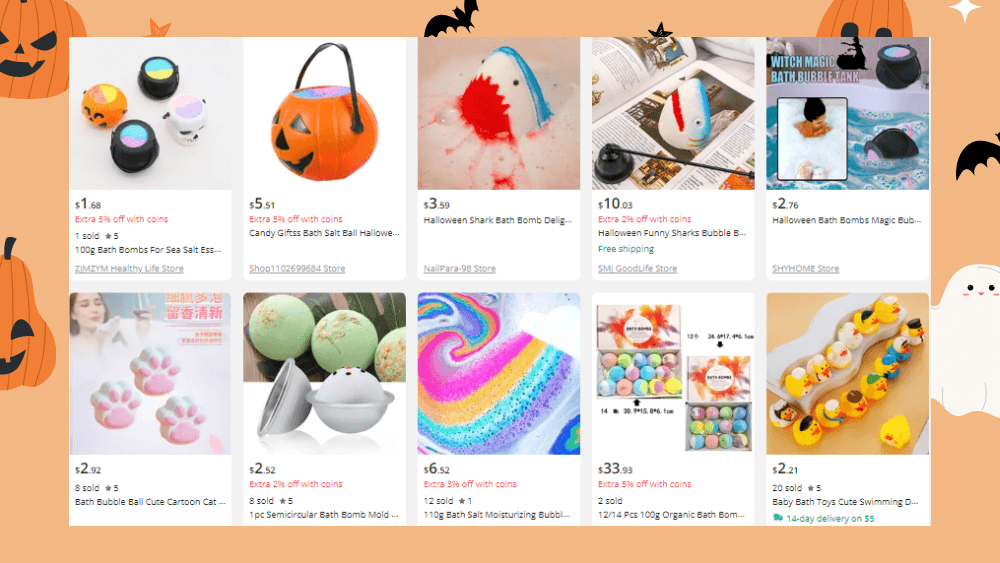 3 Halloween dropshipping products for DIY activities
Halloween sparks the birth of some of the most imaginative DIY concepts crafted by individuals. Hence, the need for tools that assist these DIY activities skyrockets during this season. Here, we present our top three dropshipping product suggestions that are not only easy to ship but also versatile in their applications:
Multi-purpose silicon mold
Check out these scary-themed silicone molds, perfect for making spooky chocolates, eerie ice cubes, or creepy cake decorations. The demand for creative Halloween desserts is strong, making these molds a sought-after item. With their intricate designs, customers can get creative and add a spooky twist to their treats. These molds are also great for easy Halloween crafts, like shaping pumpkins, bats, and skeletons – the icons of the season.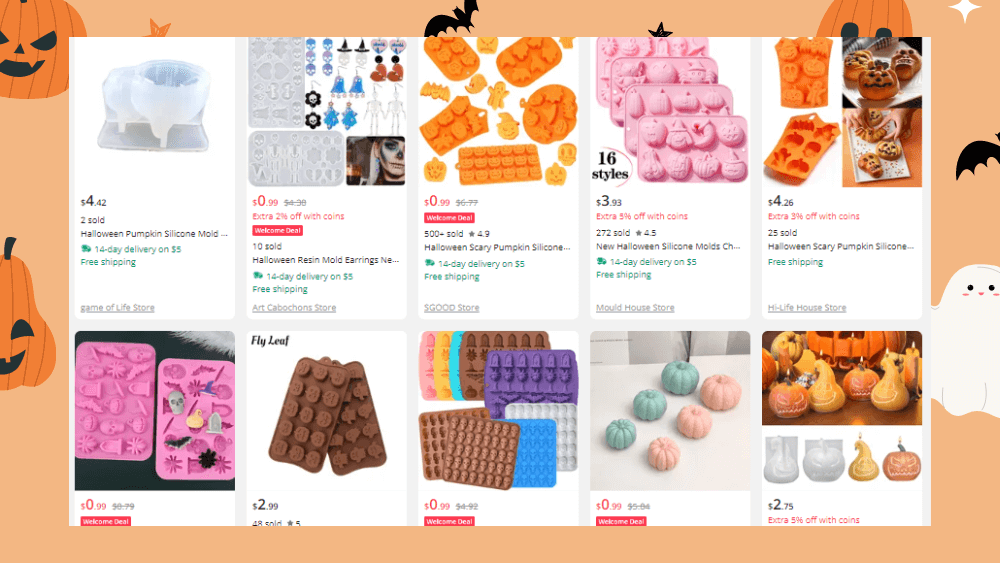 Cookie cutter
Looking to amp up your Halloween product lineup? How about adding some awesome cookie cutters to the mix? They're a brilliant choice for the spooky season. Imagine offering cookie cutters in shapes like ghosts, bats, pumpkins, and witches hats. These cutters will be a hit for creating themed treats that'll steal the show.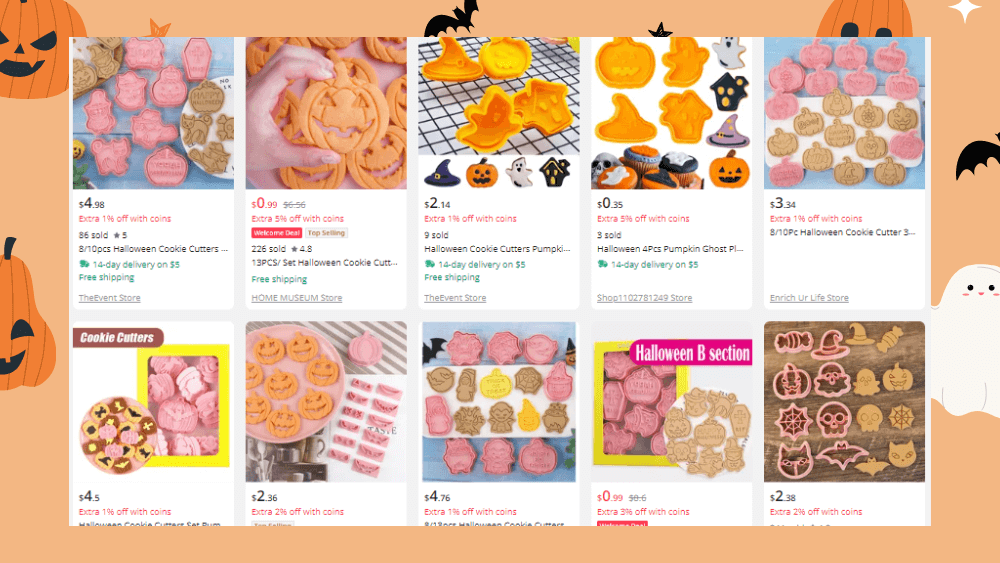 Kids and parents alike will love getting creative with these special shapes, and they're not just for cookies – think sandwiches, fruits, and more! They're also fantastic as Halloween gifts or favors, like sending guests home with a fun bat-shaped cutter. Plus, they're versatile – perfect for crafting with playdough or clay.
Wrapping present paper
Wrapping paper is also a great Halloween dropshipping product that you can provide your customers. You can go with spooky prints like ghosts, pumpkins, and bats. And it's not just about gifts; this paper sets the perfect atmosphere for Halloween parties, making favors and gifts extra memorable. Whether it's treats or tricks, using themed wrapping paper spreads the excitement.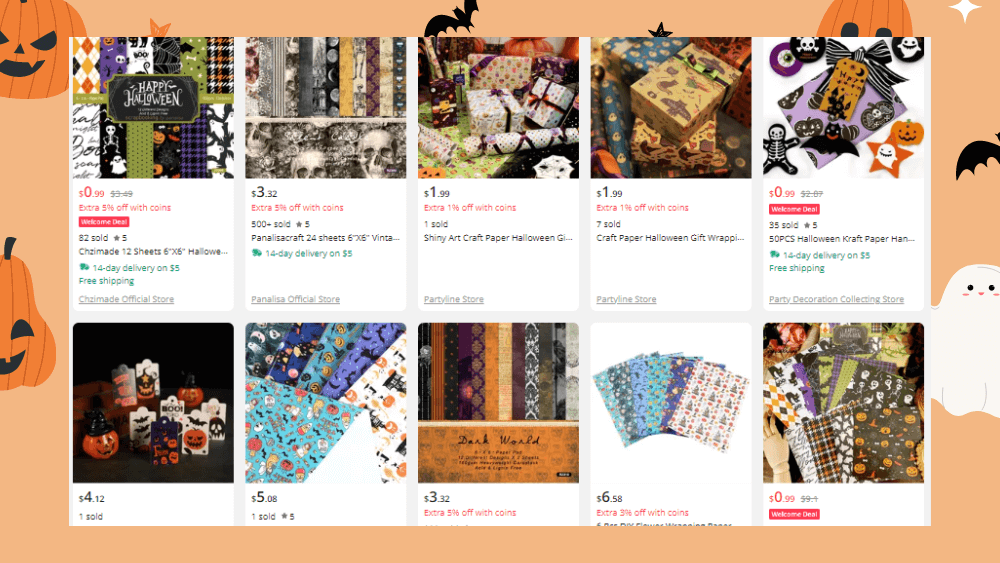 3 Halloween dropshipping products for house decoration
Everyone wants to soak in the fantastic atmosphere of the Halloween season. For this, many individuals opt to decorate their homes, fusing them with Halloween-themed elements such as LED lights and outdoor decor. So, let's delve into some of the iconic Halloween items that can be remarkably effective sellers during this spooky time.
Candle lights
Up next in our lineup of Halloween dropshipping delights are candle lights – a must-have for adding an enchanting touch to your Halloween decor. These candles do more than just light up a space; they bring an eerie and captivating vibe with their flickering glow. With the demand for unique and atmospheric products on the rise during this festive season, these floating candles offer an opportunity for your business to cast a spell of profitability.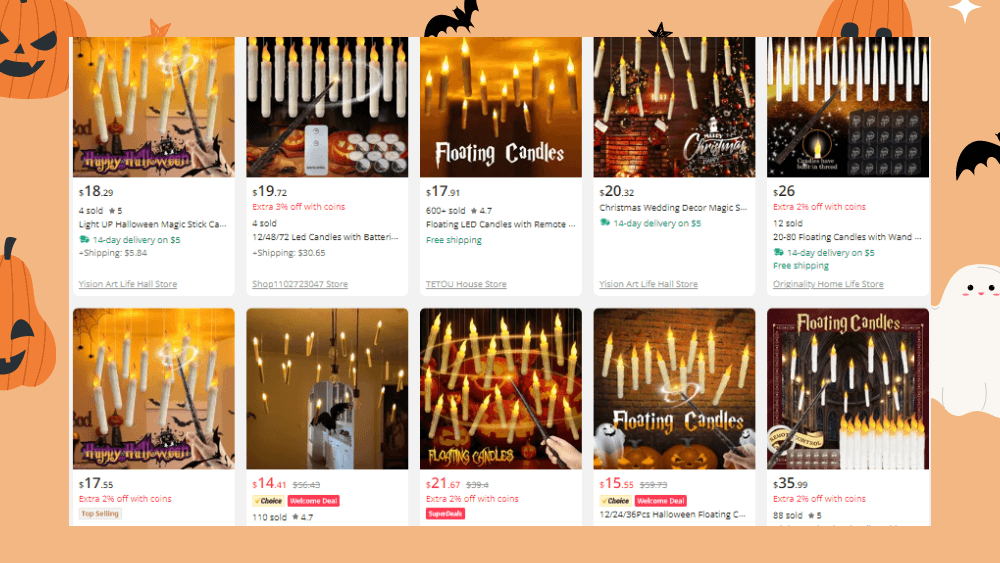 Skeleton model for decoration
Skeleton decorations are the ultimate Halloween dropshipping product to add a spine-tingling vibe to your seasonal offerings. These decorations are all about creating a chilling atmosphere. With their realistic bone-like appearance and attention to detail, they're sure to give any Halloween set an extra dose of spooky appeal. Therefore, it's the traditionally popular decoration in the Halloween season.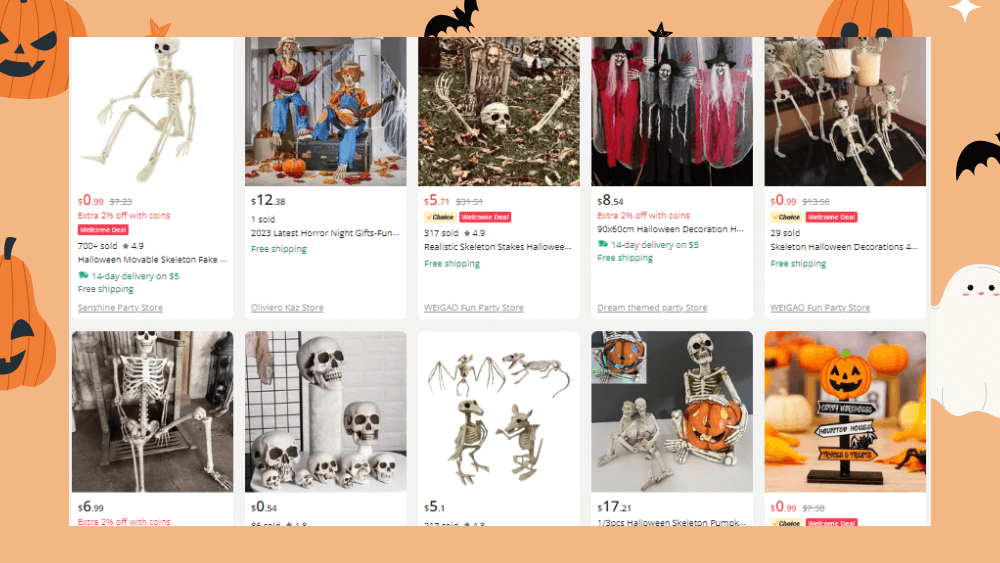 Tombstone for outdoor decoration
Looking to add a touch of spookiness to your Halloween collection? Foam tombstones are dropshipping products that bring the eerie charm of a graveyard right to your customer's doorstep. With their lifelike textures and haunting designs, these tombstones are ideal for crafting a chilling atmosphere. Simple to set up and position, they offer a convenient way to infuse a hint of the macabre into any Halloween display. Get ready to give your customers the chance to embrace the allure of the graveyard this Halloween!
4 Halloween dropshipping products for partying  
Is Halloween ever complete without the thrill of fun gatherings and parties? Certainly not! And, naturally, such occasions call for an array of essentials to elevate the party mood. While the options for party supplies are plentiful, certain items hold the power to instantly captivate attention when it's time to enhance the festivity. In this read, we'll explore three elements guaranteed to add that extra spark and make this season's Halloween parties truly unforgettable.
Colorful Halloween greeting cards
Halloween greeting cards are a delightful dropshipping product that captures the spirit of the season. With their spooky and playful designs, these cards are perfect for sending eerie well-wishes to friends and family. From cute ghosts to wicked witches, the variety of designs allows customers to choose the perfect card for their recipients. Easy to ship and share, these cards are a charming way to spread Halloween cheer.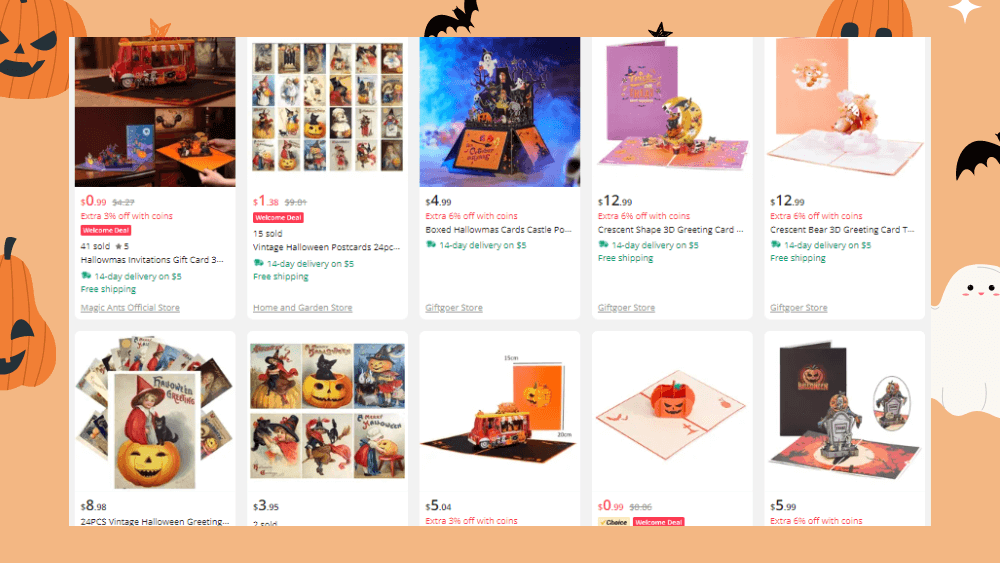 Halloween straws
Halloween straws bring a touch of Halloween fun to any drink. With their eerie and playful designs, these straws are perfect for sipping in style during the holiday season. Easy to use and dispose of, these straws are a simple yet effective way to enhance the Halloween atmosphere at parties or gatherings. With their festive and functional appeal, Halloween straws are a must-have addition to our Halloween product catalog, ensuring a spooktacular celebration in 2023 and beyond.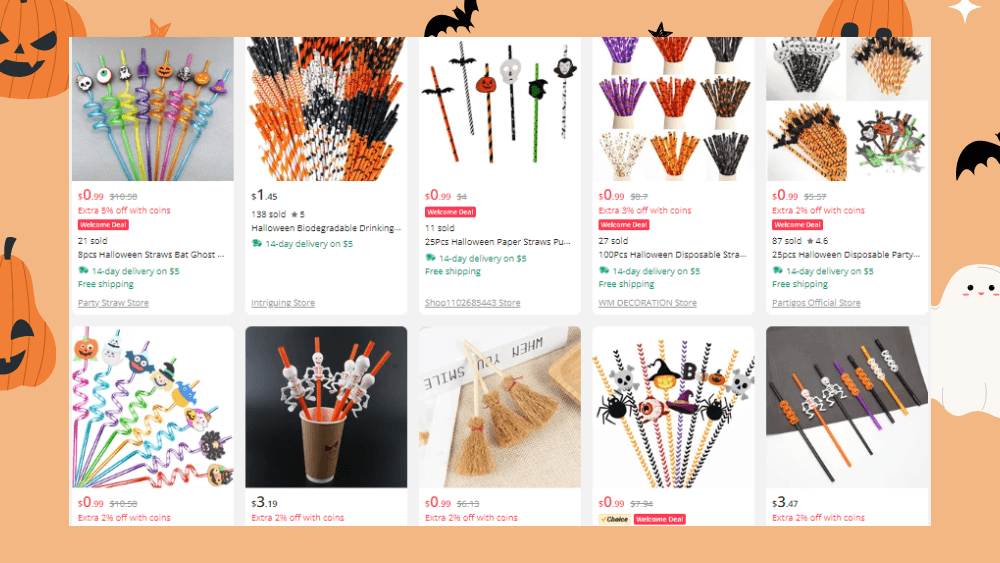 Cute handheld items for photo
With the spooky season in full swing, people love to capture memories in unique and fun ways. Photo booths provide an opportunity for friends and family to let loose and create lasting memories while donning eerie or hilarious props. From witch hats and picture frames to quirky signs or lanterns, these props add an extra layer of entertainment to Halloween parties and gatherings. By dropshipping photo booth props, you're offering customers a chance to elevate their Halloween experiences and create unforgettable moments.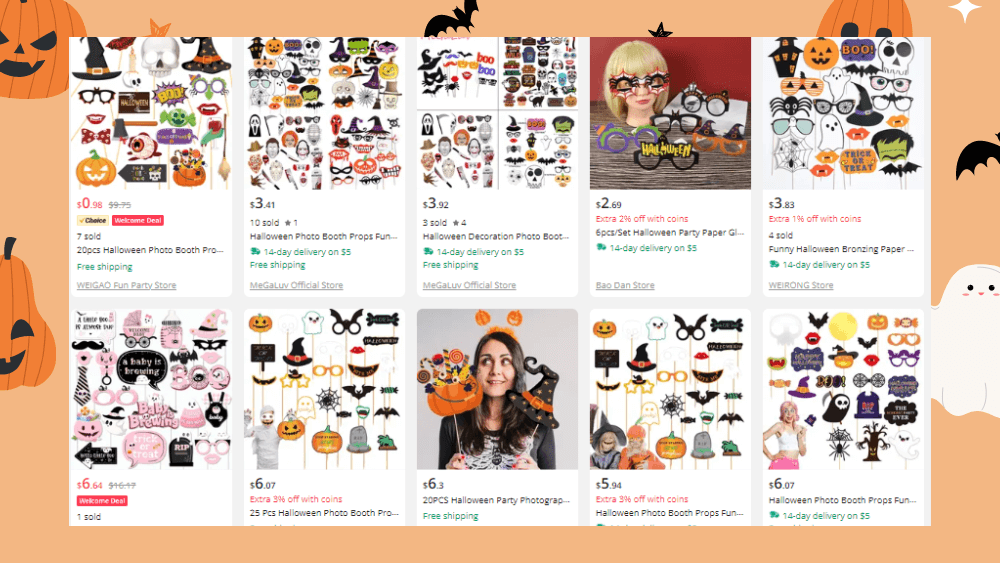 Halloween confetti
Confetti is the ultimate dropshipping product that adds a pop of festive spirit to any celebration. With unique shapes like bats, pumpkins, and ghosts, you can sprinkle creativity everywhere. Your customers will love these playful ideas, and your store will be flooded with orders as the party atmosphere comes alive with confetti magic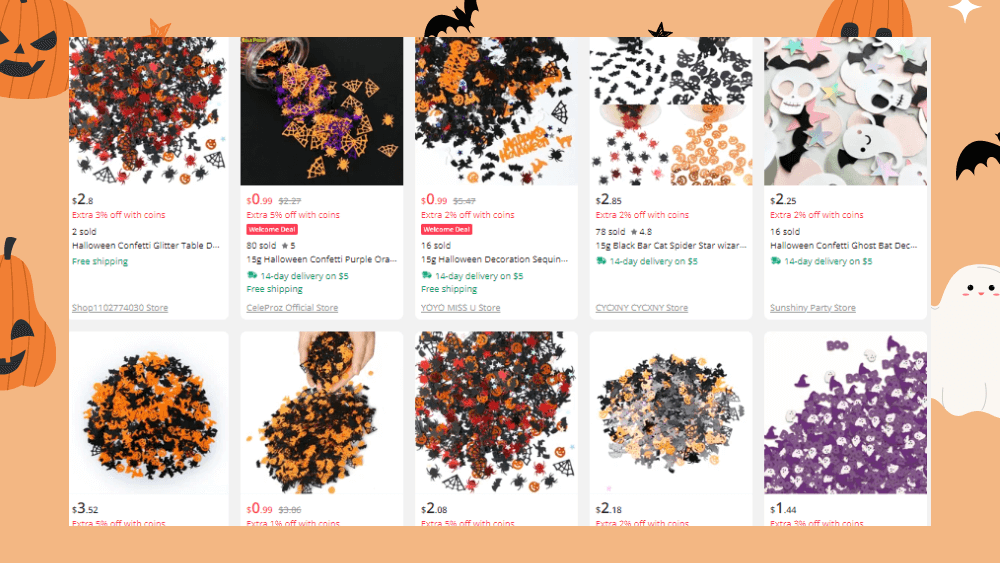 Note when choosing Halloween dropshipping products
Besides our recommendations, you can pick whatever products you feel are right for your dropshipping store. But remember, not all products do well during Halloween. So, before you make your final decision on the best dropshipping product, take a look at these criteria to help you make the right choice:
Things to choose
Products that are suitable for selling in your store will share certain common characteristics. Let's take a look at a few of them:
Customer Preferences: The products that will perform best will be those that align with your target customers. Hence, you should choose products that resonate with their interests and preferences. Don't forget to keep in mind age groups and demographics.
Not Readily Available: Opt for Halloween products that are unique and not commonly found in local stores. By offering products that stand out from the ordinary, you can attract more customers to your online store.
Fast Delivery: Since Halloween falls on October 31st, customers expect their Halloween-themed products to arrive before the holiday. Choose products that can be delivered quickly, especially if you're targeting US customers.
Versatility: Choose products that can serve multiple purposes, like being suitable for costumes, parties, or home decorations. Versatile items provide more value to customers.
Things to avoid
Not all Halloween products can be dropshipped, or effectively dropshipped. As a result, you should steer clear of those that possess some of these characteristics:
Legal Issues: Be cautious with products that might infringe on copyrights, trademarks, or intellectual property rights. To avoid potential legal disputes, we recommend you do some product research beforehand.
Niche Overload: You should also avoid products that are too specific or cater to a very small audience. Niche items might not have widespread appeal, which limits your potential customer base.
Heavy or Oversized Items: Avoid selling Halloween products that are excessively heavy or oversized. These types of products can be challenging to ship efficiently, leading to increased shipping costs that could eat into your profits.
Get ready for the Halloween holiday season now!
Halloween gets more popular every year, so people start getting excited about it early. According to Statista, 33% of customers were already shopping for Halloween in 3 to 4 weeks in advance. That means some really eager shoppers might have even started looking by the end of August!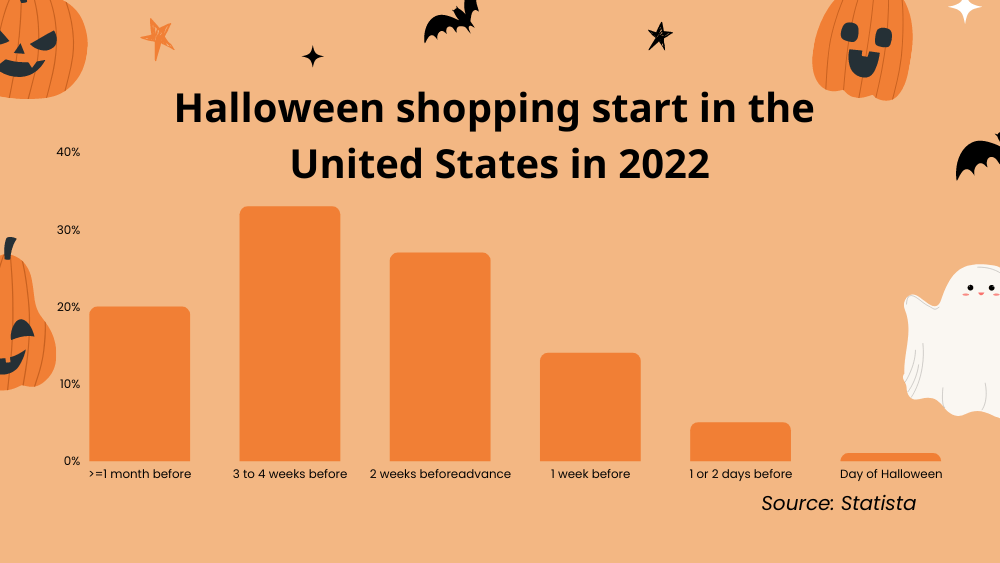 So, right now is the perfect time for you to get ready, show off your best Halloween stuff, and start making sales. With these awesome products that we've just introduced to you, plus a little bit more effort to create great Halloween marketing ideas, you're all set to step up your e-commerce game this season. Believe us, this combo can never go wrong!