TikTok, the video-sharing platform, has introduced an exciting new addition: TikTok text post! This fresh feature made its debut in July 2023, signaling TikTok's entry into the world of written content. It's as if TikTok is saying, "Hey, we're joining the text party too!". This innovative feature opens up new avenues for creative business ideas to stand out on TikTok. So, prepare to delve into this opportunity and let your words shine!
Introducing TikTok text post
TikTok's new text post feature is a fresh way for businesses to share written content on the platform. Now you can express your idea through stories, poems, recipes, and more with up to 1,000 characters. Just like Instagram Stories, you can customize the posts by adding background colors, music, and stickers. Thus, this is a fantastic opportunity to engage your audience with creative written content and make it even easier to connect with our customers.
Moreover, other users can interact with our text posts, like stitching, dueting, and commenting, just like they do with videos. This exciting addition allows us to diversify our content and show off our unique brand personality on TikTok's popular short-form platform.
TikTok text post feature: Be creative with your post!
Text posts come with a bunch of cool features that let you make your text-based content outstanding. So check out these awesome highlights:
Stickers and Background Colors: Text posts offer stickers that can be used to enhance the visual appeal and relevance of your content. You can choose from a variety of background colors to make your text stand out and catch viewers' attention.
Tags and Hashtags: Similar to video or photo posts, text posts allow you to tag other accounts and connect with relevant users. You can add hashtags that relate to trending topics, allowing your content to reach a wider audience.
Adding Sound: Sound is an essential part of the TikTok experience, and text posts also allow you to incorporate tunes into your written content. This feature can make your posts more engaging and enjoyable for viewers as they read through your content.
Draft and Discard: Like other types of posts, you can save your text post drafts for later editing or discard them if they are no longer relevant or suitable.
Benefits of using TikTok text post
Using TikTok text posts offers several advantages for businesses. Let us run you through some of the biggest benefits of using text posts on TikTok:
More expressive: Text posts provide a way to share content that is more suited for the written format, such as recipes, detailed explanations, statements, and announcements. This allows businesses to convey information more effectively without being limited to video constraints.
More diverse content: Text posts add variety to your content mix. While video content might dominate, mixing in text posts can make your profile more diverse and interesting. This can lead to increased engagement as your audience experiences different types of content, keeping them intrigued and coming back for more.
Simple to use: Creating TikTok video content can be time-consuming, involving recording, editing, and aligning. On the contrary, text posts are quicker and simpler to create as you're not dealing with recording videos.
How to create TikTok text post
Creating a TikTok text post is extremely easy, requiring just a few simple steps. Hence, ensure that you are using the latest version of the TikTok app. It doesn't matter whether your account is a personal account or a business account; both are supported by this text feature.
Step 1: Open your TikTok app and click on the "+" camera icon to create a new post.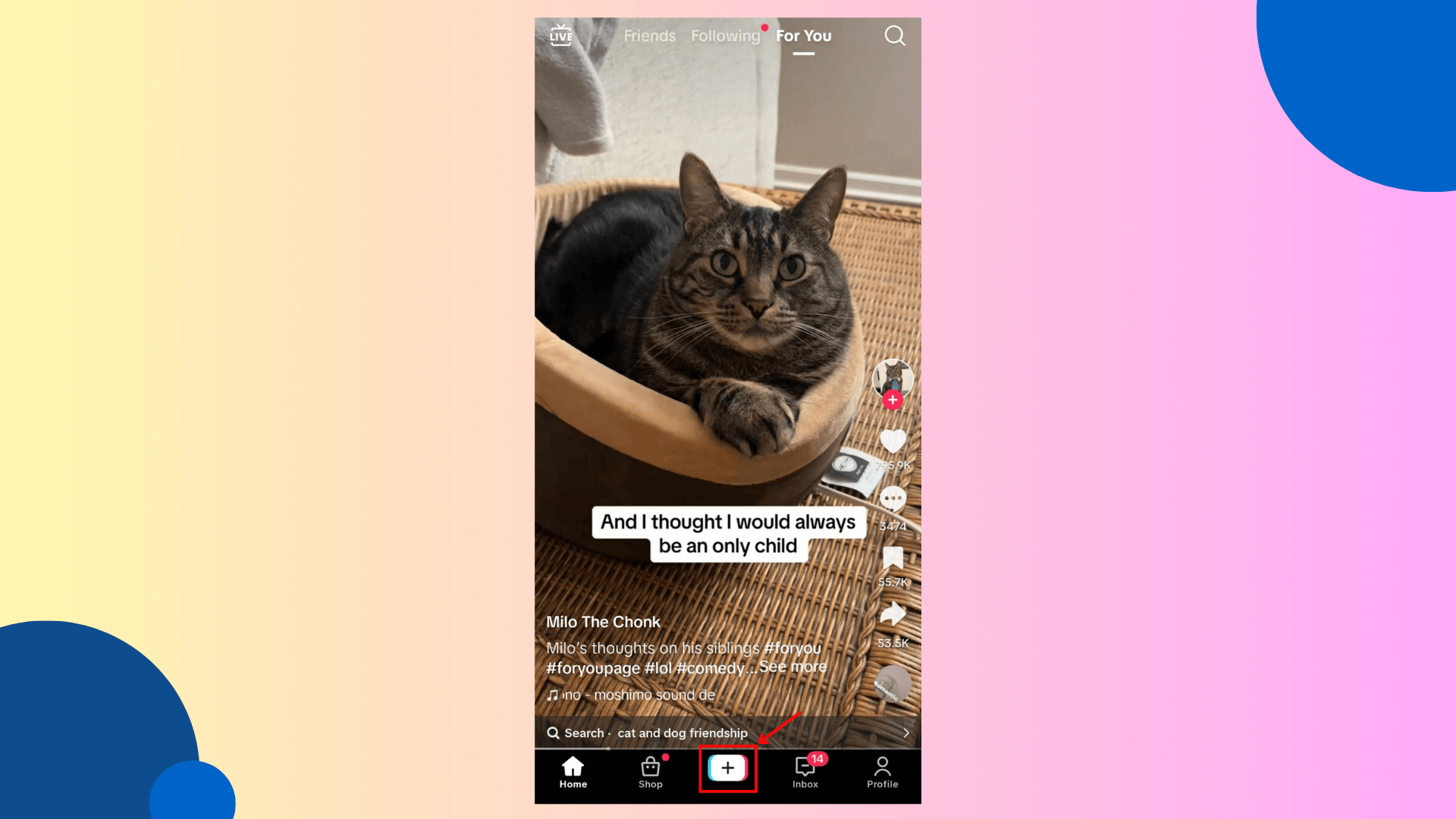 Step 2: Next, tap on "Text" among the options available at the bottom of the screen.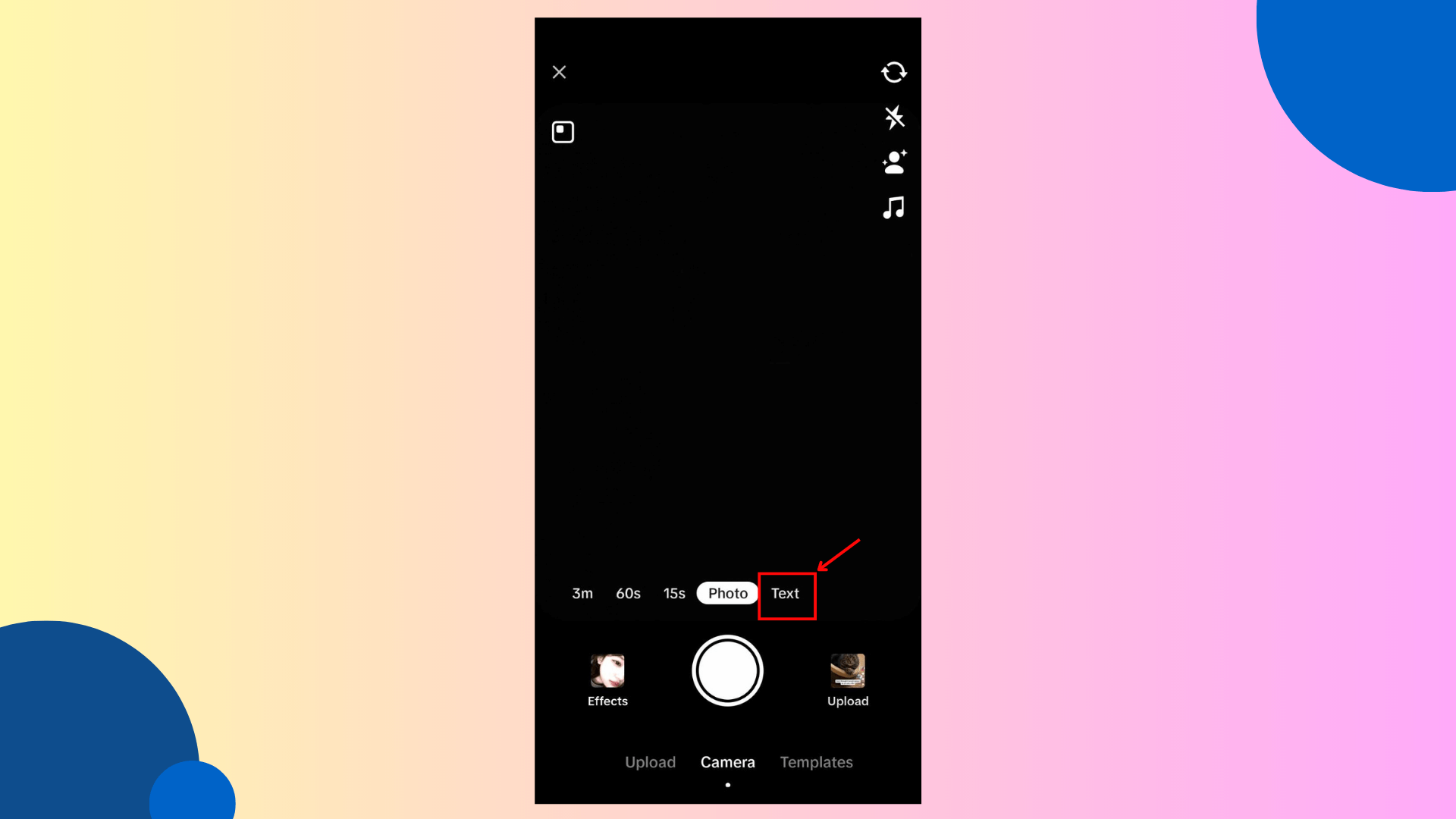 Step 3: Enter your pre-made text into the "Type something…" prompt. Adjust the fonts and colors by selecting from the options bar at the bottom of your screen. Additionally, you can also align the text for a more aesthetic look.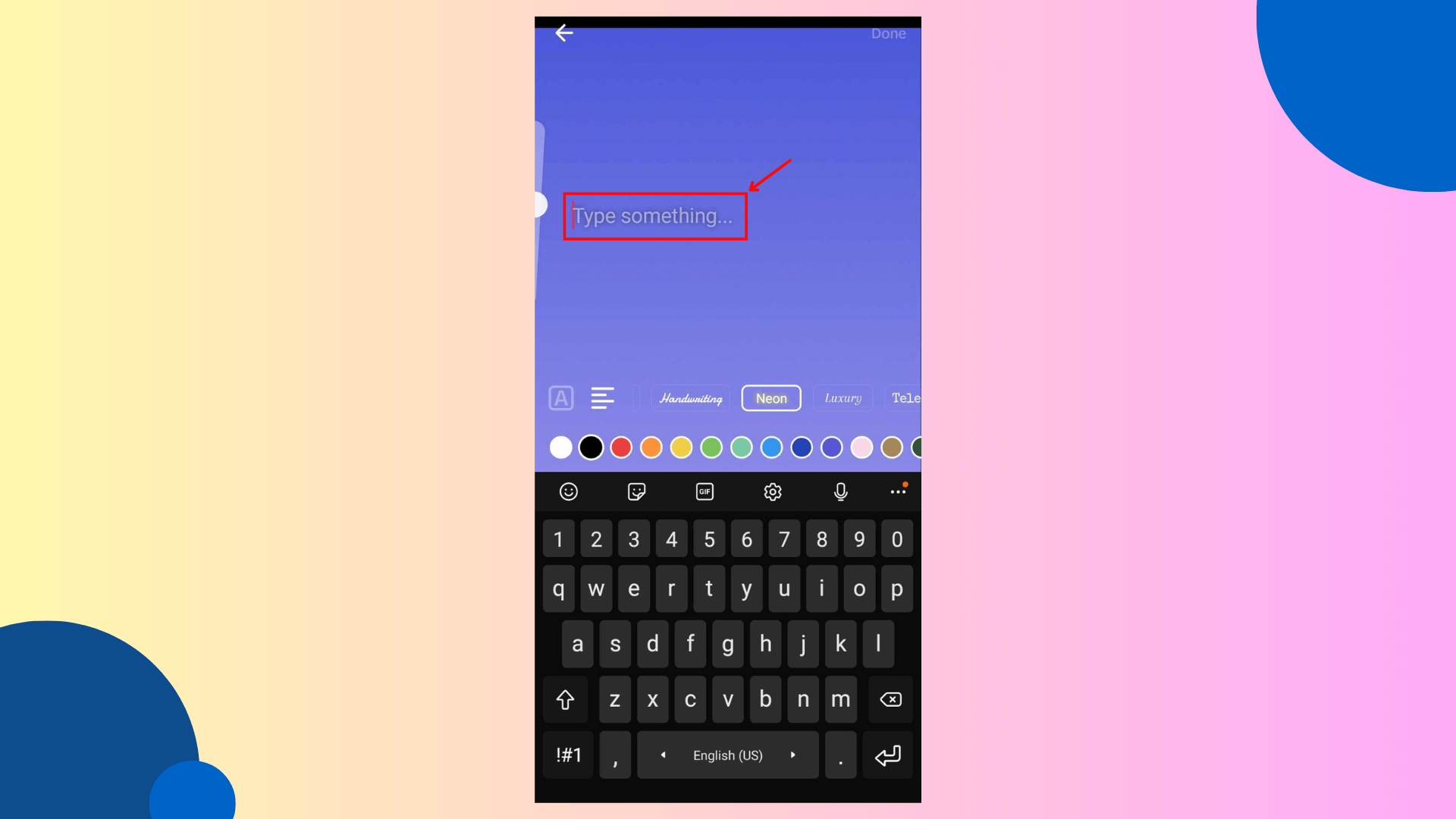 Step 4: Make your text post stand out with backgrounds and stickers provided by TikTok on the right-hand side. Unlike regular posts, text posts limit you to using default backgrounds provided by TikTok.
However, the Stickers section still offers a wide array of options for you to explore. These options include adding pictures, incorporating hashtags, creating polls, and using emojis.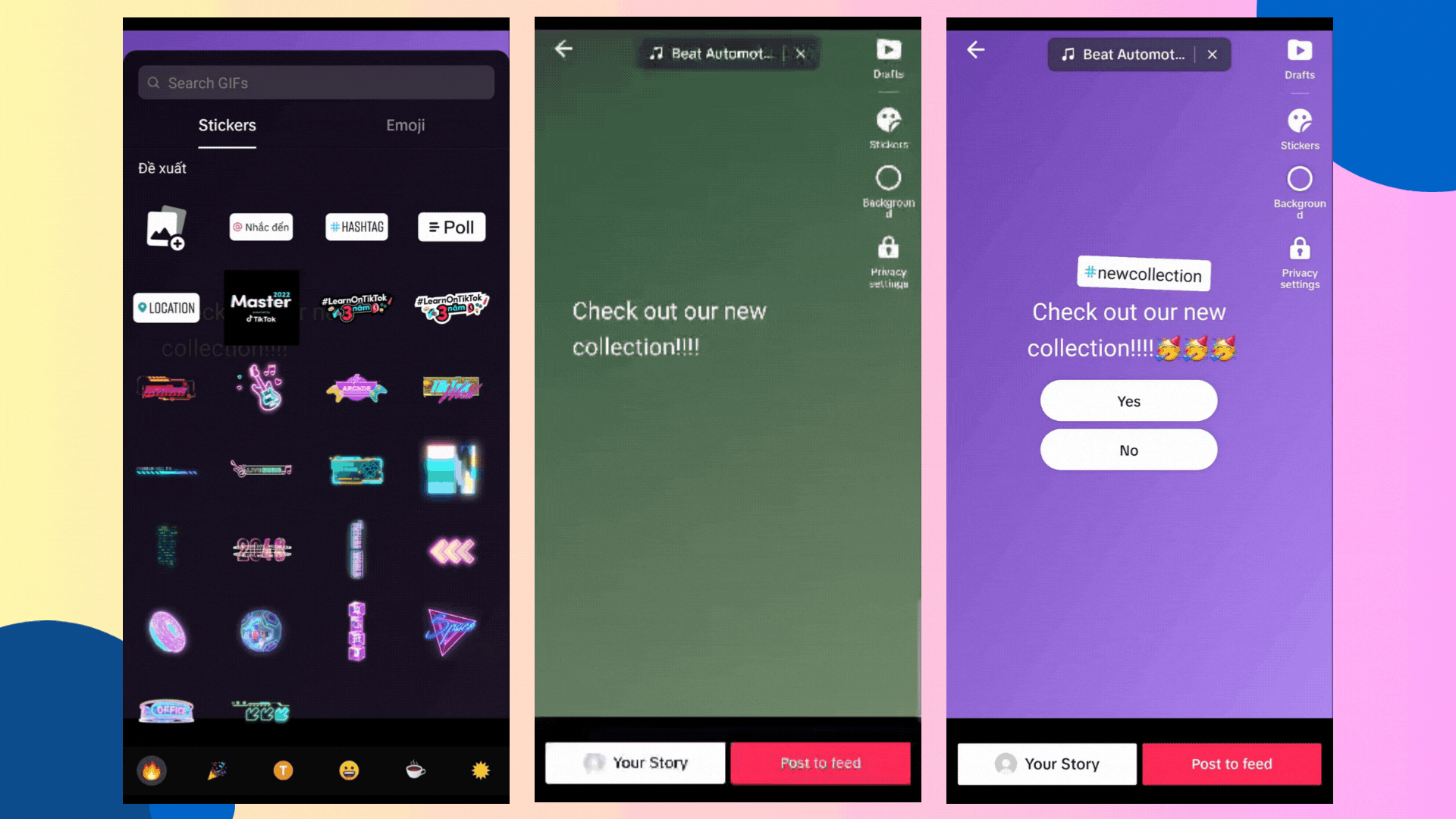 Step 5: You can also change the music so it is suitable to your intention. Check the top of your screen to change the music so that it's suitable to your intention.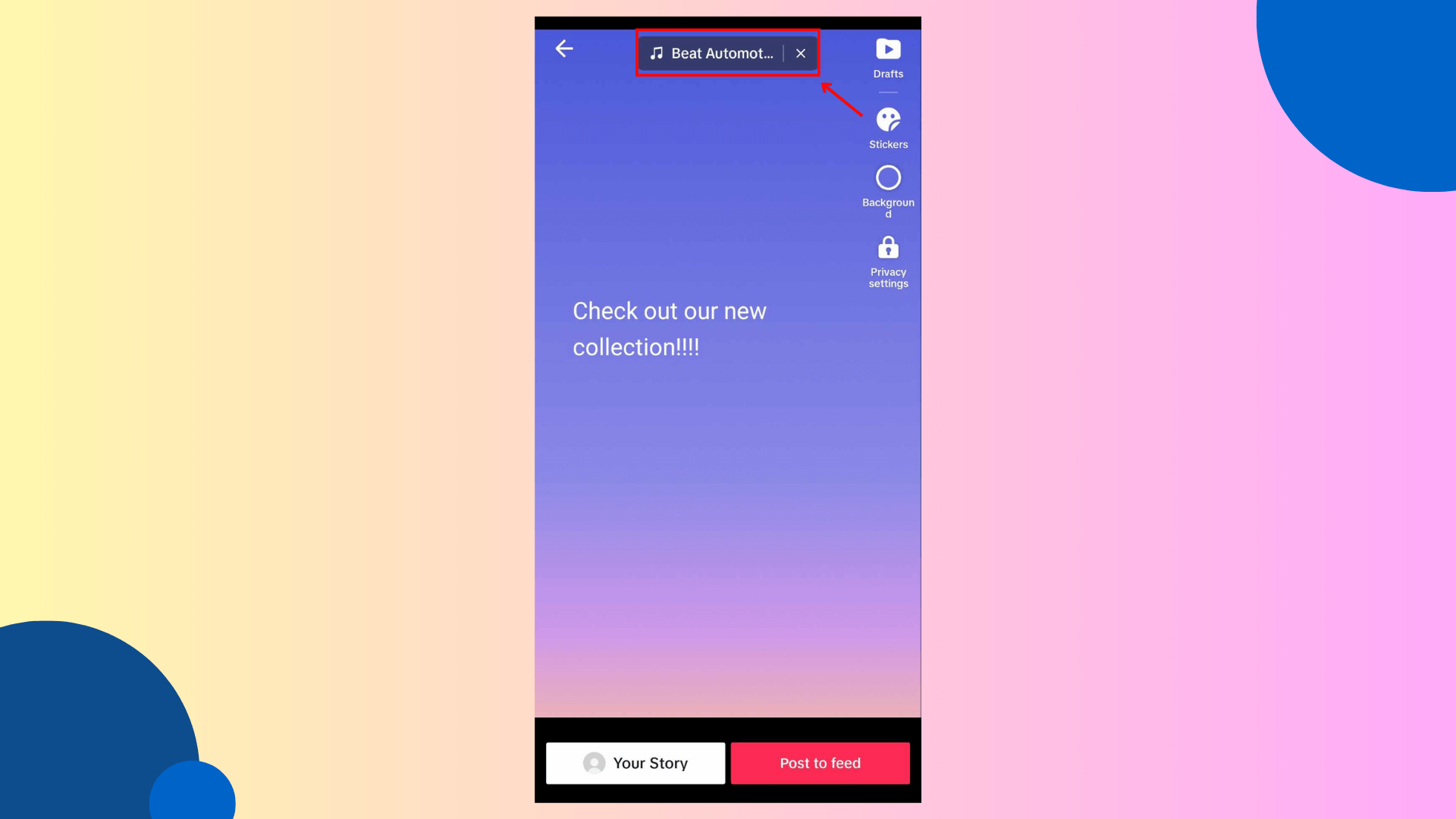 Step 6: Tap on Drafts if you need further editing. You can adjust your privacy settings to control the audience who can view your text post and manage your comment section.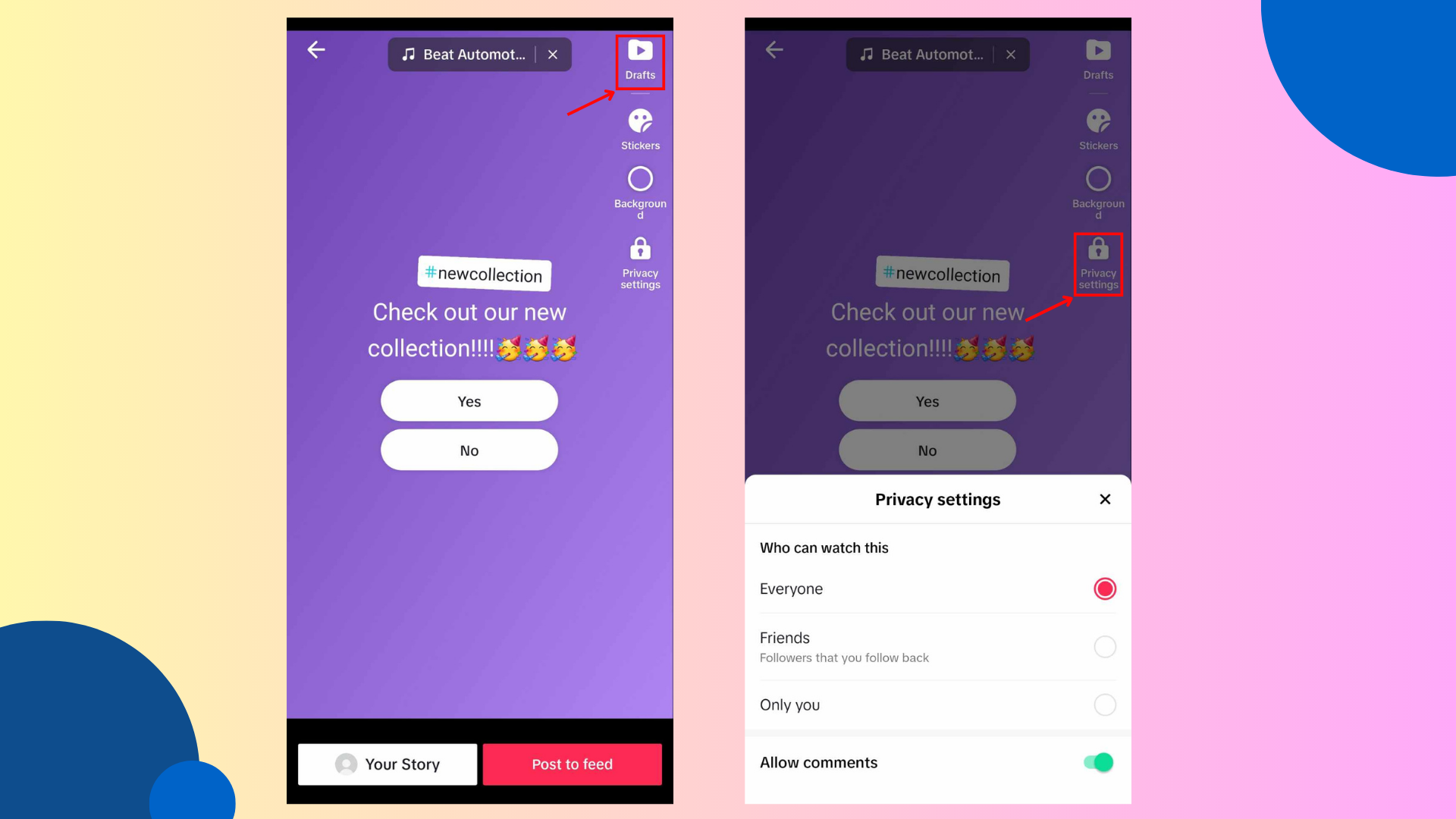 Lastly, when you finish all steps, you can choose to post on your feed or your story by choosing the option in the bottom section.
Stand out with this new TikTok feature!
TikTok Text posts have been released quite recently, bringing with them significant opportunities to shape new trends. So, why wait any longer? Don't hesitate to immerse yourself in experimenting with various forms of content to enhance your performance within this burgeoning TikTok content format. TikTok consistently rewards viral privileges to those who set the trends. By utilizing TikTok text posts and combining them with amazing tips for going viral, you can significantly increase your chances of appearing on multiple users' For You Page!