Setting up TikTok payment methods may be problematic for e-commerce businesses, especially when you're new to the TikTok Ads Manager. This advertising managing platform is really effective in helping you allocate your ad budgets and optimize your campaigns. However, without the right usage, you can easily find yourself in the situation of unsuccessful payments.
Understand this problem, we're ready here to provide you with all you need for smooth payments. In this blog, we'll show you all the payment options TikTok offers to advertisers like prepay, autopay, and monthly invoices. With this info, you can pick the payment method that suits your business best.
We'll also guide you through adding funds to your account step by step and help you tackle any unexpected issues. So, get comfy and learn how to set up TikTok payment methods in under 10 minutes.
3 types of TikTok payment methods
First thing first, let's go through different types of payment methods on TikTok. The Payment Type of your account will decide how and when your account is charged. There are two ways advertisers can choose to pay for their ads: manual payment and automatic payment. From that, they have three billing options below.
Prepay
If you choose Manual payment when setting up your account at first, TikTok Ads Manager will defaultly set your billing option to Prepay. Prepay requires you to pay a 100% advance deposit into TikTok's bank account before your ads can appear on TikTok. After that, an invoice for the prepaid payment you made will be sent to you. ​Payment can be made via Credit card, Debit card, and PayPal.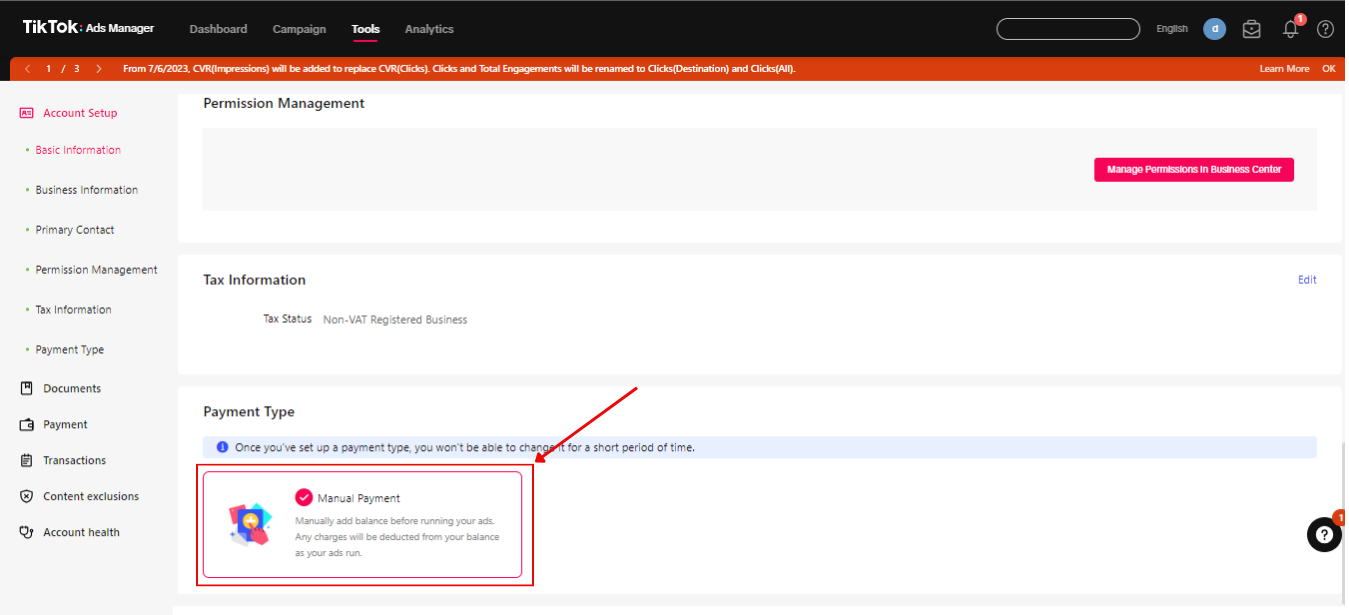 You'll need to keep a sufficient balance in your account to cover the cost of your specific ad campaign both before and during the campaign's running time.
If your balance is insufficient, TikTok can halt any current ad campaigns and/or refuse any new ad campaigns. Also, TikTok will not distribute any ads that are in excess of your balance, which can lead to TikTok ads not delivering problems.
After each campaign, your remaining payment will be carried over and deducted from the fees due and payable for the following campaign.
Automatic payment
With Automatic Payment (Auto-Pay), ad delivery charges will be automatically billed to your account when you reach your account's billing threshold or bill date – whatever comes first.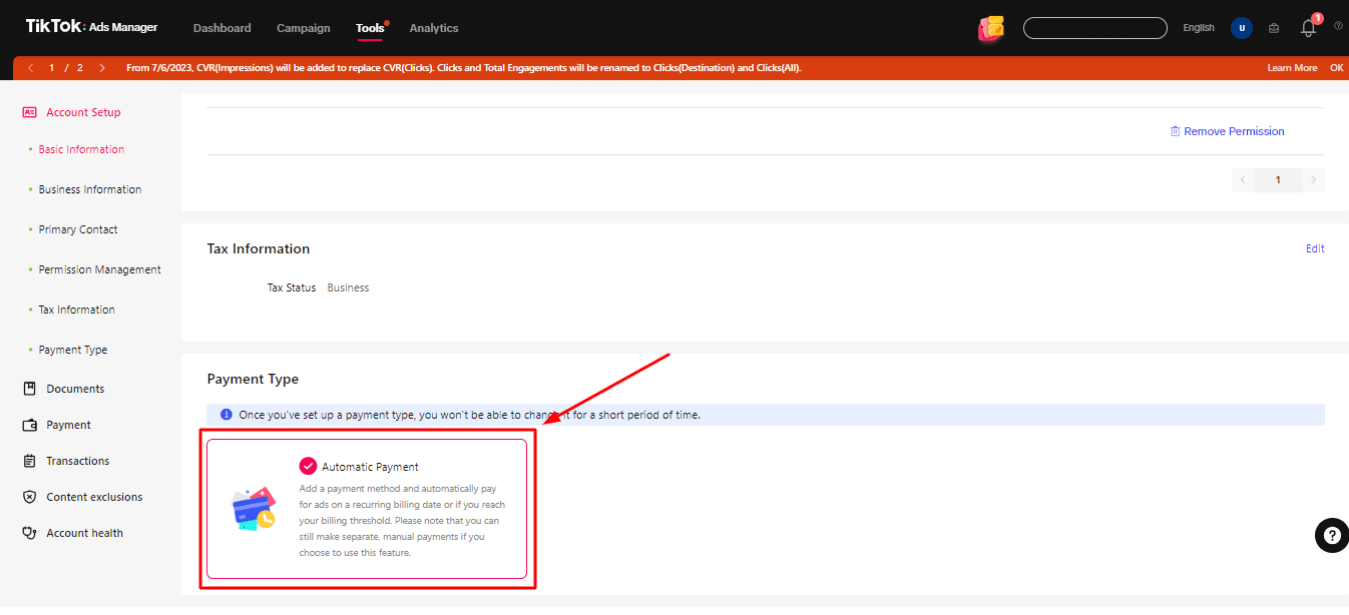 There are two bill dates supported by TikTok Ads Manager: weekly and monthly. The platform will use your registration time and historical spending to determine when your account will be billed. After charging your account, TikTok will give you a notification of the current payment date and payment threshold amount on your Transaction page.
You can make payments via credit card, debit card, and PayPal. If a payment attempt is unsuccessful more than twice, TikTok reserves the right to cease active ad campaigns or reject new ad campaigns until you pay the bill.
Monthly invoice
​Monthly invoicing is a billing option that's available to qualified businesses. If your business is eligible for this type of payment, you will receive an invoice for the Ad Buying Transactions on a monthly basis or after the order ends, due 30 days from the invoice date. Payments may be sent to the bank account shown on the invoice and can be made via bank transfer, credit card, or any other TikTok-accepted payment method.
To be eligible for this billing option, your account needs to meet these requirements:
You have agreed with the Auction Framework Agreement
Your account is a managed account
You don't have a history of setting up Monthly invoicing
Your account is currently not billing in Manual Payment
For more details, we recommend you contact your sales representative to receive further support from TikTok.
How to add payment methods on TikTok?
When you create a TikTok Ads Manager account, TikTok will require you to set up a payment method right away. Here, you can only select Manual Payment or Automatic Payment. After finishing this step, you won't be able to change your payment method. Therefore, make sure that you are choosing the right payment methods that are suitable for your capacity.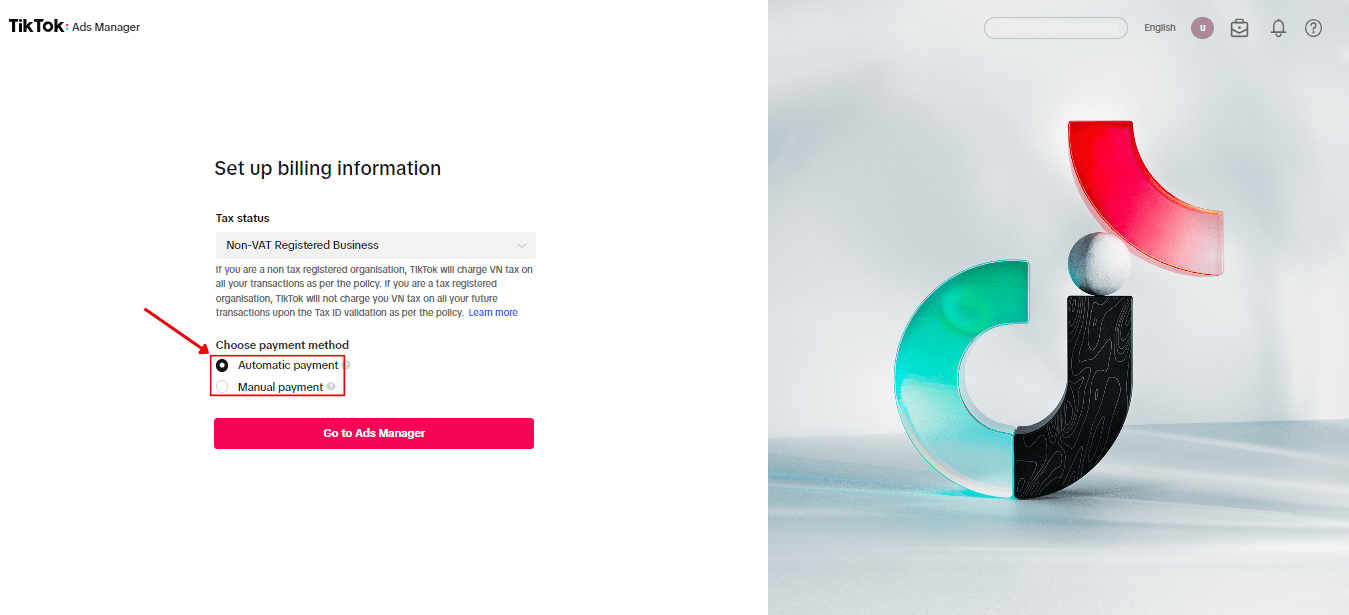 Now, it's time to set up your payment methods and start running your ads. The following guidelines will show you how to do that in the simplest steps:
Set up Manual payment method on TikTok
Step 1. Login to your TikTok Ads Manager account.
Step 2. From your TikTok Ads Manager's Dashboard, click on Payment in the left corner. It will navigate you to the payment section.
Step 3. Select Add Balance and type in the amount of money you want to add more. Then, click on Next.
Step 4. Lastly, choose one accepted payment method and fill in the information needed. Available payment methods will vary depending on your location and currency.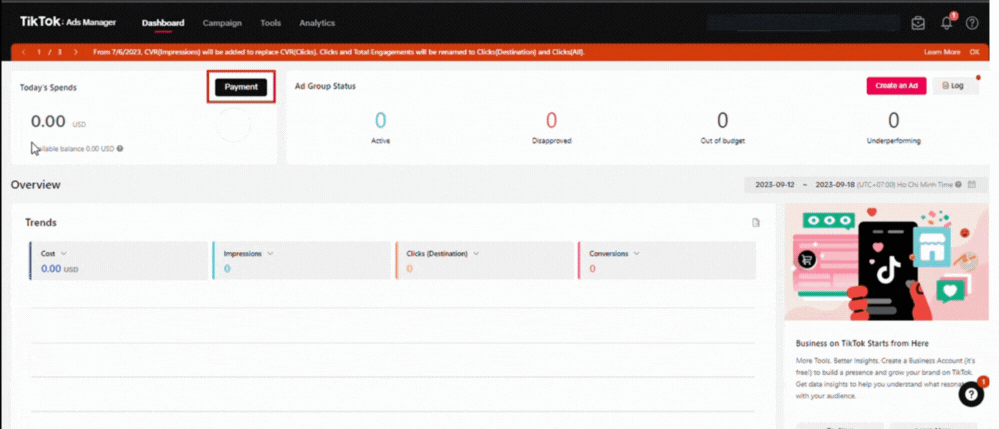 Please note that the top-up limit per transaction is $20 ~ $50,000 in USD and equally in other currencies. If the transaction is successful, your Account Balance will update with the new amount. Otherwise, you need to try again or troubleshoot the failed payment.
Set up Automatic payment on TikTok
Automatic Payment can be set up in the TikTok Ads Manager or TikTok Business Center. You will need a valid payment method in order to use Automatic Payment. Please note that after June 2021, TikTok stopped accepting prepaid cards for autopay.
When you add a payment method, it will immediately undergo 3DS verification. TikTok will promptly withdraw 10 USD from your card and refund you for this charge within 15 days. This is required to ensure the card is valid.
Add a payment method in TikTok Ads Manager
Step 1. From your Ads Manager dashboard, find the Payment tab or click on your profile icon and select Payment.
Step 2. Add a supported Payment Method to your account (Card or PayPal) and fill in your information.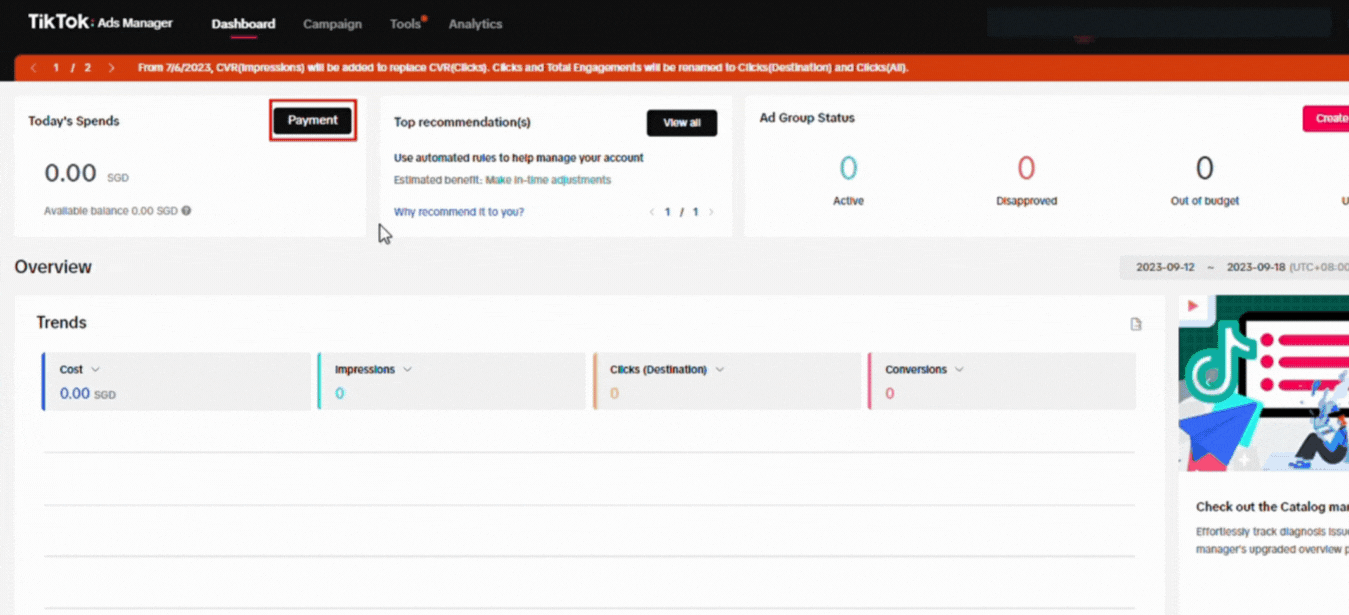 Add a payment method in the TikTok Business Center
Step 1. ​Go to Business Center > Finance > Payment > Payment management
Step 2. ​Find the ad account to which you want to add a payment method and click Link payment method.
Step 3. ​Add card information and click Submit.
Note: This way of adding payment methods is only applicable to managed accounts. This is an account that is created and managed by a TikTok representative on behalf of a business or an agency.
TikTok payment unsuccessful
TikTok ads payment unsuccessful is a really common situation that businesses have when adding more balance to their Ads account. It can be a result of incorrect data entry, a bad network connection, or problems with bank authorization. However, don't worry too much, as you can totally fix this error.
Common reasons
First, let's get specific about some issues you might run into:
Unsupported payment
Unsuccessful payment
Invalid payment
Insufficient funds
Unsuccessful authentication
Payment information failure
Tips to troubleshoot payment issues
Yes, TikTok payment failure is something that you can fix. However, it will take you more time and effort, which can be a nuisance. Therefore, in order for your payment to run smoothly without any trouble, we recommend you take some of these steps before adding your balance:
Verify payment information
​Double-check the payment information you entered on TikTok Ads Manager.
Assure your credit or debit card is valid and has not expired.
​Confirm your account has enough funds or available credit to cover the payment.
Check your internet connection and browser and clear your caches
Try completing the payment in incognito mode after clearing your browser's cache and cookies.
The 3D Secure Verification page may not load if you are using a VPN or pop-up blocker, so turn them off.
Use a different browser to complete the transaction.
Clear the cache in the TikTok Ads Manager. Log into your Ads Manager account, then modify the URL by adding &reset cache=1 at the end.
FAQs
How do I change my TikTok payment method?
Go to Payment > Payment Methods > Click on Add a New Payment Method and fill in new information. What's more, you can set primary payment by clicking the three dots on the payment you choose.
Can I add multiple payment methods to my account?
Yes, TikTok allows you to add many payment methods to your ads account. Just simply click on the plus icon right next to your current payment method, and TikTok will let you fill in information for a new one. Remember to set one of the methods as your primary one on the Payment page.
How do I change the currency on TikTok Ads Manager?
Unfortunately, the time zone, country/region, and currency cannot be edited. To change that information, you have to create another account with another time zone, country/region, or currency.
How to remove a payment method on TikTok?
Go to Payment > Payment Methods > Choose the payment you want to delete > Click the three dots and select Remove.
Running TikTok ads without payment issue
TikTok payment methods are now under your control. By adding payment methods or solving unsuccessful payments, you are able to manage and allocate your ad budget better. You also can create TikTok ads with no further issues and avoid interruption while setting up your campaign.
So get ready to make awesome TikTok ads, especially with the help of our experts at NestAds. NestAds is the perfect ad management tool that is tailor-made for e-commerce businesses and will assist you with any payment-related problem. Feel free to contact us and master TikTok advertising in the shortest time.