TikTok is taking the world by storm, boasting over 1 billion active users as of March 2023. This social network sensation is capturing the attention of marketers worldwide, emerging as a promising platform to showcase products and services. In 2020, Shopify merchants received exciting news when Shopify partnered with TikTok, offering them greater access to the popular social platform. But why is it crucial for your Shopify store and how to connect Shopify to TikTok?
In this article, we'll dive deeper into how to connect Shopify to TikTok and uncover the secrets to effectively bringing your Shopify store to this thriving market. Keep reading to boost your sales on Shopify!
5 steps to connect Shopify to TikTok
Here are the simplest steps to connect Shopify to TikTok in just a few minutes:
Step 1: Instal TikTok app to Shopify
Log in to your Shopify store, click "Add apps" on the bottom left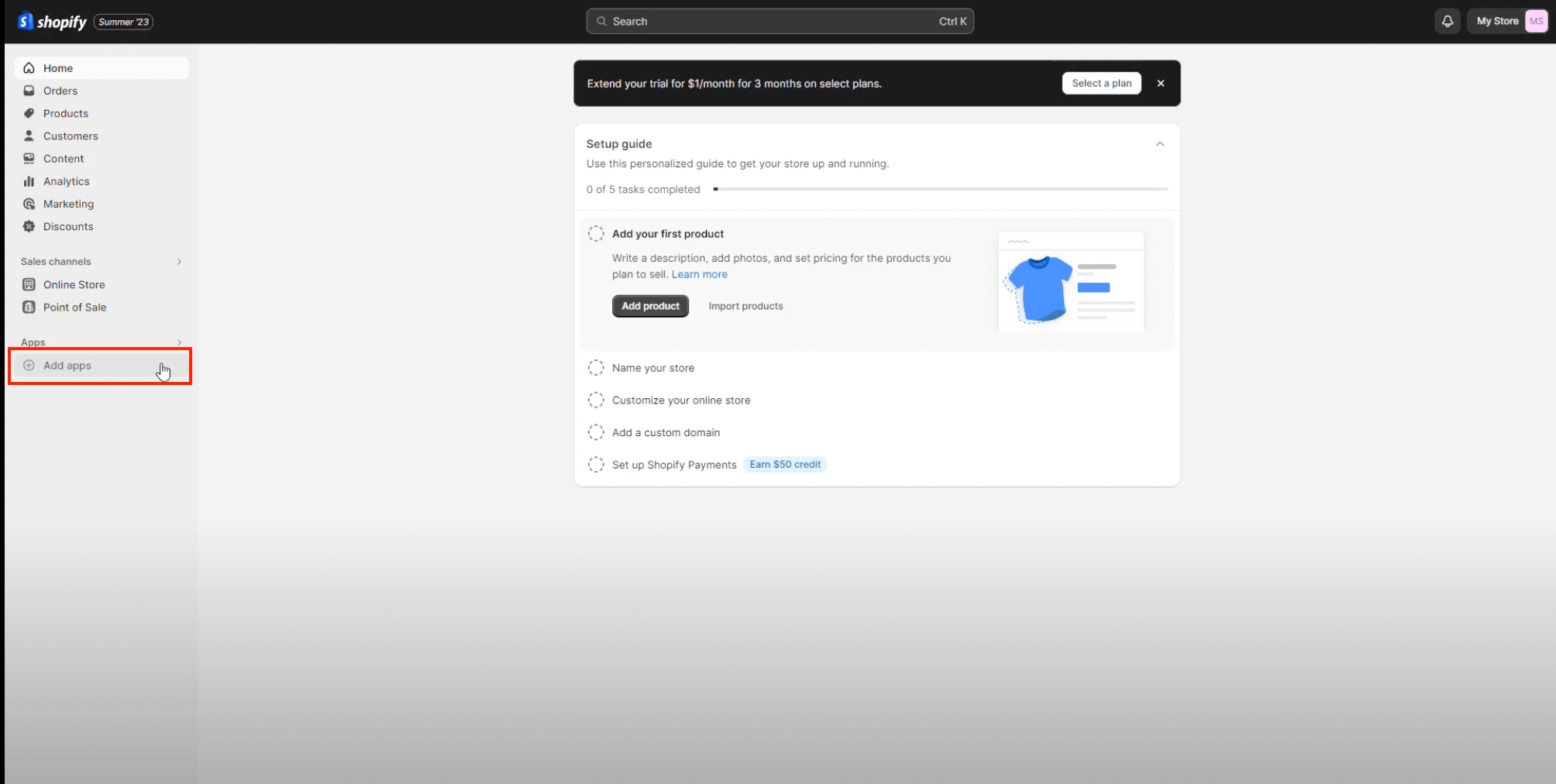 After that, hit "Shopify app store" and search for "TikTok". Click "Install" to add the app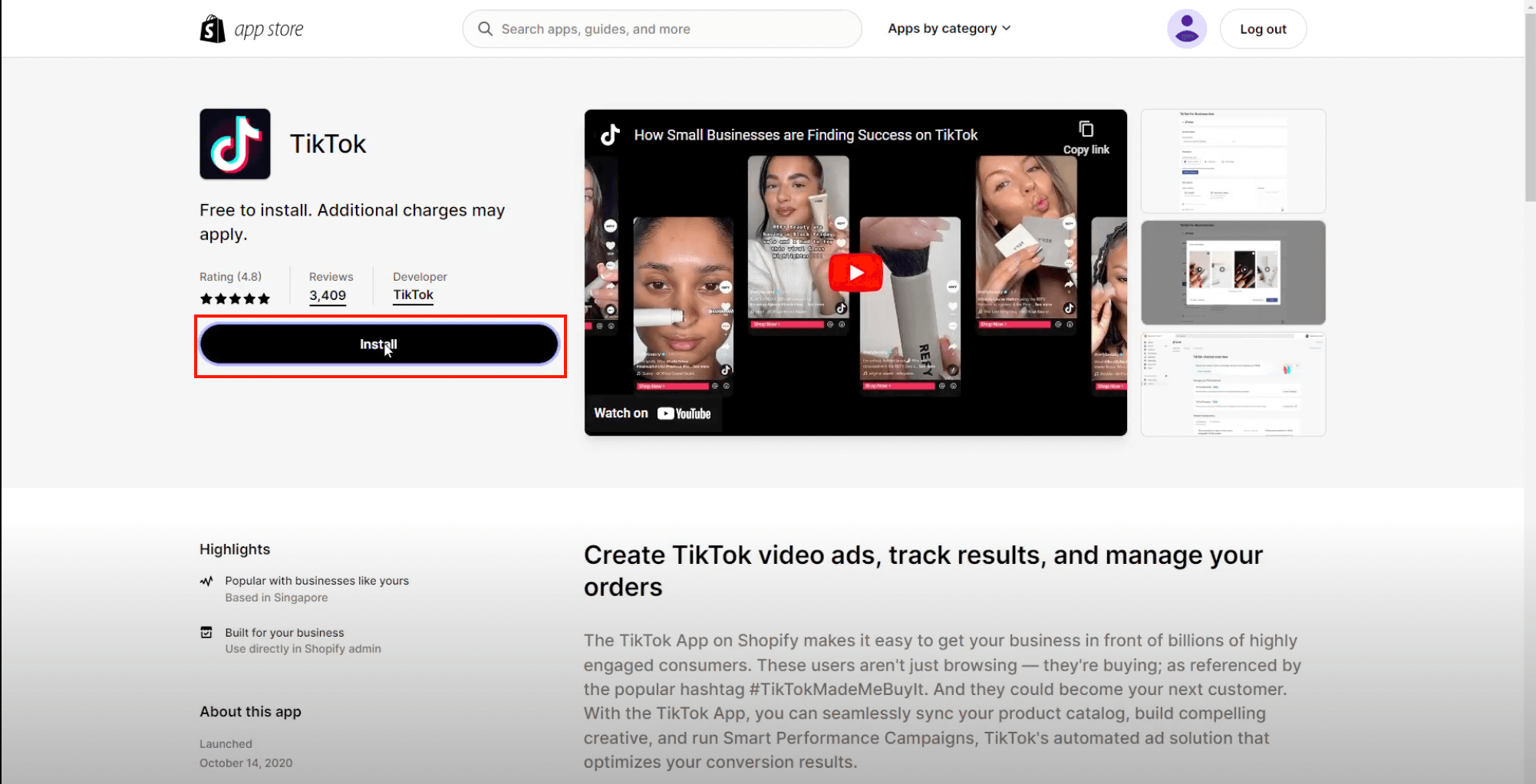 Step 2: Setting up
Click "Add sales channel" to connect Shopify to TikTok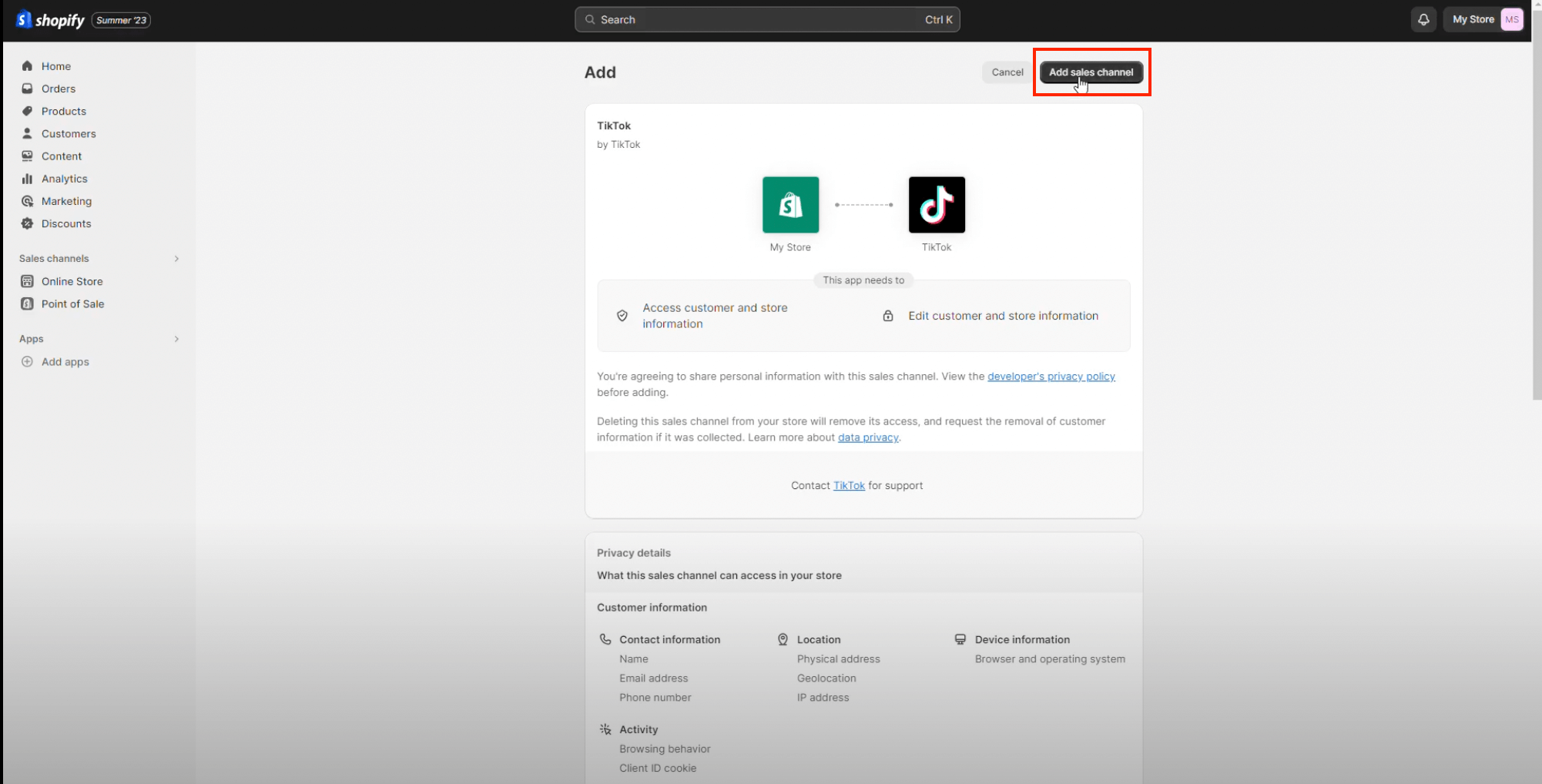 Under "TikTok channel overview", click "Set up now"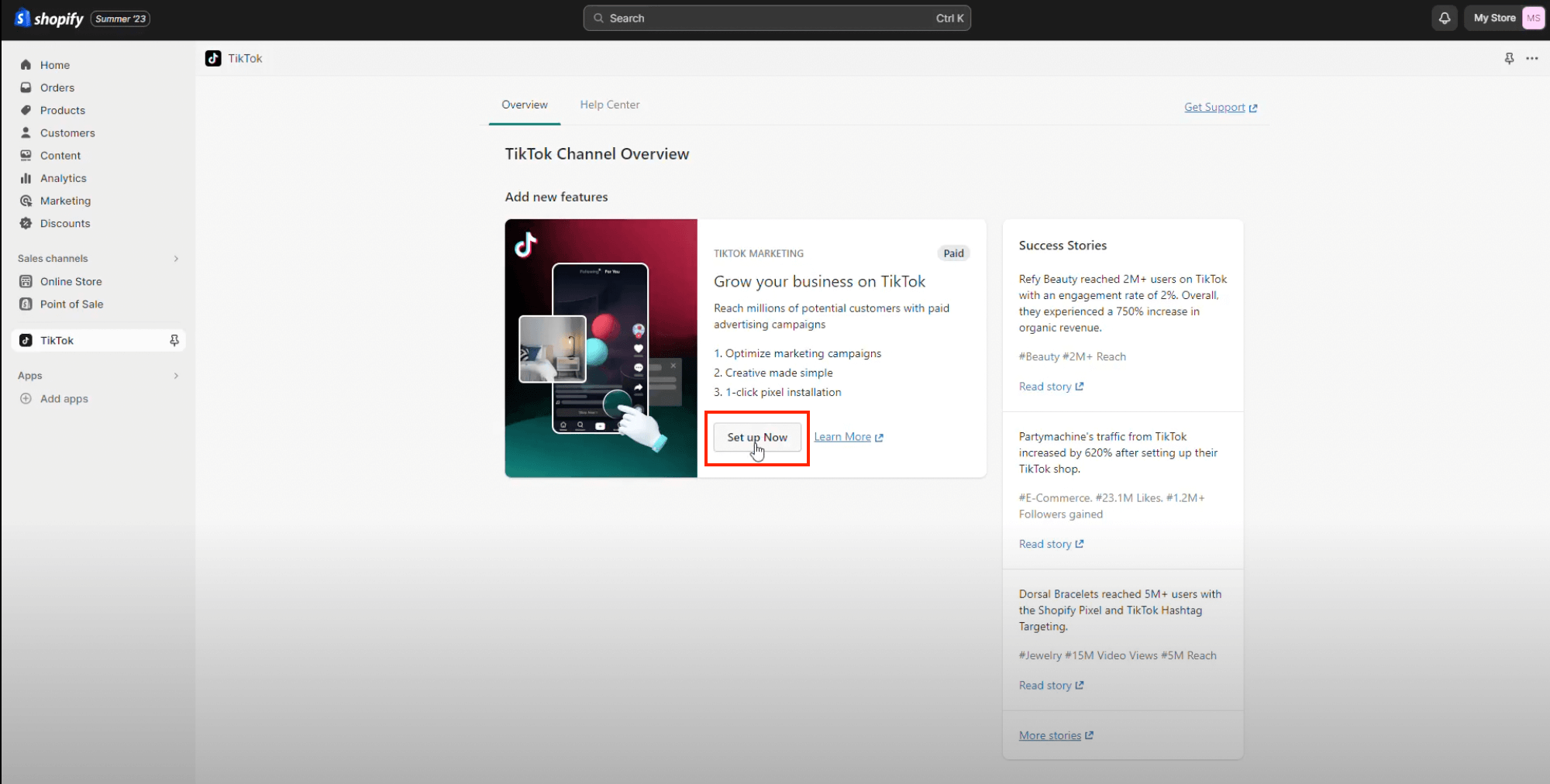 Step 3: Connecting to TikTok for Business
When setting up successfully, click "Connect" if you already have a TikTok Business account or "Create New" if you currently do not have one. Then "Connect" or "Create" a new TikTok Ads Manager

Step 4: Choose the level of data sharing
Pick the level of data sharing you're comfortable with. TikTok gives you options for how data is gathered and shared between your online store and TikTok. You've got three levels to select from: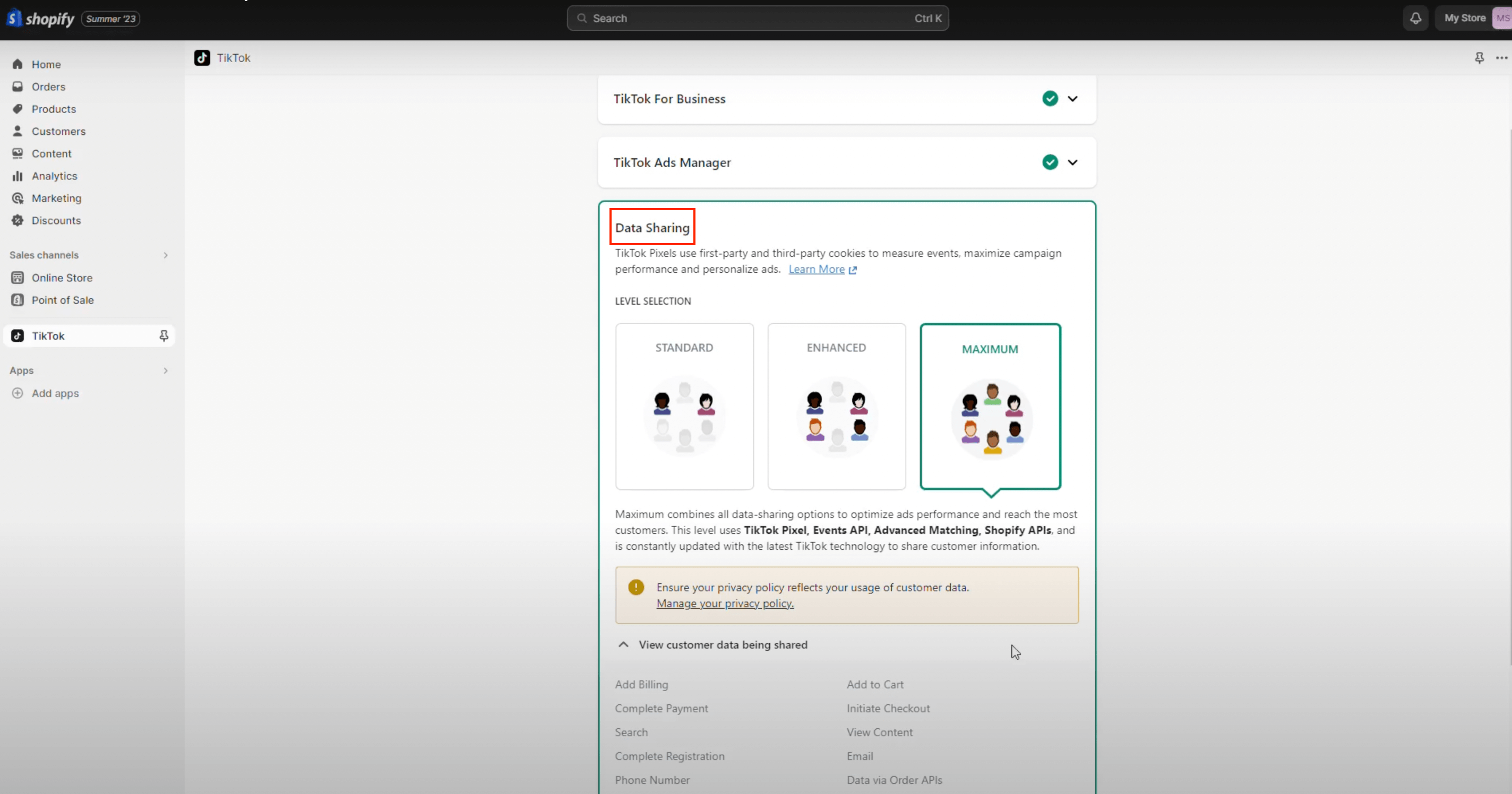 Click "Connect" if you've already had TikTok Pixel before, or "Create Pixel" to create a new one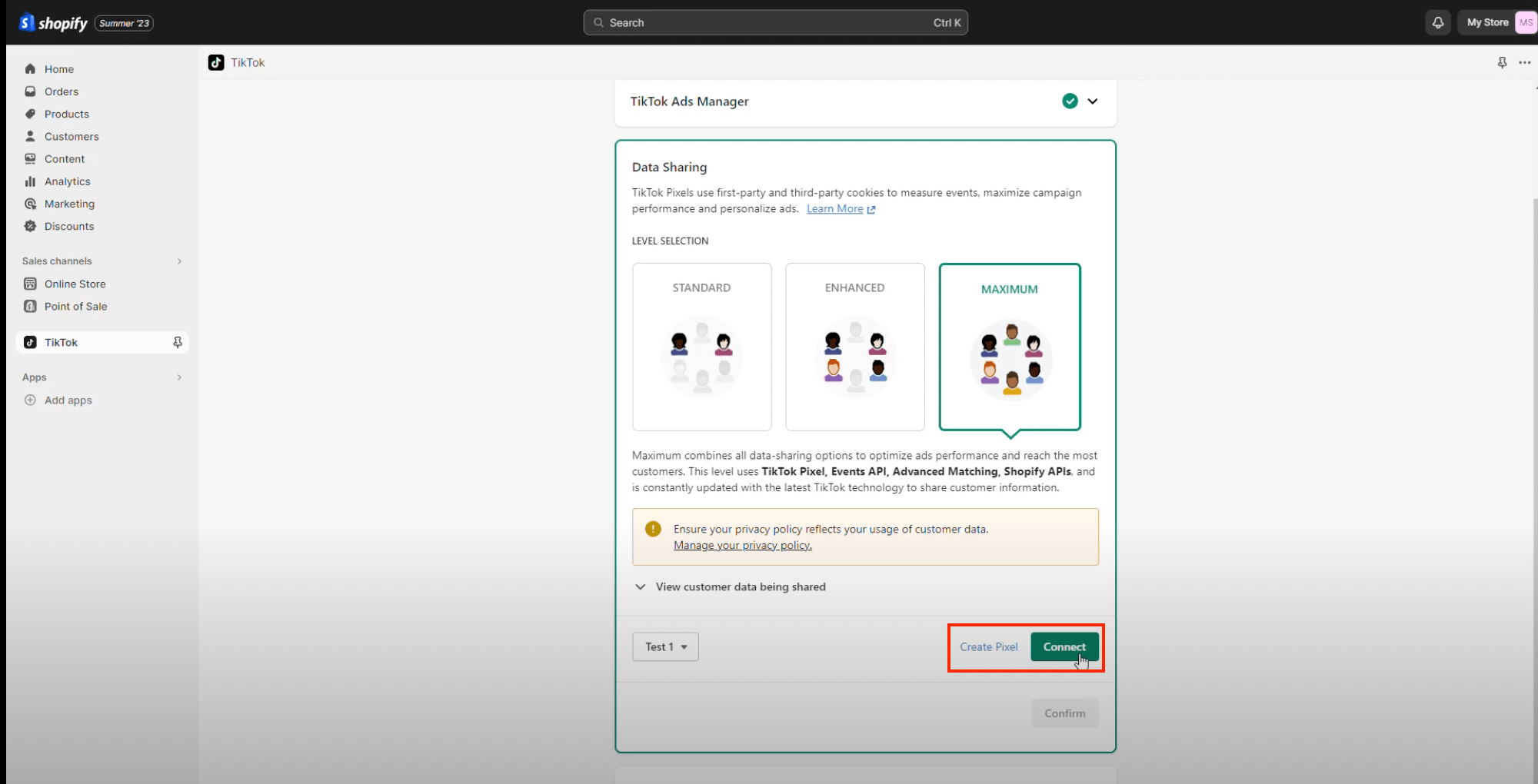 Step 5: Finish connecting Shopify to TikTok
Now you'll see your store information has already been set up. Scroll down and click "Finish Setup"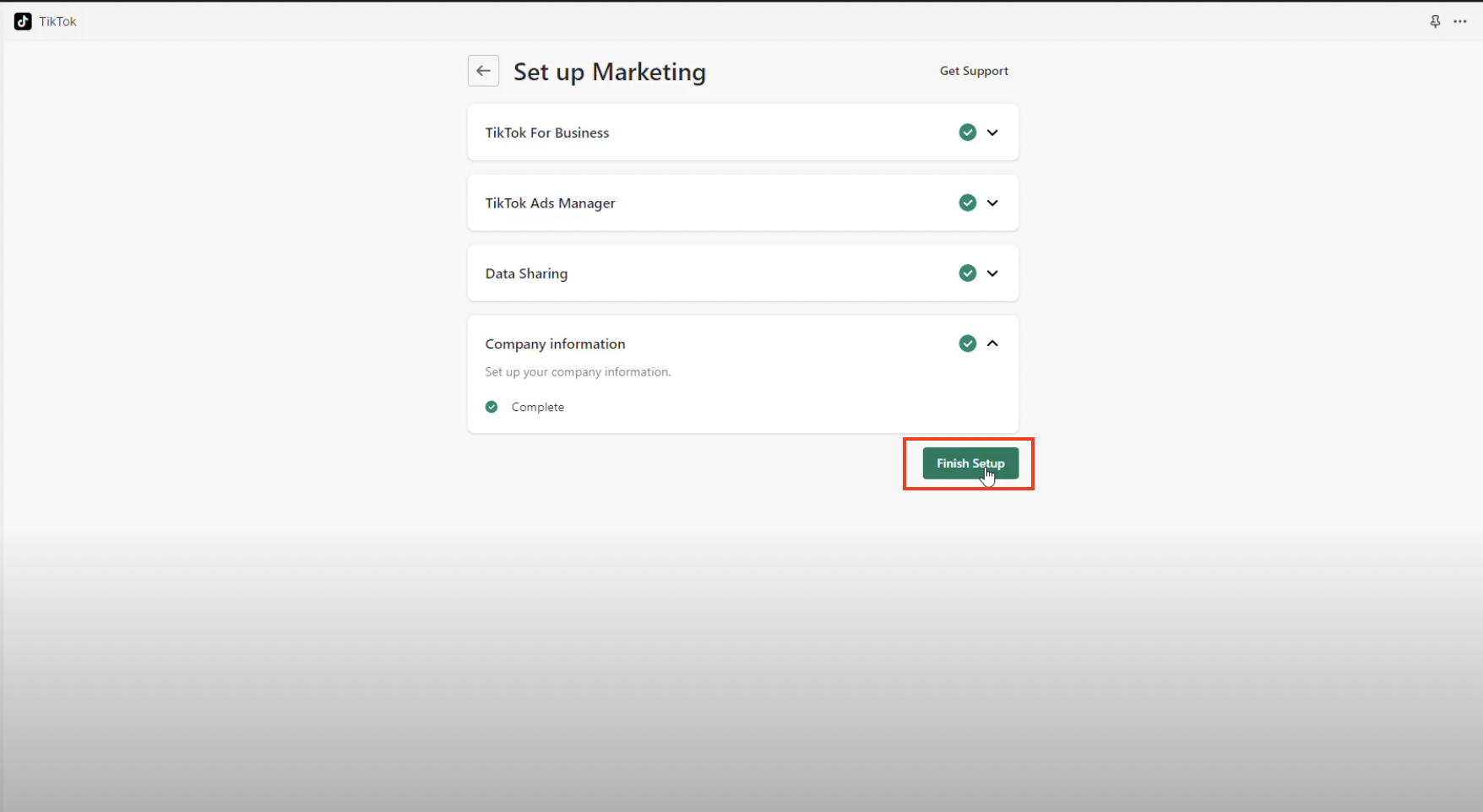 Now you have completed the process of connecting Shopify to TikTok.
Set up marketing catalog
Next step, after finishing connecting Shopify to TikTok, you will see the option to set up your marketing catalog if you want. This enables you to synchronize your Shopify products with TikTok, enabling the utilization of ad formats such as Collection Ads.
Step 1. Click on "Start Setup" below the Marketing Catalog section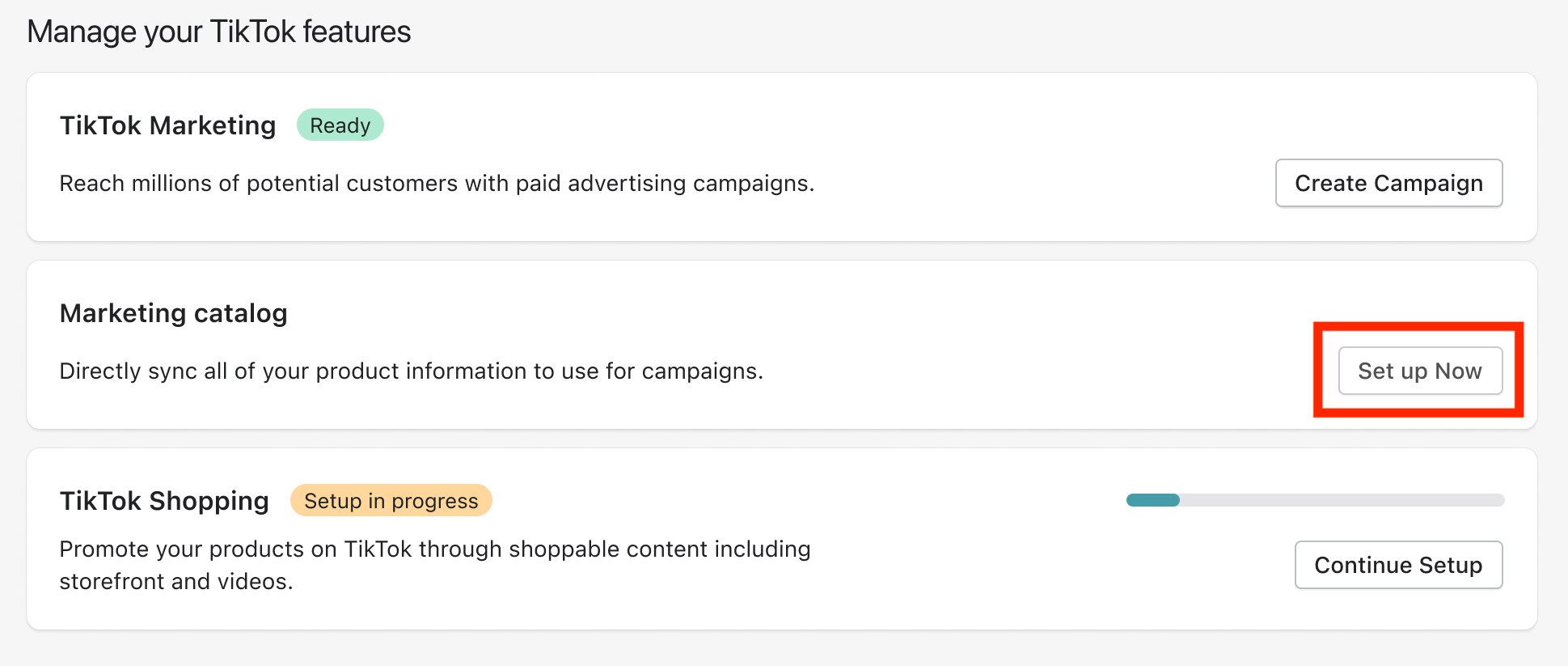 Step 2. Choose a TikTok Business Center Account to connect your product catalog with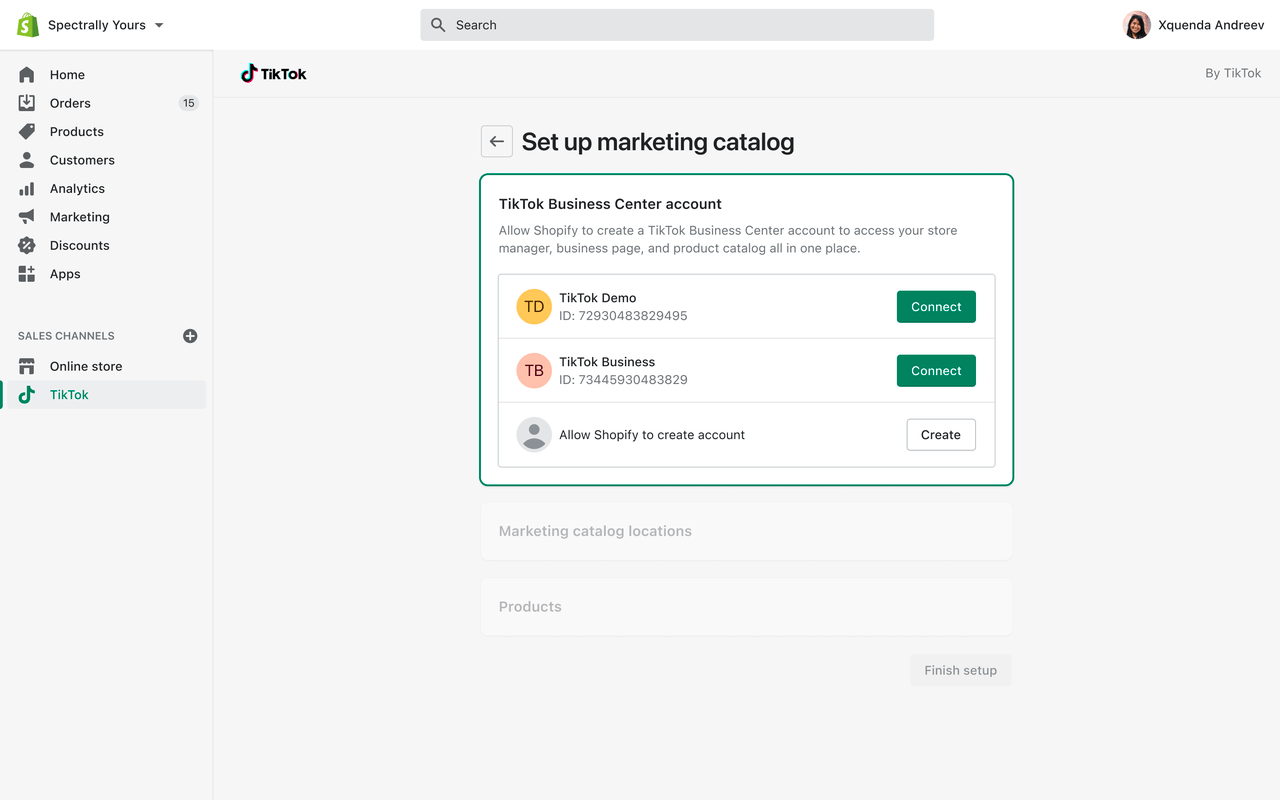 If you're linking to a Business Center you already have, you might have to provide admin access for it in your TikTok Ads Manager account.
Step 3. Choose a marketing catalog location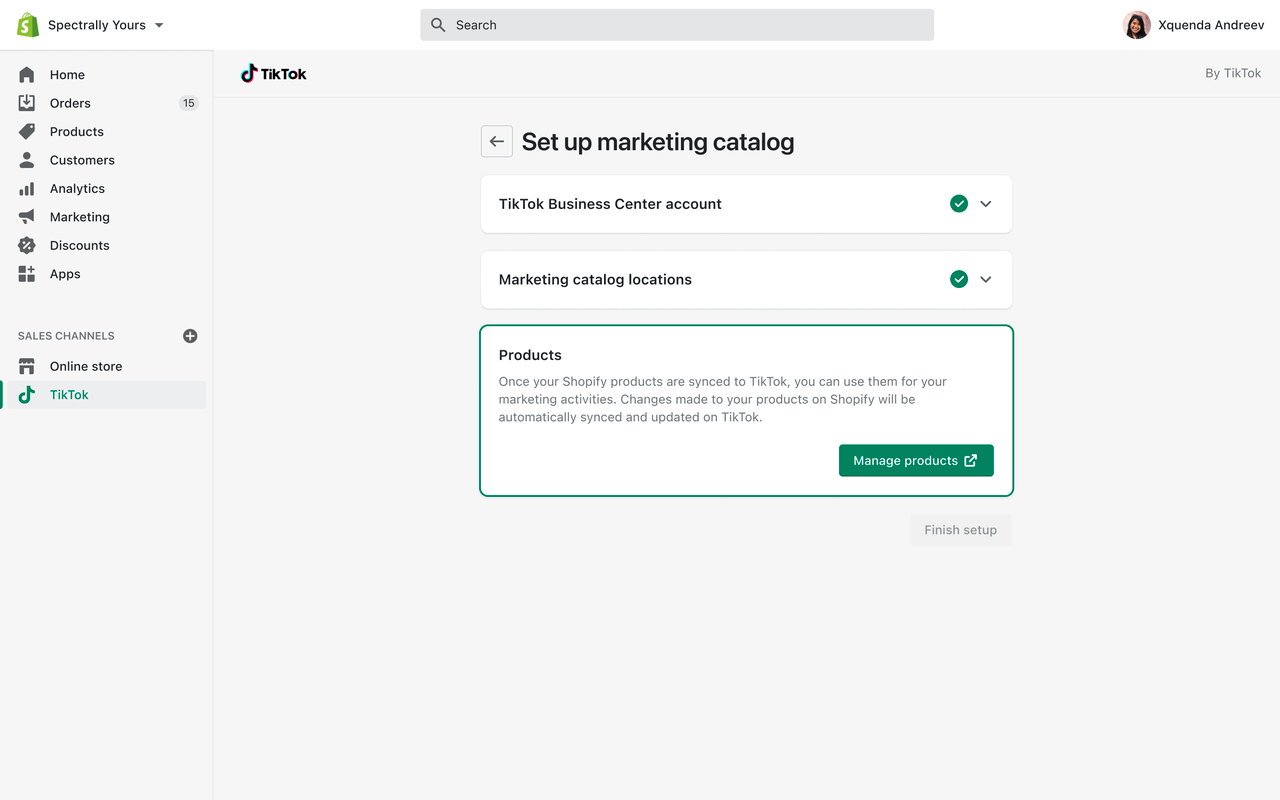 Your main location is set according to your Shopify account settings. You can only select extra locations that have the same currency and language as your main one.
Step 4. Pick the items you want to highlight in your TikTok ads. Any changes you make to your products on Shopify will automatically get updated on TikTok too.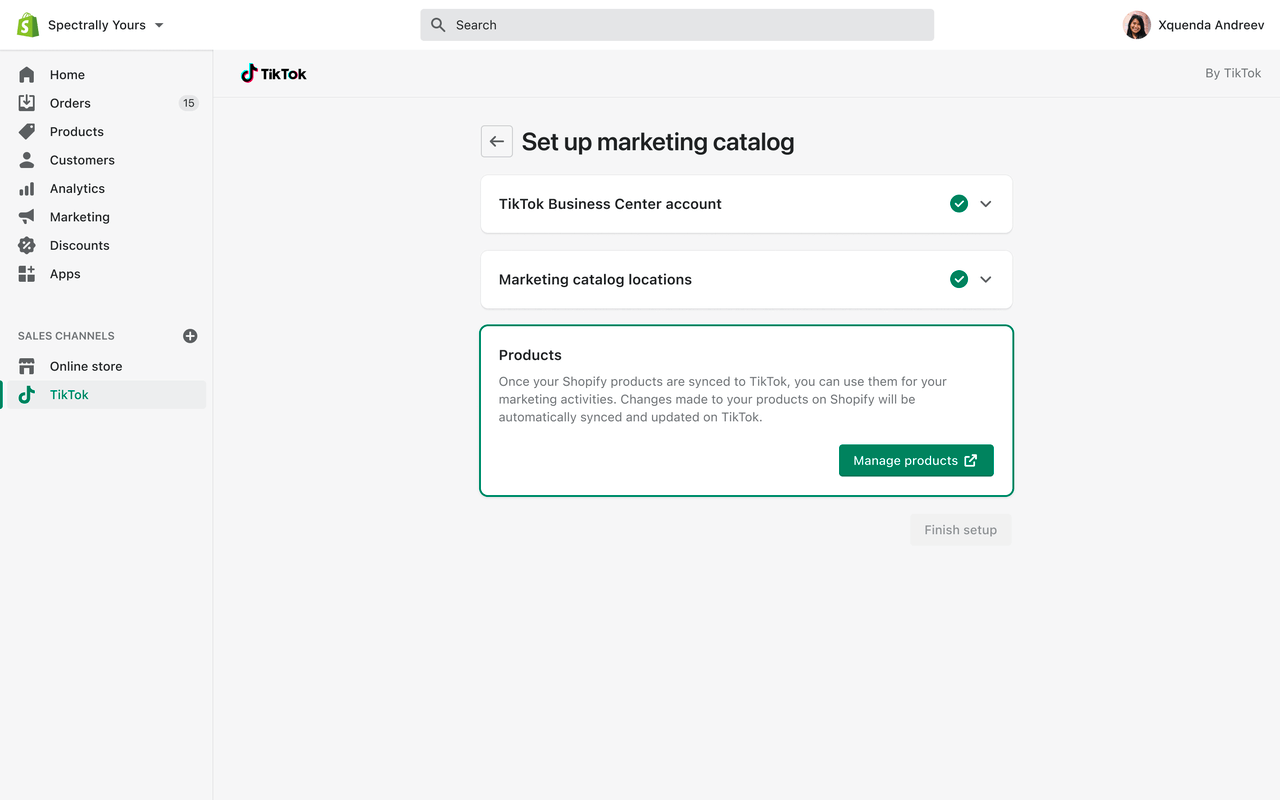 After clicking "Manage products," you'll be guided to pick the products you want to connect from Shopify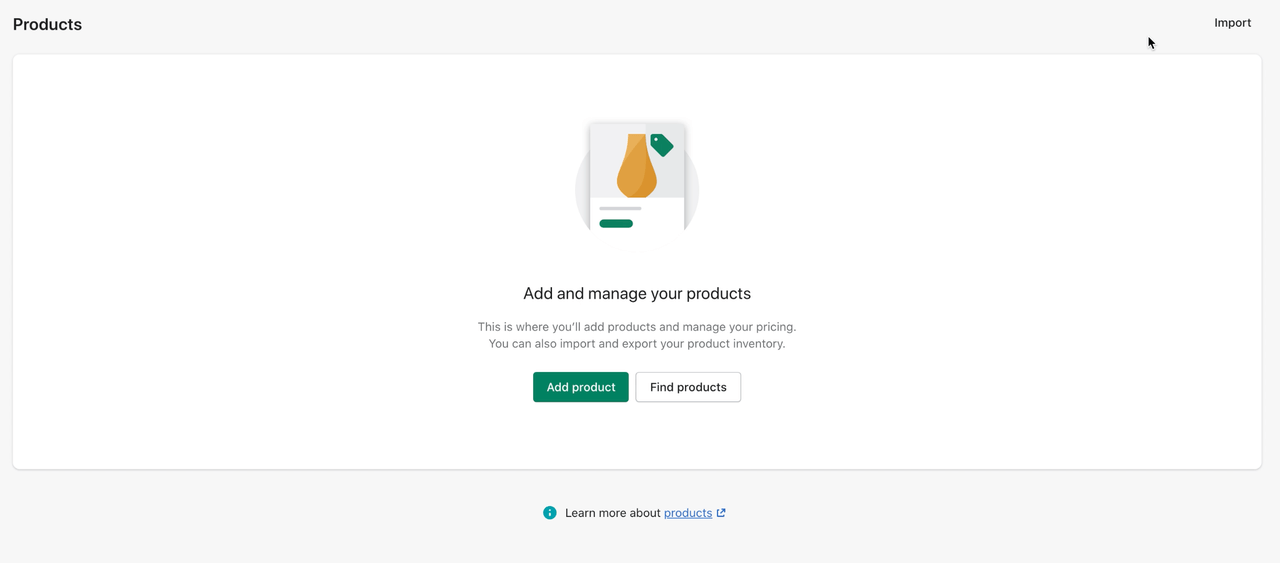 After establishing your marketing catalog, you will have the capacity to observe the Product Status on TikTok, enabling you to comprehend which products have been sanctioned, are awaiting approval, or have been rejected.
We also prepared an easy-to-follow video tutorial about how to connect Shopify to TikTok and some strategies that you may need when starting to grow your business on TikTok. Check it out now and you won't regret!
FAQs
1. How much does it cost to connect Shopify to TikTok?
Selling your products on TikTok through Shopify comes at no cost. These channels are seamlessly integrated into your Shopify plan.
2. Is it possible to utilize Shopify for selling on TikTok?
Absolutely, you have the ability to link your Shopify and TikTok accounts, synchronizing your product catalog to facilitate sales on TikTok using Shopify. By harnessing the TikTok Ads Manager, you can craft TikTok ad campaigns to reach potential customers. As your sales start rolling in through advertisements and social posts, Shopify allows you to oversee orders, payments and returns seamlessly.
3. Do I need to connect Shopify to TikTok to sell on TikTok?
No, having Shopify is not a necessity for selling on TikTok. Nevertheless, Shopify users have the advantage of efficiently synchronizing their inventory, customer information, and sales data between TikTok and Shopify. This enables the management of all online sales for your business in a single location – the Shopify admin.
How to sell on TikTok?
So, you've successfully connected Shopify to TikTok – pretty straightforward, isn't it? But what comes next?
With a user base exceeding 1 billion active individuals, TikTok possesses the capacity to engage a wide-ranging and diverse audience. Fortunately, you don't have to be an expert to become successful on this platform. Just explore effective ways to sell on TikTok and transform your TikTok into a robust sales avenue!