Are you tired of ad campaigns that go unnoticed, lost in a sea of endless scrolling? TikTok's new advertising ads tool, TikTok Focused View, is here to revolutionize the way advertisers connect with their audience. This novel approach puts the power back into viewers' hands, promoting voluntary watching and active interaction.
In this blog, we have delved into the mechanics of TikTok's Focused View ads and why advertisers are intrigued by them. Also, we have explored the basics of this new advertising tool and how to maximize its benefits for your TikTok ad campaigns. Unlock the power of Focused View now!
What is TikTok Focused View?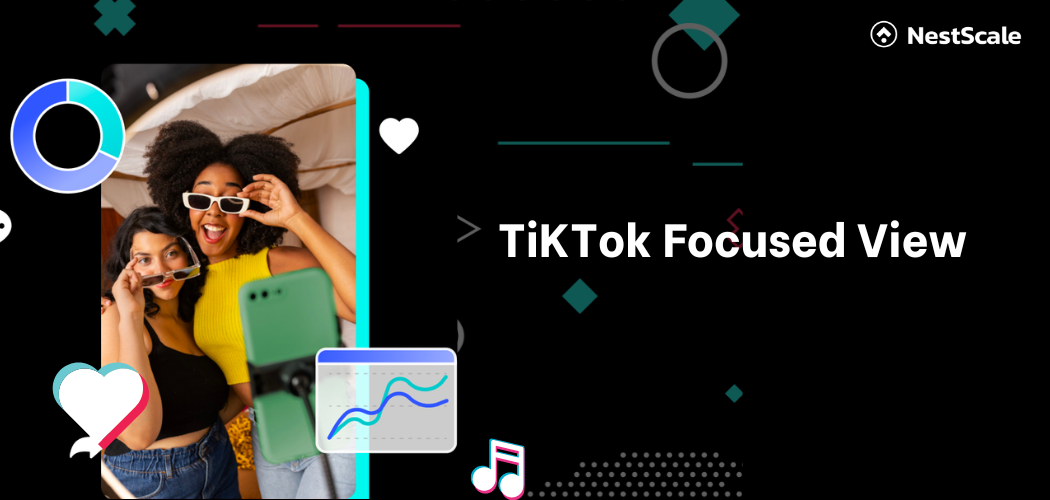 Focused View is the latest evolution of TikTok's Video View Objective. With Focused View, advertisers pay only when a user truly pays attention to an ad for 6 seconds. This focuses on 'voluntary watching,' which means two things:
Firstly, it's a choice. TikTok emphasizes that viewers actively decide to watch videos on their platform. This stands in contrast to interruptive ads, and users in this new format proactively engage with content by swiping up, listening, or paying attention.
Secondly, it's about viewership. TikTok argues that engagement on their platform isn't just about sharing or liking, but a significant action itself. They stress that engagement is the platform's core strength, hence the emphasis on viewership.
The Focused View targets users who are prone to actively engaging with an ad. This involves either watching it for a minimum of 6 seconds or interacting with the video within the first 6 seconds. This enables TikTok to enhance two distinct types of engagement:
Emotional engagement via content consumption: TikTok aims at users who are likely to watch your ad for a minimum of six seconds.
Tangible engagement through interaction: TikTok focuses on users who are more likely to engage with an ad actively
Ad platform and supported format
Platform: TikTok Ads Manager
Purchase Type: Exclusively Auction
Bid Approach: CPV
Placement Category: Solely TikTok—within the #ForYou feed
Ad Style: Accommodates both Spark ads and Non-Spark ads
Why does TikTok Focused View matter?
Having already shown impressive market performance, the new feature holds value for brands to explore. In this context, we emphasize why incorporating the Focused View ad campaign objective into your ads campaign is crucial.
Show your ads to the right audiences: The TikTok Focused View ad campaign objective sets TikTok apart from its rivals. The platform's confidence in this new feature lies in its ability to realign its targeting toward attentive viewers.
Optimize your ads spend: This advanced ad format ensures that brands pay only when users willingly watch an ad. This is noteworthy given how swiftly people tend to dismiss ads.
TikTok Focused View: Best example
TikTok has already achieved robust initial outcomes with its fresh ad layout. Samsung is among the early adopters of the focused view ad campaign approach. The brand utilized this ad format to enhance awareness and engagement for its Summer of Galaxy initiative. The outcomes were striking. For instance, Samsung attained remarkable achievements in the campaign, including:
An 11% surge in ad recall
An 18% enhancement in 2-second CPVs
A 53% boost in average watch time per view
A 2.8x rise in the completion rate
Following the Summer of Galaxy campaign, the Z-Flip 4 phone campaign also achieved a notable 4% increase in purchase intent.
What does this mean for business?
By integrating Focused View into your TikTok ad campaigns, you can anticipate a substantial increase in both engagement and return on investment. Whether you aim to enhance brand awareness, generate visits to your website, or increase sales, Focused View stands ready to assist you in attaining your goals and reaching your target audience effectively. Advertisers should experiment with this new campaign objective given the array of new features and products.
Choosing the right TikTok ads objective for your brand
TikTok Focused View is only one kind of many types of TikTok ad objectives. These objectives will define the actions you prioritize, the budget you allocate, and even the nature of the video content you produce. Choosing the right TikTok ads objective is not only the starting point but also the most intricate factor of making a successful TikTok ad campaign. 
Are you new to TikTok ads? NestAds is here to help! NestAds offers an easy solution for TikTok beginners, hence you do not need to have specific expertise to create your own TikTok ads campaign. Whether you're looking to make more people know about your brand, get more visitors to your website, or boost your store sales, NestAds will assist you well.