TikTok ads account suspended is a common problem that can happen to any marketer while running TikTok ads campaigns, even the most experienced ones. It will be missing if you just see your account rejected despite all the great ad performance and don't know what to do!
Don't worry, we got your back! Let's dig into our article to get you out of this issue with simple tips!
Why is my TikTok ads account suspended?
Have you ever seen a notification "your account has been suspended" appearing on your screen or your ad status showing "suspended"? Unfortunately, in this case, it means that TikTok will stop all your ads despite their performance.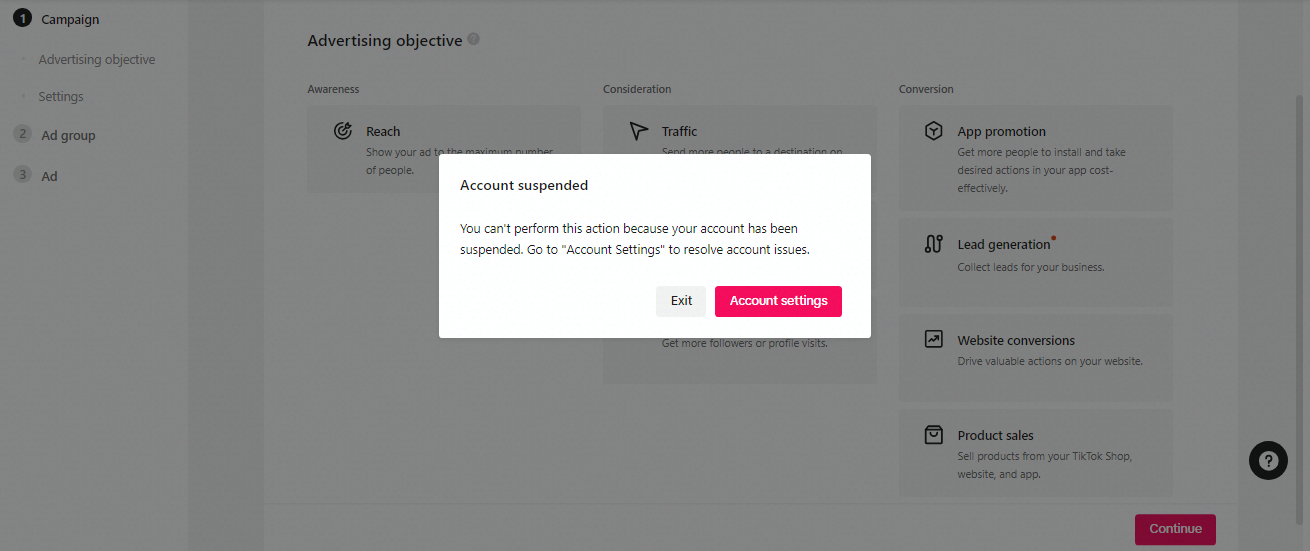 This problem will lead to unexpected situations if you don't take it seriously. Here are the five common reasons why TikTok suspend your TikTok Ads account.
Ads policy violations
User report
Brand piracy
Landing page issue
Payment issue
Ads policy violation
TikTok shows strict regulations that every marketer needs to closely follow to pass the TikTok preview process and also TikTok ads policy. In other words, it's all about the content that you upload on this shoppertainment platform.
Just for you to know, your TikTok content will go through a process that identifies and checks all the information based on the policy violation. Therefore, if TikTok flags your content as violating TikTok guidelines, it will be automatically banned or under an additional review.
With a TikTok ads account, TikTok provides a TikTok Ads Review checklist to make sure your ads get approval in the fastest way. So do note some key contents to avoid getting rejected.
Prohibited products or services: Please try your best to not mention all the types of content below in your advertising video:
Animals and animal parts
Adult sexual products, services, and entertainment
Chemical products
Drugs and paraphernalia
Casinos and gambling games
Cigarettes and tobacco products
Counterfeiting and intellectual property violation
Police/military supplies and equipment
Political problem
Unsuitable businesses, products, or services
Unacceptable business practices
Weaponry and weapon parts: Blades, knives, guns, etc.
Ad creative violations: Here are some common mistakes that can lead to ad creative violations:
Spelling, language, and ad text-related errors
Sensitive images
Exaggerating product use/features
Images, logos, and videos violating trademark and copyright policies
Blurry, unclear images
Information error
Landing Page error
Error using hashtags in Spark Ads
Inappropriate behaviors or intent in ad video
However, different countries will allow or not different products, services, or content for advertising. So make sure that you check your target country for more information. Depending on TikTok policy, this platform can temporarily ban or permanently ban your ad account.
TikTok report
Like other social media platforms such as Facebook, TikTok allows users to report videos with inappropriate content for a better experience. And one more special thing, all TikTok reports are anonymous, therefore you can't discover who reported your account.
When viewers take action on your ad account, you will receive a shadowban on TikTok – the unofficial name for what happens when TikTok temporarily restricts the visibility of an account. Otherwise, in the worst case, if a lot of users reported your advertising video, TikTok can block your account right away or let it go through a review process.
Copyright infringement
If it isn't a partnership announcement, you shouldn't include images, logos, labels, text content, or landing pages of famous foreign brands, all elements that belong to brand identity. Moreover, it's always better to create unique content for your advertising video. When your imagination is tapped, let's spend time scrolling other TikTok videos, you will find some best ideas for engaging TikTok ad creative that converts!
Landing page problems
Aiming to become a platform with amazing advertising features, TikTok offers to all marketers a list of landing page requirements with key elements. Let's take a closer look at all the necessary things to make your landing pages perfect and avoid all the common issues:
Non-functional landing page: TikTok will not display the landing pages that are expired or under construction with the non-mobile optimized interface. Otherwise, your landing page can not provide incomplete content or automatically download files to users' mobile phones.
Landing page with prohibited content: Content violates TikTok policy.
Landing page lacking accurate information: Don't forget to include complete information about your business such as contact details, company name, company address, business license, the price displayed in local currency, terms & conditions, shipping information, privacy policy, returns policy, and refund policy.
Subject landing page to Privacy Policy: Lastly, TikTok will not approve the video aims to collect sensitive personal information.
Payment issue
Payment problem is the last reason that can make TikTok suspend your TikTok Ads account. Check out your credit card to verify if it has a new charge on your account or a balance that has not been paid for a long time.
In this case, you need to add enough ad balance to get your account back.
What happens when my account is suspended?
Once TikTok suspends your ads account, you and your team need to deal with some common situations.
You cannot change any information in your account setup, such as Business Information, Primary Contact, or Tax Information.
TikTok will pause all ads created by the suspended add account. However, don't be so stressed, your ads will go back to their previous status when you overcome this common challenge.
The admins and operators still have the ability to change the delivery status of the advertising structure (Campaigns, Ad Groups, and Ads), but they cannot modify other related settings.
Regarding agency accounts, in the suspended situation, you aren't able to use your account to create new ad accounts or add money to ad accounts.
How do I get my TikTok ad account unsuspended?
To appeal an account suspension, you will need to contact the TikTok customer support team by creating tickets. You can easily do it in different ways on various platforms. So, let us guide you through steps-by-steps on how you can do this in 3 approaches:
Option 1: Raise a ticket in Customer Support
Step 1. Tap the Question Mark on TikTok Ads Manager's navigation menu. Then, select Customer Support.
Step 2. In the Customer Support box, choose Contact Us, then click on Account Review & Appeals category
Step 3. Click on the option for Suspended Ads Manager Appeal
Step 4. A form will pop up and ask for information from you. Now, your job is to fill in all of the required sections
Step 5. Lastly, click Submit to finish your appeal.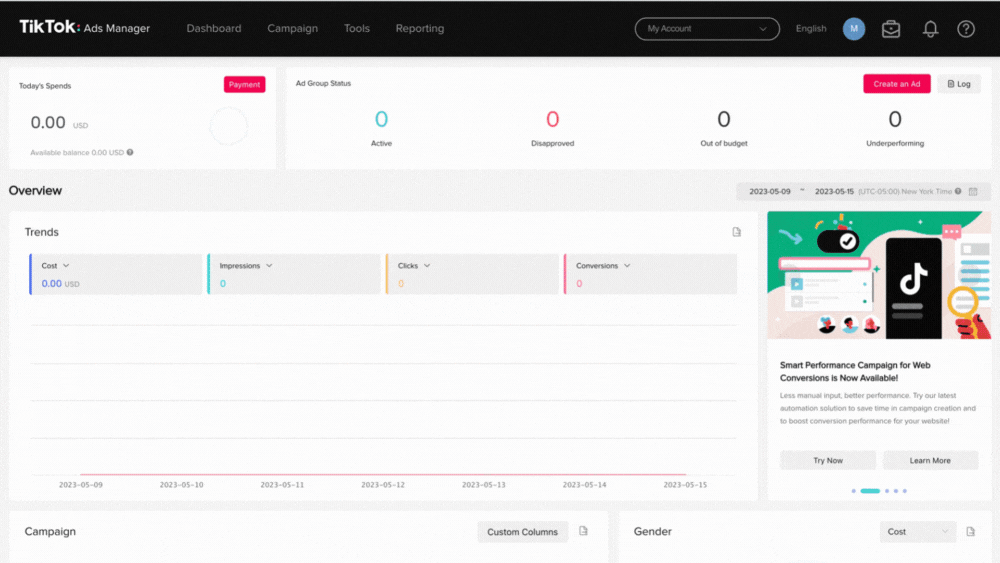 Option 2: Appeal in your Account Setup
Besides raising a ticket in Customer Support, another way you can use to raise an appeal is through your Account Setup. You just need to follow these simple steps below:
Step 1. Click on Tools on the navigation bar. Then, go to Account Setup.
Step 2. In the Account Setup page, you'll see your Account Status. Click on the Appeal button right beneath your status
Step 3. Based on the scenario that you're in, try to create a support a support ticket following our instructions:
Scenario 1: TikTok Ads Manager requires you to verify your identification by using a QR code. In this case, just go to your TikTok account on your mobile device > my QR code to scan the image.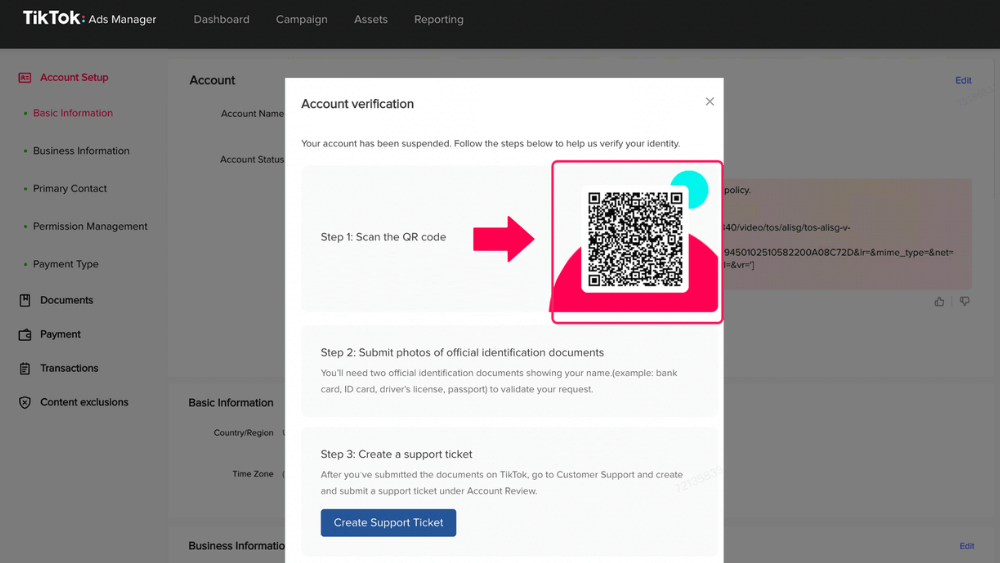 Scenario 2: TikTok leads you right away to a page for Account Review & Appeals.
Step 4. Click on Account Reviews & Appeals > Suspended Ads Manager Appeal
Step 5. Lastly, fill in all the required information and click Submit to finish your appeal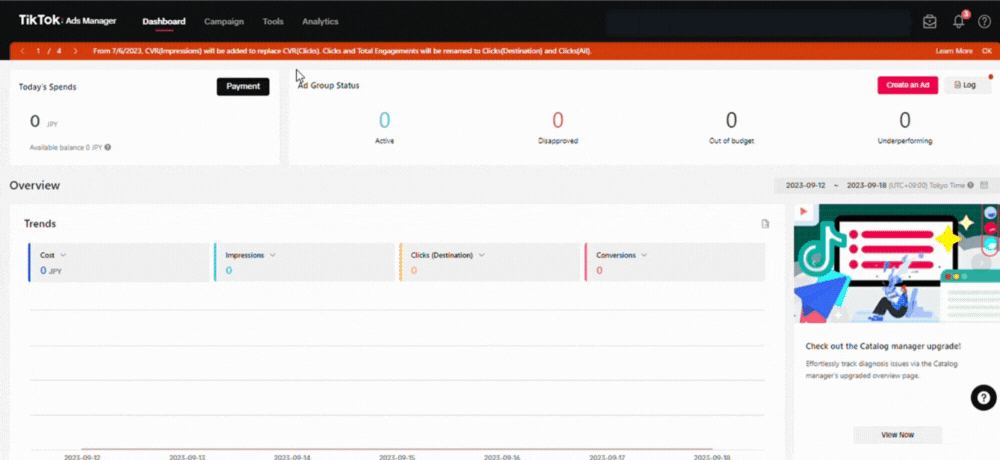 Option 3: Receive support through TikTok Business Center
Another way to seek support for a suspended TikTok ads account is through the TikTok Business Center. Here are the simple steps for you to follow:
Step 1. Click on the Question Mark, then go to Advertiser Support
Step 2. You'll be directed to the same place as when seeking support through Account Setup in TikTok Ads Manager
Step 3. Choose Account Review & Appeals > Suspended Ads Manager Appeal in the sub-category
Step 4. Complete all the detailed information
Step 5. Click Submit.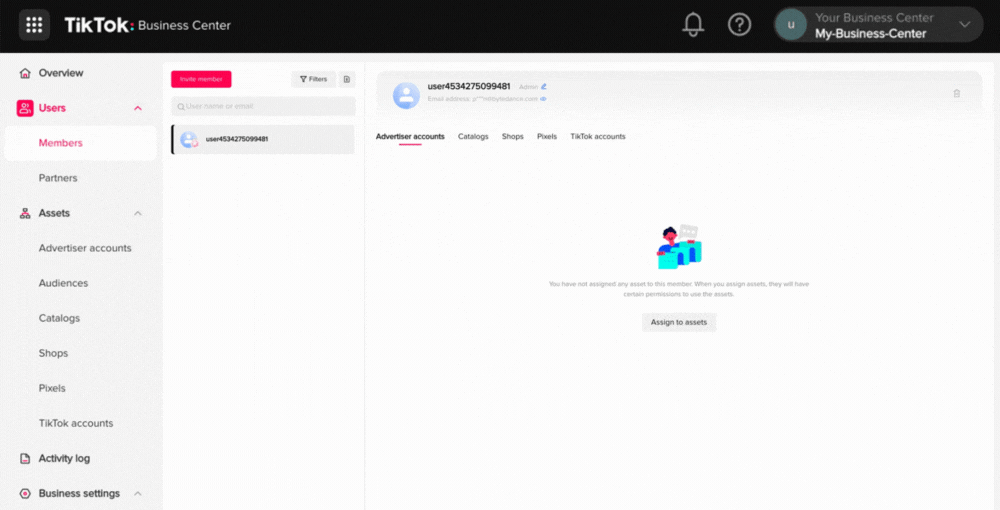 Now, you know all the possible ways you can use to unsuspend your TikTok ads account. However, there is some note that you should remember when submitting your ticket:
After submitting your ticket, you might receive a reply from TikTok within three days of working.
We highly recommend submitting your ticket within 180 days after TikTok bans your account. However, TikTok can shorten or extend this period so you need to closely follow TikTok instructions.
During your TikTok ads account suspension appeal, creating a new ad account is not a good idea. This can impact the review process.
Close your account after getting back your ads account
Sometimes, after regaining access to your TikTok ads account, businesses want to close it since they worry that it won't work well anymore. So, if you're in this situation and want to close your current account and start fresh, here's what you can do:
Step 1. Click on Tools > Account Setup
Step 2. In the Account Setup page, choose Advanced Settings under your Account Status
Step 3. Select Close Account and then click Confirm
If after reading all this information, you are still struggling with your suspension, we got your back! This video will show you a complete A to Z guideline to recover your TikTok Ads account, check it out or you will regret it!
How to avoid TikTok Ads account suspended?
Now that you know how to recover your account by contacting Customer Support. However, waiting for everything to settle down can be quite time-consuming, and you wouldn't want to find yourself in that tricky situation again.
So, what's the best scenario? It's to never get caught in TikTok suspension in the first place. Here are some things you can do to optimize and avoid TikTok ads account suspension:
Always follow TikTok's Advertising Policies and TikTok's Terms & Conditions
When it comes to avoiding TikTok suspension, the best and most effective tip is to stick to the basics. And for running TikTok ads, the fundamental things you should always remember are TikTok Advertising Policies and TikTok's Terms & Conditions.
These cover all the rules for your account to be considered legitimate on TikTok, including the content you can use, the required formats, website guidelines, and respecting intellectual property rights. So, by following these two documents, you not only reduce the risk of suspension but also enhance your campaign's performance.
Monitor your ad performance and feedback
When it comes to staying on TikTok's good side, two important things to consider are your ad performance and viewer feedback.
Keep a close eye on how your ads are doing. If you notice that your TikTok ads aren't delivering or spending as expected, it could be because your content isn't resonating with TikTok's audience or it's violating the platform's rules. In that case, take a careful look at all the platform's guidelines and pinpoint any issues that might be causing your ads to underperform.
Additionally, if you receive negative feedback or comments, be sure to review the problems and fix them as soon as possible. This will not only make your viewers happier with your content but also help prevent further reports about your content's quality.
Assure that your payment information is valid
You should ensure that the payment information and method you provide for TikTok is valid. Things such as your card information, tax information, and your Business Information, etc. should always be correct. This will also help you to have a better payment experience from TikTok, too. Therefore, avoid any action of fraudulent to keep your ads account safe from all the bans from TikTok.
Use TikTok Agency Account
Getting your TikTok ads account suspended is something no advertiser, even the most experienced ones, wants to deal with. Until now, there hasn't been a surefire way to guarantee your account won't get suspended again, even if you've successfully appealed a suspension.
However, there's an account type that significantly reduces the chances of suspension: TikTok Ads agency account. This account belongs to TikTok's official partners and comes with many exclusive features and treatments from TikTok.
In a nutshell, advertising with this account provides an added layer of verification from TikTok, making your campaigns less prone to suspension. Your ad campaigns will run smoothly, and TikTok will be less strict in monitoring them compared to other accounts.
If you're interested in this type of account, we recommend checking out Mega Digital's ad account service. They offer accounts that can immediately transfer any unspent balance from a suspended account to a new one. They are the only TikTok agency in the market that provides this option. The only catch is that you'll need to top up the balance by working with their sales team.
FAQs
1. How will you know if your TikTok account is permanently banned?
When you attempt to log in to TikTok, a banner notification notifying you of the ban will appear if your account has been banned. The banner notification allows you to view your violations in the Account Status area of your Inbox.
2. How long is a TikTok account suspended?
The time of the suspension will depend on how TikTok assesses your violation. However, most TikTok ads account suspension is permanent. To check for the length of suspension, check your Account status in the Account Setup.
3. How to access your TikTok account after it's banned?
If your account is banned, you can still log in to the account to file an appeal and download your personal information. Remember that TikTok will delete your personal information after a certain amount of time in accordance with any applicable legislation and data retention policy. Your account won't be accessible after it has been deleted.
4. Why was my account suspended before publishing ads?
This is a common situation that new business TikTok accounts often run into. It usually happens because of missing or incorrect information you've given to the platform. Some of the most crucial info that can cause this issue includes:
Your website URL is not valid
You need to provide more documents to TikTok
Your Business Information/Tax information is not qualified
We recommend double-checking your information when you first set up your account. Remember, it's important not to use false information on TikTok, as it can easily result in suspension.
5. How can I know the status of my ticket after sending it to customer support?
TikTok will send you an email after it has finished reviewing your ticket related to the suspension of your account. So, check your mailbox regularly after sending out the ticket to update your ticket status.
Let's solve all your TikTok advertising problems
Running TikTok Ads campaigns can always lead to unexpected problems and new challenges that we have never seen before. So don't put yourself at risk if TikTok has rejected your TikTok ads account for the first time ever. Just follow our tips and you can deal with your own problem!
If you still struggle with account suspension problems, our support team would love to hear all your difficulties and are ready to give you a hand! Feel free to contact our experts for more advice or try our new products NestAds – TikTok Advertising Management Software.