TikTok has simplified the process of attracting potential customers for businesses by offering different ad formats. Each type of TikTok ad has specific objectives, functions, and settings that advertisers must consider before launching their campaigns. This article covers everything you need to know about different TikTok ad types, their pros and cons, and tips from TikTok experts to improve your TikTok ads.
TikTok ad types: Pros and Cons
TikTok's distinctive short-form video format sets it apart from other social media platforms. There are several kinds of TikTok ads, each with its own set of best practices.
Newly updated 2023:
From April 3rd, 2023, global advertisers will not be able to create, edit, or duplicate existing Collection Ads. Instead, they will be able to access Video Shopping Ads under the Product Sales objective from January 2023.
In-Feed Ads

TikTok In-Feed Ads appear as users scroll through their "For You Page" (FYP). In-Feed ads can last for 60 seconds (though videos ranging from 9 to 15 seconds appear to be the most effective). TikTok users have the ability to interact with these ads by liking, commenting, and sharing them. Brands that make use of this form of TikTok ad can add a call-to-action button that directs viewers to a landing page.
Objectives: Traffic & Conversion
Ideal for:
Brands that want their advertisements to seamlessly integrate with the local content feed
CPG brands or anyone who sells physical goods – these commercials are ideal for showcasing products
Anyone who is looking to experiment with TikTok marketing (since this is the most common ad format and the easiest to create).

TopView ads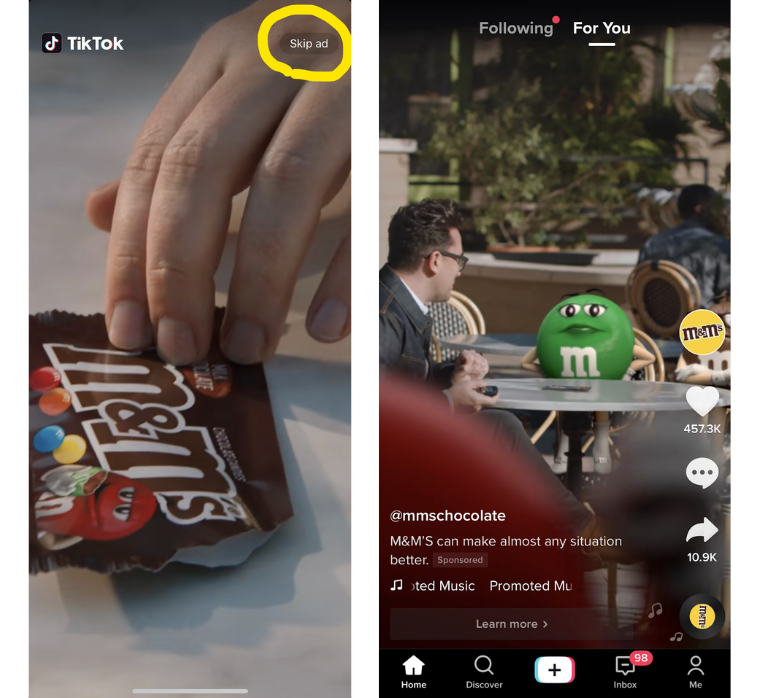 TopView ads are the first advertisement that appears on the screen when a user opens an app. By capturing users' attention and telling creative stories, TopView ads can help brands increase their popularity and this can lead to more interactions within the community.
This ad video lasts for 5-60 seconds with a 2-second "Skip" button before the users can scroll to their feed. Therefore, the hook is the most crucial part of the ads. TopView ads stand out because they auto-play with sound and are full-screen. These ads practically fill up the entire screen, making them "must-sees."
TopView ads are probably not your best option if you're searching for natural seamless advertisements. This is because they might interfere with the user's experience. TopView is among the most "traditional" of TikTok's video advertising due to its length and sense of commercialism.
However, according to 71% of TikTokers, TopView ads catch their attention. The site itself also states that CPG businesses saw a 67% increase in sales effectiveness while using these TikTok ads.
Objectives: Reach & Engagement
Ideal for: These kinds of TikTok ads are great for brands that want to reuse their previous ad materials and have a lot of money to spend. These ads are expensive because they are very noticeable. These ads are best for brands that already know how to use TikTok for advertising or have seen good results from previous TikTok ads.

Brand Takeover ads
Branded Takeover ads are full-screen advertisements that appear on the For You Page (FYP) as soon as a user opens TikTok. These ads are created using 3 to 5-second videos or 3-second images, and direct viewers to either a Hashtag Challenge or a landing page, depending on the brand's campaign objective. Each TikTok user only sees one Branded Takeover ad per day, which means less competition for the ad space. However, this also means that they can be a bit expensive.
Objectives: Brand Awareness
Ideal for:
Brands that want to generate hype for events or make their TikTok hashtags popular (such as HP's #HPRadicalReuse)
Companies that are launching new products and hoping to create a significant, one-time increase in traffic.
Brands with substantial budgets that aim to optimize ad exposure with minimal competition.
Branded Hashtag Challenge ads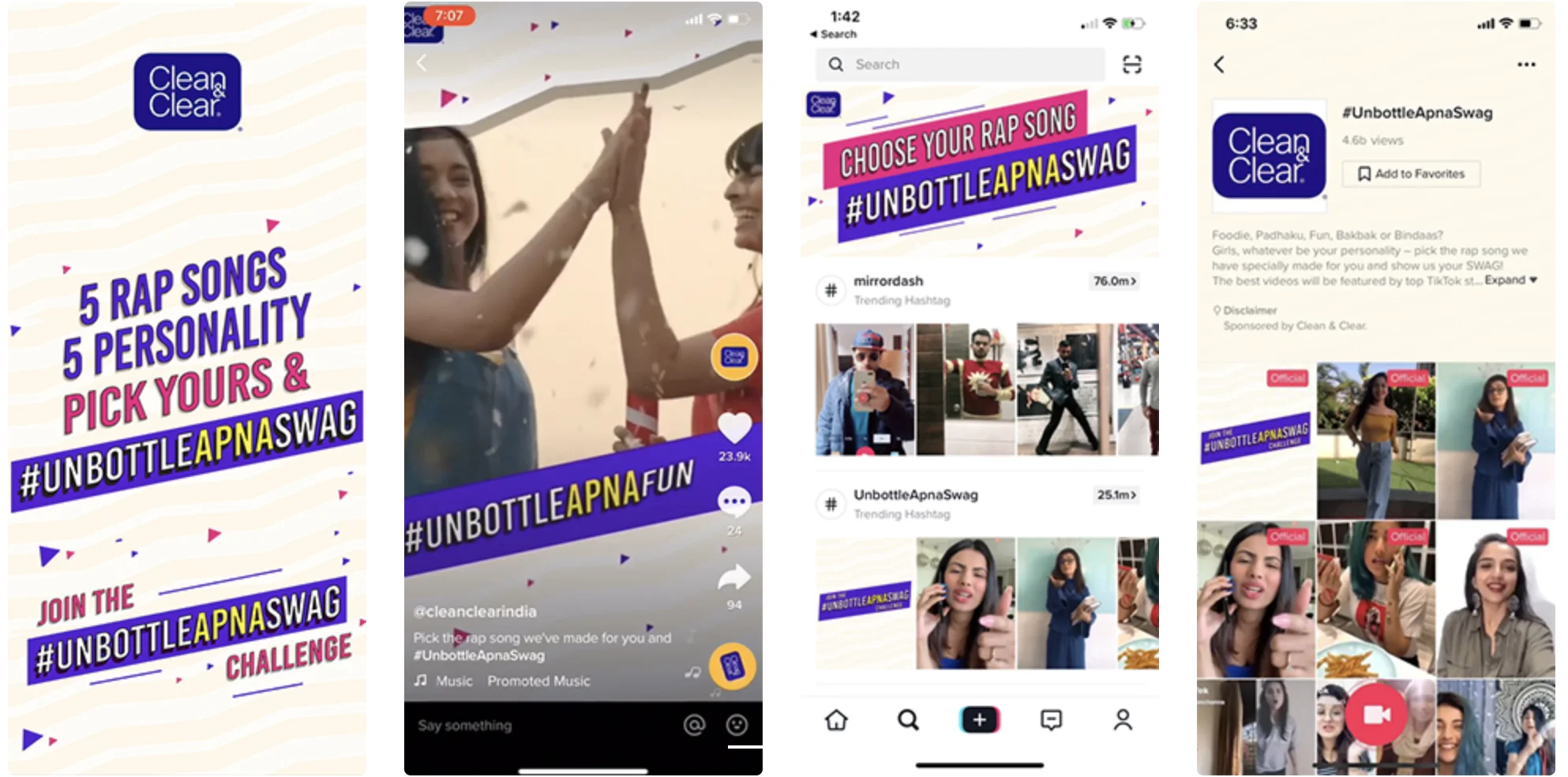 The Branded Hashtag Challenge changes the way that brands engage with their audiences. It allows brands to start popular trends by inviting users to participate in challenges related to a sponsored hashtag.
Branded Hashtag Challenge occurs when a brand sponsors a hashtag and creates a challenge that encourages users to take action like following the hashtag, creating videos, and inspiring others to participate. This approach helps brands to:
Ignite massive engagement
Spark organic visibility
Generate full-funnel impact
Here's a quick overview of how these types of TikTok ads work:
When a user clicks on the branded hashtag challenge at the top of the Discover page
They are directed to a Brand Challenge page providing a description of the challenge, and its rules, and displays the sponsoring brand's logo along with a link to their website.
Users then produce their own content based on the challenge, utilizing the brand's hashtag to promote their posts.
A Branded Hashtag Challenge is a type of TikTok ad that uses content created by users to promote products. This makes the ads feel more genuine and less like a traditional ad campaign, which can help increase the number of people who see them.
Objectives: Brand Awareness & Reach & Follower Growth
Ideal for:
Brands that want to get more user-generated content.
Businesses with experience promoting hashtag campaigns elsewhere (or brands with established well-known hashtags).
Brands focused on building awareness & improving engagement among TikTokers.

Branded Effects
TikTok Branded Effect is a tool that allows brands to create stickers, filters, and effects that can be used in TikTok videos to promote their products or campaigns. Users can incorporate these brand effects into their videos and share them on TikTok. These videos will then show up on the For You Page, giving brands a chance to get noticed by a wider audience. Branded Effect Ads on TikTok can help your brand in several ways:
Encourage users to co-create with your brand to create content.
Allow users to interact with your product.
Increase word of mouth
Since these ads use fun and creative AR effects, they can inspire users to make high-quality and engaging content that reaches a wider audience. Branded Effect Ads are available as part of Reservation ads, along with Branded Hashtag Challenge.
Objectives: Brand Awareness & Engagement
Ideal for:
Brands who want to establish a unique style or image on TikTok.
Companies with skilled creative teams who can create special effects for the ads.
Brands who want to get as many people as possible to see an existing promotion they have on TikTok.

Deeplink TikTok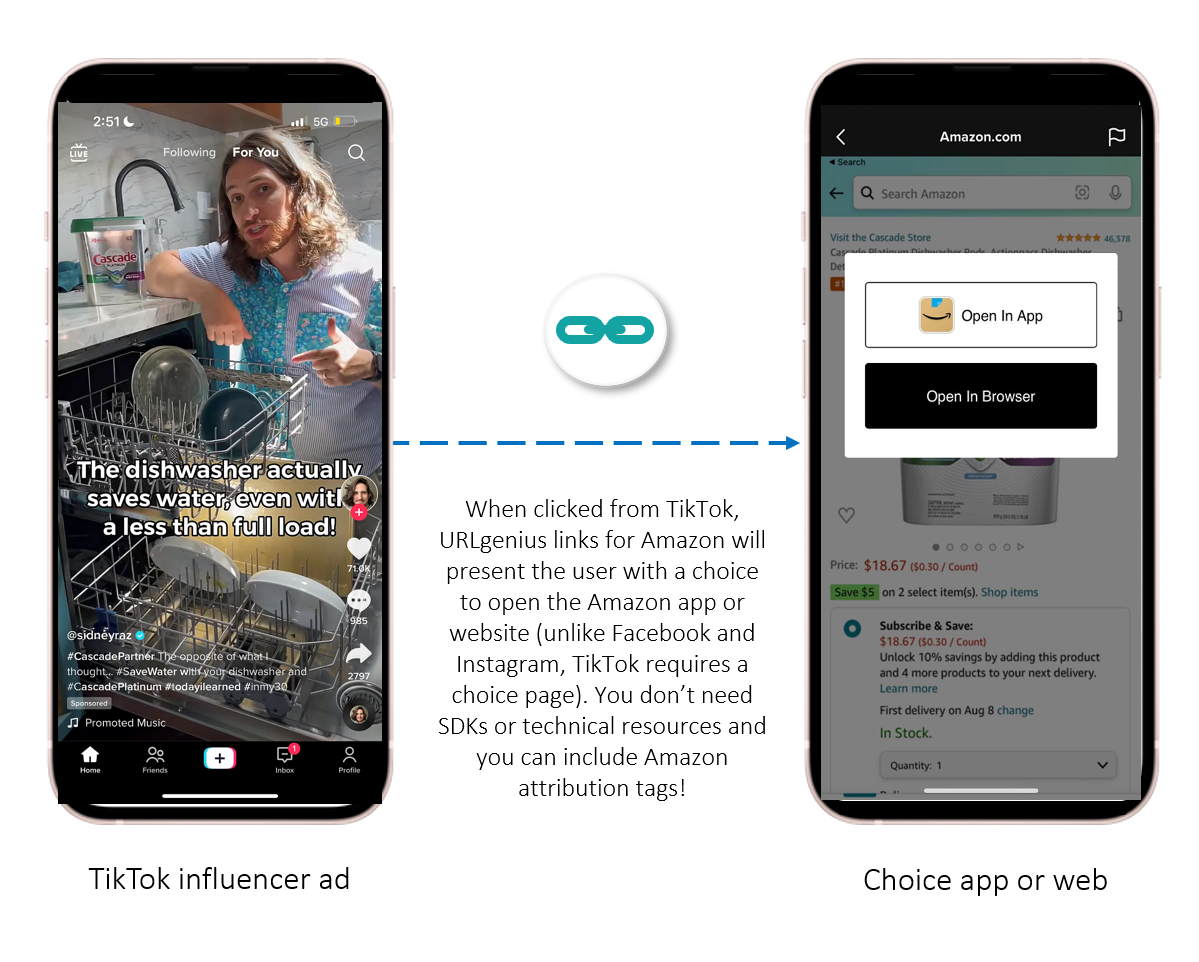 Deeplink TikTok is a type of advertisement that includes links embedded within it. These links take the user directly to a specific page within the TikTok app, typically a product page on an e-commerce store. This advertising method saves customers time by providing a seamless shopping experience and reduces bounce rates, which can increase the effectiveness of the ad.
For e-commerce sellers looking to attract TikTok users, the Deeplink ad is an excellent option because it can:
Shorten the user's journey to purchase
Increase users engagement and retention rates
Improve marketing efforts by targeting the right customers and upselling, ultimately resulting in a better return on investment.
TikTok Shopping Ads
TikTok Shopping Ads provide brands with the opportunity to engage with their customers in a meaningful way by offering solutions, shopping features, and tools to enhance their online sales. Brands can showcase their products not only in TikTok videos but also in a dedicated tab within their profile. To use these tools, it's essential to create a TikTok store to offer your products to users.
Using TikTok's creative features, brands can create e-commerce campaigns that seamlessly integrate with the app and effectively reach potential customers with high purchase intent. Moreover, the platform features TikTok Shopping Shopify, a tool that enables brands to create ads, track results, and manage orders for all campaigns.
Objectives: Boost sales and increase ad visibility on the platform
TikTok's Shopping Ads comprise three different types of ads: Video Shopping Ads, Catalog Listing Ads, and LIVE Shopping Ads. These ads enable users to showcase one or multiple products in video ads that appear on the "For You" feed. To facilitate direct purchases by users, it's necessary to include a "buy now" button in your TikTok videos, which will lead the user to the TikTok shopping cart.
Video Shopping Ads: enables shopping from in-feed video ads. It allows brands to showcase one or more products with video ads in the TikTok feed
Catalog Listing Ads: Displays 1 or more products of the same category as a list – a feature of Collection advertising.
LIVE Shopping Ads: The latest advertising format on TikTok enables users to explore and watch live videos, as well as search for and buy products from online stores.
We have just released a new video about all the affordable and premium ad formats suitable for all business sizes. Give our video a try and you won't be disappointed with this interesting information!
What do top-performing TikTok ad types have in common?
Be more authentic with an unpolished aesthetic
TikTok ads that feel like organic content tend to perform well. A significant majority of global TikTok users prefer brand posts that have a natural, unpolished look and feel, while a majority of them feel that overly professional-looking videos from brands are out of place. After studying and tracking over 3,000 ads across 650 brand lift, MMx, sales lift, and store visit measurement campaigns, it was discovered that switching from highly polished, TV-style content to ads that are more casually shot, less polished, and user-generated content (UGC) friendly can almost double media metrics such as 2-second watch rate, engagement rate, and average watch time.
Why so serious? Spark joy by making them smile or laugh
Were you aware that TikTok advertisements that include comedic elements have a 24% higher chance of being viewed in their entirety? Adding humor to your ads is an excellent technique to make them more engaging and less like traditional ads. TikTok users use the app for entertainment and expect to be entertained when they open it. A significant proportion of users open TikTok with the purpose of seeking entertainment, and a substantial number of them even expect brands to provide fun content, including ads. Therefore, successful ads on TikTok need to align with the platform's entertaining nature. Brands can use sound, follow current trends, and collaborate with TikTok's creators to convey their messages in engaging and amusing ways.
Sound-on to make some noise
TikTok stands out from other platforms because of its completely immersive user experience. A vast majority of users (93%) prefer to have sound on while using the app, and 88% feel that sound is crucial to their overall experience on the platform. These high figures demonstrate the significance of sound as a powerful sensory tool, particularly for advertising. Ads that include sound are more effective at breaking through the noise and grabbing users' attention, and ads without sound are 15% more likely to be skipped by users.
Top of trends, top of mind

What's trending = what's currently going viral or hot at the moment. It's important to take advantage of these trends while they are fresh in the minds of your audience. Brands that incorporate trending topics into their content are more likely to be well-liked, and their ads tend to be viewed for longer periods.
According to a survey, 77% of TikTok users appreciate it when brands use trends, memes, or create interactive challenges on the platform. In addition, research shows that ads featuring a remixed trend can experience a 14% increase in watch time.
By aligning your content with current trends, you can demonstrate to the TikTok community that your brand is engaged and attentive to their interests. Extra points go to brands that are able to initiate their own trend, encouraging user participation!
Winning TikTok ads made easy
If you're new to TikTok ads and struggling to effectively promote your products without wasting resources, NestAds offers a straightforward solution. With NestAds, you can easily launch successful TikTok ads campaigns without needing any specialized knowledge or skills. With NestAds, you will have:
User-friendly and functional TikTok ads creation dashboard.
Audience library & recommendation along the advertising funnel.
Targeting campaigns.
Retargeting campaigns.
Retention campaigns.
Simplify your TikTok ads creation & management process, and stay focused on what truly matters for your online store!