People nowadays don't want to watch time-consuming content on any social platform. They prefer short videos so that they can watch more content during their break time. When it comes to short-form videos, TikTok and Youtube Shorts are the top most mentioned social media platform all over the world. However, most marketers wonder which platform their content performs best.
In this article, we will walk you through Youtube Shorts vs TikTok in detail to see how different they are. Keep reading more to determine which one is for your business.
Youtube Shorts vs TikTok: An overview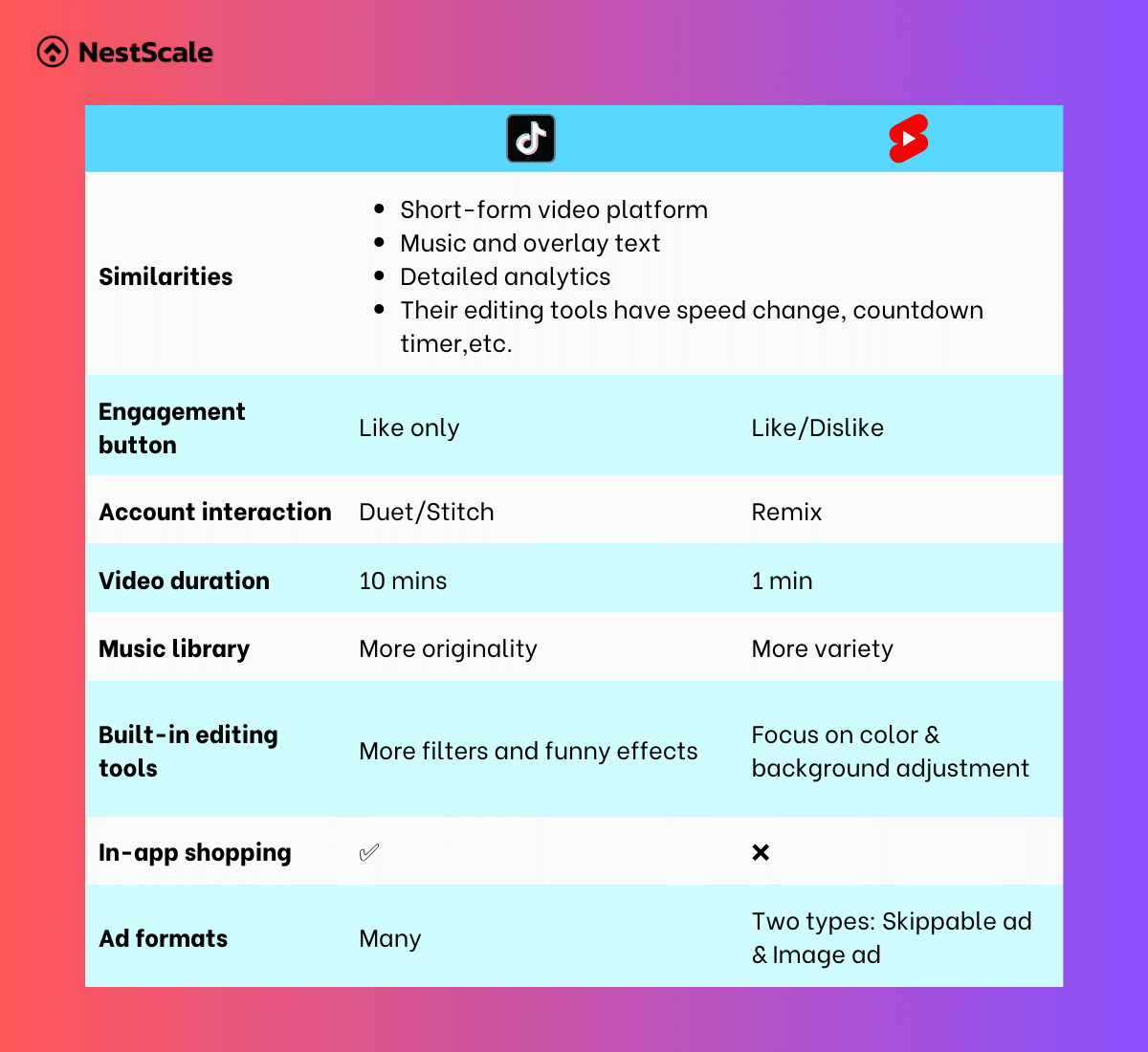 TikTok is a video-sharing app that focuses on making short videos. With the goal of "inspiring creativity and bringing joy", TikTok referred to itself as "the leading destination for short-form mobile videos". Here's an example.
Youtube Shorts is a new short-form video experience for advertisers who want to create a short and sweet video but need only a mobile phone. What makes Youtube shorts stand out from others is their ability to convert viewers into subscribers for your channel.
Youtube Shorts vs TikTok: Key similarities
Short-form video platform with immersive experience
One of the key similarities between YouTube Shorts and TikTok is their suitability for short video content. Both platforms provide creators with a space to share bite-sized videos, allowing creators to convey their message quickly and engage with their audience.
Moreover, YouTube Shorts and TikTok aim to provide a captivating and immersive viewing experience. Both platforms offer a full-screen display, allowing users to focus solely on the content at hand. Additionally, the participation menu, featuring engagement options like likes, comments, and shares, is conveniently placed on the right side, ensuring easy access without obstructing the video.
Music and Overlay Text
Both of these platforms understand the importance of music in enhancing video content. You can easily choose from a wide range of songs and sound effects to accompany their videos. Additionally, creators can add overlay text and closed captions to provide context, enhance storytelling, or convey additional information to viewers.
Analytics
If you are a creator or a brand, you will understand how important it is to analyze your performance for more effective content. YouTube Shorts and TikTok recognize this and provide detailed analytics to help creators gain insights into their audience and engagement metrics. Whether viewed on mobile devices or desktops, you can track your video's reach, views, likes, and other key performance indicators.
Youtube Shorts vs TikTok: Difference in features
Like/Dislike vs Like only
While both platforms enable users to engage with content through likes, YouTube provides the additional option for viewers to express their dislike, allowing for a more nuanced range of audience feedback.
Particularly, with a Like and Dislike button, YouTube Shorts lets you express positive or negative feedback through the respective buttons. In contrast, TikTok simplifies the engagement feature by providing only a heart symbol.
Remix vs Duet/Stitch
In terms of account interaction, TikTok stands out as the clear pioneer, introducing two exciting features for users to engage with on the platform: Duet and Stitch. With Duet, users can create videos that play side by side or in a picture-in-picture format simultaneously, enabling collaborative and creative content. Stitch, however, allows users to incorporate their recording in sequence after the original clip, adding their own perspective to the content.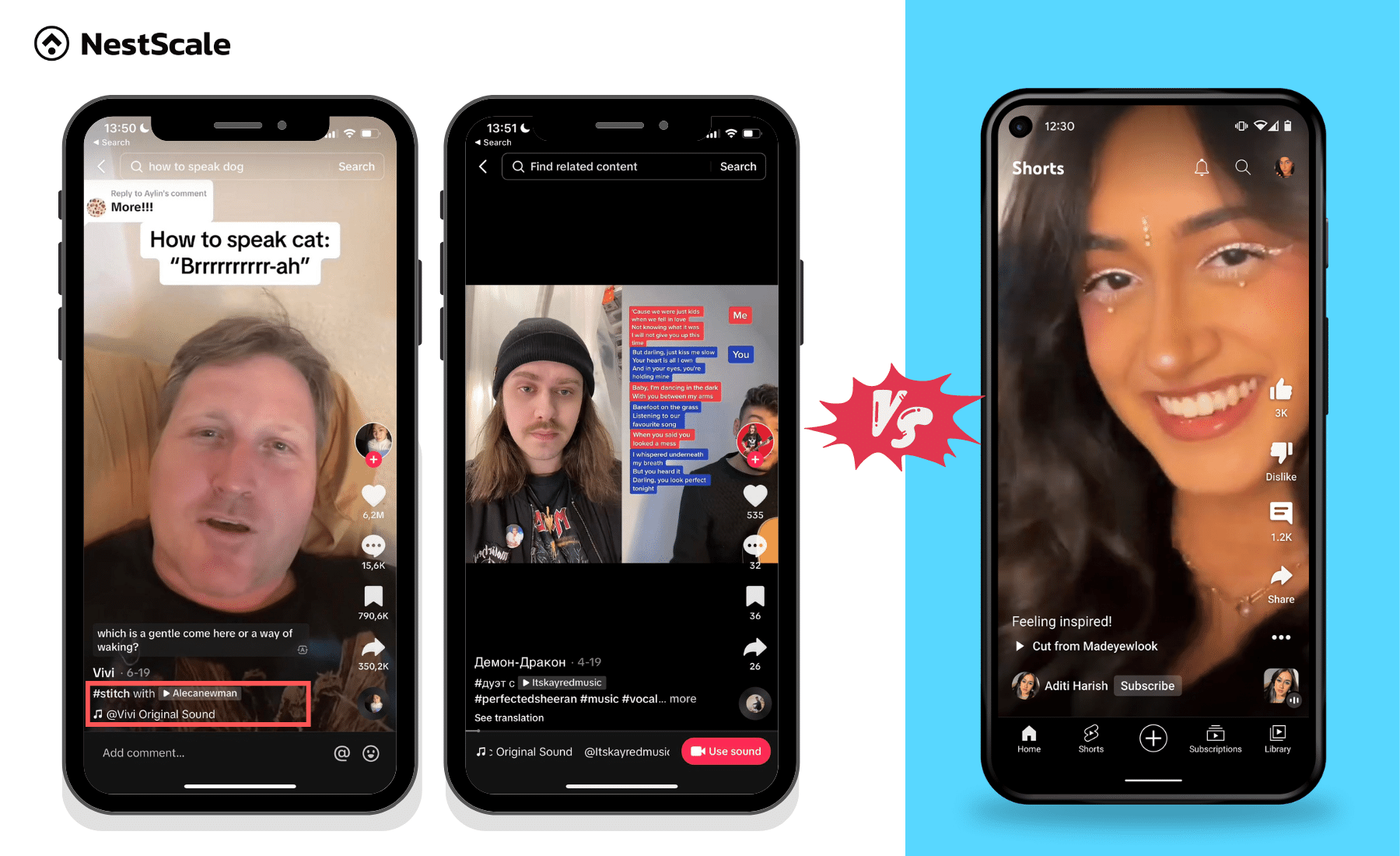 For YouTube Shorts, they introduced a similar feature called Remix in 2022. It provides users with three options: use the creator's sound, cut the video, or use a green screen. While these options share some resemblance with TikTok's, YouTube Shorts currently lacks a specific Duet function, setting it apart from TikTok's comprehensive range of interactive features.
Differences in shopping features
TikTok offers users the convenience of direct shopping through its platform via TikTokShop, allowing users can browse and purchase products seamlessly without leaving the app. With this innovative feature, E-commerce merchants on the platform can expand their business and drive more sales.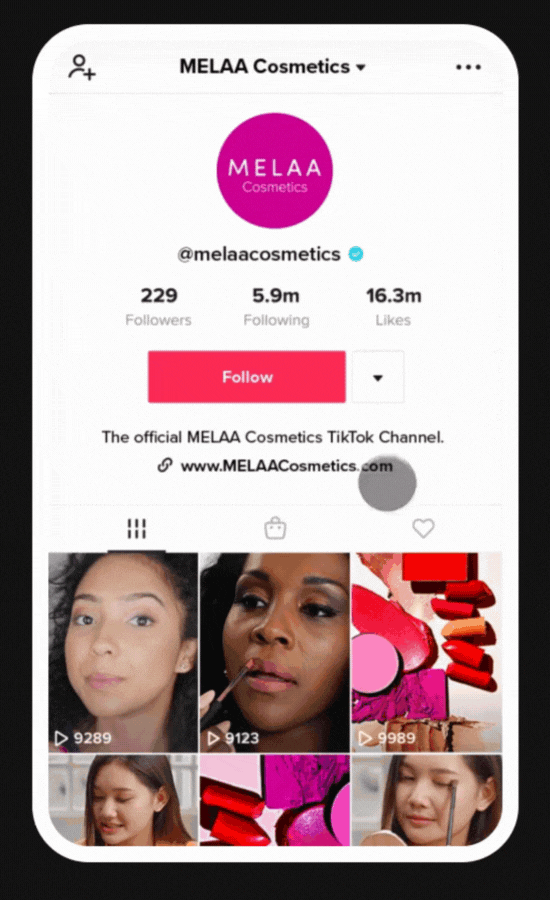 On the other hand, YouTube does not have a similar shopping feature integrated within its platform. Brands can only put a link to their landing page in their account bio, or the video description. Hence to make purchases on YouTube, users typically need to navigate to external websites or platforms.
Youtube Shorts vs TikTok: Difference in creatives
Video duration
YouTube Shorts restricts videos to a maximum duration of 1 minute. If a video exceeds this limit, it will automatically become a separate video on YouTube.
In contrast, TikTok provides a broader range of durations, allowing users to create videos that can be as short as 15 seconds or as long as 10 minutes. This difference in video length options provides creators with varying degrees of flexibility when it comes to expressing their ideas and engaging with their audience on these popular video-sharing platforms.
Music library
Both YouTube Shorts and TikTok provide users with an extensive audio library to choose from for their videos. However, as YouTube has been a pioneering platform for music, it boasts a wider selection of audio options for its users. With its vast collection of licensed music and collaborations with artists, YouTube offers a diverse range of tracks to enhance video content.
On the other hand, TikTok may not match YouTube's audio variety, but it encourages originality in audio creation. TikTok has a unique capability to turn random audio snippets into trends, allowing users to create viral videos using their own sounds. If you are a casual user on TikTok, you've likely come across the phrase "The audio has potential (to go viral)" even when it originates from relatively small creators. This aspect of TikTok promotes creativity and gives users the opportunity to make their mark with innovative and original audio content.
Built-in editing tools
Both YouTube and TikTok offer editing tools for users to enhance their short-form content. In terms of features, their editing tools are quite similar. Both platforms provide options to adjust video speed and flash, as well as a countdown timer, a filming button, and an audio library.
However, the things that distinct them from one another is their filter range. While YouTube Shorts primarily focuses on color and lighting adjustments in its filter library, TikTok offers a broader selection, especially when it comes to face filters. Besides a long list of beauty filters, TikTok also offers a variety of funny and interactive filters. These filters add a playful and engaging element to TikTok videos, contributing to the platform's unique appeal and creative possibilities.
Youtube Shorts vs TikTok: Differences in ads format
Again, this is where TikTok wins. TikTok provides brand In-Feed ads, TopView, Brand Takeover, Branded Effect and Branded Hashtag Challenge, and even Shopping ads! This diverse range of ad options allows brands to engage with TikTok's vast user base in various interactive ways.
In contrast, the advertising options for YouTube Shorts are relatively straightforward and simpler. There are two key ad formats you can find on Youtube Shorts: Swipeable video or image ads. They are displayed between Shorts in the Shorts Feed.
Youtube Shorts vs TikTok: Choose the best platform for you!
It's undeniable that short-form videos are on trend. So, it requires every business to make use of short video in promoting their products on social media platform as TikTok and Youtube Shorts.
We hope that this article provides informative and useful materials for your business. Even though there is no answer to which is the best, you can determine the most suitable one based on your marketing goals and target audience.
If you have any problem with TikTok, feel free to contact us via live chat, our support team is always there to give you a hand!