Have you ever created a merry shopping experience on TikTok for your audience and seen amazing results? Not only Christmas, but the TikTok holiday shopping season is also the ultimate destination for all businesses to optimize their sales performance.
During this festive season, TikTok users are expected to do more: more preparing, more planning, more decorating, more celebrating, and especially more shopping. TikTok definitely became a one-stop shop for holidays.
It will be missing if your brand doesn't participate in this holiday spirit! This article will be all about TikTok holiday shopping season and best marketing ideas to drive more sales.
Why your brand should jump into TikTok this holiday season?
User's holiday spirit
Across holiday and shopping events, almost all TikTok users put their hearts and soul into this season. Thanks to TikTok's attractive features and also the brand's creative ideas, the audience often spends more time sticking with TikTok.
They come to TikTok for the community, stay for the creativity and leave feeling happy with a high engagement rate. According to TikTok statistics, users love the positive experience while shopping during the holiday season. 93% of TikTok users celebrate the holidays, especially, 35% of users say TikTok makes them feel joyful.
The winter holiday is the season that shoppers show great enthusiasm. 93% of weekly TikTok users celebrate the winter holidays and 82% of TikTok users feel positive about the winter holidays.
Otherwise, during the holiday shopping season, consumer buying behavior is really different. Shopping is happening everywhere and anywhere with 84% of TikTokers planning to shop online at retailers or brand websites. They are also prepared to discover and buy their perfect items, even if they have to pay more than usual.
Huge inspiration in each deal
During the holiday shopping season, TikTok shoppers are looking for more than just deals. When it comes to TikTok, it's all about inspiration! If you aim to generate more revenue, first of all, you need to inspire your audience. Using this platform, they want to get inspired for what to wear, how to decorate, where to travel, what to cook, how to apply makeup, and more.
As a shoppertainment platform, joy and creativity always stay in the first place. TikTok users are 2.1x more likely than users of other platforms to seek inspiration about fashion, 2x more about beauty, 1.6x about decor and 1.4x about travel destinations.
Holiday inspiration across communities
During the TikTok shopping holiday, the For You Page (FYP) filled up with diverse creative content from many subcultures and communities. Spending to discover niche communities can help you to find your brand's niche audience.
Some communityToks show growth potential for brands to invest in. The decor community and DIY activities come to first place when it is about the TikTok holiday's inspiration.
Compared to other platforms, the decor community never lets content creators be disappointed with 1.6x more likely users. Otherwise, TikTok users are 1.4x more likely to stick with DIY (Do it yourself) activities.
Key holidays to create a surge in sales
Key holidays
Black Friday
Black Friday is a colloquial term for the day following the Thanksgiving Day holiday in the United States. It means the unofficial start of the holiday shopping season and the biggest retail sales day. This holiday is an ideal time for any e-commerce retailer's strategy to clear their stock and kick off the Christmas shopping season.
Christmas
Christmas is an annual festival that celebrates the birth of Jesus Christ. The month of the Christmas season is widely regarded as the strongest occasion in terms of sales in retail and especially in e-commerce.
New Year's Day
New Year's Day is a festival observed in most of the world on 1 January, the first day of the year in the modern Gregorian calendar. It is considered a huge occasion for brands to generate more revenue. People make New Year's purchases simply because they want to splurge on themselves.
Niche holidays
Valentine's Day
Valentine's day has become more than simply an occasion to celebrate love and romance, but is also a lucrative opportunity for retailers to take advantage of. People usually spend more money and businesses are expected to advertise and promote their products everywhere.
Halloween
Halloween is a US-based holiday that records higher conversion rates and sales performance. During this occasion, people want to create the ultimate look and therefore, they are really ready and willing to spend more to have their designed product.
Thanksgiving
Last but not least, Thanksgiving is an annual national holiday in the United States and Canada that celebrates the harvest and other blessings of the past year. It is also an occasion that people often shop more than they expected.
For You Page – the spotlight of holiday inspiration
The FYP is the center of TikTok holiday inspiration that increases the likelihood to purchase. TikTok users who view LIVEs or holiday creator videos are 30% more likely to plan early for the holiday shopping season.
A high engagement rate with TikTok features in the FYP can lead to amazing results that you've never expected. According to TikTok statistics, it's recommended to harness the buying potential of those who engage with TikTok live streaming event creators and trending content. They are more likely to co-create (by 1.4-1.8x), participate in brand challenges (by 1.5-2.1x), and click on ads to learn more (by 1.5-1.7x).
In addition, the holiday season on TikTok is especially longer than on other social media platforms. Even though the date has passed, the TikTok community and subculture continue to celebrate and discuss with family and friends (31%), purchase something related to the holiday (29%), or even get a head start on next year's shopping (21%).
TikTok Shopping Ads for the holiday shopping season
TikTok has recently announced new shoppable advertising formats that begin testing ahead of the 2022 holiday season. This latest format offers an amazing experience depending on the shopper's purchasing intention and content three key features that serve different purposes:
Video Shopping Ads
Catalog Listing Ads
Live Shopping Ads
Video Shopping Ads are hyper-relevant and smart videos with personalized recommendations based on audience interactions. Those videos will be displayed on the For You Page and allow marketers to promote products in their feed TikTok Video Ads. Especially, a landing page will be automatically created from this wonderful feature. Video Shopping Ads are now available for testing globally.
A little bit different from Video Shopping Ads, Catalog Listing Ads will lead your product information directly to a new shoppable destination beyond the For You Page. Therefore, brands have a winning opportunity to reach more potential users who are willing to spend more. Catalog Listing Ads are currently tested in the US.
Live Shopping Ads will take advantage of live moments to drive more engagement. This feature is beneficial by allowing marketers to direct users from the FYP to their event, so they can join and purchase items. Live Shopping Ads are being tested where TikTok Shop is available including the UK, Indonesia, Malaysia, the Philippines, Singapore, Thailand, and Vietnam.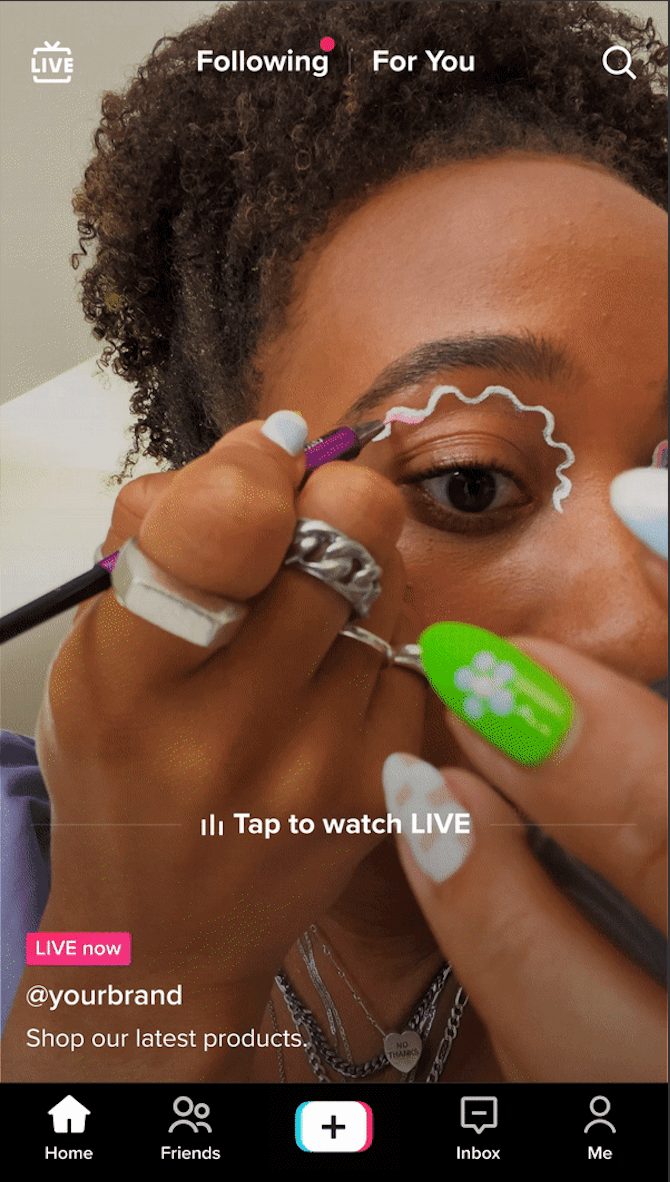 Apart from three key features, TikTok Shopping Ads also provide automatic catalog updates, automated budget optimization, real-time granular insights for both TikTok and cross-platform, and customizable view and data integrations. Other features such as scaling and automation of creative production across a product catalog, and creative elements will be added in late 2022.
Best TikTok Holiday Marketing Ideas to thrive your business
Enjoy the holiday spirit
To become a part of the TikTok Holiday shopping season, your TikTok content strategy has to meet the holiday spirit. One of the simplest ways to get into this holiday party is to leverage holiday-related hashtags.
By using TikTok popular hashtags, brands have a chance to show their specific image and also gain a higher engagement rate. In terms of holiday shopping season, #blackfriday has more than 950 million views, while #itsblackfriday recently hit 1.2 billion views.
At the same time, TikTok users show a high level of excitement with their season creations, starting with their homes, through hashtags such as #holidayhacks (2.8 billion views) and #christmas (21.6 billion views). Gift-giving and unwrapping also show their power during the holiday with #gift up to 5.3 billion views and #unboxing at 7.2 billion views.
Unbox success with creativity and joy
It wouldn't be TikTok without creativity and a blend of joy, so brands should fill up their feed with authenticity and happiness. As the holiday season approaches, even if you post organic content or run an advertising campaign, keep in mind that your content needs to be attractive by showing a very real and human side.
Run TikTok Ads
TikTok offers a wide range of advertising formats that can satisfy even the most difficult demands of every marketer. From targeting, and insight reports to ad management tools, all types of TikTok Ads put the power in the business's hands to meet their potential audience.
During the festive season, TikTok Ads for the holiday shopping season become the marketer's favorite topic. They aim to discover the holiday checklist plan and how to plan for key holidays to optimize advertising performance.
If you are wondering how to run ads on TikTok and what type of TikTok Ads are suitable for your holiday campaign, let's take an eye at our recommendation:
However, it seems to be a little bit difficult for small businesses in TikTok – a highly competitive advertising community. Feel free to contact our expert or try out our new product NestAds to master every type of TikTok Ad!
Otherwise, take an eye on our TikTok Ads tutorial to find out the best way to launch your campaign from scratch!
\Interact with your audience
Keeping your For You Page interactive and friendly will help businesses to achieve their must-meet goals: go viral on TikTok. Your audience will definitely be convinced when you take the time to respond to their comments and joke with them in a funny way.
It's especially important during the holiday vibes because all users want to have fun and beat the boredom. TikTok, in the first place, is an entertainment platform so brands need to interact in a friendlier way than they do on other social media sites such as LinkedIn.
Create your own story in existing trends
During the festive season, TikTok covered a lot of holiday shopping trends created by users and other businesses. You don't have to be creative all the time, just jump into the trends made by other TikTok content creators, and you will see the results!
Although TikTok shows great potential for brands during holidays, remember that taking low is good for business. Before starting to create your own campaign for the TikTok holiday shopping season, let's discover two high-performing TikTok holiday advertising ideas to get inspired!
Elf Cosmetics – 30-second unboxing challenge
Elf Cosmetics is an affordable and professional-quality cosmetic brand known for its vegan and cruelty-free formulas. Already a TikTok favorite, during the month of Christmas, Elf Cosmetics created a 30-second unboxing challenge that has blown up on TikTok.
Elf leveraged two TikTok influential factors that drive the trends: influencers and challenges. An influencer squad Bad Wiggies took part in a challenge to unbox the ELFtastic 12-Day Advent Calendar in under 30 seconds. Understanding the culture is another reason why Elf's video attracts a lot of TikTok users.
This video has become a bloom with 1.5M views and 268.2K likes. Choosing influencers to do the challenge increased the audience's engagement and also encouraged them to purchase an ELFtastic Advent Calendar.
Levi's – 1 Pair, 3 Holiday Outfits
Levi Strauss & Co. is a global leader in jeanswear that designs and markets jeans, casual wear, and related accessories for men, women, and children.
Similar to Elf Cosmetics, Levi's also took advantage of influencers to reach more potential audiences and generate more revenue. During the winter shopping season, Levi's launched a simple and creative video with TikToker Vasti Nico.
This video shows the audience three ways to style Levi's jeans for the holidays. This content topic is a perfect choice to build brand's trustworthiness and stimulate customers' purchasing desire. The video received 8.7M views and 176.4K likes with a huge number of viewer comments.
Plan your perfect marketing strategy for the TikTok holiday shopping season
During the holiday shopping season, TikTok shows its strongest points as a shoppertainment platform compared to other platforms, especially with the support of different TikTok Ads features. People are ready to spend more money and purchase more items on TikTok, so don't miss out on this opportunity! We hope that this article covers all things necessary for you to start the TikTok holiday shopping season.