The holiday season is getting closer than ever! All the best events are waiting for all of us: Thanksgiving, Christmas, and New Year Eves. And for online businesses, this is a great chance to get creative with all the hottest holiday shopping trends and make the most out of it.
Are you looking to stay ahead of the game this holiday season? Well, you're in luck because we've got the inside scoop on the hottest trends that are shaping the world of online shopping in 2023. From the most popular tech-loving trends to spending preferences, this year's holiday shopping scene is all about embracing the new and unexpected. So prepare yourself and join us as we dive into the exciting realm of 2023 holiday shopping trends!
2023 latest holiday spending and shopping insight
Understanding consumer insights is the first and foremost step an online business must take to keep up with the market. However, this process can be time-consuming. But guess what? We've done the legwork for you! Here are the three most prominent shopping and spending insights, allowing you to gain a deeper understanding of consumer behavior this year:
Decreasing holiday spending
Although inflation has decreased from the previous level, many consumers are still keeping a close eye on their budgets. According to the CNBC survey, 43% of consumers are planning to tighten their belts and spend less than they did back in 2022.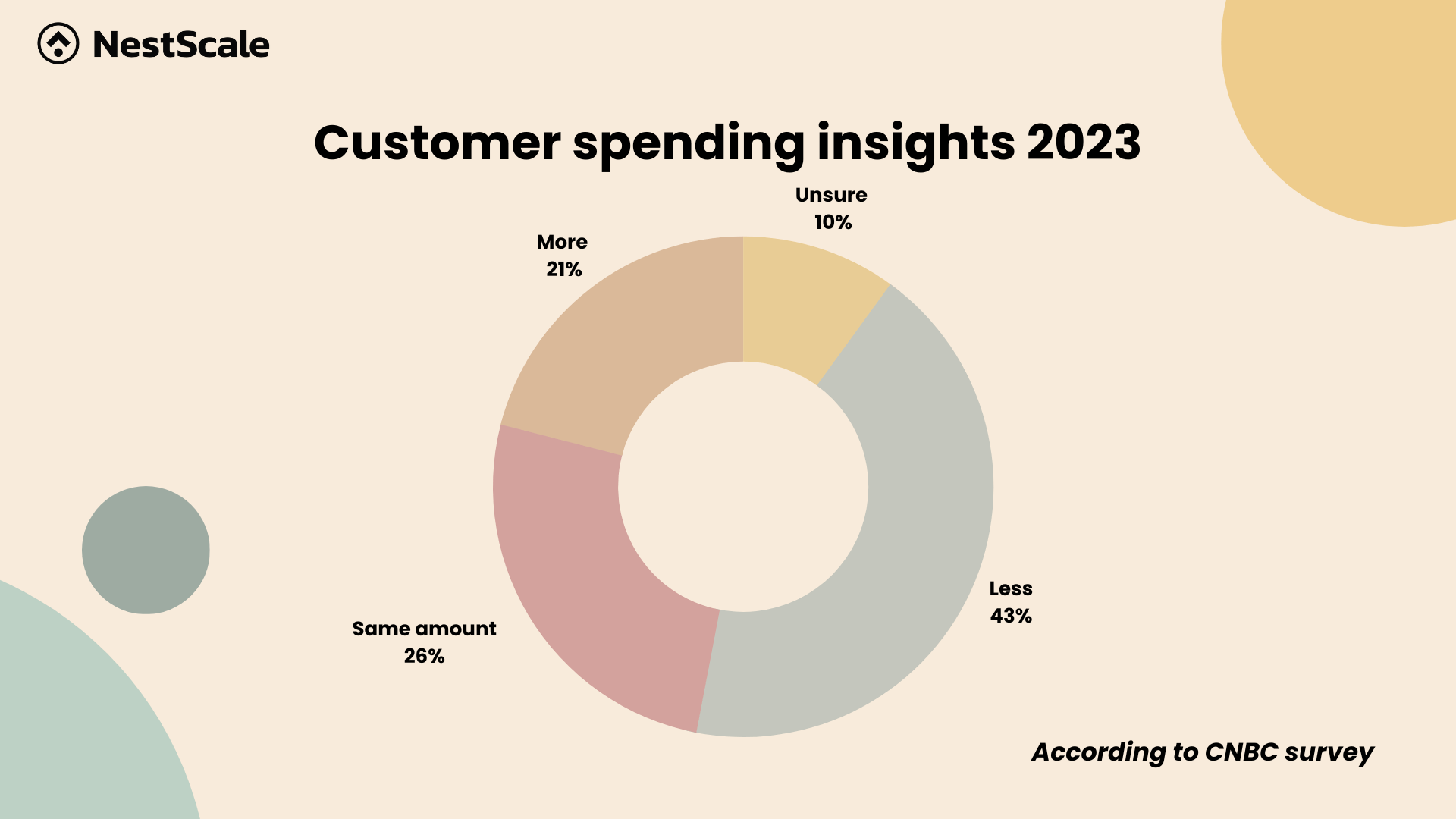 However, as we inch closer to the year-end festivities, people are willing to pay more money for holiday items. According to Numerator, 39% of the surveyees say that they are willing to spend 50 – 100$ for purchasing during Thanksgiving. Moreover, 70% of these respondents also said that they are willing to spend more than 100$ for products during Christmas! This still spells good news for businesses looking to amp up their game for the year's grand finale.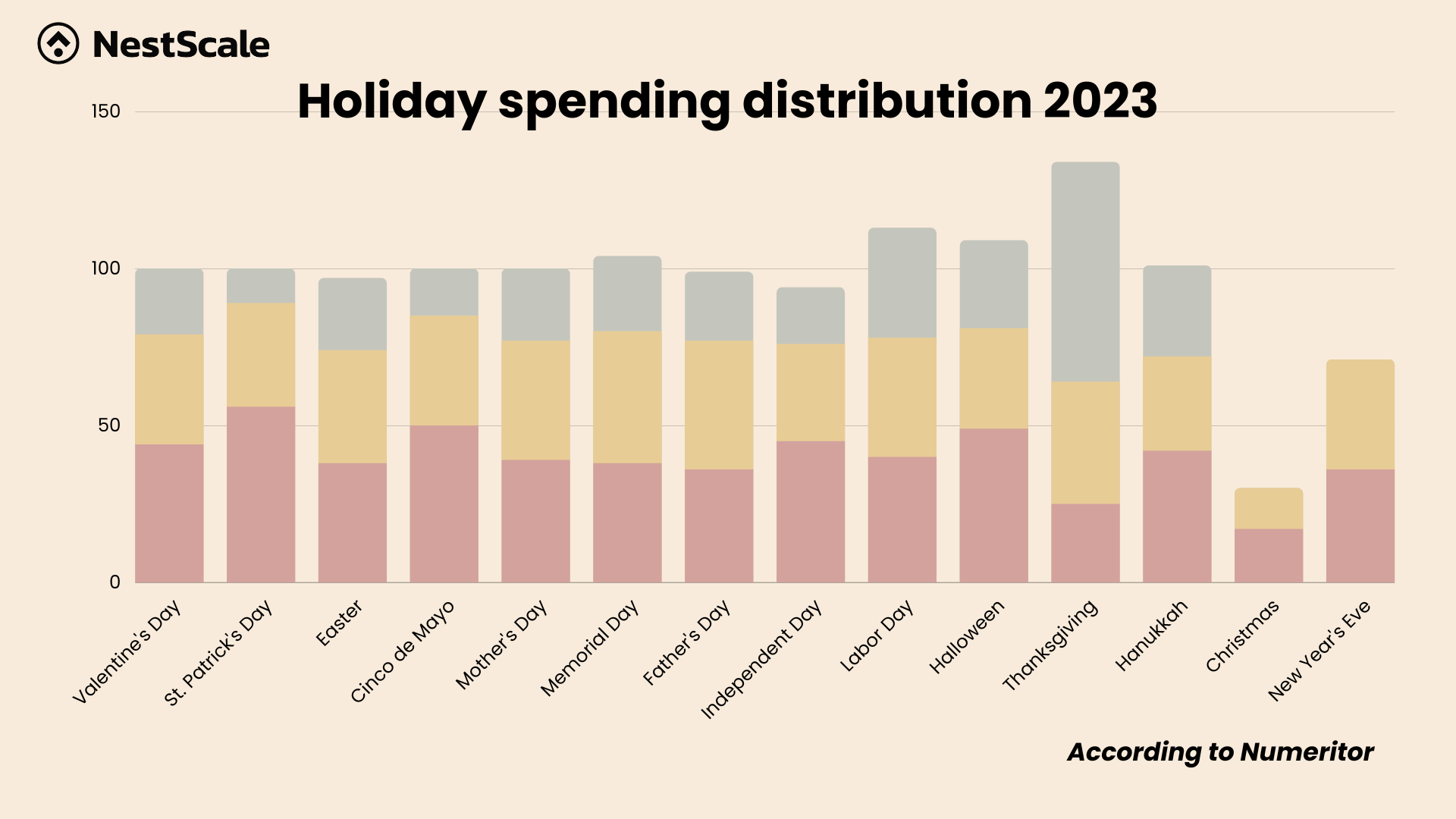 Mixing It Up: All Ages Getting in on Online Shopping
A notable insight among holiday shoppers this year is their emphasis on brands. Consumers are showing a preference for brands that align with their values, making brand reputation a critical factor in purchasing decisions. Additionally, technology-loving shoppers are seeking seamless digital experiences, from personalized recommendations to convenient online checkouts. This highlights the significance of tech-savvy strategies in attracting and retaining customers.
So, this year's holiday shoppers cover a really wide age range – all the way from the tech-savvy Gen Zs (18-24) to those budget-smart Baby Boomers. Each bunch has its own set of expectations and unique ways of getting into the holiday groove. That's why you gotta get your marketing game on point, tailored to each group to really click with them.
By the way, you've probably noticed how Gen Z is totally acing the e-commerce scene with a whopping 46.9% domination, right? So, getting all geared up to connect with these potential big spenders is a smart move.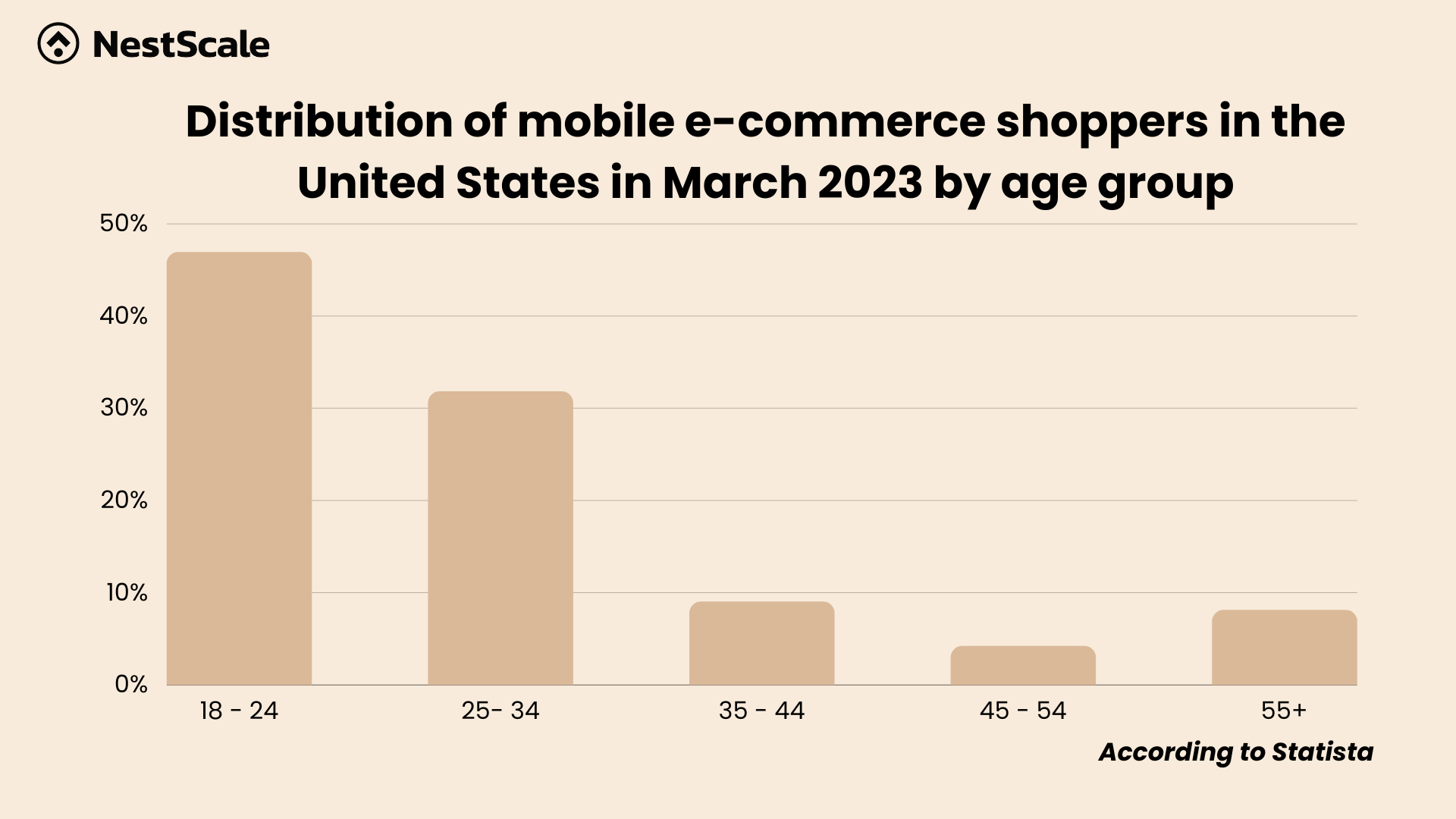 Top 5 best 2023 holiday shopping trends (+Tips to win the game) 
And here is the fun part that you've been waiting for! We are going to spill the tea about all of the most prominent holiday shopping trends that are loved by consumers. Check out these 5 trends below top up this season:
More demand for discounts and gifts
In 2022, the holiday season saw a surge in discount-driven e-commerce, where discounts and special offers took on the role of superheroes. Despite concerns about inflation, discounts, and deals made shopping more alluring than ever. So get ready to keep your store stocked with awesome deals and let your customers grab those savings!
Black Friday and Christmas are perfect moments for offering discounts and gifts, which can be a smart strategy. During these times, people are eager to shop and tend to spend more. Instead of just a quick sale, consider implementing longer-lasting discounts that align with the holiday spirit. Here are some easy-to-implement discount ideas to manage your inventory effectively.
Bundle Discounts: Bundles are a fantastic way to offer customers great deals while boosting your sales. Imagine giving them the chance to buy multiple items for the price of one! It's also a great opportunity for upselling and introducing new products. Make sure your bundle benefits both you and your customers.
Free Shipping Incentive: Think about offering free shipping as a perk for online shoppers. It's like a sweet bonus that might just encourage them to go ahead and buy what they want. If it's doable, why not sprinkle some free shipping magic into your holiday game plan?
Gift card: Introduce gift cards as a convenient option for holiday shoppers. Let customers choose the value and give the gift of choice. Gift cards are a flexible solution for those seeking the perfect present
The tendency to buy at various channels
Hey, guess what? Shoppers these days are mixing up how they shop! You've got the usual online shopping, but now there's this cool Buy-Online-Pickup-In-Store (BOPIS) thing too. Also, traditional shopping at physical stores coming back! People want choices that fit their busy lives. So, Our recommendation? Start to integrate all channels to create a seamless experience for your customers. And that is to create omnichannel customer service. 
So, start simple: make sure your customers' info flows seamlessly across every channel. Whether they're browsing your website, shopping in-store, or chatting with you on social media, you want their experience to be like a well-coordinated dance. When they're on your website and then pop into your store, they shouldn't feel like they're starting from scratch. All their preferences, purchase history, and info should be right there.
AI is joining the fun this holiday season!
AI has affected customers' experience significantly. Generative AI helps your shoppers discover cool and unique gift ideas, while Predictive AI takes notes on what they've liked before to give killer recommendations. This isn't just about making customers happy, it's also about boosting sales and keeping them coming back for more.
Having an AI assistant might sound a little bit complex, but actually, it's not! Here is our suggestion on some of the easiest ways you can integrate AI power into your store:
Let's Talk ChatBots: Having a chat service with a friendly chatbot can be a real game-changer for your business. It takes some load off your support team and makes your customer service super smooth. If you're not into building one yourself, you can always grab a third-party chatbot to make things easier.
Personalized product recommendations: You know those AI-powered product suggestions? Well, slap them onto your product pages and checkout process. They're like your online shopping buddy, helping customers find cool stuff they'd actually love and even boosting the chances of them buying more things.
Automate Marketing Campaigns: You can also use AI to analyze customer behavior and preferences to tailor your marketing campaigns. Automate emails, social media posts, and other content to send the right message to the right customer at the right time.
Social media heavily affect customer's buying decision
Social media is the place to be in this holiday season. We're talking Facebook, Instagram, TikTok – and now, there's Threads jumped into the mix! But it's not only a place for entertainment; it's an excellent platform to boost your brand's recognition and connect with potential customers.
Begin by crafting eye-catching posts that flaunt your festive products across TikTok, Instagram, and Facebook. Get your audience engaged with exciting giveaways, holiday-themed contests, and interactive polls to amp up their excitement. And don't let those popular holiday hashtags slip your mind – they're like rocket fuel for expanding your reach. Think about teaming up with influencers to spread the word about your fantastic deals.
Oh, and remember to leverage ads on both Facebook and TikTok. Take our word for it – it's a smart investment that will give your products the spotlight they deserve this holiday season! Just make sure that you always keep an eye on your campaign performance. You can check through NestAds – our tracking tools that will provide you with all the metrics you need to improve your ads. 
The need for a watertight return policy
Poor return experiences during the holiday season could seriously dent your sales – this has been a lesson of last year's holiday season. Shoppers aren't all rainbows and sunshine when it comes to returns.  Last year, around 10% to 16% of U.S. e-commerce orders were returned each week from November to mid-January. Brands try to lower this percentage since they only care about restrictions and not customers' feelings, the situation can hardly be fixed.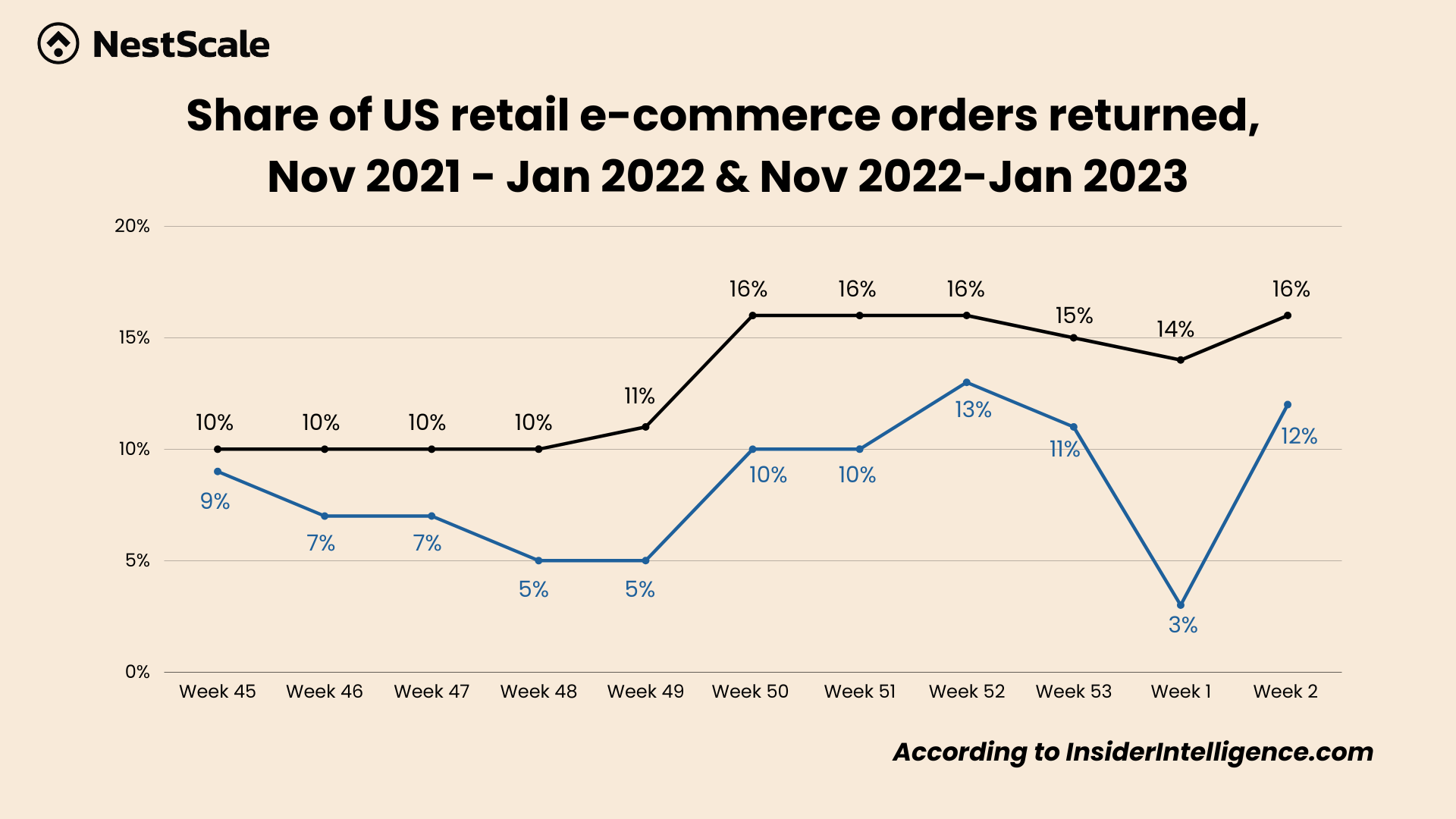 Now, here are some basic but super important things to keep in mind for smoother return experiences for your customers:
Keep it crystal clear: Make your return policy super easy to find and understand. Shoppers should know exactly what to expect when they want to return something. Transparency is key!
Feedback Matters: Encourage customers to provide feedback about their return experience. Use this insight to improve your process and tackle any pain points.
Highlight your return and refund policy: It's a safety net for both you and your customers. So, make it easily accessible – put it on your FAQ page, in your navigation bar, and during checkout. This way, customers always have it in sight.
Our e-commerce holiday calendar for you to prepare
The fourth quarter of the year is packed with holidays, some of which are obviously bigger than others. In this section, we'll name upcoming shopping dates that you should pay attention to. Let's explore and decide which ones are important for your business and customers so that you can get ready and ride the way in the holiday season.
Thanksgiving – 23rd November
Thanksgiving isn't just about gratitude and family – it's also a big shopping day. While Black Friday gets a lot of attention, Thanksgiving Day itself has become a shopping extravaganza, with many stores launching sales ahead of time.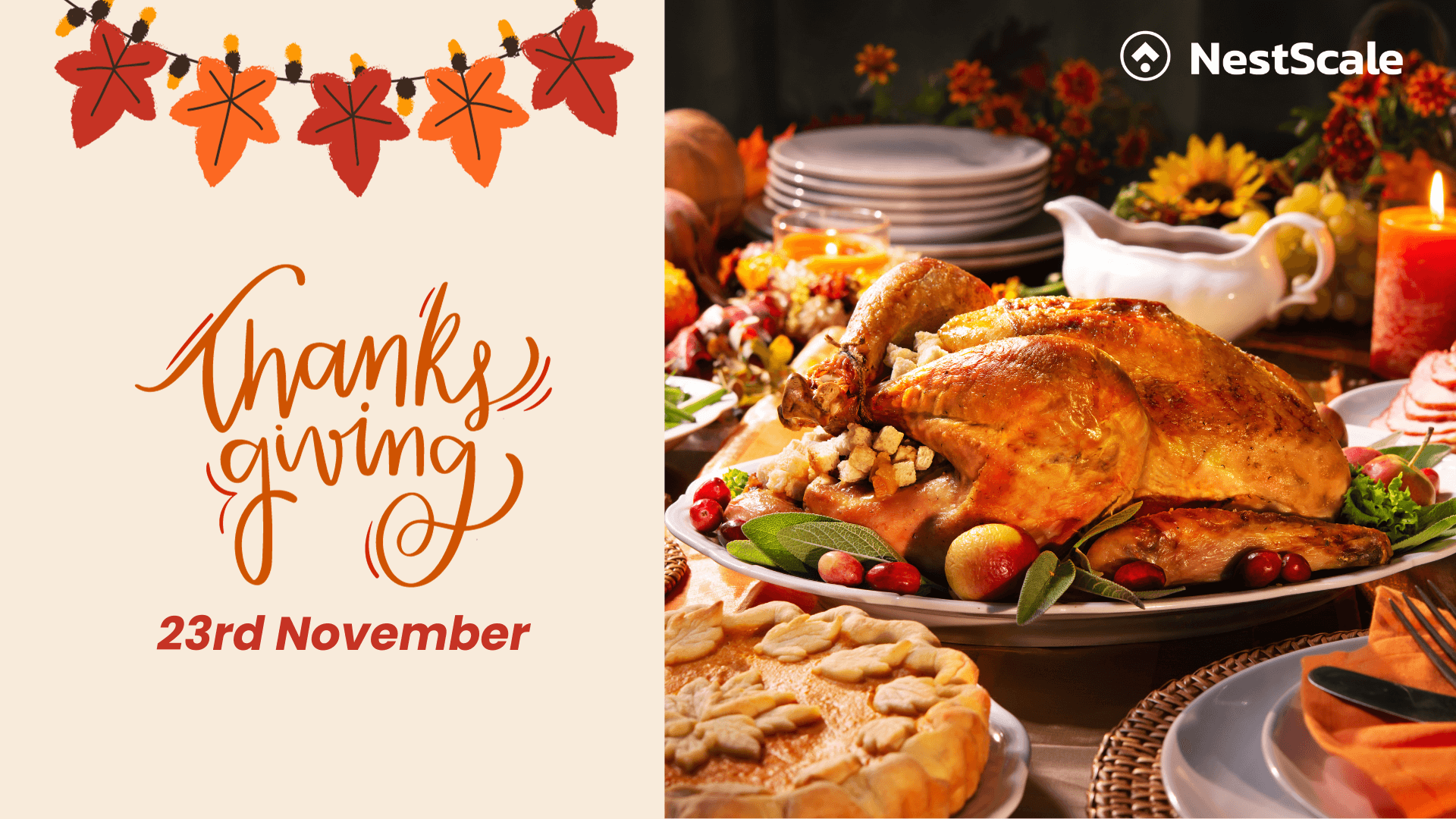 E-commerce businesses can tap into this by offering special early-bird deals, optimizing mobile shopping, and using social media to connect with potential shoppers. By merging thankfulness with shopping excitement, you can forge a meaningful bond with consumers and add extra cheer to their holiday season.
Black Friday and Cyber Monday – 24th & 27th November
Kicking off the holiday shopping spree, Black Friday and Cyber Monday are like no other days on the calendar. Falling right after Thanksgiving, these two days are marked by massive discounts, flash sales, and a rush of enthusiastic shoppers both in stores and online.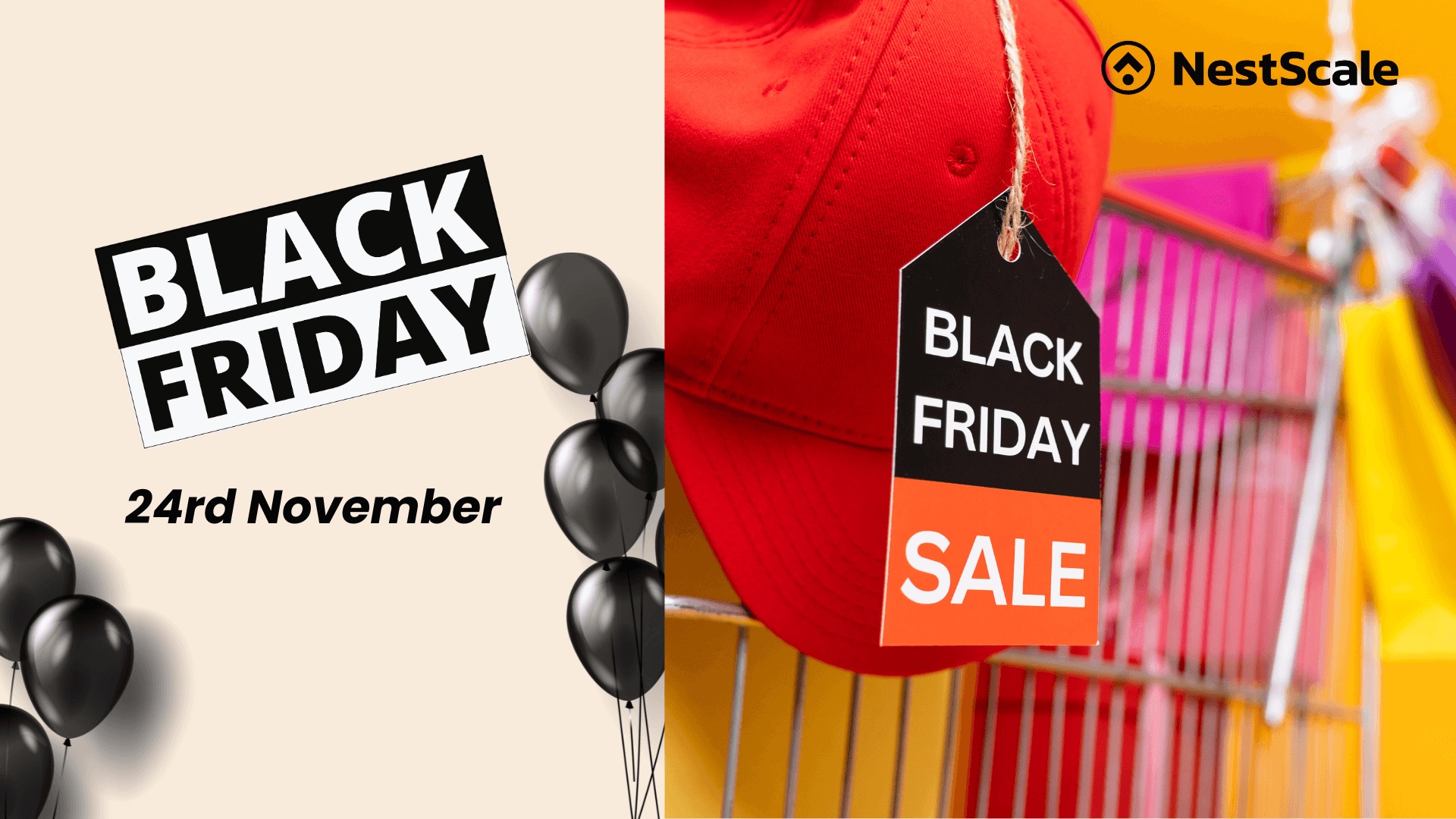 E-commerce businesses capitalize on this shopping frenzy by offering jaw-dropping deals that attract consumers looking to snag the best bargains. Whether it's electronics, fashion, home goods, or anything in between, these days offer a prime opportunity to boost your sales and attract new customers. Get ready to witness long lines, overflowing shopping carts, and an online shopping experience like never before.
Christmas and New Year – 25th & 31st December
The holiday season wouldn't be complete without the joyous celebrations of Christmas and New Year. For e-commerce businesses, this time of year brings a focus on thoughtful gift-giving and creating memorable experiences. Shoppers seek out unique presents for their loved ones, driving up the demand for a wide range of products.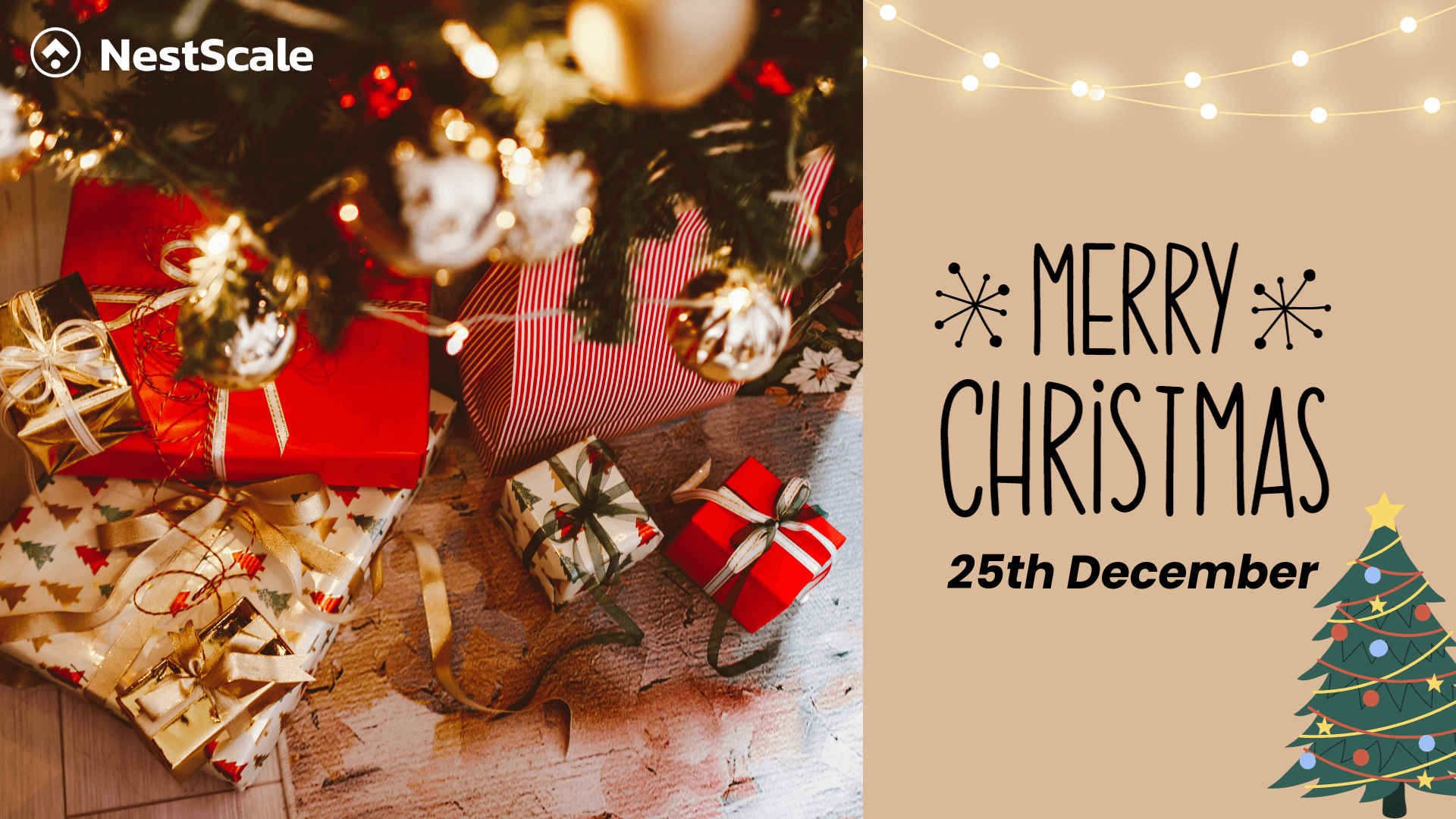 From personalized gifts to festive decorations, the possibilities are endless. As an e-commerce business, you have the chance to curate holiday-themed collections, offer limited-edition items, and provide hassle-free shipping options to ensure that your customers' holiday wishes come true. Additionally, the transition to the New Year prompts many consumers to make resolutions, setting the stage for sales related to health, fitness, organization, and self-improvement
Preparing for the holiday shopping season now!
The holiday shopping frenzy will come really soon. And the sooner you plan for your holiday season strategy, the more advantages you can get to impress your customers with the best services and boost your sales. So, what are you waiting for? Don't be caught off guard – take note of all of the holiday shopping trends and insight, and start gearing up for the holiday season right now!