At NestScale, our commitment is to ensure that our users enjoy the best experience and continual enhancements. That's why we're absolutely delighted to unveil some amazing updates from NestDesk 1.4 that are set to elevate your experience to new heights.
With NestDesk 1.4, it's all about empowering your agents, enabling them to work smarter and not harder, all while ensuring that your customers receive instant, precise answers. A better experience for everyone involved!
Simplify customer order management flow
Can I edit my order? Can I cancel my order? Or can I get a refund? Have you ever received these kinds of questions? Streamlining these return and cancellation requests can be a game-changer for your customers.
In our latest version, NestDesk introduces an enhanced order management flow that empowers your shoppers to effortlessly edit, refund, cancel, or update their shipping orders—all in just a few clicks.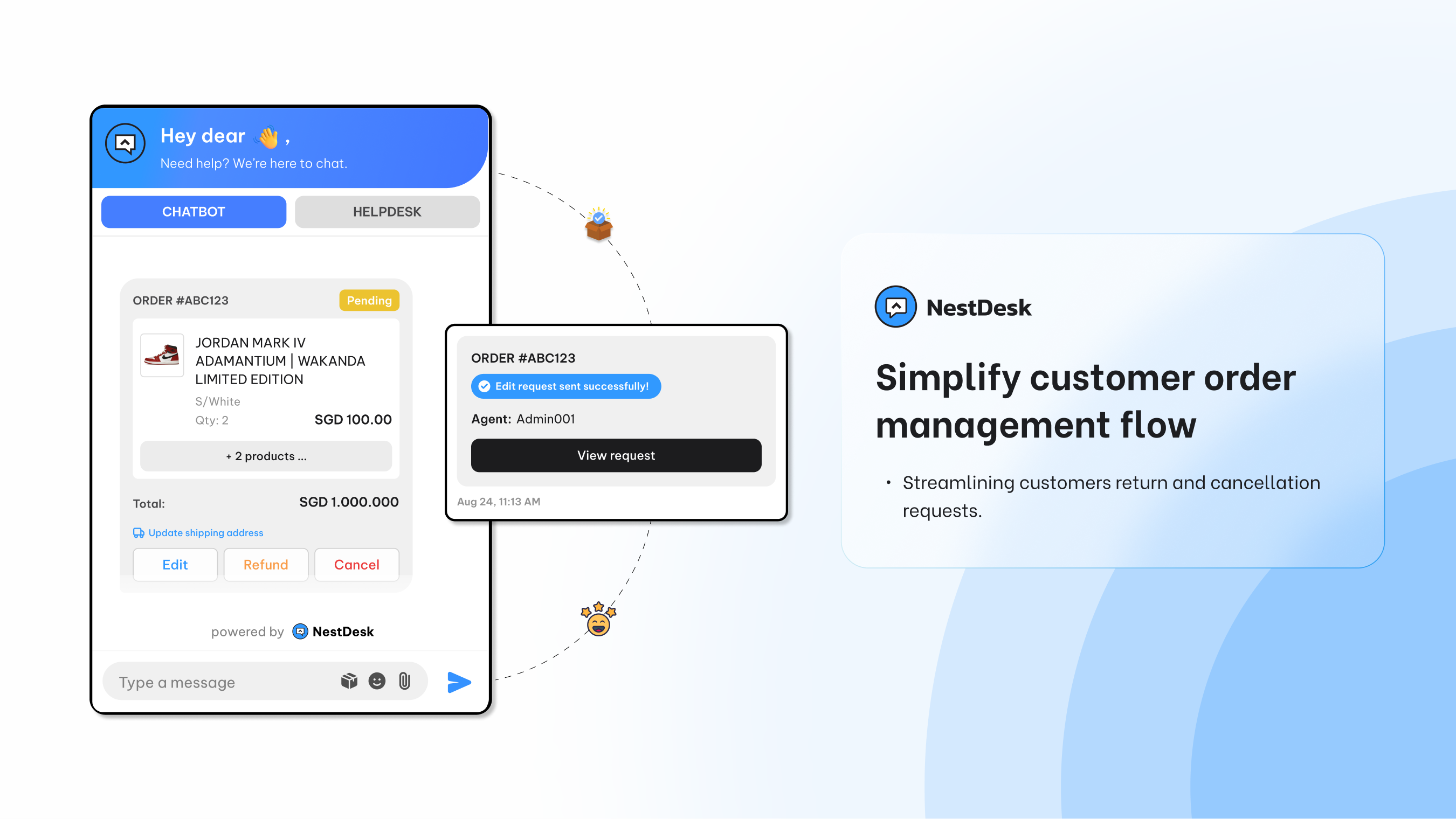 This means your beloved customers no longer have to initiate a live chat with your agents to fulfill their requests. They can simply click the request button, and an agent will be readily available to process the refund or cancellation.
It's all about leaving your customers delighted with a smooth and hassle-free experience. Happier customers, fewer chats!
Real-time visitor tracking & monitoring with live chat
Gaining a comprehensive understanding of customer insights is the key to delivering personalized and highly effective support. No more generic responses and welcome to a more engaging, customer-centric chat experience with NestDesk 1.4!
Visualize customer website journey with live data
Don't settle for one-size-fits-all solutions. Let's take your customer support to the next level with event activity tracking! To ensure all your agents tailor their responses and recommendations with precision, we have centralized all customer website activities in a single view.
View your customer's cart and product activity in rich customer profiles, right inside the conversation dashboard. This valuable data is right at your fingertips with NestDesk! In this way, everything becomes easier when it comes to visualizing what customers are doing and where they've been. Keep track of what customers are doing so you're always one step ahead.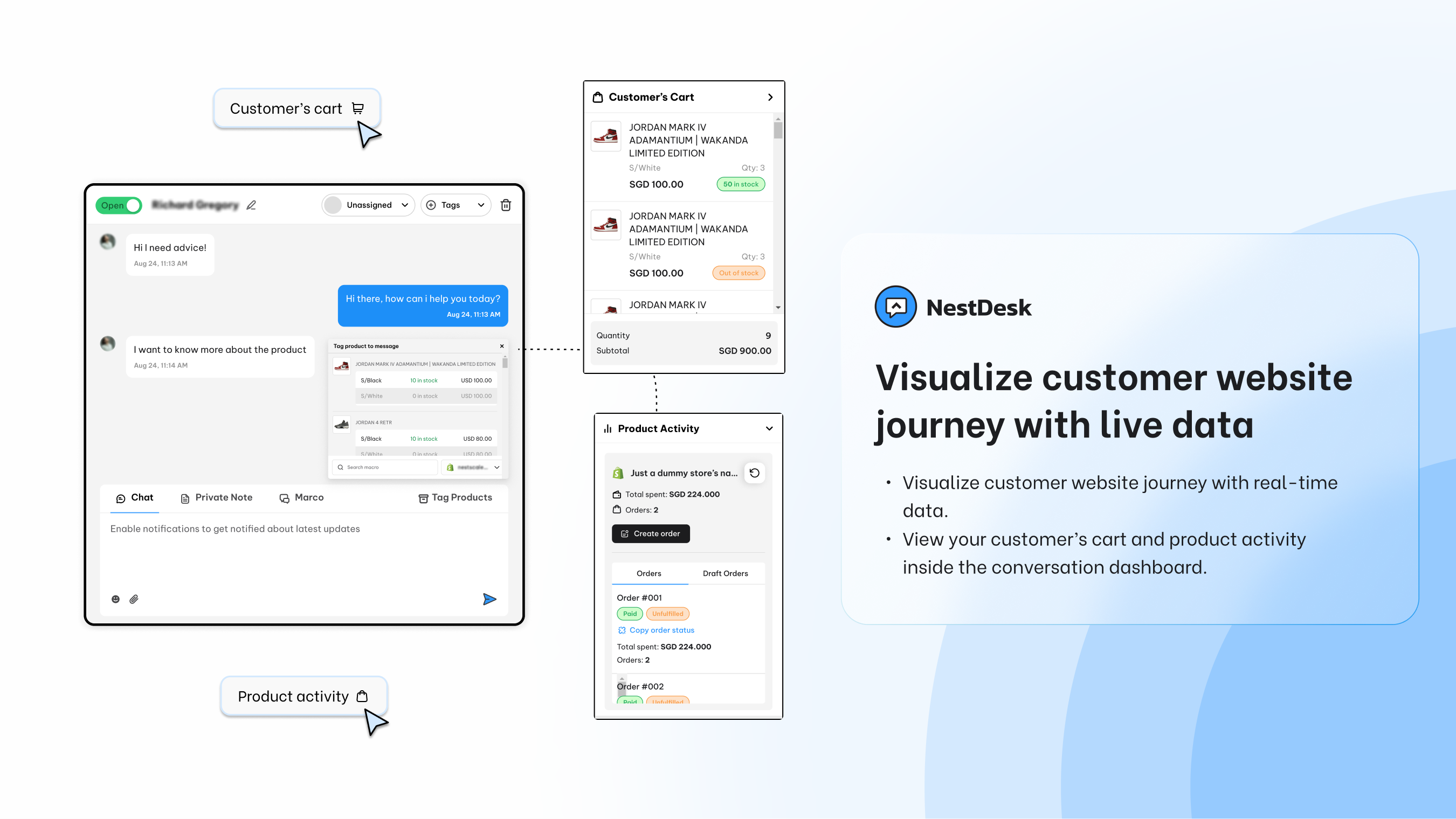 No more switching tabs to copy/paste, or asking customers for information you already have. And no more challenges in providing exceptional guidance to customers who are ready to convert!
Easily monitoring customer's browsing activity while chatting is a great way to build agents' confidence and improve their productivity. What is better than supporting while easily getting to know your customers?
Track customer geolocation directly
In all the previous versions, NestDesk provides you with all customer phones and emails to easily connect with them and deliver personalized support. But that's not all, NestDesk 1.4 does more than that.
It goes the extra mile by offering to all agents customer geolocation information, leaving no room for guesswork. Now, you can precisely pinpoint your customers' locations, enabling you to track and communicate with them confidently!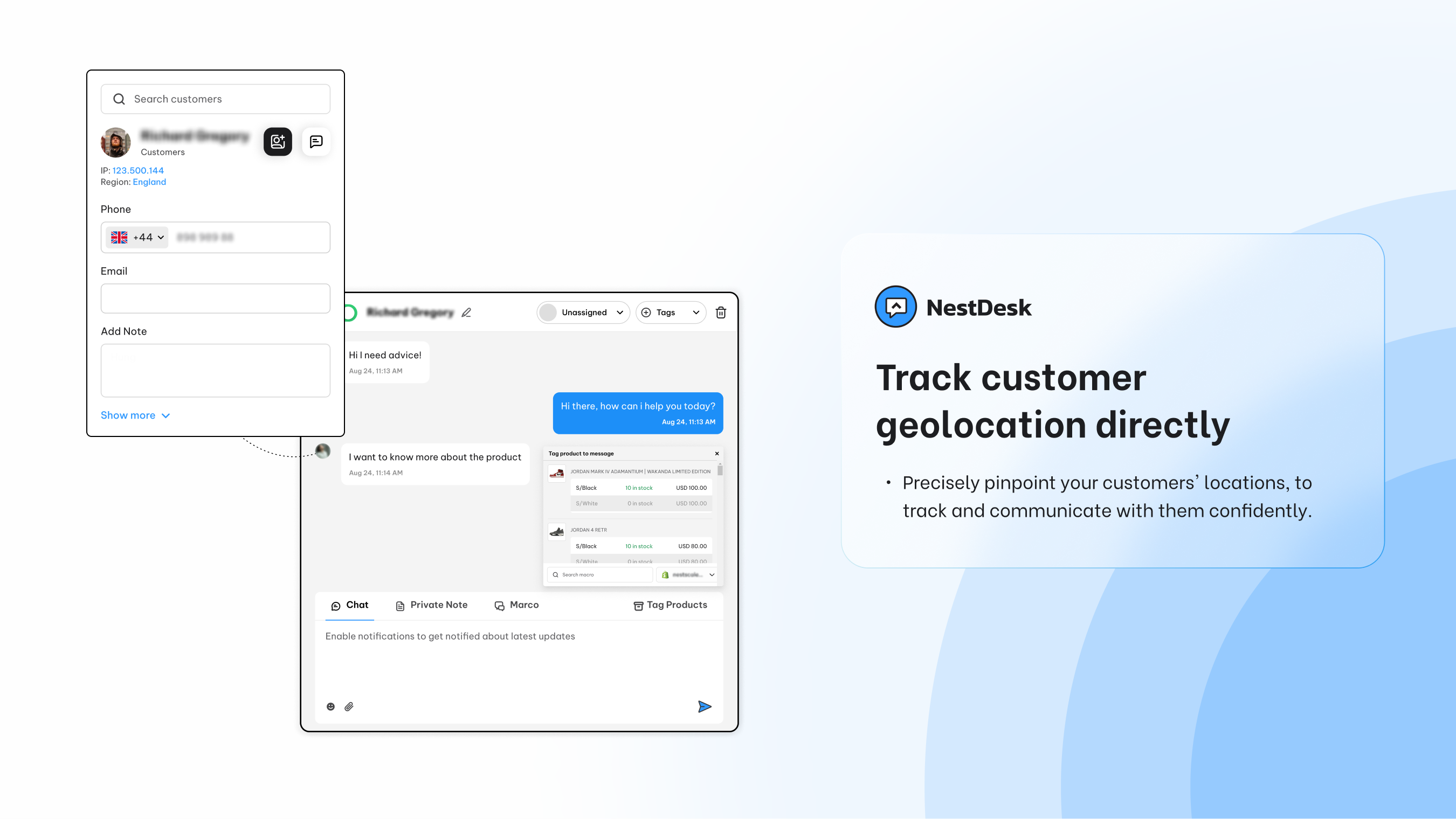 Set business hours & offline messages to avoid missed chats
If you follow (or are experiencing) emerging customer service trends, the expectation of 24/7 support is like a rising star on the horizon. But humans can't work around the clock, that's why NestDesk business hours were created for a better service.
With this feature, you gain the ability to define specific days and times when your support agents are actively available. It's a more effective way to communicate your team's working hours to customers, ensuring they know when to expect a response. One more special thing, you have the flexibility to choose your preferred time zone and configure offline messages.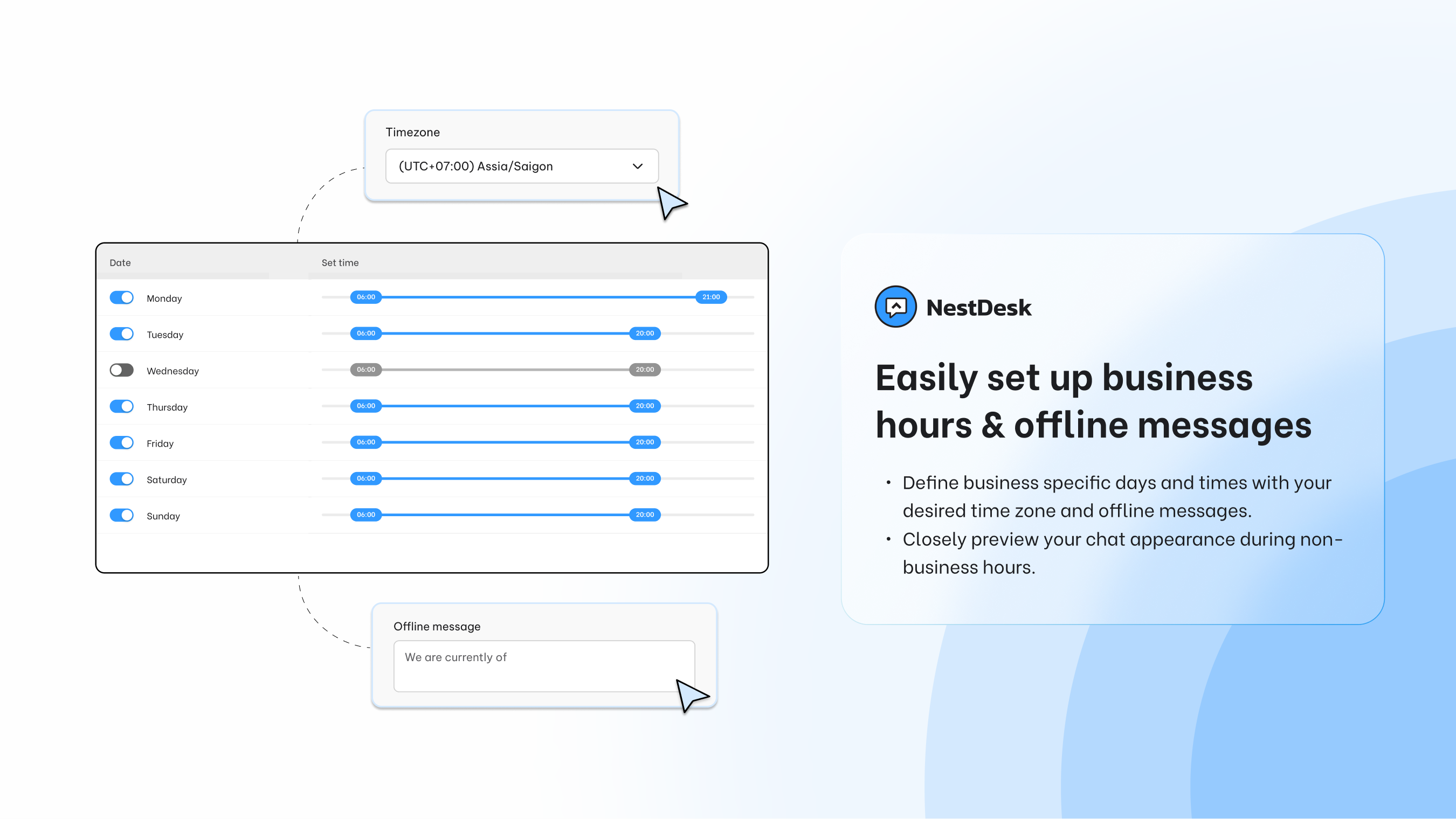 As your business expands, you may have employees working across different regions and international time zones. This makes selecting the right time zone crucial for providing better customer service. When a user initiates a chat conversation, NestDesk will automatically send an offline message letting them know your team is currently unavailable. In this way, you can ensure customers never get left in the dark and help you manage your customer support operations more efficiently.
What's more, NestDesk offers you a preview of how your chat box appears during non-business hours. This feature empowers you to maintain control and ensure that your chat box presents a good look before it's officially showcased to your customers. It's all about delivering a seamless and professional support experience while meeting the demands of modern customer service trends.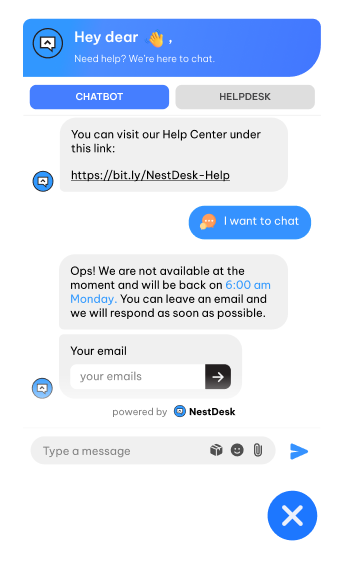 Automately send emails to offline customers
In NestDesk 1.2, we've improved our notification system to keep all your agents in the loop, ensuring prompt responses to crucial customer inquiries. Rather than sending in-app notifications to online agents only, in the latest version, even when your customers are offline, the app takes charge by automatically notifying them. These notifications, highlighting new replies from your agents, are conveniently delivered to offline shoppers via emails.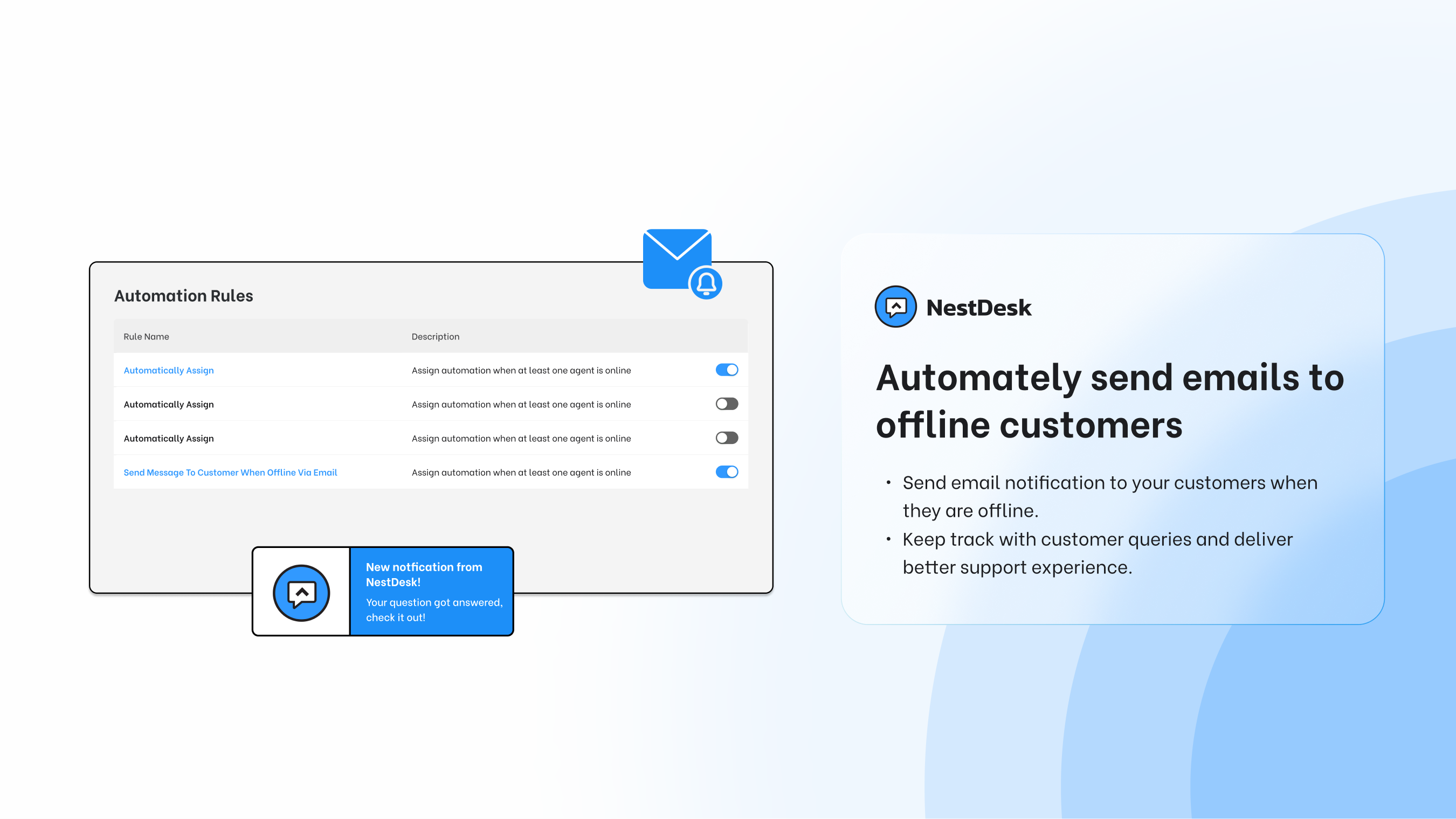 Imagine what happens when a customer starts a conversation in live chat, promptly provides their email but leaves the site before an agent can respond to their queries? In such cases, an email notification to offline customers really matters, especially in urgent situations. This automation rule helps them receive timely responses to their questions, contributing to an exceptional customer service experience.
Affordable new pricing plans with NestDesk 1.4
With these latest updates, we're thrilled to introduce new pricing plans including Free, Basic, Advanced, and Professional. What's even more exciting is that both our free and paid plans come with a 7-day trial, offering you unlimited conversations. In this way, you will have enough time to explore all the advanced features at no cost before making your decision. Your satisfaction is our priority!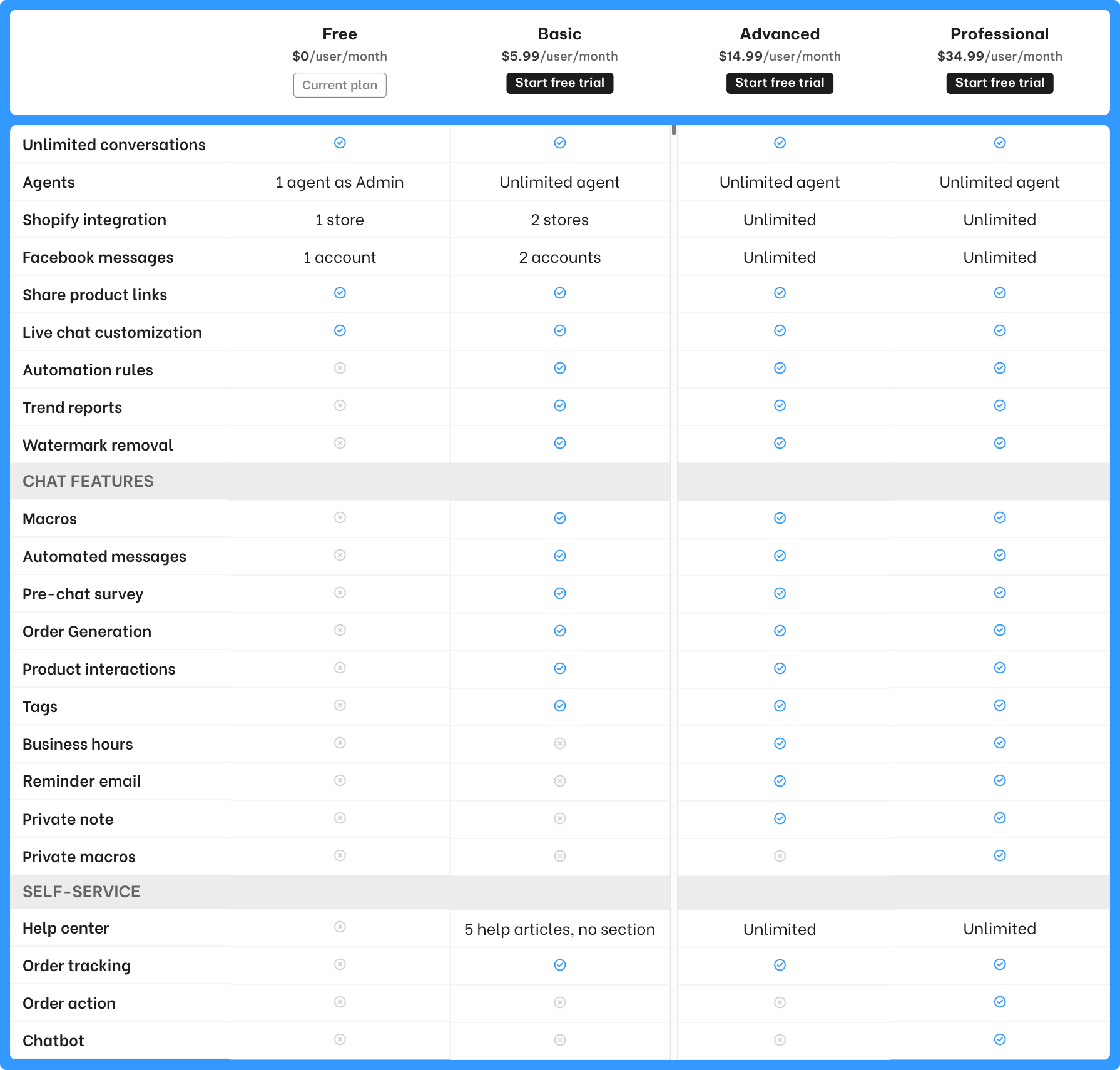 Support faster, happier customers with NestDesk!
NestDesk 1.4 will be a secret for your business to elevate your customer service to new heights. Automate your work, streamline your support operations, and improve customer satisfaction, you will have all with these new powerful updated features.
So, whether you're a small business or an established enterprise, NestDesk 1.4 invites you to embrace the future of customer service and unlock new possibilities for growth and success. Don't wait – join the journey towards exceptional customer support with NestDesk 1.4 today! And please stay tuned for more upcoming updates from our team!