Are you looking to skyrocket your e-commerce sales, increase your average order values, and keep your customers coming back for more? Look no further than NestScale Bundles & Discounts, the Shopify app that revolutionizes how online stores drive revenue.
With NestScale Bundles & Discounts, you can effortlessly create enticing product bundles, offer volume discounts, and provide free gifts to captivate your customers and boost your bottom line. So let's dive in to find out all the most excellent features!
Promote popular products together
NestScale Bundles simplifies the art of promoting popular products together by allowing you to create irresistible bundles. Imagine offering your customers a package deal that includes complementary items they love, all in one convenient purchase.
This strategy increases the perceived value of your products and encourages shoppers to buy more than they originally intended. It's a win-win for both you and your customers!
Sell more and better with unlimited product bundles
One of the standout features of NestScale Bundles is the ability to create unlimited product bundles with ease. Thanks to it, you'll flexibly bundle up to three products together. This means you can curate bundles that genuinely resonate with your target audience.
What's more, NestScale Bundles offers a range of discount options to entice your customers including percentage discounts, fixed amount discounts, set prices, and free gifts. With these diverse discount options, you can tailor your promotions to your audience's preferences and maximize your sales potential.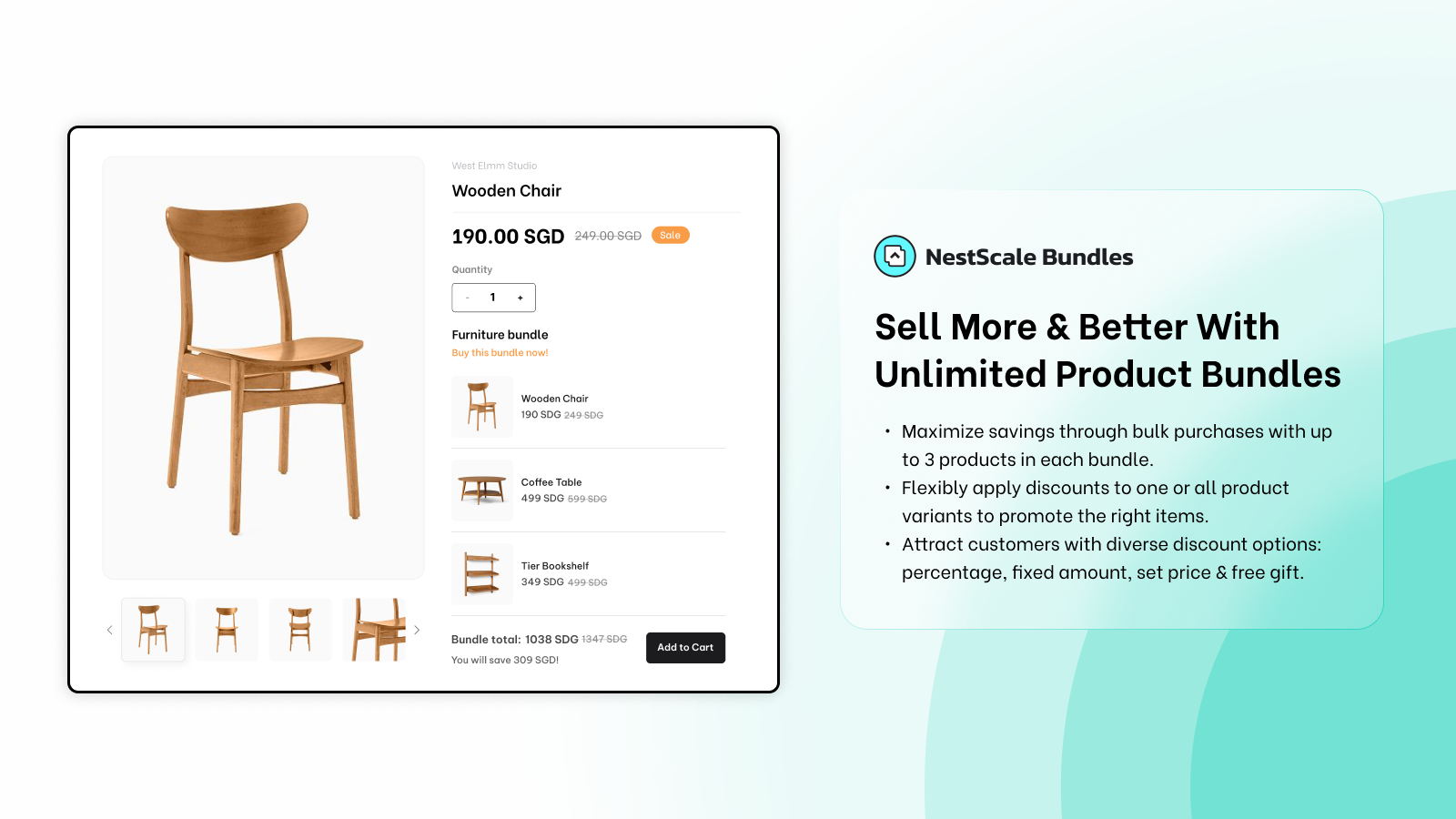 By suggesting various product bundles, you encourage customers to purchase more items in a single transaction. Not only does this boost your average order value, but it also enhances the shopping experience by simplifying the decision-making process for your customers.
Increase revenue with volume discounts
With NestScale Bundles, you can set specific requirements for customers to qualify for volume discounts. This level of customization means you can finely tune your promotions to match your business goals.
You can decide how many products a customer must purchase to unlock the volume discount. This not only encourages larger orders but also helps you move more inventory. Furthermore, NestScale Bundles doesn't limit you to applying volume discounts to just one product variant. Instead, you can apply the discount to all product variants within the bundle.
On the other hand, percentage discounts are a fantastic way to reward customers for making larger purchases. Thanks to NestScale Bundles, you can apply percentage discounts to the entire bundle, making it easy for customers to understand the savings they're getting.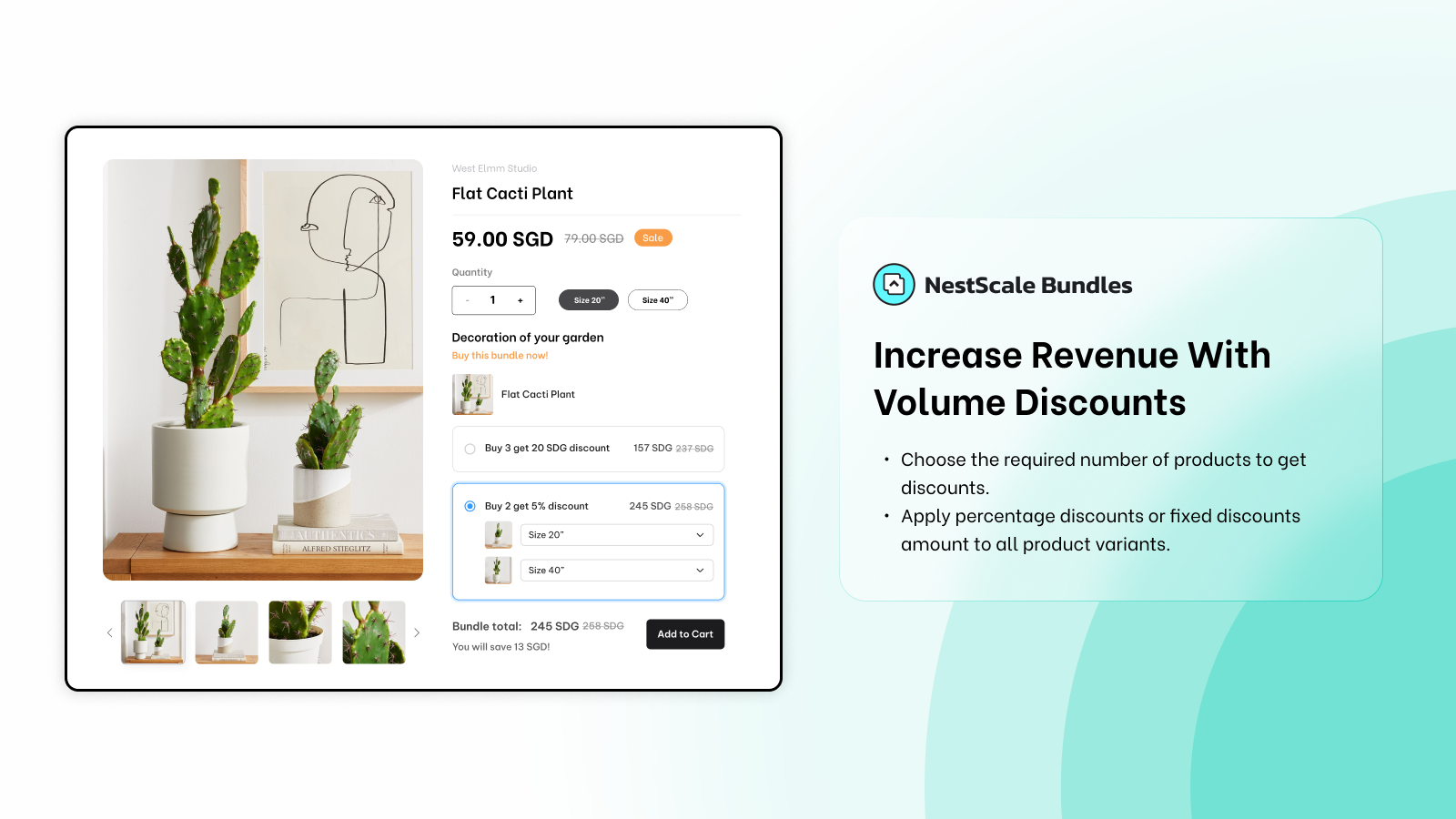 All in all, with customizable requirements and discount options, it's easy to craft promotions that attract your customers, drive sales, and ultimately contribute to the growth of your e-commerce business.
Appeal shoppers with customized bundles
In the world of e-commerce, standing out from the competition and creating a seamless, visually appealing shopping experience is crucial. Here, NestScale Bundles and Discounts will empower you to do that by allowing you to tailor your bundles to your brand's unique style.
Feel free to edit your bundle and product message and color to stay consistent with your store design. Additionally, you can also change the 'Add to cart' button action and the number of bundles showing on the product page.
By customizing your bundles to match the look and feel of your store, you create a cohesive shopping experience that reassures customers and makes them feel at home on your site.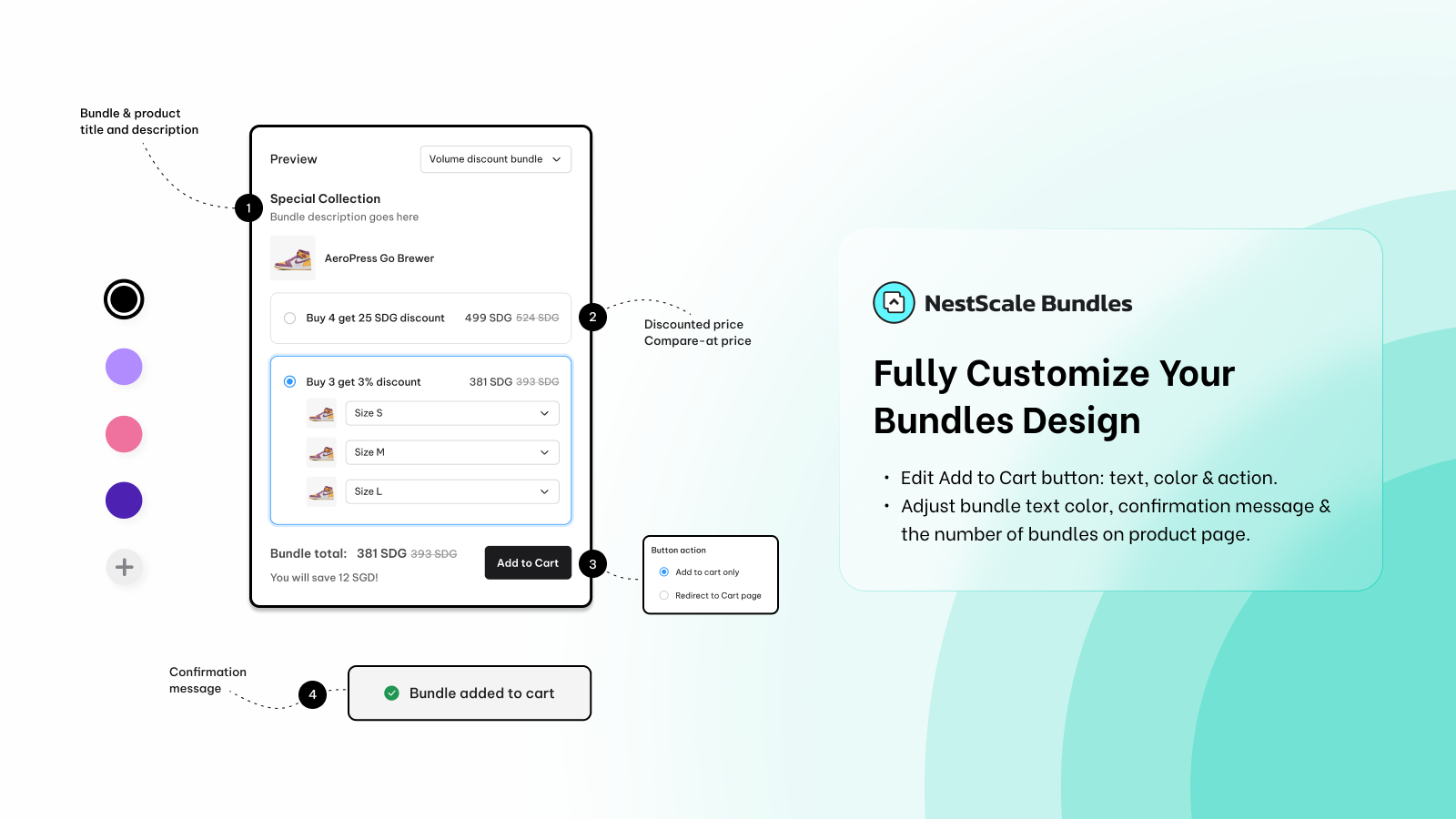 Suggest the best offer to customers
Meet the 'Bundle list' feature – the one where you can set your bundle priority and recommend the best deal for customers.
Take this as an example. A T-shirt product from your store is in two different bundles: One is a trousers product bundle and one is a volume discount. You set the former for number 1 (primary priority) and the latter for number 2 (secondary priority). Therefore, when your customers visit the T-shirt product page, they will see the trousers product bundle before the volume discount.
With NestScale Bundles and Discounts, you can go beyond the one-size-fits-all approach. The ability to suggest the best offer and provide multiple bundle choices creates a personalized shopping experience that resonates with customers. They feel understood and catered to, which fosters trust and loyalty to your brand. This personal touch sets your online store apart from the competition and increases the likelihood of repeat business.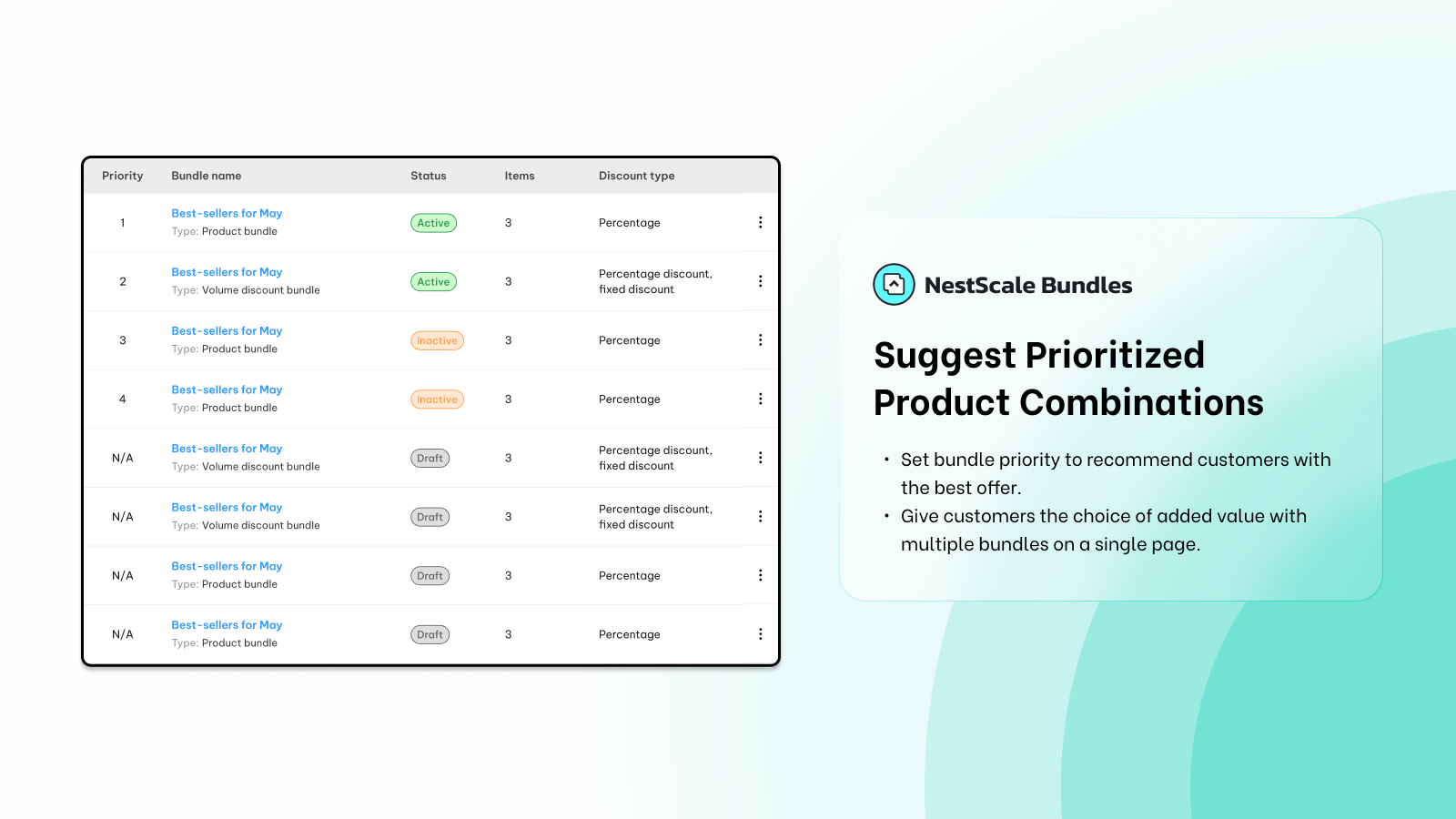 Keep track of your bundle performance
Understanding how your product bundles are performing is essential to optimizing your e-commerce strategy and increasing revenue. That's why NestScale Bundles provides a comprehensive view of your bundle performance through revenue statistics such as total revenue, total orders, and average order value (AOV).
Additionally, our app goes beyond basic analysis by offering more detailed insights into how customers interact with your bundles. These metrics provide a deeper understanding of your bundle performance, ensuring that you make data-driven decisions to boost your business.
Last but not least, NestScale Bundles also allows you to identify your best-selling bundles. This is crucial for making your bundles most resonate with your audience, adjusting their pricing & discounts, and allocating more resources to promote your top-performing bundles.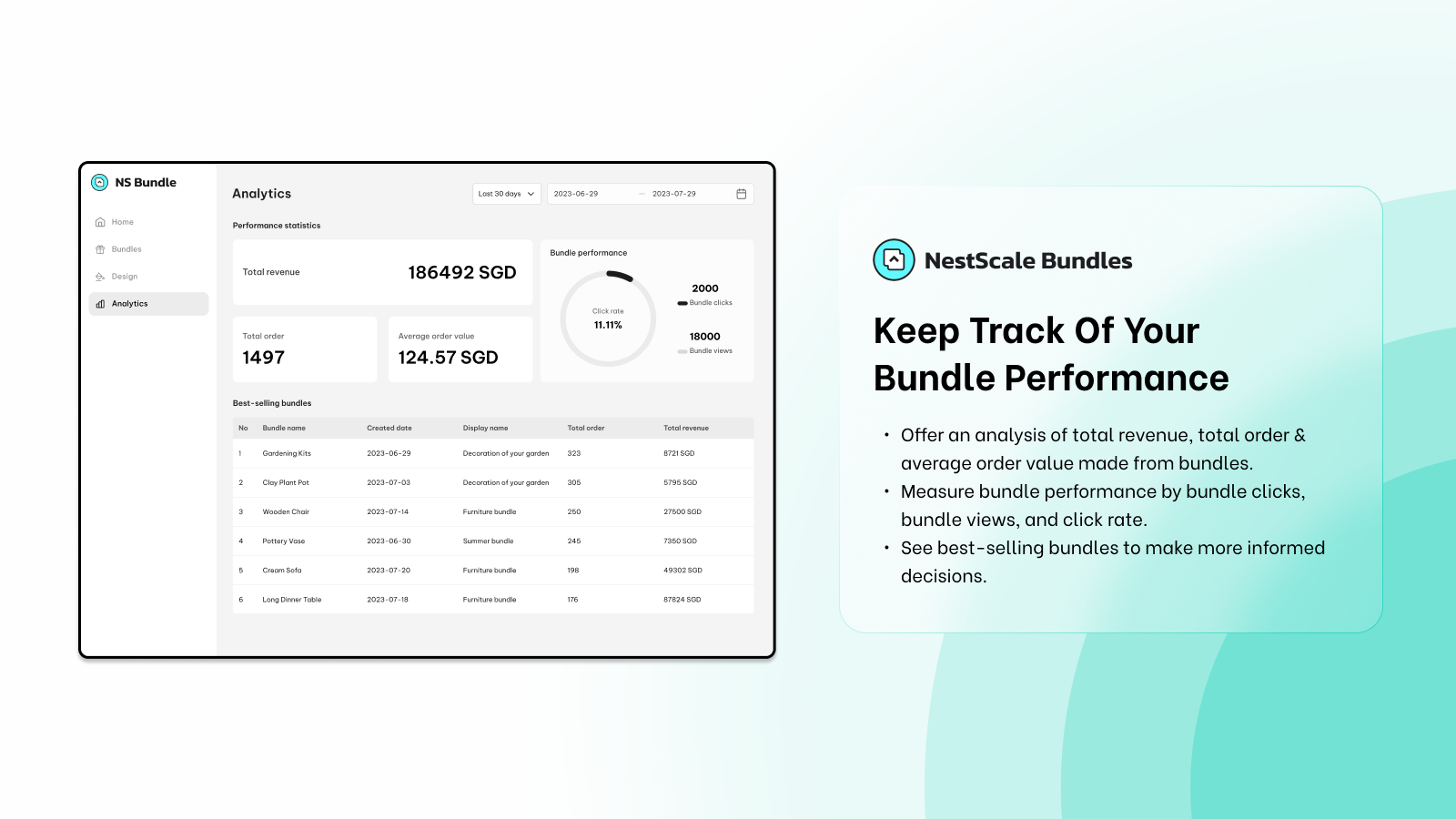 Ready to level up your e-commerce business game
With the power to create enticing product bundles, offer volume discounts, and provide free gifts, NestScale Bundles & Discounts is your ticket to boost average order values and drive up sales. In the competitive world of e-commerce, it will empower you to stand out, engage customers, and increase revenue.
So why wait? It's time to take your e-commerce game to the next level with NestScale Bundles – the ultimate Shopify app for success. Try it out today and watch your sales soar!