So how do you rate success on TikTok? One billion is the number of active TikTok users, which shows that anyone using TikTok will have a vast audience. But to get to the numbers you expect, it will need detailed analytics, such as allowing you to measure weekly and monthly growth, total time playing videos, information about who is watching, etc.
If you're new to TikTok, we're here to help you uncover these numbers. We'll walk you through where to find those data and what to do with it, so you can use it to upgrade your marketing campaigns.
What is TikTok Analytics and who can see it?
TikTok Analytics
TikTok Analytics is a tool that allows creators to track TikTok insights into data like follower count, an overview of an account profile, or video analytics.
You can track how well your videos perform compared to your competitors or see how many new followers you get after watching your videos. On the whole, TikTok Analytics is an essential and handy tool for marketers or anyone who wants to be famous through the social networking platform TikTok.
2. Who can see it?
Anyone can do it, or more precisely anyone with a TikTok Pro account. These accounts, according to TikTok, provide "creative tools that allow corporations to think like marketers but act like creators."
3. TikTok's statistics
These built-in stats from TikTok are essential to growing your TikTok account. To see these metrics, you should switch to a Pro account. TikTok account statistics can take up to seven days to produce analytical data after changing the account type.
Enter your profile (the "Me" tab), and go to the menu (the three-dot icon in the upper right). Select "Settings"
Navigate to "Manage my account"
Tap on "Switch to Business Account"
Choose a category that suits your account.
If you did not tie a phone number before, enter it at this stage, and the code you will receive by SMS.
Done! You will see the "Welcome to Business Account" pop up
How to use TikTok Analytics?
1. Where to find TikTok Analytics?
Once you've created a TikTok Pro account, you'll be able to gather information about your videos and engagement. To see this information, click the three dots in the right corner of your profile to access the settings. Click on the "Creator tools" row.
You'll find various creator tools to help you manage and grow your account. Click "Analytics" to get to the analytics overview.
2. Overview
After clicking on Analytics, you will be taken to the overview. Here will show you the most critical data, like engagement. You can see the views on all your videos, the number of people viewing your profile, likes, comments, and even the number of shares. All this data will show up in graph form when you click on the gray arrow on the right.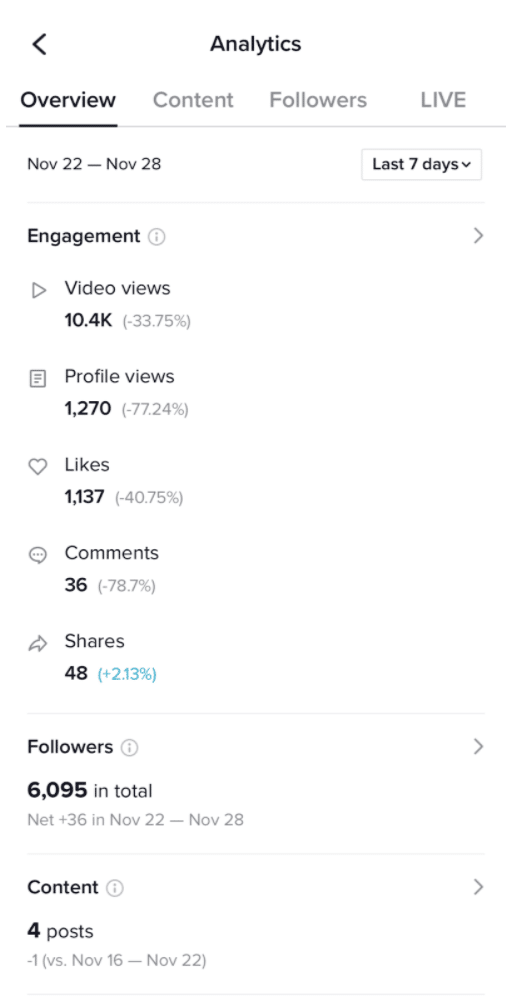 In addition, below will show the number of new followers in your chosen timeframe and an overview of any content you've posted. This tab can show seven-day statistics. However, you can adjust it to 60 days. This helps you measure performance over a long time.
3. Followers
As can be seen, the dashboard shows primary data about the number of followers. But it does not provide detailed information about the object. To see insights switch to the follower's tab to find demographic information like gender, geographic location, follower activity, and when they're most active.
Besides you can also find out the interests of your followers on this tab. The videos and audio tracks your followers watch and interact with will appear here.
4. Content
You can do this on the content tab to update your most popular videos. This tab will show the nine videos with the best engagement for seven days, and you can also click on the video for a more detailed analysis.
Tapping a video shows metrics like the average time viewers spend on your video, total playtime, and traffic source. This helps you see whether your viewers are coming from hashtags or your profile. These stats are present in all your videos, so you can collect data and analyze which videos will work best for your account.
5. Live analytics
When you click on this tab, you'll see detailed information about your live videos archived seven or 28 days ago. The tab will analyze the number of followers, how long you are active and how many diamonds you earn during that live.
What to do with data?
Once you know what your audience is paying attention to and when they're most active, you can use that information to improve the content of your profile, and you can even announce something new. It's for those who work with you to tailor your campaign.
When it comes to your content, use insights from Analytics for testing. Try out audio tracks your followers already listen to, and post videos of different content with hashtags. Over time, you will better understand what your followers like and what attracts new followers to your profile.
Moreover, if you cooperate with KOLs – Influencers, ask them to combine the information you have learned about your audience to get better post results. Once you've re-shared any user-generated content from previous TikTok trends, you can also use detailed data about that content to see which creators your audience responds to the most. You should create a long-term partnership with them for your upcoming content and campaigns to be successful.
Learn from your content and make it better
Take your TikTok profile to the next level by learning about your followers' analytics. By learning from your page analytics on a regular basis, you can make a place for more engaging content that will outperform your competition. We hope that this post gives you an outline of how to manage your analytics and make the most of it.
In case you are still struggling with TikTok and want to master this platform, feel free to contact our expert or try our new product NestAds!