In today's digital age, social media platforms have become a game-changer for businesses to reach their target audience. And when it comes to beauty brands, TikTok has emerged as a powerful tool for promoting and improving their selling power.
In this blog, we will explore the 10 best beauty brands on TikTok in 2023, and how they can leverage TikTok to enhance their selling power to stand out in the crowded beauty industry. So, if you're a beauty brand looking to level up your marketing game, keep reading to find out how TikTok can help you achieve your goals.
10 best beauty brands on TikTok that inspire
Fenty
Fenty, a beauty brand founded by Rihanna, has been performing well on TikTok. One of the reasons for their success is how they make good use of Rihanna's fame. Fenty has created numerous videos showcasing Rihanna, and as a result, this has effectively drawn attention to their brand.
Another key factor in Fenty's success on TikTok is that they create funny videos that are suitable for TikTok culture. They know that TikTok users enjoy lighthearted content, so they make sure their videos are entertaining and engaging.
One thing that sets Fenty apart from other brands on TikTok is that they don't overly promote their products. Instead, they focus on creating content that is enjoyable to watch. This approach helps to build a positive relationship with their audience, which can lead to increased sales in the long run.
e.l.f Cosmetics
e.l.f. Cosmetics is a makeup and skincare brand that is affordable, professional, vegan, and cruelty-free. They started a TikTok campaign at a time not many brands were even on TikTok yet.
They made an original song for a TikTok challenge called #EyesLipsFace and taught people that e.l.f. stands for "eyes. lips. face." It was a huge hit, and since then, e.l.f. has become really popular on TikTok. As a result, they've amassed over 10 billion views and nearly 7 million user-generated videos.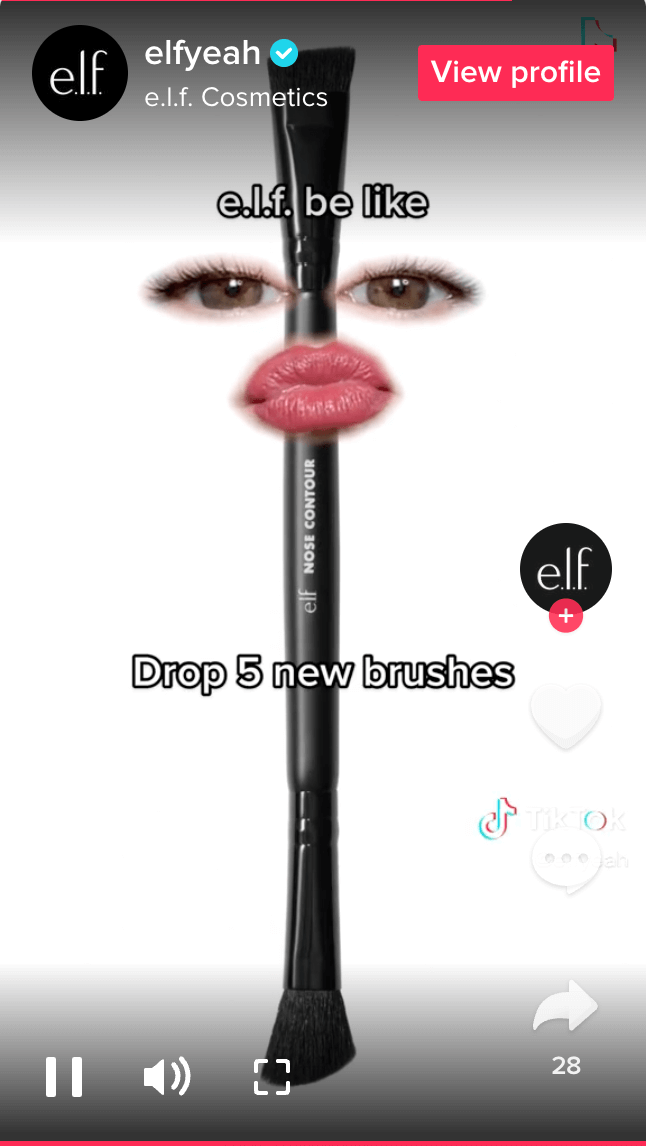 CeraVe
CeraVe has been performing well on TikTok due to its effective content strategy. Their videos are not only informative but also funny, which is perfect for the platform's younger audience. CeraVe's street interview series has also been a hit, helping to boost community engagement and promote authenticity and relevance.
The brand knows how to make its content information-rich, while still maintaining a fun vibe. This approach has been successful in attracting young customers who love to be entertained while learning about new products. Additionally, CeraVe's funny jokes have helped to make their videos more shareable and viral.
The Ordinary
The Ordinary is totally killing it on TikTok! With over 518.8K followers and 4 million likes, they definitely know how to work the platform. One reason why they create content that their fans love to watch is that they completely understand their audience. They use a massive product mascot that makes the brand more "human" and relatable for Gen Z.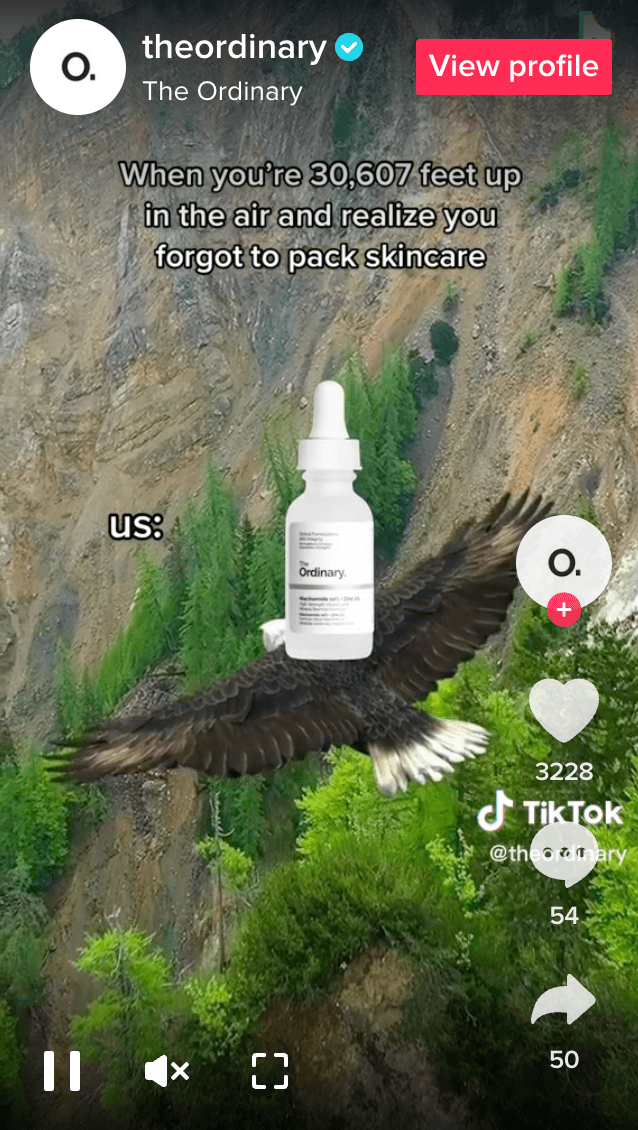 The Ordinary also creates funny meme content that attracts younger customers. Their ability to quickly catch on to trends gives them a youthful and fresh brand personality. Additionally, their agility in staying up-to-date with the latest styles helps them to maintain their relevance in the market.
And the best part? They're promoting their products in a smart and funny way. They're not just shoving products in our faces, but instead, they're making it entertaining to watch and learn about their products.
Too Faced
Too Faced has made a name for itself on TikTok with over 1 million followers and 9 million likes. Their profile page is decorated with a pink theme, which exudes a feminine vibe that enhances their branding impact.
They have also been successful at catching trends, which has helped them attract young customers. By staying current and engaging with its audience, Too Faced has found success on TikTok.
Rare Beauty
Rare Beauty, a beauty brand created by Selena Gomez, has achieved remarkable success on TikTok. This is primarily due to the brand's ability to leverage the latest trends and Selena's celebrity status. They've made many videos featuring Selena Gomez, as a result, these video has helped boost their brand recognition and appeal to her fans.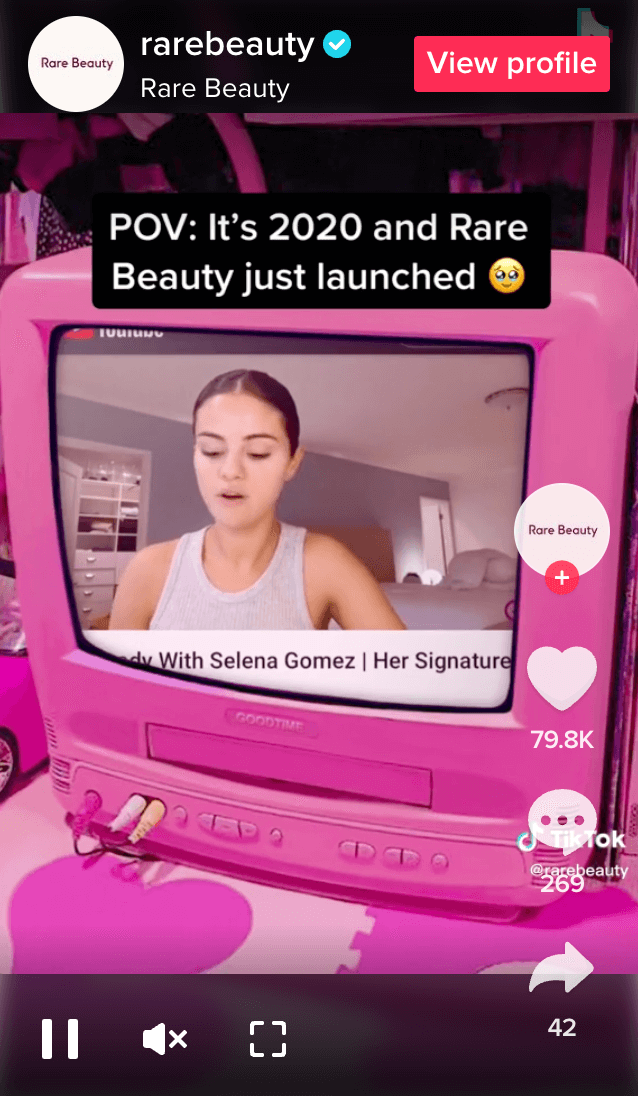 Additionally, Rare Beauty has capitalized on TikTok trend sounds to make their normal makeup videos more interesting and engaging. By incorporating fun and trendy sounds, they've been able to create a unique brand identity and increase their following on the platform.
Overall, Rare Beauty has found great success on TikTok by staying on top of the latest trends and incorporating their own unique spin on them.
Glow Recipe
Glow Recipe is definitely making some waves on TikTok with its creative content! They're known for using trending sounds to showcase their youthful vibes and capture the attention of their target audience. Their videos often feature playful and colorful graphics that make their products look irresistible.
They've also made a point to collaborate with influencers to create content that resonates with their followers. As a result, they've done a great job of creating a brand that feels approachable and relatable to young people who are passionate about skincare.
Youngforia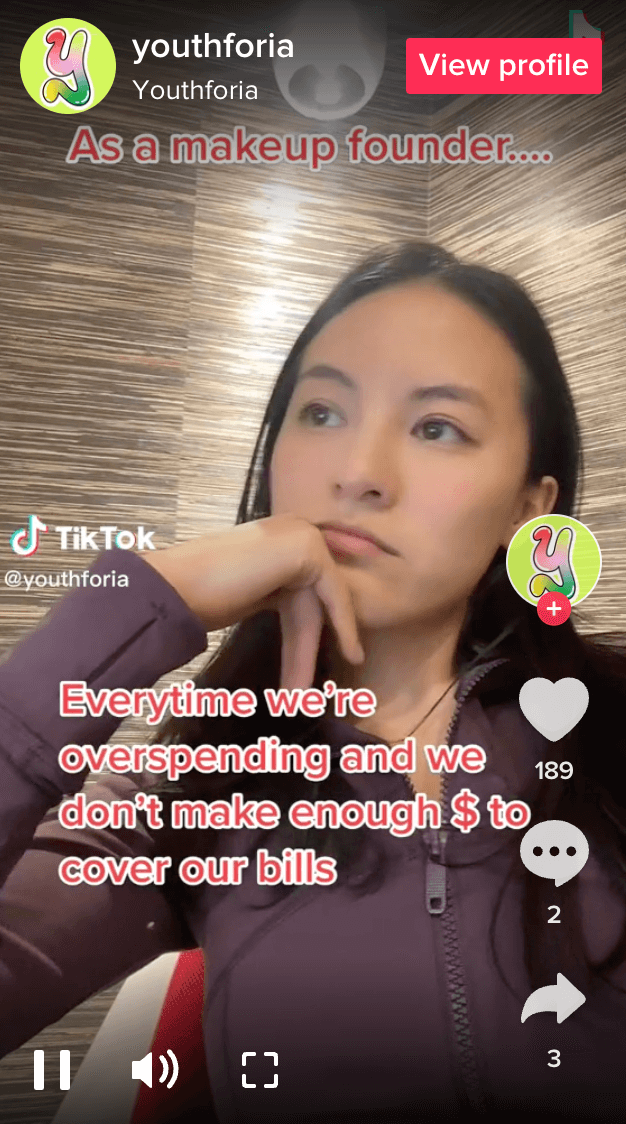 Youngforia is a beauty brand that has been performing well on TikTok lately. One of the reasons is that their CEO is acting as the TikTok brand representative, as a result, this makes the brand feel more authentic and consistent in its TikTok appearance. It's also a great way to build both personal branding and company branding at the same time.
Additionally, Youngforia is doing a great job of engaging with its followers on the platform. They answer TikTok comments in a genuine and friendly manner, which creates a sense of community around the brand. As a result, these factors have helped Youngforia to build a strong presence o
Paula's Choice
Paula's Choice has been performing great on TikTok with its trendy and funny vibes. They use memes in their posts that attract GenZ and make their content relatable. Their content is also trendy and informative, as they educate their audience about makeup in a fun and humorous way.
They keep their content light and enjoyable, thus, making it perfect for the TikTok audience. The humorous approach they take helps to keep their audience engaged and interested in their content, while also promoting their products.
Overall, Paula's Choice has done an excellent job at creating entertaining and informative content that resonates well with its target audience on TikTok.
HiSmile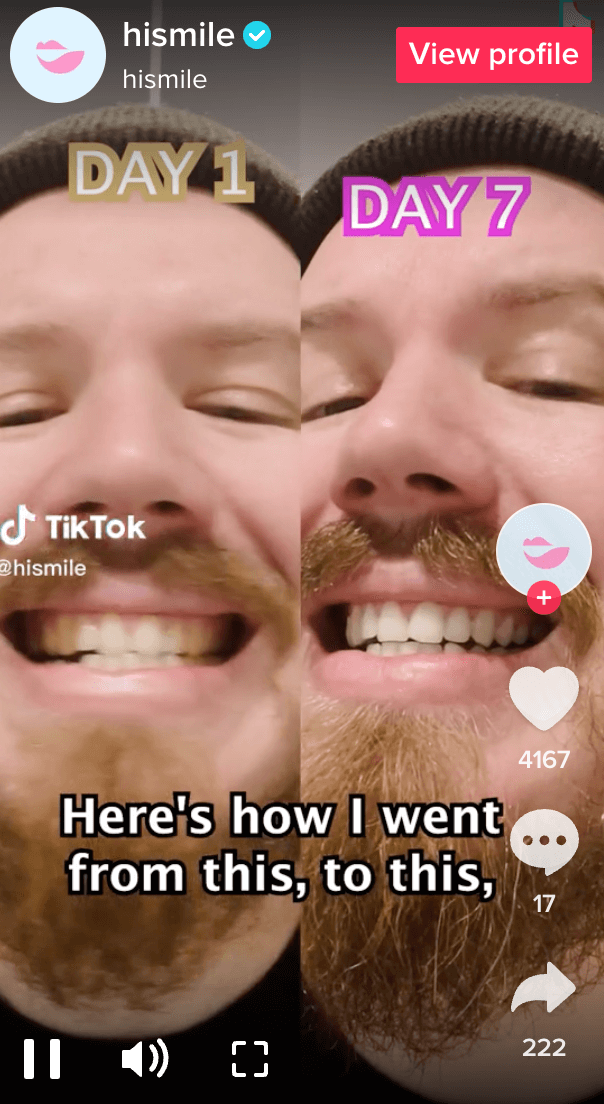 HiSmile, a teeth whitening brand, has gained immense popularity on TikTok and Instagram. Their aim was to revolutionize the process of teeth whitening, and as a result, they became a sensation on TikTok. Boasting a follower count of over 2 million, HiSmile consistently discovers fresh ways to capture viral attention. Whether it's through captivating transformation videos highlighting their anti-yellow serum or beauty influencers endorsing their enhanced white smile, all their success can be attributed to the straightforward and affordable products offered by HiSmile.
Best beauty brands on TikTok: What do they have in common?
You are now familiar with the top 10 beauty brands on TikTok. However, what similarities do they share? What is the winning formula they have employed to achieve their desired outcomes?
Understand "the game"
Understanding the TikTok algorithm and your customers' behavior is key to making a beauty brand successful on the platform.
TikTok has a super-smart algorithm that recommends content to users based on their interests and preferences. By understanding how this algorithm works, you can create content that has a better chance of getting recommended to users who are interested in beauty products.
And by understanding your customers' behavior, you can create content that resonates with them. You'll know what type of content they like, what tone works best, and what kind of visuals attract their attention. This knowledge can help you create engaging and compelling content that will keep your audience coming back for more.
Be authentic & relevance
To succeed on TikTok, beauty brands need to be authentic and relevant. This means understanding your audience's purpose and creating content that inspires and uplifts them.
Instead of immediately pushing products, focus on building a relationship with your audience by sharing knowledge and inspiration.
Show your original and high-energy self, and don't worry about being perfect. Imperfections create intimacy and build a relationship based on respect and understanding. Be open and honest when talking about your brand and utilize the features and sounds for more impact.
Customers expect honesty and authenticity, so find ways to still be yourself while entertaining and engaging viewers. By building an authentic profile and creating joyful content, you can increase your followers and revenue growth on the platform.
Get creative & trendy
In order to make your beauty brand noticeable on TikTok, you need to come up with creative and trendy content. However, it's not just about copying the latest viral trends but using them in a way that aligns with your brand's values.
You can watch other creators and keep an eye on trending audio, jokes, and hashtags to inspire your content, but it's also crucial to have unique ideas that resonate with your target audience. By striking a balance between following trends and staying true to your brand, you can create entertaining and authentic content.
Many brands fail to engage their audience on TikTok because their content is dull and uninteresting. You can add excitement by using engaging storylines, bright visuals, and most importantly, having fun!
Collaborate with influencers
It's crucial for beauty brands on TikTok to team up with influencers. Look for creators with a similar audience and high engagement rates because this would give you the best chance of going viral on TikTok.
Remember to allow influencers to have some creative freedom. Therefore they can create content that works for their channel and resonates with their followers. This way, you can create unique content, and as a result, it will appeal more to your prospective audience. Additionally, it can help you reach more people, engage your target market, and ultimately boost revenue.
Capitalize on TikTok Ads
Using TikTok ads is an effective way for your brands to reach a larger audience and this can also get your content seen by people who are likely to be interested in it.
When you promote your best content through TikTok's advertising features, you're able to target specific users who are most likely to enjoy your content. This means that you can increase the chances of your content going viral, as a result, this will help you grow your channel and gain more followers on TikTok.
Using TikTok ads in conjunction with organic content will help you reach even more people, increasing your chances of success on the platform. But the hard part is to manage the performance statistics of every ad for better optimization. If that's what you are struggling with, consider trying NestAds, a simple yet powerful TikTok Ads Management Solution. With NestAds, you can easily launch, optimize, and scale your winning TikTok ads with no experience required.
Start making sales on TikTok today!
TikTok is a powerful platform that beauty brands can leverage to build buzz and sell more on TikTok. By understanding the algorithm and studying successful brands, you can create a compelling profile and engaging content that resonates with your target audience.
Ready to increase your chances of success on TikTok, build a positive relationship with your audience, and ultimately, drive sales growth for your beauty brand? So, start exploring the possibilities of TikTok for your brand today!