TikTok creates more spaces for brands to spark their creativity and make it happen in each video that brings value to viewers. So it will be missing if you don't leverage this shoppertainement platform to tell your own story.
However, it could be challenging for small businesses, especially those who are newcomers to this platform to stand out among other big brands. Keep in mind that the key to TikTok success is authenticity, being yourself, and shining in your way. Below we make suggestions about some of the most creative TikTok ideas to apply to small businesses.
TikTok ideas about your products
Tutorials
It is one of the most popular types of content brands use to show customers how to use their products. These also might be some pieces of helpful tips for buyers to use their products with the best experiences.
On TikTok, Fenty Beauty frequently shares cosmetic tutorials that usually highlight one of their products.
Behind the scenes
Most customers are excited to know about the process of how their favorite products are created. This could be a great chance for them to dig into what's inside your business and show them how much effort, care, and attention you put into each product. In this way, you might build trust and create a more personal connection with your customers.
So what should be included in behind-the-scenes clips? Don't restrict your creativity by just showing the way to get your goods done. They could be the packaging orders process, a short tour of the warehouse where products are stored, organizing inventory, or the normal working day of your teams.
Let's take a look at the packing orders clip below:
TikTok ideas to advertise your products
Showcase your top-selling products
Highlighting your best-selling product to the TikTok community would be a great way to capture customers' interests and boost sales revenue. In other words, this arouses their curiosity about why the product is so popular.
Therefore, you can make a short video to explain directly what they want to know by explaining why so many people have purchased your top product. What makes this the best item ever?
For instance, Partymachines shows why their foam machine is the best type on the market in detail. You can see a CTA button at the end of the video to trigger viewers to take the next action.
Collaborate with influencers
We can not deny the effectiveness of utilizing influencer marketing as a core strategy for your brand.
However, how do small businesses partner with influencers with limited budgets? It may be best to partner with a micro-influencer with a social media following of around 10,000 to 100,000. What you need to keep in mind is to find the right influencer for your brand and make sure that their followers match your target audience.
In addition, it might be a miss without mentioning TikTok's Duet and Stitch features which allow you to collaborate with other TikTok users. These video features are excellent ways to engage new audiences, show your creativity, and express your personality. It benefits both parties.
For the Stitch effect, take a look at how the owner of Decade Studio explains why she founded the business, and why the user has a difficult time finding jeans that fit.
Announce a sale
Who doesn't enjoy a good sale? You should definitely notify your customers on TikTok if you are running a limited-time offer on your website, shop, or have discounted your services.
Let's see how they share discounts and how excited customer's reactions are in the comment below:
Educate your customers
When it comes to attracting and retaining customers, customer education offers the best solution. Customers need and want information that helps them learn, grow and improve in some way. When your business shares that knowledge, you're educating others, which is a very valuable service.
What should we educate them about? It will depend on your company's products or services but the ultimate goal of the content is designed to help customers successfully use your product to solve their problems. Specifically, you not only show some kind of benefits customers get after using your products but also share solutions to solve your customer's problems.
Like RitaOffline, a skin care products seller posted a lot of videos not only of her current selling products but also a series about customer issues such as skincare routine, skin care products for different kinds of skin, and the usage of sunscreen.
Business advice
Education series are not only about teaching your customers why they should use your products but also sharing your tips about the process of running your business. This could be more useful for other small business owners and also make your customers understand more about how much effort you put into your products.
For instance, this video may respond to questions like:
How do you motivate your team?
How can a new product be launched successfully?
Your company idea was inspired by what?
How do you handle business issues?
Like RitaOffline, an online seller shares her own business journey as to how she got started and what motivated her, which inspires other owners as well as getting customers' connections.
This information might be theoretical and boring so let's make use of this platform by adding trending sounds, and memes to make it more fun, and entertaining but still authentic.
TikTok ideas to drive engagement
Hashtag Challenge
Hashtag Challenge is one of the most fascinating ways that businesses can leverage to engage their customers. The Hashtag challenge is altering how businesses interact with their consumers when they become active participants instead of passive onlookers.
To make a successful Hashtag Challenge, brands should have a better understanding of their customers' insight by answering something like Which kinds of videos do they like to share? What types of activities would they prefer to engage in?
Guess, a well-known clothing brand wanted to promote its Fall'18 Denim Fit Collection. They launched the #InMyDenim Hashtag Challenge on TikTok and called for consumers to show their fashion style in denim. The results were unexpected when #InMyDenim has over 5,550 user-generated videos, 10.5 million video views, a 14.3% engagement rate, and over 12,000 additional followers.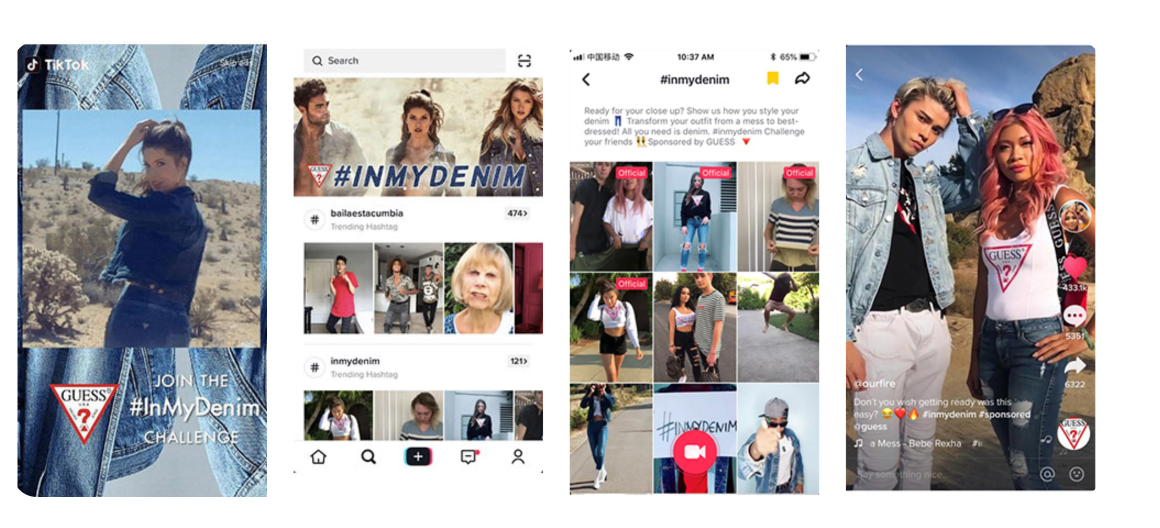 Q&As
The TikTok questions feature allows users to mark their comments as Q&A questions, which makes it simple for creators to recognize and respond to them in the form of another comment or video.
Interestingly, the tool also lets creators add a Q&A tab on their profile where all these questions and their answers are compiled.
Let's check out these amazing tools:
Turn your ideas into real TikTok Videos
Above are quick and simple small business TikTok video ideas that every company can use to promote their goods. Not to mention, TikTok is distinct from other platforms and can offer a level of engagement that is unprecedented. It also has a far wider reach than we might assume and can be successful even for brands that you might not expect. Therefore, don't hesitate, let's try these ideas for your business.
Your TikTok video will reach more potential customers by using one of the most amazing TikTok tools – TikTok Ads. Our product NestAds will help you make out the most TikTok Ads for your business. Feel free to contact our experts to get more information or try NestAds for free now.