Have you ever allocated $40 in your TikTok ads but only spent $10 or fewer? And therefore you can't drive more sales and raise brand awareness with TikTok Ads? In this case, you have come across TikTok Ads not spending issues.
Don't be so stressed, we are about cover the top five common reasons why your TikTok Ads aren't spending the budget with the best strategies to solve. Keep reading and you will not regret!
What is TikTok Ads not spending phenomenon?
To find all the mistakes and solve your problem with ease, you need to know what kind of situation you are facing. In fact, this phenomenon means that your ads don't spend the daily budget and therefore don't gain any results.
For example, for the ad budget, you allocate $100 per day but TikTok only spends $20. In this case, unfortunately, you have found yourself in TikTok Ads not spending issues.
Key differences between TikTok Ads not spending and not delivering 
Many business owners, even those who have gained some results with TikTok, feel confused about TikTok Ads not spending and not delivering. Just to remind you, they are 2 different problems that you can face while running ads.
In fact, TikTok Ads not spending is a part of the delivery challenges. When it comes to delivery issues, you can come across:
TikTok Ads not delivering: No delivery means that TikTok doesn't show your ads in front of your target audience and therefore you don't get any impressions.
TikTok Ads not spending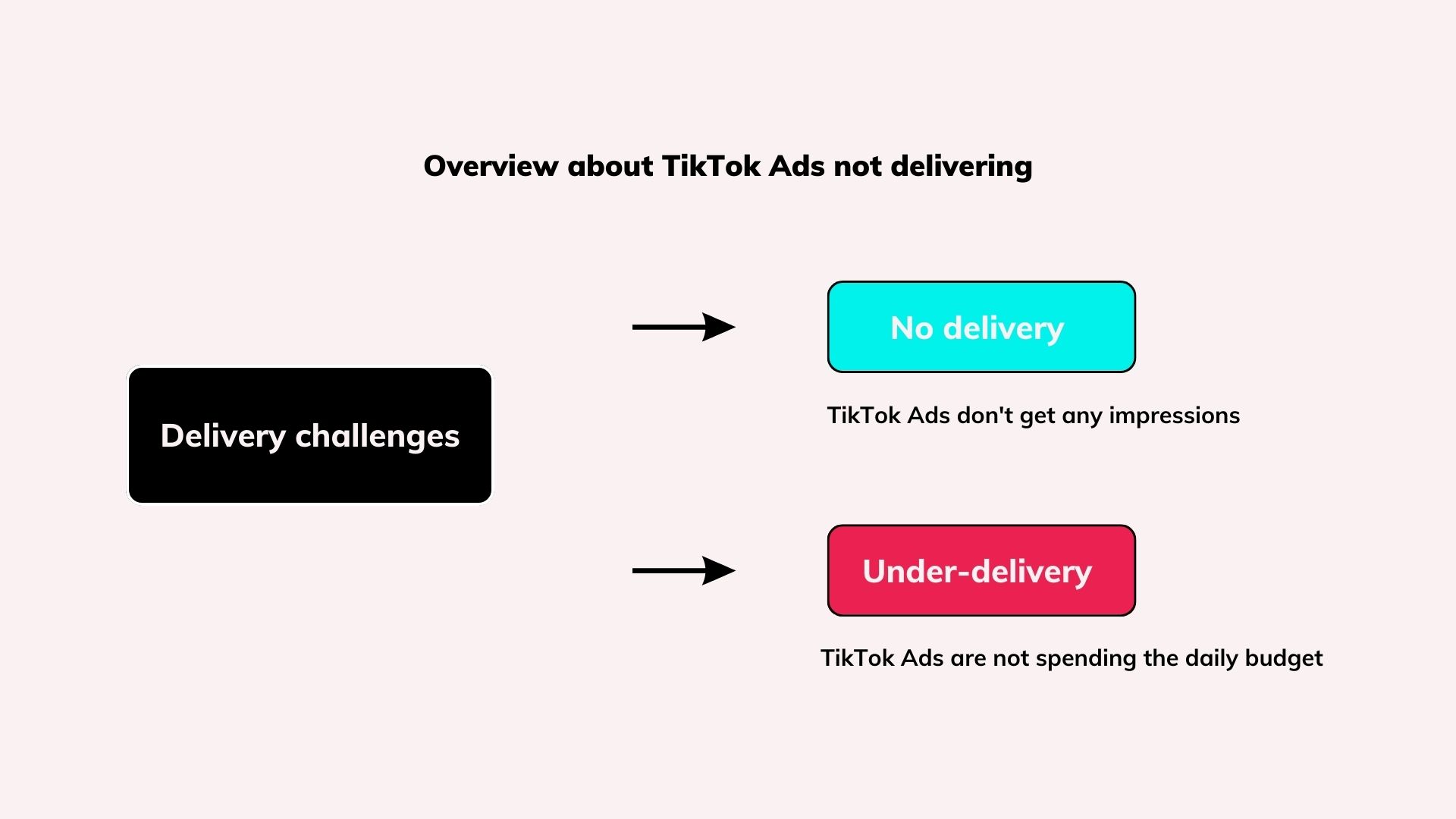 Why TikTok Ads not spending? (5 common mistakes & solutions)
So how to get your ads spent and quickly drive more sales? In general, there are 5 leading causes that every business across can easily get stuck of:
TikTok Ads learning phase
Narrow audience
TikTok bidding strategy
Ad creatives mistakes
Negative engagement
Now let's dive into each reason with its solution!
TikTok Ads learning phase
The first main reason leading to ads not spending come from the TikTok learning phase. Have you ever heard about this term? It's the first stage of ad delivery when TikTok discovers new audiences to help your ad groups reach the most potential customers.
Please do note that it is an experimental process, that's why TikTok will not spend all your budget. It needs time to find the best audience and the best way to allocate your budget.
Best solution for you:
To quickly get your ads spent, you need to pass the TikTok learning phase. Gaining at least 50 conversions is a great goal for you!
We highly recommend observing your ads for a few days, optimizing your bid, broader your audience and considering new ad creatives. The learning phase won't be a big problem for your business!
Narrow audience
Apart from TikTok Ads learning phase, targeting a narrow audience can be the main reason for ads not spending. In case your target audience is too small, TikTok can't find and show your ads in front of your right prospects.
In this way, you easily have to face TikTok Ads not spending issues.
Best solution for you:
The greatest solution for you is to expand your audience. Broader targeting will help you to find the most potential customers and also avoid TikTok Ads not spending.
Especially, if you are running some first campaigns on TikTok, it's always recommended to choose a large audience. It's will be easier to drive sales, gain more data about your audiences and use all these analytics for retargeting & retention ads.
TikTok bidding strategy
If you start growing your business relying on TikTok Ads, you definitely hear about TikTok Ads bidding. In a simple way, it's the price you are willing to pay for each specific action such as impression, conversion or click.
If you bid higher than your competitors, you will have a great position to get the ad space. In contrast, in a list of many brands in the same industry targeting the same audience, if your bidding price is too low, of course, your TikTok Ads won't be competitive enough.
That's why TikTok won't display your ads in front of your audience, and therefore your budget won't be spent.
Best solution for you:
If you found yourself in this situation, what should you do? Try your best to optimize your bids and refresh your creatives.
However, while increasing your bids, make sure you won't fall into the overbidding trap. We recommend choosing the maximum amount of money you can spend before officially bidding higher.
Ad creative mistakes
A lot of business owners have made some small mistakes at the ad level while completing their campaigns. Remember the smallest mistake can cause TikTok Ads not spending! Please note all our tips below.
Best solution for you:
When setting the ad level, ensure that you don't make these small mistakes below:
Have too many ad creatives within one ad group: It's easier to get your ads spent when setting 2 creatives in each ad group instead of 5 or 6 creatives. In this way, TikTok will only have to optimize between2 creatives.
Follow TikTok policy and use no copyrighted music
Create high-quality and unique content: Keep in mind that TikTok will avoid displaying an advertising video that is too similar to other videos.
Negative engagement
Finally, if your video receives a lot of negative engagement such as negative feedback about the content or landing page, TikTok won't deliver your ads.
Best solution for you:
In this case, we highly recommend turning off the comment. Otherwise, you need to closely look at these comments and see what you should improve. So that, you have a winning chance to improve the audience-watching experience and also maximize ad results.
You have just discovered the five common reasons and solutions for TikTok Ads not spending! In case you want to know more about this issue, watch our video and you will get a better view to solve your problem.
TikTok Ads not spending: no longer your biggest problem!
Don't put yourself at risk if your TikTok Ads don't get spent! It is a normal issue that any business owner can come across when starting to run ads on TikTok. With our article, we hope that you will sooner get your ads delivered, gain impressions and of course, drive more sales!
If you still have any questions about TikTok Ads not spending and don't know how to create a high-converting campaign, we are here to give you a hand! Feel free to contact us or try our new product – TikTok Advertising Management Software.